Classic Easy Baked Macaroni and Cheese is the perfect thing to bring to all the pot luck dinners, neighborhood barbecues and family events. This classic mac and cheese recipe was handed down to me by my mom and to her by her mom and is a staple at Christmas, Thanksgiving, Easter, and many other holidays because it is just THAT good! This literally is macaroni and cheese the way grandma made it!
Baked Macaroni and Cheese – The EASY Way!
When you end up at the church potluck for lunch or in line at your nephew's graduation, there is probably a tray of baked mac and cheese. It is a classic potluck or holiday dish because it is so simple and travels well. You can also prep it and toss it in the oven wherever you are to make sure it is creamy and fresh.
Some folks call this southern baked macaroni and cheese or grandma's mac and cheese, or homestyle macaroni and cheese; but whatever you call it, homemade mac and cheese is delicious and timeless.
This particular recipe was made by my mother (my kid's grandma) who learned it from her dad (their great grandpa.) It has been handed down through our family and on the table at every family gathering through the years. So, today, I'm here to share it with you!
Why I LOVE this recipe!
So Simple and So Quick – This recipe comes together in 20 minutes and then bakes to get really gooey and creamy Plus, it uses all pantry staple ingredients, how simple is that?

Travels Well – Whenever you have to bring a dish to a potluck, it can be hard to time the cooking of it to make sure the dish is fresh. But, with this mac and cheese, you can prepare everything, put it in the dish and then just wait to bake it until you get to the venue for optimal creaminess!

Everyday or holiday- This recipe is quick and easy enough to make on a busy weeknight to go with some BBQ chicken, or burgers from the grill, but has those classic flavors that are perfect for the holiday table on Thanksgiving, Christmas, or Easter.
Recipe Notes
This old fashioned way to make mac and cheese is as simple as promised! Just 15 minutes of work for a family-friendly meal.
In this section I am going to go through a few tips and tricks I use when making this recipe to get the absolute best and most delicious results. Many mac and cheese recipes make a cheese sauce, but to make classic baked macaroni and cheese, you only need a cheddar cheese, egg, butter and milk. It is the BEST and EASIEST macaroni and cheese!
Make sure to scroll to the bottom for the FULL recipe card of how to make baked mac and cheese.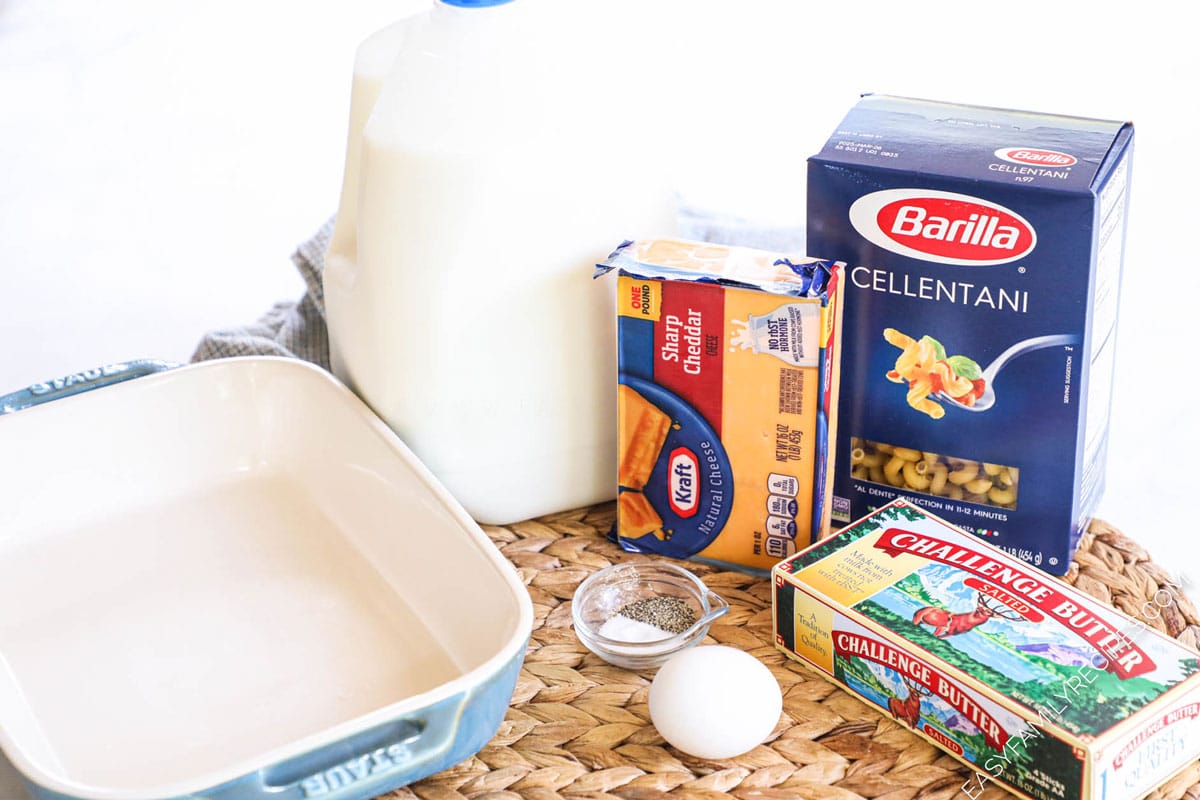 Ingredients + Substitutions
Pasta – Any style of pasta can be used. I enjoy switching it up between classic elbow macaroni noodles, shells, and fun shapes like the kids will enjoy.
Butter – Of course, we need butter to keep it super creamy! Salted or unsalted will both work.
Egg – The egg is added to help stabilize the dish when baked. Slowly adding it to the pasta when hot will help to emulsify it (cook the egg without scrambling it)
Milk – I like to use whole milk, but any kind or milk or heavy cream will work.
Sharp Cheddar – This is the best cheese for baked mac and cheese! Using a cheddar block of cheese is preferred because sharp cheddar gets more cheese flavor with less cheese. You can even use extra sharp cheddar cheese.

Using a block means there is no coating on the cheese and it will therefore melt and mix together to make it more creamy than the pre-shredded variety. Any kind of cheese and any mixture of cheese can be used though. I have had great results with colby jack, montery jack, mozzarella, and Mexican blend cheeses.
Salt and Pepper – Adjust these quantities to taste as you make this creamy baked mac and cheese.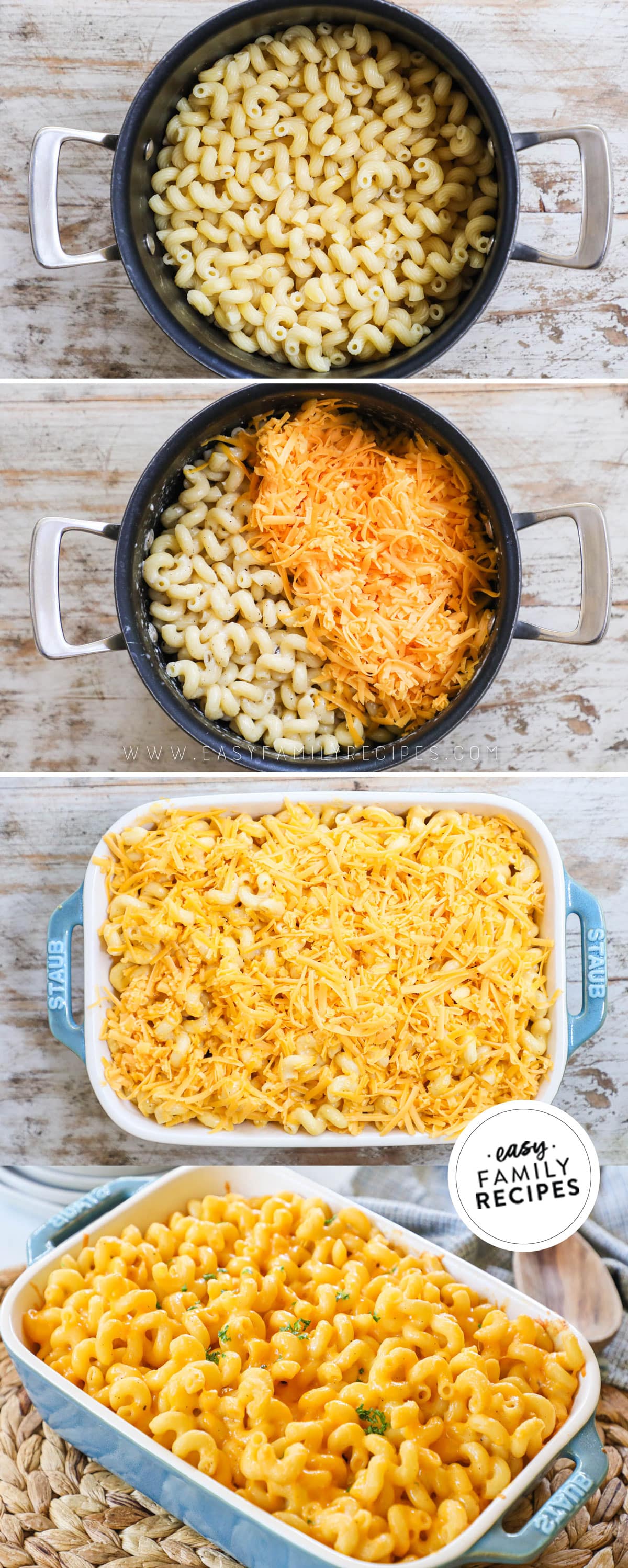 Recipe Tips
Keep the pasta al dente – Because this is the best BAKED mac and cheese, we need to keep that in mind when making the pasta. By only cooking the pasta to al dente, you will ensure it does not overcook when in the oven.
Use block cheese– You will get the best and creamiest mac and cheese if you freshly grate the cheese instead of using pre-grated cheese. I like to grate the cheese while the macaroni cooks.
Add cheese slowly – To ensure the cheese is fully incorporated and gooey, add the cheese little by little to the warm pasta.
Keep the pasta on hot – After draining the pasta water, return the pot and pasta to the hot stove (with the heat off) and add the butter, egg, cheese, and milk. The heat helps to melt everything together, making it easier to mix. There is no need to rinse the pasta, the residual moisture and starch on the pasta helps to keep it thick and creamy.
Bake only long enough to heat – If you are wondering how long to bake mac and cheese, less is more. The goal of baking is only to heat through, mix the flavors, and ensure the cheese is melted and delicious!
Enjoy right away – This homemade baked mac and cheese is best enjoyed right out of the oven when the creaminess is at a max.
Modify and multiply (or half) – This dish is wonderful because you can use any pasta shape and any cheese, so modify with what you have. It is also great because you can easily double the recipe and bake in two large dishes or half the recipe and bake in an 8×8 baking dish.
Recipe Short Cuts
If you need to make this recipe but are extra short on time, here are a few ideas to help make this recipe even faster!
Prep the pasta– The longest part of this dish is making the pasta. To speed this up, make the pasta and keep in the fridge until ready to use. You will need to heat the pasta back up in the microwave or heat the cheese and milk in the microwave before mixing when using pre-made pasta.
Make the dish, just don't bake it– My favorite thing to do is to make the entire oven baked mac and cheese, just don't bake it. This will keep in the fridge covered for up to 3 days. Then, bake when ready to enjoy. You may need to bake for a little longer to heat through.
Use pre-shredded cheese– above I told you to use block cheese, and I do think it is best when you have time. In a pinch, pre-shredded cheese will absolutely work and still give you a really delicious pan of baked macaroni and cheese.
Recipe Variations
If you love this easy mac and cheese bake recipe as much as we do and want some quick ways to change it up for variety, these little tips will do the trick!
Baked Mac and Cheese with Velveeta – For this variation, simply switch out the sharo cheddar cheese with Velveeta. This was a common swap my mother used often. And for a real grandma style, you could use the Velveeta and top with bread crumbs for baked mac and cheese with bread crumbs.

Baked White Cheddar Mac and Cheese – Another easy variation, simply use white cheddar cheese in place of sharp cheddar.

Broccoli Mac and Cheese Bake – I love to hid veggies in tasty dishes and this is a great way to do that! Just add cooked broccoli (steamed, baked, whatever you have) to the mixture before baking the simple baked mac and cheese. It is best to use broccoli that is barely cooked for this since it will continue to cook in the oven.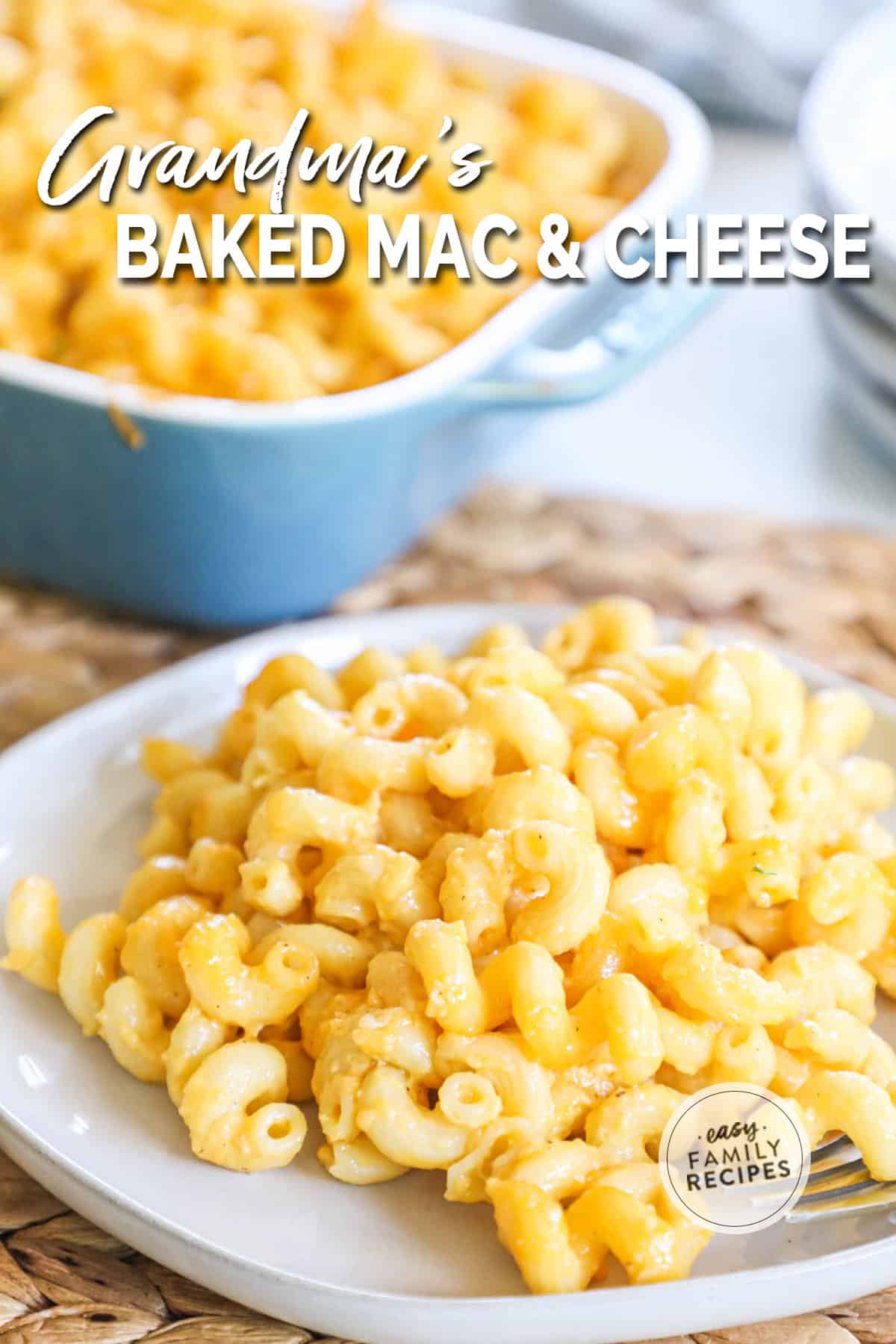 What to Serve with Easy Baked Mac and Cheese
Since this dish has classic mac and cheese flavor, it will pair well with many of your favorite family-friendly side dishes. There are both classic options and some healthy options to keep it light.
Main dish ideas
Side Dish Ideas
You can choose one or add a few sides to make a wholesome, well-rounded dinner.
Easy Baked Macaroni and Cheese Leftovers
If you have leftovers after making this recipe for macaroni and cheese baked, then it is your lucky day! It will save and reheat well, and can make the start of another delicious dish.
To save leftovers, separate into meal sized portions and then place in an airtight container and store:
in the refrigerator for 3-4 days
in the freezer up to a month
Leftover Recipes
Here are a few ways to repurpose those leftovers and give them a delicious makeover!
Mac and Grilled Cheese – Because I am crazy I guess, I love to put this in between bread with additional cheese for a grilled cheese sandwich with macaroni for lunch. The kids love it and I love using up leftovers!

BBQ Pork Baked Macaroni and Cheese Bowl – If you have leftover proteins, like chicken or Crockpot Pulled Pork, this mac and cheese makes a great base for the leftover meat, some veggies, and BBQ sauce.

Chili Mac– Serve a big scoop of Chili right over the top of the mac and cheese for a hearty meal.
More Easy Dinner Recipes
If you enjoyed this recipe, I really hope you will take a moment to grab a few more easy recipes for another busy night!
You can check out all of my easy dinner recipes here, or see a few of our readers favorite recipes below.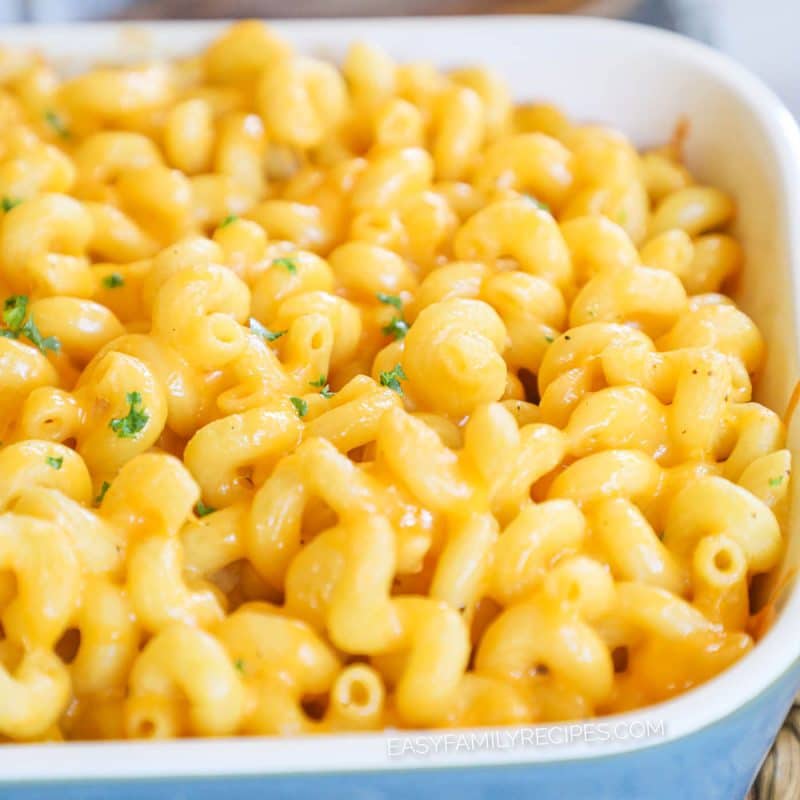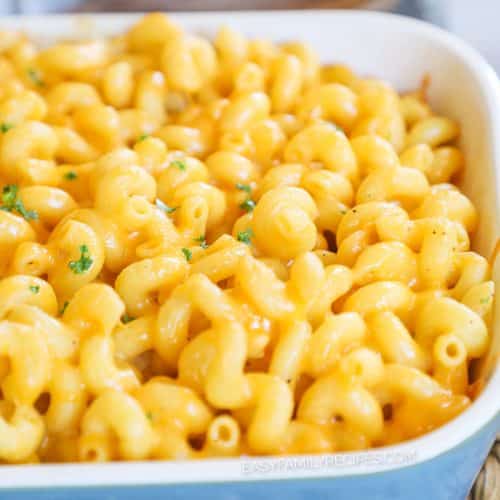 Baked Macaroni and Cheese
This family favorite, was handed down to me from my Grandma. The easy baked macaroni and cheese recipe is creamy, super simple, and so tasty just like Grandma made it! This recipe is perfect for everyday, holidays, or pot lucks!
Ingredients
16

ounces

uncooked pasta

1/4

cup

butter

1

egg

1

cup

milk

,

or more

16

ounces

sharp cheddar cheese

,

divided (see note)

1/2

teaspoon

salt

1/2

teaspoon

pepper

,

or more to taste
Instructions
Cook pasta to al dente per package directions. While the pasta is cooking, shred the cheddar cheese with a cheese grater.

Once pasta is done, turn off the burner, drain the water, then return to the burner it was cooked on. The residual heat will help to melt everything together.

Stir in the butter. Once the butter is melted into the noodles, add the egg and stir to coat. Then stir in the milk, salt, and pepper.

Stir the shredded cheese in a handful at a time, making sure to reserve about 1/4 of the cheese for topping the casserole.

Continue to stir until the cheese is completely melted. You can add more milk if you want a creamier consistency to the mac and cheese.

Transfer the macaroni and cheese into a large casserole dish, and sprinkle the remaining cheese over the top.

Bake in the preheated oven uncovered for 20-25 minutes, or until the top of the cheese is melted.

Serve immediately for the creamiest dish.
Recipe Notes
Substitutions and Tips:
Pasta – Any style of pasta can be used. I enjoy switching it up between classic macaroni noodles, shells, and fun shapes the kids will enjoy.
Butter – Salted or unsalted will both work.
Block Cheddar — I prefer to use block cheddar cheese when making this. It will melt and combine better and give you an overall more delicious result. You can use pre-shredded in a pinch, but it is never quite as good as shredding your own!

I use cheddar because that is how my mom made it! You can use almost any cheese in this recipe, or even do a combination of cheeses. Some other cheeses I like in this recipe are:

Monterey jack
Colby jack
Fontina
Mozzarella
How to Store: To save leftovers, separate into meal sized portions and then place in an airtight container and store:
in the refrigerator for 3-4 days
in the freezer up to a month
How to Reheat: This can be reheated in the microwave in 30 second increments, or cover with tin foil and place into the oven to reheat.
How to Scale: This recipe can be halved to make an 8×8 casserole dish.
Nutrition Information
Calories:
483
kcal
(24%)
,
Carbohydrates:
45
g
(15%)
,
Protein:
20
g
(40%)
,
Fat:
24
g
(37%)
,
Saturated Fat:
14
g
(88%)
,
Polyunsaturated Fat:
1
g
,
Monounsaturated Fat:
6
g
,
Trans Fat:
0.3
g
,
Cholesterol:
87
mg
(29%)
,
Sodium:
537
mg
(23%)
,
Potassium:
207
mg
(6%)
,
Fiber:
2
g
(8%)
,
Sugar:
3
g
(3%)
,
Vitamin A:
727
IU
(15%)
,
Vitamin C:
0.04
mg
,
Calcium:
395
mg
(40%)
,
Iron:
1
mg
(6%)