This Chicken Fried Rice is too EASY to be SO DELICIOUS! Made with a simplified method that gives you all the flavor of authentic fried rice in a fraction of the time. This family friendly recipe has become a staple for nights we need a hearty dinner fast!
Chicken Fried Rice – The EASY Way!
This is a no-excuses meal for me.
What does that mean, you ask?
It means that this meal is so quick and easy, and so very delicious that there is just no excuse to get take out.
Besides, adding up the time it takes to order, drive, and pick up the food, this is substantially easier, and I would argue, even tastier than any restaurant style fried rice that you could get.
I mean considering this recipe involves only:
1 pan
Pantry staples
Less than 10 ingredients
15 minutes (including prep AND cooking!)
There is just no reason I can't make it on any given night!
So when I really just want to pick up the phone, I pull it together, go grab a skillet and make this lick-your-plate-clean dinner, and my family is always on board!
If you are looking for a beef based recipe, hop over to my super popular Steak Fried Rice recipe.
What to Serve with Fried Rice
Since this dish has the classic flavors of Japanese , thai and Chinese Fried Rice, it will pair well with many of your favorite Asian side dishes.
With that said, this is often a one pan meal for us. Since it has a protein, a starch, and a veggie all in one dish, it is plenty filling to be a meal in itself.
You can add appetizers or side dishes to make the meal stretch further or fill up the extra hungry folks in the crowd.
Side Dish Ideas
Sauteed Garlic Green Beans– Add a splash of soy sauce for even more asian flavor.
Edameme – Serve it steamed or in a salad
Side salad with ginger dressing
Spring rolls
Topping Ideas
More than even serving sides, I like to load up my fried rice with some toppings to make it into an extra hearty and extra flavor loaded meal. Here are a few of my favorites:
Chopped green onions
Yum yum sauce (a Japanese steakhouse favorite!)
Spicy Mayo – my personal favorite sauce
Shredded cabbage – for a short cut I often just use pre-made coleslaw mix
Chopped peanuts
Bean sprouts
You can choose one or add a few sides to make a wholesome, well rounded dinner.
Recipe Notes
This Chicken Fried Rice recipe is as simple as promised! Just one pan and 15 minutes for a family friendly meal.
In this section I am going to go through a few tips and tricks I use when making this recipe to get the absolute best and most delicious results.
Make sure to scroll to the bottom for the FULL recipe card.
Key Ingredients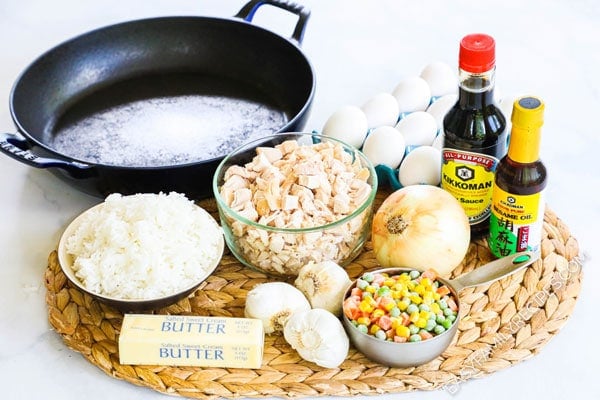 Rotisserie chicken– This is really key to what makes this recipe so amazingly simple! I prefer rotisserie chicken for the flavor, but you can also use any shredded chicken (baked, boiled, pan fried etc) You can even use leftover chicken for the fridge as long as it is a neutral or asian flavor.

Cooked jasmine rice– This recipe works best with day old rice, but I have had plenty of times where I didn't have any old rice in the fridge and I just made new rice and used it in the recipe. It will just add a few extra minutes to the total time the recipe takes.

Frozen mixed veggies– This is the best shortcut. I use veggies with carrots, peas, and corn, or just carrots and peas. You can also use the vegetable mix with green beans too. They all work well! No need to thaw them since they will heat and cook quickly once mixed in.

Soy sauce– I use original but you can also use low sodium if you are sensitive to salt.

Sesame oil– This is the only ingredient that everyone may not have on hand. If you don't have it, or prefer not to buy it, you can substitute canola or vegetable oil. The sesame oil gives it a more authentic take out fried rice kind of taste, but it will still be delicious without it.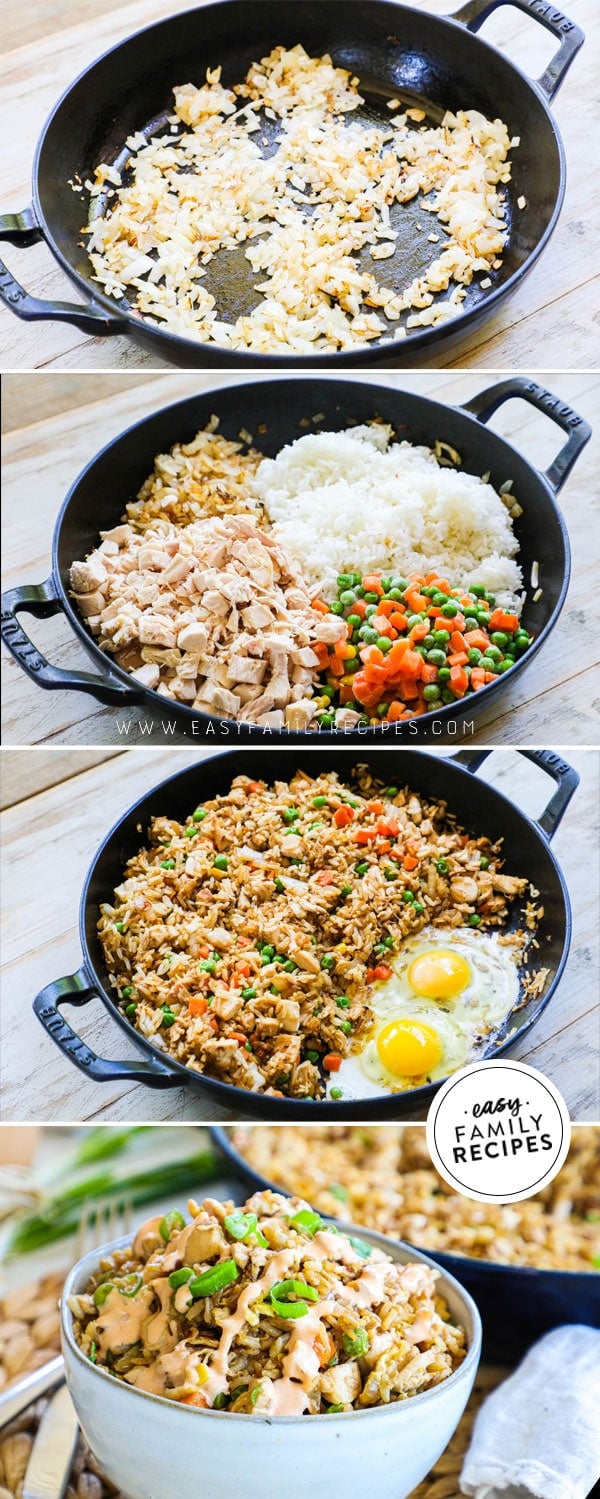 Recipe Tips
We are going to talk through how to make fried rice at home so that it tastes just like the restaurant. There are a few key tips that make all the difference!
Prep everything first! This recipe is so fast that if you are taking time to chop, or dig through the freezer to find the veggies, you miss how fast, easy and flavorful the recipe is. I always like to have everything chopped and measured before I start to have the best end result.

Use a LARGE pan. Whether you use a wok or a skillet won't make much difference (I usually use a skillet) BUT what will make a big difference is using a large pan. A bigger pan gives you more surface area to crisp up that rice and those veggies adding tons of flavor.

Don't go Stir Crazy. I know when you are standing over the stove, it is so tempting to just keep stirring, however, I like to let it cooked untouched once the rice, veggies and sauce are added to the pan (step 3 in recipe card) This allows the rice to get that "fried" texture and develop a bit of caramelization that adds so much flavor to the dish.

Flavor to taste– This recipe is detailed as my family likes it, but if you prefer more or less soy flavor, more or less salt, etc, feel free to add more or less seasoning to make it just what you want. And for the restaurant style fried rice flavor, make sure to use the sesame oil!
Recipe Variations
If you love this recipe as much as we do and want some quick ways to change it up for variety, these little tips will do the trick!
Spicy Chicken Fried Rice– Make recipe as directed. In step 4 when you add the soy sauce, also add chili sauce. You can use 1 tbsp up to 1/4 cup depending on how much kick you want. As an extra, you can also add in chopped jalapeño with the onion, which is delicious, but some extra work in the chopping.
Healthy Chicken Fried Cauliflower Rice– Cauliflower rice can be used in place of traditional rice, or in a 1:1 ratio, ie 1.5 cups traditional rice, and 1.5 cups cauliflower rice. Make the recipe as directed using cauliflower rice in place of the regular rice. The dish may have to cook a little longer when using cauliflower. My kids don't even realize that this is HEALTHY and there is cauliflower when I do half and half on this recipe!
Beef Fried Rice– Use precooked ground beef in place of the rotisserie chicken in this recipe and make as directed. You can also use steak, to make steak fried rice via this recipe.
Dietary Considerations
If you have special dietary needs, this recipe meets some and can be easily modified to comply with others.
As always, check all store bought ingredients for compliance on specific dietary needs. The notes below are a general guide.
Gluten free: This Fried Rice recipe can be made gluten free by using gluten free soy sauce.
Dairy free: To modify this recipe to become dairy free, replace the butter equally with olive oil.
Nut free: This recipe is naturally nut free
Egg free: The eggs can be left out of this fried rice recipe to make it egg free. You can increase the amount of chicken if desired, but it is not necessary.
Low carb/Keto: This recipe can be made lower carb by using cauliflower rice.
Macros: The approximate macro calculation for this recipe is- P:11 g C: 81g F: 8g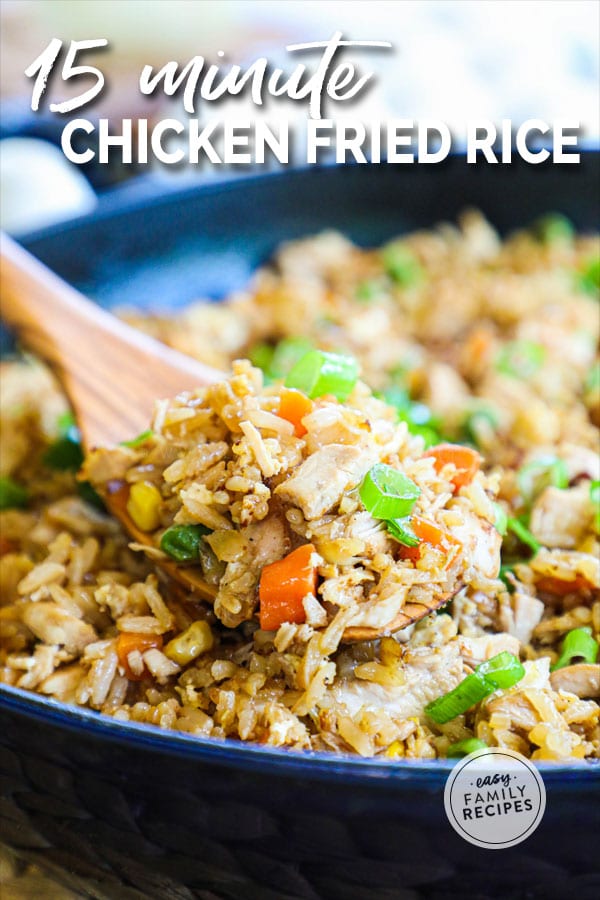 Freezer Meal Instructions
To make this into a freezer meal:
Prepare the chicken fried rice completely as directed.
Let the rice cool.
Package it in a freezer bag or other freezer friendly container.
Freeze.
Once ready to make, thaw overnight in the refrigerator.
Heat a skillet over medium high heat and cook rice with 1 tbsp of water for about 5-10 minutes stirring every 1-2 minutes, until tender and heated throughout. Time will vary based on how hot the pan is and how thawed the rice is.
XXX Leftovers
If you have leftovers after making Chicken Fried Rice, then it is your lucky day! They save and reheat well, and can make the start of another delicious dish.
To save leftovers, separate into meal sized portions and then place in an airtight container and store:
in the refrigerator for 3-4 days
in the freezer up to a month
Reheat leftover fried rice in the microwave, or on the stove top until hot. Let cool to a comfortable eating temperature and enjoy
Leftover Recipes
Here are a few ways to repurpose those leftovers and give them a delicious makeover!
Chicken Fried Rice bowls– Heat the chicken fried rice leftovers. Serve over shredded cabbage and top with bean sprouts, crushed peanuts and a lime wedge.
Chicken Fried Rice Stuffed Peppers– Cut bell peppers in half and empty the ribs and seeds. Fill with leftover rice and place in a baking dish. Bake COVERED at 350˚F for 30-40 minutes or until the peppers are tender and the rice is steamy.
Chicken Fried Rice Lettuce Wraps– Heat the chicken fried rice leftovers. Use large butter lettuce leaves to wrap a spoonful of rice with some shredded carrots and top with either yum yum sauce or spicy mayo. Then wrap and enjoy.
More Super EASY Dinner Recipes
If you enjoyed this recipe, I really hope you will take a moment to grab a few more easy recipes for another busy night!
You can check out all of my EASY Dinner recipes here, or see a few of our readers favorite recipes below.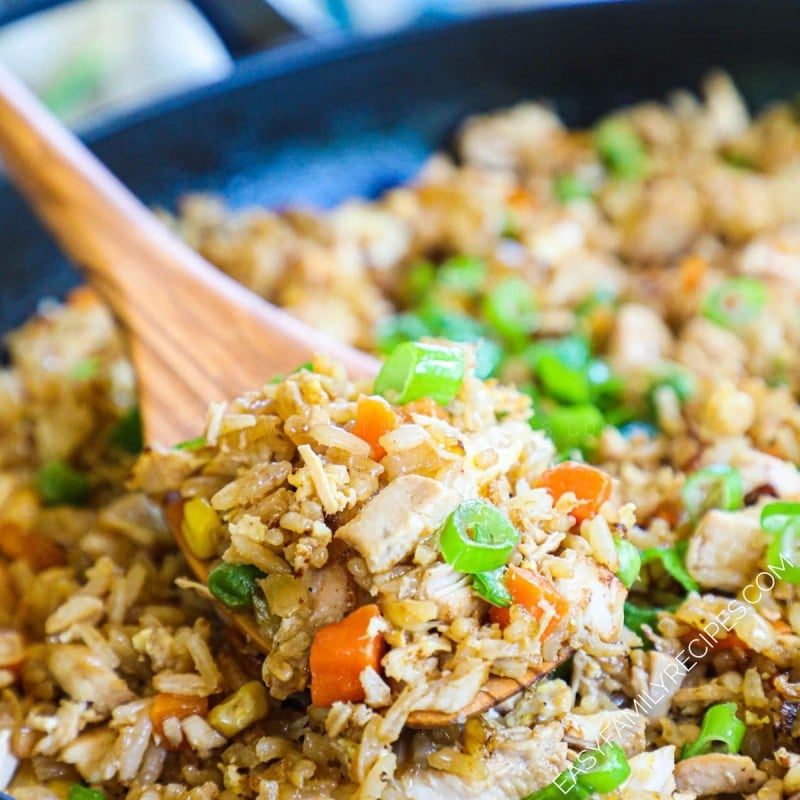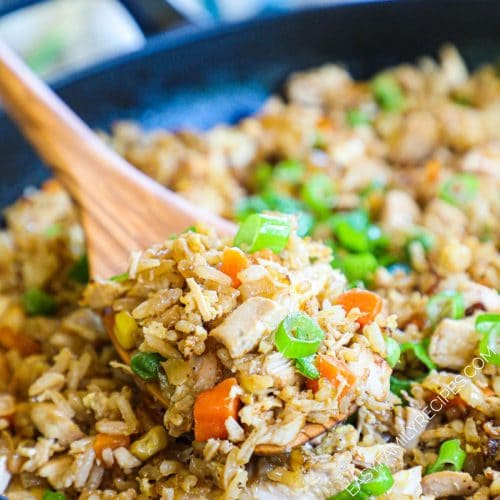 Easy Chicken Fried Rice
This QUICK and EASY Chicken Fried Rice recipe takes just minutes from start to finish and will rival your favorite take out restaurant. This makes a wholesome and filling meal, no matter how busy the day gets!
Ingredients
3

cups

rotisserie chicken

,

or shredded chicken

3

cups

jasmine rice

,

cooked

1

cup

mixed vegetables

,

frozen

2

eggs

1

onion

,

medium

1/4

cup

soy sauce

2

tbsp

butter

1

tbsp

sesame oil

1

tbsp

garlic

,

minced
Instructions
Chop the onion and press the garlic. Chop the rotisserie chicken into small bite sized pieces.

Heat a wok or large skillet over medium high heat. Once the skillet is hot, add butter and onion and garlic to the skillet and cook for 2-3 minutes or until the edges start to brown.

Add the rice, veggies, chicken, and sesame oil to the skillet and stir to combine. Let cook 3-5 minutes, then push to one side and add the egg, scrambling and cooking until done.

Stir the egg into the mixture, add the soy sauce, and cook 1-2 more minutes, then remove from heat.

Garnish with green onions and drizzle with yum yum sauce if desired. Serve warm, and ENJOY!
Nutrition Information
Serving:
1.5
cups
,
Calories:
448
kcal
(22%)
,
Carbohydrates:
81
g
(27%)
,
Protein:
11
g
(22%)
,
Fat:
8
g
(12%)
,
Saturated Fat:
3
g
(19%)
,
Cholesterol:
65
mg
(22%)
,
Sodium:
614
mg
(27%)
,
Potassium:
238
mg
(7%)
,
Fiber:
3
g
(13%)
,
Sugar:
1
g
(1%)
,
Vitamin A:
1738
IU
(35%)
,
Vitamin C:
5
mg
(6%)
,
Calcium:
50
mg
(5%)
,
Iron:
2
mg
(11%)