This Mexican Style Spinach Chicken Bake will have your mouth dancing with the best flavors! Designed to be every bit as easy to make as it is delicious, this recipe takes just a handful of ingredients and bakes, hands off, all in one simple casserole dish. 
Mexican Spinach Chicken – The EASY Way!
Nothing disappears faster in my house than Mexican food. This recipe is no exception.
What's great about this recipe is that not only is it loaded with delicious Mexican flavors, but it is so EASY to make!
This dish takes just 7 simple ingredients and can go from the fridge to the oven in as little as 10 minutes.
So…
Loaded with flavor
Only a few ingredients
Bakes completely hands off
Loaded with lots and lots of veggies
Sounds like a winner in my book!
What to serve with Mexican Chicken
Since this main is always a winner, and I want clean plates, I have a few go-to side dish recipes that I like to serve with it to make sure everyone enjoys their dinner.
This dish is filling and already loaded with lots of veggies, so you can keep it simple with one side dish, or pair it with a few to help stretch the meal to go farther.
Classic Side dish
ideas
Mexican rice
Black beans
Tortillas
Corn chips
Low Carb Sides
Sautéed Peppers and onions
Cauliflower rice
Side salad with ranch dressing
Veggies and salsa
Sour cream & guacamole
Pick one or choose a few! Either way this meal will be loaded with delicious options sure to create a full belly.
Recipe Tips
This Mexican Spinach Chicken recipe is as simple as I promised! I am going to share a few of my tips for getting the absolute best (ie most tender and flavorful) chicken from this recipe.
I will also share notes on substitutions, dietary restrictions, and even a few variations if you want to try something new.
Hopefully this answers any questions that may pop up while cooking, but if not, feel free to drop them in the comments section below.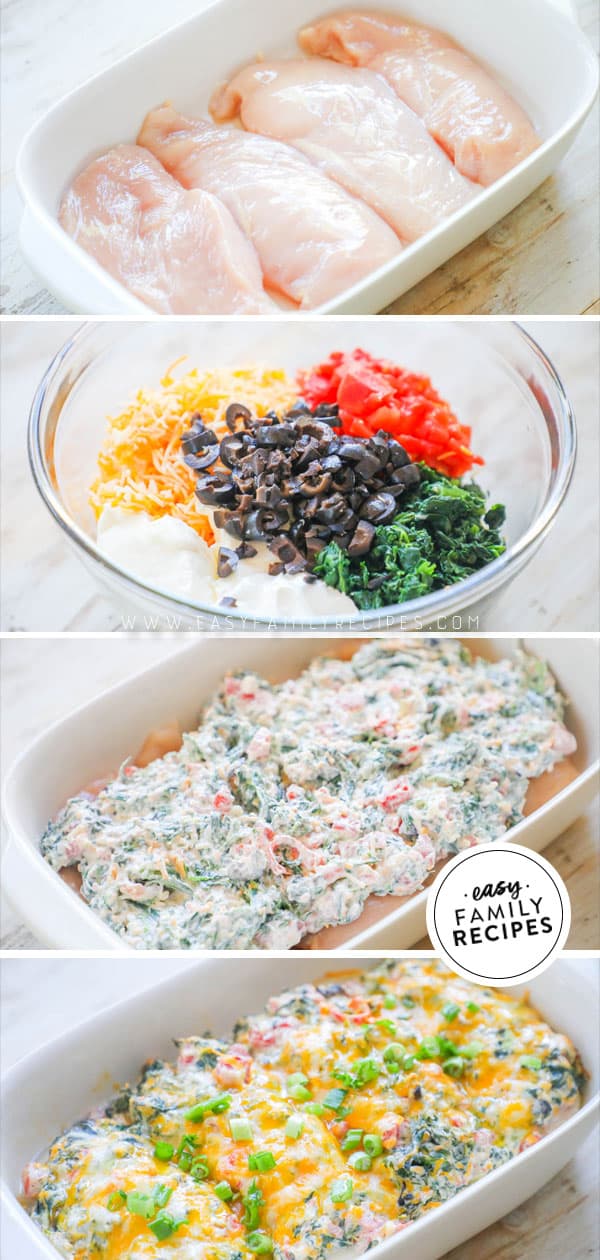 Tip 1: Use thin chicken breasts
When you make baked chicken, even regular sized chicken breasts can take longer than you think to bake all the way through when you pile the delicious toppings on.
I highly recommend you either buy thin cut chicken breasts, or cut or pound your own.
To do this, I but each chicken breast horizontally so it is half the thickness.
Why do this?
It will reduce the cooking time
The chicken is able to cook more quickly and evenly, so it stays more tender.
It makes serving easier
It will release less liquid
Tip 2: Drain the veggies well
If you want to end up with a delicious thick creamy sauce over your chicken, the key is making sure to get most of the moisture out of the veggies.
You will want to:
Drain the olives
Drain the tomatoes well
Thaw and squeeze all the water from the spinach you can
These three are responsible for contributing the most extra liquid to the dish, so making sure that they are well drained helps you create a delicious thick cheesy layer instead of a soupy mess.
Tip 3: Baking Time
The number one way to end up with dry, tough, hard to chew chicken is over cooking.
Chicken breast should be cooked to 165˚F. The absolute best way to get tender, juicy, perfectly baked chicken is to use a meat thermometer. You can get them very inexpensively at anywhere from the grocery store, to Walmart, to Amazon.
Keeping your chicken breasts thin, as we discussed above, will also help them stay tender since they are able to bake more quickly and evenly.
The time it will take your chicken to bake can vary by oven, climate, and elevation, however, it will generally take about 30-40 minutes for chicken to reach 165˚F.
Ingredients & Substitutions
Chicken Breast

Substitutions: Boneless skinless chicken thighs, or chicken tenderloins

Frozen Spinach

Substitutions: fresh spinach that has been cooked down and drained.

Rotel tomatoes and green chiles

Substitutions: Any brand tomatoes with green chiles can be used, or 1 cup of salsa can be substituted.

Cream Cheese

Substitutions: light cream cheese can be used. Avoid fat free cream cheese since it doesn't melt in the same way.

Sour Cream

Substitutions: Light or fat free sour cream can be used.

Olives

Substitutions: olives can be omitted per personal preference

Colby Jack Cheese

Substitutions: cheddar or mexican blend cheese can be used instead.
Recipe Variations
I always recommend you try the recipe as written first, however, if this becomes a favorite there are a few ways to switch this recipe up for a new twist on a favorite.
Skinny Mexican Spinach Chicken– Make recipe as directed using light cream cheese and light sour cream in place of original. Cut the colby jack cheese in half both for the mix in and topping. This will cut both the fat and calories for this recipe.
Mexican Spinach Chicken Verde– In place of Rotel, use 1 cup salsa verde and make as directed.
Loaded Mexican Chicken– For an even more loaded version, try mixing drained and rinsed corn and black beans into the spinach mixture.
Crispy Mexican Spinach Chicken– 10 minutes before bake time is up, crumble tortilla chips over the top of the dish and return to oven for remaining bake time.
Dietary Restrictions
If you are cooking for someone with special dietary restrictions or needs, this dish may be naturally friendly for them, or able to be easily modified.
Please check labels to make sure any store bought ingredients are compliant for your specific dietary need.
Gluten Free- This recipe is naturally gluten free
Low Carb/ Keto- This recipe is naturally low carb at 5 net carbs per serving and friendly for the keto diet.
Nut Free- this dish is naturally nut free
Egg free- This dish is naturally egg free
Macro friendly- This recipe is macro friendly at C: 7g P: 44g F: 28g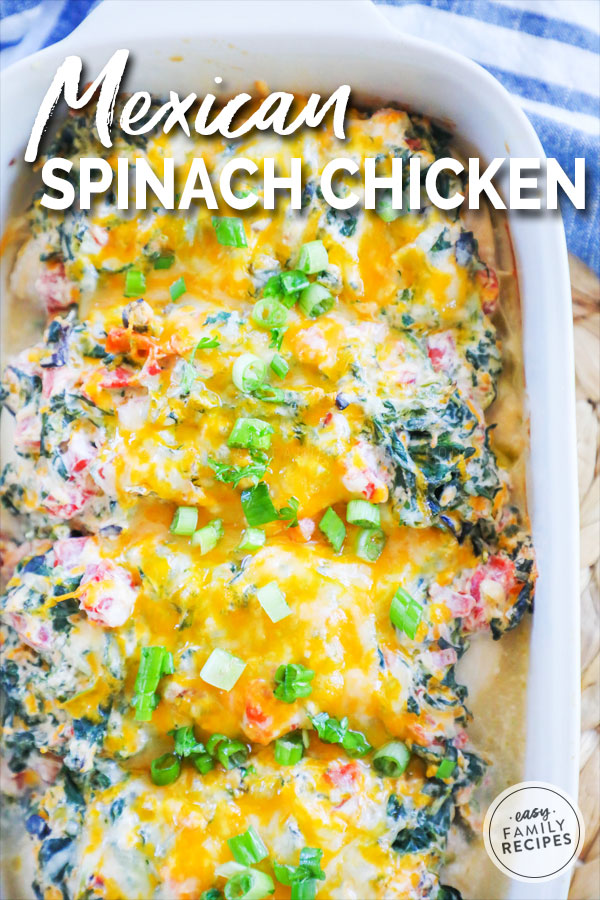 Leftover Recipe Ideas
If you have leftovers of the Mexican Spinach Chicken, you can store them in an airtight container in the refrigerator for up to 3-4 days.
Those leftovers can be reheated to eat as is, or made into a new and delicious dinner.
Here are a few of my favorite leftover recipe ideas:
Mexican Spinach Chicken Quesadillas– Chop chicken and mix with topping. Spread on half of a large tortilla and fold. Grill each side on a buttered skillet until golden brown.
Mexican Spinach Chicken Enchiladas- Chop leftovers and mix with toppings. Warm corn tortillas in a skillet and then wrap chicken mixture into each one and place in a casserole dish. Cover with green enchilada sauce and cheese and bake at 350˚F for 20-30 minutes or until heated through.
Mexican Spinach Chicken Pepper Nachos– Shred leftover chicken and mix into toppings. Cut mini peppers in half or large bell peppers into pieces and then spread with chicken mixture. Top with additional cheese and bake 15-20 minutes or until heated through. Top with sour cream, guacamole, and pico de gallo.
Mexican Spinach Chicken Flautas– Chop leftover chicken and mix into toppings. If desired, mix with drained corn and black beans. Roll chicken mixture into flour tortillas and place seam side down on a baking sheet. brush top of tortilla very lightly with vegetable oil and bake at 425˚F for 10-15 minutes or until tortilla is golden brown. Serve with sour cream for dipping.
More Easy Chicken Recipes
If you enjoyed this recipe, I really hope you will browse around and find a few more that your family will enjoy. You can take a look at all of my chicken recipes here, or see a few family and reader favorites below.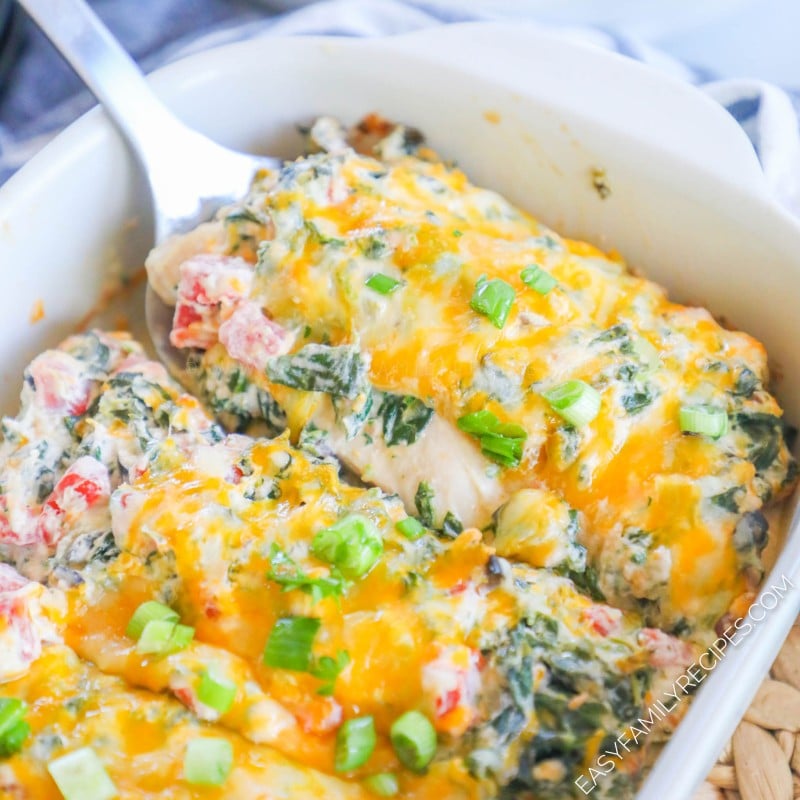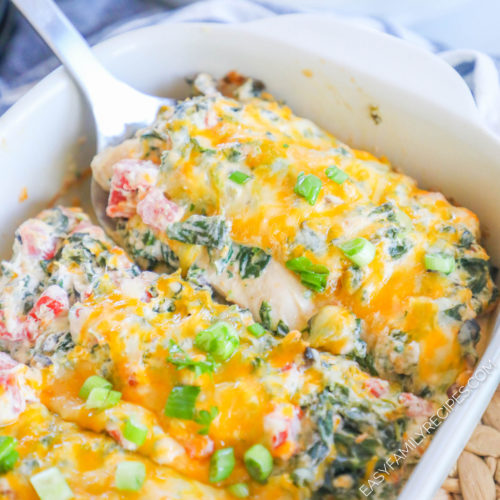 Mexican Spinach Chicken Bake
This Mexican Spinach Chicken packs all of the best Mexican flavors into a rich and creamy topping baked right on top of tender chicken breast.
Ingredients
2

lbs

boneless skinless chicken breasts

12

oz

frozen chopped spinach

,

thawed

10

oz

Rotel tomatoes with green chiles

,

(1 can)

6

oz

cream cheese

,

softened

1/4

cup

sour cream

2.25

oz

diced black olives, drained

,

(1 can)

1.5

cups

colby jack cheese

,

shredded and separated
Garnish
Green onions

,

chopped

Cilantro

,

chopped
Instructions
Preheat oven to 375˚F. Squeeze as much liquid from the spinach as possible.

In a large bowl mix the cream cheese and sour cream together. Stir in the Rotel tomatoes, spinach, black olives, and 1 cup colby jack cheese. Mix until combined.

Lay chicken breasts flat in a large baking dish and spread the spinach mixture on top of the chicken. Top with remaining colby jack cheese.

Bake for 30-40 minutes or until the the chicken is cooked through (165˚F internal temp.)

Garnish with your choice of green onions, tomatoes, or cilantro. Serve hot. Enjoy!
Nutrition Information
Calories:
458
kcal
(23%)
,
Carbohydrates:
7
g
(2%)
,
Protein:
44
g
(88%)
,
Fat:
28
g
(43%)
,
Saturated Fat:
14
g
(88%)
,
Cholesterol:
164
mg
(55%)
,
Sodium:
685
mg
(30%)
,
Potassium:
939
mg
(27%)
,
Fiber:
2
g
(8%)
,
Sugar:
3
g
(3%)
,
Vitamin A:
7559
IU
(151%)
,
Vitamin C:
9
mg
(11%)
,
Calcium:
365
mg
(37%)
,
Iron:
3
mg
(17%)