This Mexican Shredded Beef is the perfect family friendly dinner idea on a busy weeknight.  Filled with flavor, this Mexican meal can be made just using your crockpot!
Serve it up over rice, or pile it high in burritos, tacos, enchiladas, or even use it for meal prep or a freezer meal for later. Making a big slow cooker full of Mexican Shredded Beef is always a hit!
Slow Cooker Mexican Beef
When your family loves Mexican food as much as mine does, you develop recipes that become your go to for keeping everyone happy, that can be made quickly and easily, and that even qualify as wholesome!
This Mexican Shredded Beef checks the boxes on all of the above and is perfect for eating alone, or using as a part of your favorite Mexican dishes like tacos, burritos and more.
The best part is that it really doesn't get much easier than this! The Crock Pot does all the work, all you have to do is dump in a handful of ingredients and set it to cook.
The result is a perfectly tender, juicy, and flavor packed beef roast, ready to shred and eat.
How to Serve Mexican Shredded Beef
As I have mentioned above, one of the best parts about this recipe is the versatility. You can serve this beef in so many different ways. We frequently will eat it prepared different ways two or even three times in a week and it doesn't get old!
Here are some of the top ways to use it:
Mexican Beef Bowl– This is a personal favorite! Put the shredded beef on a bed of rice, or cauiflower rice, then top it off with your choice of toppings from the list below
Tacos– Make them in flour or corn tortillas, taco shells, or as lettuce wraps. I like to grill the tortillas in a griddle pan just just a touch of butter to make them extra yummy.
Burritos– Use a big tortilla and wrap it up with rice, beans, salsa, and cheese. Serve it as is, or serve it "wet" — smothered in enchilada sauce and baked!
Shredded Beef Toppings
There are endless topping options for what goes well on Mexican shredded beef! I have included most of the classic ones, but feel free to get creative too with things like BBQ sauce or ranch dressing!
Sour Cream
Salsa – This homemade version is so EASY!
Guacamole
Shredded cheddar cheese
Chopped cilantro
Side Dishes
Mexican Shredded Beef is hearty and delicious! It goes well with most Mexican inspired dishes. You can pair it with one, or bulk up the dinner and stretch it by adding a few!
Here are a few sides that go well with Mexican Beef:
Sautéed Peppers and Onions
Tortillas
Mexican Rice or cauliflower rice
Refried or Black beans
Tips for Making Mexican Shredded Beef
Simple as promised, this Mexican Shredded Beef is a dump-and-go and let the crock pot do all of the work kind of recipe.
If I am speaking your love language, read on! I am going to share my notes, plus a few tips to make sure you get the best ever shredded beef!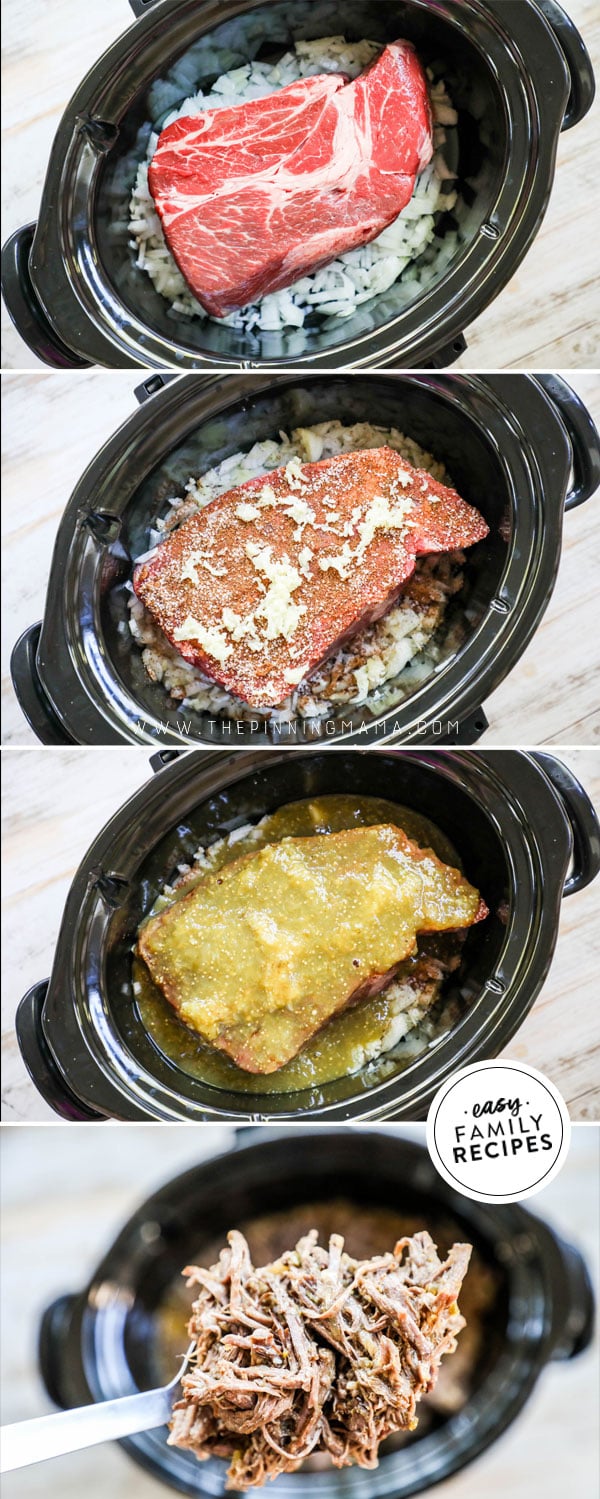 Ingredients
With just a cut of beef, a handful of spices, and some delicious salsa, you are on your way to a delicious dinner! These ingredients are pantry staples for the most part, so this is a meal that is easy to make on short notice.
The meat
This recipe uses a chuck roast. When you are cooking meat low and slow in the crock pot you will want a tougher cut of meat like this.
It is tough because it contains a lot of connective tissues, but when it cooks slowly, those tough tissues actually work for us breaking down slowly to keep the meat juicy and tender, instead of getting dried out and tough like a more lean cut might.
If you don't have a chuck roast, a top blade, or round steak would work well in the slow cooker as well.
The Seasonings
To season the beef we use a generous amount of chili powder, cumin, salt and cayenne pepper.
With the quantity of meat, along with the long cooking time, we need to be a bit heavy handed with the spices for it to keep that delicious flavor.
The Cayenne pepper is optional in the recipe. If you like your beef to have a little spice you can use it. If you prefer it completely mild, you can leave it out. If you want even more spice, feel free to add more to taste.
The Salsa
I always make my Mexican Shredded Beef with salsa verde. I love how it adds a hint of tanginess while the acidity adds to making the beef tender and juicy.
Salsa Verde is a traditional green salsa made from roasted tomatillos, onion, garlic, and cilantro.
You can pick up any jarred salsa verde at the store in the Mexican food section. If you prefer, you can make it from scratch with a recipe like this homemade salsa verde.
How long to cook the beef in the crock pot
The roast will cook 6-8 hours.
Once we dump the ingredients in, it is time to let the slow cooker do its thing.
In order for this recipe to work well, you can't rush it! The Mexican Beef will need at least 6 hours or more to cook.
Above we were talking about how the chuck roast is a tougher cut of meat. The composition of this cut makes tough UNTIL it is cooked slowly over a long period of time.
Then it is transformed into a super tender juicy cut of meat. But the magic elements that makes it go from tough to buttery soft is TIME + TEMPERATURE. If you don't get those right, you won't have the best Mexican Beef!
Recipe Variations
If you love this recipe but want to switch it up for variety, here are a few other ideas for making this recipe
Red Mexican Shredded Beef– Substitute red salsa for green salsa in the recipe
Ranch Mexican Shredded Beef – Add 1-2 ranch seasoning packets in with the beef
Cheesy Mexican Shredded Beef– Once the beef is done, separate the meat from the juices. Add in 8 oz of softened cream cheese, 1/2 cup of the juices, and 1 cup of sharp cheddar cheese. Stir until creamy and combined.
Jalapeno Mexican Beef– Add 1 8 oz jar jalapeno peppers to the crock pot before cooking. After cooking, use a hand blender to blend the juices with the onion and jalapeno. Mix the beef into the juices or spoon the juices over the top.
Dietary Considerations
Gluten Free- This recipe is naturally gluten free. Make sure to check any store bought ingredients for compliance.
Dairy Free- This recipe is naturally dairy free. Not all toppings or serving suggestions are dairy free.
Low Carb/ Keto – With approx. 8 grams net carbs per serving this is a low carb meal and friendly for Keto diets.
Paleo- This recipe is naturally friendly for the Paleo diet.
Whole30- This Mexican Beef recipe is Whole30 compliant.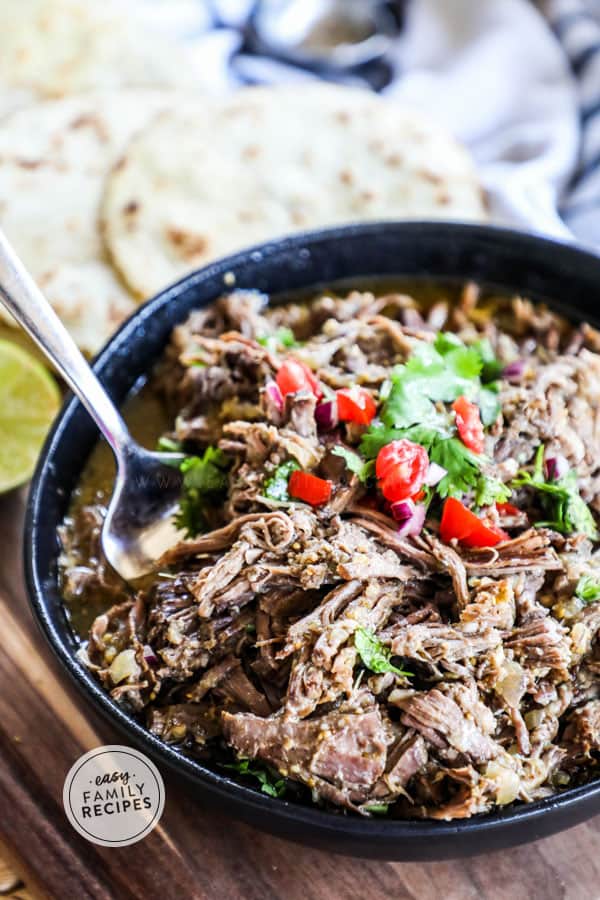 Freezer Meal Instructions
Mexican Shredded Beef can make a great freezer meal to be made for a later date or gifted to a new mom, sick friend, or someone else in need.
To prepare this recipe as a freezer meal:
Place the diced onions and pressed garlic in a freezer bag or air tight container.
Mix the spices and rub them on all sides of the roast and add it to the bag.
Pour the salsa verde and lime juice in with the roast and seal tightly.
Freeze.
When ready to make, defrost in the fridge for 24-48 hours or until thawed.
Pour contents in the slow cooker and cook as directed.
Mexican Shredded Beef Leftovers
If you have leftovers of the shredded beef, you are in luck! It saves and reheats well, and can be the start of some really delicious easy meals.
To save leftover Mexican Shredded Beef, divide into meal sized portions and place in an airtight container in
The refrigerator for 3-4 days
The freezer for up to a month
Leftover Recipes for Mexican Beef
I could go on and on for days with all of the different options that this beef can be turned into. There are just so many delicious ways to dress it up and make it into a completely new meal.
Here are a few ideas to get you started. If you have other favorite leftover ideas, leave me a note in the comments so I can try it next time I make this again!
Mexican Beef Quesadillas– Use the shredded beef, getting as much of the juices out as possible. Toss with shredded cheddar or pepper jack jack cheese. Heat a griddle pan or large skillet over medium heat. Once hot, melt 1/2 tbsp of butter on the pan. Place a large tortilla in the pan and fill half of it with the shredded beef and cheese mixture. Fold the tortilla over and grill until golden brown on each side. Optional: mix in onions, bell pepper, corn, or green chiles to the meat. Top with sour cream, salsa and guacamole.
Shredded Beef Tostadas– Spread refried beans over each tostada shell. Add shredded beef on top of the beans and top with cheese. Bake at 350 until the cheese is melted and the meat is heated through. Once done, top them with shredded lettuce and pico de gallo.
Beef Enchiladas– Fill corn or flour tortillas with shredded beef and shredded colby jack cheese. Roll and place seam side down in a casserole dish. Mix green enchilada sauce with sour cream and pour over the top. Sprinkle with cheese and bake until heated through and cheese is melted. Top with pico de gallo.
Mexican Beef Stuffed Peppers– Mix shredded beef with cooked rice, corn kernels, and chopped cilantro. Cut bell peppers in half, wash and deseed. Stuff each pepper with the shredded beef mixture. Top with salsa and cheese. Cover dish with foil and bake at 350˚F for 35-45 minutes or until the peppers are tender.
Shredded Beef Nachos– Spread chips over a baking sheet sprinkle shredded cheese over the chips. Add rinsed and drained black beans and sweet corn and top with shredded beef and more cheese. Bake at 425˚F for 10-15 minutes or until cheese is melted and nachos are heated through. Top with sour cream, guacamole and pico de gallo.
Mexican Beef Casserole– Mix shredded beef with prepared rice, black beans, canned chopped green chiles and cream cheese. Spread in a casserole dish and top with cheese and crumbled tortilla chips. Bake at 350˚F for 20-30 minutes until the casserole is heated through and the topping is crispy.
More Easy Mexican Inspired Dinners
If you loved this recipe, I hope you will take a moment to browse some of our other delicious recipes to add to your meal plan! You can see them all in our recipe index, or grab some of my personal favorites below.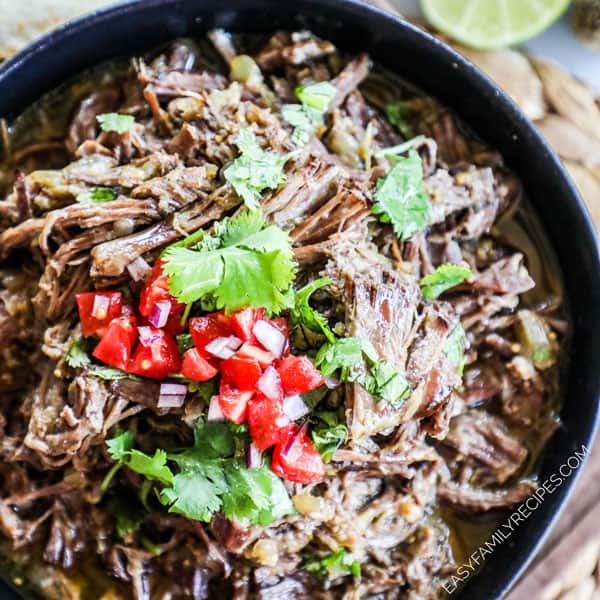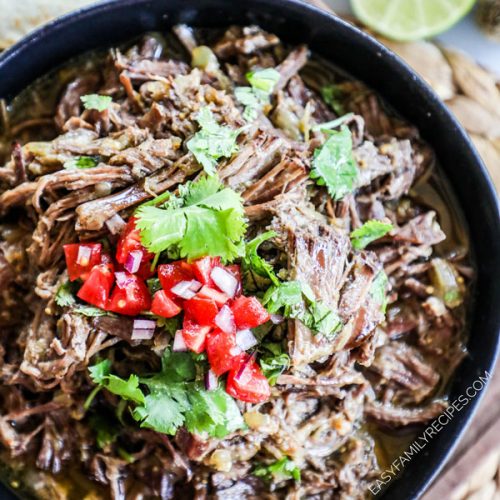 Mexican Shredded Beef
This Mexican Shredded Beef is LOADED with flavor! It doesn't get much easier to make since it all goes in the slow cooker and in the end you get some of the most tender, delicious, and flavorful beef. Serve it over rice or to make your favorite Mexican dishes like tacos, burritos, quesadillas, nachos, and more!
Ingredients
3

lb

chuck roast

1

sweet onion

,

diced

16

oz

salsa verde

,

(about 2 cups)

1

tbsp

chili powder

1

tbsp

ground cumin

1

tbsp

salt

1

tsp

cayenne pepper

,

(optional for heat)

6

cloves

garlic

,

pressed

2

tbsp

lime juice

,

(about 1 lime)
Instructions
Dice the onion and place it in the bottom of the slow cooker.

Mix the chili powder, cumin, salt, and cayenne (optional) together and rub it on all sides of the roast then lay the roast in the slow cooker on top of the onions and top with pressed garlic.

Finish the roast by layering the salsa verde and lime on top.

Close the slow cooker and set it on low for 6-8 hours.

Once done, remove the roast and use a fork to shred. Add the roast back into the juices and stir to coat.

Garnish with fresh chopped cilantro. Serve over rice, in tacos, quesadillas, burritos, or on a salad. Enjoy!
Nutrition Information
Serving:
6
oz
,
Calories:
357
kcal
(18%)
,
Carbohydrates:
9
g
(3%)
,
Protein:
33
g
(66%)
,
Fat:
21
g
(32%)
,
Saturated Fat:
9
g
(56%)
,
Cholesterol:
117
mg
(39%)
,
Sodium:
1439
mg
(63%)
,
Potassium:
776
mg
(22%)
,
Fiber:
1
g
(4%)
,
Sugar:
6
g
(7%)
,
Vitamin A:
776
IU
(16%)
,
Vitamin C:
6
mg
(7%)
,
Calcium:
52
mg
(5%)
,
Iron:
4
mg
(22%)