This Crockpot Greek Chicken is an entire meal with meat and veggies made simple in the slow cooker! It is loaded with chicken, veggies and bright Greek style flavors to make it equally hearty and delicious. Everything cooks together to make this meal one you can set and forget until it is time to eat!
Greek Chicken – The EASY Way!
If you love the flavors of Greek food as much as I do, you must try this recipe for Greek inspired chicken!
All of the flavor is there, but it is a complete set it and forget it recipe for the slow cooker.
It doesn't get much easier than that!
You will find mediterranean favorites like:
Roasted red peppers
Kalamata olives
Pepperoncini peppers (banana peppers)
Spinach
Fresh lemon
Feta
all nestled right in slowly baking to perfection while the delicious flavors mingle and season the chicken.
The very best part though, might be that the veggies and protein all cook right alongside one another so that you have everything you need for a wholesome dinner all in one pot.
What to Serve with Greek Chicken
Since this dish has the classic flavors of mediterranean cuisine, it will pair well with many of your favorite greek side dishes. There are both classic options and some healthy options to keep it light.
Remember, your slow cooker will be filled with a plethora of delicious veggies cooked right alongside the chicken, so if you find yourself tight on time, you can serve the chicken and veggies right from the crockpot, no extras needed!
Side Dish Ideas
Lemon Rice – One of my favorite things to add (pictured here!)
Greek salad – keep it as simple as mixed greens with a little cucumber, red onion, and feta drizzled with a greek vinaigrette
Pita bread – spread a little butter on it and toast it to make it extra yummy!
Garlic smashed potatoes– These are a go to in our house. So easy and extremely delicious!
Cucumber Tomato Salad– Simple and saves great to use for lunch the next day!
Toppings
Tzatziki sauce– This makes a great sauce for greek chicken! Just drizzle a little over the top for lots of added flavor!
Fresh Parsley- Chop it up and sprinkle it over the top
You can choose one or add a few sides to make a wholesome, well rounded dinner.
Recipe Notes
This Crock pot Greek Chicken and vegetables recipe is as simple as promised! Just a handful of ingredients and a few hours to cook for a family friendly meal.
In this section I am going to go through a few tips and tricks I use when making this recipe to get the absolute best and most delicious results.
Make sure to scroll to the bottom for the FULL recipe card.
Ingredients + Substitutions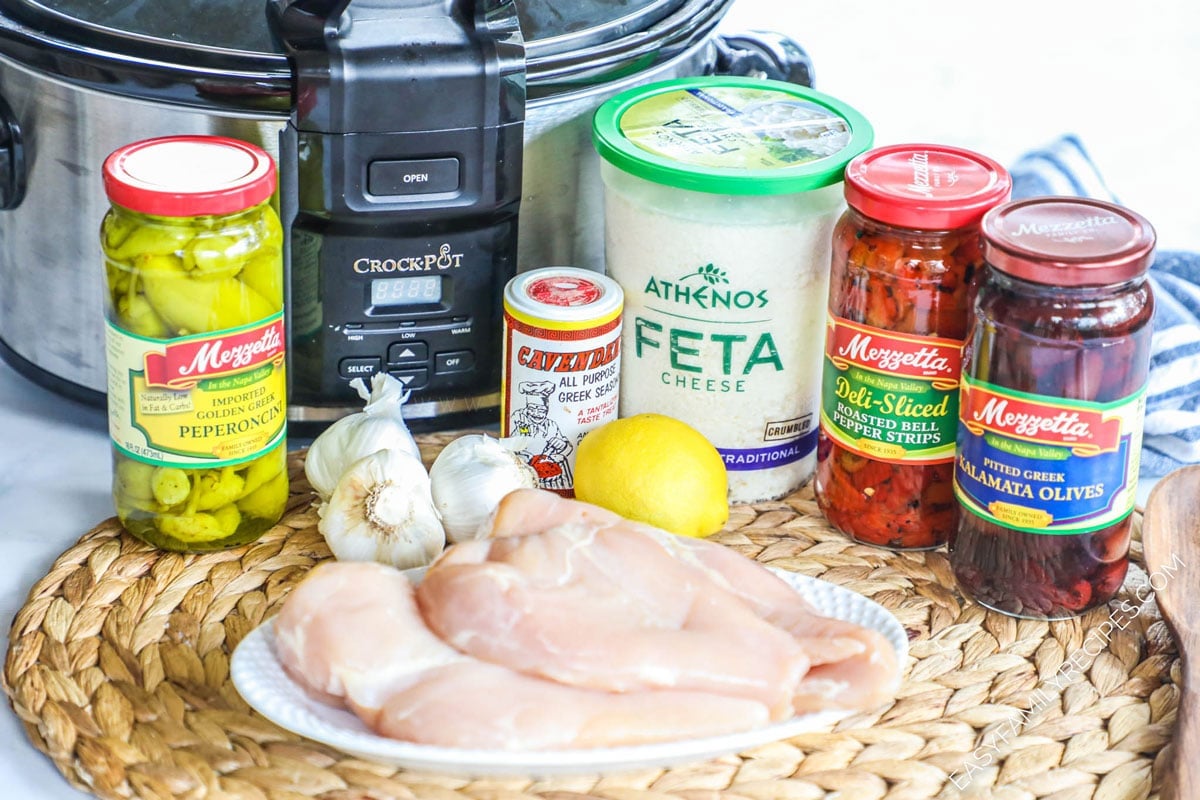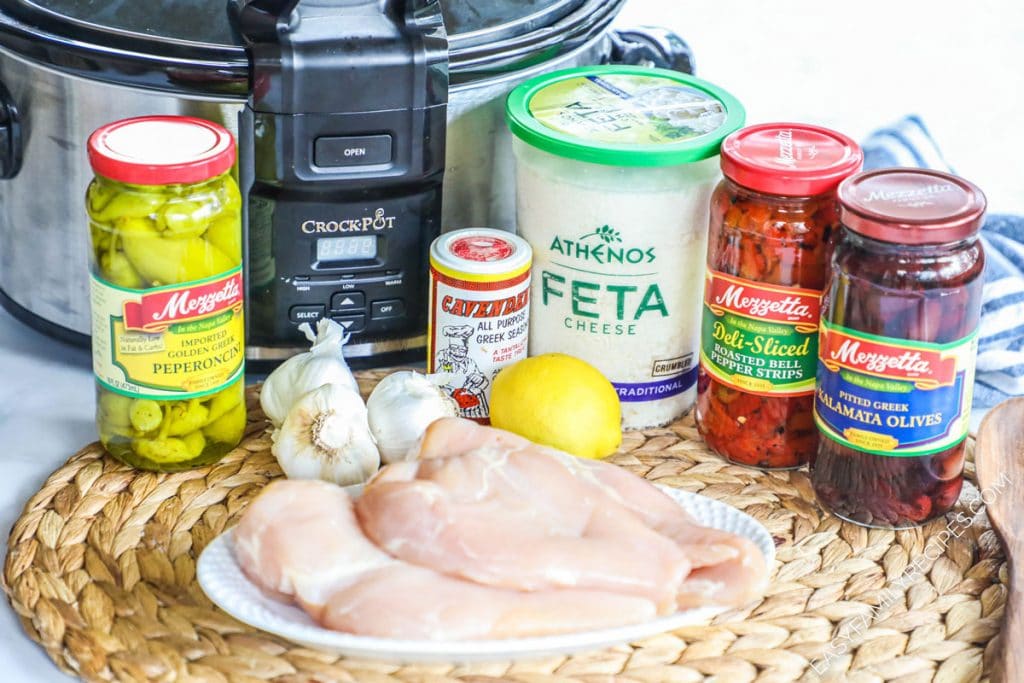 Chicken– This recipe calls for chicken breasts, which is preference for our family. You can also get GREAT results with chicken thighs if you prefer those!

Roasted red pepper strips– I buy these jarred and prefer to buy them pre-sliced just to cut down on prep time. Fresh peppers don't work as well in the crock pot, so in this case, I really do prefer the jarred roasted red bell peppers over substituting fresh.

Peperoncini peppers– These are a greek style yellow pepper. They have a very small kick, but are generally thought to be mild. I prefer to use whole peppers so my picky eaters can easily eat around them.

If you don't have picky eaters, you can get the pre-sliced peppers to make serving easier. If you can't find peperoncini peppers, you can substitute banana peppers.

Kalamata olives– These are greek style olives and can generally be found with the other olives in the grocery store. If you don't find them there, you can look in the ethnic foods area in the greek/mediterranean section.

They do have a different taste from black or green olives, so I recommend using them if you can!

Greek seasoning– You can use either homemade greek seasoning, or Cavender's brand found in most major supermarkets.

Homemade offers the ability to control what goes in so you know the flavor along with guaranteeing it is gluten free, dairy free, sugar free etc. If you have 5 minutes, this is easy to make and will last in your pantry for up to a year!

Cavendar's seasoning is delicious and I recommend it if you decide not to make your own. You can see how it looks in the ingredients photo above and find it in the spice section of the grocery store.

Red onion
Fresh spinach– Fresh spinach works best. It will look like a lot when you add it, but once it wilts, it will reduce in volume greatly.
Feta cheese– You can use regular, low fat, or omit if you don't care for feta or want to modify for dairy free.
Lemon– Use fresh for best flavor!
Garlic– use fresh for best flavor!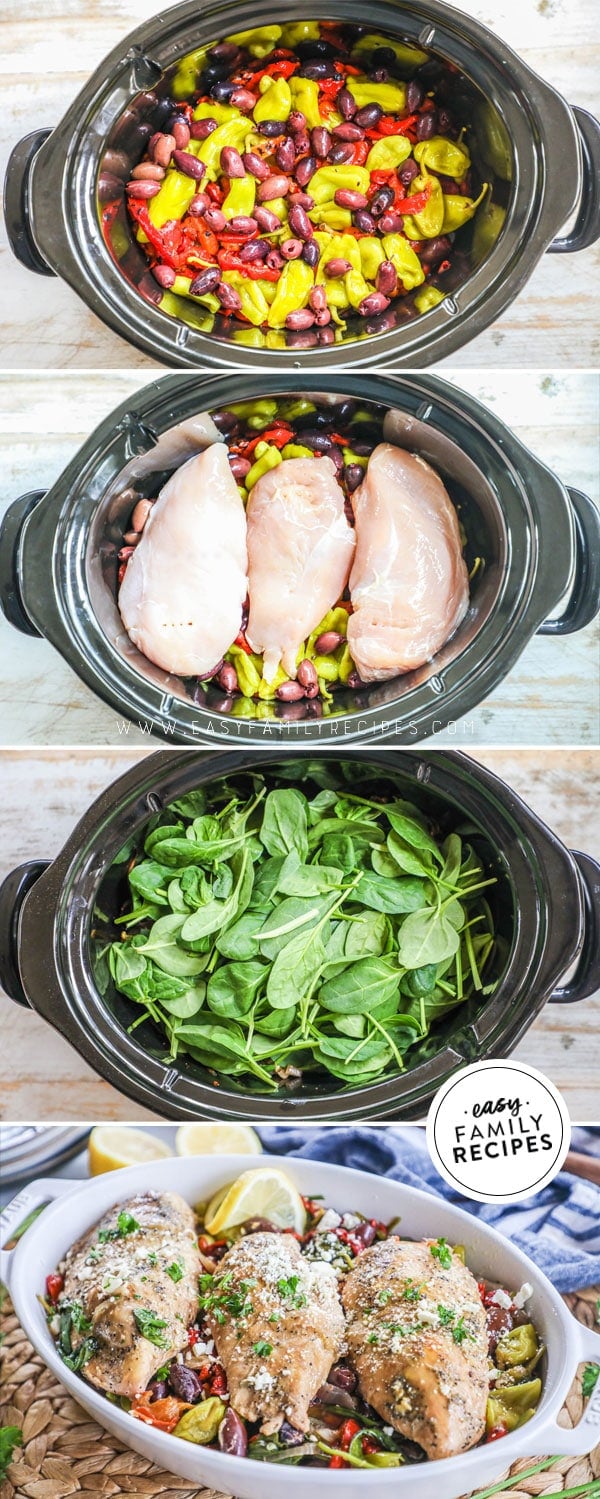 Recipe Tips
Pay attention to order! This recipe is easy, but there is some science to it. For example, the spinach doesn't get added until the end. It will over cook and just mostly be mush if you cook it alongside everything else!

The lemon is added at the end to give it a bright flavor, and will impact the dish differently if added while cooking.

Fresh or jarred? I have indicated on the recipe for ingredients that should be fresh or jarred. Ingredients such as the lemon and garlic have a much different flavor fresh, while the roasted red peppers from the jar will cook better in a slow cooker, while fresh peppers can turn to mush. Make sure you take a look and use the right variety for this recipe.

Don't Overcook! Crock pot recipes are awesome since they can cook hands off and since the moisture is kept in, things almost never actually burn. That said, you can still over cook meat in the slow cooker and a lean meat like chicken breast needs less time than you may realize.

Generally up to 3 on high, or 4 on low will be enough to cook to or beyond the suggested safe temperature of 165˚F. If you need to cook for longer (because you are working, or otherwise occupied) I would recommend using chicken thighs which will give a better result for an extended cooking time.
Recipe Short Cuts
If you need to make this recipe, but are extra short on time, here are a few ideas that can help make this recipe even faster!
Prep ahead– The recipe can be prepared through step 2 up to 48 hours in advance and refrigerated, then placed in the crock pot to cook when needed.
Prepare as a freezer meal– This can be made a a freezer meal (directions below) up to 6 months in advance and cooked when ready.
Recipe Variations
If you love this recipe as much as we do and want some quick ways to change it up for variety, these little tips will do the trick!
Creamy Greek Chicken– Make recipe as directed. Once done, remove the chicken and stir in 4 oz cream cheese and up to 1 cup of heavy cream to make a creamy delicious veggie mixture. Top with chicken.
Spicy Greek Chicken– Use hot peperoncini (or banana) peppers in place of mild ones. Then add 1-3 tsp red pepper flakes (depending on desired spice level) when adding the greek seasoning. Cook as directed.
Greek Pork– Substitute a pork loin or pork chops in place of chicken.
Dietary Considerations
If you have special dietary needs, this recipe meets some and can be easily modified to comply with others.
As always, check all store bought ingredients for compliance on specific dietary needs. The notes below are a general guide.
Gluten free: This recipe is naturally gluten free when using homemade greek seasoning.
Dairy free: This recipe can be made dairy free when using homemade greek seasoning AND omitting the feta cheese.
Nut free: This recipe is naturally nut free
Egg free: This recipe is naturally egg free
Low carb/Keto: This recipe has a net carb count of 10g per serving.
Macros: The approximate macro calculation per serving for this recipe is- P: 36g C: 15g F: 9g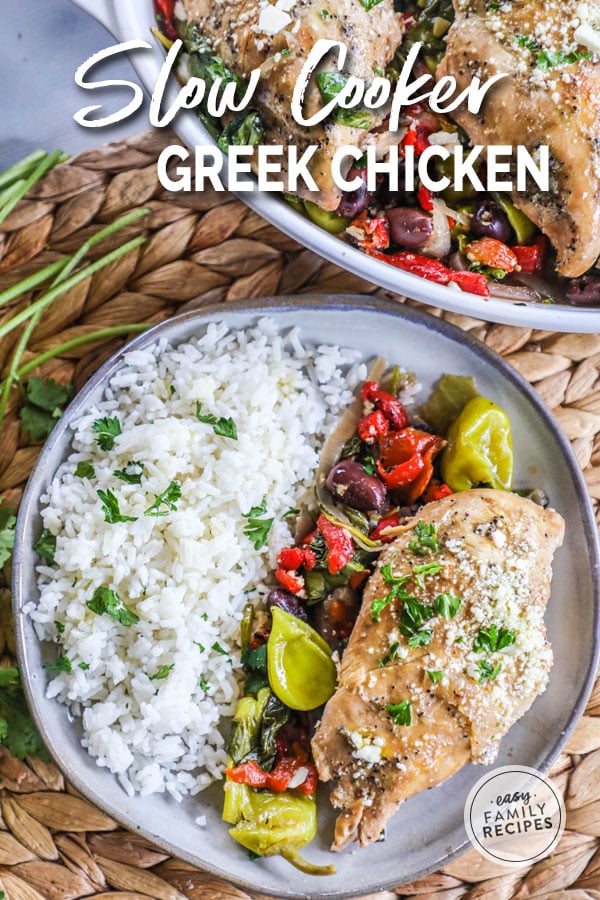 Freezer Meal Instructions
This Crockpot Greek Chicken can be prepared as a freezer meal. For best flavor, the recipe should be cooked within 6 months of freezing.
Drain the red bell pepper strips, peperoncini peppers, and olives and layer them in a freezer friendly container or freezer bag.
Season the chicken on both sides and lay them on top of the pepper mixture. Cover with onions and garlic.
Freeze.
When ready to cook, thaw for 24-48 hours and then cook per recipe directions.
Greek Chicken + Veggies Leftovers
If you have leftovers after making this crockpot Greek Chicken, then it is your lucky day! They save and reheat well, and can make the start of another delicious dish.
To save leftovers, separate into meal sized portions and then place in an airtight container and store:
in the refrigerator for 3-4 days
in the freezer up to a month
Leftover Recipes
Here are a few ways to repurpose those leftovers and give them a delicious makeover!
Greek Chicken Wraps– On a large flatbread, spread a layer of hummus. Pile on leftover chicken and veggies. Add additional feta cheese if desired. Then add some mixed greens and a drizzle of tzatziki. Roll up and enjoy!
Greek Chicken Bowls– On a bed of rice (or other grain) add chopped chicken and veggies. add a scoop of hummus, tzatziki, chopped cucumber, tomato, and drizzle of olive oil, squeeze of lemon juice, and fresh chopped parsley.
Greek Chicken Flatbreads– Spread a flatbread (like naan) with a thin coat of olive oil and a smear of garlic. Top with a sprinkle of mozzarella and feta cheese then top with chopped leftover chicken and veggies. Bake at 425˚F for 8-12 minutes or until heated through.
More Easy Crockpot Recipes
If you enjoyed this recipe, I really hope you will take a moment to grab a few more easy recipes for another busy night!
You can check out all of my Dinner recipes here, or see a few of our readers favorite recipes below.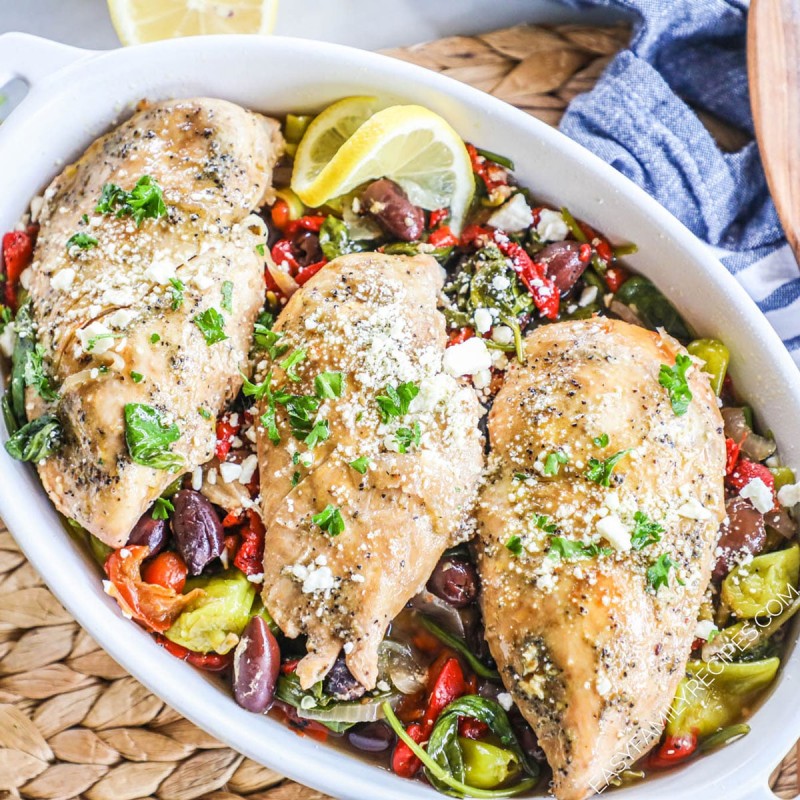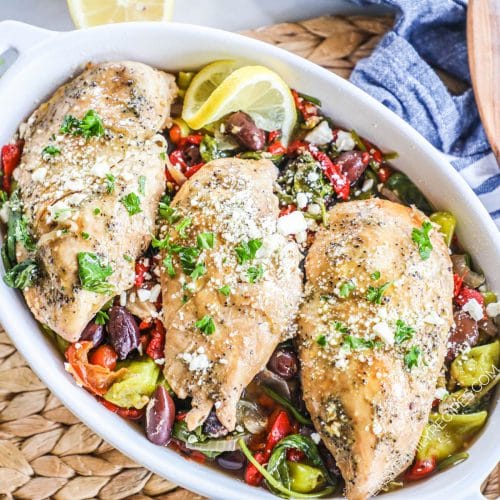 Crock Pot Greek Chicken + Vegetables
This simple to make slow cooker recipe is loaded with all the Greek flavors for an all in one meal that will impress! Eat it in a bowl, or stuffed in a pita, a top a salad, or even in a pepper!
Ingredients
2

lbs

boneless skinless chicken breasts

16

oz

roasted red pepper strips

,

(1 jar, drained)

16

oz

whole peperoncini peppers

,

(1 jar, drained)

1

cup

kalamata olives

,

drained

2

tbsp

greek seasoning,

(Cavender's or homemade)

1

medium red onion

,

sliced

4

oz

fresh spinach

1/4

cup

feta cheese

,

crumbled

1/2

lemon

,

fresh

6

cloves

garlic

,

pressed (fresh)
Instructions
Drain the red bell pepper strips, peperoncini peppers, and olives and layer them in the crock pot.

Season the chicken on both side and lay them on top of the pepper mixture. Cover with onions and garlic.

Cook on high for 2.5-3 hours, or low for 3.5-4 hours, or until the chicken is cooked through.

Open the crock pot and remove the chicken. Mix the spinach into the vegetables and close the lid for 5-10 minutes or until it wilts. Lay the chicken back on top, squeeze fresh lemon juice over everything, and top with feta cheese.
Recipe Notes
You can optionally top the chicken with a drizzle of Tzatziki and fresh chopped parsley to make it extra delicious!
You can use boneless, skinless chicken thighs in place of breast if desired.
If you prefer, the chicken can be shredded and served over the vegetables or mixed into the vegetables.
Nutrition Information
Calories:
288
kcal
(14%)
,
Carbohydrates:
15
g
(5%)
,
Protein:
36
g
(72%)
,
Fat:
9
g
(14%)
,
Saturated Fat:
2
g
(13%)
,
Cholesterol:
102
mg
(34%)
,
Sodium:
2031
mg
(88%)
,
Potassium:
1029
mg
(29%)
,
Fiber:
5
g
(21%)
,
Sugar:
3
g
(3%)
,
Vitamin A:
2583
IU
(52%)
,
Vitamin C:
112
mg
(136%)
,
Calcium:
122
mg
(12%)
,
Iron:
2
mg
(11%)