Crock Pot Party Meatballs are a go to classic for entertaining!  With only a few simple ingredients, you can be ready for a crowd with perfectly glazed sweet and tangy meatballs and the slow cooker does the hard work, keeping them warm as long as the party lasts.
These meatballs are as easy as they are delicious!
Grape Jelly Meatballs
Grape jelly in meatballs?!
I couldn't believe it the first time I heard it either, but the empty crockpot says it all!
Call it Party meatballs. Call it Cocktail Meatballs. Call it Sweet adn Sour Meatballs. Or Call it Grape Jelly Meatballs. No matter the name, this classic party appetizer is one that has been on countless family tables and pot luck buffets and always has people requesting the recipe!
The combination of the sweet and savory, makes them surprisingly addictive! This recipe uses the classic ingredients, but there are some fun variations you can try too.
Try making these for:
Holiday get togethers (Thanksgiving, Christmas, Easter)
Football watching parties
Tailgates
Church Potlucks
New Year's Eve gatherings
Neighborhood BBQ's
Sports Team parties
If there is a crowd, these always hit the spot! This recipe will serve 12-16+ generous appetizer portions, so there is enough to go around.
How to Serve Crock Pot Party Meatballs
These Party Meatballs are traditionally used as an appetizer. It is a great hearty dish to add to a buffet table, or can stand alone as a tasty pre-meal snack.
A few ideas for serving these meatballs:
Keep them in the crock pot. If you are wanting them to be available over a long period of time, leave them on warm in the crock pot for self serve!
Plate them with tooth picks. If you want them to be passed, or just extra easy and accessible you can put them on a plate or board with toothpicks right in them for people to easily take as they pass.
In a bowl. These make a really pretty presentation with their shiny glaze. If you are wanting to maximize that, you can pile them in a bowl with toothpicks or forks next to it.
Appetizers to Serve with Crock Pot Party Meatballs
If you are looking for a few things to serve, some other appetizers that compliment the grape jelly meatballs well, are:
These classics make a well rounded appetizer spread!
How to Make Party Meatballs in the Crock Pot
These sweet and sour meatballs really couldn't be any easier!  But with that said, there are a few little tips and tricks that keep it simple and make them taste their best!
Make sure to hop to the bottom of this post for the FULL recipe card!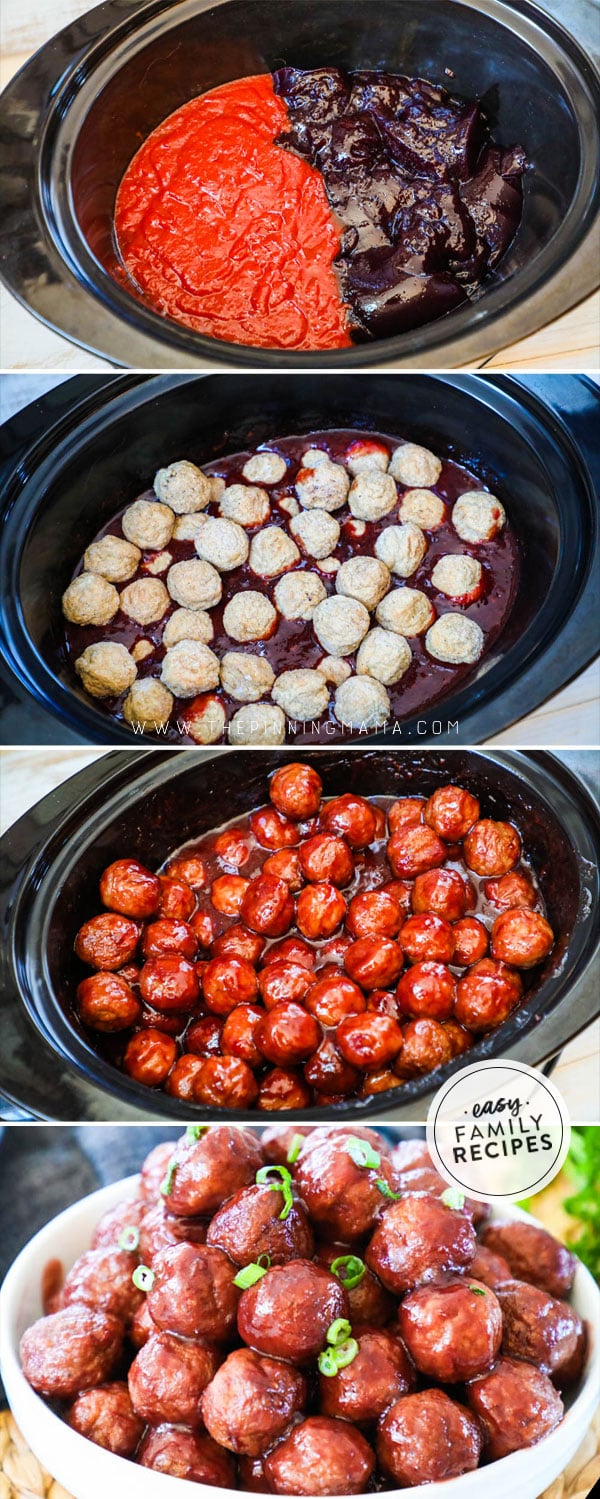 The Meatballs
This recipe uses 5 lbs of frozen meatballs. You can really use your preference of basic meatballs for this.
There are two main things you want to avoid:
Using pre-flavored meatballs (like buffalo, teriyaki etc)
Using uncooked meatballs
Both of these will not work well in this specific recipe.
For great results, feel free to use:
Beef meatballs
Pork meatballs
Turkey meatballs
Chicken meatballs
Or any combination of the meats above! The flavor really comes in the glaze they cook in so any basically flavored precooked meatball will work!
I use frozen meatballs when I make this dish. The reason is that they are quick and easy to get this dish going fast.
If you prefer, you can absolutely use homemade meatballs for this. You can use fresh homemade meatballs, or homemade meatballs that have previously been cooked and frozen. Just make sure you are using fully cooked meatballs.
The Sauce
The sauce for these cocktail meatballs is super simple and only has 2 main ingredients with an optional spicy adder.
What you need is:
Grape Jelly – Any brand will work. I generally use Smuckers.
Heinz Chili Sauce– Don't confuse this sauce with Asian chili sauce. Heinz Chili Sauce is ketchup like, as opposed to clear and glaze like. If you can't find chili sauce, make your own by combining 2 c tomato sauce, 1/4 cup brown sugar, 1/4 cup white vinegar, 1 tsp chili powder, 1 tsp onion powder, 1/2 tsp garlic powder.
Red Pepper Flakes– If you like spicy, you can add as much or as little as you like to your preference. Or if you want it mild or kid-friendly, just omit the red pepper all together.
All you need to do is add this to the crockpot and whisk it together, then toss the meatballs in and let the slow cooker work its magic!
Sauce Variations
If you want to shake things up from the classic recipe, here are a few ideas for variations that are just as delicious.
Substitutions for Grape Jelly:
Cranberry sauce
Raspberry Jelly
Apricot preserves
Substitutions for Chili Sauce

Freezer Instructions
These cocktail meatballs are pretty easy to whip up for a party, without much time and effort, but if you are preparing a lot and want to get ahead, you can prep them, and freeze for up to 3 months.
Mix grape jelly, and chili sauce until smooth.
Mix in meatballs and place in freezer bags (will probably take multiple) or an airtight container.
When ready to cook, thaw 24-48 hours in the refrigerator, then pour meatball mixture into crock pot and cook as directed.
More Crock Pot Meatball Recipes
If you enjoyed these Party Meatballs in the crock pot, I hope you will try some of our other crazy easy and crazy delicious meatball recipes made in the slow cooker!
Hungry for more family-friendly recipes? Sign up for my free recipe club to get new family-friendly recipes in your inbox each week! Find me sharing daily meal-time inspiration on Pinterest, Instagram, and TikTok.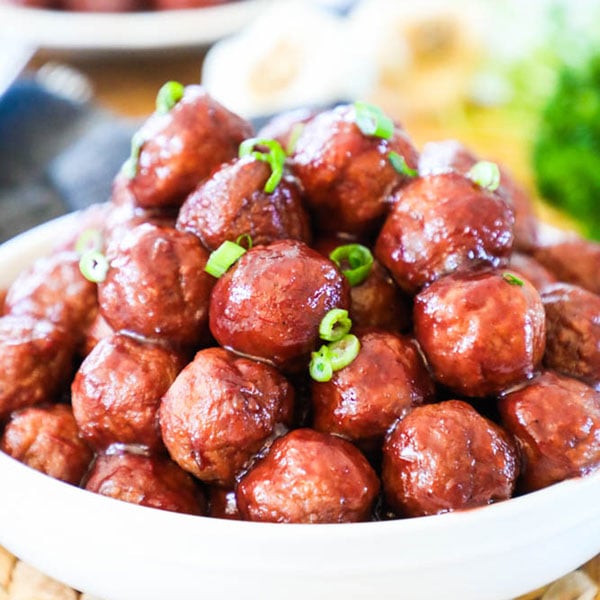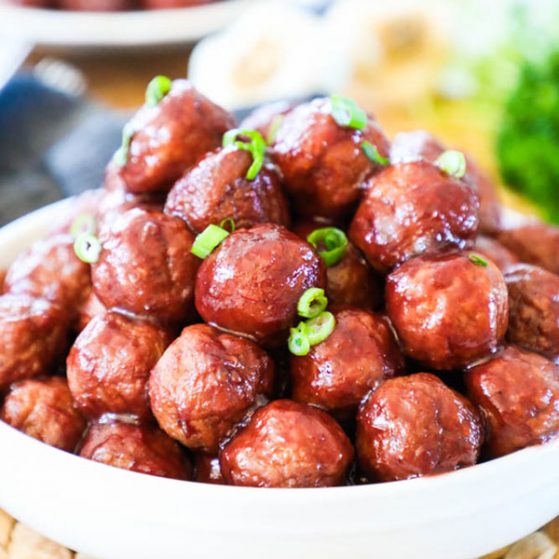 Grape Jelly Meatballs
These Crock Pot Grape Jelly Meatballs are a classic party appetizer! They are full of addictingly tangy flavors, and are perfect for keeping the party going all night long since the slow cooker keeps them hot and ready! Use them for the holidays, a pot luck, or anytime you are feeding a crowd.
Prep Time: 5 minutes
Cook Time: 2 hours
Total Time: 2 hours 5 minutes
Serves:16 servings
Hover over "serves" value to reveal recipe scaler
Ingredients
32 oz grape jelly (1 jar)
24 oz Heinz chili sauce (2 jars)
1 tsp red pepper flakes optional
5 lbs frozen meatballs (beef, pork, or turkey)
Instructions
Combine the grape jelly, chili sauce, and red pepper flakes in the slow cooker and whisk until smooth.

Pour meatballs into the crock pot and stir until they are all coated in the sauce.

Cook on high for 2-3 hours or low for 4-6 hours or until they reach 160˚F. Place on keep warm setting after they are done cooking until you are are done serving them.
Recipe Notes:
Variations:
Grape Jelly + BBQ Sauce
Cranberry sauce + Chili Sauce
Raspberry preserves + Chili Sauce
Grape Jelly + Ketchup
Nutrition Information:
Serving: 8ozCalories: 574kcal (29%)Carbohydrates: 47g (16%)Protein: 25g (50%)Fat: 30g (46%)Saturated Fat: 11g (69%)Cholesterol: 102mg (34%)Sodium: 687mg (30%)Potassium: 607mg (17%)Fiber: 3g (13%)Sugar: 31g (34%)Vitamin A: 300IU (6%)Vitamin C: 13.4mg (16%)Calcium: 40mg (4%)Iron: 1.9mg (11%)
(Nutrition information provided is an estimate and will vary based on cooking methods and brands of ingredients used.)