This quick and easy Jiffy Corn Casserole is the BEST corn casserole you will ever have! Made with only 7 simple ingredients, you can have it from the pantry to the oven in minutes. It is rich, creamy, cheesy, and side dish that both adults and kids will devour! If you need a little something extra to add to your menu, this is it!
Jiffy Corn Casserole Recipe
The first time I had this cheesy corn casserole 13 years ago, I knew I had been missing out on life up to this point. To say it is delicious is probably a gross understatement. It is AMAZING!
My friend had made it as a side dish for our Thanksgiving dinner and despite all of the delicious food we had for the holiday meal, I couldn't stop eating this casserole!
Fast forward many years and I have made this hundreds of times for family, friends, pot lucks, barbecues, and of course, Thanksgiving and Christmas dinners. It always gets the same rave reviews!
This recipe might be similar to other corn pudding recipes out there, but I think there are a couple of things that my sweet friend Brooke did in her recipe, that make it even better than the norm!
What is Corn Pudding?
I have always called this Jiffy Corn Casserole, but it also often called Corn Pudding.
I have to be honest, neither name makes this sound as crazy good as it is!
Basically it is a little bit like corn bread, but more creamy and rich, and almost custard like. It is traditionally served at Thanksgiving and Christmas dinners, but I think it makes a great side dish, not only then, but also for pot lucks or barbecues since it is a crowd pleaser with flavors that everyone loves!
I actually think it makes the perfect side dish for every day recipes like these baked chicken fajitas too. If you are looking for cornbread, then try my favorite cornbread recipe here!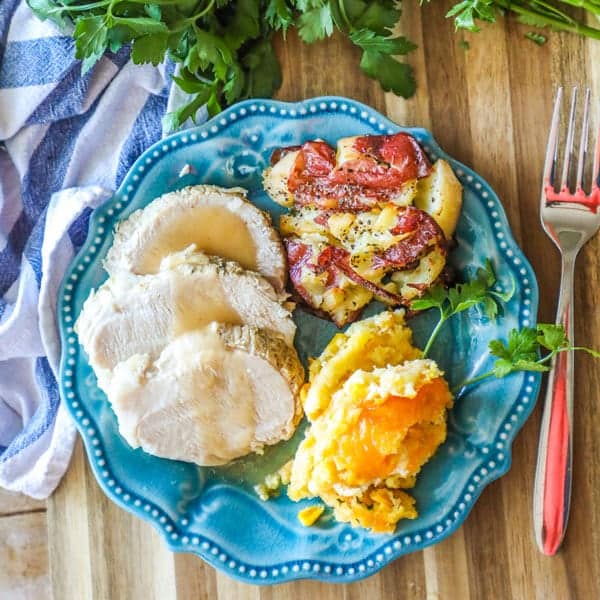 How to make Jiffy Corn Casserole
I am going to walk through the recipe for you step by step here, sharing all of my tips and tricks on what makes this corn casserole the BEST corn casserole and how to do it with the least mess.
If you just want the quick version, you can feel free to skip down to the recipe card below.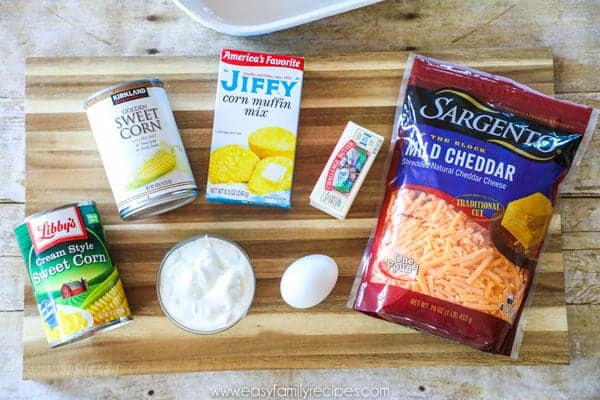 Jiffy Corn Casserole Ingredients
The best part of this recipe is that you only need 7 ingredients to make it and you can do the whole thing in one dish, including the mixing, so really all you have to wash is a mixing bowl and spoon.
Now the secret to this recipe is two things:
First the Jiffy corn muffin mix. You can't use another brand. It really just isn't the same. Trust me, I have tried!
Second, pay attention to how I do the sour cream. That is what really makes this casserole stand out!
Butter– To make this super simple and mess free I always start with the butter. Once you take a stick out of the fridge, just put it into the casserole dish and stick it into the microwave (or oven if it is already hot) and it can melt right in there in just a minute's time.
Jiffy Corn Muffin Mix- Again, I can't stress this enough…. Use Jiffy brand corn muffin mix. Just the classic blue box just like the photo. They also sell a vegetarian version which might be just as good, but I haven't tried it yet!
Canned corn (not drained)- Use any brand you want! I use regular (not low sodium) whole kernel corn, or sweet corn kernels. You will use the whole can, juice and all.
Creamed corn- Again, any brand you like, in the original variety of cream style corn.
Egg
Cheddar cheese, shredded- I like to use sharp cheddar most, but mild or medium will work perfectly too!
Sour cream- You can use original or light sour cream
Corn Casserole Recipe Tips
One Pan for the win! I like to minimize my mess and dishes while cooking so I figured out that if you first melt the butter in the casserole dish (in the microwave or oven) then mix everything else in he dish, you can make this all in one dish without even getting a mixing bowl dirty!! How's that for easy?!

Always use Jiffy– I mentioned this above, but I have tried the recipe with other brands of cornbread mix and it just isn't as good! I use the classic blue box for Jiffy Corn Muffin Mix (see pictured in ingredient picture above.)

What size pan do I use? This con casserole can do well in several shapes and sizes of a casserole dish. You can use a standard glass 9×13 pyrex, or the same sized metal pan. You can also use a baking dish that is round, oval, or other shape.

What is important to note, is that if the casserole is thicker, it will take longer to bake and not have as much cheese topping, and if it is baked in a larger baking dish, the casserole will be in a thinner layer in the dish and it will cook more quickly.

The magic step! Dollop the sour cream evenly over the top, then use a knife to gently swirl it into the casserole. Sprinkle the remaining cheese over the top.

This my friends is the secret sauce in this recipe. In some corn casserole recipes you mix in sour cream, which I am sure is yummy, but by dolloping and just running the knife through it to swirl it in, it gives you this hint of a great tangy flavor that goes perfectly with the more sweet taste of the corn. To do this just spoon on small bits of the sour cream evenly over the top, then just run a knife through in all directions so that it distributes it a little, but doesn't completely mix it in.
How Long to Cook Corn Casserole
Bake on the middle rack in the oven for 40-45 minutes or until the middle is set (cooked through.) If you gently shake it, the casserole shouldn't jiggle.

If it jiggles, then it needs more cook time. Depending on how large your dish is, and respectively how thick your casserole is, it might take a little longer or less than this, but this is a good start that will cover most dishes.




It should be thick and creamy, a bit custard like, but not liquidy.

Remove from the oven and let it cool for 5 minutes to set. Serve warm. Enjoy!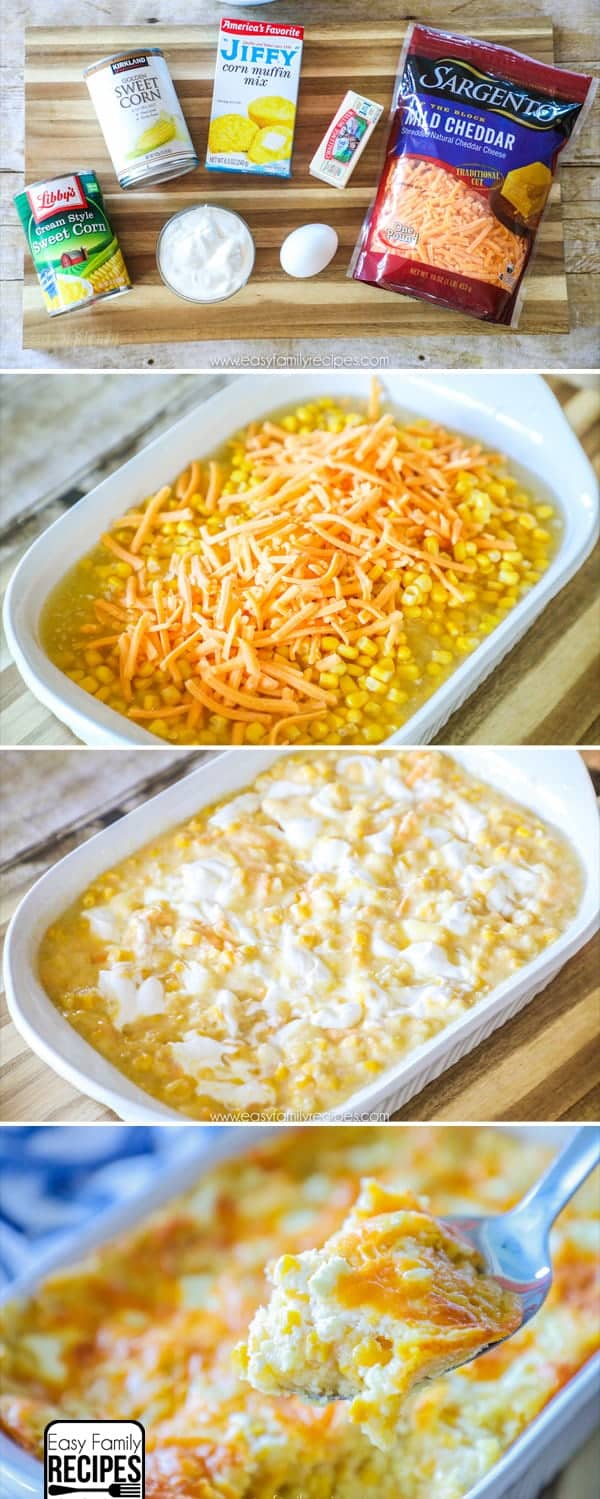 Variations and Add ins
If you love this easy Corn Casserole recipe as much as we do, you will come back to keep making it again and again. These variations can give you new ways to enjoy the casserole with different flavors!
Try adding these into the batter before baking:
Crispy crumbled bacon– this can also just be sprinkled on top)
Green chiles– 1 small can
Diced onion– white, green, or chives
Peppers– Diced bell pepper, jalapeno pepper, or roasted red pepper are all great options
Walnuts – You can also add a drizzle of maple syrup over the top
Cranberries– I recommend chopping them prior to adding
Garlic
Other cheeses– try pepper jack, parmesan, fontina, or boursin
Corn Casserole Prep Ahead Instructions
If you know you are going to be limited on time or oven space while cooking, you can prep this corn casserole ahead of time with great results. There are two main methods I use:
Night before– Up to the night before, you can mix the jiffy corn casserole up completely, and then cover and refrigerate until ready to cook. When ready to bake the casserole, bake as directed. You may need to add 5-8 minutes to the cooking time since it will start colder than if it was mixed fresh.

Pre-cooked– This casserole can actually be completely pre-cooked and then reheated with great results. You can make the casserole as directed. Cool to room temperature and then either refrigerate for up to 3 days, or freeze for up to 3 months. When ready to eat, reheat in the oven until warm.
How To Freeze Jiffy Corn Casserole
Jiffy Corn Casserole can be prepared as a freezer meal both before or after cooking. This can be a great solution to reduce prep time and have the casserole ready to go when you need a side dish.
To freeze before cooking:
Prepare casserole using step 2 and 3 in the recipe card.
Cover pan tightly with aluminum foil and plastic wrap.
Freeze.
Once ready to cook, thaw overnight in. the refrigerator.
Bake as directed, adding 5-10 minutes to the cooking time as needed.

Casserole can be frozen for up to 6 months with great results.
To freeze Corn Casserole after cooking:
Prepare corn casserole per the recipe instructions.
Allow to cool to room temperature.
You can freeze in the casserole dish, or cut into portioned size pieces and freeze individually.
Package in freezer bags, or wrap casserole dish in foil and plastic wrap tightly.
Freeze.
Once ready to eat, place on the appropriate dish in the oven or microwave to reheat.

Casserole can be frozen using this method for up to 3 months for best results.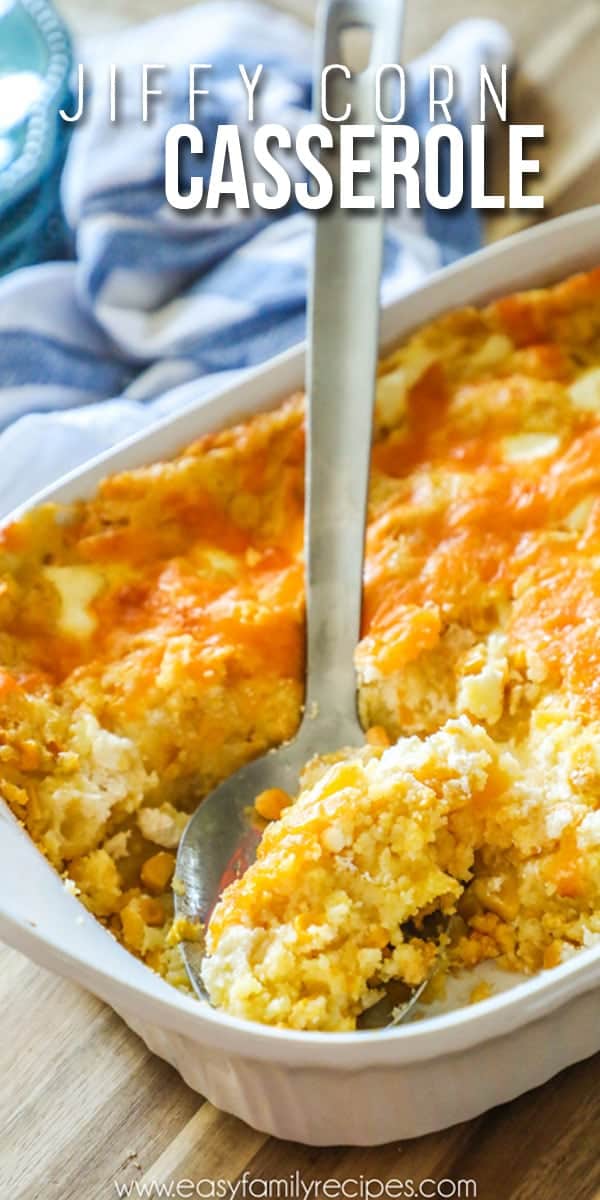 I really hope that you and your family love this every bit as much as we do! If you get a chance to make this Jiffy Corn Casserole, I would love it if you left me a note in the comments. Or if you are on Instagram, snap a pic and tag me @easyfamilyrecipes in you stories or on your feed so I can see what you are cooking up!
Before you go, if you are like me, and need a regular rotation of recipe inspiration, then the VERY best thing you can do is sign up for my e-mails (for FREE!) to get a note in your inbox on what new recipes I have cooked up lately and maybe a side of every day life each week. You can sign up by clicking here.
More Easy Side Dish Recipes
If you want more classic side dishes for your holiday feast, you can see some of our favorite side dish recipes below – OR- browse all of our EASY side dish recipes or favorite casserole recipes here!
Hungry for more family-friendly recipes? Sign up for my free recipe club to get new family-friendly recipes in your inbox each week! Find me sharing daily meal-time inspiration on Pinterest, Instagram, and TikTok.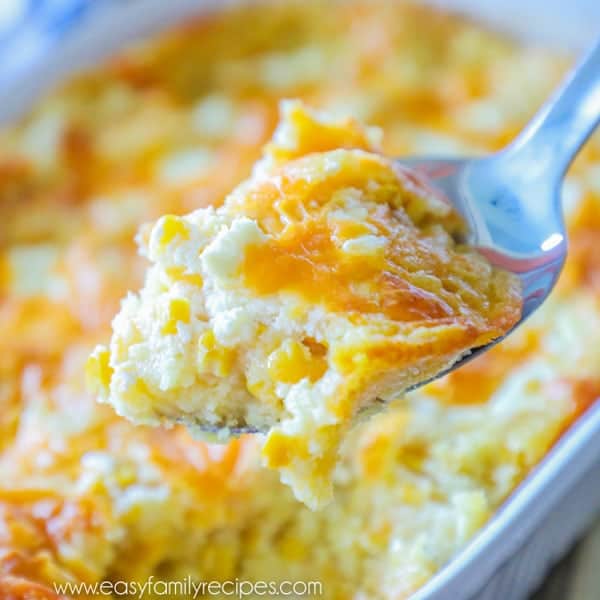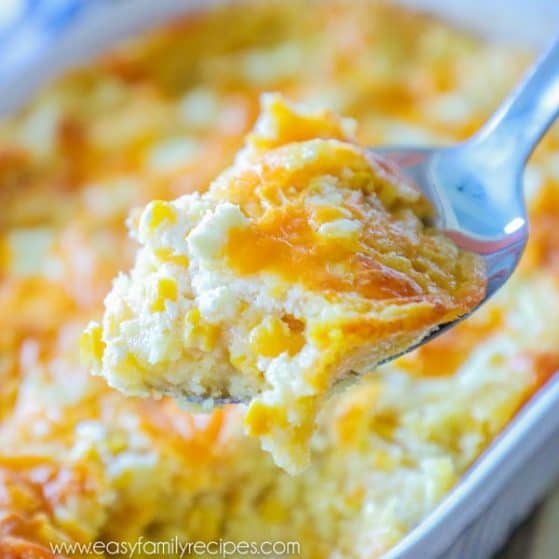 Jiffy Corn Casserole
This is the BEST corn casserole you have ever had! It is rich, creamy, cheesy and super delicious. The secret is the Jiffy corn muffin mix and the sour cream swirl at the end!
Prep Time: 5 minutes
Cook Time: 40 minutes
Total Time: 45 minutes
Serves:12 servings
Hover over "serves" value to reveal recipe scaler
Ingredients
1/2 cup butter melted
1 box Jiffy Corn Muffin Mix
1 can corn not drained
1 can creamed corn
1 egg
8 oz cheddar cheese shredded (about 2 cups)
1/2 cup sour cream
Instructions
Preheat the oven to 350˚F.

In a large casserole dish, add the melted butter, Jiffy mix, corn, creamed corn, egg, and half of the cheddar cheese (about 1 cup.) Mix until everything is combined.

Dollop the sour cream evenly over the top, then use a knife to gently swirl it into the casserole. Sprinkle the remaining cheese over the top.

Bake on the middle rack in the oven for 40-45 minutes or until the middle is set (cooked through.) Remove from the oven and serve warm.  Enjoy!
Nutrition Information:
Serving: 1scoopCalories: 297kcal (15%)Carbohydrates: 22g (7%)Protein: 7g (14%)Fat: 19g (29%)Saturated Fat: 11g (69%)Polyunsaturated Fat: 2gMonounsaturated Fat: 0gTrans Fat: 0gCholesterol: 59mg (20%)Sodium: 421mg (18%)Potassium: 0mgFiber: 1g (4%)Sugar: 8g (9%)Vitamin A: 0IUVitamin C: 0mgCalcium: 0mgIron: 0mg
(Nutrition information provided is an estimate and will vary based on cooking methods and brands of ingredients used.)