This Mexican Ground Beef and Rice recipe is the BEST combination of easy and hearty for a perfect busy night dinner! It is loaded with delicious Mexican flavors and simmered all in just one skillet for easy prep and quick clean up.
This post is created in partnership with Iowa Corn. All thoughts, opinions, recipes and experiences are personal.
Easy Ground Beef Recipes
When it comes to the weeknights, our schedules are packed and time is scarce.
My secret weapon on these nights is ground beef or shredded chicken. Both can be prepared in advance to give you a head start on dinner. (More on that below!)
This Mexican Ground Beef and Rice starts with a great corn fed ground beef, which can be made ahead or cooked with the recipe. Also try my Ground Beef Enchiladas or Beef enchilada casserole for more great ground beef recipes!
It starts on the Farm
This past week I had the privilege to visit Iowa and walk the land, and visit with the farmers that produce our crops, and raise our meat with the Iowa Corn Growers Association. If you watch my Instagram Stories, you might have seen me drive a combine to harvest corn, visit the Iowa Distilling Company, cuddle a newborn pig, or hang out with some mama cows and baby calfs.
Being born and raised in the suburbs, I have a faint idea of what farming is, but I can't even tell you how impactful this trip was for me!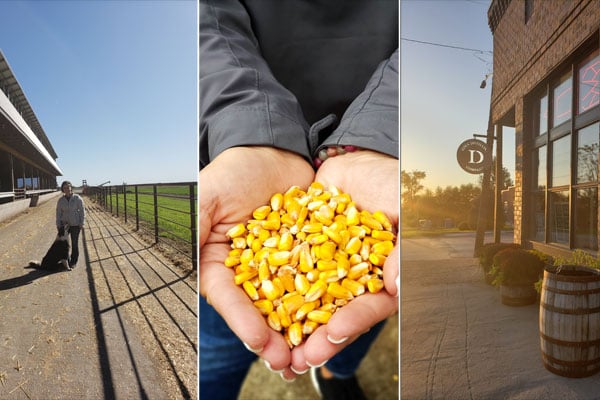 One of the most eye opening things I learned was that the majority of farms that produce our crops today are still small family run operations. In this world of bigger is better and scalability, these farmers are still putting their hearts, souls, blood, sweat and tears into producing food every day.
That is not to say that they aren't using efficiencies and scaling their operation. I was completely floored with how much technology they use to work smarter to keep up with demand and create the best product from their farm. It is really hard to convey
Fun Fact: Less than 1% of the corn grown, is sweet corn for human consumption.
I had no idea! That fact stayed with me throughout the week. So with as much corn as we use and eat everyday, SO MUCH MORE is being used for other purposes like grain for feeding livestock (most grass fed animals are finished with grain (corn) to bulk them up), creation of other corn based food products like corn starch and corn syrup, and the production of ethanol gas.
As we saw the farms, we would ask questions, one that came up frequently when we saw the vast amount of corn planted over thousands of acres, was "How many people work here with you?" And with only one exception, the answer was, "It's really just our family." The quality and work ethic of farmers is tremendous!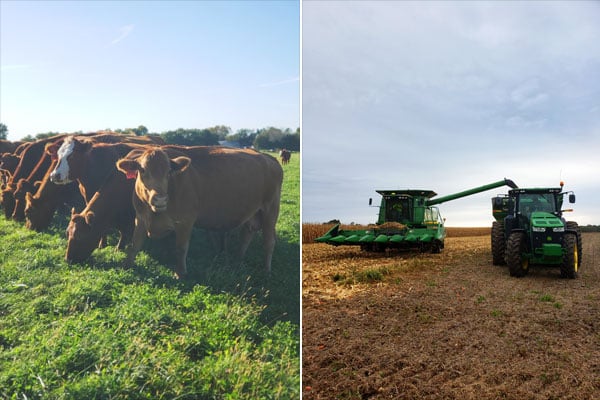 We ended our trip with a candid discussion with Dr. Ruth MacDonald, Chair and Professor of the Department of Food Science & Human Nutrition at Iowa State University, on the topic of food and nutrition and how technology is changing. She spoke on the impact of organic vs. non-organic, GMOs, and a number of other relevant issues.
I thought the most fascinating discussion was around GMOs. It is such a hot topic right now in our food culture. Through out the week we heard farmer's singing their praises. They love that they enable them to use less pesticides, grow heartier, healthier, and more nutritious crops, with greater efficiency.
Dr. Ruth not only echoed these sentiments but talked to us about how nutritionally not only are GMO based crops equivalent, but they reduce the number of contaminates used (pesticides and herbicides) and also allow us to keep food affordable and feed a greater number of people in the USA. What an eye opening discussion.
My trip to Iowa was really special, knowing that our food doesn't just come from some giant corporation, but is made with pride is something that is really, really neat!
Now back to this delicious Mexican Ground Beef Recipe, packed full of delicious sweet corn and corn fed beef!
Tips for Making Mexican Ground Beef and Rice
This recipe is super simple, using only a few ingredients and one skillet. There are a couple of tips I have to share for getting the best, easiest dinner!
Make sure you find the FULL recipe card at the bottom of this post.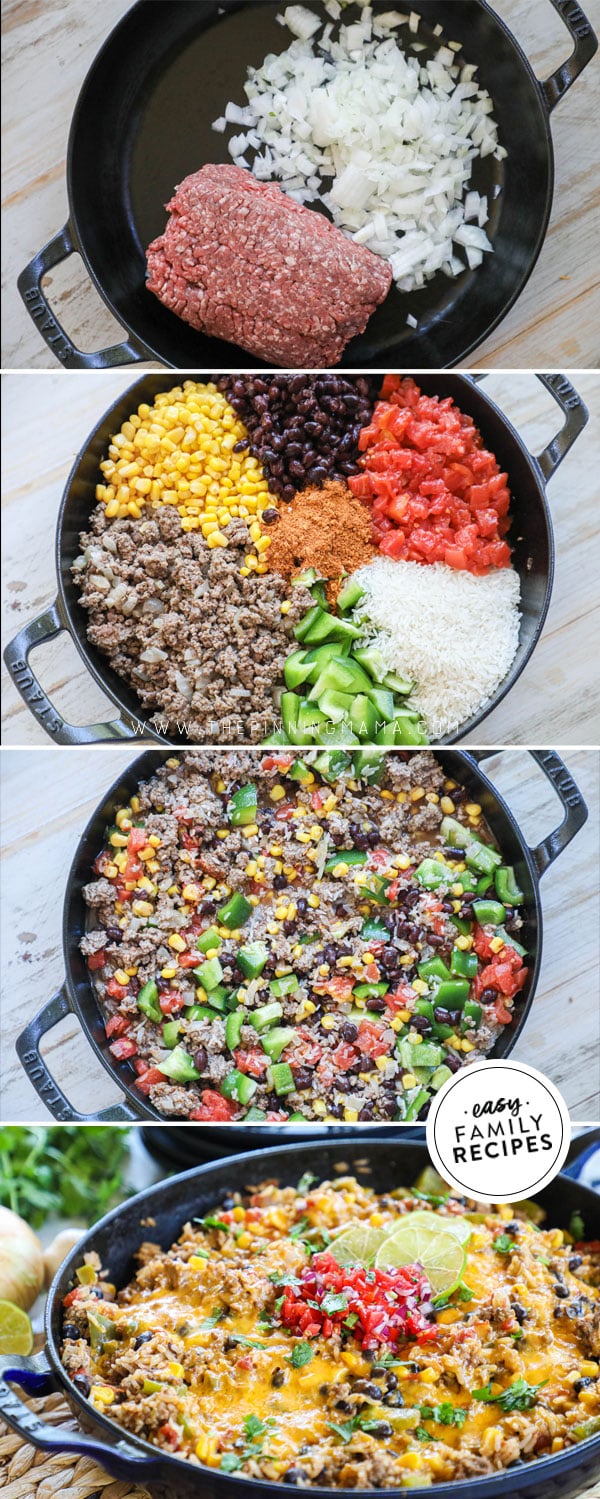 The Ground Beef
For making skillet recipes like this one, I find that the leaner the ground beef, the better. Since we are cooking everything together, and adding moisture, this will make the dish less greasy.
I typically use 90% lean or better.
The Rice
Jasmine rice is my go-to for cooking. I enjoy both the taste and texture of the rice, and appreciate that it doesn't take too long to cook!
You could use other types of rice in this recipe including regular white rice, brown rice, or long grain rice, however keep an eye on the ratio of liquid to rice and cook time the rice required. If it is not similar to jasmine rice, it may need to be adjusted.
The Skillet
This dish is made in a large skillet. And I really do mean large!
The Mexican Ground Beef and Rice is stuffed with not only beef and rice, but lots of veggies too, so there needs to be ample room for everything to cook and the rice to expand.
I have used both non-stick and cast iron skillets for this recipe with great results.
Substitutions
I always recommend trying to make the recipe as written for the best results. However, if you need to modify the recipe, here are a few options for substitutions.
Ground Beef- Ground turkey or chicken can be substituted
Green bell pepper- Red, orange, or yellow pepper can be substituted.
ROTEL Tomatoes with green chiles- If you want something super mild, you can use regular canned tomatoes, or mild salsa
Beef broth- Chicken or vegetable broth can be used
Taco seasoning – If you don't have time for homemade taco seasoning, you can use store bought seasoning
Sharp cheddar cheese – mild, medium, colby jack, or mexican blend can be used.
Time Savers + Short cuts
If you are extra short on time, there are a couple of time saving tricks that can help make this easy recipe even faster!
Precook the ground beef– Ground beef can be prepared ahead of time and stored in the refrigerator for 3-4 days or freezer for up to a month.
Pre-chop veggies– You can pre-cut the onions and bell pepper up to 48 advance, or these are usually available to purchase pre diced in the produce refrigerators at larger grocery stores.
Prep ahead– The cooked ground beef can be mixed with the corn, black beans, bell pepper, ROTEL, taco seasoning and broth ahead of time and refrigerated. Then when ready to cook, just pour in the skillet and add the rice and continue to cook as directed.
Make a freezer meal– follow the instructions below to prepare this as a grab and cook freezer meal.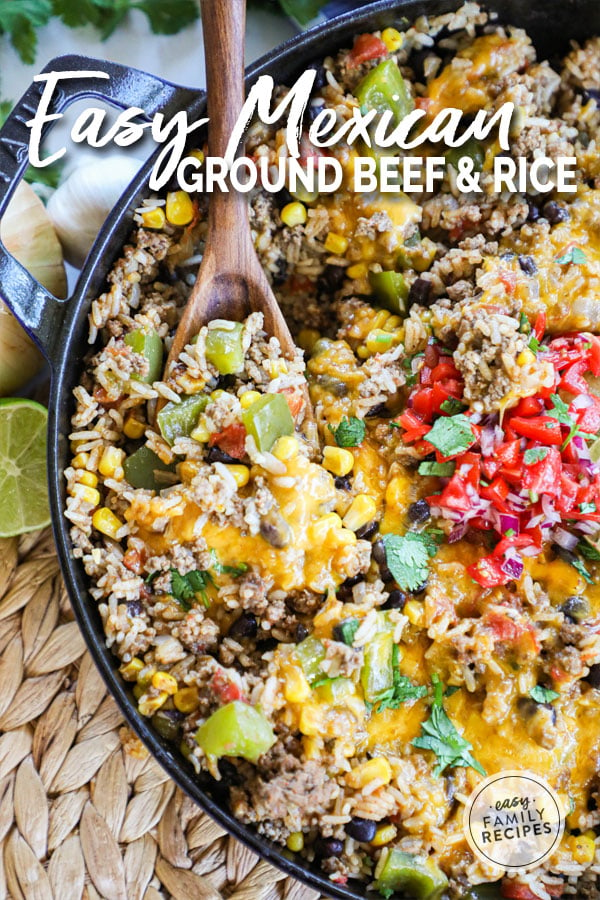 Mexican Ground Beef and Rice Freezer Meal Instructions
This dish freezes well both before and after cooking. Follow the directions below to convert this recipe to a freezer meal. Freezer meals are best when used within 1-2 months.
To prepare this dish as a freezer meal:
Brown and drain the ground beef and onion.
Place the beef, corn, black beans, bell pepper, ROTEL, taco seasoning, broth, and rice in a freezer bag or airtight container.
Freeze
When ready to use, thaw in the refrigerator 24-48 hours.
Place in a skillet and continue to cook as directed.
Dietary Restrictions
If you are cooking for someone with special dietary restrictions, this recipe can comply with many needs.
Gluten Free– This recipe is naturally gluten free as written with homemade taco seasoning. Make sure to double check all store bought or pre-packaged ingredients to ensure they comply.
Dairy Free– The cheese can be omitted from the recipe to make it dairy free (but still delicious!)
What to Serve with Mexican Ground Beef and Rice
This recipe is perfect for when that craving hits for Mexican flavors. It is a hearty dinner that includes protein, vegetables, starch, and dairy, so there is no need to add sides or extras for serving.
However if you want to stretch the dish, there are a few extras you can add to bulk up the meal.
Topping Ideas
Try serving with a few topping options to allow each person to customize their plate!
Sour cream
Guacamole, or sliced avocado
Pico de gallo
Lime wedges
Crushed tortilla chips
Sides to serve
Here are a few side dishes that will pair well with Mexican Ground Beef and Rice. Pick one, or choose a few!
Chips and salsa
Tortillas
More Easy One Dish Recipes
If you enjoyed this Mexican Ground Beef and Rice (and I hope you did!) I would love it if you took a minute to look around and grab more easy recipes.
Here are a few of my personal favorite quick and easy one dish dinners: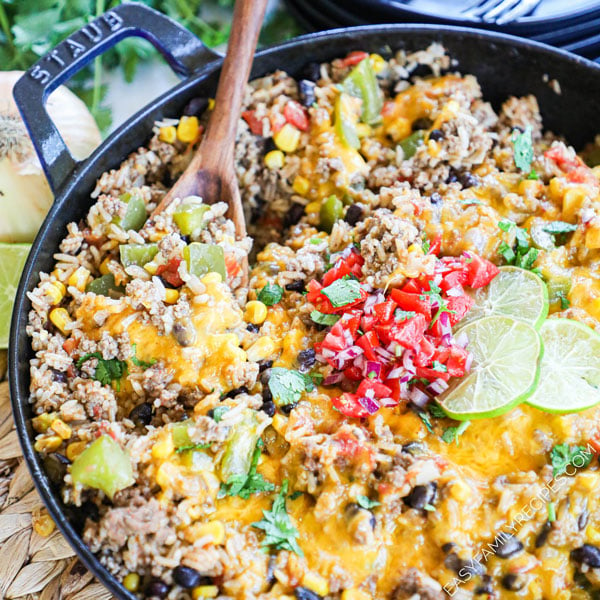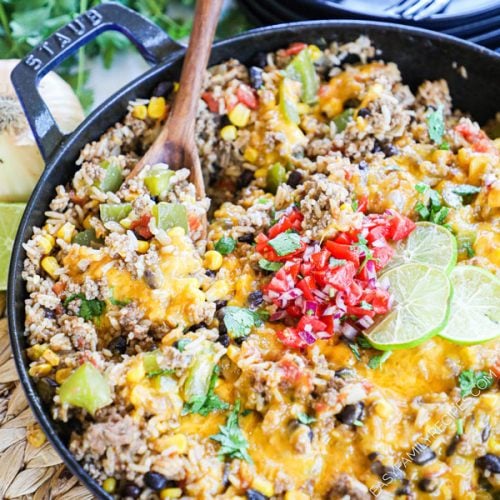 Easy Mexican Ground Beef and Rice
This easy recipe is made with ground beef, rice, and all of the delicious Mexican flavors. You can whip it up quickly using just one skillet for minimal prep and clean up!
Ingredients
1

lb

lean ground beef

1

onion

,

chopped

1

green bell pepper

,

roughly diced

1

cup

corn

,

(1 can drained)

10

oz

ROTEL tomatoes with green chiles

,

(1 can)

15

oz

black beans,

(1 can drained and rinsed)

2

cups

beef broth

3

tbsp

taco seasoning

1

cup

jasmine rice

,

(uncooked)

1

cup

sharp cheddar cheese

,

shredded
Garnish (optional)
fresh cilantro

,

chopped

sour cream

fresh lime
Instructions
Brown the ground beef and onions in a large skillet by cooking over medium high heat for 4-5 minutes. Once done, drain any excess grease.

Add the green bell pepper, corn, black beans, ROTEL, broth, taco seasoning, and rice to the skillet and mix well. Turn the heat to high and bring to a boil, then cover and reduce the heat to low. Simmer for 20-25 minutes or until the rice is tender.

Remove from the heat, then sprinkle the cheddar cheese over the top. Place the lid back on for 1-2 minutes or until the cheese melts.

Garnish with your choice of fresh chopped cilantro, pico de gallo, sour cream, and fresh lime. Serve warm and enjoy!
Nutrition Information
Serving:
1.75
cups
,
Calories:
438
kcal
(22%)
,
Carbohydrates:
52
g
(17%)
,
Protein:
32
g
(64%)
,
Fat:
11
g
(17%)
,
Saturated Fat:
6
g
(38%)
,
Cholesterol:
67
mg
(22%)
,
Sodium:
580
mg
(25%)
,
Potassium:
817
mg
(23%)
,
Fiber:
9
g
(38%)
,
Sugar:
4
g
(4%)
,
Vitamin A:
509
IU
(10%)
,
Vitamin C:
24
mg
(29%)
,
Calcium:
196
mg
(20%)
,
Iron:
5
mg
(28%)