These Italian Style Baked Chicken Cutlets are light, healthy, and SO DELICIOUS! Baked along side roasted veggies, this sheet pan dinner has everything you need for a family dinner all on one pan! The kids and adults both agree, this is a keeper!
Baked Chicken Cutlets – The EASY Way!
If you love Italian food, then these quick and easy Baked Chicken Cutlets are a must make!
When I lived in Pennsylvania after graduating college, my eyes were opened to just how amazingly delicious authentic Italian food was. We had little pizza/pasta restaurants on almost every corner in my area, and I had never had anything that measured up to these places before.
While this is not the authentic way to make a chicken cutlet, this recipe offers a light and healthy alternative, that is every bit just as delicious!
And the best part… It is so quick and easy with the bonus of getting a whole meal in one pan! Of course, if you don't want the veggies, you can just make the chicken cutlets alone.
Made with pantry and refrigerator staples, you will find these Chicken Cutlets a great option when you don't have a plan and need to make dinner appear out of thin air!
What to Serve with Baked Chicken Cutlets
The best part about this meal is that you have your protein and veggies all in one. So you can absolutely just stick to that. If you want a little extra, or something to help make the meal stretch farther, you can add sides.
Since this dish has the classic flavors of Italian food, it will pair well with many of your favorite Italian side dishes. There are both classic options and some healthy options to keep it light.
Side Dish Ideas
Side salad– Try a classic Italian salad with lettuce, tomato, olives, sliced onion and pepperoncini peppers. Serve it with this Creamy Italian Dressing. It is CRAZY delicious!
Pasta – this will go well with a side of pasta. You can do anything from penne tossed with butter and garlic, to spaghetti with marinara, or fettuccini alfredo.
Sautéed Spinach– One of my favorite quick and easy sides and I love it with all things Italian!
Garlic bread – the secret is in the garlic bread spread!!
Garlic Parmesan Broccoli – quick and delicious!
Mashed Potatoes – If you don't go for pasta, try these ultra creamy garlic mashed potatoes!
You can choose one or add a few sides to make a wholesome, well rounded dinner.
Recipe Notes
This recipe for Baked Chicken Cutlets with Roasted Veggies is as simple as promised! Just a handful of ingredients and a sheet pan for a family friendly meal.
In this section I am going to go through a few tips and tricks I use when making this recipe to get the absolute best and most delicious results.
Make sure to scroll to the bottom for the FULL recipe card.
What are Chicken Cutlets
Chicken cutlets can refer both to the meat raw, or a prepared dish. Uncooked, chicken cutlets are just thin pieces of chicken breast. Chicken breast is cut or pounded to a thickness of about 1/4-1/2 inch. Generally an average sized chicken breast can make 2-4 chicken cutlets.
The term chicken cutlet is generally used in conjuction with Italian cuisine, although any thin chicken breast can be called a chicken cutlet.
I really like to use chicken cutlets to cook because the thin nature allows them to cook quickly and evenly, creating really tender and delicious chicken!
When cooked, chicken cutlets refer to the Italian style dish where chicken is thinly sliced or pounded, seasoned and pan fried.
Ingredients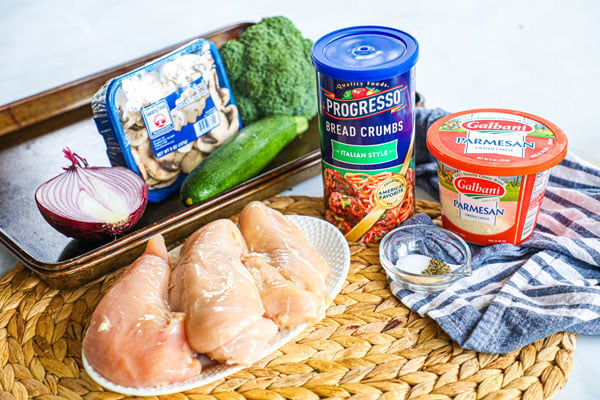 For the chicken:
Chicken breast cutlets – You can buy chicken cutlets in the meat department of many grocery stores. It can be less expensive if you make them yourself (and it is very easy!)

To make chicken cutlets: Cut each chicken breast horizontally into thin slices about 1/4-1/2 inch thick. You should be able to get 2-4 pieces per chicken breast. Lay the chicken between sheets of plastic wrap and beat each piece to an even 1/4 inch thickness with a meat mallet.
Flour
Garlic powder
Parmesan– you will want the grated (powdery looking) not shredded for this recipe. The higher quality cheese you use, the more flavor you have in the dish!
Italian seasoned bread crumbs– If you have plain, you can use those and add 1 tbsp Italian seasoning.
Eggs
For the vegetables:
These are the vegetables I generally use, however, you can pick and choose what you like and use all, some, or add different options to the list below.
Broccoli florets
Zucchini squash 
Red onion roughly chopped
Mushrooms sliced
Grape tomatoes
Olive oil
Garlic powder
Salt
Pepper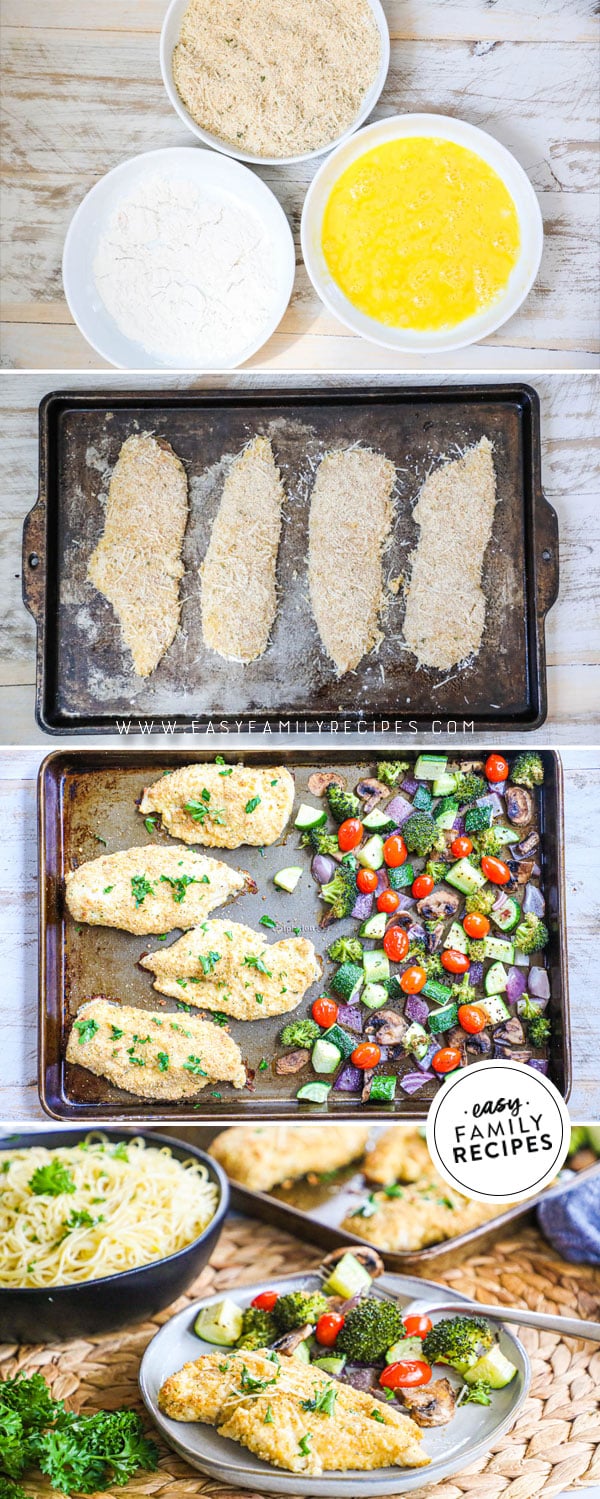 Recipe Tips
Use thin chicken breast! In case you didn't catch it above, this recipe needs to be made with thin chicken breasts. This allows everything to cook evenly and the chicken to remain tender and juicy. If you didn't buy thin chicken breast, you can make it by using the directions above, or in the recipe card.
Use a LARGE Sheet Pan– Make sure the sheet pan is large so there is plenty of room for both the chicken and vegetables without crowding. If things get to crowded, the juices from the meat and vegetables are able to cook off effectively and can cause the chicken to get soggy.
Cut vegetables so they cook evenly– The key to perfect vegetables is cutting them so they cook evenly. Things that take longer to cook like broccoli should be cut in smaller pieces. Things that cook more quickly like zucchini should be cut in bigger pieces. Tomatoes which cook extremely fast can just be added at the end.
Perfect breading with this order – To get the chicken cutlets breaded perfectly with breading that sticks and doesn't just fall off, use this order. First dredge the chicken in the flour, then completely wet them with the egg mixture, and dip to coat all sides in the bread crumb mixture.
For extra crispiness spritz with olive oil. If you want the top of the chicken extra toasty, just spritz the tops of the chicken cutlets with a little olive oil. This is optional, and I usually omit this step since I like to keep it calorie conscious.
Recipe Variations
If you love this recipe as much as we do and want some quick ways to change it up for variety, these little tips will do the trick!
Baked Chicken Parmigiana– Make recipe as directed. 5 minutes before cooking time is over, spoon marinara sauce over each cutlet and cover with a slice of mozzarella cheese, then return to finish cooking.
Lemon Chicken Cutlets– Add 1 tbsp lemon juice in with the egg mixture and make as directed. Once done, squeeze fresh lemon juice over the chicken and garnish with lemon slices.
Dietary Considerations
If you have special dietary needs, this recipe meets some and can be easily modified to comply with others.
As always, check all store bought ingredients for compliance on specific dietary needs. The notes below are a general guide.
Gluten free: These chicken cutlets can be modified to be gluten free by using gluten free flour and gluten free bread crumbs.
Dairy free: This recipe can be modified to be dairy free by omitting the parmesan cheese and using additional bread crumbs.
Nut free: This recipe is naturally nut free
Macros: The approximate macro calculation for this recipe is- P: 33g C: 15g F: 11g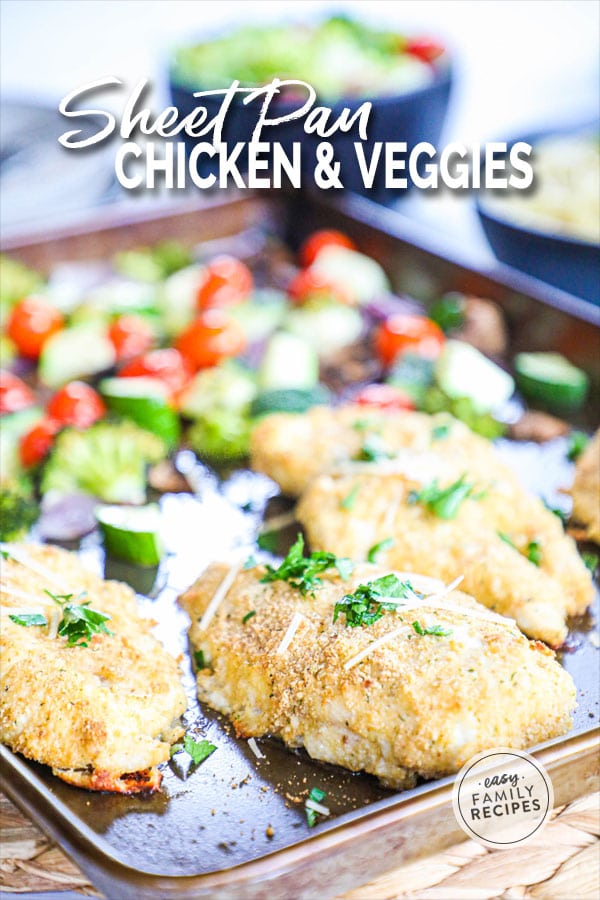 Freezer Meal Instructions
These chicken cutlets don't free well pre-cooked, unless you want to freeze each ingredient separately to assemble once ready to cook.
You can make these completely and freeze after cooking. To do this:
Prepare baked chicken cutlets and vegetables as directed.
Allow chicken and veggies to cool to room temperature.
Package chicken cutlets in one freezer bag/container and the vegetables in another. (Do not combine them in the same container for best results)
Freeze
Once ready to eat, thaw in the refrigerator for 24-48 hours.
Heat in a skillet or in the oven.
Baked Chicken Cutlets Leftovers
If you have leftovers after making this healthy chicken cutlets sheet pan dinner, then it is your lucky day! They save and reheat well, and can make the start of another delicious dish.
To save leftovers, separate into meal sized portions and then place in an airtight container and store:
in the refrigerator for 3-4 days
in the freezer up to a month
Leftover Recipes
Here are a few ways to repurpose those leftovers and give them a delicious makeover!
Chicken Cutlet Sandwich– Heat the chicken until crispy in a skillet or oven. While the chicken is heating, split a sub roll in half and add butter and garlic salt to both sides. Broil in the oven 2-3 minutes until the edges are golden. Remove and place the cutlets on the sub roll, then top with marinara and mozzarella cheese and return to the oven and broil until
Chicken Parmesan Pasta Bake– Place prepared pasta in a casserole dish and mix with marinara sauce. Stir in mozzarella cheese. Cut the chicken cutlets into cubes and sprinkle over the top of the casserole and then put a little more mozzarella over the top. Bake at 400˚F for 20-30 minutes until everything is hot and bubbly. Note – you can stir the veggies right into this casserole, or eat them on the side.
Italian Chicken Pizza– On a prepared pizza crust, spread a thin layer of marinara, then add fresh mozzarella cheese slices. Cut the chicken cutlets into cubes and sprinkle them over the top. Add freshly chopped basil and a sprinkle of crushed red pepper for flavor. Bake per crust instructions.
Italian Chicken Cutlet Salad– Chop the baked chicken cutlets into pieces. Chop romaine into bite sized pieces and add to a bowl. Top with roasted veggies, chopped chicken, pepperoncini peppers and parmesan cheese. Toss with Italian dressing.
More Easy Chicken Recipes
If you enjoyed this recipe, I really hope you will take a moment to grab a few more easy recipes for another busy night!
You can check out all of my Easy Chicken recipes here, or see a few of our readers favorite recipes below.
Hungry for more family-friendly recipes? Sign up for my free recipe club to get new family-friendly recipes in your inbox each week! Find me sharing daily meal-time inspiration on Pinterest, Instagram, and TikTok.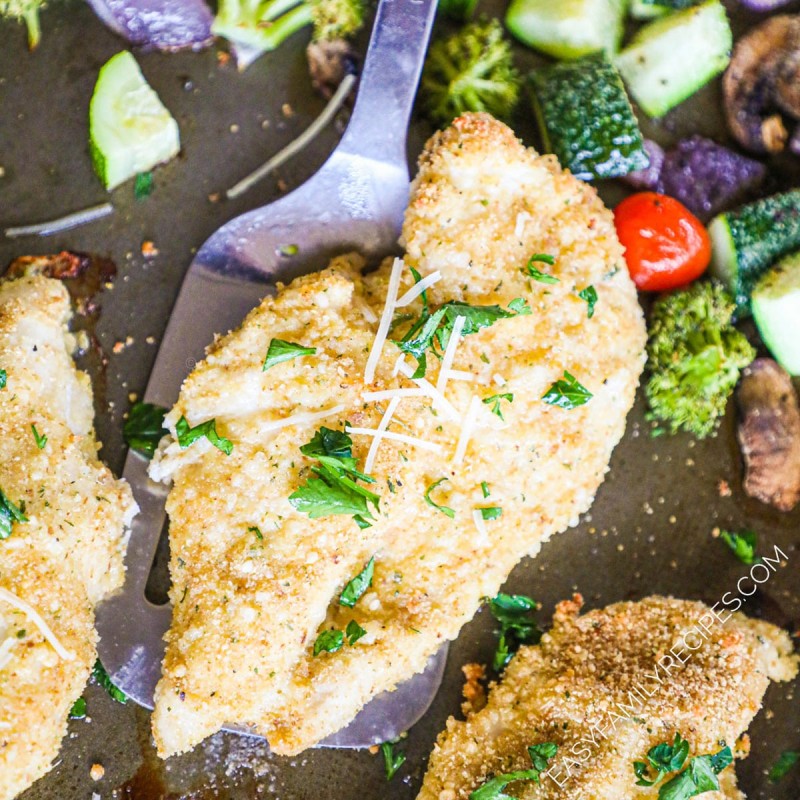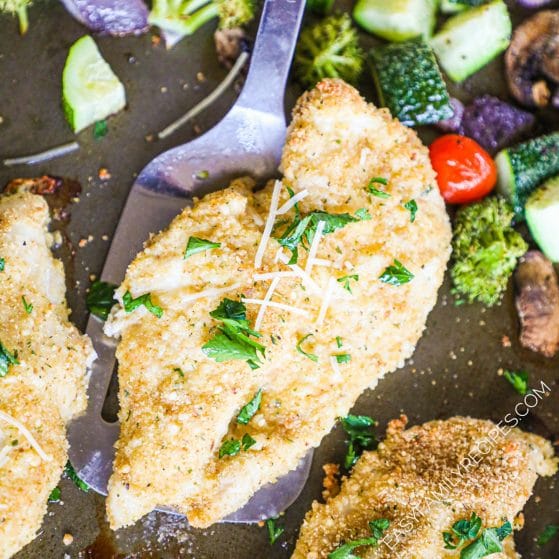 Baked Chicken Cutlets with Roasted Veggies
These Baked Chicken Cutlets are packed with flavor just like the classic Italian dish, but are baked to be more light and healthy! This recipe pairs them with roasted vegetables for a full dinner made all on one sheet pan.
Prep Time: 10 minutes
Cook Time: 25 minutes
Total Time: 30 minutes
Serves:4 servings
Hover over "serves" value to reveal recipe scaler
Ingredients
For the chicken:
1 lb chicken breast cutlets (about 4 thin chicken cutlets)
3 tbsp flour
1/2 tsp garlic powder
1/4 cup parmesan
1/4 cup Italian seasoned bread crumbs
2 eggs sliced
For the vegetables:
1 cup broccoli florets
1 cup zucchini squash chopped to thick bite sized pieces
1/4 red onion roughly chopped
1 cup mushrooms sliced
1/2 cup grape tomatoes
1 tbsp olive oil
1/4 tsp garlic powder
1/4 tsp salt
1/4 tsp pepper
Garnish
chopped parsley
grated parmesan
Instructions
Gather 3 dishes. Place the flour and garlic powder in one, scramble the eggs and place them in another, and mix the bread crumbs and parmesan in the last.

Coat each piece of chicken in the flour mixture, then dip in the egg mixture, and then roll in the bread crumbs to coat.

Place each chicken breast flat on one side of a cookie sheet.

Mix the vegetables together and spread them on the other side of the cookie sheet. Then drizzle with olive oil and season with the garlic powder, salt and pepper.

Bake at 375˚F for 20 minutes.

Add the cherry tomatoes and place back in the oven for 3-5 minutes or until the chicken is cooked through.

Once done, garnish with freshly chopped parsley and additional parmesan. Serve hot and enjoy!
Recipe Notes:
To make chicken cutlets
If chicken is not already in prepared cutlets, cut each chicken breast horizontally into thin slices about 1/4-1/2 inch thick. Lay the chicken between sheets of plastic wrap and beat each piece to an even 1/4 inch thickness with a meat mallet.
Vegetable substitutions
You can omit or add vegetables to this mixture to your taste preference. Other veggies that work well are:
red bell pepper
yellow squash
asparagus
eggplant
artichokes
Nutrition Information:
Serving: 1cutlet with veggiesCalories: 292kcal (15%)Carbohydrates: 15g (5%)Protein: 33g (66%)Fat: 11g (17%)Saturated Fat: 3g (19%)Cholesterol: 159mg (53%)Sodium: 521mg (23%)Potassium: 751mg (21%)Fiber: 2g (8%)Sugar: 3g (3%)Vitamin A: 575IU (12%)Vitamin C: 31mg (38%)Calcium: 121mg (12%)Iron: 2mg (11%)
(Nutrition information provided is an estimate and will vary based on cooking methods and brands of ingredients used.)