These Oven Roasted Vegetables are TO-DIE-FOR delicious! Not only are they exceptionally tasty, but these herb seasoned vegetable medley is one of the easiest side dishes we make. The combo of taste and ease make this an all around winner!
Bonus: This Roasted Vegetable recipe is gluten free, dairy free, low carb, paleo, Whole30 compliant, and keto friendly making it the perfect side dish for anyone who is eating!
Easy Oven Roasted Veggies
I got this recipe from my sweet friend Jenn. The first time I had it I begged her for the recipe because these Roasted Vegetables so delicious I needed more!
How often do you say that about vegetables?!
The beauty of these Oven Roasted Vegetables were that they were just so simple. Sometimes the simplest recipes yield the most perfect food.
And that without a doubt was the case here.
The Roasted Vegetables are very simply seasoned with just garlic, salt, pepper and basil. The simple seasonings perfectly compliment the natural flavors of the vegetables and allow them to shine.
By baking them in the oven, it brings out the sweetness and the cook long enough just to be perfectly tender.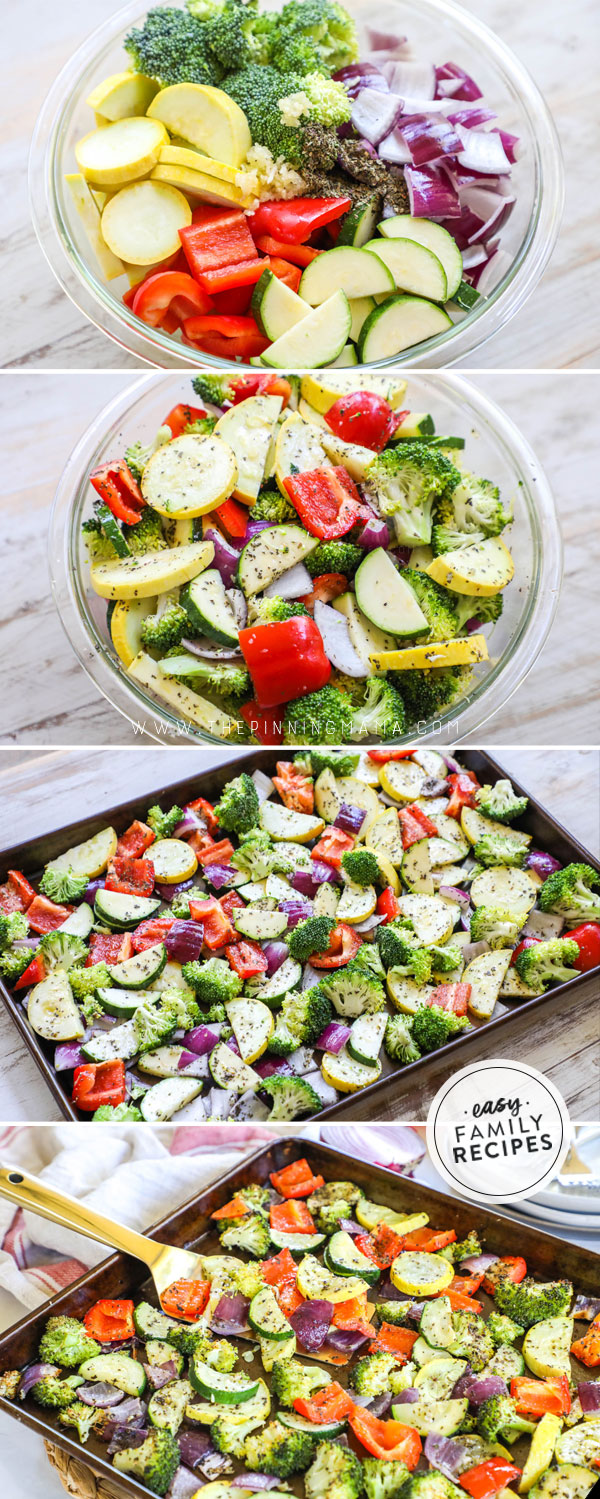 Tips for Making the BEST Roasted Veggies
This side dish really couldn't be any easier! There are a few little tricks to make sure you get the most perfect tender and flavorful vegetables though.
I will share my pointers here, but make sure to scroll down to the bottom for a full recipe card!
What Vegetables to Use
First thing's first! What are the best vegetable to use to make Oven Roasted Veggies?
Well, almost any vegetable can be cooked in the oven, but the real secret to cooking comes in pairing and sizing the vegetables.
You want to pick vegetables that will have similar cooking times. In general, the harder or more dense a vegetable is, the longer it will take to cook.
For example, you don't want to pair a tomato with a potato. The tomato would be over done before the potato was even tender!
If you do use vegetables with a longer cooking time, you can cut them into smaller pieces to help them cook more quickly and match the cook time of the other veggies.
In our recipe we use:
Red bell pepper
Zucchini
Yellow Squash
Broccoli – cut into small pieces
Red Onion
Most of these vegetables are roughly (more largely) chopped, but the broccoli is chopped into small florets since it takes the longest to cook. The small pieces will cook faster which lets the broccoli cook at the same rate as the bigger pieces of the softer veggies. The zucchini is sliced into 1/4″ slices as anything smaller will cook too quickly!
Vegetables that take longer to cook would need to be cut into extra small pieces, or cooked 5-10 minutes before adding the rest of the vegetables to the pan to cook. Some examples are
Root vegetables – carrots, potatoes, sweet potatoes, turnips, etc
Brussels sprouts
Butternut squash
Beets
If you want to add other veggies, feel free! Just make sure to try to match the cook times so all of the vegetables are perfectly cooked after 15-20 min.
Veggies that cook quickly can be added in the last 5-8 minutes of cooking. Some examples of these are:
cherry tomatoes
spinach
Small asparagus
How to Season the Roasted Vegetables
There are many combinations of seasonings that work well with roasted veggies, but for this recipe we keep it easy and use the simplest seasonings that bring out the most flavor.
Garlic- I prefer fresh, but you can use jarred if you are in a pinch.
Salt
Pepper
Dried basil
You can experiment with other seasonings like oregano, rosemary, thyme, etc or just keep it classic! If you want some other flavor varieties, you can try these other roasted vegetable recipes:
How long to Cook Roasted Vegetables
There is a little bit of art and a little bit of science to baking these vegetables. We already talked about making sure they all roughly have the same cook time.
A couple of other important tips:
Make sure your baking sheet isn't over crowded. You want the vegetables to fit on the baking sheet in a single layer. An over crowded pan can result in mushy or watery veggies.
Bake at 400˚F. This is hot enough to roast the vegetables and allow them to get tender without burning the outside. It will just start to give a little color to the edges of the veggies.
Bonus- This is not required, but if you like a little more color (ie browned edges) on your roasted vegetables, for the last 1-3 min of the cook time you can turn the oven to broil and closely watch the vegetables until the reach the desired level of browning.
At 400˚F, you will want to cook the vegetables about 15-20 minutes. The ideal result is that the vegetable will be tender, can be pierced easily with a fork, but still be firm enough to hold its shape (and not be mushy.)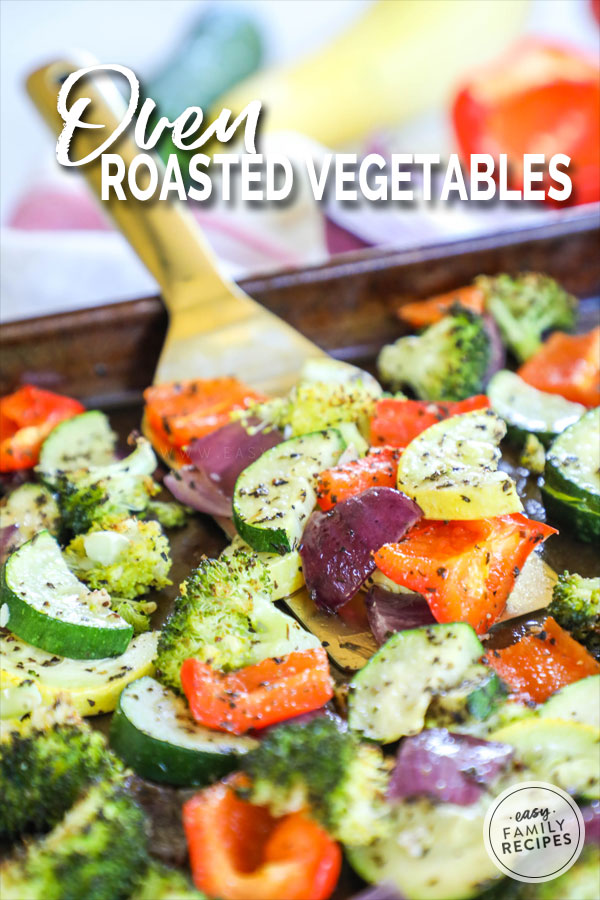 How to Freeze Roasted Vegetables
Roasted Vegetables work really well for freezing! You can freeze leftovers, or make a double or triple batch and have them for dinner, then freeze the remaining veggies to easily reheat throughout the month.
To freeze Roasted Vegetables:
Prepare Roasted Vegetables as directed
Let cool completely.
Divide into meal sized portions.
Package in an airtight container or zip top bag.
Freeze.
When ever you are ready to eat them, reheat in the microwave, oven or on the stove top.
How to Serve Oven Roasted Vegetables
Oven Roasted Vegetables make a great side dish to almost any meal, but they can also shine on their own as the star of a delicious vegetarian meal.
Here are a few of my favorite ways to prepare these and a few of our go to meals to serve Roasted Vegetables with.
Main Dishes to Serve Roasted Veggies with:
These are just a few of the MANY recipes you could serve Oven Roasted Veggies with. From BBQ to Italian, these are just perfect for so many dishes.
You can browse the Recipe Index here for more ideas!
If you have other dishes that these pair perfectly with, let me know in the comments! I am always looking for new ideas!
Roasted Vegetable Main Dish Ideas:
You can make a killer vegetarian dish, or bulk up a favorite, by making these Roasted Vegetables the main part of the entree.
Roasted Veggie Salad– Top mixed greens with Oven Roasted Vegetables. Add fresh mozzarella and toasted almonds and drizzle with balsamic vinaigrette.
Roasted Vegetable Sandwich – Slice a sub roll and sprinkle butter and garlic salt on it and toast until golden brown. Add roasted vegetables, sliced tomato, butter lettuce, and a thin spread of mayo if desired.
Roasted Vegetable Pasta– Toss pasta with butter, garlic powder, salt, fresh parmesan and roasted vegetables.
Roasted Veggie Power Bowl– Top quinoa (or your favorite grain) with roasted veggies, shredded lettuce, feta cheese, and a drizzle of Italian dressing.
Roasted Vegetable Pizza– Grab your favorite pizza crust and add a thin layer of pesto. Top with mozzarella and roasted vegetables and bake as directed.
Low Carb Roasted Vegetable Ideas
If you are looking to keep it low carb, but still healthy with lots of colorful vegetables, these Oven Roasted Veggies will fit the bill! Add them in to your favorite entrees to give it a boost of color, flavor, and nutrients!
Roasted Vegetable Alfredo with Chicken– Pair grilled chicken and this amazingly easy alfredo sauce with a helping of roasted veggies.
Roasted Veggie Low Carb Power Bowl- Make Power Bowl as directed above, substituting cauliflower rice in place of quinoa.
Garlic Parmesan Chicken & Roasted Vegetables – Pair this irresistible low carb Garlic Parmesan Chicken with roasted vegetables, or pile them right on top!
Leftover & Meal Prep
If you leftovers, you are in luck because they work well in so many dishes, or can be used to meal prep though out the week.
Use the leftovers to make:
Roasted Veggie Quesadillas
Roasted Veggie Wraps
Roasted Veggie Omlette
Meal Prep Ideas
Here are a few easy pairings for meal prep with these super easy roasted vegetables as the star!
Balsamic Grilled Chicken + Roasted Vegetables
Quinoa + Roasted Vegetables + Feta Cheese + Balsamic Dressing
Zesty BBQ Pork + Roasted Veggies
Baked Potato + Cheddar Cheese + Roasted Veggies + Dollop of Sour Cream
More Easy Side Dishes
If you enjoyed these Easy Oven Roasted Vegetables, make sure and try a few more of our easy and delicious side dishes!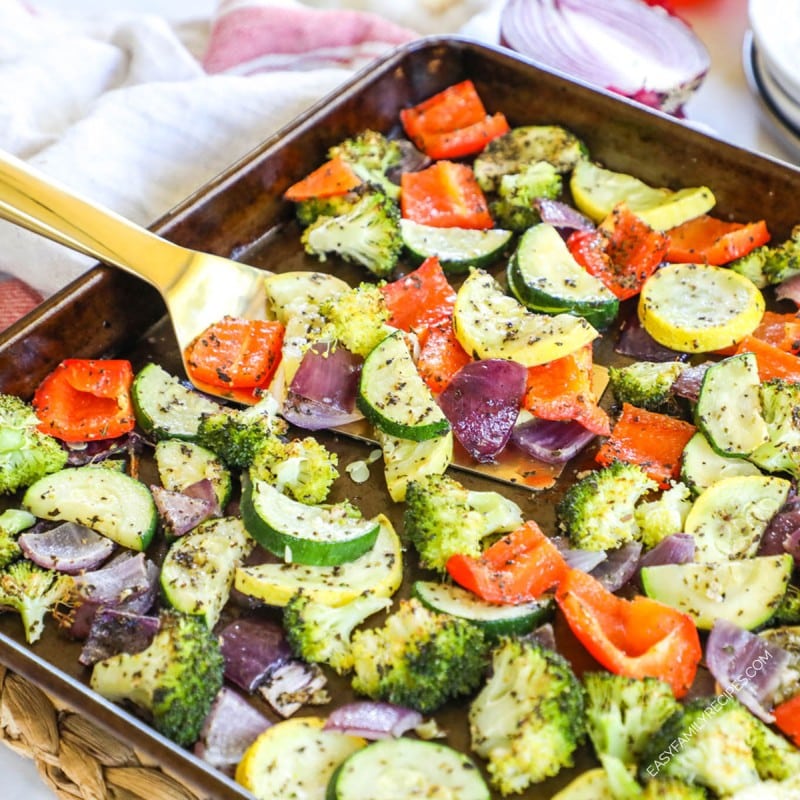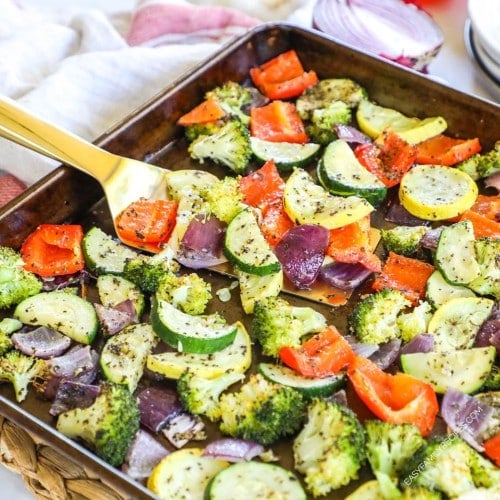 Easy Oven Roasted Veggies
These Oven Roasted Vegetables are the perfect dish! With a vegetable medley simply seasoned then baked in the oven until tender, they are quick, easy, and a wonderful compliment to almost any meal.
Ingredients
1

red onion

,

roughly diced

1

red bell pepper

,

roughly diced

1/2

lb

fresh broccoli

,

cut into small florets

1

yellow squash

,

cut into 1/4 in slices

1

zucchini squash

,

cut into 1/4 in slices

2

cloves

garlic

,

minced

1

tbsp

olive oil

1

tsp

dried basil

1/2

tsp

black pepper
Instructions
Chop vegetables and place in a large bowl and mix to combine.

Add olive oil, garlic, basil, salt, pepper, and stir until vegetables are evenly coated.

Spread in a single layer on a large baking sheet. Bake at 400˚F for 15-20 minutes or until vegetables are tender.

Remove from oven and serve warm. Enjoy!
Recipe Notes
How to Store: You can store leftovers in the refrigerator for 3-4 days or in the freezer up to a month.
How to Freeze: You can freeze leftovers, or make a double or triple batch and have them for dinner, then freeze the remaining veggies to easily reheat throughout the month.
Prepare Roasted Vegetables as directed
Let cool completely.
Divide into meal sized portions.
Package in an airtight container or zip top bag.
Freeze.
How to Reheat: These can be reheated in the microwave in 30 second increments.
How to Scale: You can easily double or triple this recipe if you are feeding a crowd. Eat them day of or save for later. 
Nutrition Information
Serving:
0.5
cup
,
Calories:
60
kcal
(3%)
,
Carbohydrates:
8
g
(3%)
,
Protein:
2
g
(4%)
,
Fat:
3
g
(5%)
,
Saturated Fat:
1
g
(6%)
,
Sodium:
18
mg
(1%)
,
Potassium:
359
mg
(10%)
,
Fiber:
2
g
(8%)
,
Sugar:
4
g
(4%)
,
Vitamin A:
985
IU
(20%)
,
Vitamin C:
72.1
mg
(87%)
,
Calcium:
37
mg
(4%)
,
Iron:
0.7
mg
(4%)