Hot Chocolate Cookies with Marshmallows are the ultimate holiday cookie. Crisp on the outside, soft on the inside, and filled with the cozy flavors of your favorite cup of cocoa!
Hot Chocolate Cookies – The EASY Way!
This cookie recipe is so simple and only requires pantry ingredients and, of course the, hot chocolate mix! It only requires a couple of steps for the BEST tasting cookie.
Why I LOVE this recipe!
Delectable texture – The soft and chewy hot chocolate cookie has an incredible texture from using both white sugar and brown sugar and by baking at a slightly higher temperature you get that perfect crispy edge with the soft middle.

One bowl preparation – From creaming the butter to mixing the remaining ingredients, there is no need to mess up the whole kitchen! Mix this cookie batter in just one bowl and drop it by the tablespoon.

Pantry staple ingredients – When that holiday party sneaks up on you, you won't have to look far to make something to bring! It uses some of the most common pantry and baking ingredients.

Old-School flavors – Enjoy that classic hot chocolate taste in cookie form with these cookies. Complete with marshmallows!

Scaleable recipe – This hot chocolate cookie recipe makes about 36 cookies. You can easily scale the recipe in half for a smaller batch or double it for either more cookies or more giant cookies.
Recipe Notes
This hot chocolate cookies recipe is as simple as promised! Just 15 minutes of prep work for tasty and cozy perfect cookies.
In this section I am going to go through a few tips and tricks I use when making this recipe to get the absolute best and most delicious results.
Make sure to scroll to the bottom for the FULL recipe card.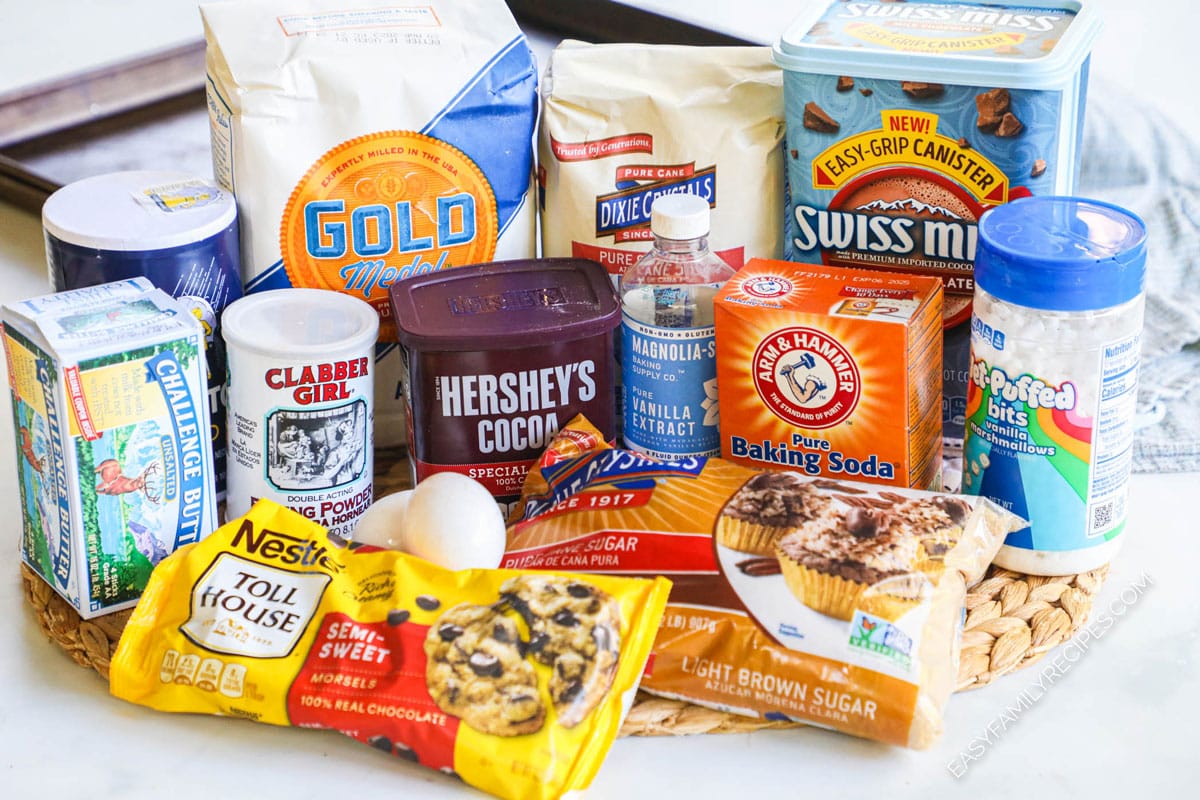 Ingredients + Substitutions
Butter – Unsalted or salted butter works just fine. Use whatever you've got!
Eggs – A binder, rising agent, and flavor-enhancing ingredient.
Sugar – I like to use a combination of pure cane sugar and brown sugar. This adds to the chewy texture and decadent flavor. You could easily substitute one sugar for the other if needed.
Vanilla Extract – Vanilla is a common baking ingredient adding a subtle flavor but also enhancing that buttery texture! I prefer to use pure vanilla extract, but imitation vanilla will work too.
Flour – I like to use all-purpose flour, but you can substitute wheat flour if you'd like.
Instant Hot Cocoa Mix – I used Swiss Miss here, but any hot chocolate powder you like can be used!
Cocoa Powder – The more chocolate the better! I used special dark cocoa powder to make them extra rich, but any cocoa powder will work.
Baking Soda & Baking Powder – We need both of these for leaving agents for these hot chocolate mix cookies. They work because one is a base while the other is a base and an acid. If you use too much of one, the cookie will be bitter, especially when working with cocoa powder which is also an acid.
Marshmallow Bits – It is SUPER important to go down the baking aisle to find these "Marshmallow Bits". They are different from mini marshmallows. They are smaller and do not melt when baked, but still have the flavor of marshmallow.
Chocolate Chips – Semi-sweet chocolate chips have the perfect sweetness ratio without being overpowering. You can substitute for dark chocolate chips or milk chocolate chips if you want though. This cookie makes a great base for many flavors.
Salt – Balances and enhances the combined flavors.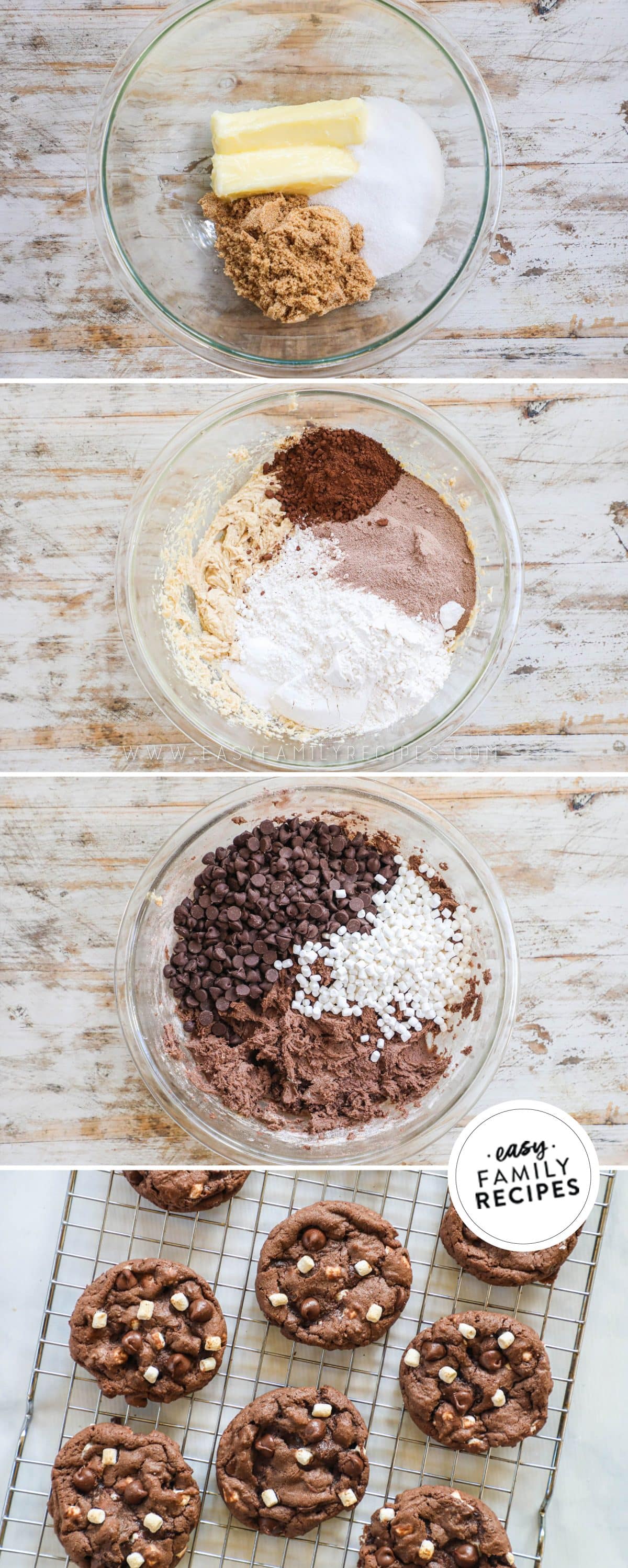 Recipe Tips
Do not use mini marshmallows – Standard marshmallows will melt when baked, while marshmallow bits are actually dried making them hard. These do not melt when baked, ensuring you will have that classic cocoa taste!

Make them bakery style – For perfectly round cookies, use the lid of a mason jar, or a glass to gently round out the cookies right after they come out of the oven.

The butter must be soft – Ensure your butter is completely softened (not melted). When you cream together the butter and sugars, the butter needs to be the right consistency to whip up with the sugar. If it is not totally softened, the cookies will spread as those chunks of butter melt in the oven. If the butter is melted, the sugar will not be able to fluff up the butter, it will just be liquidy.
Recipe Short Cuts
If you need to make this easy hot chocolate cookie recipe, but are extra short on time, here are a few ideas that can help make this recipe even faster!
Make the dough in advance– You can make a large batch of this dough to keep in the fridge for up to a week. Then bake when ready to have hot and tasty cookies fresh out of the oven!

Put the butter out the night before– The most time-consuming part of this whole recipe is waiting for the butter to soften. So set it out on the counter the night before to ensure you are ready to go.

Freeze!– These cookies freeze wonderfully! Make a batch and just keep them in the freezer sealed. When you need to head to a holiday party or just want cookies, just pop them in the fridge the night before and then bring them to room temperature (or heat up a little bit) before serving.
Recipe Variations
If you love these hot chocolate cookies with marshmallows as much as we do and want some quick ways to change it up for variety, these little tips will do the trick!
Peppermint Hot Chocolate Cookies – Add a 1/4 tsp of peppermint extract to this cookie dough or swap out the chocolate chips for Andes Mints for a peppermint hot cocoa take on these Swiss Miss hot chocolate cookies.

Hot Chocolate Cookie cups – I love making these cookies into little cups that look like mini glasses of hot chocolate! To do this, form the dough into a greased muffin tin, pressing down in the middle to make a cavity. Bake as directed. Once done, fill with milk or marshmallow fluff. If using marshmallow fluff, you can use a torch to gently toast the top for a smores feel.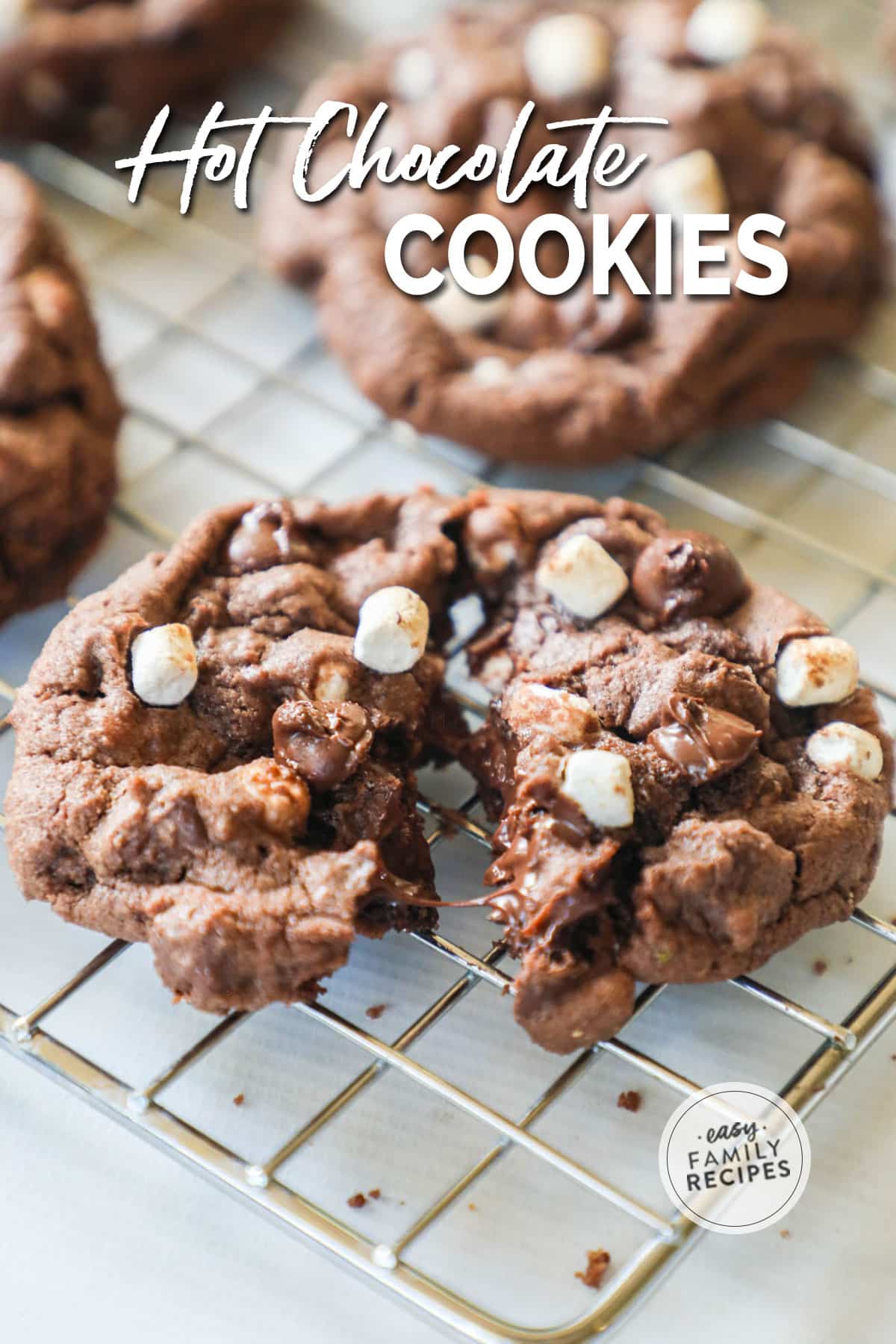 How to Freeze Cookies
Hot Chocolate Cookies can be frozen before or after baking. If freezing the cookie dough you are able to just pop out a few or as many as you need to bake to have hot, fresh cookies on demand.
If you prefer, you can bake all of the cookies and freeze after baking. Freezing the baked cookies will preserve them and once, thawed they come out just as soft, chewy, fresh, and perfect as they are when freshly baked.
Both are great options for keeping cookies fresh and delicious!
To freeze Hot Chocolate Cookie dough:
Drop the Christmas hot chocolate cookie dough on a parchment-lined baking sheet. You can drop the cookies close together as they won't spread while freezing.
Place the baking sheet in the freezer for about 2 hours or until the cookie dough has firmed up.
Place the frozen cookie dough balls into a freezer-safe container and freeze until ready to use.
When ready to bake: Place the frozen cookie dough drops on a parchment-lined baking sheet 2 inches apart and bake in a preheated oven for around 12 minutes until the edges begin to brown and the center is just set.
After baking, allow Hot Chocolate cookies to cool completely and then place them in an air-tight container to store in the freezer.
When ready to eat: Pull out a few hot chocolate Christmas cookies and either microwave them for 30-45 seconds or allow them to sit on the counter for 15 minutes until they have reached room temperature.
How to store Hot Chocolate Cookies
If you have extras after making hot chocolate cookies with mini marshmallows, then they can be saved to munch on at a later time.
To save leftovers, separate into meal sized portions and then place in an airtight container and store:
in the refrigerator for 3-4 days
in the freezer up to a month.
More EASY Cookie Recipes
If you enjoyed this recipe, I really hope you will take a moment to grab a few more easy recipes for another busy night!
You can check out all of my dessert recipes here, or see a few of our readers favorite recipes below.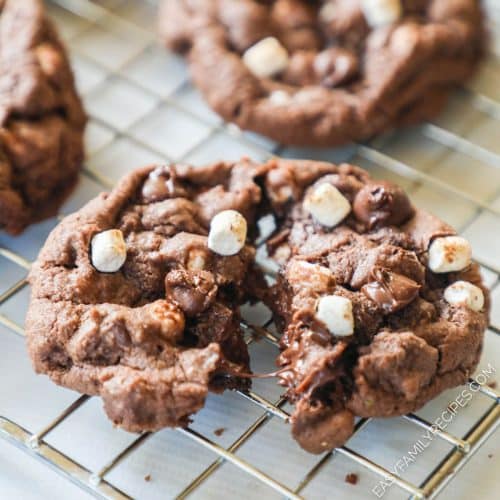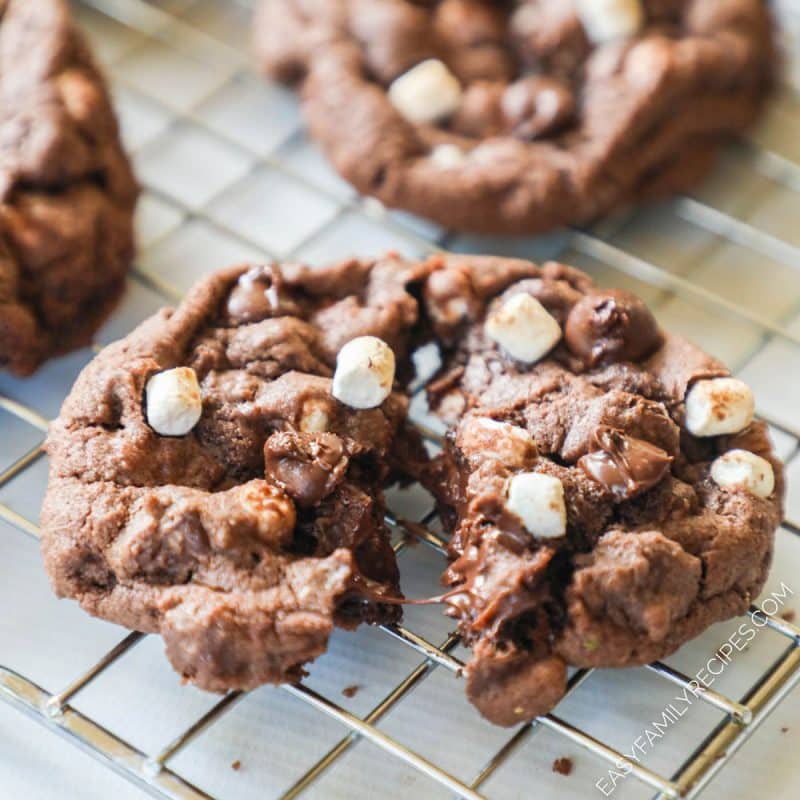 Hot Chocolate Cookies
Enjoy these super simple and nostgalc hot chocolate cookies with marshamllows with the whole family. They are crispy on the outside and gooey on the inside making fo the perfect bite!
Ingredients
3/4

cup

butter

,

softened

3/4

cup

sugar

3/4

cup

packed brown sugar

2

eggs

1

teaspoon

vanilla extract

2-1/4

cups

all-purpose flour

1/2

cup

instant hot cocoa mix

,

see note

3

tablespoons

cocoa powder

1

teaspoon

salt

1

teaspoon

baking soda

1/2

teaspoon

baking powder

1

cup

marshmallow bits

,

Plus more for garnish, see note

1-1/2

cup

semisweet chocolate chips


,

(one package) save a handful for garnish.
Instructions
In a large bowl, cream together the butter and sugars. Then, mix in the eggs and vanilla extract.

Add in the flour, hot cocoa mix, cocoa powder, salt, baking soda, and baking powder. Mix until fully incorporated.

Stir in the chocolate chips and marshmallow bits.

Scoop with a medium cookie scoop (about 2 tablespoons)2 inches apart onto an ungreased baking sheet. Use extra marshmallow bits and chocolate chips to garnish the top (optional, but makes them pretty!)

Bake for 9-11 minutes or until edges are crisp and center is set.

Optional for bakery style: Immediately after you take them out of the oven, turn a glass upside down and roll around the edges to make the cookie perfectly round with defined edges.

Let cool 2 minutes, then transfer them to a wire cooling rack to finish cooling.
Recipe Notes
Makes approx 36 cookies.
Ingredient notes:
You can use whatever brand of hot cocoa mix you like! I used Swiss Miss here, but you can use any brand with great results. The cookies will favor the flavor of the hot chocolate mix, so make sure to grab a brand you love!
It is VERY IMPORTANT to use marshmallow bits, not mini marshmallows. Marshmallow bits taste like marshmallows but they are smaller and not as soft. These will not melt in the oven while baking, where regular marshmallows can. You can find marshmallow bits on the baking aisle in most stores.
Nutrition Information
Serving:
1
cookie
,
Calories:
87
kcal
(4%)
,
Carbohydrates:
9
g
(3%)
,
Protein:
1
g
(2%)
,
Fat:
5
g
(8%)
,
Saturated Fat:
3
g
(19%)
,
Polyunsaturated Fat:
0.2
g
,
Monounsaturated Fat:
1
g
,
Trans Fat:
0.2
g
,
Cholesterol:
19
mg
(6%)
,
Sodium:
150
mg
(7%)
,
Potassium:
27
mg
(1%)
,
Fiber:
0.5
g
(2%)
,
Sugar:
7
g
(8%)
,
Vitamin A:
133
IU
(3%)
,
Calcium:
10
mg
(1%)
,
Iron:
0.4
mg
(2%)