Chicken Recipes
A collection of the easiest and best chicken recipes on the web!  These recipes cover everything from quick one dish dinner ideas to more elaborate meals all made with chicken.
Simple enough for the busiest nights!
Quick + Easy + Delicious = Dinner Trifecta!
Getting dinner on the table each night can be a challenge for even the most seasoned cook. Good thing we are overflowing with ideas for what you can make for dinner tonight!
These easy chicken recipes are tried and true, many racking up 5 star ratings from all over the country. Most importantly though, they are simple enough to make even on a hectic weeknight, making you the hero at your dinner table with a hot, fresh, delicious meal.
Most recipes will have 10 ingredients or less, and taking only minutes to prepare with a few easy steps, so let's get started!
Most Popular Chicken Recipes
These chicken recipes are a hit with readers for a good reason, they are absolutely DELICIOUS! Not to mention quick, easy, and mostly healthy too! You will find many of these have been pinned upwards of a million times, and get made nightly all over the globe. If you haven't tried these, yet, it's time! Join us to make a delicious chicken dinner!
Baked Chicken Recipes
Baking Chicken in the oven is one of the easiest ways to prepare it! Most of these recipes only take minutes of prep, and you can let the oven do the rest of the work baking these dinners to perfection.
Newest Chicken Recipes
When you feel like you have made it all, and nothing seems inspiring, see the most recent recipes from our kitchen for a taste of a little something new and exciting!
Healthy Chicken Recipes
If you are following a special diet, or just generally trying to eat healthy, there are endless options for different types of chicken meals to make that are packed with flavor and completely delicious. Here are a few to get you started!
Low Carb Chicken Recipes
Chicken is the perfect meat to prepare when on a low carb diet. It is high in protein and low in carbs. Chicken can be smothered to delicious perfection with many different flavor combos to create a delicious and perfectly low carb meal.
Friendly for Keto and Atkins diets
Gluten Free Chicken Recipes
If you are gluten free, you are in luck, some of our favorite chicken recipes are naturally gluten free. Our Gluten free chicken recipes are perfectly delicious for anyone eating gluten free and enjoyed just as much by those who aren't!
Friendly for Gluten sensitivities and Celiac
Dairy Free Chicken Recipes
These recipes are high on flavor and all dairy free! The best part is of course how simple they are to make, while still packing in the flavor!
Friendly for Paleo Diets
Crockpot Chicken Recipes
The Slow Cooker is one of the best hands off ways to prepare chicken. We love the dump and forget it process for these recipes so you can prep the recipe when it is convenient and then it is ready when you are!
Love your Slow Cooker? Us too!
Chicken Salad Recipes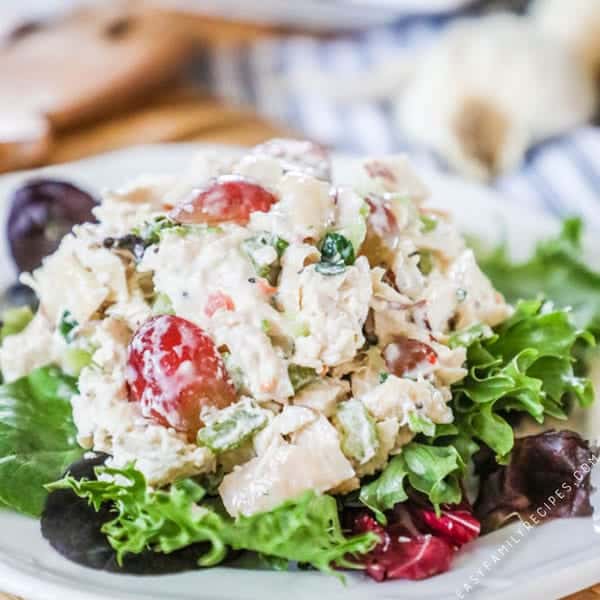 Chicken Salad with Grapes
This greek yogurt salad is absolutely perfect for sandwiches, salad toppings, or eating with crackers or veggies. It is easy to make, light enough to not weigh you down, but full of protein to keep you full throughout the day.
Grilled Chicken Recipes
Grilled chicken is one of the most loved methods for chicken because of how simple it is to make, as well as the tender juicy meat you are able to achieve easily!
There are many different kinds of marinades, dry rubs, and seasonings out there for chicken, and we have a few favorites for achieving perfect, juicy, chicken on the grill every time!
All Chicken Recipes