Homemade Salsa may seem fancy, but really it is crazy easy to make and fresh salsa is 100x times better than anything you can get in a jar! You only need a few ingredients and a couple of minutes to make anything from a personal sized batch of salsa to a batch big enough to feed a crowd.  This homemade salsa is made with canned tomatoes to make it easy, but mixed with fresh onion and cilantro so that it tastes completely fresh and delicious! Perfect for a party, as a topping on taco night, or just with a bag of chips and a movie, this salsa recipe is one I find myself making all the time!
Homemade Salsa Recipe
When you grow up in Texas, salsa is more of a religion than a condiment.  You better believe that in every kitchen there is a go to salsa recipe. And this one is mine!
I really never thought about sharing this recipe since it is just such a basic for us.  But when my friend recently begged for the recipe when I had it out at a get together I realized I couldn't even send her here to the blog to get it!  I realized it was about time to share this one!
This homemade salsa recipe is pretty basic.  There are lots of recipes out there and lots of great recipes.  Why this one is my trusty go to recipe that I have used most of my life, is the combination of being entirely delicious, but yet still so easy to make!  With the use of some fresh ingredients and some canned you are able to trick your mouth into thinking this recipe took 10 hours of hard labor peeling tomatoes to make, when really I was able to whip up a batch of the homemade salsa in as little as 10 minutes!
So let's do this!  The salsa is calling!
What to serve Salsa with
This salsa goes well by itself with some chips or is the perfect topping or condiment for many dishes. Here are some of my favorite things to serve it with:

How to Make Simple Salsa
I am going to walk through this salsa recipe with you here to give you a few tips and tricks I use when making it. You can find the FULL recipe card at the bottom of this post.
Is this Salsa Spicy?
By default, this isn't a very spicy salsa.  I would probably rate it is mild, or possibly medium if you are extra sensitive.  All 3 of my kids have eaten it from the time that they were allowed to start eating chips.  There is a little bit of heat from the ROTEL tomatoes, but it is mellowed by the lime.  You can increase the spiciness of the salsa by adding extra raw jalapeño to it in the first blending step, or by using "Hot" ROTEL tomatoes rather than original.
What Herbs are in Homemade Salsa?
Salsa traditionally incorporates garlic, cilantro, jalapeño and salt as the seasoning.  In my recipe I think it is very important to use fresh cilantro since the flavor doesn't carry well when it is dried.  The fresh cilantro really is the key to making this salsa's flavor truly amazing.
In my recipe I use garlic powder for ease and it works well to carry the flavor without the bite. You can also try it with fresh garlic if you prefer.  The spice in this salsa comes from the canned tomatoes and green chiles, which I think gives the flavor and kick and saves a tremendous amount of time being canned.
The fresh lime is also an important ingredient.  Fresh lime is easy to come by, lasts a long time in the fridge and really adds to the flavor of the salsa.  It also helps to blend the strong flavors like garlic and onion into the flavor of the salsa.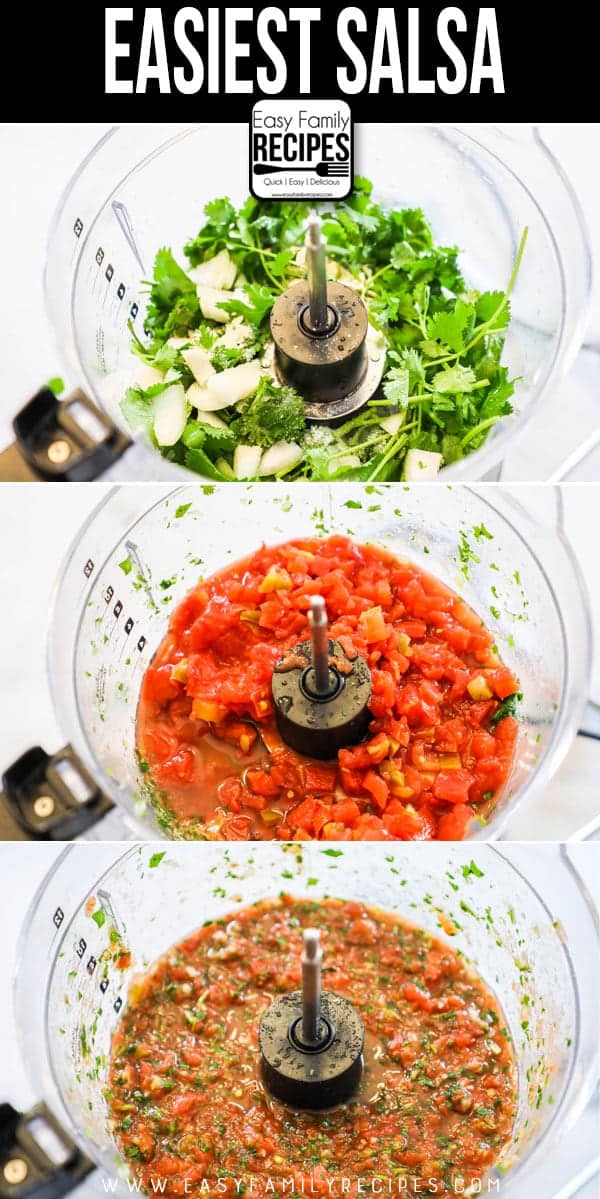 Do I need any special equipment to make this Mexican Salsa?
You will need either a food processor or a blender.  I prefer to use a food processor with the chopping blade, but a blender will also work. If you are using a blender you may need more liquid in the first step, so you can use the juice from the canned tomatoes.
How do I make a Big Batch of Salsa?
You can easily make enough to feed a large crowd or have some extra to freeze so that you can have it on hand any time the chips and salsa craving hits or company stops by.  You can also cut the recipe in half for a personal sized little batch of salsa.  You won't want to more than double the recipe because generally the blender or food processor won't be big enough.
How to Store Homemade Salsa in the Refrigerator
If you have left over salsa, you can store it in the refrigerator by placing it in an tightly closed container and and placing it in the refrigerator for 5-7 days.
Can I Freeze Salsa?
YES!  Salsa freezes well and I recommend doing this to keep homemade salsa on hand so whenever you need it for a recipe or have a craving you can just reach in the freezer for some delicious salsa.
To freeze salsa, I recommend placing it in smaller portion sized tightly closing containers.  Then store  in the freezer for up to two months. To thaw, place the container in the refrigerator 24 hours before serving.
I really hope that your family likes this salsa as much as we do! It is a staple in our kitchen year round.
If you do get a chance to try it, I would love it if you let me know!  You can leave me a comment below, or if you post a picture on Instagram, make sure to tag me @easyfamilyrecipes so that I can see what you are cooking up! It makes my day to see others enjoying the recipes that I share!
Oh and before you go!… If you need a regular rotation of recipe inspiration like me, make sure to sign up to get our emails!  I send out my new favorites, the recipes my family has been devouring, and some of the best tried and true recipes.  It is easy and free of course!  You can click here to sign up or on the button below.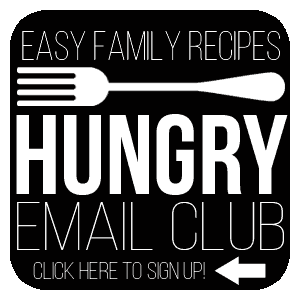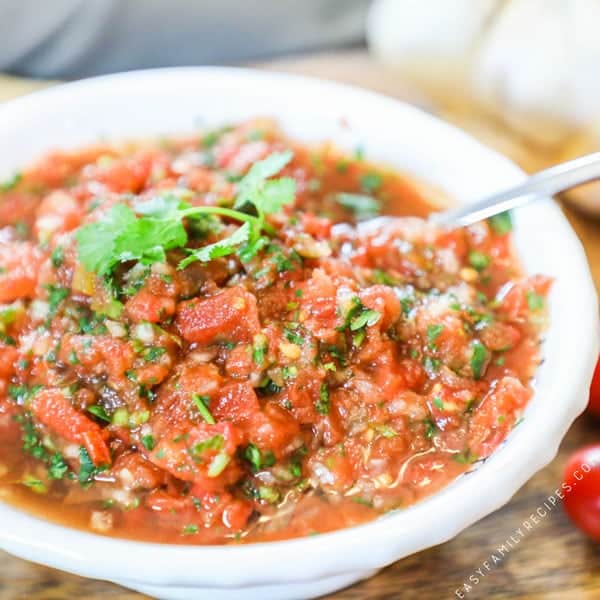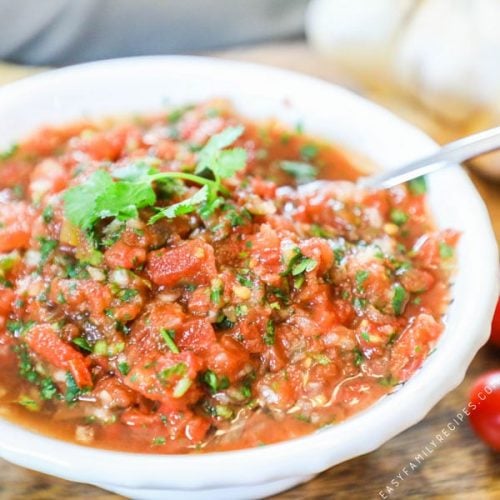 Homemade Salsa
This homemade salsa is perfect for serving to a crowd, topping your tacos, or just munching on with chips. This recipe is a quick and easy salsa that gives you a delicious, fresh, classic salsa taste.
Ingredients
1

can

,

14.5 oz diced tomatoes

1

can

,

10 oz original ROTEL tomatoes with green chiles

1/4

large yellow onion

,

roughly chopped

1/2

bunch cilantro

,

roughly chopped

1/2

tsp

garlic powder

1/2

tsp

salt

juice of 1 lime
Instructions
Place the onion, cilantro, garlic powder, salt, and lime juice in the food processor or blender and process until very finely chopped.  Add some additional liquid from the tomatoes if needed.

add the tomatoes and ROTEL to the mixture and pulse about 5 times or until the salsa reaches your desired consistency.

Chill for 30 minutes to allow flavors to meld. Enjoy!
Recipe Notes
Special equipment needed:
Food processor or blender
Salsa can be stored in an airtight container in the:
refrigerator for 5-7 days
freezer for up to 2 months
Nutrition facts provided based on my best estimation for the recipe and may not be accurate depending on what brands you use or modifications you make to the recipe.  I recommend using a nutrition calculator with the exact brands and measurements you use for the most accurate calculation.
©2018 Easy Family Recipes- Recipe found at: https://www.easyfamilyrecipes.com/homemade-salsa-recipe/
For more great easy dinner inspiration, sign up for our emails here!
Nutrition Information
Serving:
1
/2 cup
,
Calories:
25
kcal
(1%)
,
Carbohydrates:
3
g
(1%)
,
Protein:
0
g
,
Fat:
0
g
,
Saturated Fat:
0
g
,
Polyunsaturated Fat:
0
g
,
Monounsaturated Fat:
0
g
,
Trans Fat:
0
g
,
Cholesterol:
0
mg
,
Sodium:
135
mg
(6%)
,
Potassium:
0
mg
,
Fiber:
1
g
(4%)
,
Sugar:
3
g
(3%)
,
Vitamin A:
0
IU
,
Vitamin C:
0
mg
,
Calcium:
0
mg
,
Iron:
0
mg