With just one skillet, you can make these amazingly flavorful and Easy Tuscan Pork Chops. The thick cut boneless pork chops are nestled in a sweet and tangy balsamic sauce packed with tomatoes and spinach, then garnished with shaved parmesan for a meal that is delicious enough to impress, but easy enough for a weeknight!
Tuscan Pork Chops – The EASY Way!
This is one of those recipes that when you finish it up, you take a look, and are just impressed with yourself! That, "wait, I made that?!" feeling because it is not only beautiful to look at, but you take the first flavor packed bite and taste something that resembles a restaurant special!
These Tuscan Pork Chops will impress, but what makes it even more exciting is that the recipe is just so easy, and can be made in under 20 minutes!
What I LOVE about this recipe:
Beautiful– This dish is just pretty! There are lots of colors, and not only does it taste good, but the presentation is amazing!
Fast– The Tuscan Pork Chops pack in the flavor, but the recipe moves quickly and can be on the table in well under 30 minutes.
Pantry Ingredients– While the meal may look fancy, it uses just a short list of everyday ingredients. The only thing fancy is the end result!
Elevate weeknight dinner– This meal is so easy, it can be made even on a very busy night. It doesn't feel like busy night food though! You can still feel like you are having a "real" meal, full of complex flavors and balanced with protein and vegetables when you make this!
Layers of flavor– These Tuscan Pork Chops have layer upon layer to discover, between the tender inside of the boneless pork chop, the crisp seared outside, the garlicky balsamic sauce that is one part tangy and one part sweet, and the freshness of the tomatoes and spinach.
Great leftovers– If you have leftovers, there are some delicious options for reinventing them to make some really great lunches or dinners throughout the week.
What to Serve with Tuscan Pork Chops
With so much rich flavor packed into the main dish, I like to keep sides for the Tuscan Pork Chops fairly basic, but still delicious of course. Having a side dish that can make full use of the sauce like mashed potatoes, risotto, or bread, is a must for me, and I like to add at least one other vegetable.
Side Dish Ideas
You can choose one or add a few sides to make a wholesome, well rounded dinner.
Recipe Notes
This Tuscan Pork Chop recipe is as simple as promised! Just a pack of boneless pork chops plus a few staple ingredients for a family friendly meal.
In this section I am going to go through a few tips and tricks I use when making this recipe to get the absolute best and most delicious results.
Make sure to scroll to the bottom for the FULL recipe card.
Ingredients + Substitutions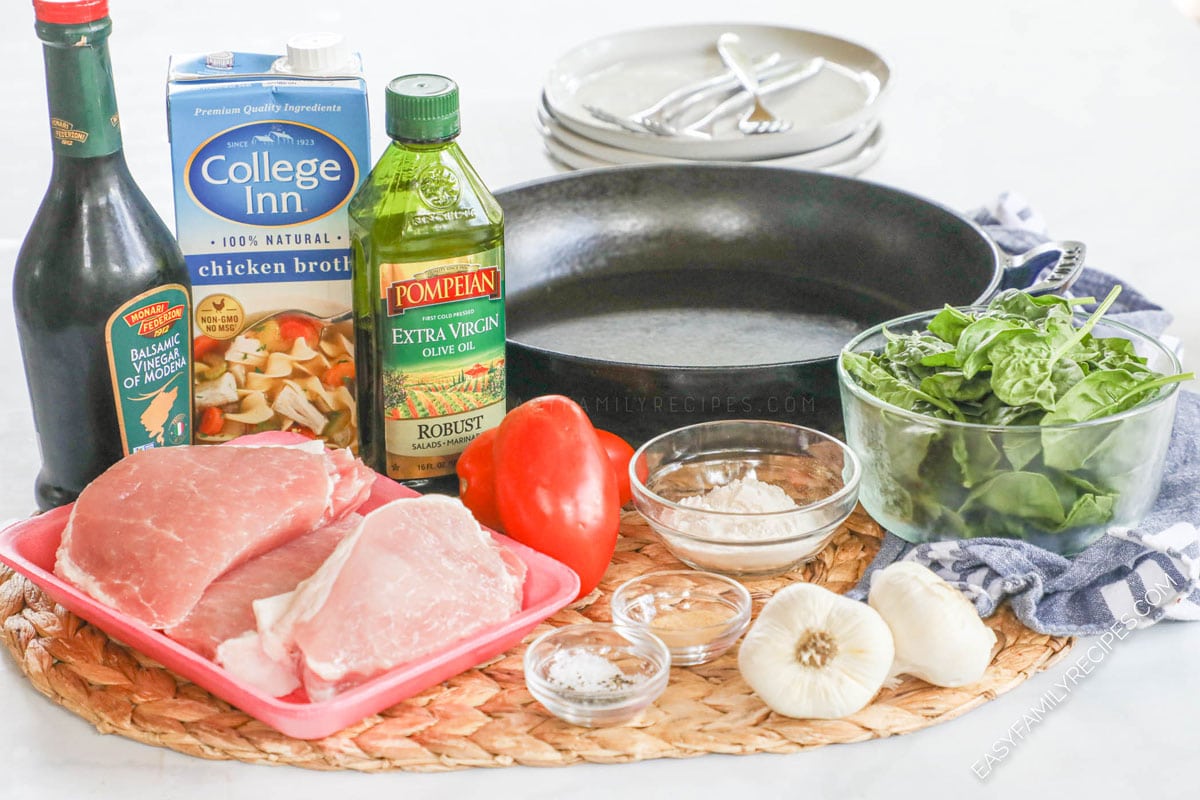 Dredge- To make the mix we will dredge the pork chops in you just need a small amount of flour, salt, pepper, and garlic powder. You can also also add Italian seasoning if you want the pork a little more heavily seasoned.

Boneless pork chops- These should be a thicker cut about 1 in thick. If you don't see what you want on the shelf, most grocery stores will find what you need, or cut it for you to size if you ask at the butcher counter!

Olive oil- This or any oil with a high smoke point will work.

Garlic- I prefer to use fresh garlic in this recipe because it is an easy way to add that "made from scratch" taste to the dish.

Balsamic vinegar- the vinegar will cook down and become sweeter as the dish comes together.

Chicken broth- You can use chicken or vegetable broth. Both give good results with great flavor!

Honey

Roma tomatoes- You can use roma tomatoes, halved cherry or grape tomatoes, or even a larger beefsteak tomato that has been diced. Generally, the smaller tomatoes (roma, cherry grape, etc) will be sweeter and add more flavor as they cook down, so I prefer those!

Fresh baby spinach- This is added at the end for a punch of flavor and color!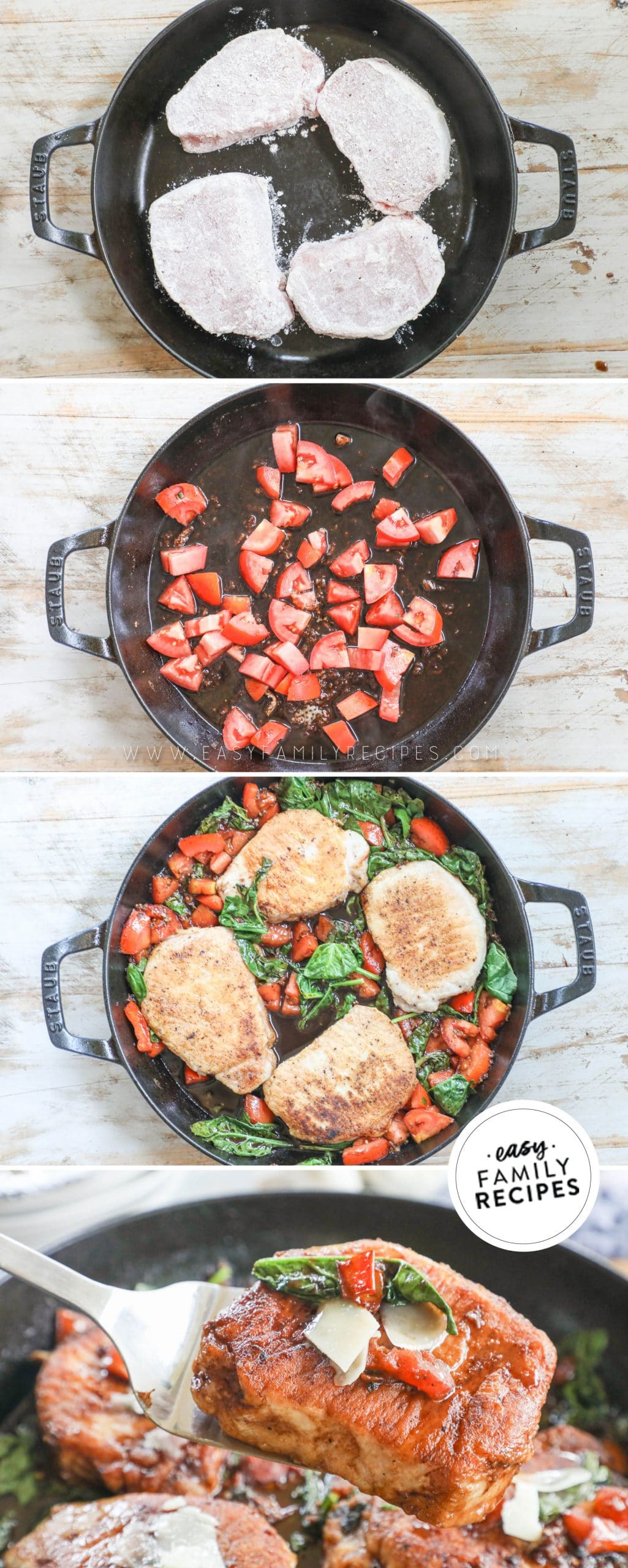 Recipe Tips
Prep your ingredients– This recipe moves FAST once it starts going. By having all your your ingredients measured, chopped, etc, before starting the dish you will help yourself avoid over cooking anything or missing as step as you go. I HIGHLY recommend doing this!

Sear➡️ Sauce ➡️ Simmer– The three step method we use for this recipe is to sear the pork chops which browns them and adds a lot of flavor and texture to the dish. Then simmer the sauce. This will deglaze the pan, reduce the sauce to combine and magnify the flavors. Last, simmering it all together infuses the flavor of the sauce in to the pork chops and also, brings the rich flavor of the meat to the sauce.

Add the spinach at the end – While you may be tempted to want to just dump all the veggies in together at the beginning, resist the urge! Spinach is delicate and wilts fast. So by just adding it right at the end, you will have perfectly cooked, bright green, beautiful spinach to stir into this dish.

The spinach will literally go from raw, to perfectly wilted in 2-3 minutes. Also, it may seem like a lot of spinach, but when spinach cooks down, the volume cuts to a fraction and it will be the perfect amount to compliment the dish.

Don't over cook the pork chops! The #1 enemy of tender, moist pork chops is cover cooking. Make sure to only cook the pork chops until the reach 165˚F. A meat thermometer is your friend here! If you don't have one, they are inexpensive and one of my most used kitchen tools!

While I would love to give you a exact number of minutes that the pork chops will need to cook, I can only give you the round estimates since it will vary based on how thick your pork chops are, how large your pan is, the type of stove you use, the size of your burners, etc. I can get you close, but you have to take us to the finish line!
Recipe Short Cuts
If you need to make this recipe, but are extra short on time, here are a few ideas that can help make this recipe even faster!
Prep the ingredients– The smaller prep steps like combining the dredge and chopping the tomatoes can be done well in advance to save time.

Pre-cook the pork chops– You can dredge and cook the pork chops in advance, then just continue the recipe when you are ready to eat by making the sauce, adding the vegetables, and simmering it all together.
Recipe Variations
If you love this recipe as much as we do and want some quick ways to change it up for variety, these little tips will do the trick!
One Pan Creamy Tuscan Pork Chops– Make the Tuscan Pork Chop recipe as directed. When making the sauce after bringing to a boil, add 1/2 cup of heavy cream, 1/4 cup grated parmesan cheese, and an additional 1/4 tsp salt to the sauce stir and return to simmer. Then continue with recipe.

Cheesy Tuscan Pork Chops– Make recipe as directed. Once the spinach is wilted, top with mozzarella cheese. Cover with lid and let cheese melt for 2-3 minutes. Garnish with fresh basil.
Dietary Considerations
If you have special dietary needs, this recipe meets some and can be easily modified to comply with others.
As always, check all store bought ingredients for compliance on specific dietary needs. The notes below are a general guide.
Gluten free: This recipe can be made gluten free by using a gluten free flour in place of all purpose flour.
Dairy free: These easy Tuscan Pork Chops can be made dairy free by omitting the parmesan cheese garnish.
Nut free: This recipe is naturally nut free
Egg free: This recipe is naturally egg free
Macros: The approximate macro calculation for this recipe is- P: 31 g C: 16 g F: 17 g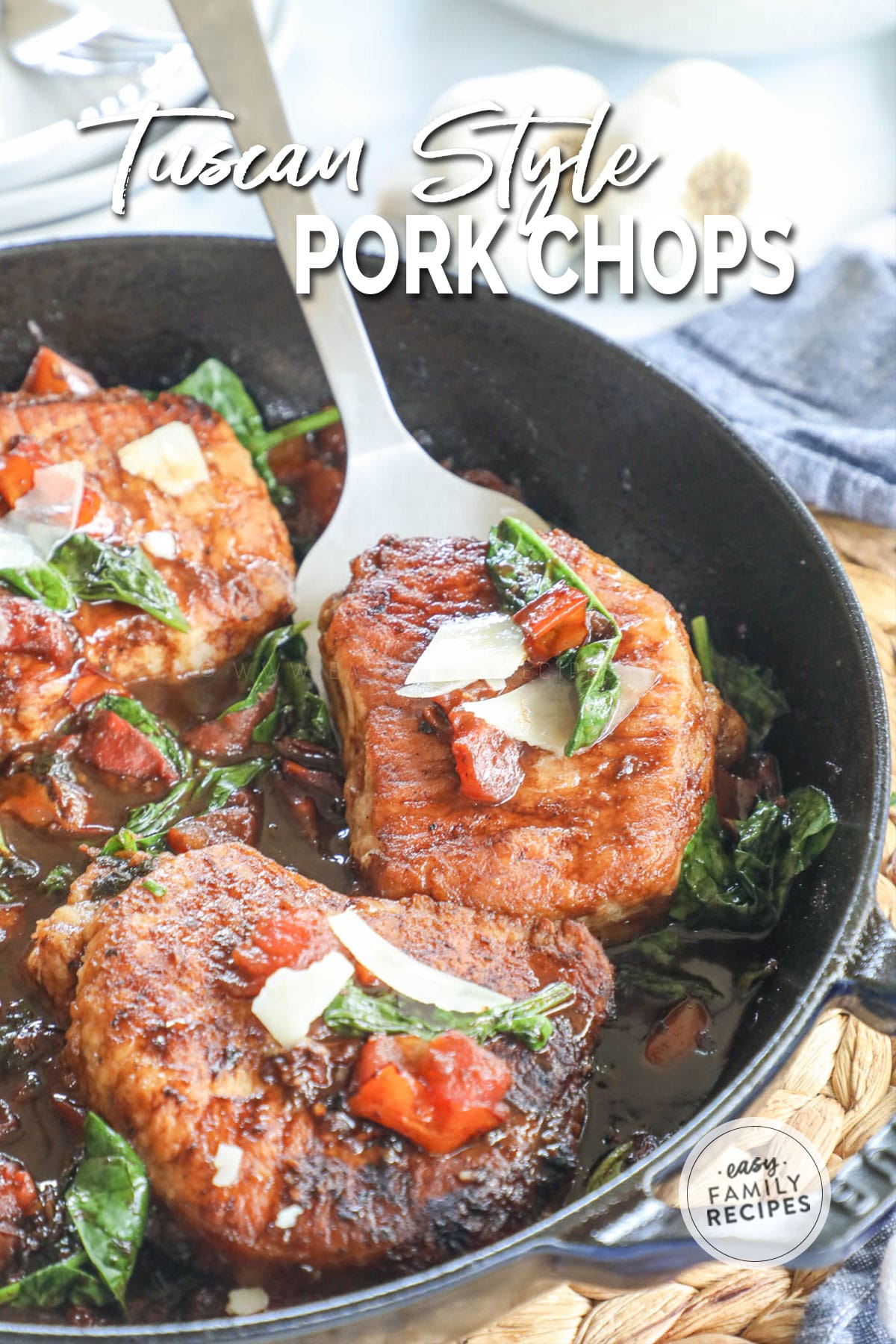 One Pan Tuscan Pork Chops Leftovers
If you have leftovers after making this easy pork chop recipe, then it is your lucky day! They save and reheat well, and can make the start of another delicious dish.
To save leftovers, separate into meal sized portions and then place in an airtight container and store:
in the refrigerator for 3-4 days
in the freezer up to a month
Leftover Recipes
Here are a few ways to repurpose those leftovers and give them a delicious makeover!
Tuscan Pork Pizza– On a prepared pizza crust, spread a thin layer or marinara sauce. Cover with mozzarella or Italian Cheese blend. Chop pork chops up into small bite-sized pieces. Top the pizza with pork bites, tomatoes and spinach. Bake as directed on crust. Once done, drizzle balsamic sauce over the top.

Tuscan Pork Salad– Chop pork into bite-sized pieces. Top a bed of mixed greens with pork, spinach and tomatoes. Add grated parmesan cheese and your choice of artichoke hearts, pine nuts, and capers. Drizzle with balsamic sauce and add additional balsamic dressing if desired.

Tuscan Pork Pasta– Chop pork into bite-sized pieces. Prepare pasta per package directions. Once done, toss pasta with olive oil, salt, garlic powder, Italian seasoning, and grated parmesan cheese. Add in the chopped pork, tomatoes, spinach, and drizzle with balsamic sauce.

Tuscan Pork Panini– Slice pork. Butter the outside of two slices of good white bread. Mix a little mayo and a little pesto together and spread on the other side of the bread. Add sliced pork and top with sliced red onion, fresh spinach, and mozzarella cheese. Press in a panini press, or grill in a large skillet on each side until golden brown and heated through.
More Easy One Pan Dinner Recipes
If you enjoyed this recipe, I really hope you will take a moment to grab a few more easy recipes for another busy night!
You can check out all of my Easy Dinner recipes here, or see a few of our readers favorite recipes below.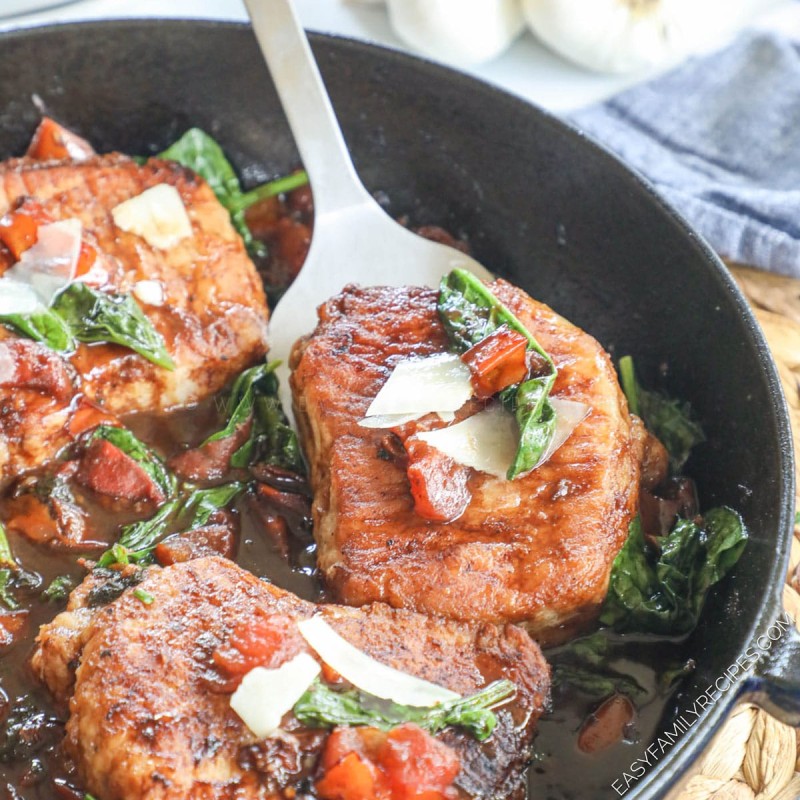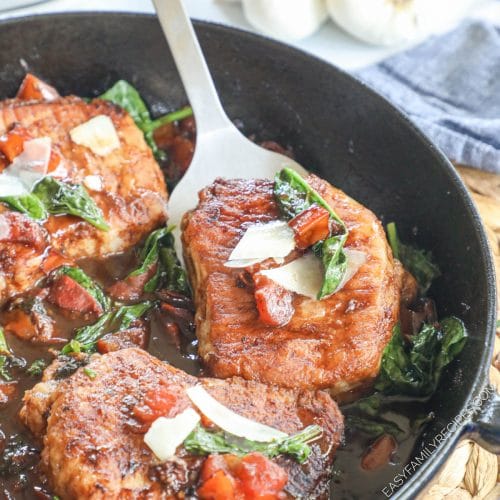 Tuscan Pork Chops
With just one skillet, you can make these amazingly flavorful and Easy Tuscan Pork Chops. The thick cut boneless pork chops are nestled in a sweet and tangy balsamic sauce packed with tomatoes and spinach, then garnished with shaved parmesan for a meal that is delicious enough to impress, but easy enough for a weeknight!
Ingredients
3

tbsp

flour

1

tsp

salt

1/2

tsp

pepper

1/2

tsp

garlic powder

4

boneless pork chops

,

1 in thick

2

tbsp

olive oil

6

garlic cloves

,

pressed

1/3

cup

balsamic vinegar

1/4

cup

chicken broth

1

tbsp

honey

2

roma tomatoes diced

3

cups

fresh baby spinach
Instructions
Combine the flour, salt, and pepper and dredge each pork chop in the mixture.

Heat oil in a large skillet over medium high heat. Add pork chops to the oil and cook 2-3 min on each side until they are golden brown. Remove from skillet.

Add garlic to the skillet and stir about 30 seconds. Then add vinegar, broth, and honey to the skillet, stirring to scrape and mix in any bits from the bottom. Add the tomatoes to the mixture snd bring the mixture to a boil.

Add the pork chops back in, cover, reduce heat to low and simmer for 3-4 minutes, then add the spinach and recover for 2-3 minutes or until the spinach is wilted and the pork chops are done (165˚F internal temp).
Nutrition Information
Calories:
345
kcal
(17%)
,
Carbohydrates:
16
g
(5%)
,
Protein:
31
g
(62%)
,
Fat:
17
g
(26%)
,
Saturated Fat:
4
g
(25%)
,
Polyunsaturated Fat:
2
g
,
Monounsaturated Fat:
9
g
,
Trans Fat:
1
g
,
Cholesterol:
90
mg
(30%)
,
Sodium:
725
mg
(32%)
,
Potassium:
769
mg
(22%)
,
Fiber:
1
g
(4%)
,
Sugar:
8
g
(9%)
,
Vitamin A:
2375
IU
(48%)
,
Vitamin C:
13
mg
(16%)
,
Calcium:
53
mg
(5%)
,
Iron:
2
mg
(11%)