This Spinach Artichoke Dip recipe is one of our "secret" family recipes! It is super creamy with amazing flavor from the combination of cheese, fresh spinach, and tangy artichoke hearts. It is made from scratch, but surprisingly simple to throw together. Serve it with veggies, chips, pita bread or enjoy it as part of another meal – the possibilities are endless!
Spinach Artichoke Dip – The EASY Way!
I am so excited to share this recipe with you guys! I have been making it for years and am known for it by our friends and family. This spinach and artichoke dip is made with a combination of mayonnaise and sour cream for the ultimate smooth creamy texture combined with 2 kinds of cheese for flavor. I always get asked for the recipe for when I bring my creamy spinach artichoke dip to a party, pot luck, or anywhere you need something for munching!
What makes this recipe the best spinach artichoke dip is that not only does it get prepped and in the oven in 15 minutes, but it also is a work horse of a recipe. What I mean is that it can be enjoyed is so many ways, not just as a dip!
You can use this spinach artichoke dip to stuff mushrooms, to add to scrambled eggs, or to make Spinach and Artichoke Chicken. There are so many ways to get your creamy veggies in with this artichoke spinach dip, so let's get to learning how to make spinach artichoke dip (the right way!).
Why I LOVE this recipe!
Quick and easy – This recipe will be in the oven in 15 minutes, so very quick! Plus, all you have to do is mix ingredients to and place in a dish to bake.
Multi-use – Like I mentioned, this dip can be enjoyed in so many ways beyond just as a dip! In a quesadilla, with chicken, in wraps, and so much more!
Crowd pleaser and crowd feeder – I have never met someone who does not love hot spinach artichoke dip. It is a great way to sneak in veggies with all the gooey cheese and it is packed with everyone's favorite flavors of onion and mozzarella. You can also double the recipe easily to make this crowd pleaser into a crowd feeder!
Can be made ahead – This dish is awesome for making in advance! Simply mix everything and place it in the pan. Cover the pan and store in the fridge until ready to bake. Then you can bake the spinach & artichoke dip either right before you want it or bake it wherever you are going for maximum freshness.
What to Serve with Baked Spinach Artichoke Dip
Since this easy spinach artichoke dip recipe dish has super classic flavors, it will pair well with a wide variety of dishes and sides. When wondering what to serve with spinach artichoke dip, I have you covered with both classic options and some healthy options to keep it light. Try these dippers, or use the spinach dip as a filling in another dish!
Serving Ideas
Veggies – My favorite way to sneak a bite is with carrots and cucumbers. You could also serve with bell peppers or celery or with all the veggies in a beautiful veggie tray spread!
Chips, bread, or crackers – This is best for taking to a party because chips, bread, and crackers travel really well. My favorite is to use Scoops tortilla chips for maximum dip holding possibilities. But, toasted sourdough or pita chips (or pita bread) are also delicious!
In a tortilla – This could be as a quesadilla, in a wrap, or in a pinwheel. With all the cheese in this easy spinach artichoke dip, it makes for one killer quesadilla – even better with a few jalapenos! You can also use it as a spread for a wrap or pinwheels with turkey or bacon. Yum!
With eggs – A trick I use to amp up the flavor of scrambled eggs in to mix in a little dip when the eggs are almost done cooking. This cheesy spinach artichoke dip is perfect for scrambled eggs because it adds creaminess and veggies!
With a protein – This easy spinach artichoke dip is so so tasty with chicken, steak, or salmon. Probably others but those are my top 3! For chicken, I highly recommend trying my Spinach and Artichoke Chicken. For the steak and salmon, you can spread a little on top once they are almost cooked so that the dip slightly softens and warms up!
You can choose one or add a few sides to make a wholesome, well rounded dinner.
Recipe Notes
This hot artichoke spinach dip recipe is as simple as promised! Just 15 minutes of work for a family friendly meal.
In this section I am going to go through a few tips and tricks I use when making this recipe to get the absolute best and most delicious results.
Make sure to scroll to the bottom for the FULL recipe card.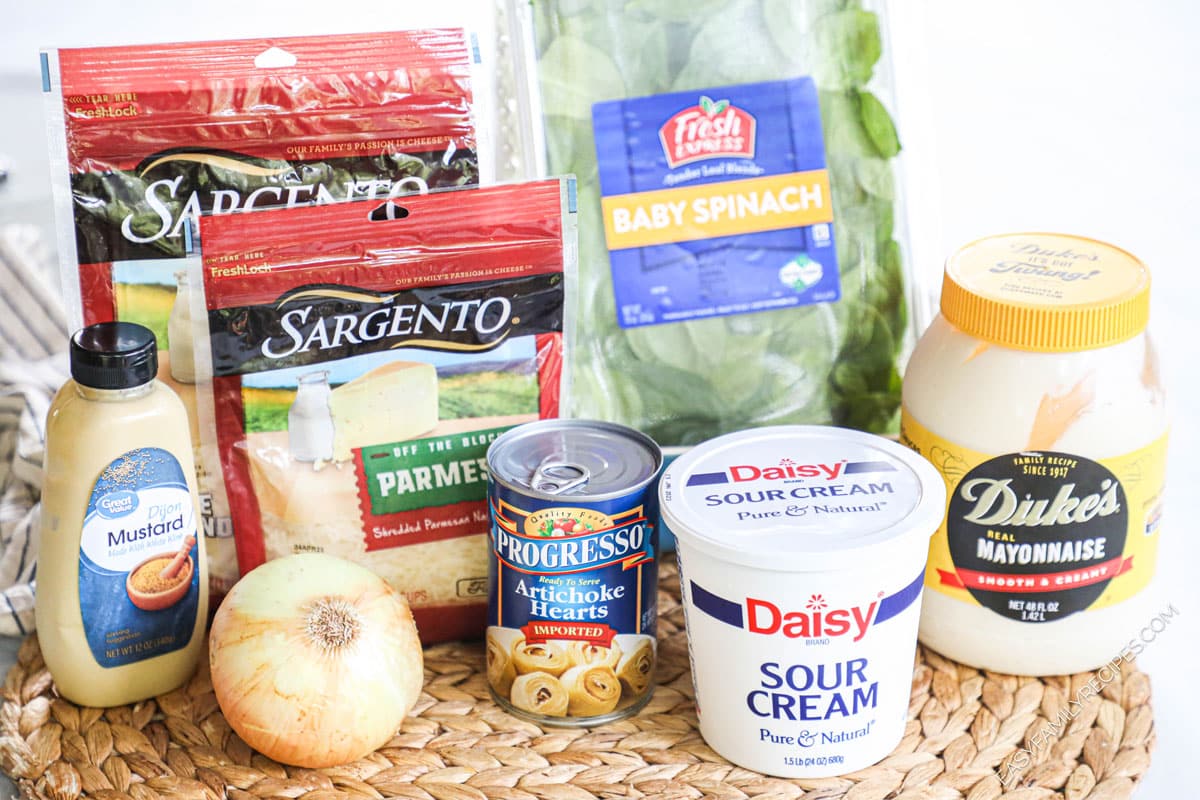 Ingredients + Substitutions
Mayonnaise – Mayo is the vessel to carry flavors and keep the creaminess. It is very mild in flavor meaning the rest of the flavors are able to truly shine through! Just be sure to use real mayonnaise, not a mayo substitute.
Sour Cream – With so much creaminess, between the mayo and the cheese, we need a little tang. The tang of the sour cream is the perfect contract to this creaminess, adding a nice bite that keeps people coming back for more!
Dijon Mustard – Dijon mustard is my best kept secret. It packs tons of flavor without adding 10 more ingredients! You can always use a spicy one if you like, but I prefer just standard Dijon mustard for this recipe.
Onion – White onions are the best option for this dip in my opinion because they are mild in flavor and slightly sweet. However, you could use yellow onion instead.
Mozzarella – For the ultimate cheese pull, mozzarella is the only choice. It is the cheese flavor that everyone knows and loves. For this recipe, I recommend using shredded mozzarella as opposed to mozzarella packed in water.
Parmesan – Parmesan adds a nice nuttiness to this spinach artichoke parmesan dip. I recommend shredding the cheese yourself for the best melting results but you can certainly use shredded parmesan if that is what you have available or have time for.
Artichoke Hearts – Ok, super important ingredient – the artichoke! Artichoke hearts come canned and can be found quartered, halved, or whole in a brine or marinated. I prefer to use quartered in brine. The quartered size is perfect for taking bites in chips while the brine helps to minimize how oily the dish gets. Marinated artichokes are made with oil so when combined with the mayo, it can get a little oil heavy.
Spinach – My other secret – fresh spinach! I like to buy baby spinach and chop it up into bite size pieces (less work when I start from the smaller size leaves). But, you can use full size spinach too just so long as you chop it small enough to be bite size.
Salt and Pepper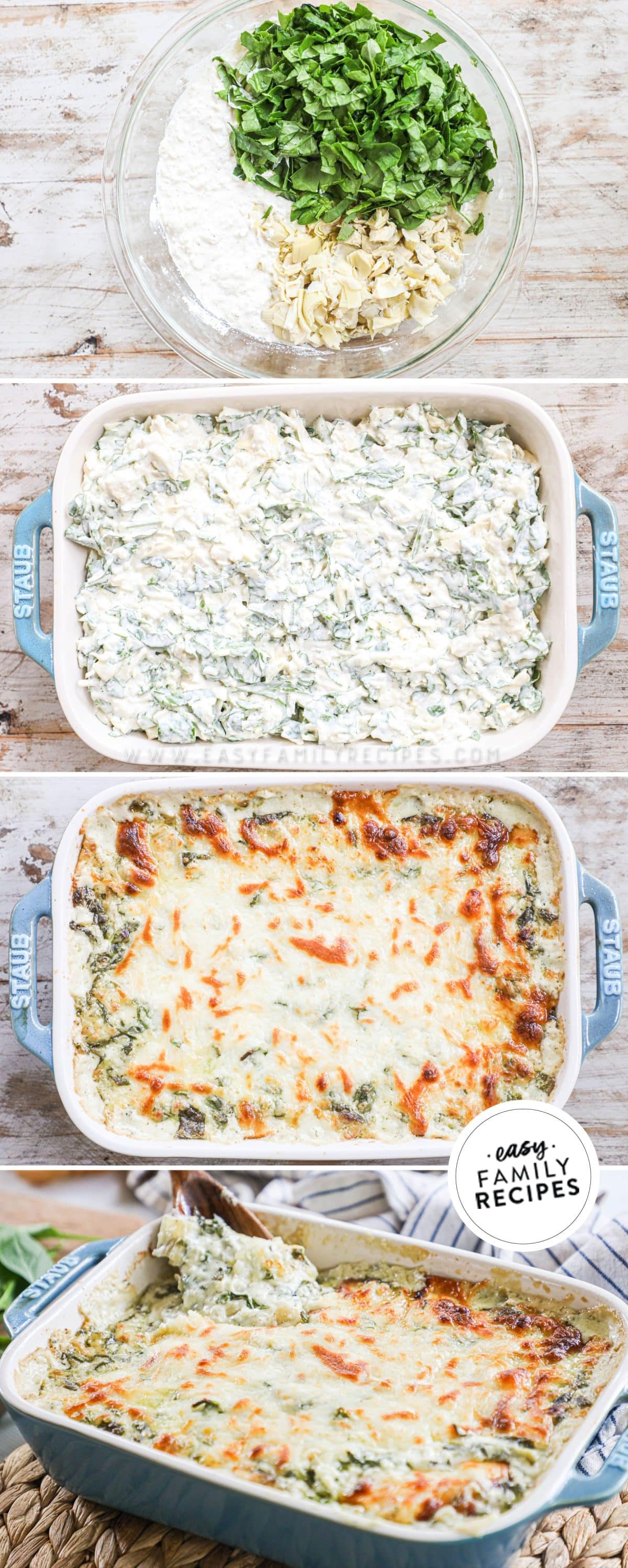 Recipe Tips
Use What You Can Find – While I prefer to use certain things for my recipe, you can use what you can find with just a couple tips. This means you can use halved or whole artichoke hearts that are marinated. You just need to make sure you chop the artichokes into bite size pieces before mixing and know that the dish may be a little oil heavy from the marinade.

Let It Rest – After baking, let the spinach artichoke dip with fresh spinach rest for 5- 15 minutes. This allows the flavors to really melt together and for the dish to become as creamy as possible!

Make Ahead – Like I mentioned, you can make this entire dip in advance and then store and bake when needed. This is a huge time saver for busy days and weeks!
Recipe Short Cuts
If you need to make this recipe, but are extra short on time, here are a few ideas that can help make this recipe even faster!
Mix the filling ahead of time – You can mix up the dip and store it in the fridge up to 24 hours in advance.

Bake and freeze – If you were wondering "can you freeze spinach artichoke dip"? You sure can! You can make this dish all the way through and then cover and freeze. Just let it thaw in the fridge the night before you want to enjoy to thaw and then reheat in the oven. See more detailed info in the "how to freeze spinach artichoke dip" section below.

Use quartered artichokes and pre-shredded cheese– If using the quartered artichoke hearts and pre-shredded cheese, then you can just dump them in the mixture and go without the need to cut them smaller!
Recipe Variations
If you love this recipe as much as we do and want some quick ways to change it up for variety, these little tips will do the trick!
Greek Yogurt Spinach Artichoke Dip – This is an easy variation. Simply swap the sour cream in my recipe for Greek yogurt. This lightens the dip a bite while also adding protein. Just be sure to use full fat Greek yogurt.

Frozen Spinach Artichoke Dip – When using frozen spinach, just thaw it and squeeze out any excess liquid before mixing into the cream base. Then bake as directed.

Jalapeno Spinach Artichoke Dip – I always love to add a little spice and adding diced jalapenos is the perfect way to do this for spinach artichoke dip! You could use fresh or canned jalapenos.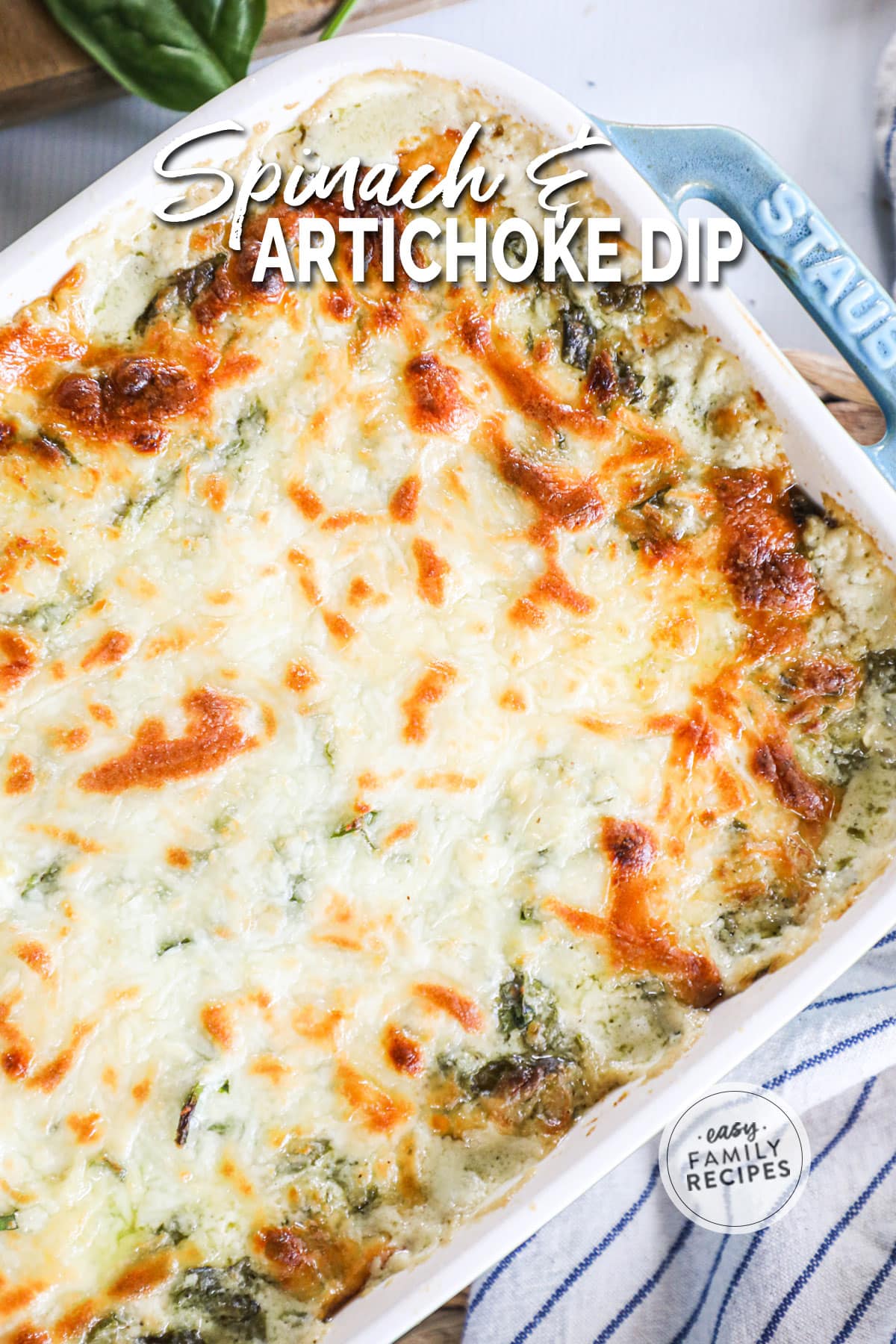 Freezer Meal Instructions
Making this spinach dip recipe into a freezer meal is simple! Follow the steps below and you can store this recipe in the freezer for up to 6 months.
Make the dip all the way through as directed. I recommend baking it in a freezer safe container so you do not have to transfer it later.
Once cool, cover the tray and label it with the date.
Store in the freezer for up to 6 months.
When ready to enjoy, take the tray out and leave it in the fridge to thaw the night before.
Reheat it in the oven at 350 degrees for 30 to 40 minutes until bubbly and heated through. Alternative, you can put it in a crockpot on low to thaw and reheat over the course of a couple hours.
Spinach Artichoke Dip Leftovers
If you have leftovers after making this delicious dip, then it is your lucky day! It saves and reheats well, and can make the start of another delicious dish.
To save leftovers, separate into meal sized portions and then place in an airtight container and store:
in the refrigerator for 3-4 days
in the freezer up to a month
Leftover Recipes
Here are a few ways to repurpose those leftovers and give them a delicious makeover!
Spinach Artichoke Chicken– To make this, you just need to have enough spinach artichoke dip left to smoother chicken breasts or chicken tenders and bake. So simple and so tasty!

Spinach Artichoke Manicotti – This stuffed pasta dish is so delicious with my spinach artichoke dip! Simply fill your pasta with the spinach dip, add a little on top with extra mozzarella for good measure, and bake!

Spinach Artichoke Paninis- Spread artichoke dip between two slices of good bakery bread. Add additional mozzarella cheese. Butter the outside of each piece of bread and then cook each side on a skillet over medium heat until golden brown. Optional: Add sliced tomato.
More Easy Appetizer Recipes
If you enjoyed this recipe, I really hope you will take a moment to grab a few more easy recipes for another busy night!
You can check out all of my Easy Appetizer recipes recipes here, or see a few of our readers favorite recipes below.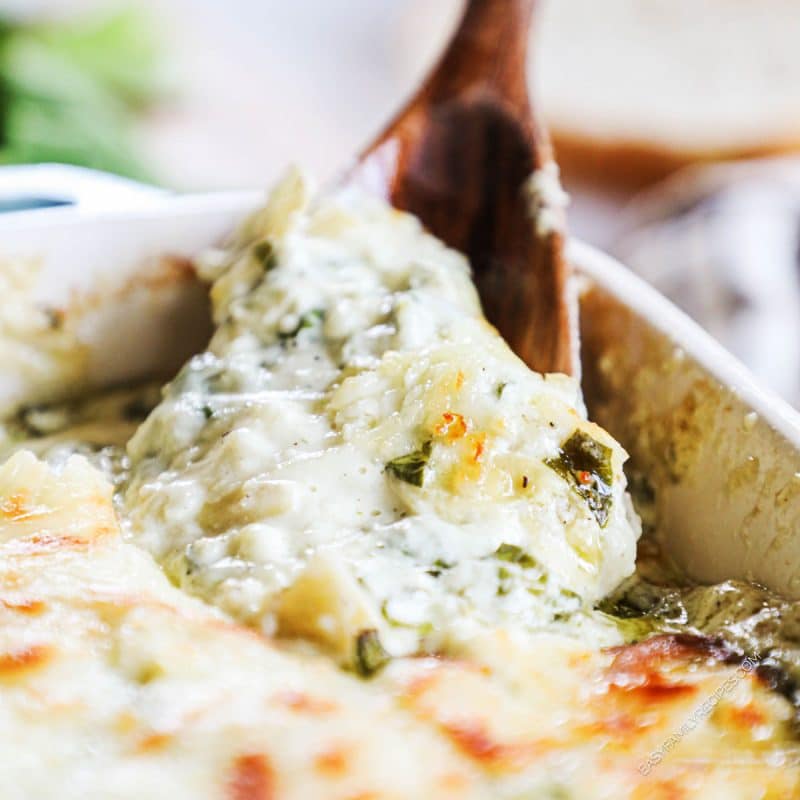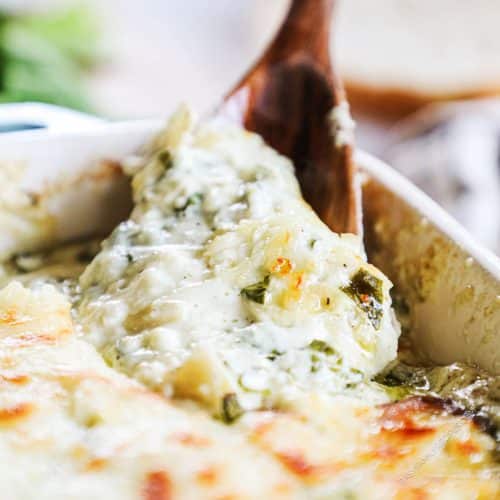 Cheesy Spinach Artichoke Dip
Enjoy this super creamy and easy to make classic spinach artichoke dip. It makes a great appetizer for a party, potluck, or any event you need something warm and delicious to munch on!
Ingredients
1

cup

mayonnaise

1

cup

sour cream

2

tablespoon

dijon mustard

1

teaspoon

salt

1

teaspoon

ground pepper

1/2

large onion

,

finely chopped (about 1 cup)

12

ounces

mozzarella cheese

,

shredded, divided (about 3 cups)

4

ounces

parmesan

,

grated (about 1/2 cup)

14

ounce

artichoke hearts

,

once can- drained and chopped

6

ounces

fresh spinach

,

chopped
Instructions
In a large bowl, add the mayonnaise, sour cream, mustard, salt and pepper and mix to combine. Stir in the onions.

Add 2 cups of mozzarella cheese and all of the parmesan cheese and mix.

Fold in the chopped spinach and diced artichoke hearts until everything is evenly coated.

Spread the mixture in a 2 quart casserole dish and cover with the remaining mozzarella cheese.

Bake for 40-45 minutes or until the edges are bubbling and the cheese is starting to brown.

Let sit for 10-15 minutes and serve warm with sliced baguette, chips, or veggies to dip!
Nutrition Information
Calories:
298
kcal
(15%)
,
Carbohydrates:
6
g
(2%)
,
Protein:
12
g
(24%)
,
Fat:
27
g
(42%)
,
Saturated Fat:
9
g
(56%)
,
Polyunsaturated Fat:
9
g
,
Monounsaturated Fat:
7
g
,
Trans Fat:
0.03
g
,
Cholesterol:
48
mg
(16%)
,
Sodium:
702
mg
(31%)
,
Potassium:
232
mg
(7%)
,
Fiber:
2
g
(8%)
,
Sugar:
1
g
(1%)
,
Vitamin A:
1780
IU
(36%)
,
Vitamin C:
6
mg
(7%)
,
Calcium:
300
mg
(30%)
,
Iron:
1
mg
(6%)