This Easy Chicken Cacciatore has all of the flavors you love without the fuss! Since it is made all in one dish and baked in the oven, you can have this prepped and cooking in as little as 10 minutes. This dish turns out so deliciously, with so little effort that it even feels like cheating! The chicken bakes to perfectly tender as the rich red sauce simmers to perfection around it. You won't need any other Chicken Cacciatore recipe again!
I always thought of Chicken Cacciatore as a recipe that would be too difficult and involved to make myself, much less on a hectic weeknight. I pretty much thought of it as the opposite of quick and easy.
But I really love the fresh flavors in dish and decided it was time to conquer my fears, and see if I could: 1. make it, and 2. simplify the recipe enough to make cooking on a weeknight doable so I could pass it on to you!
Well my friends, you are in luck, because I have good news for you today. Not only was I able to simplify this recipe, it came out better than I had ever imagined it would. And dare I say, there really is no reason to make it any other way! This Easy Baked Chicken Cacciatore is just perfect!
If you want to try a few more easy chicken dinners, check out my Tuscan Garlic Chicken, Lemon Asparagus Chicken or any of my other Baked Chicken recipes here!
What is Chicken Cacciatore?
If this dish is new to you, don't let the fancy name scare you off. Chicken Cacciatore is a traditional Italian meal that consists of chicken slow cooked in a veggie heavy red sauce. A traditional recipe will usually include tomatoes, green bell pepper, onion, garlic and is sometimes made with cooking wine. The flavors cooked together make a delicious sauce with tender chicken.
Chicken Cacciatore is generally made on the stovetop in a large skillet, but to preserve the flavors but make this recipe more practical for everyday we will make a baked chicken cacciatore where we will get the same great flavor but just using one dish!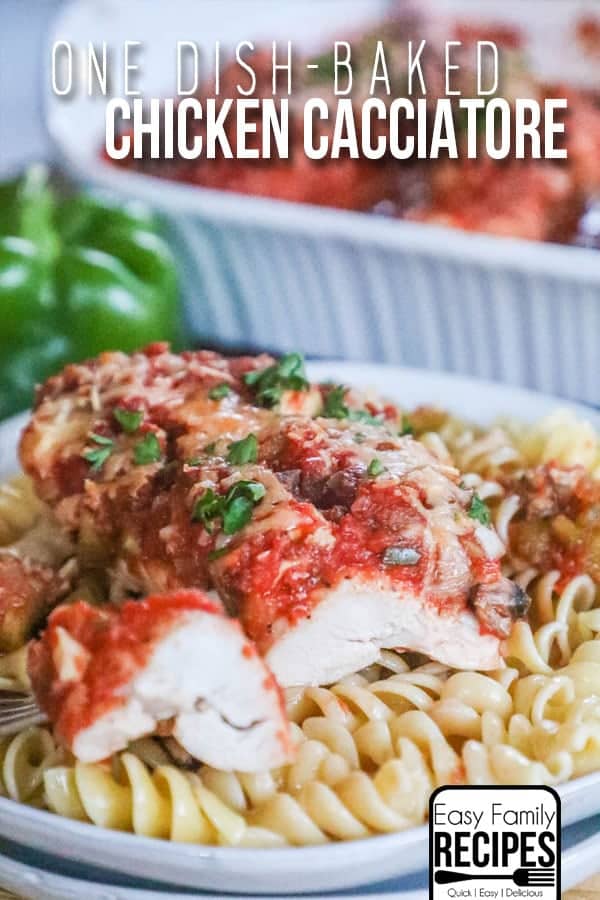 What to Serve with Easy Chicken Cacciatore
This Easy Chicken Cacciatore recipe pairs well with classic Italian sides like pasta and crusty bread, but also can be wonderfully accompanied by lighter or low carb options as well. Here are a few of my favorite ways to serve this dish:
Traditional Side Dishes
Pasta- Try rotini or spaghetti
Bread- A baguette, or garlic bread works well with Easy Chicken Cacciatore
Mashed Potatoes- I love these garlic parmesan mashed potatoes
Rice- If you are gluten free, rice can be a good option for pairing the dish
Low Carb Side Dishes
Spaghetti Squash
Side Salad- Especially served with this Homemade Italian Dressing
Roasted veggies
Zoodles- Try zucchini or carrot with to pair well with Chicken Cacciatore
Sauteed Spinach– Not as traditional, but still one of my favorite ways to serve it!
You can pair this dish with just one of these options, or use 2-3 for a bigger meal. If you have other serving suggestions you love, leave me a comment and let me know! I would love to give it a try next time I make this Easy Chicken Cacciatore!
How to Make Easy Chicken Cacciatore
As promised the beauty of this dish is the simplicity of the recipe. I will walk through the basic steps here, but make sure to jump down to the recipe card at the bottom of this post for a full printable recipe.
First prepare the sauce by chopping the vegetables, and mixing them with the tomatoes and garlic.
Next, the chicken is seasoned with garlic, salt and pepper, and placed in a large baking dish. Spread the sauce mixture over the chicken and then sprinkle the parmesan over the top.
Bake until the chicken is done and the sauce is bubbling. Serve over pasta or your favorite side dishes (many ideas listed above!)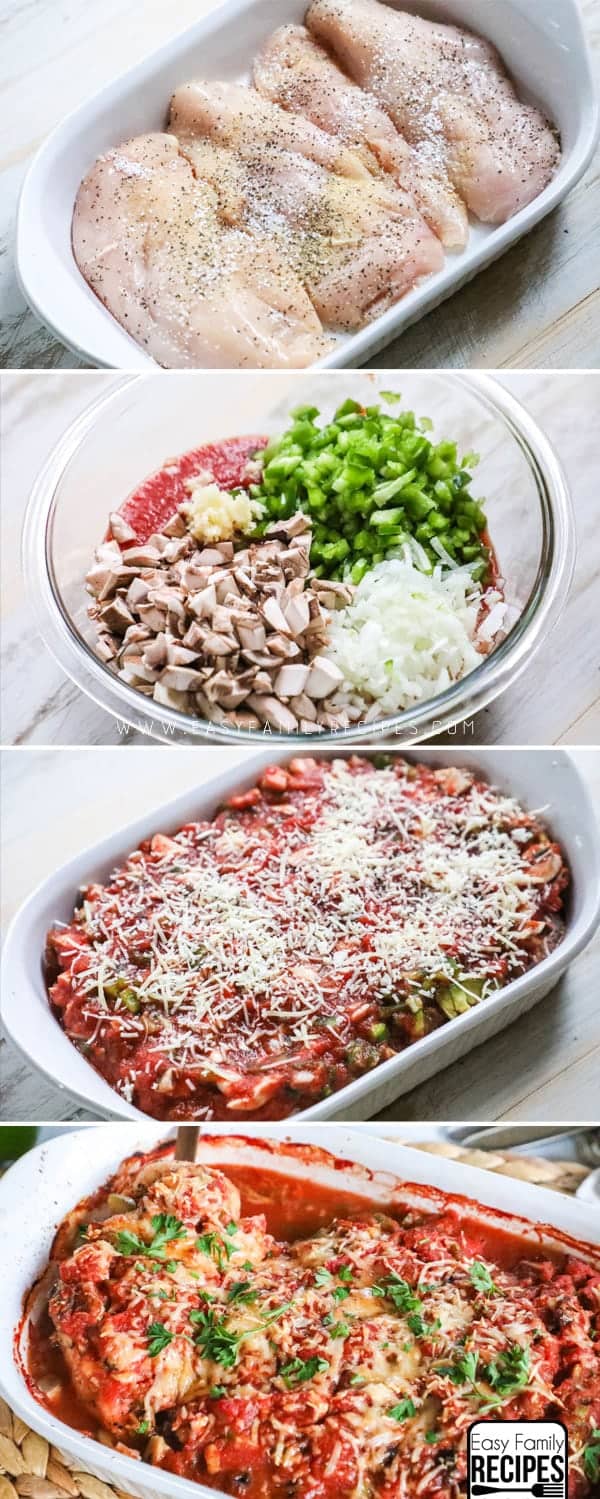 How To Save Leftovers of Easy Chicken Cacciatore
This dish does make enough to feed a hungry family, so if you find yourself with leftovers at the end, they will store and reheat well. To save the leftovers, you can place them in an airtight container and refrigerate for up to 3-4 days.
Can I freeze Easy Chicken Cacciatore?
Yes! This Easy Chicken Cacciatore recipe freezes well both before or after cooking.
To freeze before cooking:
Prepare Easy Chicken Cacciatore per recipe all the way through step two.
Tightly wrap, or place in an airtight container and freeze for up to 3 months.
When ready to bake, thaw the Chicken Cacciatore completely, and continue to bake as directed in step 3.
To freeze Baked Chicken Cacciatore after cooking:
Allow Easy Chicken Cacciatore to cool completely.
Package in an air tight container. I like to separate the dish into meal sized portions and place it in a few containers.
When ready to eat, Chicken Cacciatore can be reheated in the microwave, heating in 30 second increments and stirring in between, or placed in a dish covered with foil and heated in the oven at 350˚F until heated through.
Easy Chicken Cacciatore Leftover Recipe Ideas
If you find yourself with leftover Chicken Cacciatore, you can do a little happy dance because there are several recipes you can make with the leftovers that will have your family raving (and completely unaware that they are actually eating leftovers!)
Chicken Cacciatore Stuffed Shells- Chop up the leftover chicken and mix it into the sauce. Scoop spoonfuls of sauce into pre-cooked large pasta shells. Cover with your favorite marinara sauce, and extra mozzarella and bake until heated through.
Chicken Cacciatore Baked Subs- Cut open sub rolls and spread butter on each side. Sprinkle with garlic powder and salt then broil on low until the roll is golden brown. Then pile on slices of the leftover Easy Chicken Cacciatore then spoon a generous amount of sauce over the top. Sprinkle with mozzarella and/or parmesan cheese and bake until heated through.
Chicken Cacciatore Stuffed Peppers– Cut open and clean out sweet bell peppers in any color. Chop up the leftover Easy Chicken Cacciatore and mix it into the sauce. Take the mixture and combine it with prepared rice in a 1:1 ratio (ie if you have 1 cup of chicken cacciatore, add 1 cup of rice, if you have 2 cups of chicken you will add 2 cups of rice etc.) Stuff the chicken mixture into each pepper until filled and then place in a baking dish upright. Pour 1 cup of chicken broth into the bottom of the dish, cover with foil and bake at 350˚F for 40 minutes. Remove foil, add cheese to the top, and continue to bake for 5 additional minutes, or until the cheese is melted.
Chicken Cacciatore Pizza– Spread a pizza crust out onto a pizza pan. Chop the leftover baked chicken cacciatore. Spread spoonfuls of the sauce on the pizza crust and then top with mozzarella or provolone cheese. Sprinkle chopped chicken over the top and additional veggies like sliced bell pepper, onion, olives, bacon etc. Bake as directed for pizza crust.
---
More Classic Recipes Made Easy!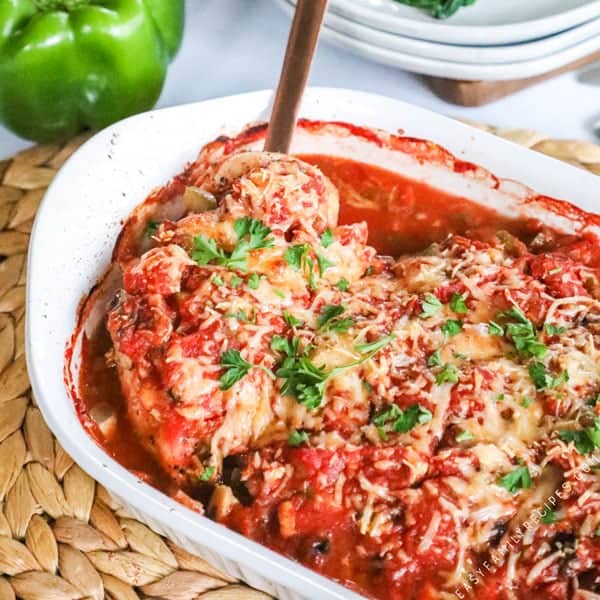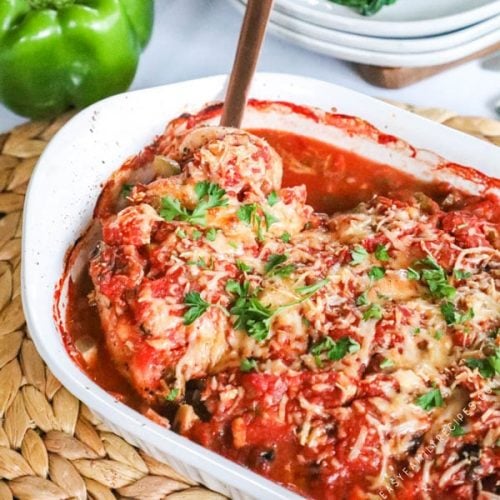 Easy Chicken Cacciatore
This Easy Chicken Cacciatore takes all of your favorite flavors of Chicken Cacciatore and makes it even more simple to make by baking them together in one dish.
Ingredients
2

lbs

boneless

,

skinless chicken breast

1 28

oz

can crushed tomatoes

1

medium green bell pepper

,

finely diced

1/2

medium onion

,

finely diced

4

oz

baby bella mushrooms

,

diced

3

cloves

fresh garlic

,

pressed

1/2

tsp

salt

1/2

tsp

black pepper

1/2

tsp

garlic powder

1/4

cup

freshly grated parmesan cheese

For Garnish

,

optional

Fresh parsley
Instructions
Combine the crushed tomatoes, bell pepper, onion, mushrooms, and garlic and stir to combine.

In a large baking dish, place the chicken breasts flat on the bottom of the dish. Season with salt, pepper, and garlic powder, then spread the tomato mixture over the chicken.  Sprinkle the parmesan cheese on top.

Bake at 400˚F uncovered for 45-55 minutes or until the chicken is cooked through (165˚F internal temp) and the sauce is bubbling.

Garnish with fresh chopped parsley and serve over pasta, greens, or rice.  Enjoy!
Recipe Notes
You can cut the chicken in half, chunks, or use chicken tenderloins in lieu of full chicken breasts to make serving easier. Cooking time may be reduced.
Leftovers can be stored in an airtight container for 3-4 days in the refrigerator or in the freezer for up to a month.
Dietary Considerations:
This recipe is naturally gluten free, please check individual ingredients to ensure compliance.
Nutrition facts provided based on my best estimation for the recipe and may not be accurate depending on what brands you use or modifications you make to the recipe.  I recommend using a nutrition calculator with the exact brands and measurements you use for the most accurate calculation.
©2018 Easy Family Recipes- Recipe found at: https://www.easyfamilyrecipes.com/easy-chicken-cacciatore/
For more great easy dinner inspiration, sign up for our emails here!
Nutrition Information
Serving:
4
oz chicken and 1/4 cup sauce
,
Calories:
167
kcal
(8%)
,
Carbohydrates:
10
g
(3%)
,
Protein:
26
g
(52%)
,
Fat:
4
g
(6%)
,
Saturated Fat:
1
g
(6%)
,
Polyunsaturated Fat:
1
g
,
Monounsaturated Fat:
0
g
,
Trans Fat:
0
g
,
Cholesterol:
58
mg
(19%)
,
Sodium:
557
mg
(24%)
,
Potassium:
0
mg
,
Fiber:
3
g
(13%)
,
Sugar:
1
g
(1%)
,
Vitamin A:
0
IU
,
Vitamin C:
0
mg
,
Calcium:
0
mg
,
Iron:
0
mg