Cilantro Lime Rice is the most delicious side for serving with grilled meats, fish, and all of your favorite Mexican dishes. This recipe is a Chipotle copycat formulated using the recipe that they official Chipotle account shared on TikTok, so it tastes just like the restaurant!
Cilantro Lime Rice – Just like Chipotle!
The official Chipotle restaurant TikTok account started sharing some of their coveted recipes on their account over the past few months. We have already share Chipotle's Corn Salsa recipe with you, and by popular request we are sharing the Chipotle's Cilantro Lime rice copycat recipe today!
On TikTok, they share a more generalized recipe, so we took what they gave us, played around, did some due diligence and research and put together a Cilantro Lime Rice recipe that tastes just like eating at the restaurant!
This recipe is EASY, using just a few every day ingredients and one pot. It can be made quickly, and goes well with all of the Chipotle classics like burritos, tacos, and burrito bowls, and also goes great with grilled meats and other main dishes.
Recipe Notes
This Cilantro Lime Rice recipe is as simple as promised! Just 6 ingredients and one pot for a family friendly side dish that goes well with almost everything!
In this section I am going to go through a few tips and tricks I use when making this recipe to get the absolute best and most delicious results.
Make sure to scroll to the bottom for the FULL recipe card.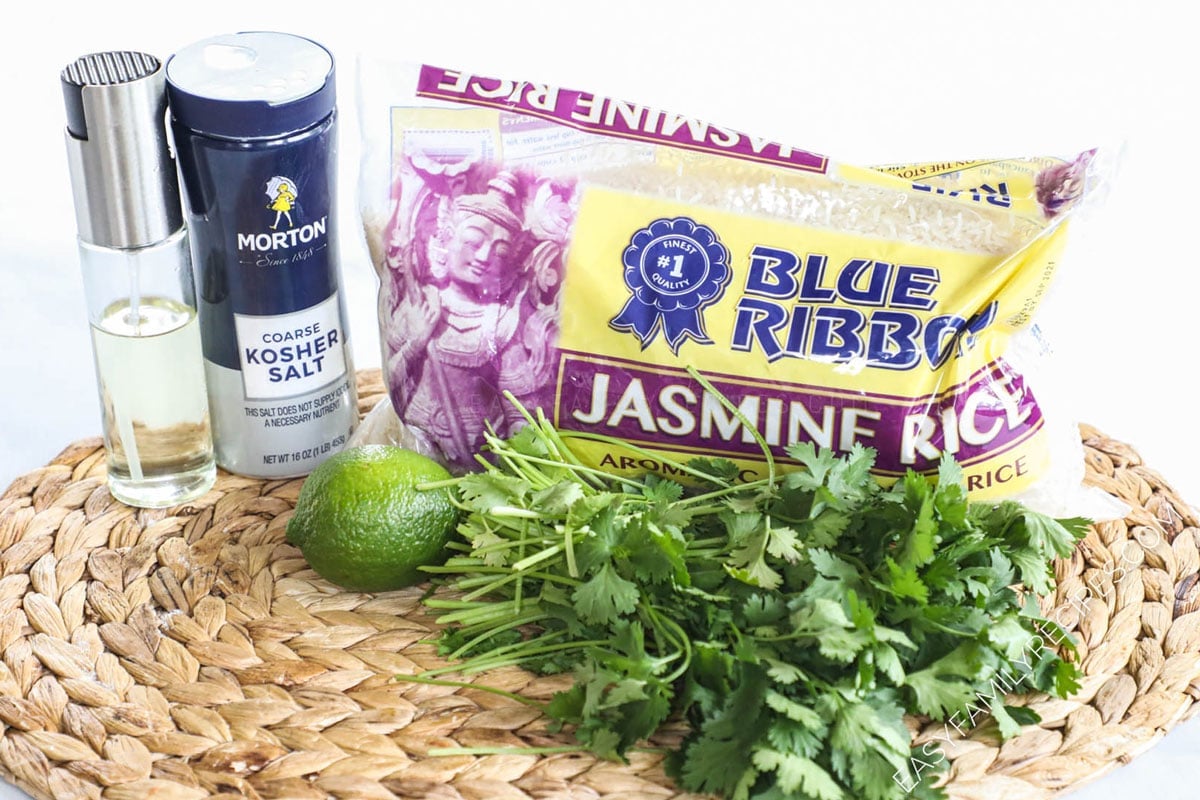 Ingredients
Jasmine rice – Jasmine rice has the perfect texture and "fluff" without being sticky, so it is perfect for this recipe. You can use other long grain rice varieties, brown rice, however, you will need to consult the package to make sure to use the correct amount of water when cooking rice.
Water– For Jasmine rice you will use a 1:1.5 ratio of rice to water. This means we need 3 cups of water to make 2 cups of dry rice. If you use a different kind of rice, you will likely need to change the amount of water you cook the rice in.
Cilantro– One of the key ingredients to this dish, you will need to use fresh cilantro, and chop it into really small pieces so that the flavor will integrate well. Make sure to see my tips on picking great cilantro below.
Lime– Using fresh lime juice is really important for the flavor of this recipe. Some employees say that Chipotle uses a combination of lime juice and lemon juice, but I have always preferred the flavor just using lime juice.
Oil– I use vegetable, but you can also use canola if preferred.
Salt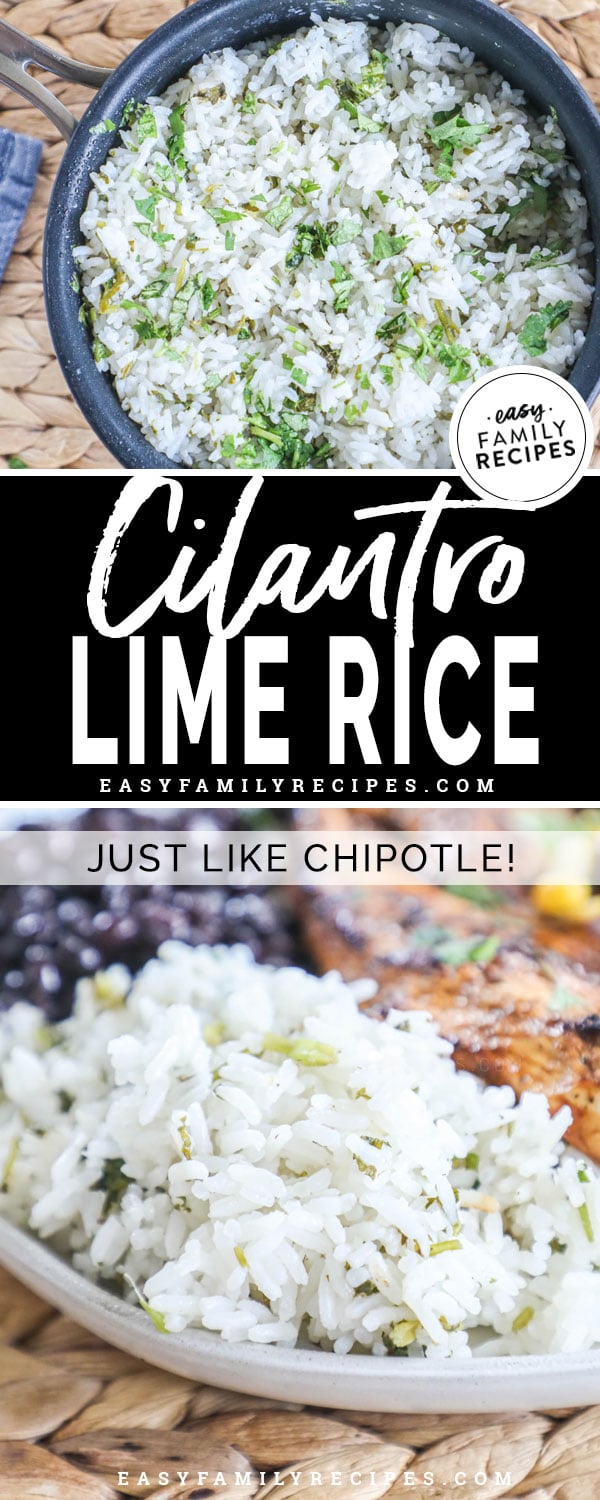 Recipe Tips
Always use fresh– Sometimes you can get away with using. a dried or bottled ingredient in place of fresh, but you just can't in this recipe! If you are not using fresh cilantro and fresh lime juice, you will not get the same great flavor.

Pick the best cilantro! Since cilantro is such a key flavor to this dish, it is important to pick the best bunch possible. Here is what to look for:

Brightly colored leaves– avoid bunches with yellowing or brown leaves
Fresh distinctive smell. Cilantro should have a distinct smell when it is fresh. The longer it sits on the shelf, the less intense the smell (and flavor) will be.
Crisp firm stems– The stems should hold themselves upright and should not be limp.
Make sure it is cilantro– Cilantro resembles flat leaf parsely and is often located near it in the produce section. Make sure you get cilantro, and don't accidentally pick up a bunch of parsley instead.


Rinse your rice– Rinse the rice in a colander or mesh sieve until the water runs clear. This will remove extra starch and help prevent it from becoming sticky.

Let it sit– If you let the rice sit for about 10 minutes after cooking, it becomes more uniformly soft and fluffy and helps the texture of the rice.

Cook it how you like– We outline the instructions for a stove top version of the cilantro lime rice, but you can also use a rice cooker, or Instant pot to cook the rice if you prefer.
Recipe Variations
Cilantro Lime Brown Rice– Make the recipe as directed substituting brown rice for white rice. Adjust the amount of water used to cook the rice, and the time per the package instructions. Continue as directed.
Instant Pot Cilantro Lime Rice– Place the water, rice, salt and oil in the pressure cooker. Set to cook at high pressure for 3 minutes. Allow to naturally release for 8 minutes, then remove the lid, fluff the rice, and stir in the cilantro and lime juice.
Cilantro Lime Rice and Black Beans– Prepare rice as directed. Once done, drain and rinse 1 can (15 oz) of black beans and stir it into the hot pot. Let sit 5 minutes to warm the beans, then serve.
Dietary Considerations
If you have special dietary needs, this recipe will comply with many.
As always, check all store bought ingredients for compliance on specific dietary needs. The notes below are a general guide.
Gluten free: This recipe is naturally gluten free.
Dairy free: Cilantro Lime Rice is naturally dairy free.
Nut free: This recipe is naturally nut free
Egg free: This Cilantro Lime Rice recipe is naturally egg free
Macros: The approximate macro calculation for this recipe is- P: 3g C: 38g F: 2g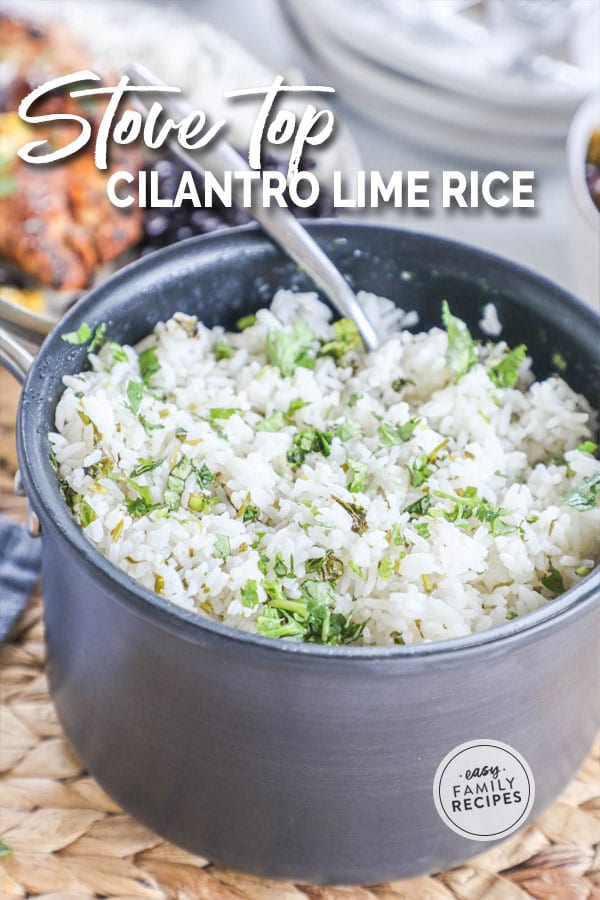 What to Serve Cilantro Lime Rice with
Since this Cilantro Lime Rice was made famous by Chipotle, you know it goes well with almost anything on their menu! You can also pair it with many other Mexican inspired main dishes, other every day dinners like grilled meats, or use it for meal prep.
Chipotle Classics
Load up your option with meat, sautéed veggies, Cilantro Lime Rice, beans, guacamole, pico de gallo, corn salsa, cheese, chopped romaine lettuce, and sour cream. You might have a hard time believing it isn't actually from Chipotle!
Burritos
Burrito bowls
Salad
Tacos
Quesadillas
Main Dish Ideas
You can choose one or add a few sides to make a wholesome, well rounded dinner.
Cilantro Lime Rice Leftovers
If you have leftovers after making this Chipotle Cilantro Lime Rice, then it is your lucky day! They save and reheat well, and can pair with another delicious dish.
To save leftovers, place in an airtight container and store:
in the refrigerator for 3-4 days
in the freezer up to a month
Reheating Instructions
Stovetop– Place rice in a pot and add about 1 tablespoon of water per cup of rice. Cover and heat over medium low heat, stirring frequently until heated through.
Microwave– Place rice in a microwaveable dish. Cover with a damp paper towel and heat for 30 seconds. Stir and repeat, heating in 30 second increments until piping hot throughout. Let sit covered for 3-5 minutes, then serve.
More Easy Side Dish Recipes
If you enjoyed this recipe, I really hope you will take a moment to grab a few more easy recipes for another busy night!
You can check out all of my Easy Side Dish recipes here, or see a few of our readers favorite recipes below.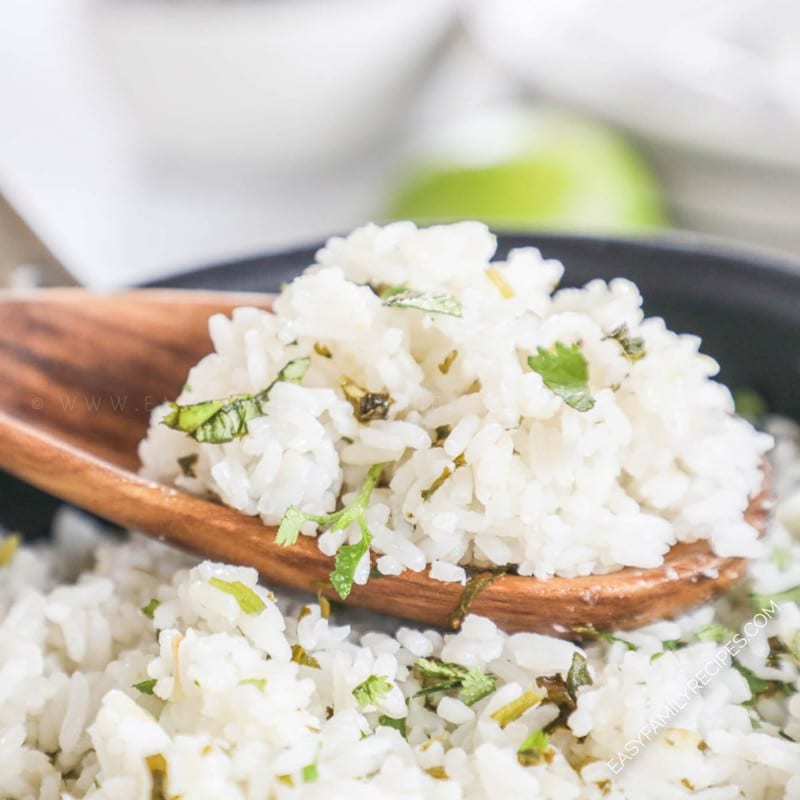 Cilantro Lime Rice
This Cilantro Lime Rice is just like the rice made at Chipotle. The flavor and texture of the rice is heaven and makes the perfect filling for burritos, burrito bowls, salads and tacos, or for serving as a side dish with your Mexican favorites.
Ingredients
2

cups

jasmine rice

3

cups

water

1/2

cup

chopped cilantro

1/4

cup

lime Juice

1

tablespoon

vegetable oil

1

teaspoon

salt
Instructions
Rinse your rice until the water runs clear, then place the water, salt, and rice in a pot and bring to a boil. Immediately cover reduce the heat to low and simmer for 15 minutes.

Once tender remove from heat let rest for 10 minutes, and then fluff with a fork.

Stir in the cilantro, lime juice, and oil and stir to evenly combine.
Recipe Notes
Substitutions:
White Rice– Make the recipe as directed substituting brown rice for white rice. Adjust the amount of water used to cook the rice, and the time per the package instructions. Continue as directed.
Oil– I use vegetable, but you can also use canola if preferred.
How to Store: To save leftovers, place in an airtight container and store:
in the refrigerator for 3-4 days
in the freezer up to a month
How to Reheat: This can be reheated in the microwave in 30 second increments. 
Nutrition Information
Calories:
186
kcal
(9%)
,
Carbohydrates:
38
g
(13%)
,
Protein:
3
g
(6%)
,
Fat:
2
g
(3%)
,
Saturated Fat:
2
g
(13%)
,
Sodium:
298
mg
(13%)
,
Potassium:
67
mg
(2%)
,
Fiber:
1
g
(4%)
,
Sugar:
1
g
(1%)
,
Vitamin A:
67
IU
(1%)
,
Vitamin C:
3
mg
(4%)
,
Calcium:
16
mg
(2%)
,
Iron:
1
mg
(6%)