These Sheet Pan Chicken Fajitas have all the delicious flavor of traditional fajitas, but are made QUICK and EASY just using one baking sheet! Loaded with perfectly seasoned chicken breast, tender onions, and sweet bell pepper, this easy dinner is QUICK + EASY + HEALTHY for a busy night win!
Chicken Fajitas – The EASY Way!
Being born and raised in Texas, I consider myself a connoisseur of fajitas. I have always scoffed a little at the idea of doing them on a sheet pan.
But I can admit when I am wrong. These Sheet Pan Chicken Fajitas really do bring you all the flavor of the original — minus the dishes, spatter on the stove top and need to hover over it while cooking. It is the best way to make EASY chicken fajitas at home!
If I had hours on end, and someone to clean up after me, I would forever make my skillet chicken fajitas, or even do grilled chicken fajitas, but for a quick chicken fajitas everyone will love, THIS.IS.IT!
What I LOVE about this recipe:
All in one– The meat… the veggies… they all cook together so you aren't juggling multiple dishes, cook times, etc
Non-existent clean up – Only one sheet pan is needed for cooking. Outside of that, just a cutting board and knife.
TONS of FLAVOR! All the delicious fajita flavor… just less work!
No babysitting- No need to stand over a pan stirring, once you pop this in the oven, you are free to do whatever you need until the timer goes off!
Fast Cook time – Because of the method we use, the cook time is super quick so this is great for busy nights.
Makes AMAZING leftovers! We generally eat this as fajitas day 1, but look forward to the leftovers because we use those for quesadillas, salads, wraps, enchiladas, burritos and more!
I could keep going and going! This recipe for making chicken fajitas in the oven is really a staple for a busy family!
What to Serve with Chicken Fajitas
Traditional fajitas served at a Mexican restaurant will generally come with the fajita set up. This is a plate that includes the following:
Refried beans
Shredded lettuce
Sour cream
Guacamole
Shredded cheese (in tex mex style fajitas)
Flour tortillas
You can stick with this just as it is served at the restaurant, or mix it up to include other family favorites! Our family likes fajitas with my crock pot black beans, corn salsa, and a drizzle of jalapeno ranch. Do what you love!
Recipe Notes
This Sheet Pan Chicken Fajitas recipe is as simple as promised! Just a few ingredients and a baking sheet for a family friendly meal.
In this section I am going to go through a few tips and tricks I use when making this recipe to get the absolute best and most delicious results.
Make sure to scroll to the bottom for the FULL recipe card.
Ingredients + Substitutions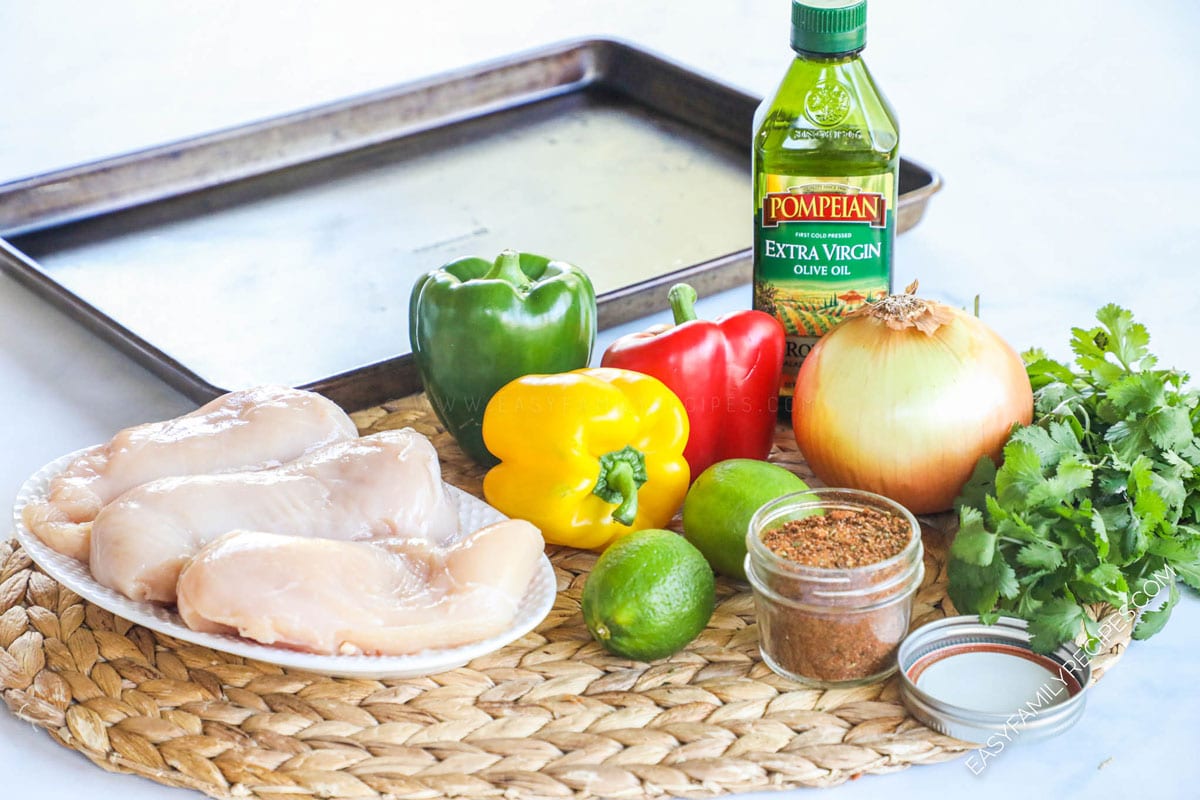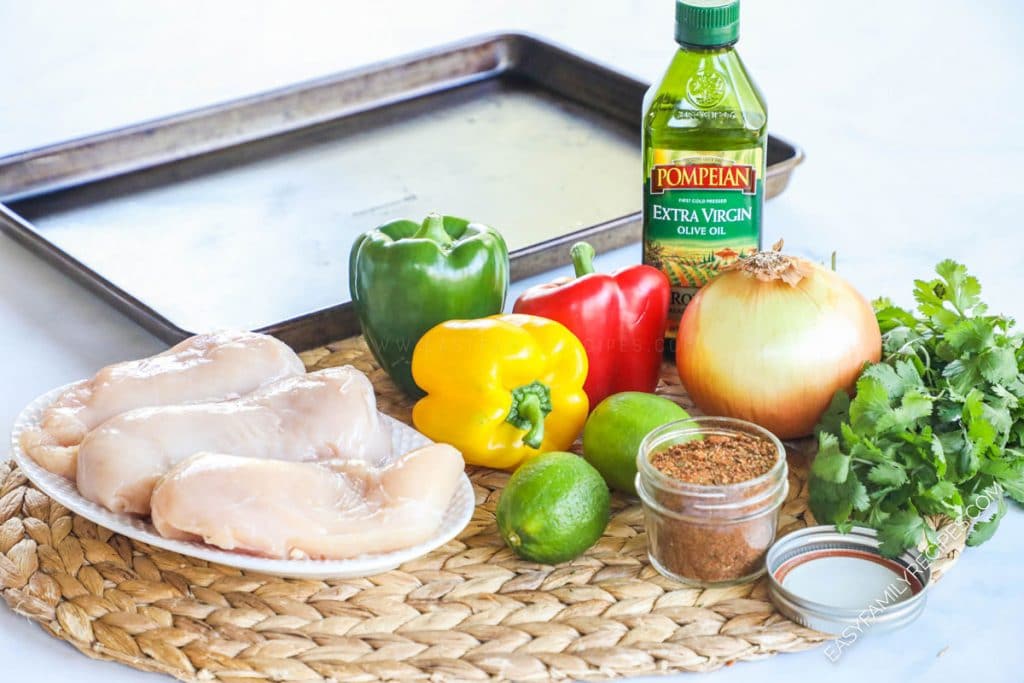 Chicken breast– I use about 1.5 pounds of chicken breast in this recipe. It seems to be just the right amount for a large sheet pan. Chicken breast is traditional for chicken fajitas, but you can use chicken tenderloins as a substitute.
Yellow onion- I like yellow onion, but you can use white or red in this recipe. Any of the three will caramelize to sweet perfection once baked.
Bell peppers- The perfect fajitas have a combination of green pepper and a sweeter pepper like red, orange or yellow. The green peppers are less sweet and the brighter colored peppers more sweet for a great flavor combo. I like to use half green and then divide the other half with the sweeter colored peppers.
Fajita seasoning – You can use store bought seasoning found on the spice aisle, or the Mexican food section. If you have 5 minutes though, I highly recommend using my homemade Fajita seasoning. It is quick, easy and SO good!
Oil– you can use your favorite high heat tolerant oil. I generally use vegetable or canola oil
Lime– I highly recommend using fresh lime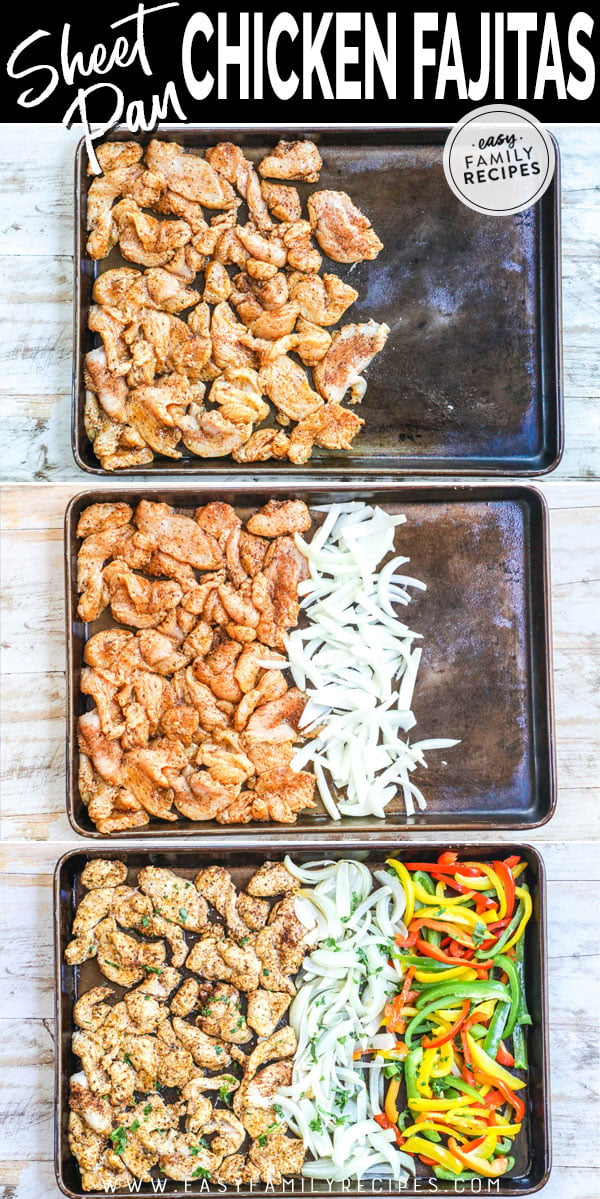 Recipe Tips
Slice thin! Make both the slices of chicken and the vegetables very thin so that they are able to all cook quickly in the hot oven.

Spread in a single layer. Try as hard as you can to spread everything (and especially the meat) in a single layer on the baking sheet. The reason for this is that it will cook more evenly. If the meat is piled on top of each other, you will have some areas that are done, while the areas that are piled up need to be cooked longer to cook through.
|
Use a LARGE sheet pan. Because as we discussed above, you want everything in a single layer, you will need a big sheet pan to get everything to fit. If you don't have a large sheet pan, you can use two smaller pans instead.

Don't over cook. The biggest secret to getting tender juicy chicken is not over cooking it. Chicken should be cooked to an internal temperature of 165˚F. Since we are working with thin strips of meat, in a very hot oven, it happens quickly!

Season at the beginning AND the end. The method I like to use is seasoning the meat at the beginning, then cooking the fajitas and then doing an additional squeeze of lime juice over everything to give it a really fresh flavor. Even better add chopped cilantro too!
Scaling the Recipe
If you find yourself wanting to make more than 4 servings of chicken fajitas, or want extra for meal prep, you can double, triple, or even quadruple the recipe, BUT you will need to use a separate pan for each "recipe."
So a doubled recipe would need 2 large sheet pans, or a tripled 3 sheet pans etc. You can cook multiple pans at one time if your oven is big enough. Otherwise, you should just cook them in batches.
Recipe Short Cuts
If you need to make this recipe, but are extra short on time, here are a few ideas that can help make this recipe even faster!
Pre-cut the veggie and meat– this can be done up to 4-5 days in advance, or however long before your meat is due to expire. Once the meat and veggies are cut, I store them in separate containers in the refrigerator.
Pre-season the meat– The chicken can also be seasoned with the oil and fajita seasoning up to 24 hours in advance. I prefer to add the lime no more than 4 hours before the cooking time though since the strong acidity can start to break down the meat when left too long.
Prepare as a freezer meal– You can have this meal prepped and ready to cook up to 6 months in advance using the freezer method. Find all the details on this below.
Recipe Variations
If you love this recipe as much as we do and want some quick ways to change it up for variety, these little tips will do the trick!
Spicy Chicken Fajitas– By default this is a pretty mild recipe, to make spicy chicken fajitas, add 1/4-1/2 tsp cayenne pepper to the fajita seasoning. Then slice fresh jalapeño peppers to cook along with the veggies.

Loaded Veggie Chicken Fajitas– If you like a big variety of vegetables in your fajitas, you can add squash, zucchini, mushrooms, and even tomatoes into the veggie mixture. If you add too many extra veggies you may need to cook them on a separate sheet pan.

Extra Cheesy Chicken Fajitas– This recipe contains cheese/dairy only as an optional topping after prepared. If you like your fajitas extra cheesy, then you can remove from the oven once done, then sprinkle with cheddar or Mexican blend cheese and return to the oven for 2-3 minutes or until cheese is melted. Then serve as desired.
Dietary Considerations
If you have special dietary needs, this recipe meets many and can be easily modified to comply with others. 
As always, check all store bought ingredients for compliance on specific dietary needs. The notes below are a general guide.
Gluten free: This Chicken Fajitas recipe is naturally gluten free when using the homemade fajita seasoning.
Dairy free: This recipe is dairy free as written, however not all of the listed topping options are dairy free.
Nut free: This recipe is naturally nut free
Egg free: This recipe is naturally egg free
Low carb/Keto: This recipe is low carb at only approx 6g net carbs per serving.
Whole30: This Chicken Fajitas recipe is Whole30 compliant, however, not all listed topping options are whole 30 compliant.
Paleo: These Chicken Fajitas are paleo. Not all toppings listed are paleo.
Macros: The approximate macro calculation for this recipe is- P: 37g C: 8g F: 8g per serving.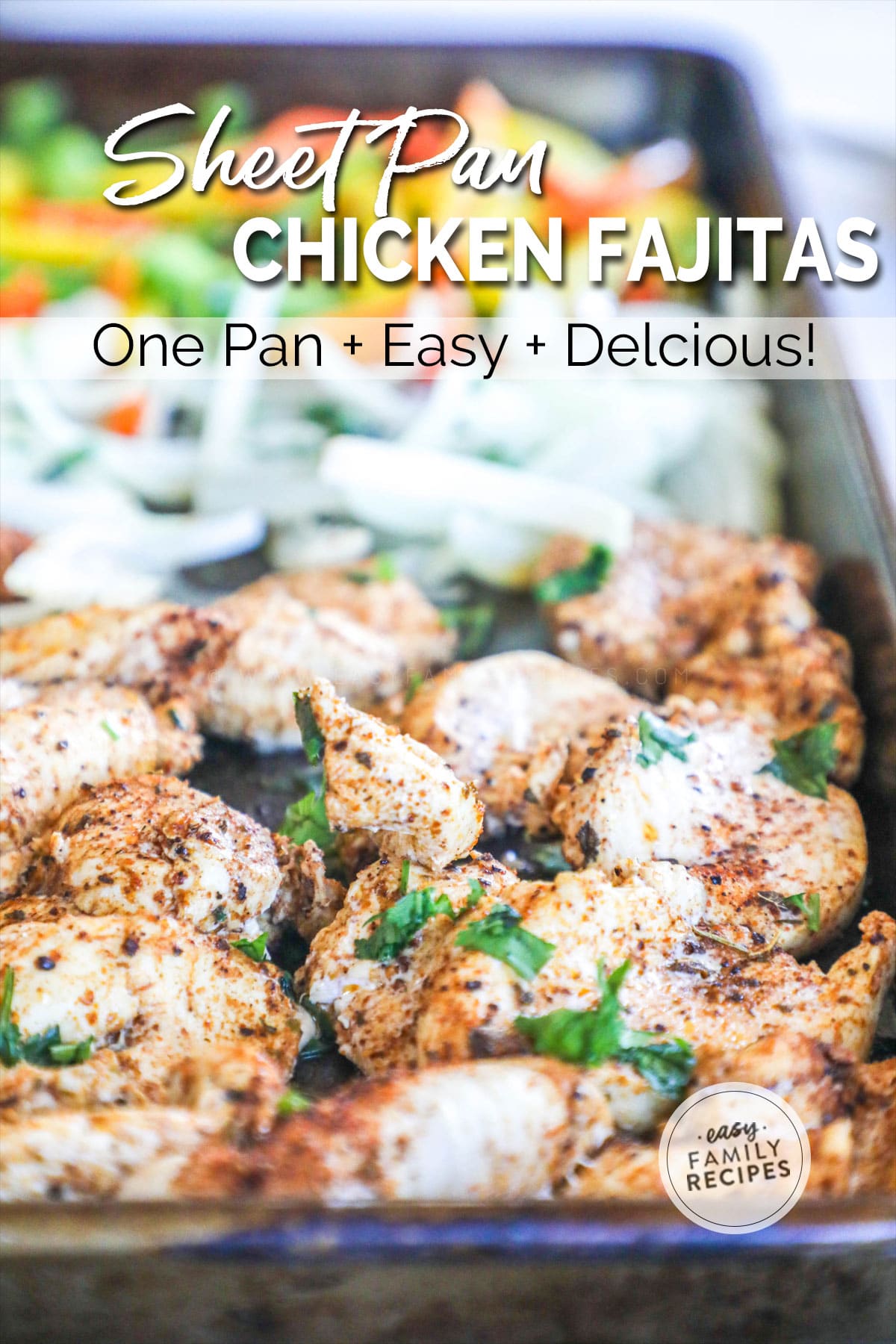 Freezer Meal Instructions
These Easy Sheet Pan Chicken Fajitas can be prepared as a freezer meal to make on another busy night, or give to a friend in need, or someone who sick or just had a baby.
Slice the meat, onions and peppers.
Mix the meat, oil and seasonings. Then package in a freezer bag or other freezer friendly container.
Place the peppers and onions in a separate zip top bag or freezer friendly container.
FREEZE.
Once you are ready to cook, thaw in the refrigerator for 24-48 hours.
Then transfer the meat and veggies to a sheet pan and bake in the oven as directed.
For the best flavor, this meal can be frozen for up to 6 months.
Sheet Pan Chicken Fajitas Leftovers
If you have leftovers after making these quick chicken fajitas, then it is your lucky day! They save and reheat well, and can make the start of another delicious dish.
To save leftovers, separate into meal sized portions and then place in an airtight container and store:
in the refrigerator for 3-4 days
in the freezer up to a month
Leftover Recipes
Here are a few ways to repurpose those leftovers and give them a delicious makeover!
Fajita Chicken Nachos– Spread chips over a baking sheet sprinkle shredded cheese over the chips. Add rinsed and drained black beans and sweet corn and top with chopped chicken fajitas (and veggies) and more cheese. Bake at 425˚F for 10-15 minutes or until cheese is melted and nachos are heated through. Top with sour cream, guacamole and pico de gallo.
Chicken Fajita Casserole– xxx.
Chicken Fajita Bowl– On a bed of rice (you can use Mexican Rice or Cilantro lime rice) add reheated sheet pan chicken fajitas, shredded lettuce, corn and black bean salsa, guacamole, and a sprinkle of cheese
Chicken Fajita Tacos– Lightly heat flour tortillas on each side in a skillet. Add chicken fajita meat and veggies. Top with pico de gallo for a classic taste or pineapple salsa for a fun twist.
Chicken Fajita Salad– On a bed of romaine (or other crunchy lettuce) add chicken fajita meat and veggies. Then add a dollop of sour cream, guacamole, tomatoes, shredded cheese and a drizzle of jalapeno ranch dressing.
More Easy Sheet Pan Recipes
If you enjoyed this recipe, I really hope you will take a moment to grab a few more easy recipes for another busy night!
You can check out all of my Easy Dinner recipes here, or see a few of our readers favorite recipes below.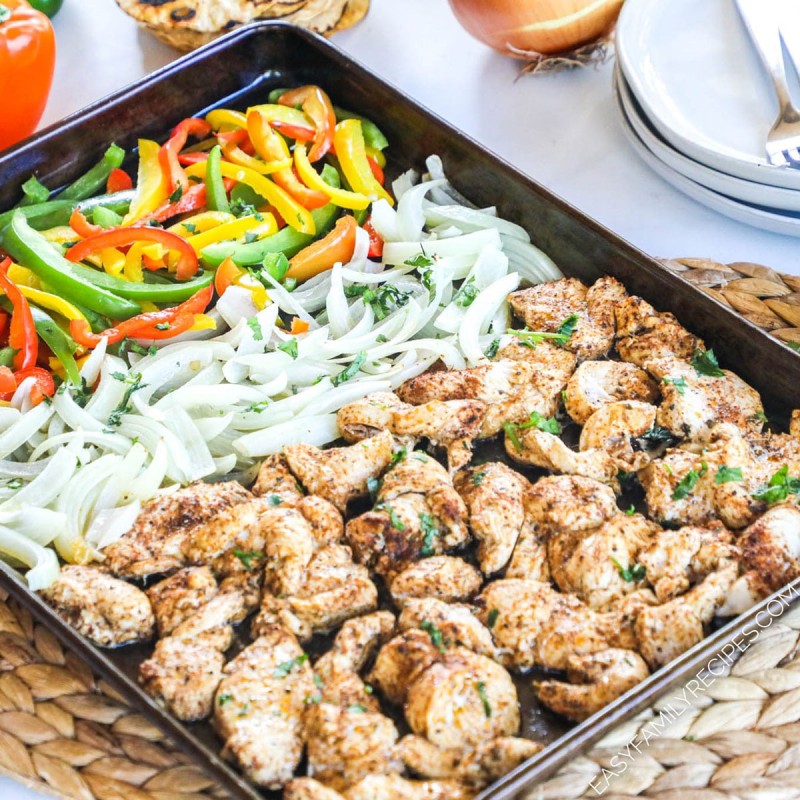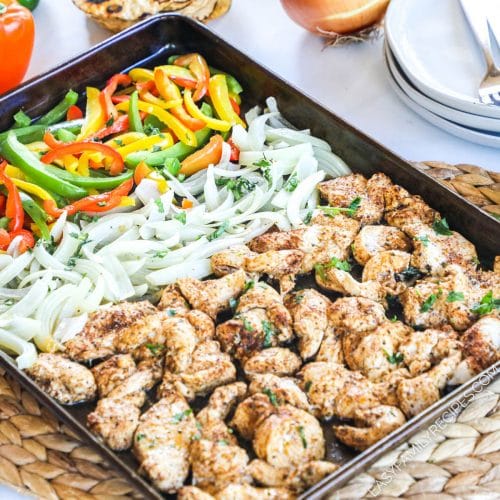 Sheet Pan Chicken Fajitas
These quick and easy Sheet Pan Chicken Fajitas bring all the delicious flavor of fajitas into a super fast weeknight meal. Use these to feed a hungry family, or to meal prep for a healthy meal you can eat all week.
Ingredients
1.5

lbs

boneless, skinless chicken breast

1

yellow onion

,

(medium)

1

green bell pepper

1

red, yellow or orange bell pepper

,

(or use half each of two colors)

2

tbsp

fajita seasoning

1

tbsp

oil

1

lime
Sides/Toppings
flour tortillas

Mexican rice

refried beans

shredded lettuce

sour cream

shredded cheese
Instructions
Cut the chicken breast into thin strips (1/4"-1/2") against the grain of the meat and place on one half of a large baking sheet. Optional: line the baking sheet with foil for easy clean up.

Drizzle 1/2 of the oil over the meat and then sprinkle with seasoning and use tongs to toss until the meat is evenly coated. Squeeze the juice from 1/2 of the lime over the meat and give it one more quick mix.

Slice the onions and bell peppers into thin strips and place them on the other half of the baking sheet. Toss them with the remaining oil.

Bake for 12-16 minutes or until the meat has reached 165˚F. Careful not to overcook, or the meat can become dry and/or tough.

Remove from oven and drizzle the remaining fresh lime juice over the vegetables and meat.

Serve with tortillas and your choice of rice, beans, sour cream, guacamole, cheese, and pico de gallo. ENJOY!
Recipe Notes
Toppings not included in nutrition facts.
Use these Sheet Pan Chicken Fajitas to also make:
Chicken Fajita Quesadillas
Chicken Fajita Nachos
Chicken Fajita Salad
Chicken Fajita Bowls
Chicken Enchiladas
and more!
Nutrition Information
Calories:
258
kcal
(13%)
,
Carbohydrates:
8
g
(3%)
,
Protein:
37
g
(74%)
,
Fat:
8
g
(12%)
,
Saturated Fat:
1
g
(6%)
,
Trans Fat:
1
g
,
Cholesterol:
109
mg
(36%)
,
Sodium:
302
mg
(13%)
,
Potassium:
801
mg
(23%)
,
Fiber:
2
g
(8%)
,
Sugar:
4
g
(4%)
,
Vitamin A:
1219
IU
(24%)
,
Vitamin C:
71
mg
(86%)
,
Calcium:
25
mg
(3%)
,
Iron:
1
mg
(6%)