This Sheet Pan Meatloaf recipe has all the flavor of classic southern meatloaf, but can be made in HALF the time! What I love most about this recipe though, is that you get even more flavor since the tangy meatloaf sauce is over far more of the meatloaf- because at our house that is always everyone's favorite part! With just a few everyday ingredients and a sheet pan, you can be on your way to a delicious family dinner.
Meatloaf – The EASY Way!
Meatloaf is such a classic and well loved recipe. There are a couple of things that makes it a little bit of a pain to make though… First, the meatloaf can be so thick that it takes a really long time to cook to get the center all the way done. The edges can dry out, it can take lots of taking the temperature and adding a few minutes, etc.

Then, the meatloaf sauce (aka the best part!) becomes a little high maintenance since it will burn if it cooks as long as the meatloaf does, so you have to take it in and out of the oven applying later during cooking.
This sheet pan meatloaf may be one of my favorite recipes from the past year because you really do get all of the flavor of a classic meatloaf, but it is just so much faster and easier!
Why I LOVE this recipe!
Faster– This recipe is so much faster to make than the original which makes it perfect for a busy weeknight
Comfort Food- This is classic comfort food at its finest!
Goes with everything– Whatever side or veggie you have hanging around in the fridge, this will work with it!
Pantry ingredients- Nothing special needed to make this recipe, but the end result is something special!
Hearty– This meaty, protein rich dinner is filling and satisfying for a big table full of hungry kids!
The best flavor! I mentioned it above, but one of the things that makes this recipe extra special is that you get so much more of the delicious meatloaf sauce packed with flavor in every bite!
What to Serve with Meatloaf
Since this dish has the classic flavors of American comfort food, it will pair well with many of your favorite meatloaf side dishes. There are both classic options and some healthy options to keep it light.
Side Dish Ideas
You can choose one or add a few sides to make a wholesome, well rounded dinner.
Recipe Notes
This Sheet pan Meatloaf recipe is as simple as promised! Just a few ingredients and a sheet pan for a family friendly meal.
In this section I am going to go through a few tips and tricks I use when making this recipe to get the absolute best and most delicious results.
Make sure to scroll to the bottom for the FULL recipe card.
Ingredients + Substitutions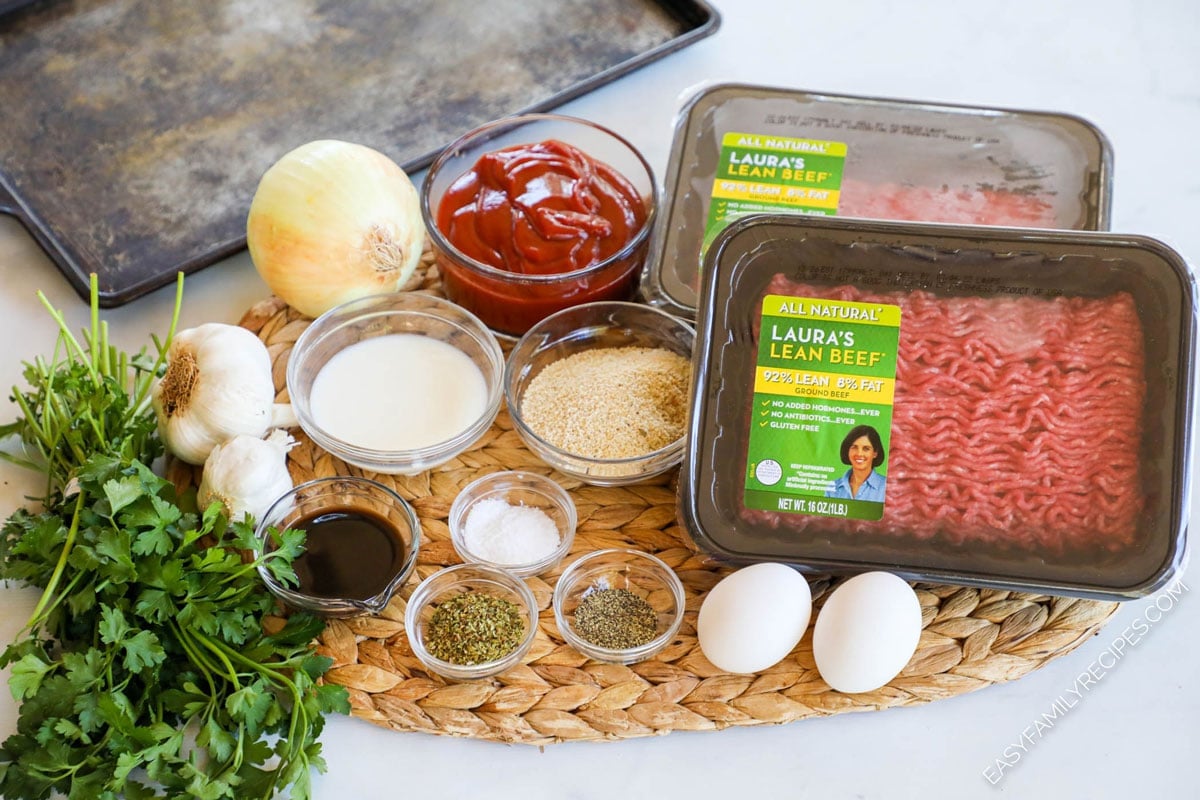 Lean Ground Beef– Using lean ground beef is super important in this recipe! If you don't use a lean ground beef the meatloaf can end up much too greasy, where as with lean ground beef we are able to reduce the grease and keep the meatloaf super tender and moist using other ingredients (more on that below!)
We are using Laura's Lean 96% Lean Ground Beef for the meatloaf here which produced a tender, juicy meatloaf that doesn't shrink much, is more healthy, and super tasty!
Seasonings– We use a combination of dried oregano, salt, ground pepper, as well as, fresh garlic, fresh chopped parsley. The combination of dried herbs and fresh give a punch a flavor and freshness to the meatloaf!
Eggs
Milk– You can use whatever variety you keep on hand. Skim to whole milk will all work equally well for this recipe so there is no need to purchase anything special.
Italian Style Bread Crumbs– I use Italian style bread crumbs for the meatloaf. I like the little extra burst of flavor they add. If you have plain bread crumbs you can substitute them and add 2 teaspoons of Italian Seasonings to the mixture.
Onion– The onion can be white, yellow, vidalia or any like variety. You can either grate the onion with a cheese grater by hand, or use a food processor to process the onion until it is a mushy texture that will combine well in the meatloaf.
Ketchup– Use your favorite prepared ketchup brand.
Worcestershire sauce– This one simple ingredient adds a zing to the meatloaf sauce.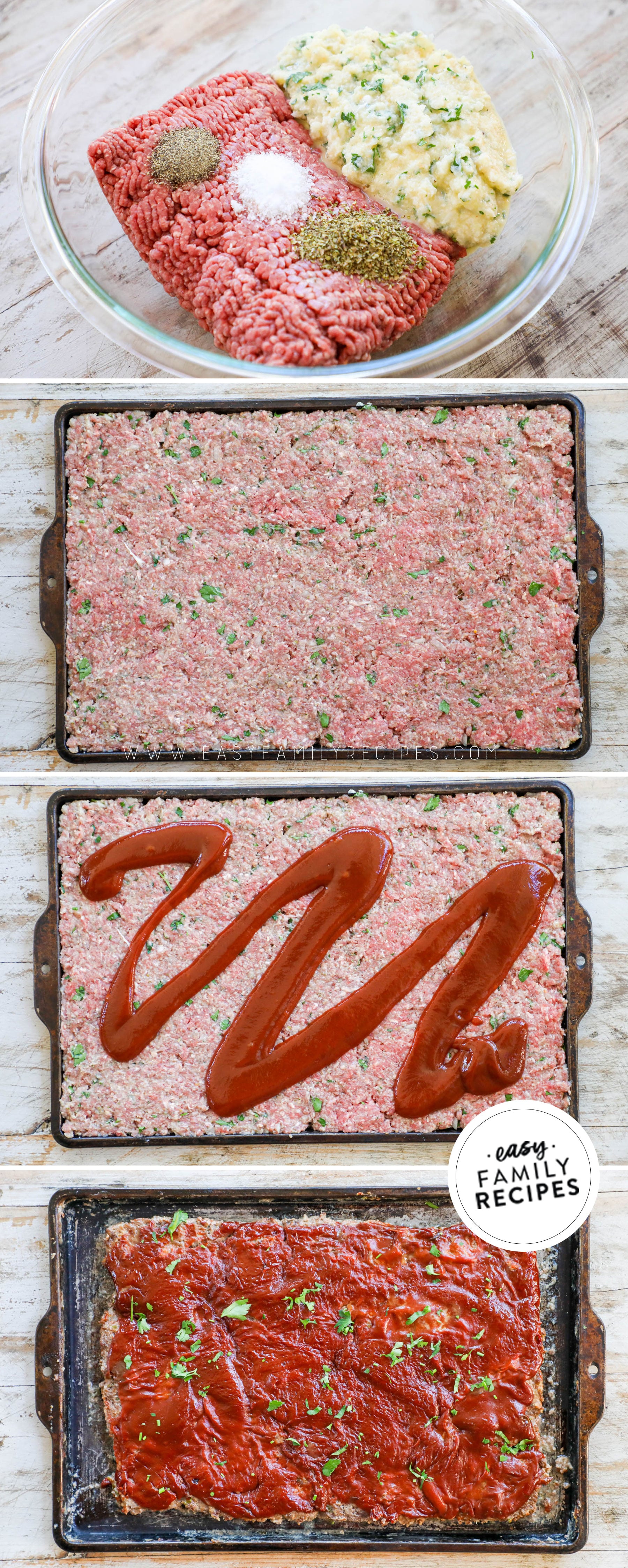 Recipe Tips
Use lean ground beef- This is just so important for your finished meatloaf so that you don't end up with a greasy mess! you can use lean or super lean beef so that you end up with more lean meat and the meatloaf shrinks less, has more beefy flavor and is just generally more healthy!

If you use a higher fat beef, the grease will cook out and you will both have shrinkage and cracking in the meatloaf as it cooks, and also have quite a bit of grease pool around the cooked meatloaf. This is all avoided with lean beef!

Keep it tender and juicy– Since we are using that super lean beef, we want to make sure we keep the meatloaf moist and flavorful even with less fat in the meat. The grated onion, bread crumbs and milk bring the flavor and moisture to the meatloaf, which is why it is so important to make sure that onion is really grated or fully processed in the food processor!

Spread to the edges and keep it even- Spread the meatloaf out all the way to the edges of the pan. As the meatloaf cooks it will shrink some and pull away from the edges so you can start as big as the pan will let you to get the biggest meatloaf possible. Also, try to keep the thickness of the meat as even as possible to allow the meatloaf to cook evenly.

Cook time– The cook time in the recipe card below is what it takes me to cook the sheet pan meatloaf to done. There will be some variation in cook time based on the size of sheet pan you use, and the thickness of meatloaf you end up with. If the meatloaf is thicker, it will take longer. A bigger pan will produce a thinner meatloaf and require less cooking time. The best way to make sure the meatloaf is done, is to use a meat thermometer. The meatloaf should be 160˚F when it is fully cooked.

The glaze– In a traditional meatloaf you save the glaze until the end, but one of the great benefits of the sheet pan southern meatloaf is that the cook time is so quick, that the glaze can be put on right at the beginning. This both allows the flavor o develop more in the glaze, and also just makes it more quick and easy to put this meatloaf recipe together start to finish.
Recipe Short Cuts
If you need to make this meatloaf recipe, but are extra short on time, here are a few ideas that can help make this recipe even faster!
Prepare the onion in advance– This recipe is super fast, but the most time consuming part to me is just grating the onion. It is definitely much faster to use a food process or then to grate the onion by hand. You can use either method and prepare it in advance though. You can keep the grated onion in the refrigerator for 1-3 days or in the freezer for up to 3 months.

Mix the meatloaf meat mixture in advance– You can mix the meat mixture up to 24 hours in advance. Just press it into the pan when you are ready to bake!

Mix the meatloaf sauce in advance– The meatloaf sauce can be mixed and saved in the refrigerator up to 5 days in advance.
Recipe Variations
If you love this recipe as much as we do and want some quick ways to change it up for variety, these little tips will do the trick!
Sheet Pan BBQ Meatloaf– Make meatloaf as directed. Instead of ketchup glaze, use your favorite BBQ sauce on top of the meatloaf.
Sheet Pan Turkey Meatloaf– Make meatloaf as directed replacing the lean ground beef with lean ground turkey.
Sheet Pan Italian Meatloaf– Make the meatloaf as directed. Instead of the ketchup meatloaf glaze, use marinara sauce.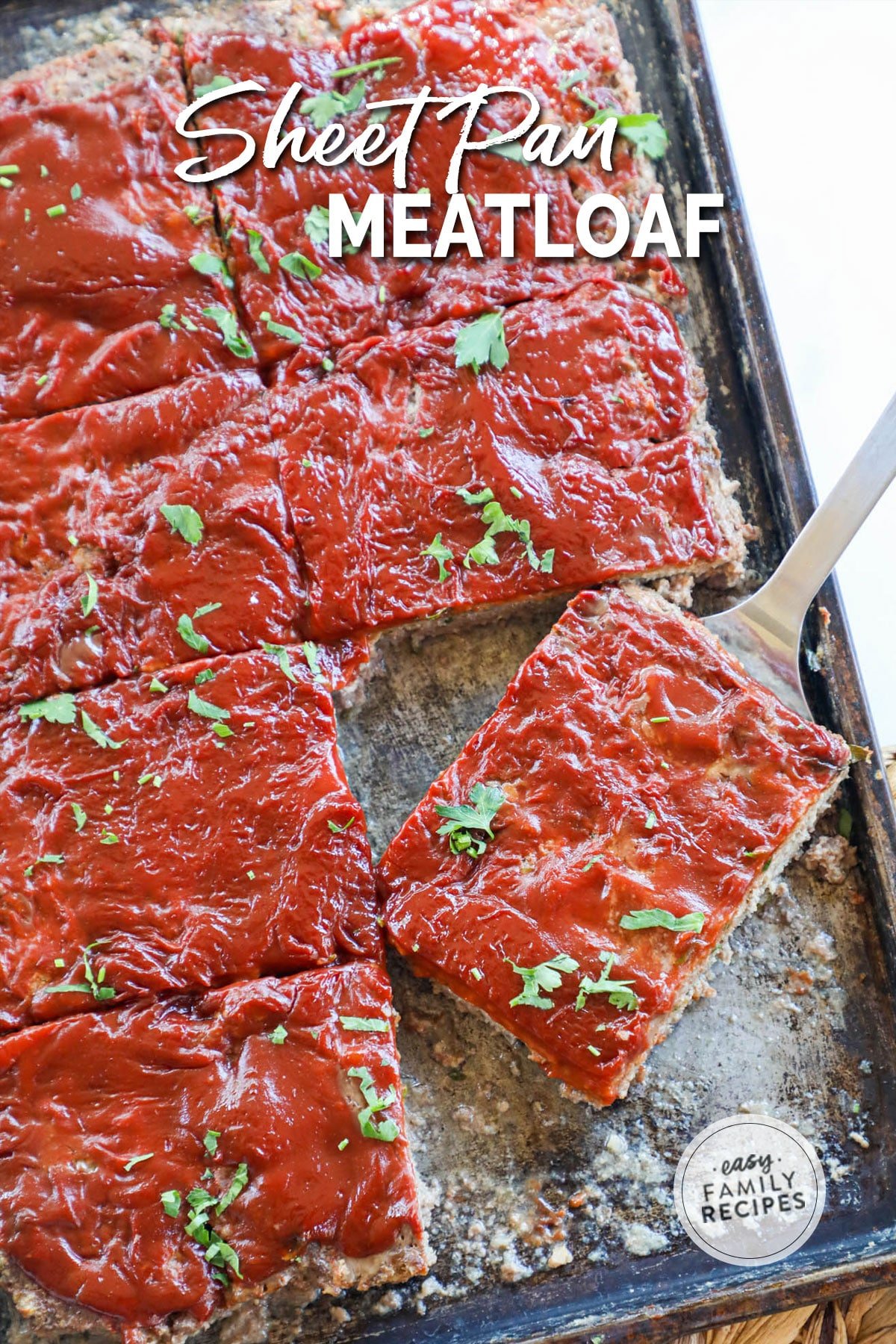 Freezer Meal Instructions
Making this sheet pan Meatloaf recipe into a freezer meal is simple! Follow the steps below and you can store this recipe in the freezer for up to 6 months.
Prepare the meat mixture as directed. Freeze in a freezer bag or freezer friendly container.
Prepare the glaze as directed. Freeze in a separate freezer bag or freezer friendly container.
Once ready to make, thaw in the fridge for 24-48 hours.
Continue with recipe by pressing meat into a sheet pan and adding glaze over top. Bake as directed.
Sheet Pan Meatloaf Leftovers
If you have leftovers after making Sheet Pan Meatloaf, then it is your lucky day! They save and reheat well, and can make the start of another delicious dish.
To save leftovers, separate into meal sized portions and then place in an airtight container and store:
in the refrigerator for 3-4 days
in the freezer up to a month
Leftover Recipes
Here are a few ways to repurpose those leftovers and give them a delicious makeover!
Meatloaf Sandwich– Butter the outside of two thickly sliced pieces of french bread. Add a slice of meatloaf, a slice of cheddar or colby jack cheese, and your choice of mustard, onion, or tomato. Grill the sandwich over medium heat on each side until the bread is golden and the sandwich is heated though.

Meatloaf Mac & Cheese– Place the leftover slices of meatloaf in the bottom of a casserole dish. Prepare your favorite mac and cheese on the stove top. Layer it on top of the meatloaf and cover with cheese. Bake for 20-30 minutes until cheese is melted and the casserole is heated through.

Meatloaf stuffed peppers– Break meatloaf into small bite-sized pieces. Mix with prepared rice. Stuff mixture inside sweet bell peppers that have been halved and seeded and cover with cheese. Bake at 350 for 30-40 minutes or until the peppers are tender.

Meatloaf Bombs– Cut meatloaf into 1-1.5 in pieces. Wrap meatloaf a cube of cheese inside biscuit dough and place in a casserole dish. Bake at 350˚F for 25-35 minutes or until biscuits are cooked through. Brush with garlic butter when you get it out of the oven and sprinkle with fresh parsley.
More Easy Sheet Pan Dinner Recipes
If you enjoyed this recipe, I really hope you will take a moment to grab a few more easy recipes for another busy night!
You can check out all of my ||||| recipes here, or see a few of our readers favorite recipes below.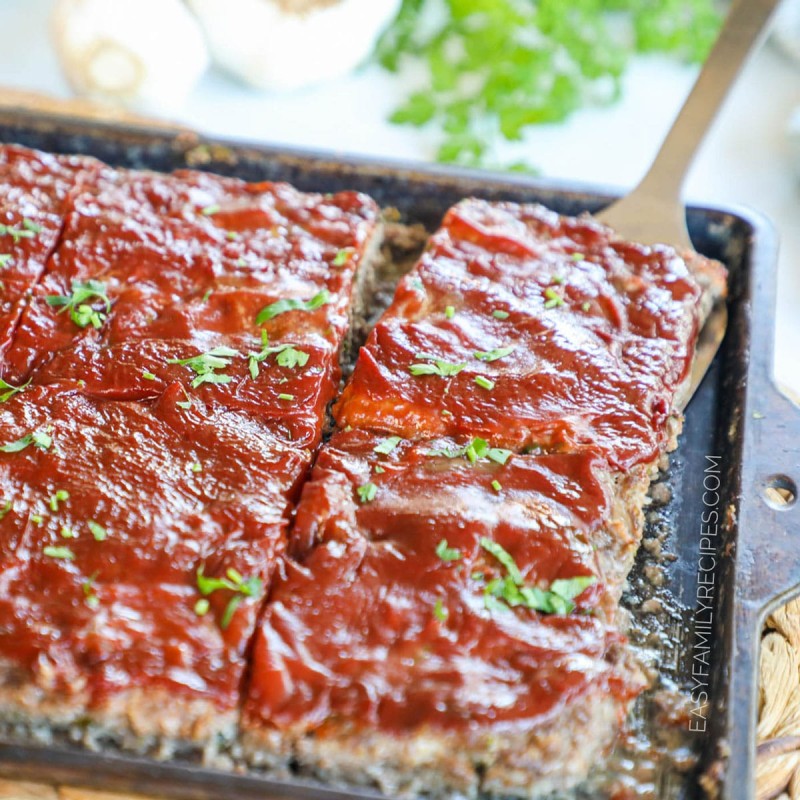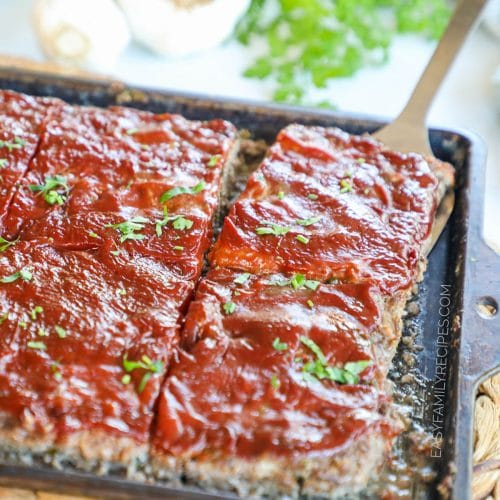 Sheet Pan Southern Meatloaf
This easy southern style meatloaf is made in a sheet pan for a quick cooking easy dinner that is packed with as much flavor as the original!
Ingredients
2

lbs

Laura's Lean 96% Lean Ground Beef

2

teaspoons

dried oregano

2

teaspoon

Salt

1/2

teaspoon

ground pepper

2

Egg

,

beaten

¼

cup

milk

1/2

cup

Italian Style Bread Crumbs

3

cloves

garlic

,

pressed

1/4

cup

chopped fresh parsley

1

Onion

,

grated

1 1/2

cup

Ketchup

2

tablespoons

Worcestershire sauce
Instructions
Preheat the oven to 375˚F.

Combine the ketchup and Worcestershire sauce and mix to combine. Set aside.

Mix together the eggs, milk, bread crumbs, garlic, parsley, and onion. Set aside.

In a large bowl, add ground beef, oregano, salt and pepper. Then add the bread crumb mixture and use your hands to mix until just combined.

Spread the mixture on a sheet pan (mine is 10"x15"x.75") to the edges and make sure that it is even throughout. Then spread the ketchup mixture over the top.

Bake for 20 minutes, then turn to broil and cook for an additional 3-5 minutes to thicken and caramelize the topping. Meatloaf should have an internal temperature of 160˚F when done.

Let cool 5 minutes, then sprinkle with parsley and serve warm. Enjoy!
Nutrition Information
Calories:
260
kcal
(13%)
,
Carbohydrates:
21
g
(7%)
,
Protein:
28
g
(56%)
,
Fat:
7
g
(11%)
,
Saturated Fat:
3
g
(19%)
,
Polyunsaturated Fat:
1
g
,
Monounsaturated Fat:
3
g
,
Trans Fat:
1
g
,
Cholesterol:
112
mg
(37%)
,
Sodium:
1190
mg
(52%)
,
Potassium:
635
mg
(18%)
,
Fiber:
1
g
(4%)
,
Sugar:
11
g
(12%)
,
Vitamin A:
469
IU
(9%)
,
Vitamin C:
6
mg
(7%)
,
Calcium:
66
mg
(7%)
,
Iron:
4
mg
(22%)