Cajun Butter Steak is a steak lovers dream!  Made in as little as 20 minutes, you can have a tender, juicy, flavor packed steak dinner prepared in just one skillet.  See why these steak bites are a regular on our dinner rotation!
Easy Cajun Butter Steak Bites
If you love cajun flavors…
If your mouth waters at the thought of tender juicy steak…
Then you are going to LOVE this Cajun Butter Steak recipe!
Since moving to the panhandle of Florida I have been obsessed with Cajun flavors inspired by the local area.
I have cracked the code for the best homemade Cajun seasoning, made it into a Cajun Dip, created dangerously addicting Cajun pasta, and smothered chicken with delicious Cajun flavors. 
This my friends might be the best dish yet.
What I LOVE about this Cajun Butter Steak:
Almost no prep time
Cooks quickly
One skillet means – less time cleaning up!
IT IS AMAZINGLY DELICIOUS!
It is really hard to believe that something so good can be so fast.
How to Serve Cajun Butter Steak
This dinner can be served the same way traditional steak is served. Match it with a salad or veggie, and a starch like a potato, and you have a 5 star meal.
Should you find yourself with leftovers, it can also be used as the protein to make a number of other delicious main dish options. See my detailed recommendations for this in the Leftovers section below.
Here are a few of our go to sides to serve with Cajun Butter Steak
Side Dish Ideas
Garlic Bread – our FAVORITE recipe!
Mashed or Baked Potatoes
Low Carb Side Dish Ideas
Roasted Cauliflower rice
Served on a bed of zoodles
Tips for Making Cajun Butter Steak
This recipe is easy, however there are a few tips that make all the difference in getting juicy, tender, and perfectly seasoned steak.
Grab the tips here, and find the full printable recipe card at the bottom of the post.
The Steak
For this skillet Cajun Butter Steak, I recommend using rib eye steak.  It is a good quality of meat with enough fat to keep it moist and flavorful. 
If you have another type of steak on hand, or prefer another cut, this recipe can still be used, but the flavor and texture could be a bit different.
Other cuts that make a good substitution are strip steak, sirloin steak, and tenderloin.
The recipe calls to marinate the meat for 10 minutes. If you want, you can prep this ahead and allow it to marinate for up to 24 hours. More time = more flavor!
The Seasoning
I recommend my homemade Cajun seasoning.  This blend is delicious and one easy to make batch can be stored for up to a year! 
It is not only great in this recipe, but you can use it in pasta, on potatoes, to season veggies, when grilling meat, etc.
Additionally, if you are gluten free or low carb, this seasoning is compliant with both.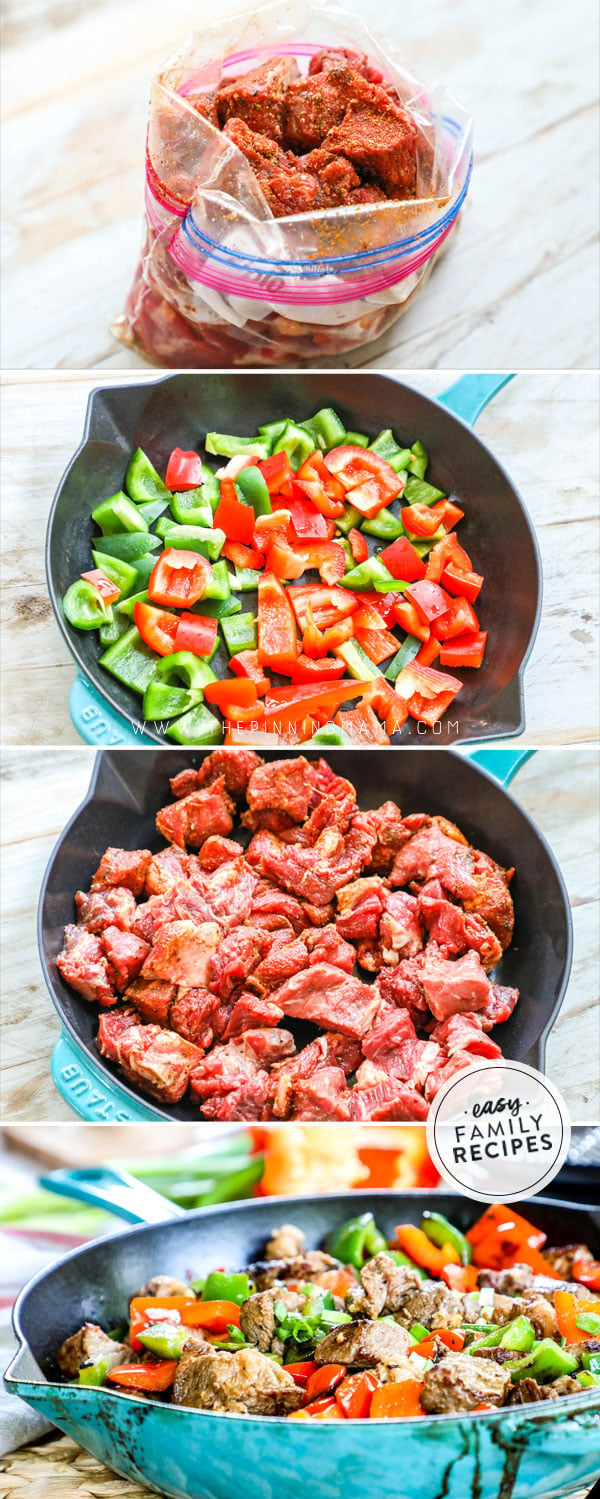 How to Cook Cajun Butter Steak
This dish really comes together quickly once you start cooking, so make sure to prep all of the ingredients to they are ready to go as soon as they are needed.
The key to tender juicy perfectly cooked Cajun Butter Steak is a large, hot skillet.
First…
First cook the peppers. They will only need a couple of minutes, but I like to get some color on them and allow them to start to get tender.
Resist the urge to stir constantly. Let the peppers sit for 1-2 minutes so that they can get the beautiful caramelization on them.
Once the are done, set them aside and now it is time for the steak!
Next…
The steak will cook quickly!
Add the steak to the hot skillet in a single layer, and again, RESIST THE URGE TO STIR! You will flip them after 1-2 minutes.
Since the steak is cut into bites, it is easy to want to move it around more, but if you want those golden brown edges, it needs to sit still for a minute.
Flip the steak and cook for an additional minute. Then comes the best part!
Last…
Add the butter, peppers, and fresh garlic to the skillet and now you get to stir to your heart's content!  Well for the next minute! 
At that point the steak should be just about perfect so you can take the skillet off the stove and serve it up hot!
Shortcuts
If you are short on time, there are a few short cuts you can take to make this meal even faster to prepare.
Buy pre-cubed steak – Many grocery stores will either sell meat pre cubed, or will be happy to cut meat for you to your specifications complimentary.  All it takes is to ask!
Buy pre-chopped veggies– Although this recipe has minimal chopping, if time is of the essence, you can usually find pre-chopped peppers in the produce section. You can substitute any color sweet bell pepper for red and green.
Buy pre-made seasoning– You can make your own seasoning up to a year in advance, but if you get caught at the last second without seasoning, you can always grab it premade at the store! You can usually find brands such as Tony's Creole Seasoning at most stores.
Dietary Restrictions
One of the best parts about this meal is that it is equally delicious whether you are gluten free, eating low carb or keto, or don't have any special restrictions, but just like great food.  Here are some notes to make sure this dish is compliant with your diet.
Gluten Free– This dish is gluten free when made with the homemade cajun seasoning.  Make sure to check all products used for compliance.
Low Carb/Keto– This dish is naturally low carb when made as directed with only 3 g net carbs, 47g protein.
Dairy Free– This recipe can be modified to be dairy free by using margarine in place of butter.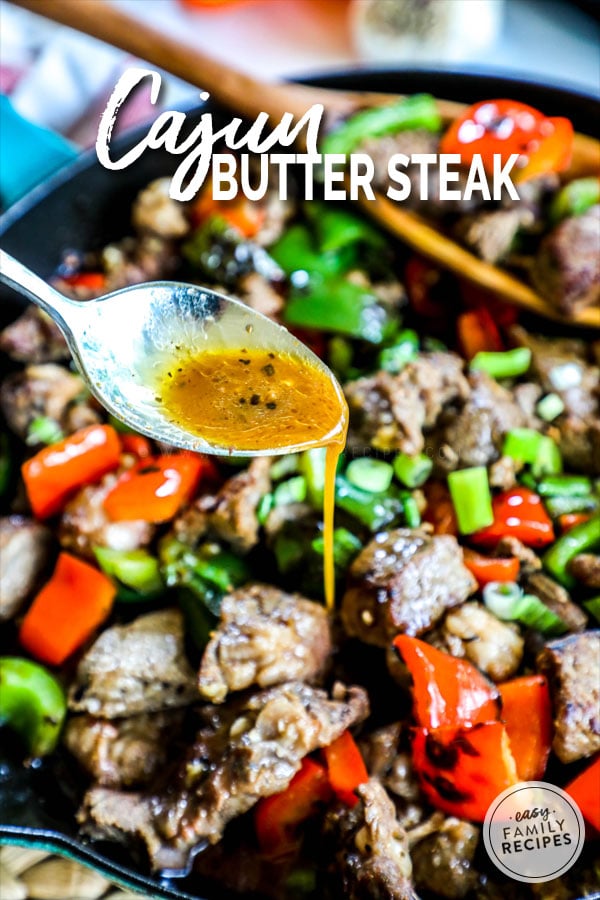 Cajun Butter Steak Leftovers
This dish is so delicious there is a good chance leftovers will be scarce, but if you do end up with some, you are in luck, because they make a great way to quick start a new meal.
To store leftovers, divide into meal sized portions. Then package each in an airtight container and store it in the
Refrigerator for 3-4 days
Freezer for up to a month
Here are some of my day to day makeovers for leftover Cajun Butter Steak Bites.
Leftover Recipe Ideas
Cajun Steak Quesadillas- Pile the Cajun Steak Bites in a tortilla and add monterey jack cheese.  Grill in a hot buttered skillet on each side until golden brown.
Cajun Steak Bites Wrap- Spread a thin layer of ranch dressing on a flatbread or large tortilla then add leafy greens like mixed greens or spinach.  Heat leftover cajun butter steak and place the steak and peppers on the greens. Top with cheddar cheese and wrap tightly. 
Cajun Steak Pepper Nachos- Cut bell peppers into wide strips and arrange on a baking sheet. Top the peppers with steak bites and cheese. Add black beans and corn if desired.  Bake at 425˚F until the cheese melts and the steak is heated through.
Cajun Steak Salad- Top chopped romaine with cajun butter steak bites and peppers, then add your choice of salad toppings including tomatoes, thinly sliced red onion, croutons, carrot shreds, and cucumber slices.  Top with homemade ranch dressing. For an extra kick, mix cajun seasoning and lime with the ranch dressing!
Cajun Butter Steak Stuffed Baked Potatoes- Bake potatoes, then split them open and add a bit of cheese, then cajun steak and peppers along with any leftover butter sauce, more cheese, and a big dollop of sour cream. 
More Easy Beef Dinners
If you liked this Cajun Butter Steak as much as we do, then we would love it if you would try more of our recipes!
Here are a few other easy beef dinner ideas:
Hungry for more family-friendly recipes? Sign up for my free recipe club to get new family-friendly recipes in your inbox each week! Find me sharing daily meal-time inspiration on Pinterest, Instagram, and TikTok.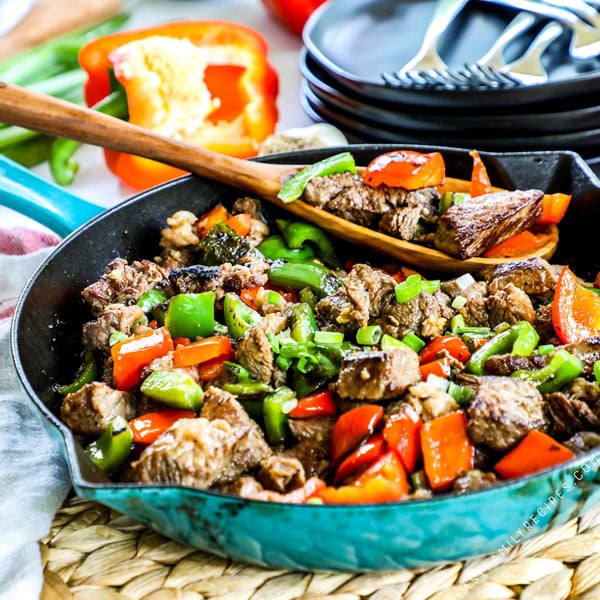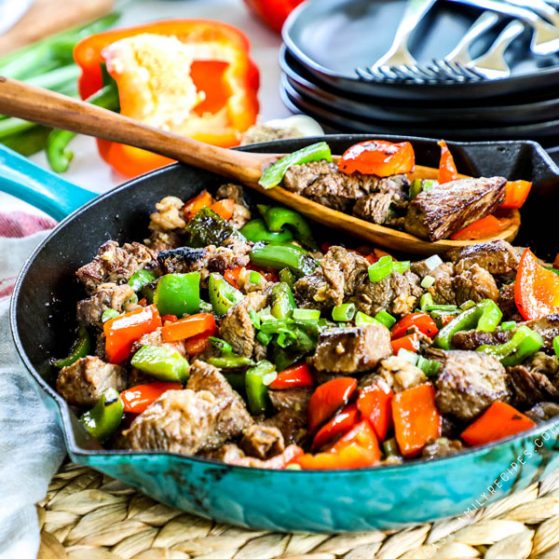 Cajun Butter Steak Skillet
This Cajun Butter Steak is addictingly delicious! Perfectly tender and juicy steak is cooked to perfection, combined with sweet bell peppers, and seasoned with the perfect amount of cajun kick.
Prep Time: 5 minutes
Marinating time: 10 minutes
Cook Time: 10 minutes
Serves:4 servings
Hover over "serves" value to reveal recipe scaler
Ingredients
2 lbs ribeye steak
1 red bell pepper chopped
1 green bell pepper chopped
2 tbsp cajun seasoning
2 tbsp butter
1.5 tbsp vegetable oil
3 cloves garlic pressed
3 green onions chopped
Instructions
Cut the steak into 1 inch cubes, removing any excess fat or gristle.

Place steak in a bag or container with 2 tbsp cajun seasoning and 1 tbsp vegetable oil. Stir to evenly distribute the seasoning and let rest for 10 minutes.

While the steak is resting, chop the bell pepper and heat the skillet with remaining oil to high heat.

Add the peppers to the skillet in a single layer carefully and let cook 3 minutes, stirring once each minute. Remove peppers and set aside.

Add steak to the skillet in a single layer. Let cook 2-3 minutes on the first side, then flip and cook 1 minute.

Stir in butter, pressed garlic and peppers and cook for 1-2 more minutes while stirring.

Remove from heat and top with green onions. Serve immediately. Enjoy!
Nutrition Information:
Serving: 8ozCalories: 597kcal (30%)Carbohydrates: 6g (2%)Protein: 47g (94%)Fat: 44g (68%)Saturated Fat: 22g (138%)Cholesterol: 154mg (51%)Sodium: 175mg (8%)Potassium: 834mg (24%)Fiber: 3g (13%)Sugar: 3g (3%)Vitamin A: 3015IU (60%)Vitamin C: 64.3mg (78%)Calcium: 37mg (4%)Iron: 5mg (28%)
(Nutrition information provided is an estimate and will vary based on cooking methods and brands of ingredients used.)