This Homemade Blue Cheese Dressing is so amazingly delicious you will never want bottled dressing again! This restaurant style buttermilk blue cheese dressing is made with tangy buttermilk, creamy mayonnaise, and sharp blue cheese. The result is a lusciously creamy dressing with over-the-top flavor! This perfectly chunky blue cheese dressing is so simple that it can be prepared in minutes and is perfect for both dressing a salad or using as a dip.
Blue Cheese Salad Dressing – The EASY Way!
The first time I had blue cheese dressing it was with Buffalo wings and I still remember thinking how addicting that tangy flavor was. Fast forward to my years as an adult, and this dressing became a favorite of mine. Then I had a steakhouse wedge with real, homemade blue cheese dressing, and I knew bottled dressing was ruined to me forever.
Once I started engineering how to create this dressing by perfectly balancing the pungent blue cheese with the creamy base, I realized just how quick and easy something SO GOOD could be to make!
Why I LOVE this recipe!
Super fast– I mean you can have this from ingredients to fully made in as little as 5-10 minutes! It is most definitely worth the extra time for how good this stuff is!

So much tastier than store bought– I will warn you that once you make this homemade Blue Cheese dressing, you may never be able to eat bottled dressing again!!

Lasts in the fridge– I have kept my dressing in the fridge up to two weeks, so it does have a nice shelf life for a freshly made condiment, if it even lasts that long!

Makes salads AMAZING! Whether you want to like salad, or already love salad, this homemade salad dressing is going to be a game changer! It really makes you want to eat a whole lot of lettuce!

Perfect for dipping– This blue cheese dressing recipe can double as a dip or a sauce. It is not too thin to work well with carrots, celery, or buffalo chicken wings. You can also use it as a sauce on a sandwich too!
What to Serve with Blue Cheese Dressing
Blue Cheese Dressing classically pairs well with a few foods like wings, wedge salads, and veggies. This isn't the only thing it goes well with though! Browse some of my favorite pairings for our chunky blue cheese dressing below, and let me know if I missed any of your favorite ways to use it in the comments.
Side Dish Ideas
Salads

Wedge Salad- Serve the homemade blue cheese dressing over a wedge of iceberg lettuce topped simply with crumbled bacon, diced tomatoes, and fresh cracked pepper.
Cobb Salad– Blue cheese dressing is one of the classic pairings for a cobb salad
Buffalo Chicken Salad- Chopped buffalo chicken over iceberg lettuce, tomatoes, shredded carrots, cheddar cheese, and homemade blue cheese dressing makes a simple salad that will impress!

Buffalo Chicken
Dip

Veggies- Carrots, celery, and sweet peppers are our favorites, although you can dip almost any veggie in this homemade blue cheese salad dressing and it will be delicious!
Chips- Classic potato chips in chunky blue cheese dressing is one of the most delicious things on this earth!
French Fries- Try it! It is just so good!

Other

Buffalo Chicken Stuffed Baked Potato– Perfection with a drizzle of Blue Cheese Dressing!
Sandwich- Use as a spread on a chicken or turkey sandwich
Burger- Add to the top of a burger and top with grilled onions
Buffalo Chicken Pizza- Drizzle the dressing over the top once you take it out of the oven, or use it to dip your pizza in!
You can choose one or add a few sides to make a wholesome, well rounded dinner.
Recipe Notes
This Homemade Blue Cheese Dressing recipe is as simple as promised! Just a few minutes and a handful of ingredients for a family friendly meal.
In this section I am going to go through a few tips and tricks I use when making this recipe to get the absolute best and most delicious results.
Make sure to scroll to the bottom for the FULL recipe card.
Ingredients + Substitutions
Mayonnaise– I use original mayonnaise. You can use your favorite brand to make blue cheese dressing. I don't recommend using fat free mayo or Miracle Whip as it pretty dramatically changes the flavor of the dressing.

Low fat buttermilk– You can use low fat, or whole milk buttermilk in this recipe. I find that the dressing is just as delicious using low fat, so I generally use that since the dressing over all is pretty rich.

Sour cream– This adds the perfect bit of tang to the dressing. I find that both original sour cream or light sour cream will work well.

Blue cheese– Try to use a good quality blue cheese for the best flavor! If you use a low end cheese, you will find that they don't have as much flavor and you may have to use more cheese to get the flavor to shine through in the dressing. I generally buy the blue cheese in a block and just break it into crumbles by hand.

Garlic– fresh garlic is key to making the dressing really taste homemade with amazing flavor!

Lemon juice– again, fresh is best! This brings the flavors together.

Salt and pepper– Use salt to your taste at the end.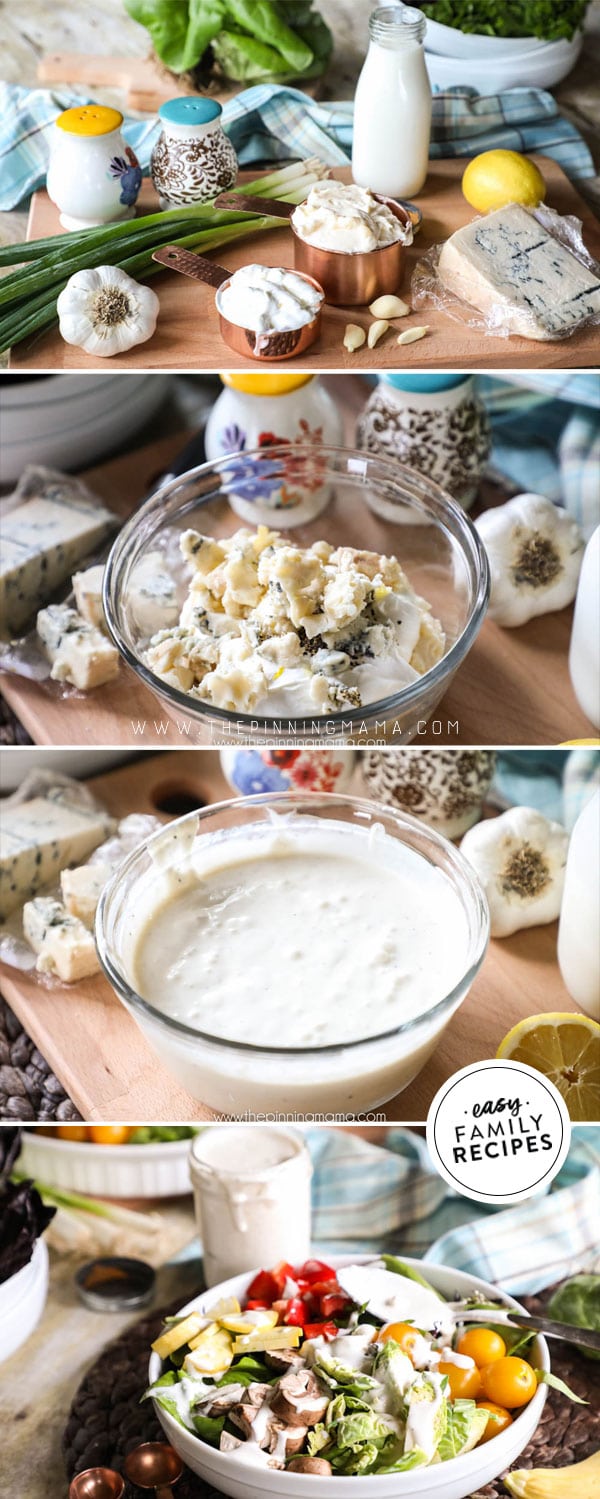 Recipe Tips
Use more or less Blue Cheese- Different brands of Blue Cheese can vary in how sharp it is, and since it has such a distinct flavor, you may have a personal preference on how much blue cheese flavor you want to shine through in the dressing. You can control the flavor of the salad dressing by using more or less blue cheese.

Blend- Use a hand blender to blend all the ingredients together until smooth. I like to blend the dressing because I think it helps to really incorporate the flavors quickly, rather than having to let it sit for hours or overnight for the flavors in it to meld. Since I usually need to do things the quick way, this little short cut gives you all the flavor without the wait. I prefer a hand blender, but a food processor, or standard blender also work perfectly, but I find the hand blender to be the least messy.

Make it chunky- Stir in remaining blue cheese crumbles by hand.This step will give you the signature texture of a blue cheese dressing with the small bits of the cheese incorporated into the dressing. Since you blend the majority of it, this lets us bring back those perfect little bits of flavor into the mix.

Add salt at the end- Because blue cheese can vary in flavor and saltiness, I prefer to add the salt just at the end to season to my personal preference. Blue cheese is a salty cheese, so you may need to add very little.
Recipe Variations
If you love this recipe as much as we do and want some quick ways to change it up for variety, these little tips will do the trick!
Yogurt Blue Cheese Dressing– Make dressing as directed substituting greek yogurt for the sour cream in the recipe.
Homemade Gorgonzola Dressing– Gorgonzola and blue cheese have very similar flavor profiles, so you can use this same recipe as a base substituting gorgonzola cheese for blue cheese with great results.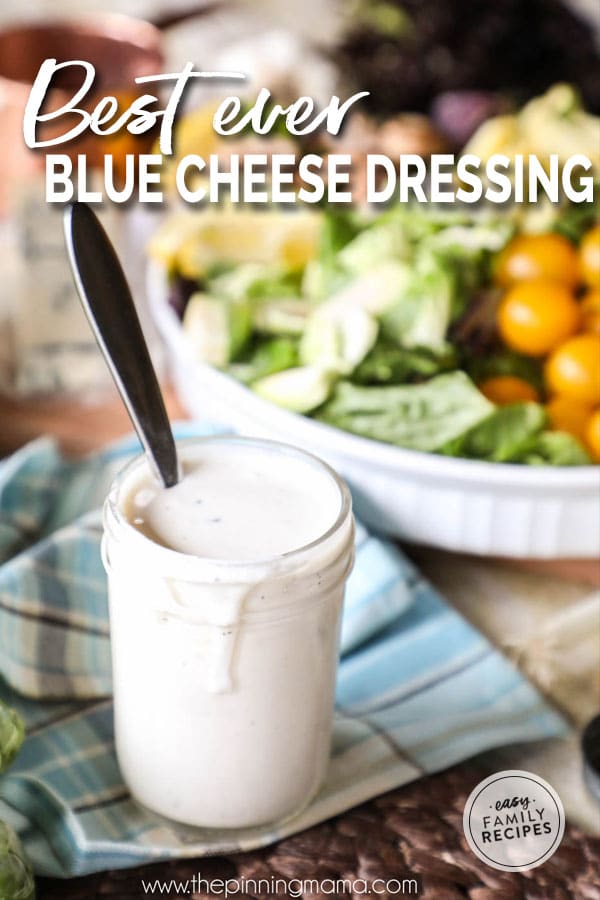 Blue Cheese Dressing Leftovers
If you have leftovers after making our homemade Blue Cheese Dressing, then it is your lucky day! They save well, and can make the start of another delicious dish.
To save leftovers, place in an airtight container and store in the refrigerator for up to two weeks.
I get a lot of questions on if you can freeze blue cheese dressing, and I do not recommend it. Many of the ingredients including the buttermilk and mayonnaise don't freeze well and can separate if frozen which makes this dressing less than ideal for freezing.
More Easy Salad Dressing Recipes
If you enjoyed this recipe, I really hope you will take a moment to grab a few more easy recipes for another busy night!
You can check out all of my ||||| recipes here, or see a few of our readers favorite recipes below.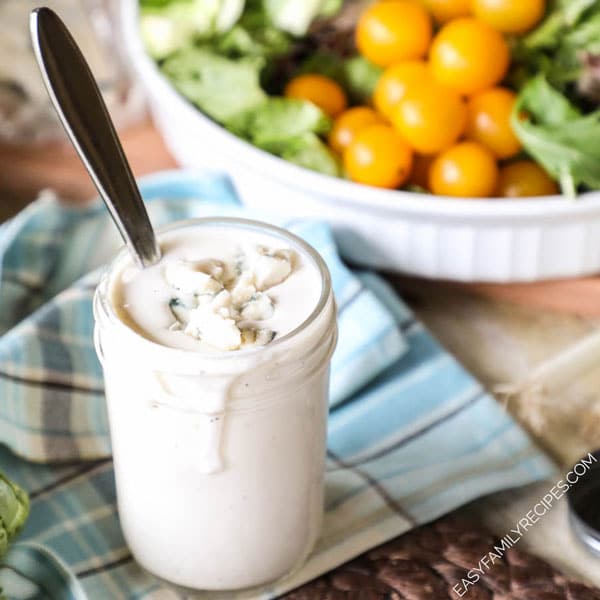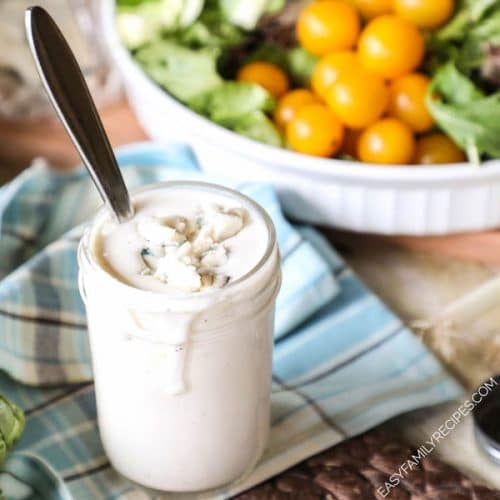 Homemade Blue Cheese Dressing
This tangy blue cheese salad dressing is amazingly delicious! It is perfect for topping a salad, using as a dip, or layering on a sandwich to pack in tons of flavor! With just a few ingredients and only minutes to make, you can have it on hand whenever the craving hits!
Ingredients
1

cup

mayonnaise

3/4

cup

low fat buttermilk

1/2

cup

sour cream

4

oz

blue cheese

,

crumbled

3

garlic cloves

,

pressed

1

tbsp

fresh lemon juice

1/2

tsp

ground pepper

1/4-1/2

tsp

salt
Instructions
Combine the mayonnaise, buttermilk, sour cream, 3 oz of the gorgonzola, garlic, lemon juice and pepper in a medium bowl.

Use an immersion blender (or blender or food processor) to blend all the ingredients together until smooth.

break the remaining crumbles into very small pieces and stir them into the dressing to make the blue cheese dressing a little chunky. Optional: if you prefer your dressing completely smooth, you can add all 4 oz of the blue cheese before you blend the dressing to smooth.

Season with salt to taste. Chill for at least 10 minutes to let the flavors meld.

Serve on salad or as a dip for chips, wings, or veggies! Enjoy!
Nutrition Information
Serving:
2
tablespoons
,
Calories:
112
kcal
(6%)
,
Carbohydrates:
1
g
,
Protein:
2
g
(4%)
,
Fat:
11
g
(17%)
,
Saturated Fat:
3
g
(19%)
,
Polyunsaturated Fat:
5
g
,
Monounsaturated Fat:
3
g
,
Trans Fat:
1
g
,
Cholesterol:
12
mg
(4%)
,
Sodium:
193
mg
(8%)
,
Potassium:
42
mg
(1%)
,
Fiber:
1
g
(4%)
,
Sugar:
1
g
(1%)
,
Vitamin A:
91
IU
(2%)
,
Vitamin C:
1
mg
(1%)
,
Calcium:
49
mg
(5%)
,
Iron:
1
mg
(6%)