This Chicken Mozzarella Skillet is an all-time family favorite. Tender chicken breast is seared then simmered in a rich and creamy tomato sauce flavored with garlic and basil.
The best part is that not only is it delicious, but this recipe is quick and easy to make cooking with only a handful on ingredients in just one skillet! Quick to make. Devoured by all. Simple to clean up. DINNER WINNER!
My goal with Easy Family Recipes is to take family favorite recipes, and make and test them enough so that I can cut out all the unnecessary steps and share with you the recipe that gives you the most (and best) flavor with the least amount of work.
This Chicken Mozzarella Skillet is no exception! It is exactly the type of recipe I get so excited to share with you, because it is so simple, so delicious, and truly a crowd pleaser. Kids like it, adults love it, and clean plates and even seconds can be expected.
Why I love this recipe:
It is incredibly delicious!
It is made in just ONE skillet in as little as 30 minutes – which means minimal cooking and minimal dishes.
It is a recipe the adults love and kids enjoy just as much.
It is homemade, but so easy, it feels like cheating!
That my friends is a recipe for winning at dinner time. This Mozzarella Chicken is the key to getting clean plates and keeping my sanity on busy weeknights.
Recipe Tips
This Chicken Mozzarella recipe is as simple as promised! Just 30 minutes and one skillet, made on the stovetop for a family friendly meal.
In this section I am going to go through a few tips and tricks I use for how to make Chicken Mozzarella to get the absolute best and most delicious results. Hopefully this will answer any questions that may pop up while cooking. If not feel free to leave them in the comments below.
Ingredients
Find my notes on types of ingredients I like, as well as, any substitutions that can be used in the section below.
For the Chicken:
Chicken Breast- You can buy thin chicken breasts for this recipe, otherwise you can use normal boneless, skinless chicken breast and just cut or pound them out. (More on this below)

Substitutions: Any boneless, skinless chicken can be substituted for chicken breast. Chicken thighs or tenderloins are both good options.

Garlic powder- Make sure you use garlic powder, not garlic salt!
Salt & Pepper
Olive oil
Buffalo Mozzarella- I like to use buffalo mozzarella in this recipe because of it's mild flavor and super creamy texture. You can get it in most grocery stores in the specialty cheese section, sold whole or pre-sliced.

Substitutions: If you don't have buffalo mozzarella on hand, you can substitute traditional mozzarella (either grated or sliced from a block) and it will still be good!
For the sauce:
Fresh garlic- I really recommend using fresh garlic with a garlic press. It makes the whole dish take on those fresh, homemade flavors.

Substitution: If you are in a pinch, you can use jarred minced garlic here.

Crushed tomatoes- You will use one larger can of crushed tomatoes. I like to use crushed because it gives you a thicker sauce with less chunks than using diced or whole. If you prefer a completely smooth sauce, use can use a stick blender to puree the tomatoes.
Salt
Heavy cream- This adds just a hint of richness to the sauce and tempers the acidity of the tomatoes.

Substitution: To lighten the sauce up, you can substitute half and half for heavy cream.

Grated parmesan- The parmesan cheese will make the sauce a bit heartier as well as adding flavor. Make sure and use the grated parmesan, not shredded so that it easily melts and incorporates into the sauce.
Fresh basil- This is another ingredient that adds a ton of flavor and freshness to the dish. You can buy fresh basil plants and just use the leaves or buy a bunch of fresh basil in the refrigerated area in the produce section.

Substitution: If basil is out of season and no fresh basil is available, you can substitute 2 teaspoons dried basil.
Recipe Variations
If you love this recipe as much as we do and want some quick ways to change it up for variety, these little tips will do the trick!
Mozzarella Chicken Pasta– Make the recipe as directed through making the sauce (but before you add the chicken back in at step 5.) Toss the sauce with prepared pasta (about 16 oz uncooked) Then add the chicken back and top with mozzarella. Bake at 350 for 10-15 minutes.

Chicken Mozzarella with Spinach– Make the recipe as directed. After you incorporate the cream and parmesan into the sauce, stir in 2-4 oz of spinach, cooking about 3-4 minutes or until it wilts. Then add the chicken back into the sauce and continue as directed.

Fried Chicken with Mozzarella– Create a breading for the chicken by dipping it in flour, then egg, then Italian bread crumbs. Cook on medium heat in 2 tbsp olive oil 3-4 minutes per side. Then continue with recipe as directed. For more detailed instructions on breaded chicken, reference my chicken parmesan recipe.
Recipe Step by Step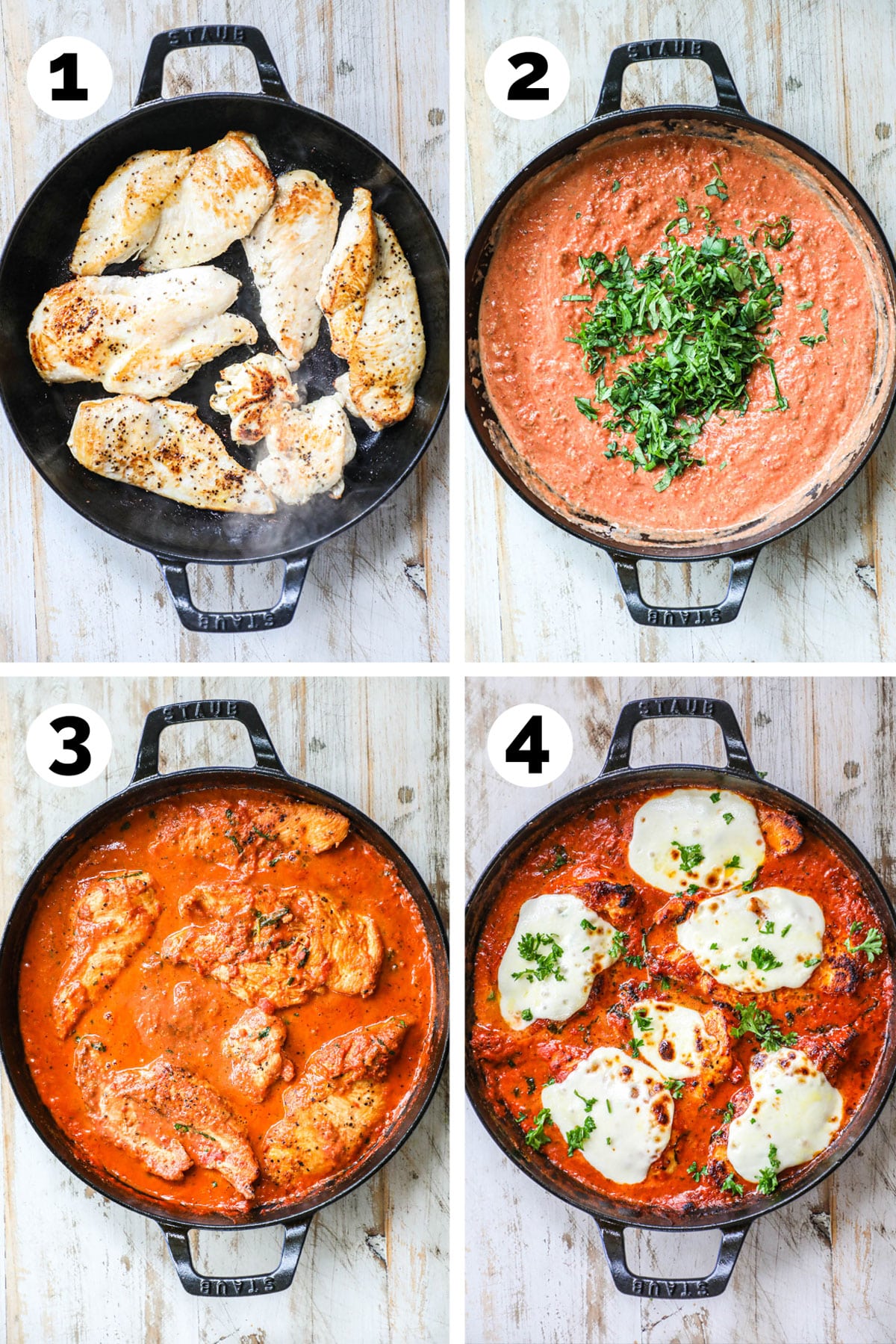 Season the chicken and brown it in the skillet. The chicken may not be completely done, but it will continue to cook as it simmers in the sauce at the end.
Create the creamy tomato basil sauce by combining crushed tomatoes, heavy cream, and basil.
Add the chicken back into the sauce to simmer. I like to make sure to nestle it down under the sauce so it is coated on both sides with sauce.
Top each chicken breast with fresh mozzarella cheese, then finish by broiling in the oven to get it melted and bubbly.
Method
The Chicken:
Start with thin chicken breast. Either buy thin chicken breasts or cut a normal or larger sized chicken breast horizontally so that it is half the thickness. You can also use a meat mallet to pound the chicken breast to an appropriate thickness.
The reason why the chicken needs to be thin, is that for this to cook quickly and in one skillet, the chicken cannot be too thick. More thick chicken would need to sear in the pan and then be transferred to the oven to finish cooking.
The goal is to cook the chicken almost all the way in the first step and allow it to finish cooking while simmering with the sauce in the last step. This two step method allows you to get more flavor by searing the chicken on each side, before simmering it at the end.
The Sauce:
To make the creamy marinara sauce for the Chicken Mozzarella, you start by stirring the garlic in the hot pan. This will flash cook the garlic to take the bite out of it and leave you with the amazing flavor of roasted garlic.
The sauce will then simmer with the garlic and spices to really develop the flavor.
Next the parmesan cheese and cream are added. I like to stir in the parmesan first, then do the cream.
You will want to very slowly pour in the cream stirring it in immediately while you add it. This allows it fo fully incorporate into the sauce. If you pour cold cream in all at once it can seize or curdle and you risk not being able to blend it into the sauce.
Bringing it all together:
Last, add the chicken back in and top with mozzarella.
You have two options for the mozzarella. First, you can transfer the pan to the oven and broil it to melt. This will give you that nice bubbly brown top on your cheese. Alternately, you can just put the lid on the pan and it will create enough heat to melt the cheese also, but you won't get it browned on the top. Both are great, so do what is easiest and best for you!
Recipe Short Cuts!
If you need to make this recipe, but are extra short on time, here are a few ideas that can help make this recipe even faster!
Pre-cook the chicken– You can cook the chicken per the recipe directions up to 24 hours in advance. Then when ready to make the dinner, just continue with the recipe at step 4 making sure to preheat the skillet before adding the garlic.
Use shredded or rotisserie chicken– In a pinch, you can skip the chicken breast all together and make the sauce, then stir in premade shredded chicken breast or rotisserie chicken that has been pulled off the bones and chopped into bite sized pieces. This will have an end result flavor that is different than the original recipe but still good.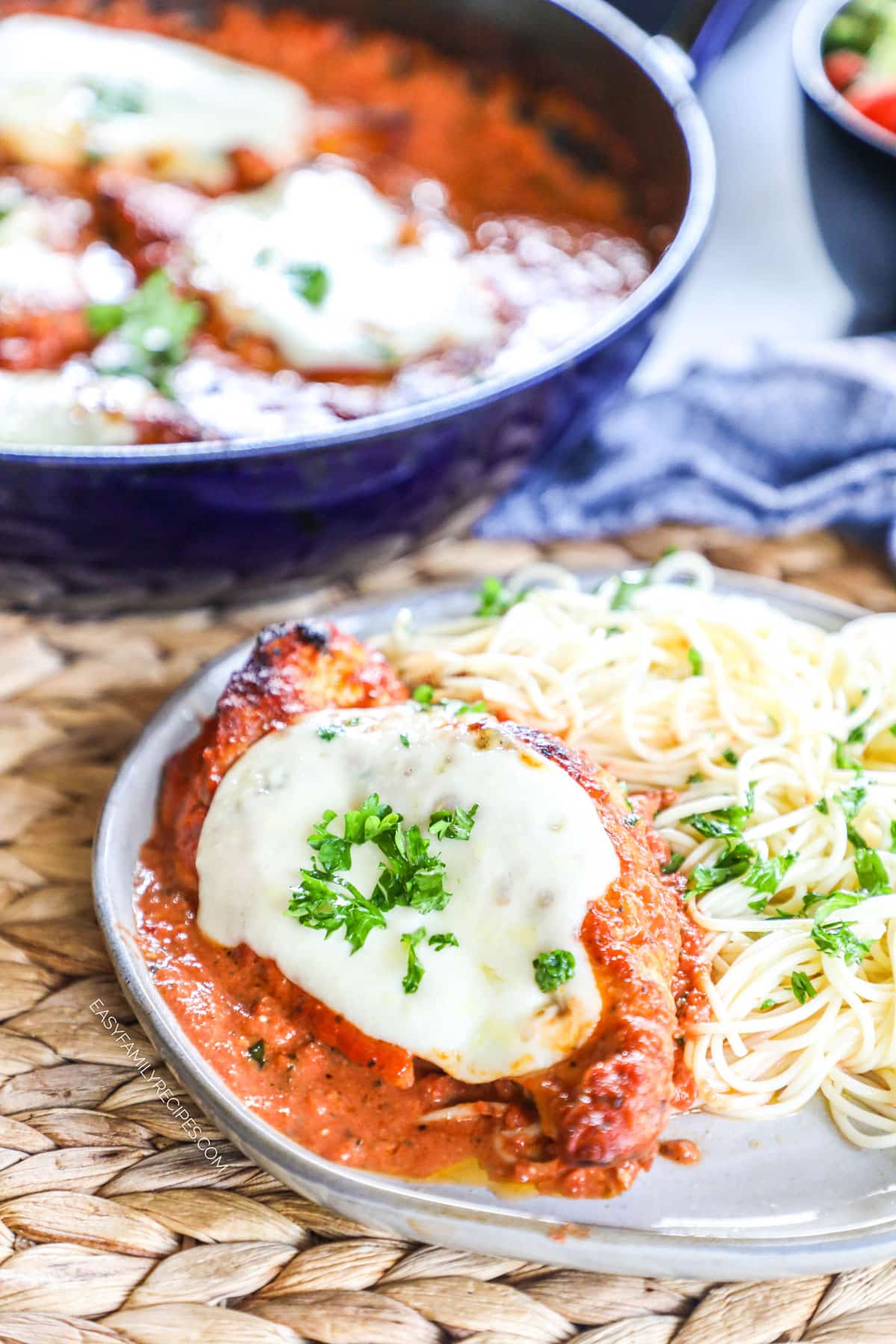 What to serve with Chicken Mozzarella
Since this dish has the classic flavors of marinara sauce, garlic and basil, it will pair well with many of your favorite Italian side dishes. There are both classic options and some healthy options to keep it light.
Side Dish Ideas
You can choose one or add a few sides to make a wholesome, well rounded dinner.
Leftover Ideas
If you have leftovers after making Mozzarella Chicken, then it is your lucky day! They save and reheat well, and can make the start of another delicious dish.
To save leftovers, separate into meal sized portions and then place in an airtight container and store:
in the refrigerator for 3-4 days
in the freezer up to a month
Leftover Recipes
Here are a few ways to repurpose those leftovers and give them a delicious makeover!
Chicken Mozzarella pizza– On a prepared pizza crust (or a pita bread for a smaller option) spread the sauce from the chicken over the crust. Chop the chicken and mozzarella and add evenly over pizza. Top with additional mozzarella cheese and any toppings you like such as chopped olives, chopped red peppers, banana peppers, spinach, etc.
Italian Mozzarella Chicken Sandwich– Toast a hoagie roll with butter, garlic powder, salt and pepper. Once lightly toasted, slice chicken breast and put it on the roll. Top with sauce and additional cheese if desired. Bake at 425˚F for 8-12 minutes or until the sandwich is heated through. Optional: add sautéed spinach to the top of the subs!
Mozzarella Chicken Pizza Pasta Bake– Mix chopped leftover chicken, mozzarella, and sauce with prepared pasta. Place in a baking dish and cover with shredded mozzarella cheese. Top with your favorite pizza toppings like pepperoni, bell pepper, olives, onion, etc.
More EASY Chicken Recipes
If you enjoyed this recipe, I really hope you will take a moment to grab a few more easy recipes for another busy night! I have TONS of easy chicken recipes with rave reviews, that I hope you and your family will love!
Here are some favorites, or find all of my easy chicken recipes here: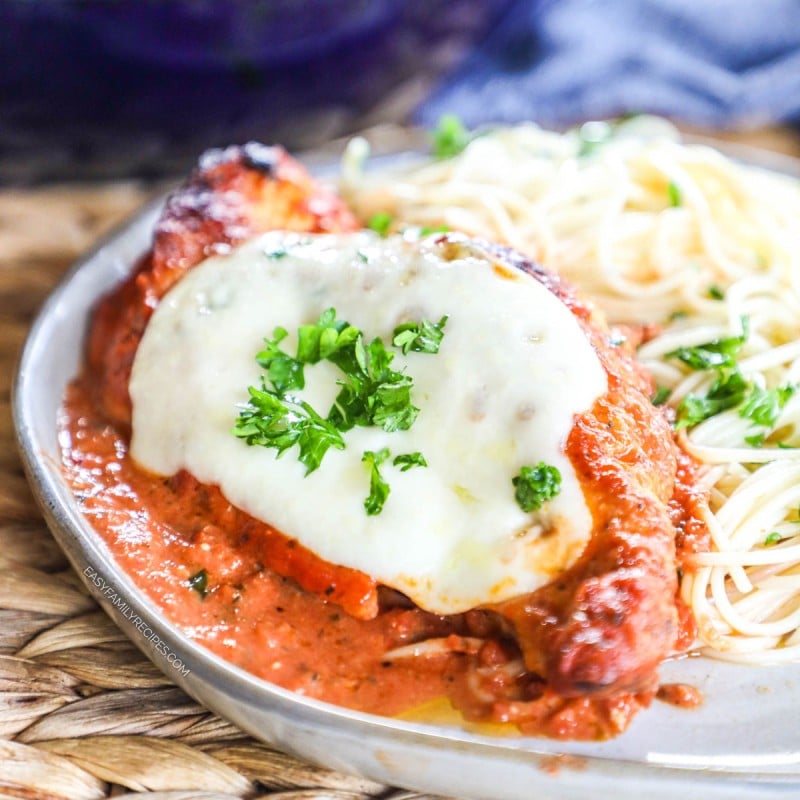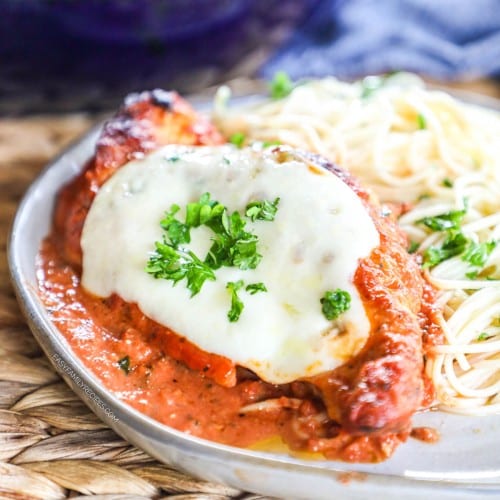 Mozzarella Chicken Skillet
This Easy Mozzarella Chicken is simmered in tomato sauce flavored with garlic and basil for a super flavorful and family friendly meal.
Ingredients
For the chicken
2

lbs

Boneless skinless chicken breasts

,

cut or pounded to thin cutlets

1/2

tsp

garlic powder

1/2

tsp

salt

1/2

tsp

pepper

1

tbsp

olive oil

4

oz

buffalo mozzarella

,

sliced
For the sauce
4

cloves

garlic

,

pressed

28

oz

crushed tomatoes

,

(1 can)

1

tbsp

Italian seasoning,

(dried)

1/2

tsp

salt

1/2

cup

heavy cream

1/4

cup

parmesan cheese

1/3

cup

fresh basil

,

chopped
Instructions
Mix the garlic powder, salt, and pepper together and season each side of each chicken breast with it evenly.

Heat oil in a large skillet over medium high heat. When oil is hot, place chicken breast in a single layer in the skillet. Cook chicken in batches if the skillet is too crowded.

Cook chicken 3-4 minutes on each side allowing it to brown before flipping. Then remove chicken from skillet and set aside.

Add garlic to the skillet and stir for 30 seconds to flash cook. Then pour the tomatoes over the garlic and add the Italian seasoning. Reduce heat to medium and allow to come to a simmer for 5 minutes, stirring and scraping the pan to release any bits from the bottom.

Add parmesan cheese and cream and stir to combine. Stir in fresh basil, then add the chicken back into the skillet and cover in sauce. Simmer for 3-5 more minutes or until everything is heated through.

Top each chicken breast with a slice of mozzarella and place in the oven on broil for 3-5 minutes, or until the cheese is melted and starts to bubble and brown.

Garnish with additional basil and serve hot over pasta or with roasted veggies.
Nutrition Information
Serving:
10
oz
,
Calories:
379
kcal
(19%)
,
Carbohydrates:
12
g
(4%)
,
Protein:
40
g
(80%)
,
Fat:
19
g
(29%)
,
Saturated Fat:
9
g
(56%)
,
Cholesterol:
141
mg
(47%)
,
Sodium:
890
mg
(39%)
,
Potassium:
993
mg
(28%)
,
Fiber:
3
g
(13%)
,
Sugar:
6
g
(7%)
,
Vitamin A:
1296
IU
(26%)
,
Vitamin C:
15
mg
(18%)
,
Calcium:
556
mg
(56%)
,
Iron:
3
mg
(17%)