Making a delicious family dinner is so EASY with recipes like this French Onion Pot Roast. Just 4 ingredients cook down low and slow to make a juicy, tender shredded beef that can be used in so many different ways. The sweetness of onion and rich beef combine to make flavors both kids and adults will love and it will only take you 10 minutes of hands on time to make.
French Onion Pot Roast – The EASY Way!
Pot roast is one of those well-loved, classic American comfort foods for a ton of great reasons. Making it in the slow cooker will make you love it even more! It's so easy to make, requires ZERO babysitting, and in the end you get a delicious, hearty, shredded beef.
It's a popular dinner go-to in our house. We love my tangy mississippu pot roast and veggie-loaded Tuscan pot roast, and are definitely adding this French onion pot roast to the list of favorites. It's loaded with that rich, beefy onion flavor but what makes this super special is that it only takes 4 ingredients to make. That's it!
Plus you can use it however you like! From sandwiches to tacos, or served simply with potatoes and carrots, there really is no wrong way to enjoy it. And since it's so easy to make, you can make it as often as you like.
Why I LOVE this recipe!
4 EASY Ingredients – Beef, onions, soup mix, and broth, that's really all you need!
Frugal and Flavorful – Pot roast is a great way to utilize the cheaper, tougher cuts of beef and transform them into something tasty.
Hands off Cooking – Set the Crock Pot and walk away! Go about your day and it'll be tender, juicy perfection at dinnertime.
SO Versatile! – Sandwiches, wraps, pizza, quesadillas, tacos, pot pie…the options on how to use your cooked French onion pot roast are endless.
What to Serve with French Onion Pot Roast
Since this slow cooker dish has the classic flavors of french onion soup mix, it will pair well with many of your favorite traditional side dishes. There are both classic options and some healthy options to keep it light.
Side Dish Ideas
You can choose one or add a few sides to make a wholesome, well rounded dinner.
Recipe Notes
This French onion pot roast Crock Pot recipe is as simple as promised! Just 4 ingredients and your slow cooker for a family friendly meal.
In this section I am going to go through a few tips and tricks I use when making this recipe to get the absolute best and most delicious results.
Make sure to scroll to the bottom for the FULL recipe card.
Ingredients + Substitutions
Beef Roast – We used a 3lb beef chuck roast, but you can use any roast you like instead.
French Onion Soup Mix – I love my homemade onion soup mix, but you can also use a store bought packet to save time.
Onions – Any of the cooking onions like white, yellow, or sweet varieties work great in this recipe.
Beef Broth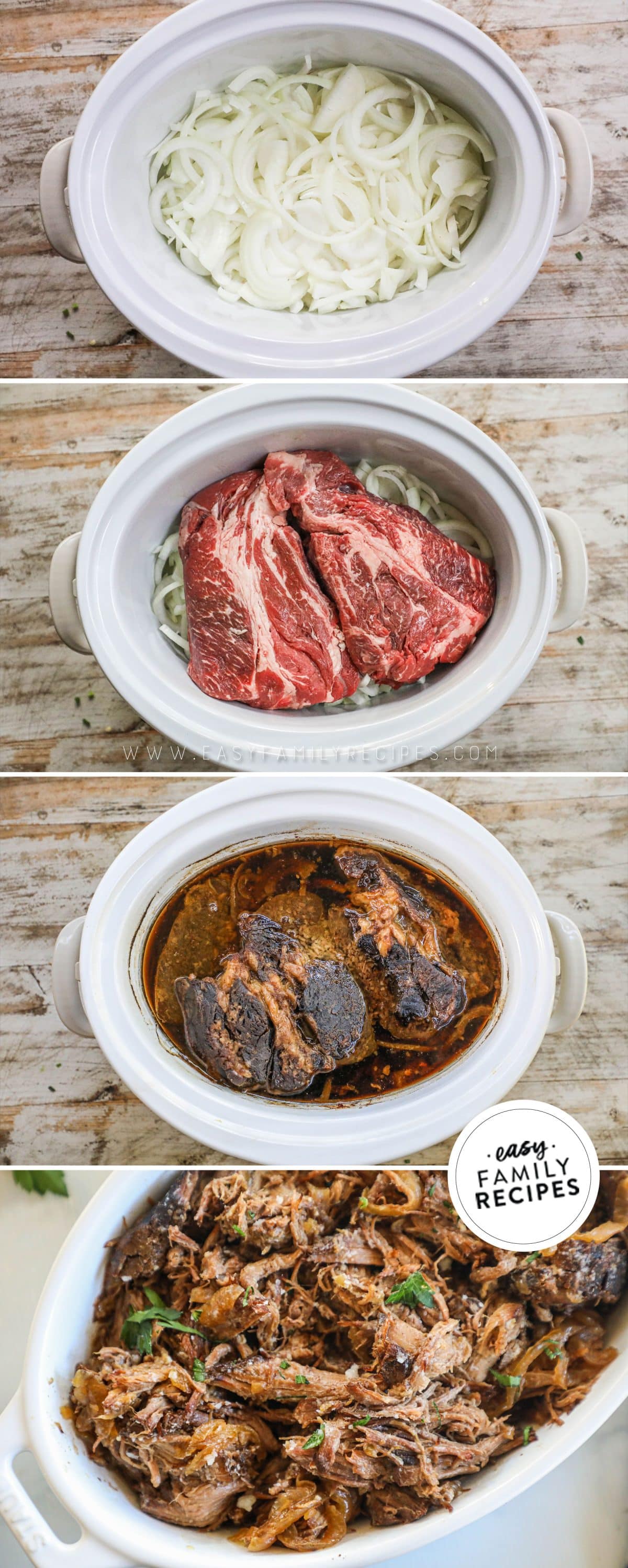 Recipe Tips
Choose the right cut – When it comes to making the perfect French onion pot roast in your slow cooker, the right cut matters. In this case, expensive is not the way to go! Save the prime rib for a different occasion and choose one the of the cheaper, tougher roasts for this. Chuck, brisket, sirloin tip, or bottom round roasts are all great choices.

The connective tissues in them that make them so tough are exactly what makes the PERFECT for this recipe. The long, low, and slow cook breaks those tissues down and they melt into something really succulent.

Slice the onions thin – For ease of eating I prefer to half my onions through the root and stem end and then slice them thinly into half circles. They'll mix right into the shredded beef so easily that way! It will seem like a LOT of onions, but trust me, they cook down so much that it ends up being the perfect amount, and adds a ton of flavor too.

Skip the trimming – Don't bother trimming fat from your roast ahead of time. Really! Save your time, energy, and effort and just plop your seasoned, untrimmed roast right into the Crock Pot. As it cooks all the fat will break down and flavor the meat. Any that's left is super easy to pluck right out while you shred it.

The longer the better – That tough cut of beef is going to turn into something magical over the hours it spends in the slow cooker. In this case, longer cook times will only make it that much better. It will be tender and ready to shred after 6 hours, but if you let it go 8, or 10, or my favorite, 12 hours, it will melt into something juicy and irresistible.
Recipe Short Cuts
If you need to make this recipe, but are extra short on time, here are a few ideas that can help make this recipe even faster!
Use store bought mix– A packet of French onion soup mix is super easy to rip open and season the beef with.

Cook overnight– If you're worried about getting to it, just cook it the night before! Let your French onion pot roast cook low and slow while you sleep and it'll be ready to shred and store in the morning. Then just reheat for dinner!

Cube the beef– You can reduce the cook time and still have tender, shredded pot roast by taking 5 extra minutes during the prep time to cube the roast. By starting with smaller pieces, they'll get tender that much faster.
Recipe Variations
If you love this recipe as much as we do and want some quick ways to change it up for variety, these little tips will do the trick!
French Onion Slow Cooker Pork Roast– Swap the chuck roast with a 3lb pork roast and rub with French onion soup mix. Add it to the Crock Pot with onions and chicken broth, then cook as directed.

Pot roast with French onion soup and Veggies– Add 1 lb of baby potatoes and 1 cup of baby carrots in with the onions before adding the beef roast. Cook as directed then remove the roast and scoop out the veggies. Return the shredded roast to the juices and onions and mix. Serve with the potatoes and carrots while hot.

Creamy French Onion Pot Roast– Cook the recipe as directed. Remove the beef and add 1 can of condensed soup like cream of mushroom, cream of onion, or beefy mushroom to the remaining liquid. Turn the heat up to high and stir. Shred the beef then return it to the hot mixture or serve it with a ladle of creamy liquid over the top.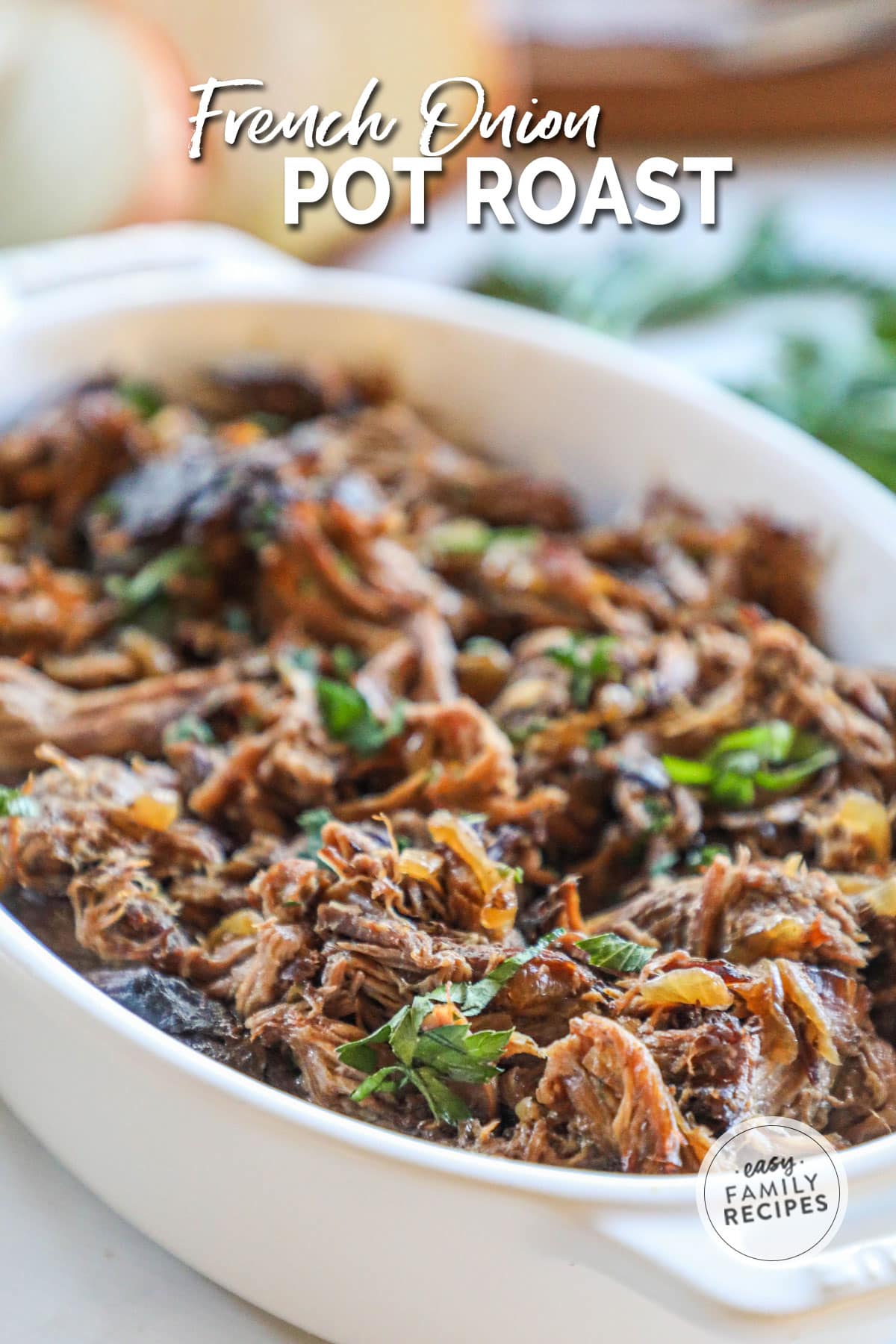 Freezer Meal Instructions
Making this French onion pot roast slow cooker recipe into a freezer meal is simple! Follow the steps below and you can store this recipe in the freezer for up to 6 months.
Season the beef and place in a freezer safe bag.
Slice the onions and add to the bag.
Freeze.
When ready to cook, thaw for 24-48 hours in the fridge.
Pour into the crock pot and add beef broth.
Cook on low for 6-12 hours.
French Onion Soup Pot Roast Leftovers
If you have leftovers after making pot roast with French onion soup mix, then it is your lucky day! They save and reheat well, and can make the start of another delicious dish.
To save leftovers, separate into meal sized portions and then place in an airtight container and store:
in the refrigerator for 3-4 days
in the freezer up to a month
Leftover Recipes
Here are a few ways to repurpose those leftovers and give them a delicious makeover!
French Onion Pot Roast French Dips– Layer the beef onto sandwich rolls with sliced provolone cheese on top. Place open faced into a 400°F oven for 5 minutes to melt and get hot while you make au jus or beef consume. Serve hot with a bowl of sauce to dip.
French Onion Pot Roast Quesadillas– Spread shredded white cheddar cheese over a large flour tortilla and add a layer of shredded pot roast over the top. Sprinkle with more cheese then add the second tortilla. Slide onto a baking sheet and bake at 350°F for 10 minutes, or into a hot frying pan, flipping once, until crisp outside and melted inside.
French Onion Pot Roast Baked Potatoes– Make a batch of Instant Pot baked potatoes while you reheat the beef. Split the potatoes and add a dab of butter and a sprinkle of black pepper. Layer in shredded white cheddar or provolone then add the hot beef on top to melt it. Serve immediately.
More EASY Slow Cooker Recipes
If you enjoyed this recipe, I really hope you will take a moment to grab a few more easy recipes for another busy night!
You can check out all of my easy dinner recipes here, or see a few of our readers favorite recipes below.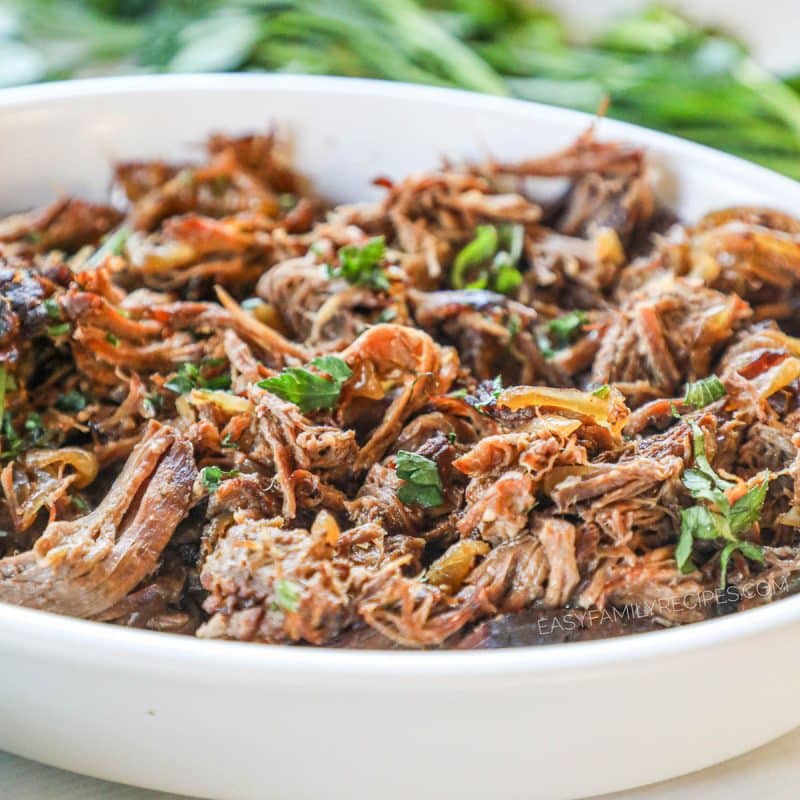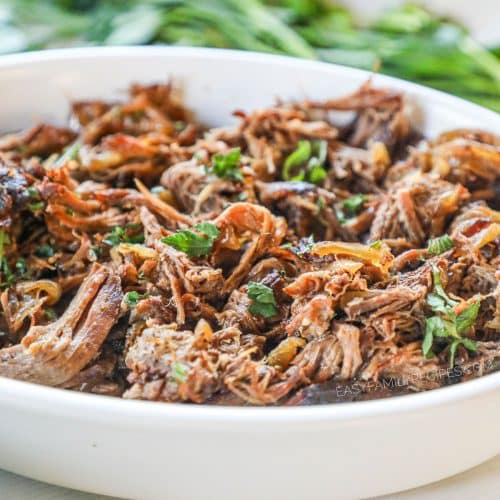 French Onion Pot Roast
This slow cooker pot roast recipe cooks for up to 12 hours and uses dry soup mix, onions, and broth to create a tender, shredded beef that can be used as a main course or as a filling for sandwiches, tacos, and more.
Ingredients
3

pound

chuck roast

1

envelope onion soup mix

1

cup

beef broth

3

medium onions

,

sliced
Instructions
Place sliced onions in the bottom of the slow cooker with the beef broth.

Rub chuck roast on all sides with onion soup mix and place on top of onions. If there is any additional soup mix pour over the top of the roast.

Cook on low for 6-12 hours.

Once done, shred the roast, removing any larger pieces of fat, and mix with the onions and broth.
Nutrition Information
Calories:
434
kcal
(22%)
,
Carbohydrates:
5
g
(2%)
,
Protein:
45
g
(90%)
,
Fat:
26
g
(40%)
,
Saturated Fat:
12
g
(75%)
,
Polyunsaturated Fat:
2
g
,
Monounsaturated Fat:
13
g
,
Trans Fat:
2
g
,
Cholesterol:
156
mg
(52%)
,
Sodium:
348
mg
(15%)
,
Potassium:
856
mg
(24%)
,
Fiber:
1
g
(4%)
,
Sugar:
2
g
(2%)
,
Vitamin A:
31
IU
(1%)
,
Vitamin C:
4
mg
(5%)
,
Calcium:
54
mg
(5%)
,
Iron:
5
mg
(28%)