These Ranch Chicken Bites are one of my family's ALL TIME Favorite recipes!  They are tender, delicious, easy to make and get devoured in no time!  The Ranch Chicken is made with a homemade blend of seasonings and cooked in a skillet so that the chicken stays perfectly tender on the inside and gets that perfect sear on the outside.  These Ranch Chicken Bites are the perfect easy chicken dinner and can be served on their own, or can be used to top salads, sandwiches, wraps, baked potatoes and more!  Read on for all of the details of this high protein, low carb, gluten free wonder meal.
Ranch Chicken Bites Recipe
I think one of the most exciting parts about being a food blogger is when I get to share real tried and true, absolute, without a doubt family favorites with you.  This recipe is one that we have been making for many years and will be making for as long as we need easy and delicious recipe (ie forever.) . If you follow me on Instagram you have probably even seen me making this in my stories as I do it often!
The best part of this Ranch Chicken recipe is the simplicity.  It is so incredibly simple, but still packed with so much flavor and just so delicious!  This is the recipe I turn to when I haven't really planned anything and all of a sudden it is dinnertime and something needs to appear on the table.
You grab 3 ingredients and a skillet and can bang this out in about 15 minutes flat.  My kids love these because they are like chicken nuggets.  We love them because they are super healthy and super delicious.
I also have been known to double or triple the recipe to keep these on hand for meal prep.  You can make so many awesome things from this chicken that I will share with you below.
So please, pretty please, go to the store, whip up a big batch of homemade ranch seasoning to keep on hand and make these tonight and then as often as possible after that!
As a bonus, not only is this Ranch Chicken recipe delicious, it is also gluten free, dairy free, low carb, and high protein so it is great for accommodating special dietary needs.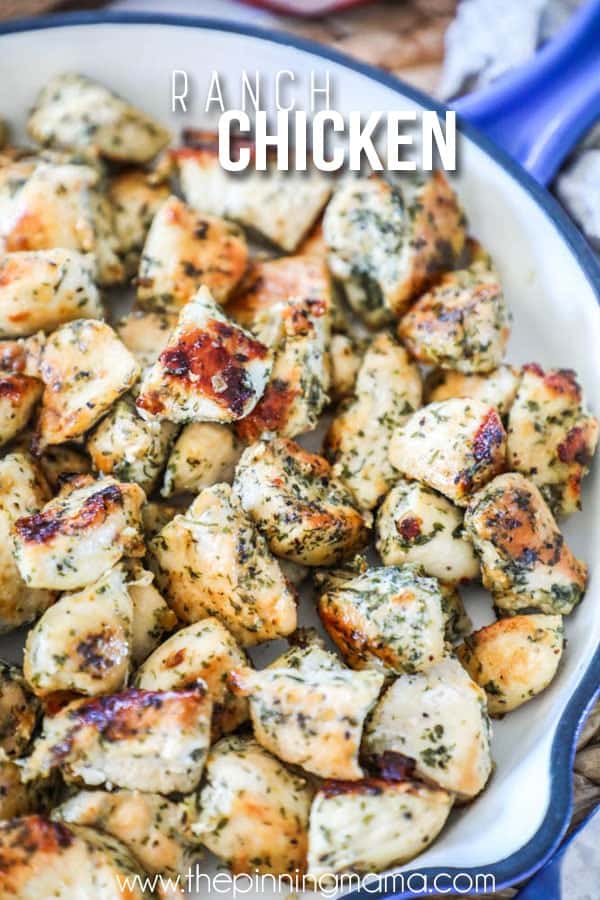 What to serve with Ranch Chicken
The beauty of this recipe is that it can go with just about ANYTHING!  So again, it makes the perfect throw it together quickly recipe because you can just work with what you have got.  Here are some of my favorite side ideas for inspiration.  There are both classic sides and some awesome low carb serving options.
Side dish ideas
Potatoes – You can do mashed potatoes, smashed potatoes (definitely try these if you have time), or even baked potatoes
Broccoli Slaw– We love this fresh side salad and even the kids will eat this one!
Pasta- Anything from pasta salad, to mac & cheese, to garlic butter pasta will work well as a side here
Rice, quinoa or your favorite grain
My favorite corn casserole recipe!
Low Carb Serving Ideas
Steamed broccoli- We always seem to have frozen broccoli in the freezer so this makes a great go to side for this meal.
Sautéed green beans– You can have this side made in 10 minutes and it is so delicious!!!
Salad- You can do a side salad or a big entree salad and pop the chicken right on top!
Roasted Cauliflower- Try my Ranch Parmesan Cauliflower or my Whole30 Roasted Cauliflower
You can choose one side, or pick a few for a well rounded meal.  Either way, there are tons of delicious options from simple to more elaborate so hopefully you will find something great.  If you like to serve this with something I missed, I would love for you to leave me a comment and let me know so I can try it out!  I am always looking for new ideas!
How to Make Ranch Chicken
This is a super simple recipe with only a few ingredients.  I am going to walk through a few tips and notes here to hopefully answer any questions that may come up while you are cooking.  There is a full recipe card with nutrition info at the bottom of this post.
Ranch Chicken Ingredients
2 lbs boneless, skinless chicken breast- This is about 3-4 average sized chicken breasts.  You can also use chicken tenderloins, chicken thighs, or other cuts of meat but the cook time may change.
2 tbsp homemade ranch seasoning– This homemade ranch seasoning really is the "secret sauce" to this recipe.  You could also try store bought ranch seasoning, but I find that making a big batch of the seasoning and keeping it on hand is totally the way to go!  You can use it for so many things from . veggies, to potatoes, to these chicken bites!
2 tbsp olive oil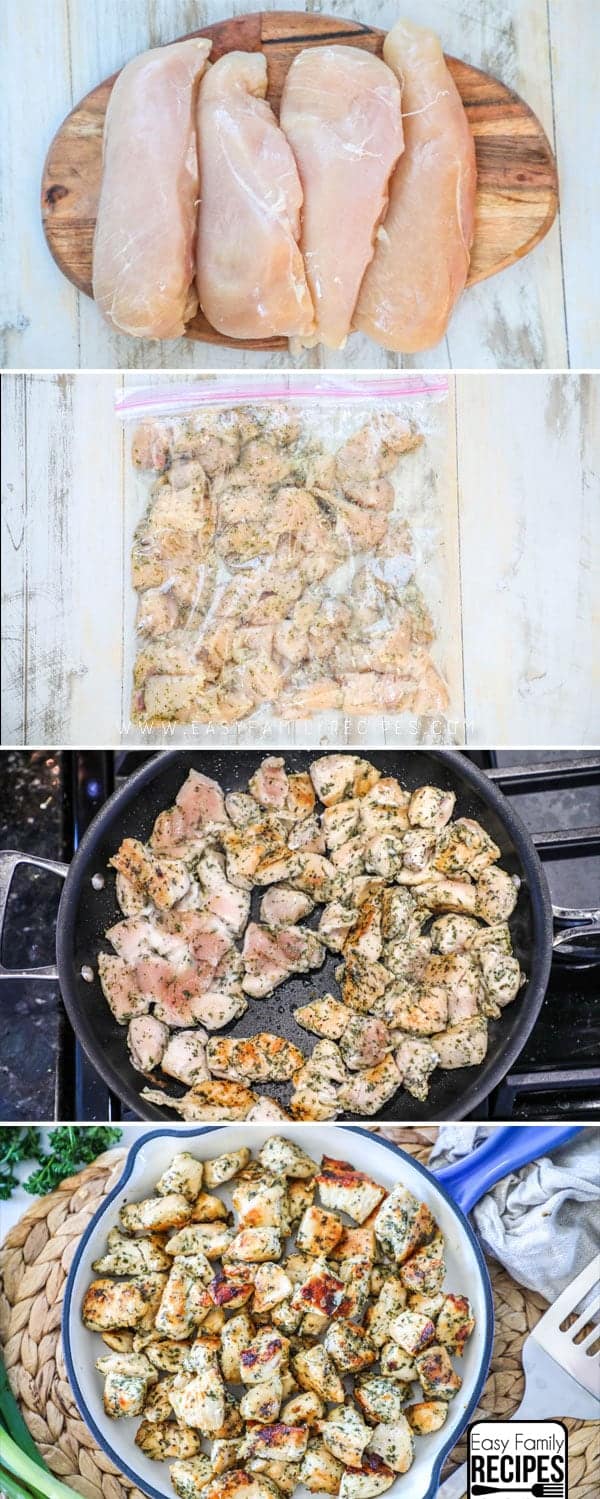 Ranch Chicken FAQ's
Q: Is this Ranch Chicken recipe gluten free, dairy free, low carb etc?
A: Yes!  This recipe is delicious and wholesome.  It is not only low carb, low fat, and high protein, but it also accommodates many special dietary needs such as gluten free and dairy free as long as you use the homemade ranch seasoning listed.
Q: Can I use other cuts of chicken?
A: Yes!  You can use other cuts of chicken and also can make this as whole chicken breasts instead of cutting into bites.  All will be delicious, but the cooking time will vary if you change the size or cut of the meat.  I prefer to do the bites because it helps it to cook so quickly.
Q: Can I freeze this Ranch Chicken Recipe?
A: Yes!  This recipe can be frozen before or after cooking.  You can combine the chicken with the seasoning and oil and then freeze, or cook the chicken and freeze leftovers to reheat and quickly use to make a meal.
Q: Can I double or triple this recipe?
A: You can easily double or triple the recipe by multiplying the ingredients by 2 or3, however you will still probably need to cook it in batches as it will get the best result when it is in a single flat layer in the pan.
What to do with Ranch Chicken Leftovers (And Meal Prep ideas!)
This Ranch Chicken not only makes a great easy dinner, but the leftovers also make some killer meals the second time around!
You can store leftover chicken in an airtight container:
In the refrigerator for 3-4 days
In the freezer for up to 1 month
When you are ready to make a meal, here are some of my favorite ideas!
Wraps and pitas- Layer this chicken in with a layer of hummus, some greens, tomatoes, and cheese.
Baked Potatoes- Pile this over a baked potato stuffed with butter, sour cream, cheese, drizzled with ranch and topped with bacon.
Salads- Make a basic salad or do something more fancy like a barbecue ranch chicken salad.  You can see how I used it with some Moore's Buffalo sauce in the picture below!
Grain bowls- Use rice, quinoa, cauliflower rice, or your favorite grain. Top with your choice of diced veggies, chicken and drizzle with ranch. One of our favorites!
Tacos- Use this as a filling in tacos!  Try adding some crumbled bacon, cheddar cheese and avocado then drizzling it with ranch.
Sandwiches- Pile up a sub with your favorite toppings or do something fancy like a twist on a BLT or a Chicken Bacon Avocado drizzled with ranch.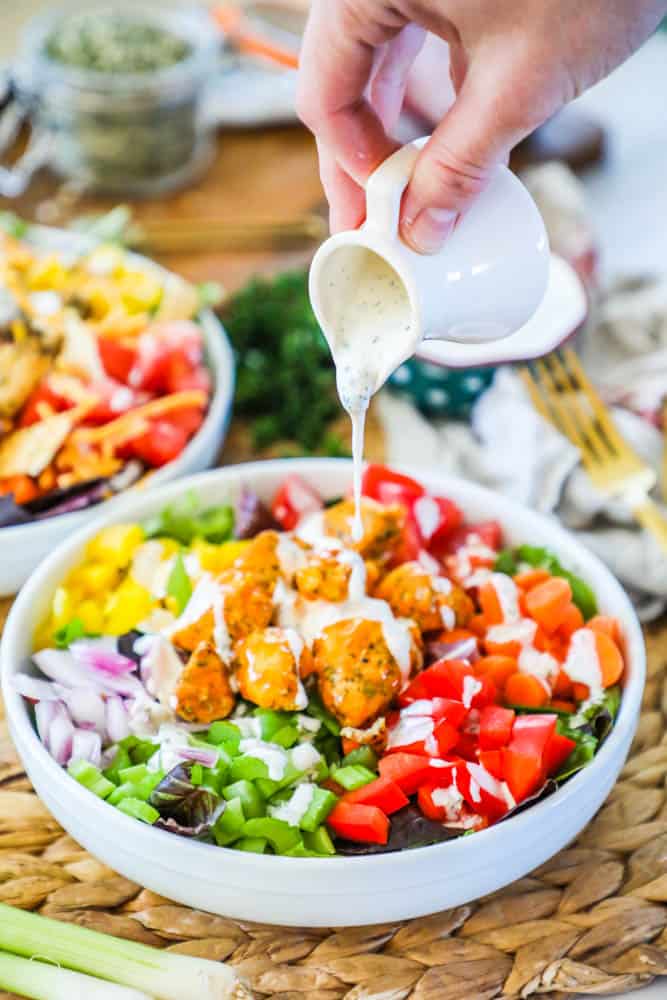 I really hope you come to love this recipe as much as my family does.  I could probably just put this on rotation through all the different ideas I shared and never make anything else and my family wouldn't even complain!
If you do get a chance to try it, I would love it if you let me know!  You can leave me a comment below, or if you post a picture on Instagram, make sure to tag me @easyfamilyrecipes so that I can see what you are cooking up! It makes my day to see others enjoying the recipes that I share!
Oh and before you go!… If you need a regular rotation of recipe inspiration like me, make sure to sign up to get our emails!  I send out my new favorites, the recipes my family has been devouring, and some of the best tried and true recipes.  It is easy and free of course!  You can click here to sign up or on the button below.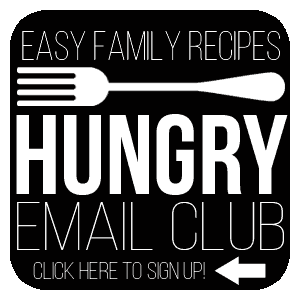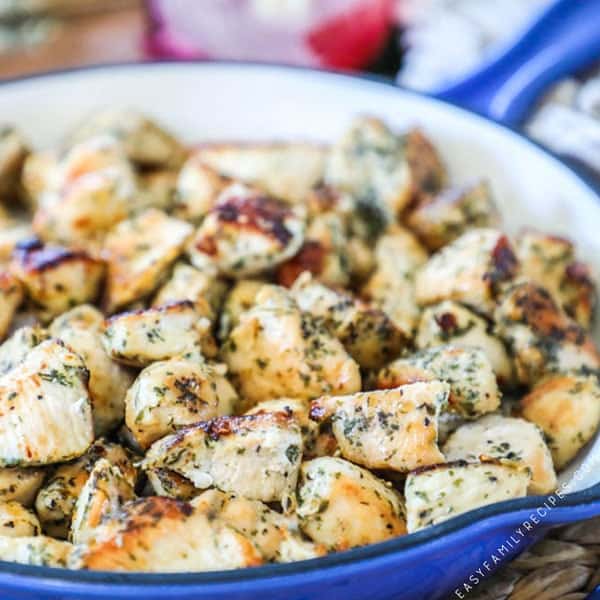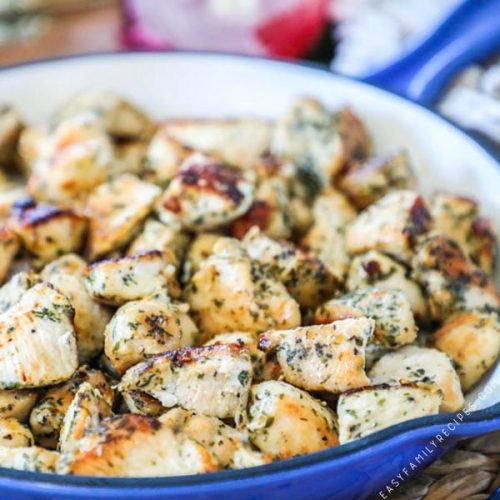 Ranch Chicken Bites
These Ranch Chicken Bites are a go to for an easy and delicious meal in our house. You can whip these up super quickly with only a handful of ingredients so they make a great last minute dinner. They are tender bites of chicken bursting with flavor and perfect for eating alone or using to meal prep wraps, sandwiches, baked potatoes, salads and more.
Instructions
Cut the chicken breast into 1-2″ chunks.  Put them in a container with 1 tbsp olive oil and 2 tbsp ranch seasoning.  Stir to coat with seasoning.  Let rest in the refrigerator for 10-15 minutes.

Heat remaining oil in a skillet over high heat.  Add the chicken and spread into a single flat layer.  Let cook 4-5 minutes without stirring or moving the chicken.  Then flip the pieces over and cook an additional 3-5 minutes or until the chicken is cooked through (165˚F internal temp)

Serve hot with your favorite sides. Enjoy!
Recipe Notes
You can also use chicken tenders, chicken thighs, or other cuts of meat, however the cook time may vary.
Store leftovers in an airtight container in the:

Refrigerator for 3-4 days
Freezer for up to a month
Dietary Considerations:
This recipe is naturally gluten free, low carb, and friendly for low carb and keto diets.
Nutrition facts provided based on my best estimation for the recipe and may not be accurate depending on what brands you use or modifications you make to the recipe.  I recommend using a nutrition calculator with the exact brands and measurements you use for the most accurate calculation.
©2018 Easy Family Recipes- Recipe found at: https://easyfamilyrecipes.com/ranch-chicken-bites/
For more great easy dinner inspiration, sign up for our emails here!
Nutrition Information
Serving:
0
.5 lb
,
Calories:
286
kcal
(14%)
,
Carbohydrates:
1
g
,
Protein:
44
g
(88%)
,
Fat:
13
g
(20%)
,
Saturated Fat:
2
g
(13%)
,
Polyunsaturated Fat:
8
g
,
Monounsaturated Fat:
0
g
,
Trans Fat:
0
g
,
Cholesterol:
110
mg
(37%)
,
Sodium:
464
mg
(20%)
,
Potassium:
0
mg
,
Fiber:
0
g
,
Sugar:
0
g
,
Vitamin A:
0
IU
,
Vitamin C:
0
mg
,
Calcium:
0
mg
,
Iron:
0
mg