A steakhouse quality steak is EASIER than you may think! This method for making steak in a cast iron skillet will give your steak the coveted flavor packed crust on the outside, while being perfectly tender and juicy on the inside. These cast iron strip steaks are finished with butter, garlic, and herbs for an amazing burst of flavor.
Cast Iron Steak – The EASY Way!
When you go to a high end steak house, you can get some of the the most flavorful, juicy, melt in your mouth tender prepared steak.
But what if I told you it was actually pretty easy to make the same thing at home?!
I have been working for about a year to perfect the EXACT method we think is best for making steak in a cast iron skillet at home. And after hundreds of pounds of beef, we decided we achieved perfection. It just doesn't get any better than this in our opinion.
The surprising part is just how EASY it is!
With just a cast iron pan, a steak, and a handful of everyday ingredients, you can make a knock-your-socks-off steak!
I'll show you just how we do it!
What to Serve with Steak
Before we start on the steak, make sure you have your whole menu planned. Since the steak cooks pretty quickly, planning ahead to make sure you have everything prepped is key in having a successful meal.
Since steak is such a classic dish, it will pair well with many of your favorite steakhouse side dishes. There are both classic options and some healthy options to keep it light.
Side Dish Ideas
You can choose one or add a few sides to make a wholesome, well rounded dinner.
Recipe Notes
This Cast Iron Strip Steak recipe is as simple as promised! Just a handful of ingredients and a few minutes for a family friendly meal.
In this section I am going to go through a few tips and tricks I use when making this recipe to get the absolute best and most delicious results.
Make sure to scroll to the bottom for the FULL recipe card.
Ingredients + Substitutions
Strip steaks– This time I used strip steak, but you can use any cut of steak for this method. It works really well with filet mignon, ribeye, and even t-bone steak.
Olive oil– This helps to create the flavor-packed crust on the steak
Butter– This gives more dimension and complexity to how the flavor develops on the outside of the steak.
Salt and pepper– The general rule of thumb is to use 1 teaspoon of salt per pound of meat- so 2 pounds of meat would be 2 teaspoons of salt or half a pound of meat is half a teaspoon of salt. (more on that below!)
Fresh thyme– The thyme is optional, so if you find yourself fresh out, don't worry. I highly recommend it though because just a small bit really compliments the flavor!
Fresh garlic– I love the taste and ultra creamy texture of roasted garlic and this brings that perfect compliment nestled right on top of the perfectly cooked steak.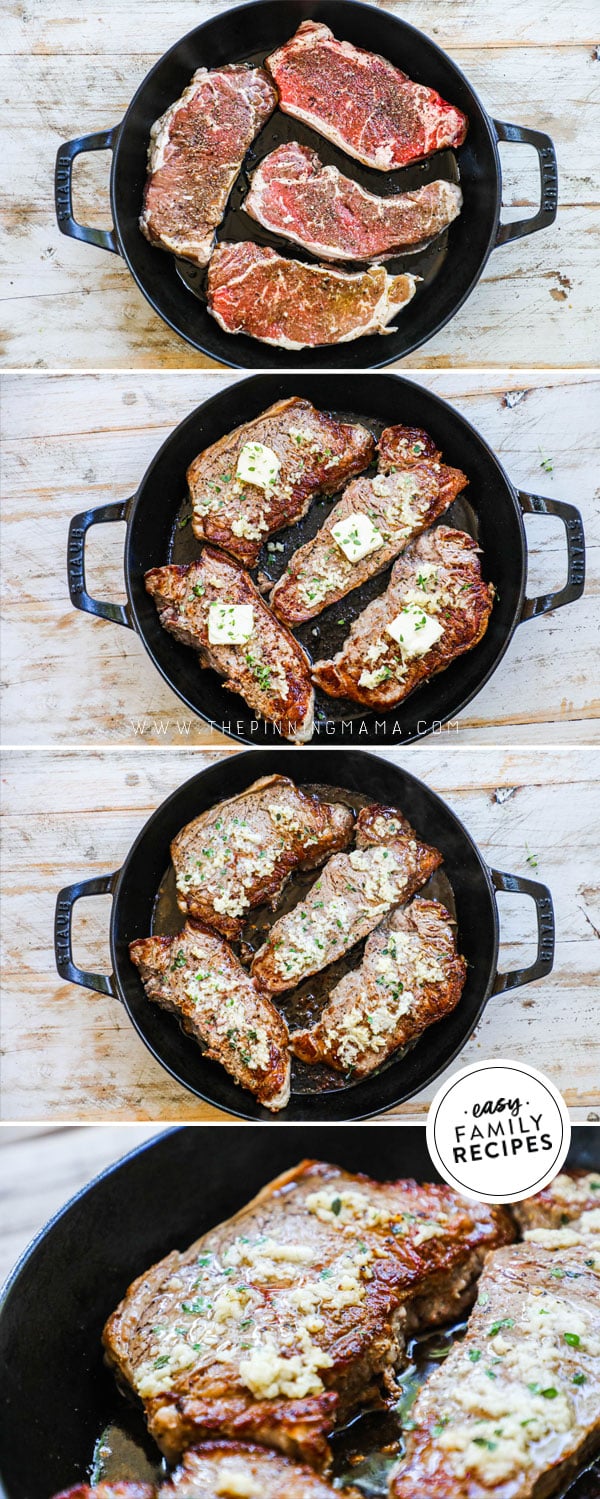 How to pick the perfect steak
Steaks can be good in many different cuts, bone in, or not, or different grades. The following make the biggest difference in finding a steak that will offer the most flavor.
Cut– The most tender steaks will be cut from the loin, You can get other cuts, and they can still have great flavor, but they will not be as naturally tender as these common cuts. Those cuts are:

ribeye
tenderloin
strip
t-bone


Grade- The grade of the beef denotes the tenderness and marbling found in the meat. There are 3 commonly found grades of beef in normal supermarkets in order of quality (and price):

Prime
Choice
Select
Choice and select are the most common, but grocery stores are increasingly carrying prime grade meat, so if you don't see it, ask!
Marbling– The grade of beef largely indicates the amount of marbling in the steak, but if you are looking at a few options on the shelf, always go with the one that has the most even marbling throughout the meat. The reason marbling is so important is:

Juicy– As meat cooks, the fat will slowly melt, adding juiciness built right into the meat. If the fat is only on the outside, it melts away instead of enhancing the moisture within the meat.
Flavor– Fat is what flavors the meat. When you think of the rich beefy flavor of steak, that flavor is created by the fat.
If they fat is marbled throughout the meat, you are weaving flavor intricately into every bite. The more evenly spiderwebbed the fat is in the meat, the more incorporated flavor the steak will have.

Size– The last REALLY IMPORTANT factor to getting a great steak, is the thickness of the cut.

The perfect thickness of the cut is 1.5-2 inches thick.

Cut too thin, it can be hard to get the outside done before the inside is over-cooked. You will have better results cooking one larger steak to feed two people than two steaks that are too thin.
Method
Season – The seasoning plays double duty in giving the the steak flavor as well as helping to make the outside get a perfectly seared crust. You want to season the steak with salt and pepper a give yourself at least 30 minutes, but up to 12 hours.

For those of you who like the science of it all, the salt will draw moisture out of the steak and make its own brine which is then reabsorbed. The process helps the lean muscle proteins to break down making the steak more tender and juicy.

Sear– Getting a good sear on the outside of your steak is crucial for flavor. To get the best sear you need two things:

A HOT cast iron pan- Make sure that both the pan and oil you are cooking the steak in are hot before you start to cook the steak. I generally like to heat the pan first then add the oil (this will heat very quickly) and then the steak. This makes it more fool proof!
Dry outside of your steak- If needed you can pat the outside dry with a paper towel, but if it has been sitting salted and uncovered in the fridge, it should be dry enough.


Flavor– This alone will get you a steak that is good enough to devour, however we like to add just a little bit more to take the steak to the next level. We use butter, garlic, and thyme to achieve this! If you are a purest, you can leave out the garlic and thyme (you shouldn't because it is delicious… but you can,) but the butter really is essential to the flavor and browning of the meat!

Rest– Allow your steak to rest after cooking. This is another thing that really is science in the works! Basically, when the steak cooks, the juices are squeezed from the outside and concentrate in the center. If you cut it right away, these just run out on your plate.
By allowing the steak to rest, it will 1. allow the juices to redistribute and 2. allow them to slighly thicken as they start to cool, which results in more juiciness staying in your meat and less on your plate!
Dietary Considerations
If you have special dietary needs, this recipe meets some and can be easily modified to comply with others.
As always, check all store bought ingredients for compliance on specific dietary needs. The notes below are a general guide.
Gluten free: This recipe is naturally gluten free.
Dairy free: This recipe can be dairy free if the butter is omitted.
Nut free: This recipe is naturally nut free
Egg free: This recipe is naturally egg free
Low carb/Keto: This recipe is low carb at only 1g net carb per serving.
Macros: The approximate macro calculation for this recipe is- P: 47g C: 2g F: 43g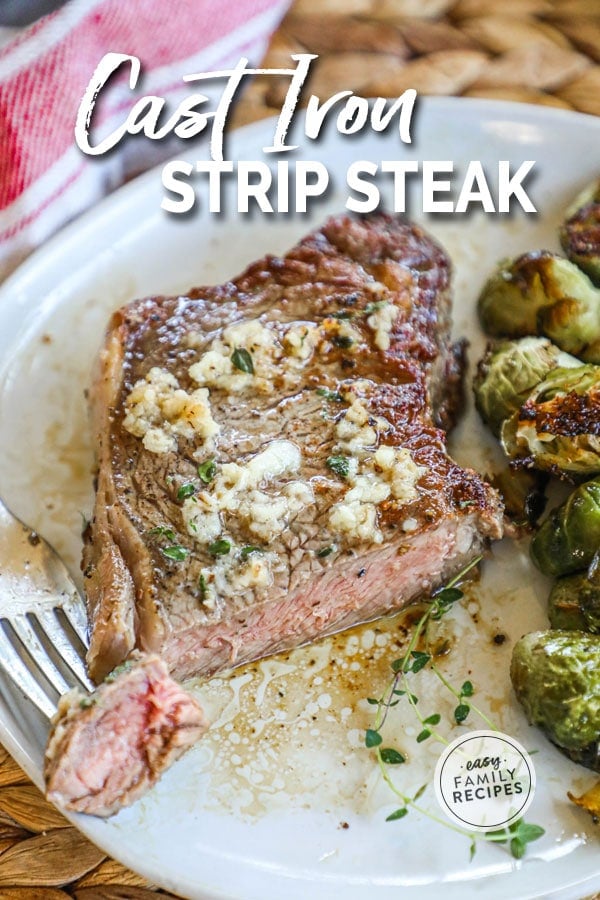 Cast Iron Steak Leftovers
If you have leftovers after making Garlic Butter Steak, then it is your lucky day! They save and reheat well, and can make the start of another delicious dish.
To save leftovers, separate into meal sized portions and then place in an airtight container and store:
in the refrigerator for 3-4 days
in the freezer up to a month
Leftover Recipes
Here are a few ways to repurpose those leftovers and give them a delicious makeover!
Steak Fried Rice– This is a quick and easy meal and such a family pleaser!
Sliced Steak Salad– Top chopped romaine and arugula with leftover steak that has been thinly sliced. Add your choice of cherry tomatoes, sliced onions, avocado, cucumber, and blue cheese. Dress with balsamic salad dressing.
Steak Caesar Wraps– In a large flatbread or tortilla add sliced steak, romaine lettuce, parmesan cheese, and caesar dressing. For extra protein you can also add hard boiled egg. Wrap and enjoy!
More Easy Steak Recipes
If you enjoyed this recipe, I really hope you will take a moment to grab a few more easy recipes for another busy night!
You can check out all of my Easy dinner recipes here, or see a few of our readers favorite steak recipes below.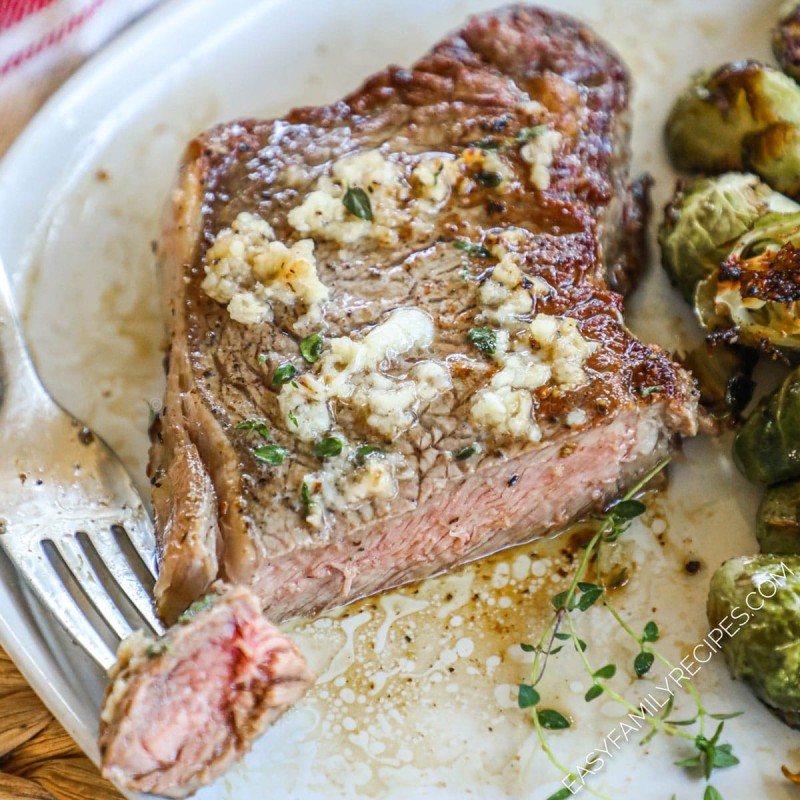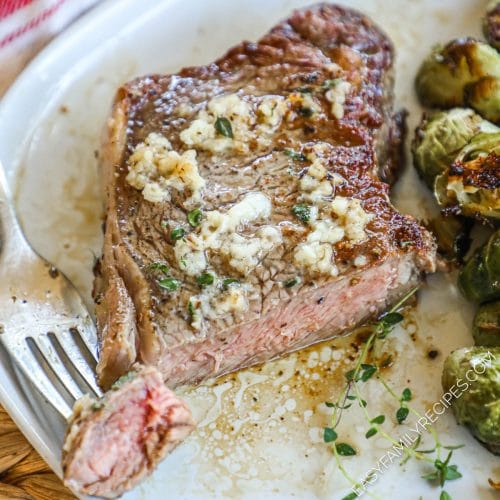 Cast Iron Strip Steak with Garlic Butter
This is BEST and easiest way to make a perfectly cooked steak that will rival your favorite steakhouse. Seared in a cast iron and seasoned with garlic and butter, this steak will knock your socks off with flavor and is unbelievably simple to make!!
Ingredients
4

strip steaks

,

cut 1-1.5 in thick

3

tbsp

olive oil

,

or more if using an extra large skillet

2

tbsp

butter

2-3

tsp

kosher salt

2

tsp

freshly ground pepper

1

tbsp

fresh thyme

4

cloves

fresh garlic
Instructions
At least 40 minutes, and up to 2 hours, before cooking, season each steak evenly on all sides with the salt and pepper and refrigerate, uncovered, until time to cook.

Heat the pan over medium high to high heat until hot, then add the oil.

Add steak to the hot skillet and let cook 3-4 minutes on the first side without touching it.

Then flip each steak and turn the heat to low. Spread the crushed garlic on the top of each steak (cooked side) and top with a pat of butter and fresh thyme.

Cover the pan with a lid and cook 5-10 more minutes until it reaches your desired level of doneness measured by temperature (see chart below.) Before removing from the heat, spoon the melted butter from the pan back over the top of the steak

Remove from heat, cover with foil, and allow to rest for 15 minutes before serving.
Equipment
Large cast iron skillet with lid
Recipe Notes
| Doneness |  Temperature | Center Color |
| --- | --- | --- |
| Medium Rare | 130-135 °F | Pink |
| Medium | 135-145 °F | Some Pink |
| Well | 145-155 °F | Sliver of Light Pink |
| Well Done | 155-165 °F | Mostly Brown |
Nutrition Information
Serving:
1
steak
,
Calories:
596
kcal
(30%)
,
Carbohydrates:
2
g
(1%)
,
Protein:
47
g
(94%)
,
Fat:
43
g
(66%)
,
Saturated Fat:
18
g
(113%)
,
Cholesterol:
196
mg
(65%)
,
Sodium:
1331
mg
(58%)
,
Potassium:
743
mg
(21%)
,
Fiber:
1
g
(4%)
,
Sugar:
1
g
(1%)
,
Vitamin A:
258
IU
(5%)
,
Vitamin C:
4
mg
(5%)
,
Calcium:
69
mg
(7%)
,
Iron:
4
mg
(22%)