These Oven Roasted Cajun Veggies are the best combo of DELICIOUS + EASY + HEALTHY! Loaded with flavor, the vegetables are perfectly seasoned with cajun seasoning for a balance of tastiness with a kick.
Oven Roasted Vegetables – The EASY Way!
When you get the coveted combo of easy, healthy, and delicious, you know the recipe is going to be a keeper for years to come.
These Cajun Roasted Veggies are almost TOO easy! With only 3 basic steps and a handful of ingredients this side dish can be on the table in no time.
One of my favorite parts about making vegetables this way is that they cook hands off so I can do the last minute prep on my main dish or get the table set. It is an easy way to have your main dish and side dish perfectly timed to be ready together.
What to Serve with Cajun Veggies
Since this dish has the classic cajun flavors, it will pair well with many of your favorite Cajun dishes, but also some everyday American favorites. There are both classic options and some healthy options to keep it light.
Cajun Main Dishes
Other Entree Ideas
Any of these will make a wonderful, well rounded and wholesome dinner when paired with these delicious Cajun Veggies.
Recipe Notes
This Roasted Vegetable recipe is as simple as promised! Just a handful of vegetables and for a family friendly meal.
In this section I am going to go through a few tips and tricks I use when making this recipe to get the absolute best and most delicious results.
***Make sure to scroll to the bottom for the FULL recipe card.***
Ingredients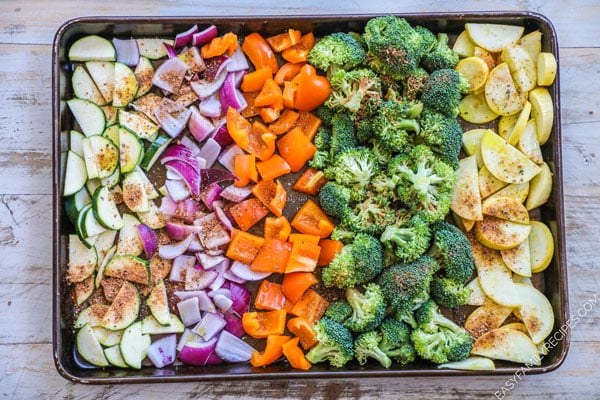 To make this recipe you only need a handful of ingredients. I use a combination of 5 vegetables, oil, and seasoning.
You can take a lot of liberty with which veggies you use. You can use everything I used, omit a few and use more of others, or add some favorites not pictured here.
Zucchini
Squash
Onion
Bell Pepper
Broccoli
Cajun Seasoning
Olive Oil
Other vegetables that work well in this recipe are mushrooms, cauliflower, asparagus, eggplant, and thinly sliced brussels sprouts.
Vegetables that are very hard or dense like potatoes or carrots take longer to cook won't work well in this recipe.
Recipe Tips
With a recipe so simple, there are only a couple tips that really work to make this recipe extra delicious.
Size the vegetables right. Make sure you cut the veggies to size based on how quickly they cook. For example squash and zucchini cook more quickly, so to avoid them becoming a squishy mess, you have to cut them thicker. I recommend quartering them and cutting into chunks, or cutting the slices more than 1/4″ thick.

In the same light, the vegetables that take longer to cook like broccoli, need to be cut smaller so that they can cook through in the time allotted.

Distribute the seasoning evenly. It is easiest to first toss the vegetables with oil, then sprinkle seasoning evenly over them and toss to coat. The seasoning will only stick when they have the oil on them so doing the oil first helps the seasoning to distribute more evenly.

Use homemade cajun seasoning. You can use homemade or store bought seasoning in this recipe. While both will produce a delicious outcome, I HIGHLY recommend using THIS homemade cajun seasoning.

It only takes minutes to make and has so much delicious flavor! It also can be stored for up to a year so it is handy to use any time you want to make these vegetables. By making it from scratch you control the flavor and don't add any fillers or extras that aren't needed. This can be especially important if you have special dietary needs (more on that below.)
How long to Roast Vegetables in the Oven
This recipe bakes the vegetables in an oven preheated to 425˚F.
At this temperature, we suggest roasting the vegetables between 15-20 minutes. 15 minutes will produce a more firm vegetable and 20 a softer vegetable.
If you want more char on your vegetables, you can bake them at 450˚F for 13-18 minutes.
Recipe Short Cuts
If you need to make this recipe, but are extra short on time, here are a few ideas that can help make this recipe even faster!
Pre-chop your veggies– You can either chop them up to 48 hours in advance and store them in the refrigerator, or buy vegetables pre-chopped in the produce section of the store.
Prep the recipe in advance– You can make this completely by chopping the vegetables and mixing them with the seasoning and oil and storing in the refrigerator up to 12 hours in advance. When ready to cook, spread them on the baking sheet and bake as directed. You may need too add up to 5 minutes to the cook time when they come directly out of the refrigerator.
Use frozen if needed– You can use some frozen vegetables in place of fresh if you are in a pinch. Frozen broccoli, and cauliflower work really well. Peppers and onions work okay, but tend to be more limp than fresh after cooking, and squash and zucchini don't work well from frozen.
Recipe Variations
If you love this recipe as much as we do and want some quick ways to change it up for variety, these little changes will do the trick!
Cajun Garlic Roasted Vegetables– After you toss the veggies with the oil, add 2 cloves of crushed or pressed garlic and mix in with the seasoning then bake as directed. This will add a delicious roasted garlic flavor.
Parmesan Cajun Veggies– Follow the recipe as directed. Once you place the vegetables on the baking sheet, sprinkle shredded parmesan cheese evenly over the top of the vegetables. Bake as directed.
Cajun Lime Veggies– Follow the recipe as directed. When you mix the oil into the chopped vegetables also add the juice from half of a lime. Then toss with the cajun seasoning and bake as directed.
Dietary Considerations
If you have special dietary needs, this recipe works wonderfully to comply with many requirements when made with my homemade Cajun Seasoning.
The notes below may not be true if you choose a store bought seasoning and will need to be checked individually.
As always, check all store bought ingredients for compliance on specific dietary needs. The notes below are a general guide.
Gluten free: This recipe is naturally gluten free.
Dairy free: This recipe is naturally dairy free.
Nut free: This recipe is naturally nut free
Egg free: This recipe is naturally egg free
Low carb/Keto: This recipe is low carb and keto friendly at only 5g net carbs. To further reduce the carb count, you can omit the onions and use additional zucchini.
Macros: The approximate macro calculation for this recipe is- P: 2g C: 8g F: 3g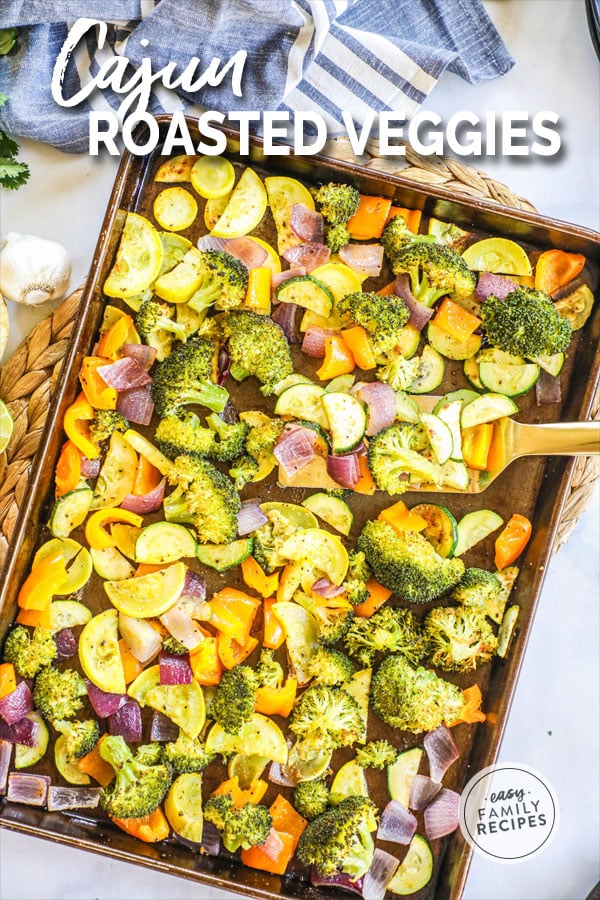 Cajun Roasted Veggie Leftovers
If you have leftovers after making these Cajun Roasted Veggies, then it is your lucky day! They save and reheat well, and can make the start of another delicious dish.
To save leftovers, separate into meal sized portions and then place in an airtight container and store:
in the refrigerator for 4-5 days
in the freezer up to a month
Leftover Recipes
Here are a few ways to repurpose those leftovers and give them a delicious makeover!
Cajun Roasted Veggie Salad– Add a scoop of roasted vegetables on top of a bed of mixed greens. Add parmesan cheese and grilled chicken if desired. Dress with ranch dressing or Italian dressing and add croutons.
Cajun Roasted Vegetable Pasta– Make pasta as directed on the box. Drizzle with olive oil and toss with roasted vegetables and parmesan cheese. Sprinkle extra seasoning if you want a stronger flavor. Alternately, you can make this homemade alfredo sauce and toss the pasta and veggies with it.
Cajun Roasted Veggie Panini– Butter the outside of two slices of french bread. Mix a tablespoon of mayonnaise with 1/4 tsp cajun seasoning. On the inside, spread each slice with cajun mayo. Add cajun veggies, mozzarella cheese, and grilled chicken (optional) then press in a panini press until golden on each side. You can also grill on medium heat in a skillet on each side until golden.
More Easy Sides
If you enjoyed this recipe, I really hope you will take a moment to grab a few more easy recipes for another busy night!
You can check out all of my easy side dish recipes here, or see a few of our readers favorite recipes below.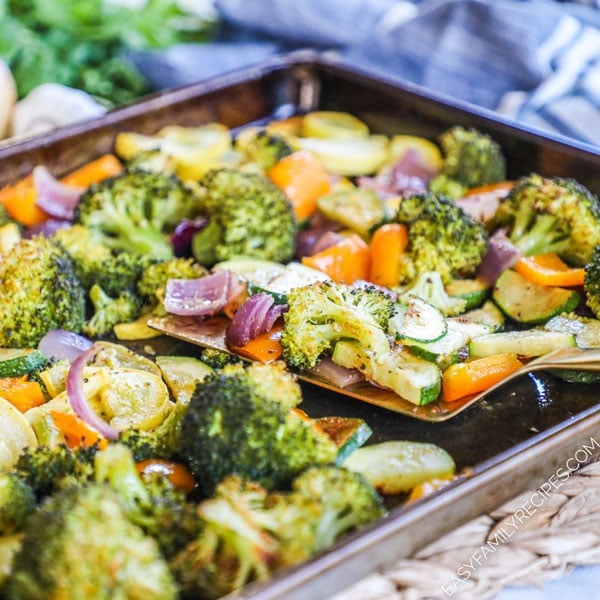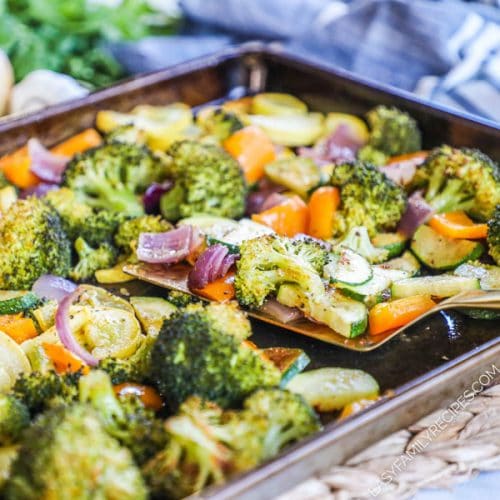 Cajun Oven Roasted Vegetables
These Cajun Roasted Veggies are full of flavor with a little kick! They are perfect to serve as a side dish with grilled meats, or traditional Creole dishes, they also can be added into pastas, salads and more!
Ingredients
1

red onion

,

roughly diced

1

bell pepper

,

red, yellow or orange, roughly diced

½

lb

fresh broccoli

,

cut into small florets

½

lb

yellow squash

,

cut into 1/4 in slices

½

lb

zucchini squash

,

cut into 1/4 in slices

1

tbsp

olive oil

1

tbsp

cajun seasoning
Instructions
Chop vegetables and place on a large baking sheet in a single layer.

Drizzle olive oil over veggies and toss to coat. Sprinkle the cajun seasoning evenly. Toss veggies until evenly coated with oil and seasoning.

Bake at 425˚F for 15-18 minutes or until vegetables are tender.

Remove from oven and serve warm. Enjoy!
Recipe Notes
Other vegetables that can be used in this recipe include:
Cauliflower
Thinly sliced brussels sprouts
Mushrooms
Eggplant
Cabbage
Nutrition Information
Serving:
0.5
cup
,
Calories:
61
kcal
(3%)
,
Carbohydrates:
8
g
(3%)
,
Protein:
2
g
(4%)
,
Fat:
3
g
(5%)
,
Saturated Fat:
1
g
(6%)
,
Sodium:
18
mg
(1%)
,
Potassium:
394
mg
(11%)
,
Fiber:
3
g
(13%)
,
Sugar:
4
g
(4%)
,
Vitamin A:
1196
IU
(24%)
,
Vitamin C:
74
mg
(90%)
,
Calcium:
34
mg
(3%)
,
Iron:
1
mg
(6%)