When the family is in the mood for a classic, comfort food style of dinner, this easy, Crock Pot Southern Pot Roast is exactly what you need. Inexpensive chuck roast is rubbed with spices and cooked low and slow over a bed of carrots, potatoes, and onions to create a delicious and complete family meal all in one pot. You'll love how hands off this no-fuss dinner can be for any night of the week.
Southern Pot Roast – The EASY Way!
There's something about knowing you're having beef pot roast for dinner that always makes your stomach growl. It's a dish so many of us grew up with! The classic flavors of a 'meat and potatoes' style meal are always an easy win at dinner time. Well, this Southern Pot Roast recipe is the modern, busy family version, with all those essential flavors from grandma's classic kitchen still delivered!
If you want to serve up something comforting and wholesome, then this definitely checks those boxes. A big roast makes it ideal for anyone cooking for a large family, or for creating tasty leftovers that can become the base of another meal really easily. Plus, the sides cook right along with the beef! There's no need to dirty a single extra pan if you don't want to, beef and veggies will be ready to go after a day of effortless cooking in your slow cooker. Put your feet up parents, the perfect Sunday dinner is taken care of!
Why I LOVE this recipe!
A Complete Meal – Beef, potatoes, and carrots cook together the entire time, delivering tender veggies, juicy roast, and flavorful liquid to spoon over the top. Feel good serving it for dinner without having to add other sides or extra work.
Set it and Forget it – This is one of those fantastic, long cooking recipes. Let it go for up to 9 hours and have a flavorful dinner waiting when it's done.
Short Ingredient List – With just a handful of pantry spices, basic veggies, and a roast, this is a really easy meal to get cooking any day of the week, and it's pretty cheap!
Easy Clean Up – The slow cooker takes care of everything, so you'll just have that one pan to wash when all is said and done!
Versatile Leftovers – Nothing better than an inexpensive dinner that also creates lots of leftovers! Pot roast can easily be transformed into tons of tasty lunches or dinners throughout the week.
What to Serve with Southern Pot Roast
Since this slow cooker recipe has the classic flavors of beef pot roast, it will pair well with many of your favorite traditional side dishes. It already has veggies cooked right along with it, making it easy to finish the meal off with a simple side if you choose. There are both classic options and some healthy options to keep it light.
Side Dish Ideas
You can choose one or add a few sides to make a wholesome, well rounded dinner.
Recipe Notes
This pot roast recipe is as simple as promised! Just 10 minutes of prep for a family friendly meal.
In this section I am going to go through a few tips and tricks I use when making this recipe to get the absolute best and most delicious results.
Make sure to scroll to the bottom for the FULL recipe card.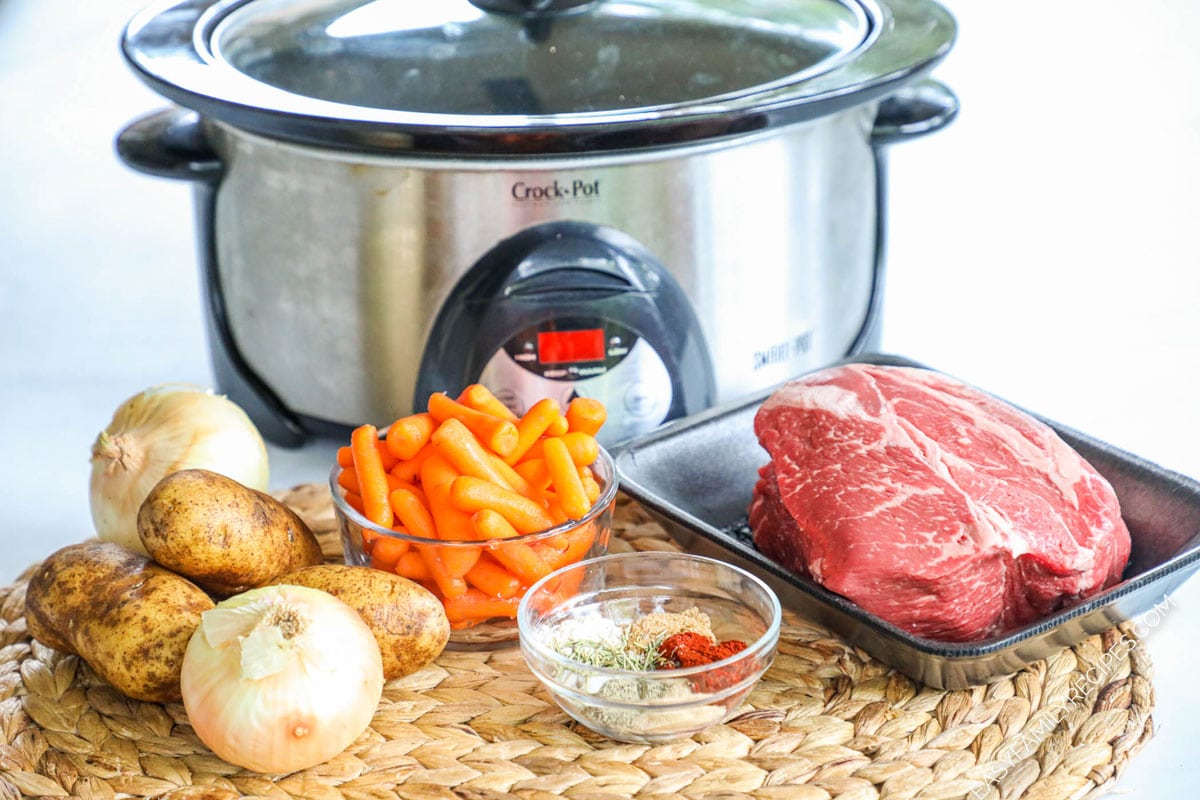 Ingredients + Substitutions
Beef Roast – We use classic chuck roast to make our southern pot roast recipe. It's tough cut that breaks down into tender pieces when cooked for a long time. That need for long roasting usually means it's a more inexpensive cut.

But there are other choices too. Beef brisket, top round, rump roast, or bottom round cuts can all work. Use what you have or can find and you'll have a really tasty meal!
Potatoes – We're using diced russet potatoes to layer on the bottom of the slow cooker. But any potato will work as long as they're cut into uniform, large chunks.
Carrots – Baby carrots make this effortless! Just toss them in and you're done. You could also use larger carrots too. Cut them into large rounds around the same size as your potato chunks, or into strips that are similar to a baby carrot.
Onions – I love yellow onion in recipes like this slow cooker pot roast. But any onions will work just as well. White, sweet, or even whole pearl onions would all be tasty too!
Pot Roast Seasoning Blend – The blend of seasonings and herbs we use to flavor the beef is a combination of salt, pepper, dried rosemary, smoked paprika, garlic and onion powder, and brown sugar. It's the PERFECT blend of sweet, salty, and savory.

These are all really easy ingredients to find anywhere, but if you need to swap something in last minute you can. Dried thyme or oregano would be really yummy in place of rosemary, regular paprika will work instead of smoked, and white sugar will even do in a pinch.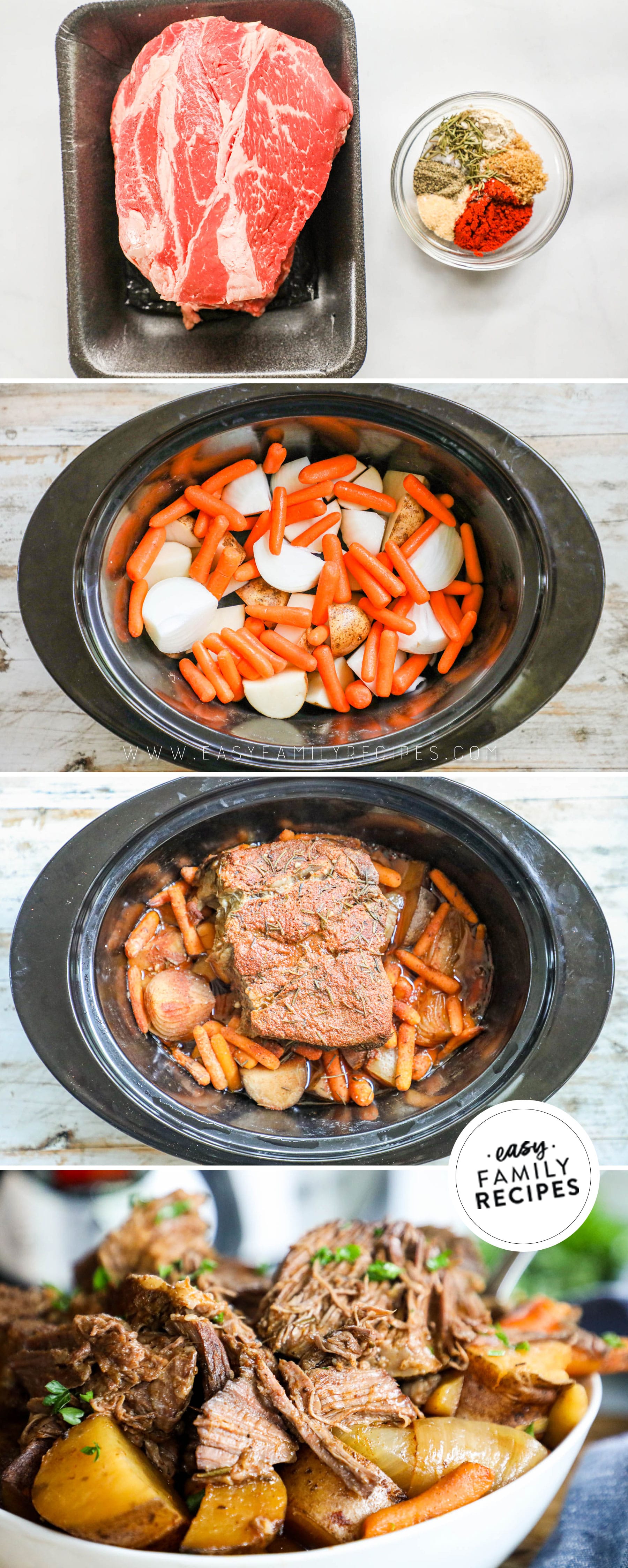 Recipe Tips
Don't Waste Time Trimming – There is absolutely no need to try and trim away any of the fat from your chuck roast before cooking. In fact, I implore you not to! All the fat is key for transforming it into a succulent beef pot roast. Once it's tender and falling apart, it will be easy to separate out any extra fat!
Add your Favorite Veggies – Southern pot roast with potatoes and carrots is classic for good reason, but don't let that stop you from making it perfect for YOUR family! Add other options like celery, sweet potato, turnips, rutabaga, or butternut squash for really yummy alternatives.
Low and Slow is Key – The best part about this slow cooker pot roast? The longer it cooks, the better it is! Start it in the morning and let it go for 9 long hours, and the roast will be all the better at dinnertime. I recommend a minimum of 6, but up to 9 if you can!
Don't Forget the Juices – Once you've pulled the falling apart, tender beef out and spooned the veggies into a serving bowl, you'll have a flavorful liquid left in the bottom of your slow cooker. I love to mix the beef back into it, or spoon it over the meal to add moisture and bonus flavor to dinner.
Recipe Short Cuts
If you need to make this recipe, but are extra short on time, here are a few ideas that can help make this recipe even faster!
Skip Dicing the Veggies– Take a cue from my decision to use baby carrots and skip chopping all together! Small baby potatoes can be swapped in for chunks of larger potatoes so you don't have to worry about dicing them.
Start with Beef Chunks– You can often find large chunks of beef roast, sometimes sold as beef stew meat, that will work in place of a larger roast. Toss the pieces with the same seasonings then arrange them over the top of your veggies. They'll cook and be tender in less time, but give you that classic beef pot roast result.
Let it Cook Overnight– If you know you have a busy day ahead, feel free to let this cook while you sleep the night before. In the morning you'll have an amazing pot roast dinner ready to store in the fridge so all you have to do is reheat and serve for dinner.
Recipe Variations
If you love this recipe as much as we do and want some quick ways to change it up for variety, these little tips will do the trick!
French Onion Pot Roast– Replace the carrots and potatoes with 2 extra onions. Slice the onions into strips instead of dicing them, and layer them on the bottom of the slow cooker. Cook the beef roast on top of the onions as directed in the recipe. When finished cooking, shred the beef, removing any fat, then return to the pot. Combine with the onions and juice and layer swiss cheese over the top. Cover and cook on high until cheese is melted, then serve.
Slow Cooker Pot Roast with Gravy– Make the recipe as directed. Remove the cooked roast, potatoes, onions, and carrots from the pan but leave all the liquid. Mix 1 1/2 tablespoons of cornstarch into 1 cup of cool beef broth until dissolved. Turn the Crock Pot onto high and whisk the cornstarch broth into the juices. Allow to thicken, stirring occasionally, then turn off the heat and serve the gravy over your beef pot roast and veggies.
Crock Pot Pork Pot Roast– Make the recipe as directed, but swap in an equal sized boneless pork roast such as pork butt, pork shoulder, or pork loin.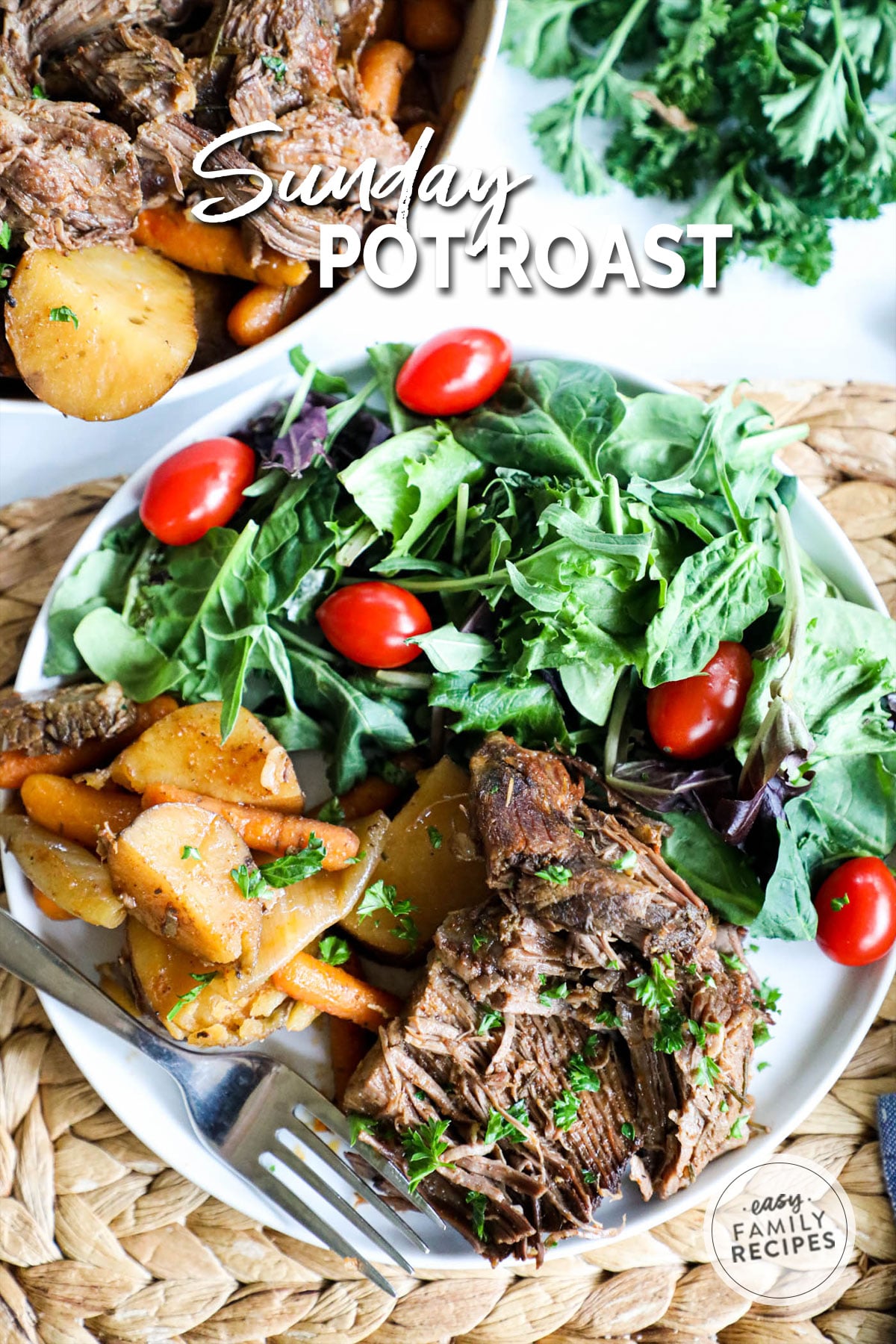 Freezer Meal Instructions
Making this slow cooker pot roast recipe into a freezer meal is simple! Follow the steps below and you can store this recipe in the freezer for up to 6 months.
Dice the potatoes and onions and place in a large freezer bag or container with the carrots.
Season the beef chuck roast with the spices and place it in with the veggies.
Freeze together.
When ready to cook, thaw in the refrigerator for 24-48 hours.
Cook as directed.
Southern Pot Roast Leftovers
If you have leftovers after making beef roast in the crock pot, then it is your lucky day! They save and reheat well, and can make the start of another delicious dish.
To save leftovers, separate into meal sized portions and then place in an airtight container and store:
in the refrigerator for 3-4 days
in the freezer up to a month
Leftover Recipes
Here are a few ways to repurpose those leftovers and give them a delicious makeover!
Southern Pot Roast French Dips– Shred the leftover beef pot roast and heat it gently in a pan. Arrange swiss cheese over the top to melt, then portion onto sliced rolls with caramelized onions. Serve with au jus dipping sauce.
Beef Pot Roast Baked Tacos– Arrange crunchy taco shells in a casserole dish so they're standing up. Fill with shredded leftover pot roast and top with shredded cheddar cheese. Bake for 8-10 minutes at 375°F until the cheese is melted and shells are crispy. Remove and add your toppings of choice like tomatoes, lettuce, sour cream, pico de gallo, or gaucamole. Check out my recipe for Baked Chicken Tacos for more inspiration.
Southern Pot Roast Crustless Pot Pie– Make a beef rendition of my super easy crustless chicken pot pie with leftover pot roast. Combine 1 cup of chopped celery in a large skillet with 1 tablespoon of butter. When tender, sprinkle with 1/4 cup of flour and stir until golden brown. Stir in 2 cups of beef broth until the flour is dissolved. Next, stir in 1/2 cup of heavy cream and bring to a simmer. Add in leftover potatoes, carrots, and beef roast and simmer until thickened, about 5 minutes. Toast 1 cup of panko bread crumbs in a separate skillet with 2 tablespoons of melted butter and 1/2 teaspoon of garlic powder, then spread over the thickened beef filling and serve.
More Crock Pot Recipes
If you enjoyed this recipe, I really hope you will take a moment to grab a few more easy recipes for another busy night!
You can check out all of my easy dinner recipes here, or see a few of our readers favorite recipes below.
Hungry for more family-friendly recipes? Sign up for my free recipe club to get new family-friendly recipes in your inbox each week! Find me sharing daily meal-time inspiration on Pinterest, Instagram, and TikTok.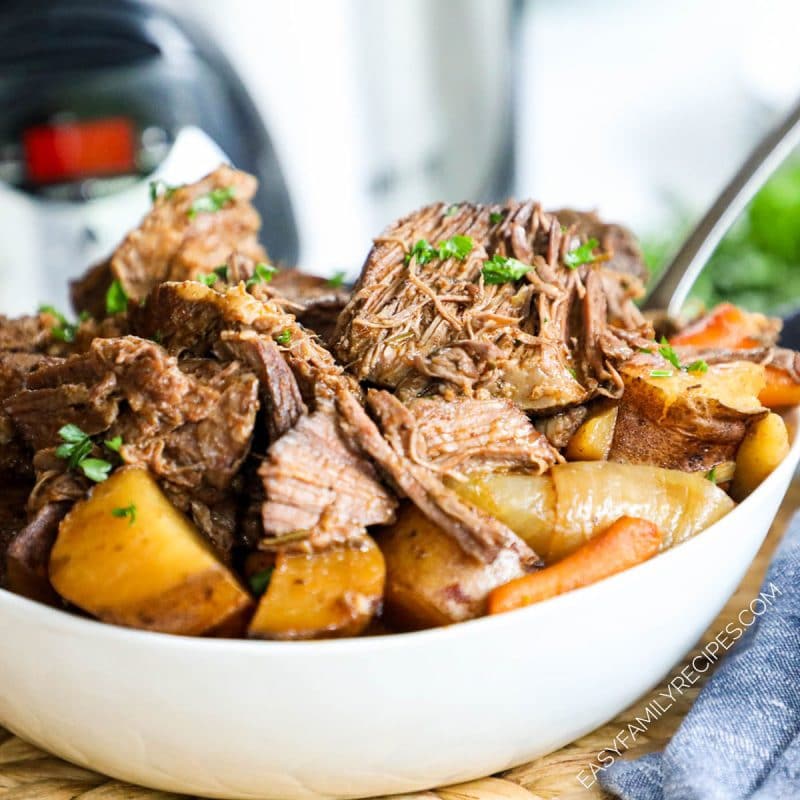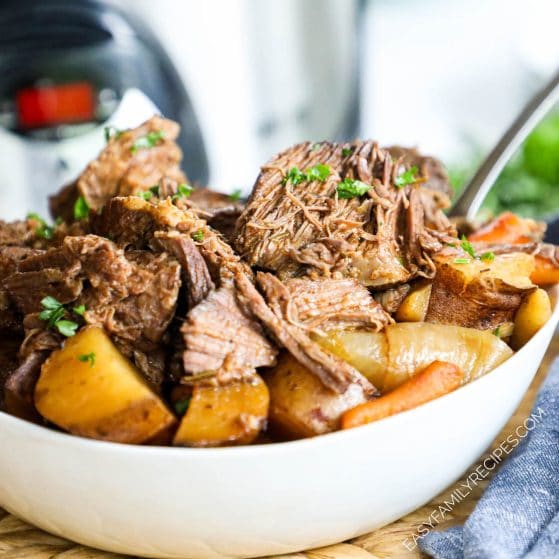 Sunday Pot Roast
Chuck roast, potatoes, carrots, and onions cook low and slow together in this classic but easy Crock Pot recipe. Beef pot roast flavored with simple seasonings is cooked to juicy perfection to create a family friendly, complete meal all in one pot.
Prep Time: 10 minutes
Cook Time: 6 hours
Total Time: 6 hours 10 minutes
Serves:6 servings
Hover over "serves" value to reveal recipe scaler
Ingredients
For the Pot Roast Seasoning
1 tbsp smoked paprika
1 tbsp brown sugar
1 teaspoon garlic powder
1 teaspoon onion powder
1 teaspoon salt
1 teaspoon dried rosemary
1/2 teaspoon pepper
For the Pot Roast
3 pound chuck roast
2 onions roughly chopped
3 potatoes cut into 2 inch chunks
8 ounces baby carrots
Instructions
Mix all ingredients for the pot roast seasoning together until combined.

Add the onion, potatoes, and carrots to the bottom of the slow cooker. Rub roast on all sides with seasoning mixture and place the roast on top of the vegetables.

Cover and cook on low for 6-9 hours. The longer it cooks, the more tender it will be.

Once done, shred the roast, discarding ing any extra fat as your shred. The meat can be mixed back in with the juices, or served as is with the potatoes, onions and carrots.
Recipe Notes:
There is no need to trim the chuck roast before cooking. Once the roast is cooked, you will be able to easily separate the extra fat to discard what doesn't cook off. 
Nutrition Information:
Calories: 532kcal (27%)Carbohydrates: 28g (9%)Protein: 47g (94%)Fat: 26g (40%)Saturated Fat: 12g (75%)Polyunsaturated Fat: 2gMonounsaturated Fat: 13gTrans Fat: 2gCholesterol: 156mg (52%)Sodium: 611mg (27%)Potassium: 1385mg (40%)Fiber: 5g (21%)Sugar: 6g (7%)Vitamin A: 5821IU (116%)Vitamin C: 25mg (30%)Calcium: 79mg (8%)Iron: 6mg (33%)
(Nutrition information provided is an estimate and will vary based on cooking methods and brands of ingredients used.)