Recreating rotisserie chicken at home is entirely possible, and it can be done in your regular, conventional oven with this recipe for Baked Rotisserie Chicken. It only takes 10 minutes of your time to prepare a handful of super easy ingredients, and you'll end up with the most tender, juicy chicken every time. Learn how to make this family friendly oven baked rotisserie chicken and create a delicious dinner without the grocery store trip.
How to Bake Rotisserie Chicken – The EASY Way!
Rotisserie chicken is one of the most versatile things you can buy. They're always hot, always juicy and tender, and can be used to make SO many other amazing, delicious recipes. The flavors are something my family really enjoys and I love that I can shred. leftovers to make casseroles, salads, and sandwiches, just to name a few.
Those store-bought birds use a special roasting technique, but did you know that it is 100% possible to create the flavor and texture of rotisserie chicken at home with just your conventional oven? It is! I've made Rotisserie chicken in a slow cooker with wonderful results, and now I've developed this baked rotisserie chicken in the oven that is just a simple, SO EASY, and SO GOOD!
It's a great way to have a whole, roasted chicken ready for the dinner table, perfect for a Sunday roast chicken dinner, or get one prepped for the dozens of other recipes you'll find for shredded chicken on my site.
Why I LOVE this recipe!
Super Fast Prep! – It only takes 10 minutes to get this ready for the oven. It doesn't require lots of chopping, measuring, or any mess.
Juicy, Tender Rotisserie Flavor – We may not have rotisserie ovens at home, but that doesn't mean we can't recreate the juiciness and flavors that we love from store bought chickens.
Family Friendly – Roast chicken is a family classic for a reason. This recipe is like the best combination of home-roasted chicken but with the flavors kids and adults love about rotisserie-style ones. Be prepared for everyone to dig right in!
Easy, Everyday Ingredients – There's nothing complicated about any of the ingredients needed for this recipe. If you don't already have them all at home, they're easy to find at any grocery store.
Tons of Uses! – There's nothing wrong with serving up your chicken as is. It's SO good! But it's also fantastic to use to make tons of OTHER meals. Pasta bakes, casseroles, chicken salad, soup, or tacos are just a few of the ways you can use it!
What to Serve with Oven Baked Rotisserie Chicken
Since this dish has the classic flavors of rotisserie chicken, it will pair well with many of your favorite traditional side dishes. There are both classic options and some healthy options to keep it light.
Side Dish Ideas
You can choose one or add a few sides to make a wholesome, well rounded dinner.
Recipe Notes
This baked rotisserie chicken recipe is as simple as promised! Just 10 minutes of prep for a family friendly meal.
In this section I am going to go through a few tips and tricks I use when making this recipe to get the absolute best and most delicious results.
Make sure to scroll to the bottom for the FULL recipe card.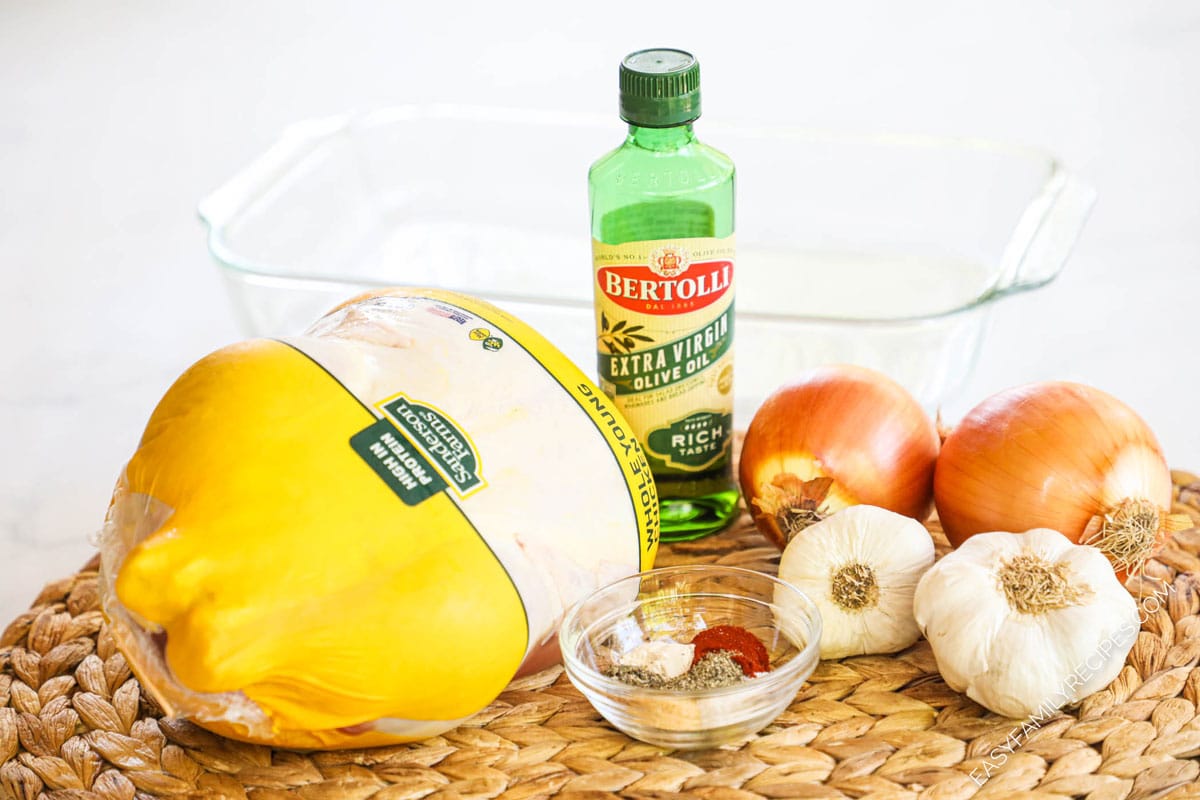 Ingredients + Substitutions
Chicken – I use about a 4 pound chicken for this recipe. You can choose whatever size chicken you like, just know that it will affect the overall baking time. Smaller ones may cook in less than 3 hours, while large ones can take the full 4 hours or more when cooked with low heat.

Onions – You'll need 1-2 onions total, enough to hold up the chicken by layering them in the pan beneath it. Use large varieties like white or yellow onions.

Oil – Olive oil is my go-to when I make baked rotisserie chicken in the oven, but you can use any neutral flavored oil that you like. Grapeseed, canola, or vegetable are just a few good alternatives.

Rotisserie Seasoning – The trick to getting the flavor of a rotisserie chicken in a conventional oven is the seasoning blend. I used a combination of salt, paprika, black pepper, dried thyme, plus both onion and garlic powder to create a blend reminiscent of classic rotisserie.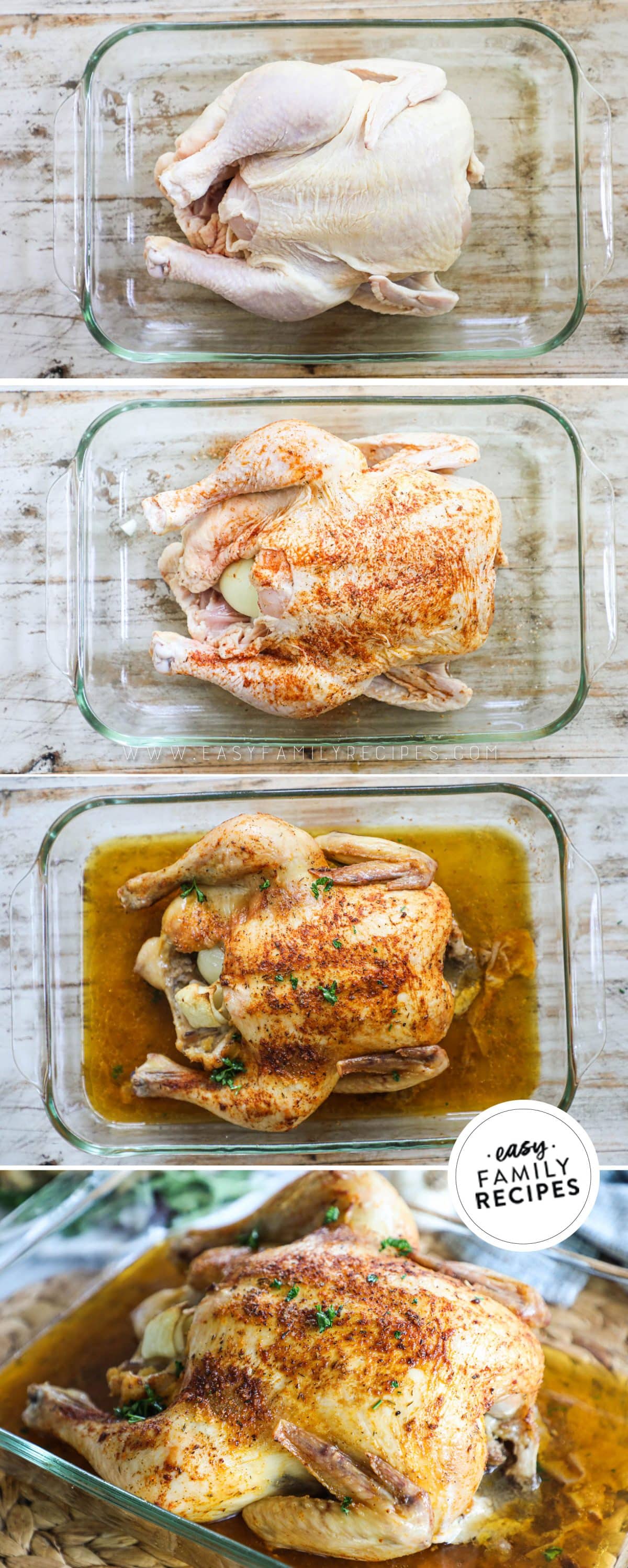 Recipe Tips
Use a high sided casserole – There will be a lot of liquid released during baking and the last thing any of us want is to have to clean our oven afterwards! Use a pan with high sides like a 9×13 casserole dish to prevent anything from spilling.

Or choose a Bundt pan – Another option, especially for anyone who loves crispy chicken skin, is to use a Bundt pan to lift the chicken upright. Line interior of a Bundt pan with onions, then set it on a lined baking sheet. Slide the seasoned chicken upright onto the middle ring in the Bundt pan and then bake it as directed.

Don't rush it – The key to developing the classic flavor of rotisserie chicken in the oven is by sticking with low and slow. We use a much lower temp than you'll see in many chicken recipes, but I urge you to try it at 275°F and let the oven do it's job. It allows the chicken to be super tender, super flavorful, and super, super juicy!

Use a meat thermometer – The enemy of that juicy, yummy chicken we're after is overcooking it. I always recommend using a meat thermometer, which is easy to pick up at a grocery store or even online. It's especially important and useful for recipes like this one. You need to take the internal temperature of the chicken so you can pull it from the oven at 165°F. Start checking at hour 3 then keep an eye on it so you don't end up overcooking it.
Recipe Short Cuts
If you need to make this recipe, but are extra short on time, here are a few ideas that can help make this recipe even faster!
Use a smaller chicken– I usually use a 4 lb. chicken, but you can certainly use a smaller one and reduce the baking time. Use your meat thermometer to make sure you know when it's done. You can even do two smaller chickens side by side to get the same amount of meat faster!

Pre-season and prep ahead– You can preseason the chicken and prep the onions earlier in the day. That takes the already quick prep time practically down to none. You can simply place it in the pan and then into the oven.

Increase the oven temperature– I highly recommend a low and slow approach to oven rotisserie chicken, but you can bump it up to shorten the time it spends in the oven. If you choose to do this, it's even more important that you keep an eye on the internal temperature so you don't end up with dry, overcooked chicken. I'd recommend staying under a 325°F oven temperature.
Recipe Variations
If you love this recipe as much as we do and want some quick ways to change it up for variety, these little tips will do the trick!
Cajun Rotisserie Chicken– Swap out the seasonings for a Cajun seasoning blend and rub it into the chicken as directed. Then continue with the recipe.
Italian Rotisserie Chicken– Use homemade Italian seasonings instead of the original combination to add a herbaceous flair. The rest of the recipe can be cooked as directed.
Greek Seasoned Rotisserie Chicken– Substitute my Greek seasoning blend for my rotisserie seasoning. Add a lemon, cut into quarters, into the middle of the chicken to create delicious Mediterranean flavors.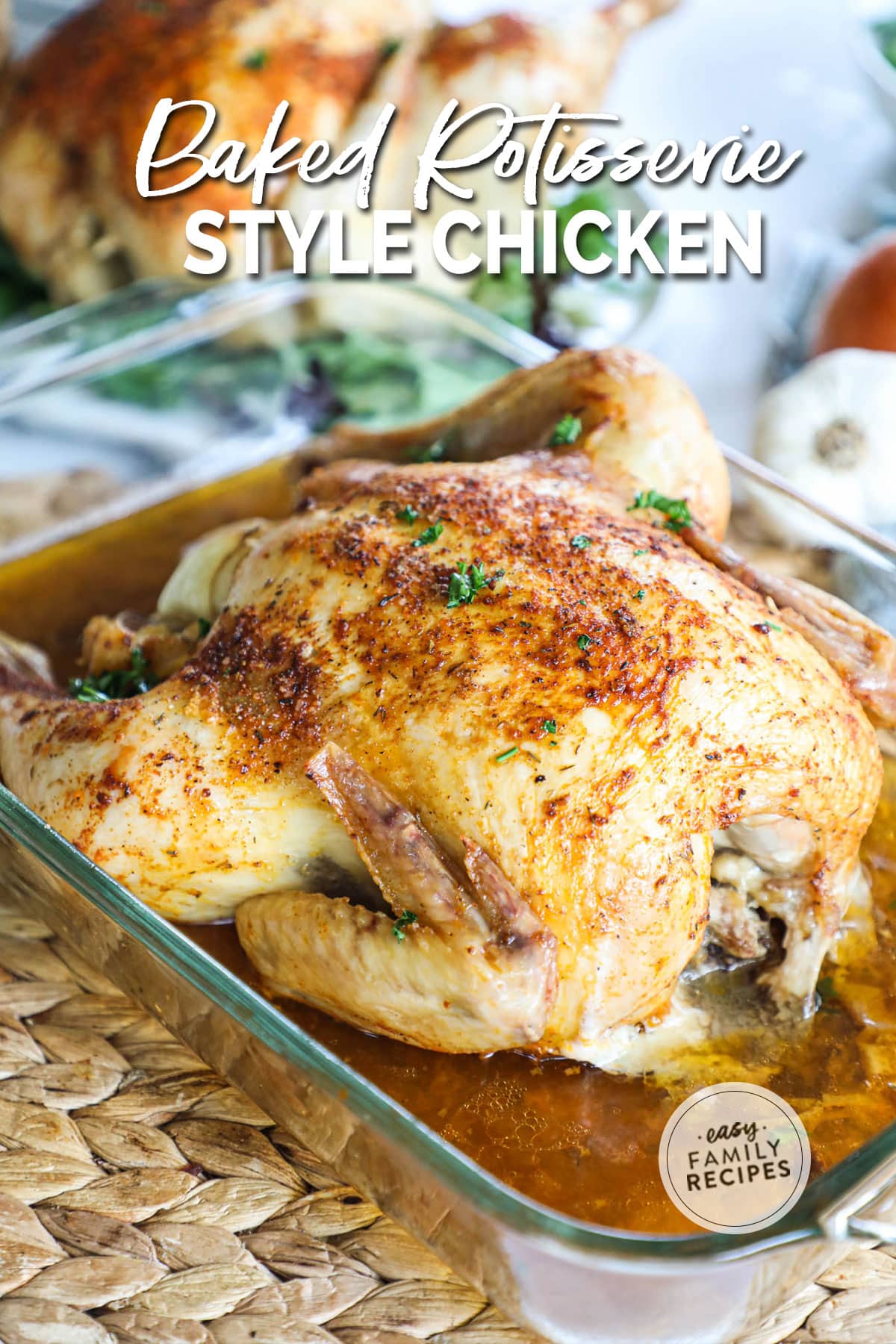 Homemade Rotisserie Chicken Leftovers
If you have leftovers after making oven baked rotisserie chicken , then it is your lucky day! They save and reheat well, and can make the start of another delicious dish.
To save leftovers, separate into meal sized portions and then place in an airtight container and store:
in the refrigerator for 3-4 days
in the freezer up to a month
Leftover Recipes
Here are a few ways to repurpose those leftovers and give them a delicious makeover!
More Easy Chicken Recipes
If you enjoyed this recipe, I really hope you will take a moment to grab a few more easy recipes for another busy night!
You can check out all of my chicken dinner recipes here, or see a few of our readers favorite recipes below.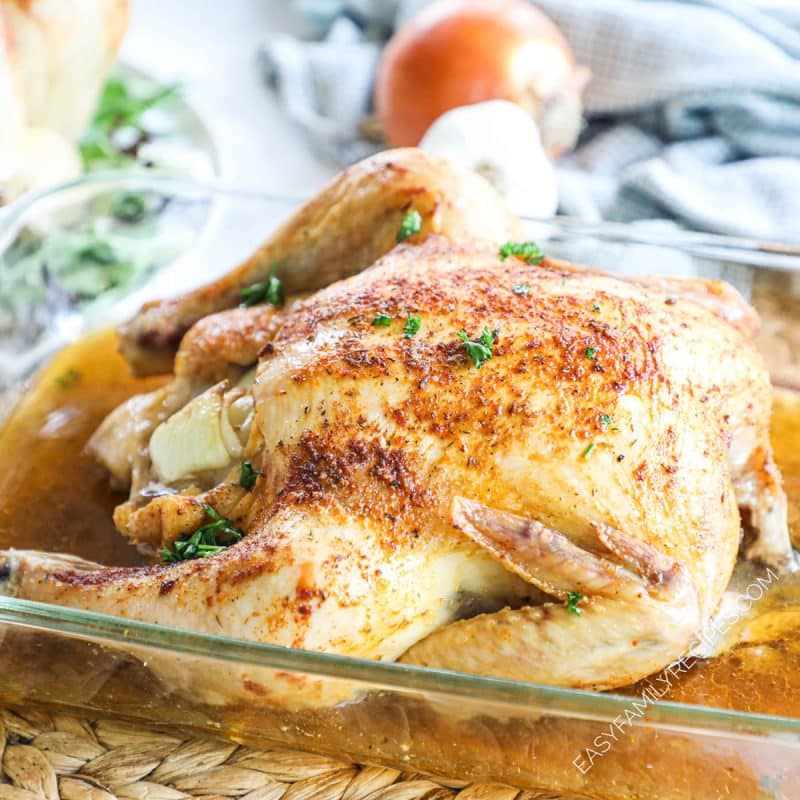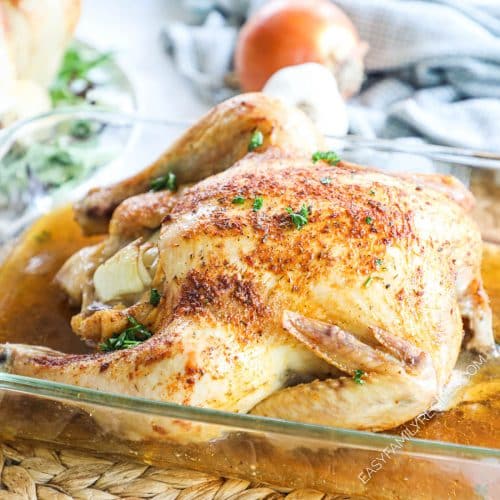 Rotisserie Chicken in the Oven
This low and slow technique for baking a rotisserie style chicken in the oven is a great way to use simple ingredients to transform a whole chicken into a delicious dinner, or into a component for tons of other recipes. The whole family will enjoy the juicy and tender chicken with classic rotisserie seasonings.
Ingredients
4

pound

whole chicken

1

tbsp

olive oil

1-2

onions

,

quartered
Rotisserie Chicken Seasoning
2

teaspoons

salt

1

teaspoons

paprika

1/2

teaspoon

onion powder

1/2

teaspoon

dried thyme

½

teaspoon

black pepper

½

teaspoon

garlic powder
Instructions
Preheat the oven to 275˚F.

Mix the salt, paprika, onion powder, thyme, pepper, and garlic powder together.

Remove the chicken from its packaging and discard the neck and/or gizzards. Rub the outside of the chicken all over with the olive oil. Sprinkle the seasoning all over with the seasoning and rub it in.

Place the onions in the bottom of a 9×13 in baking dish. Place the chicken on top of the onions. Bake for 3-4 hours, or until the chicken reaches an internal temperature of 165˚F.
Recipe Notes
Alternate method: To get the skin crispy all the way around, you can place the onions at the bottom of the bundt pan, then place the chicken cavity over the "hole" of the bundt pan on end. Place the bundt pan on a foil lined baking sheet and place in the oven. You can rotate the bundt pan half way through if your oven has "hot spots." 
Nutrition Information
Calories:
343
kcal
(17%)
,
Carbohydrates:
2
g
(1%)
,
Protein:
27
g
(54%)
,
Fat:
24
g
(37%)
,
Saturated Fat:
7
g
(44%)
,
Polyunsaturated Fat:
5
g
,
Monounsaturated Fat:
11
g
,
Trans Fat:
1
g
,
Cholesterol:
109
mg
(36%)
,
Sodium:
878
mg
(38%)
,
Potassium:
316
mg
(9%)
,
Fiber:
1
g
(4%)
,
Sugar:
1
g
(1%)
,
Vitamin A:
372
IU
(7%)
,
Vitamin C:
4
mg
(5%)
,
Calcium:
25
mg
(3%)
,
Iron:
2
mg
(11%)