Maple Glazed Carrots are one of those fantastic sides that's just as perfect for a holiday gathering as it is for a weeknight dinner—and just as easy too! A buttery maple glaze full of cozy spices makes it a crowd-pleaser, with the perfect balance of sweet and savory flavors.
Do you have a collection of back-pocket side dishes that you make all the time? I know I do—they're those easy vegetable sides that require minimal effort (so I can focus on the main dish!) and that my whole family will eat without complaint. These maple glazed carrots are definitely one of them!
The maple glaze is truly what makes it—I mean, who can resist the combination of butter and maple syrup? But what I love most about these carrots is that they're just a little bit fancy—perfect for a holiday dinner—but still totally doable on a weeknight when you need something simple to serve with Shake and Bake Pork Chops.
Why I LOVE this recipe!
Sweet and savory flavor – I love a recipe with contrasting flavors because the result is a perfectly balanced bite. This glaze has the sweetness from the maple syrup, but also a hint of savory from the garlic.
Easy to make – These carrots are so simple to prepare. Just toss them in the glaze, roast in the oven until they're fork-tender, and voila! A delicious one-pan side dish with hardly any work.
Versatile – Serve it for a Sunday dinner, a busy weeknight, or holiday gathering. This recipe is going on my Thanksgiving menu this year!
Kid-approved – Let's face it, getting kids to eat their vegetables can be a challenge. But these maple glazed carrots are so delicious, even the pickiest of eaters will gobble them up!
Recipe Notes
This maple glazed carrots recipe is as simple as promised! Just a few minutes of prep time for a family friendly meal.
In this section I am going to go through a few tips and tricks I use for how to make maple roasted carrots to get the absolute best and most delicious results.
Make sure to scroll to the bottom for the FULL recipe card.
Ingredients + Substitutions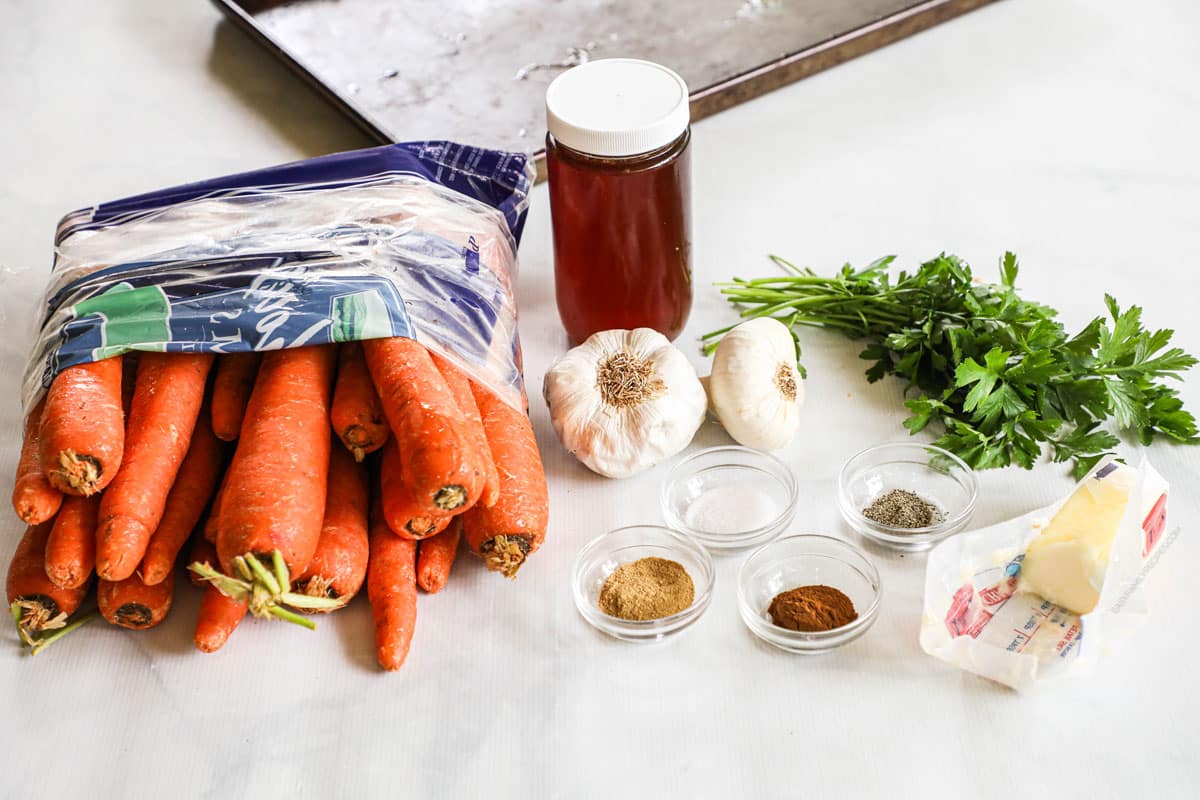 Carrots – I used regular carrots here, but this will work equally well with baby carrots, or rainbow carrots to make it pretty.
Maple syrup – Use real maple syrup, not pancake syrup!
Melted butter – Unsalted butter gives you more control over the taste of the recipe; if you use salted, you may want to dial back the added salt for seasoning.
Garlic – Push them through a garlic press or mince them very finely.
Spices – Cinnamon and ground ginger add cozy flavor.
Salt and pepper – For seasoning.
Garnish (optional)
Olive oil – to help the herbs stick to the carrots.
Parsley – Parsley or another fresh herb you like or have on hand elevates this maple roasted carrots recipe.
Make sure to see the recipe card at the bottom of this post for the full quantities and ingredients list.
Recipe Variations
If you love this recipe as much as we do and want some quick ways to change it up for variety, these little tips will do the trick!
Honey glazed carrots – Swap out the maple syrup for honey for a slightly different but equally delicious glaze.
Balsamic glazed carrots – Use balsamic vinegar instead of or in addition to the maple syrup for a tangier flavor profile.
Maple bourbon glazed carrots – Add a splash of bourbon to the glaze for a boozy twist.
Maple glazed carrots with pecans – Add some chopped pecans to the carrots during the last 5 minutes of cooking time for a crunchy element.
Recipe Step by Step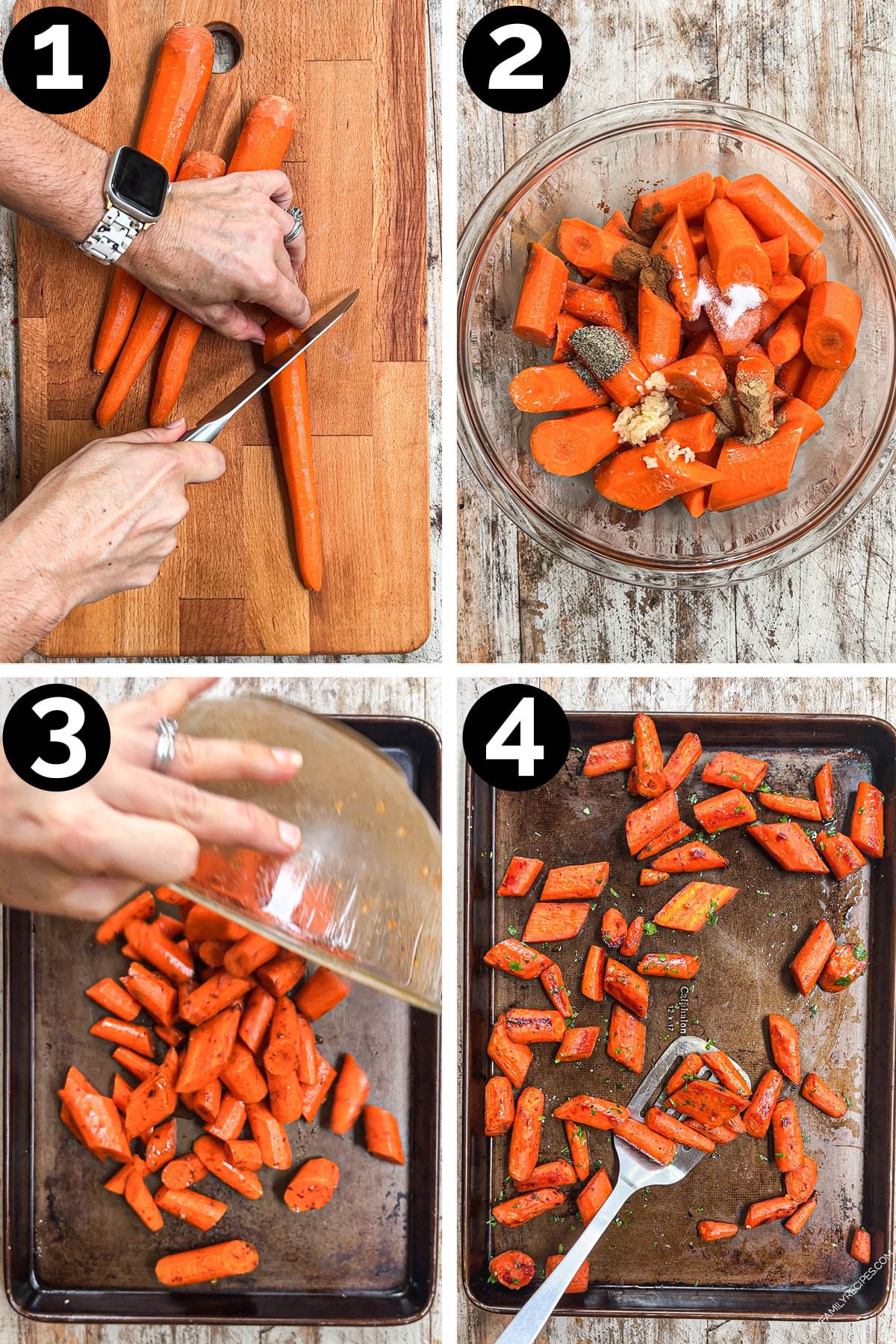 I am going to highlight a few key steps in the recipe here, but make sure to jump down to the recipe card for comprehensive instructions on how to make maple glazed carrots.
Step 1– Peel the carrots and cut them into pieces.

Step 2– Toss them with the glaze and seasonings.

Step 3– Spread the carrots onto a sheet pan.

Step 4– Roast until the carrots are tender, then finish with the olive oil and parsley.
Recipe Tips
Cut the carrots into even pieces – Cut thicker parts in half if needed. Even pieces will ensure the carrots are all done roasting at the same time.
Give your carrots room on the baking sheet – Spread them out so they don't steam instead of roasting.
Flip them halfway through – This will help the carrots cook evenly and get nicely caramelized on all sides.
Mix the spices separately in a small bowl – This ensures they'll be evenly distributed throughout the glaze.
Don't skip the olive oil and parsley – They add an extra layer of flavor and freshness to the dish. Plus, it makes for a beautiful presentation!
Recipe Short Cuts
If you need to make this recipe, but are extra short on time, here are a few ideas that can help make this recipe even faster!
Use baby carrots – Skip the peeling and cutting by using packaged baby carrots.
Use a garlic press – This makes mincing garlic so much easier!
Line the baking sheet with foil or parchment paper – This will save you from having to scrub off any burnt glaze afterwards. Your future self will thank you for it!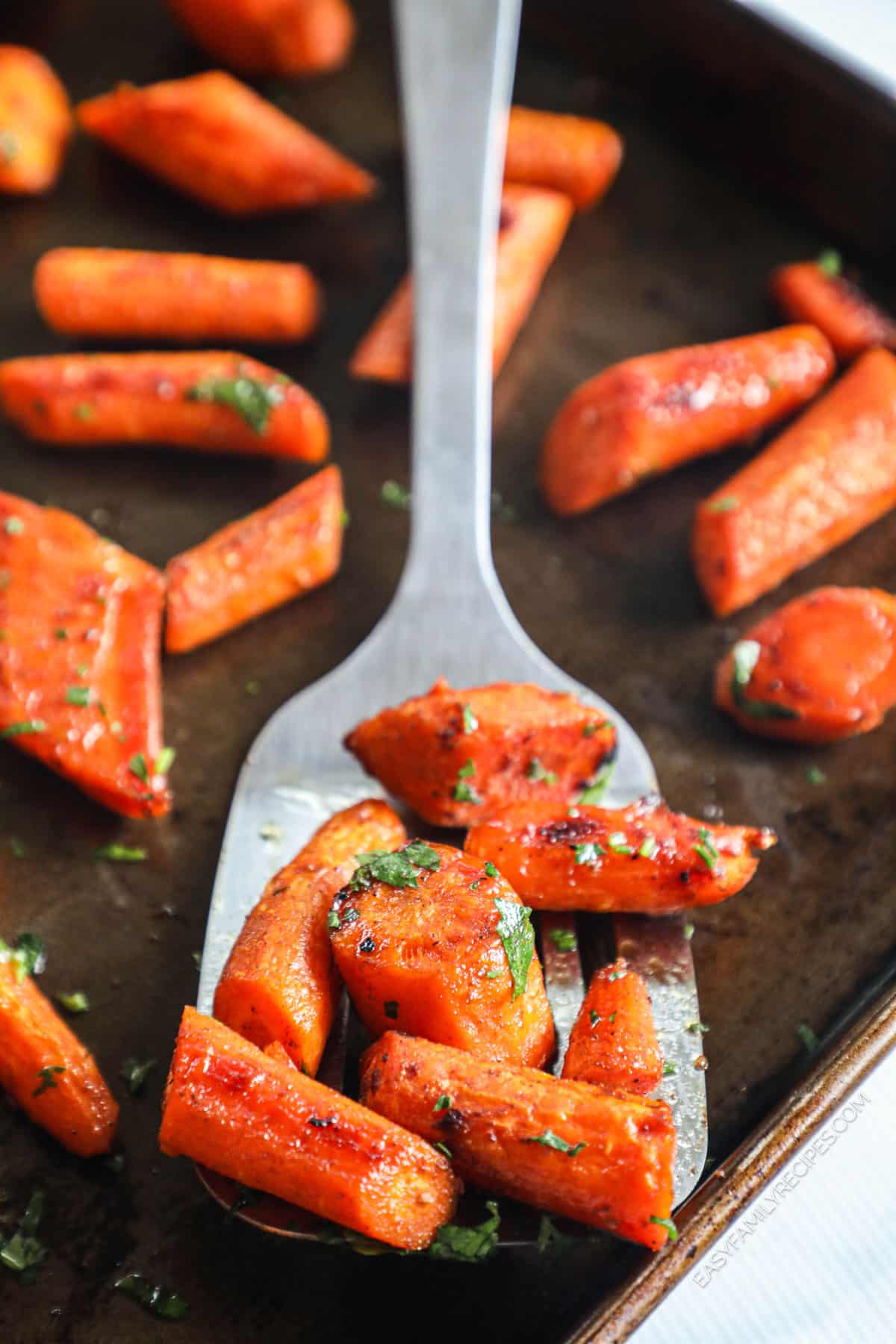 Freezer Meal Instructions
Making this maple glazed carrots recipe into a freezer meal is simple! Follow the steps below and you can store this recipe in the freezer for up to 6 months.
To freeze before cooking
Mix together the maple syrup and melted butter.
Put the carrots in a plastic bag or container.
Pour on the glaze, then sprinkle on the spices; shake to coat.
Freeze for up to 3 months.
Thaw in the refrigerator, then cook according to the recipe instructions.
How to Freeze Maple Glazed Carrots After Cooking
Place the cooked glazed carrots in a plastic bag or container.
Freeze.
What to Serve with Maple Glazed Carrots
Since this easy side dish has the delicious flavors of maple and garlic, it will pair well with many of your favorite sweet or savory dishes.
These Maple Roasted Carrots are perfect for the holidays or just an every day meal to create a wholesome, well-rounded dinner. There are both classic options and some healthy options to keep it light.
Main Dish Ideas
Other sides that go well with carrots
Maple Glazed Carrot Leftovers
If you have leftovers after making this recipe, then it is your lucky day! They save and reheat well, and can make the start of another delicious dish.
To save leftovers, separate into meal sized portions and then place in an airtight container and store:
in the refrigerator for 3-4 days
in the freezer up to a month
Recipe FAQ's
What flavors go well with carrots?
Carrots pair well with both sweet and savory flavors, which makes them easy to work with! Lean into the sweetness with maple syrup, honey, or brown sugar and cozy spices like cinnamon, ginger, and cardamom. Or go more savory with fresh herbs, garlic, and ground cumin.
Can you make maple glazed carrots ahead of time?
Yes, you can make maple glazed carrots ahead of time. Add the drizzle of olive oil and parsley after you reheat them for a fresh finishing touch.
What cooking method is best for carrots?
You can sauté, boil, or steam carrots, but my favorite cooking method by far is to roast them. Roasting concentrates their sweet flavor and makes them perfectly tender!
Are glazed carrots gluten-free?
Yes, glazed carrots are typically gluten-free, and this recipe for maple glazed carrots is gluten-free.
More EASY Side Dish Recipes
If you enjoyed this recipe, I really hope you will take a moment to grab a few more easy recipes for another busy night!
You can check out all of my easy side dish recipes here, or see a few of our readers favorite recipes below.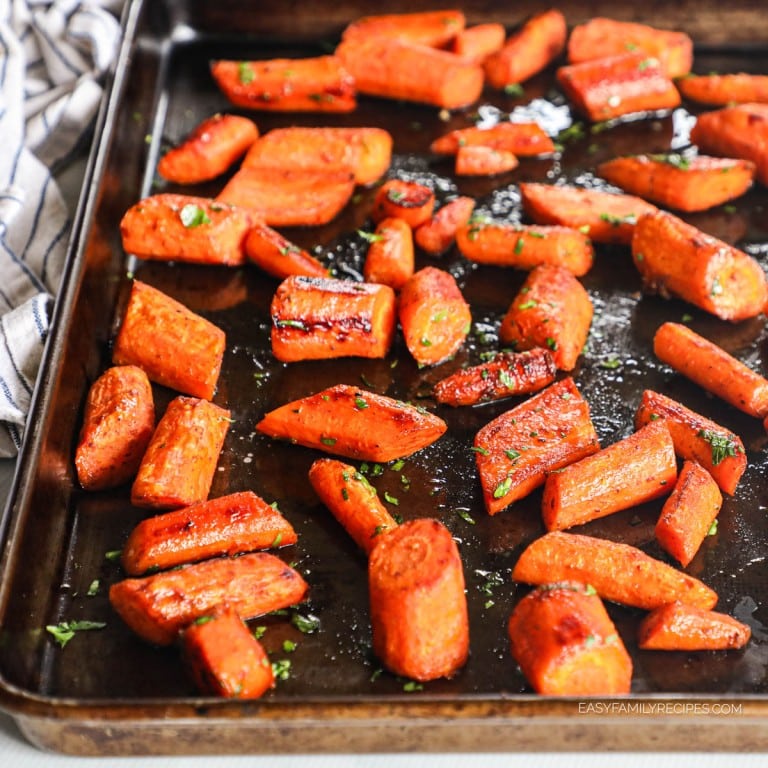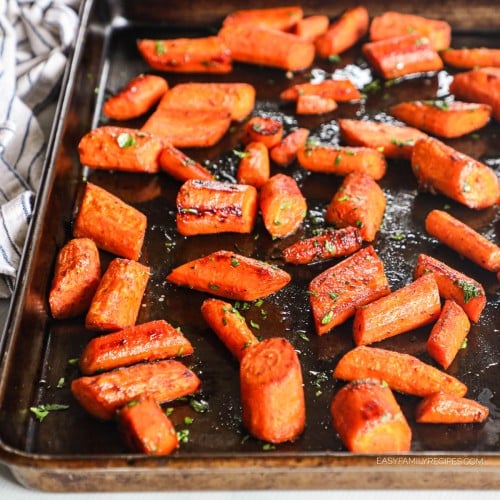 Maple Glazed Carrots
You will LOVE these maple glazed carrots! They bake up perfectly tender, with an irresistible sweet and savory flavor. This is an excellent Thanksgiving side dish, but you'll also love it as an easy weeknight dinner option with your favorite protein. 
Ingredients
2

pounds

carrots

,

peeled

1/4

cup

maple syrup

2

tablespoons

melted butter

3

garlic cloves

,

pressed

1/2

teaspoon

cinnamon

1/2

teaspoon

ground ginger

1/2

teaspoon

salt

1/4

teaspoon

pepper
Garnish (optional)
1

teaspoon

olive oil

1

tablespoon

finely chopped parsley
Instructions
Peel the carrots and cut into chunks about 2 inches in length. If the carrots are thick, you may want to cut them horizontally as well.

I cut the carrots on a diagonal because it makes a nice presentation and helps to have more surface area for roasting, but you can cut them straight if you prefer.

Transfer the carrots to a large bowl. Pour the maple syrup and melted butter over the carrots. Then add the garlic, cinnamon, ginger, salt and pepper.

Toss the carrots until they are all evenly coated in the seasonings.

Spread the carrots out on a large baking sheet and bake for 15 minutes. Flip and bake for an additional 10-15 minutes.

Optional: Broil for the last 2-3 minutes to add additional browning to the edges of the carrots. The glaze on the bottom of the pan may burn if you do this, but the carrots will be delicious and unaffected by burnt glaze on the bottom.

Once the carrots are fork tender, remove them from the oven and drizzle with olive oil and toss with the freshly chopped parsley.
Recipe Notes
Substitutions: Swap another fresh herb for parsley if you'd like. You can also use honey instead of maple syrup. How to Store: To save leftovers, separate into meal sized portions and then place in an airtight container and store in the refrigerator for 3-4 days. How to Freeze: If you're freezing maple glazed carrots, store them in an airtight container or freezer bag for up to a month. How to Reheat: Reheat glazed carrots in a 350ºF oven until warmed through, or in the microwave. How to Scale: To keep the carrots from steaming on the sheet pan, if you plan on scaling up, you'll need to use an additional pan.
Nutrition Information
Calories:
141
kcal
(7%)
,
Carbohydrates:
24
g
(8%)
,
Protein:
2
g
(4%)
,
Fat:
5
g
(8%)
,
Saturated Fat:
3
g
(19%)
,
Polyunsaturated Fat:
0.4
g
,
Monounsaturated Fat:
1
g
,
Trans Fat:
0.2
g
,
Cholesterol:
10
mg
(3%)
,
Sodium:
330
mg
(14%)
,
Potassium:
525
mg
(15%)
,
Fiber:
4
g
(17%)
,
Sugar:
15
g
(17%)
,
Vitamin A:
25377
IU
(508%)
,
Vitamin C:
9
mg
(11%)
,
Calcium:
71
mg
(7%)
,
Iron:
1
mg
(6%)