It doesn't get much EASIER or MORE DELICIOUS than this Crock Pot Corn Casserole! With just 7 everyday ingredients and 5 minutes of your time, you can have one of the most rich, cheesy, and drool-worthy side dish cooking in your slow cooker.
Our special method for putting this casserole together makes ALL the difference for taste!
Easy Cheesy Corn Casserole – Crock Pot for the Win!
One of my go-to side dishes for any group of people is corn casserole.
Call it corn pudding, cornbread casserole, cream corn casserole, or even sweet corn casserole. Whatever you call it, this is quick and easy to make, and there is rarely a crumb left to be seen when this dish is served.
My classic Corn Casserole is filled with rich cheddar cheese, velvety creamed corn, delicious jiffy cornbread mix, and dolloped with sour cream, then baked in the oven to tender perfection.
This takes those same delicious flavors, in that perfect one dish, super quick and easy to make format, and let's the slow cooker do the cooking!
It is perfect for when you are entertaining, during the holidays, or hosting a pot luck gathering because you get all the delicious taste, but it keeps the oven free for all of the other food you are making.
Tips for Making Corn Pudding in the Crock Pot
Even though this Slow Cooker Corn Casserole is super easy to make, I am going to walk though some of my notes and tips for you.
I get a lot of questions on ingredients and methods for my recipes from readers, so I try to pack the post full of lots of helpful information to help you get the absolute best result with your recipe!
You can find the FULL printable Crockpot Corn Casserole recipe card with nutrition info at the bottom of this post.
The Ingredients
Jiffy Cornbread Mix– I ALWAYS use Jiffy cornbread mix for corn casserole. I really believe it has the best flavor!
Canned Corn- Do not drain the corn! Liquid and all goes in the dish.
Creamed Corn
Butter – I use salted. If you have unsalted, you can use that plus 1/4 tsp salt. To melt the butter, place it in a dish in the microwave (about 30 sec,) or turn the crockpot to high and let it sit with the lid on for several minutes.
Egg
Sharp Cheddar Cheese– I prefer sharp cheddar for this casserole because it adds the most flavor. You can also use mild or medium cheddar.
Sour Cream– This is the "secret sauce" for the recipe and is saved for the end, not mixed in.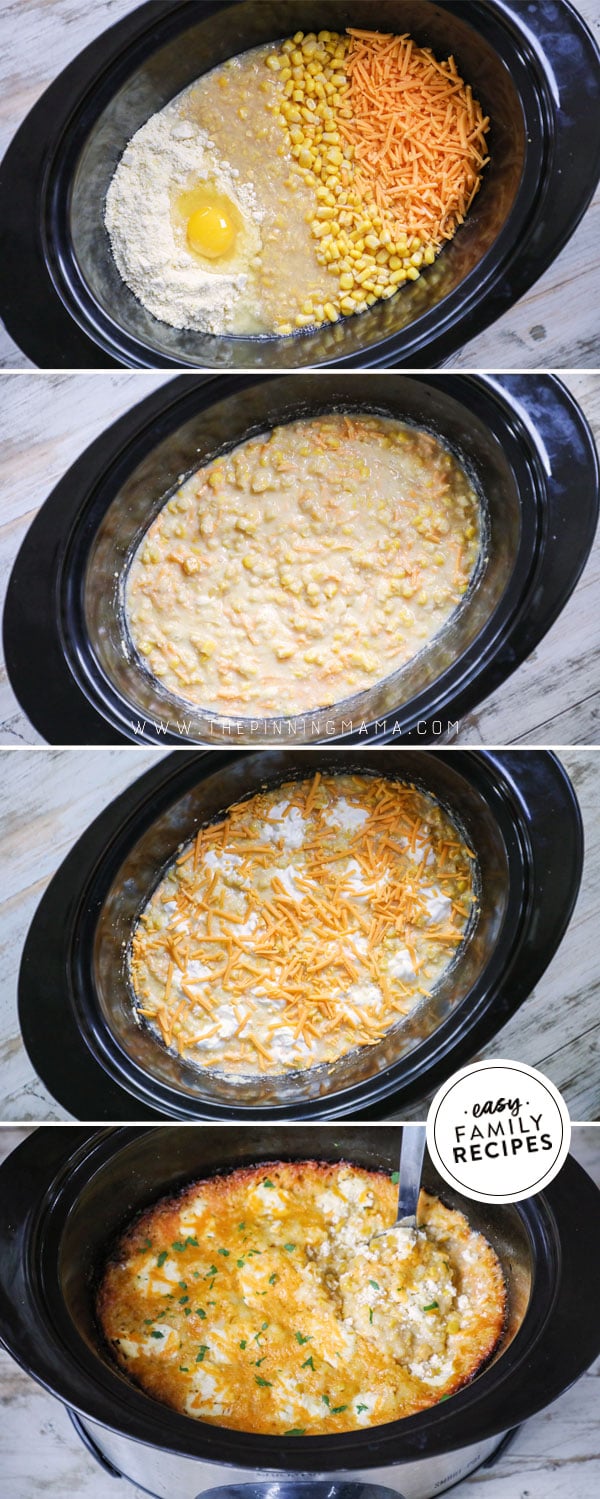 Mix it up!
One of the best parts about this casserole is you literally don't have to get any dishes dirty except the crock pot and a mixing spoon.
To start this recipe, you will just dump the Jiffy corn bread mix, corn, creamed corn, melted butter, egg and cheese into the slow cooker.
Then mix!
Make sure that you mix it really well so that everything is combined, or you could end up having areas that don't cook well.
The Special Method
This one step that really makes this casserole so good, is so simple, but makes all the difference!
Instead of mixing the sour cream into the casserole, we dollop it on top by the spoonful.
This allows you to have a mixture of tangy sour cream along with the sweet cornbread casserole in each bite you take. It is really special and unique, not to mention, over the top delicious!
How long to cook Corn Casserole
This corn casserole will cook for between 3-4 hours on HIGH in the crockpot.
Try to avoid opening the lid to check on it before necessary or moisture can escape which can cause it to burn, or the condensation on the lid can fall onto the casserole causing soggy spots. Neither are the most appetizing!
You will know the casserole is done when you can insert a knife or toothpick in the center and it comes out clean.
If you are looking for oven baked, try this Corn Casserole Recipe!
Corn Casserole Substitutions
I highly recommend making the recipe as written if you can! If you are in a pinch, there are a few substitutions you can make if needed.
Jiffy Cornbread Mix– Other brands of cornbread mix of the same weight (8.5 oz) can be substituted, however, I prefer the flavor of Jiffy in this recipe.
Butter– Margarine can be substituted.
Cheddar cheese– you can use colby jack, mexican blend, or even pepper jack with good results!
Sour Cream– You can omit the sour cream all together if you don't like it, or try using greek yogurt in its place as a substitution.
Corn Casserole Variations
If you want to change things up a bit, try these corn casserole variations!
Mexican Corn Casserole – Use Mexican canned corn in place of regular canned corn, then stir in a can of diced green chiles, or if you like spicy, add diced jalapeños.
Extra Cheesy Corn Casserole– Up the cheddar cheese to 1.5 cups, and then dollop softened cream cheese over the casserole instead of sour cream for an extra cheesy treat!
Green Bean Corn Casserole– After mixing the casserole ingredients, but before dolloping the sour cream in the casserole, stir in a can of drained green beans, then continue with the recipe.
Ground Beef Corn Casserole– After mixing the casserole ingredients, but before dolloping the sour cream in the casserole, stir in 1 lb of cooked ground beef, then continue with the recipe.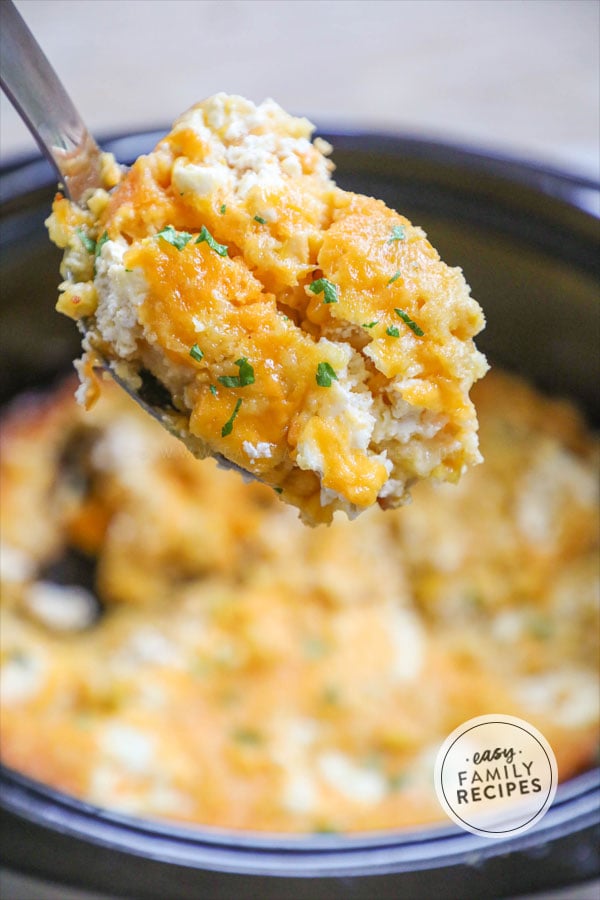 How to Freeze Corn Casserole
Since the cornbread contains baking soda, which helps the cornbread casserole to rise, this dish is best prepared fresh, however once cooked, it freezes beautifully to be reheated later.
To freeze:
Prepare recipe as directed.
Allow to cool.
Divide into meal sized portions.
Place in a freezer bag or air tight containers.
Freeze.
When you are ready to reheat you can heat it in the microwave or covered in the oven.
What to serve Corn Casserole with
If you need some more inspiration for what goes well with corn casserole, we have got you covered! Here are a few favorite main dishes and sides that you can serve with this dish.
Main Dish:
Side Dishes:
I hope you enjoy this corn casserole as much as our family does! If you have any feedback or questions, feel free to leave me a note in the comments below!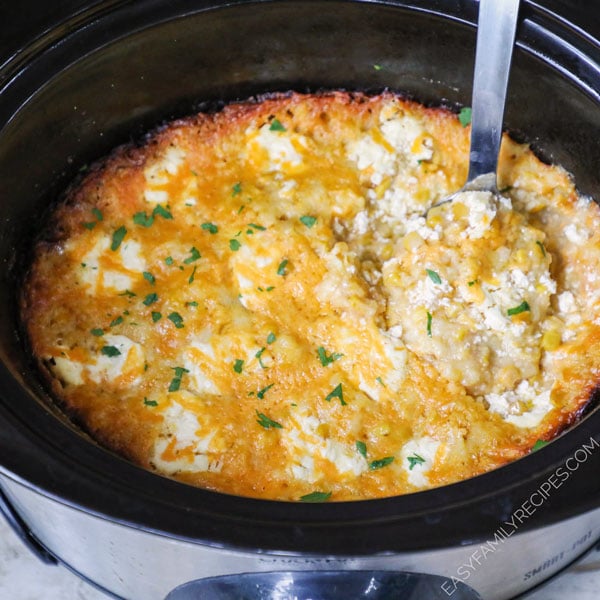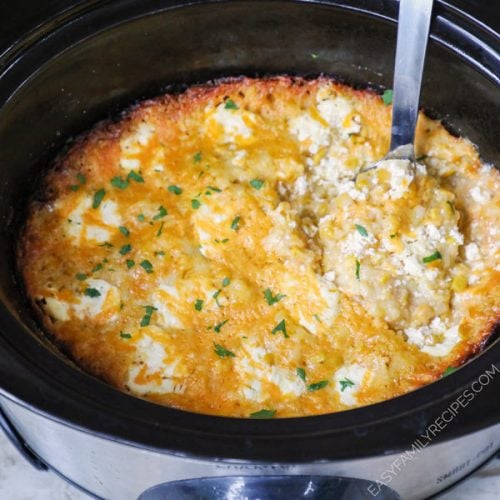 Crock Pot Corn Casserole
This quick and easy 7 ingredient Corn Casserole is made in the crock pot! Made with delicious Jiffy cornbread mix, creamed corn, sour cream, and cheddar cheese, the flavor combo can't be beat!
Ingredients
1

box

Jiffy Corn Muffin Mix

1

can

corn

,

(not drained)

1

can

creamed corn

1/4

cup

butter

,

melted

1

egg

1¼

cup

sharp cheddar cheese

,

shredded and separated

1/2

cup

sour cream
Instructions
Pour the jiffy mix, corn, creamed corn, butter, egg, and 1 cup of the cheddar cheese into the crock pot. Mix very well.

Dollop the sour cream on the casserole by small spoonfuls, and then sprinkle the rest of the cheese evenly over the top.

Cook on low for 3-4 hours, or until a knife inserted in the middle comes out clean.

Let set for 10 minutes then serve warm. Enjoy!
Nutrition Information
Calories:
251
kcal
(13%)
,
Carbohydrates:
29
g
(10%)
,
Protein:
7
g
(14%)
,
Fat:
13
g
(20%)
,
Saturated Fat:
7
g
(44%)
,
Cholesterol:
42
mg
(14%)
,
Sodium:
399
mg
(17%)
,
Potassium:
181
mg
(5%)
,
Fiber:
3
g
(13%)
,
Sugar:
7
g
(8%)
,
Vitamin A:
458
IU
(9%)
,
Vitamin C:
4
mg
(5%)
,
Calcium:
112
mg
(11%)
,
Iron:
1
mg
(6%)