Italian Baked Chicken and Peppers is the ULTIMATE easy dinner! Packed with flavor, minimal prep, one dish, and hands off cooking make for a meal perfect for a busy family.
This dish is absolutely delicious! Loaded with sweet bell peppers, yellow onions, and tender chicken breast all smothered in a simple, clean Italian tomato sauce. Baked to perfection with no babysitting necessary, this meal is as easy as it is delicious!
Chicken and Bell Peppers – The Easy Way!
You can make chicken breast in so many different ways, and almost all of them are delicious! When it comes to a night where I need a recipe that can take care of itself because my hands are busy with other things, using the oven is the way to go!
This Chicken and Peppers recipe uses simple pantry ingredients and just one dish to make a dinner you could serve proudly to company or for an every night family dinner.
I can't tell you enough about how wonderfully these flavors come together to compliment the tender chicken, how easy this is to make is just a bonus– and it is healthy to boot! ** Make sure to check out the leftover recipes at the bottom of this post. They are SO GOOD!
Check out my popular classic Baked Sausage and Peppers recipe too!
How to Serve Baked Chicken & Peppers
This dish is baked in an Italian style tomato sauce so it partner beautifully with sides that traditionally accompany an Italian meal.
Since this dish is naturally low carb, if you follow that diet you can pair with some delicious low carb option or if not pick or choose from both lists.
Classic Italian Sides
Low Carb Sides
Choose one, or load it up with a few for a feast! You can use options from both lists to come up with a great well rounded meal.
Recipe Tips
This recipe is every bit as simple as promised! I am going to walk through a few tips and tricks to make this recipe the easiest and the absolute tastiest — and hopefully answer any questions on process or substitutions that may come up while cooking.
Make sure to hop down to the bottom of this post to grab the FULL recipe card.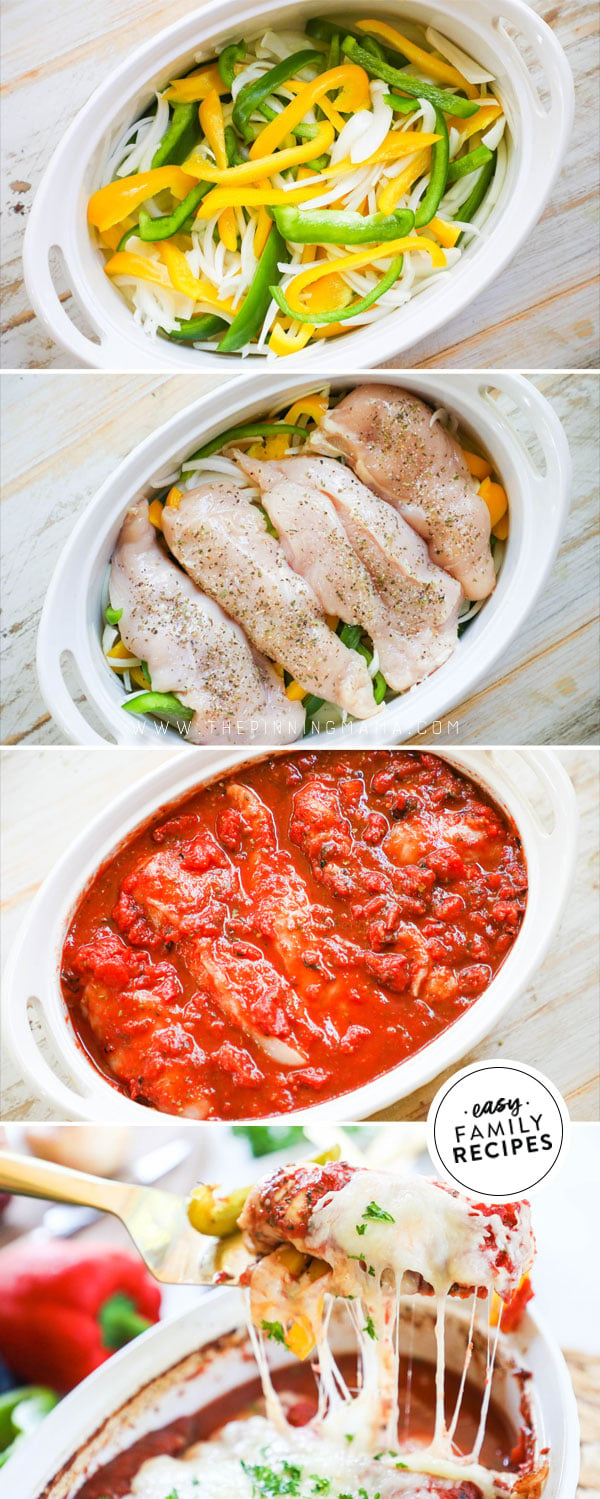 The Chicken
This recipe is written with boneless, skinless chicken breast. It works best if the chicken breasts are small to medium sized.
If they are average to large, I always recommend cutting the chicken breast into a thin cutlet. You can do this by cutting it in half horizontally to make two thinner pieces. This helps the dish to cook more quickly and evenly.
If your chicken breasts are thick, it takes a very long time to cook in the oven and can end up rubbery on the outside by the time the inside is done.
Substitutions: Other cuts of boneless, skinless chicken can be used in this recipe. Both chicken thighs and chicken tenderloins make a good substitution.
**Chicken tenderloins are especially great if you are feeding lots of kids since they are automatically portioned smaller!
The Peppers and Onions
The star of the veggies is the peppers of course! I recommend using a green pepper and either a red, orange or yellow pepper. The green is a bit less sweet than the others so it gives the flavor a nice mix. That said, you can use any two colors of sweet bell peppers with good results.
The onion adds a little sweetness to the dish. You can add more or less to your taste preference.
I recommend cutting the veggies in 1/2″ strips then cutting them in half again for ease of serving and eating. This size also works well to allow them to cook a bit but not get over cooked and mushy.
The Sauce
We make a super simple marinara out of pantry ingredients to bake the chicken and peppers in.
Even if you have never made a sauce from scratch before, don't be alarmed, because it doesn't get any easier than this!
Grab a large (15 oz) can of crushed tomatoes. Make sure to get an unflavored can. Often these days the stores have cans with basil or oregano already in them which can throw off the flavor.
Also, it is important to use crushed tomatoes, not diced. Crushed tomatoes are more of a thicker sauce, where diced are tomato chunks in a thin juice. To get a sauce-like consistency from this dish, we need the thicker crushed tomatoes.
Mix the tomatoes with the garlic, basil, oregano, salt and pepper then stir in the balsamic vinegar. The balsamic gives it a little zing and the signature taste! How easy is that?
How long to cook the chicken
Once you have the chicken, veggies, and sauce, throw it all in a casserole dish, I usually use a 9×13, and into the oven.
The time the chicken needs to cook will vary a bit by altitude, climate and your own oven, but generally will be around 40-50 minutes total. You want the internal temperature to be 165˚F.
For this recipe we start baking without the cheese, then add the cheese on at the end to get nice and melty and finish off the cooking.
Recipe Shortcuts
Even though this recipe is incredibly simple, there are a few extra things you can do if you are in a pinch and need to get the dish in the oven even faster. Here are a few tried and true shortcuts for Chicken and Peppers.
Use precut veggies– You can either prep your veggies ahead, up to 48 hours in advance, or find pre-cut peppers and onions in the produce section in many nicer grocery stores. This can cut the prep time in half!
Use Marinara sauce– Making the sauce is very easy, but when every minute counts, you can either make it ahead, or use store bought marinara in its place. If you use store bought marinara, omit the basil, oregano, and half of the garlic, and just add the balsamic vinegar to the sauce before covering the chicken and peppers.
Use a freezer meal- This meal can be made up to 3 months in advance and frozen, then thawed and cooked when ready to serve. This takes away all of the prep time and just leaves the time to cook. Find the instructions for turning this into a freezer meal below.
Dietary Considerations
If you are cooking for someone with special dietary needs this dish meets many requirements and can be easily modified to comply with many others. Here is a run down on how you can use this recipe.
Gluten free- This recipe is naturally gluten free. Check any store bought items to ensure compliance.
Low Carb- This dish has approx 9g net carbs per serving making it a good choice for most low carb diets.
Dairy Free- This recipe as written is not dairy free, however, to make it dairy free all you need to do is omit the cheese at the end!
Whole30/Paleo- To modify this recipe to be Whole30 compliant or paleo, simply omit the cheese.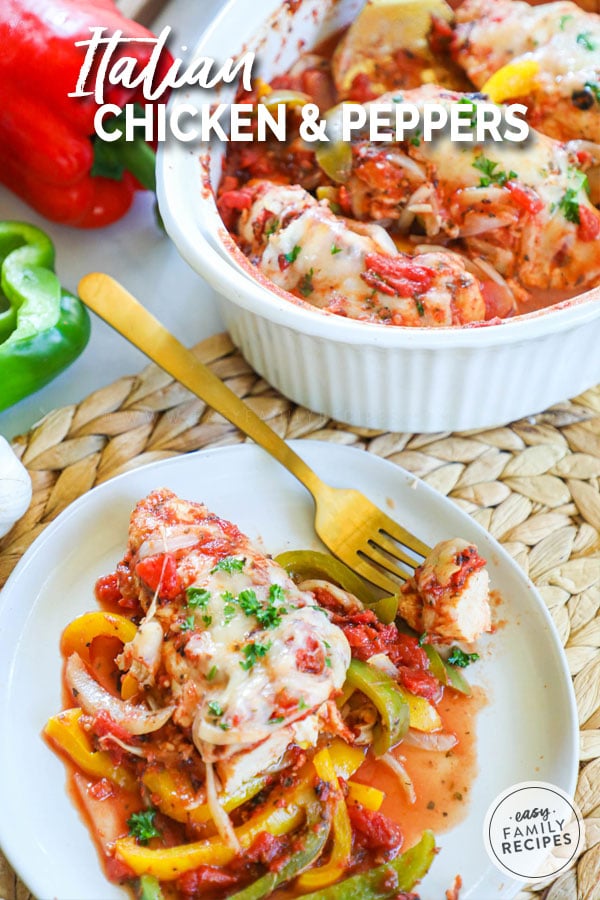 Freezer Meal Instructions
Chicken and Peppers makes a wonderful freezer meal. This dish can be made up to 3 months in advance and frozen until ready to be used.
To prepare the Chicken and Peppers as a freezer meal:
Prep the chicken trimming fat and cutting to the appropriate thickness.
Chop the veggies as directed.
Mix the sauce up and then stir the peppers and onions in.
Spread the mixture in a freezer dish, or pour into a zip top bag.
Add the chicken breasts on top.
Freeze.
When ready to cook, thaw, then mix everything together and transfer to a baking dish and cook as directed.
Chicken and Peppers Leftover Recipes
If you have leftovers of your Chicken and Peppers, package them in a air tight container and store them in the refrigerator for 3-4 days or in the freezer up to a month.
When you are ready to eat them, use one of these recipe to recreate the dish into a completely new and exciting meal!
Chicken and Peppers Pizza– On a prepared crust, spread a thin layer of olive oil and sprinkle with garlic. Chop leftovers and spoon over crust. Top with mozzarella cheese and add mushrooms or black olives if desired. Bake per package directions.
Chicken and Peppers Subs– Cut sub rolls almost in half. Spread with butter and sprinkle with salt and garlic powder. Bake at 400˚F until golden brown. Remove from oven. Chop leftover and fill up the sub roll. Top with provolone cheese slices and place back in the oven for 10-20 minutes or until heated through and cheese is melted.
Chicken and Peppers Pasta Casserole– Chop leftovers and mix with cooked pasta (I like penne or rotini.) Add chopped pepperoni and black olives . Stir in additional marinara if needed. Dollop with ricotta cheese, then top with Italian blend cheese and bake for 25-30 minutes or until everything is heated through.
Chicken and Peppers Wilted Spinach Salad– Chop leftover Chicken and Peppers and place in a skillet over medium heat, stirring until warm. Add halved cherry tomatoes, quartered artichokes, and a generous amount of spinach. Stir until the spinach begins to wilt. Transfer to a plate and enjoy!
More One Dish Dinners
If you enjoyed the ease and deliciousness of this dish, I hope you will take a moment to check out and save a few more of our recipes to add to your dinner table! Here are a few you might like: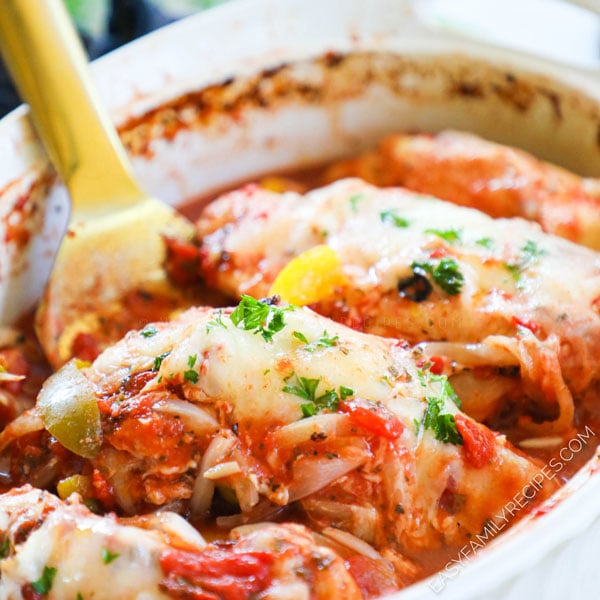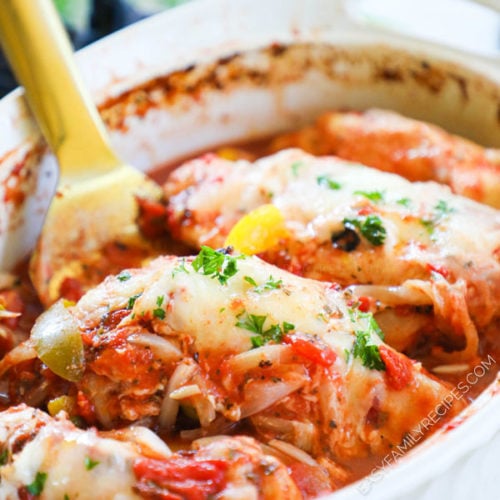 Baked Chicken and Peppers
These Italian Baked Chicken and Peppers are so simple to make and so DELICIOUS to eat! With as little as 10 min of prep and one dish you can have this flavor packed meal in the oven baking to perfection.
Ingredients
2

lbs

boneless skinless chicken breast

,

cut into thin cutlets

1

red bell pepper

,

cut into strips

1

green bell pepper

,

cut into strips

1/2

sweet yellow onion

,

thinly sliced

4

cloves

garlic

,

pressed

15

oz

crushed tomatoes

,

(1 can)

1

tbsp

balsamic vinegar

1

tbsp

dried oregano

1

tsp

dried basil

1

tsp

salt

1/2

tsp

ground black pepper

1

cup

mozzarella cheese

,

shredded
Instructions
Place the onions and peppers in the bottom of a 9×13 baking dish.

Mix the oregano, basil, salt and pepper together in a small bowl. Place the chicken in a single layer on top of the peppers and season with a couple pinches of the seasoning.

Mix the crushed tomatoes, remaining seasonings, garlic, and vinegar together and pour over the top of the chicken to cover.

Bake uncovered at 400˚F for 35 minutes. Then remove the dish and sprinkle the mozzarella cheese over the top and finish cooking for 5-10 minutes or until the chicken is cooked through (165˚F) and the sauce is bubbling on the sides.
Recipe Notes
When the dish is finished cooking, the sauce will thicken as it cools. It may separate a bit as it cooks, so you can also make it thicker by gently stirring.
Nutrition Information
Serving:
10
oz
,
Calories:
278
kcal
(14%)
,
Carbohydrates:
12
g
(4%)
,
Protein:
38
g
(76%)
,
Fat:
8
g
(12%)
,
Saturated Fat:
3
g
(19%)
,
Cholesterol:
112
mg
(37%)
,
Sodium:
778
mg
(34%)
,
Potassium:
909
mg
(26%)
,
Fiber:
3
g
(13%)
,
Sugar:
6
g
(7%)
,
Vitamin A:
1032
IU
(21%)
,
Vitamin C:
52
mg
(63%)
,
Calcium:
153
mg
(15%)
,
Iron:
2
mg
(11%)
How long to bake chicken breast
The cooking time for chicken breast will depend on the cooking temperature, the size and thickness of your chicken breast, and how big your baking pan is.

In this recipe we bake thin chicken breasts in a 9×13 pan at 400˚F for 40-50 minutes for perfect tender chicken.
How to make a chicken cutlet
You can make thin chicken breasts or chicken cutlets by either pounding the chicken breast thin with a meat mallet, or by butterflying the chicken breast, or cutting it to half the thickness by slicing it horizontally.
What to make with chicken and peppers
If you have chicken breast and some bell peppers, this baked chicken and peppers recipe is a great easy dinner. You could also make fajitas, or a cajun chicken pasta.