Italian Seasoning is simple to make at home and it is QUICK, EASY and AFFORDABLE! With just a handful of everyday spices you can make this seasoning mix, and the best part is that it can stored for up to a year!
Use this blend in any recipe that calls for Italian Seasoning, or add it to meat, veggies or potatoes for a nice little kick of Italian flavor!
Make sure to see all the delicious ways to use this seasoning mix below!
Stock Your Pantry with Homemade Spices
When it comes to stocking my pantry, there are things that make sense to buy premade because the quality of ingredients are high, the taste is great, and it is as affordable, if not more than what you could make on your own.
Spice blends are one thing that I have transitioned to almost completely making at home.
There are a few reasons why:
No additives – Many spice mixes can contain additives. When you make them at home, you know exactly what is in them and can keep them made solely of herbs and spices.
This is especially important if you cook for special dietary needs. You can easily assure there is no sneaky gluten or dairy in the mix. We don't have special dietary needs, but I love knowing I can use them to cook for anyone that dines at my home without worry.
Long shelf life – You can keep homemade spice mixes for up to a year! I like to set aside an hour and make big batches of all my go to spices then not worry about it again for 6-12 months. If I had to do it once a month it would never happen, but only doing it once a year is totally doable, even for a super busy family.
Better taste – Since I control what goes in, I can tweak them to our family's preferences. More spicy, less spicy… more salty, less salty, etc. These small little tweaks make them even more perfect for us!
Affordable– In most cases, you can make your own blend of spices for far less than it costs to buy them pre-made.
Today we are going to walk through my recipe for traditional Italian Seasoning. You can find my other homemade spice mixes here:
Tips for Making Italian Seasoning at Home
Whether you are like me and have decided to make spice mixes to keep on hand to make cooking easy, OR you ended up here because you realized at the last minute that you are out of the key ingredient for the marinara sauce you are making, we are going to solve the mystery of "What's in Italian Seasoning?"
No, it is not just another bottle on the spice rack! It is a unique blend of spices commonly used to flavor Italian dishes.
Our blend includes:
basil
oregano
rosemary
thyme
marjoram
sage
red pepper flakes
I have included my suggestions for quantity of each spice in the recipe card. You can change them more or less based on your family's taste preferences.
The red pepper flakes are a very small amount, and don't really make the seasoning mix spicy. It does add some extra flavor and gives the mix something a little extra special!
Making this can be as simple as measuring and combining the dried spices together, but to get the best results, there is an extra step.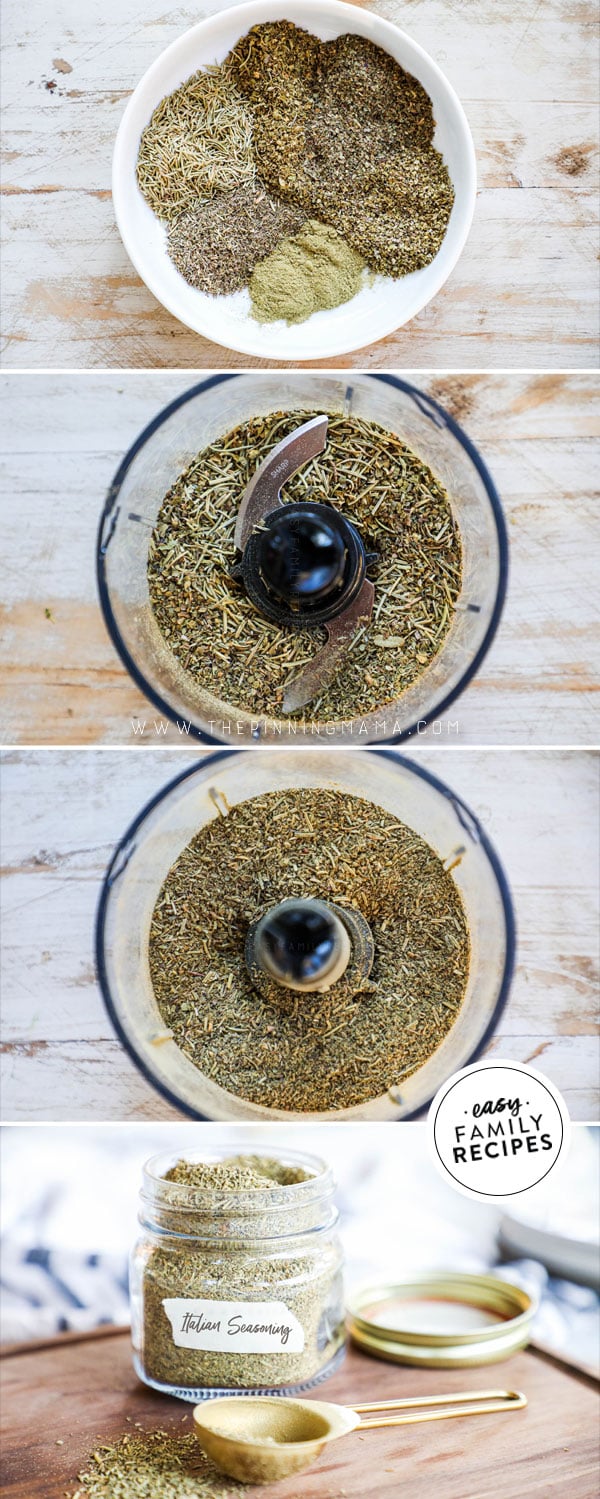 Blending the Spices
Once you measure the spices, I recommend using a food processor, grinder, or even a blender to grind the spices down a bit so that they can more evenly combine.
This combination of spices offers a variety of shapes and textures. For example, the rosemary is larger and more brittle, while the sage is a more fine powder. By placing the spices in a food processor it can help to reduce the size of the larger spices so that they are closer to uniform in size.
If you don't have a food processor, blender, or grinder, you can leave the mix as is, but make sure you mix well before you use it each time so that it doesn't settle.
How to Store
Once the seasoning is made, place it in a mason jar, container, or even zip top bag. The Italian Seasoning should be stored in a cool, dry place out of direct sunlight.
When stored properly, spices can stay good for a year or more!
This makes them easy to prep and keep on hand for any time you may need them.
Scaling the Recipe
This recipe makes about 1/2 cup total. This is equivalent to about 2 average store bought bottles of Italian Seasoning.
If you want to make about 1 store bought bottle, you can half all of the ingredients.
If you would like to scale the recipe up for a big batch that might last you all year, you can double, triple or quadruple the recipe for the following yields:
Double (2x)- 1 cup seasoning mix
Triple (3x)- 1.5 cups seasoning mix
Quadruple (4x)- 2 cups seasoning mix
Dietary Considerations
This recipe is friendly for many dietary needs. It naturally complies with the following diets:
Gluten Free
Dairy Free
Vegetarian
Vegan
Whole30
Paleo
Always make sure to double check any store bought ingredients for compliance to your dietary needs.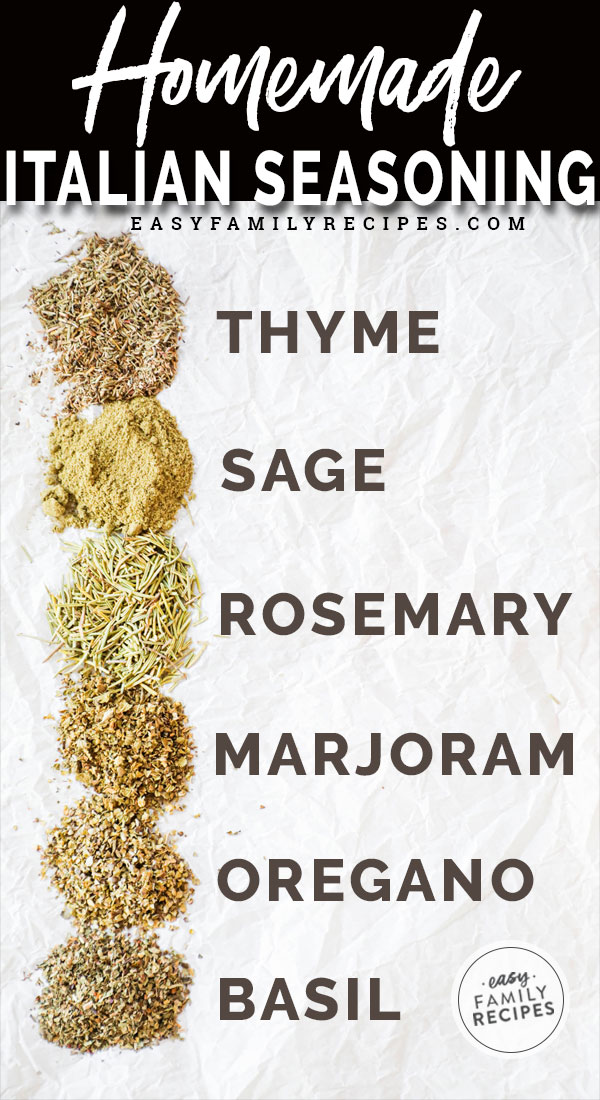 Great Ways to Use Italian Seasoning
Italian Seasoning is SO versatile, and probably one of my most used seasoning blends in my spice cabinet. This blend can be used in any recipe that calls for Italian Seasoning, or to add flavor to every day dishes.
These are some regular rotation recipes we use with Italian Seasoning:
Italian Seasoning blend can be used daily to flavor dishes as well. Just by adding a sprinkle of the seasoning mix you can get a nice extra kick of flavor.
Here are some ideas on ways to make cooking easy by adding a sprinkle of seasoning:
Chicken– Mix chicken breast with olive oil and Italian seasoning. Cook in a hot skillet or on the grill
Veggies– Steam veggies and season with salt and Italian seasoning. Or roast vegetables with the seasoning like this!
Mashed Potatoes– Stir into your favorite recipe – these mashed potatoes are extra creamy!
Garlic Bread– Sprinkle on top before placing in the oven.
Garlic butter– Mix butter with garlic paste, a pinch of salt, and Italian seasoning
Chicken tenders– Make baked chicken tenders and add Italian seasoning to the flour mixture for extra flavor!
Cream cheese– Spread cream cheese on toast or bagels and sprinkle with Italian seasoning
French fries– Sprinkle with Italian seasoning, add an extra layer of delicious by topping with mozzarella cheese!
Salad Dressing– Mix seasoning with oil, vinegar, and garlic for a quick, healthy dressing.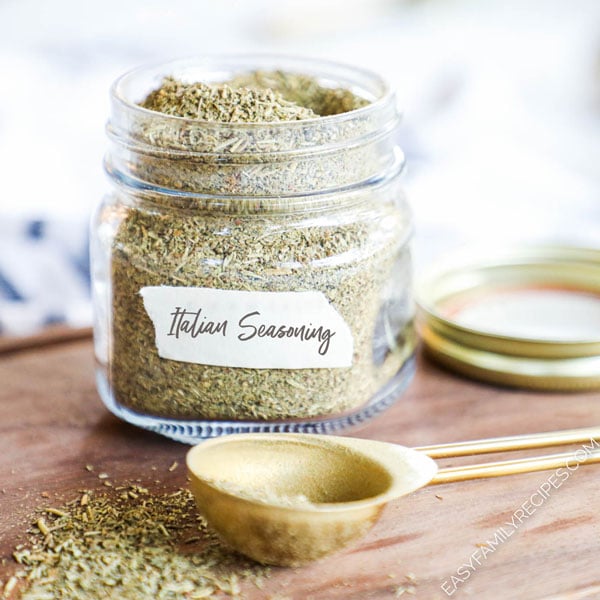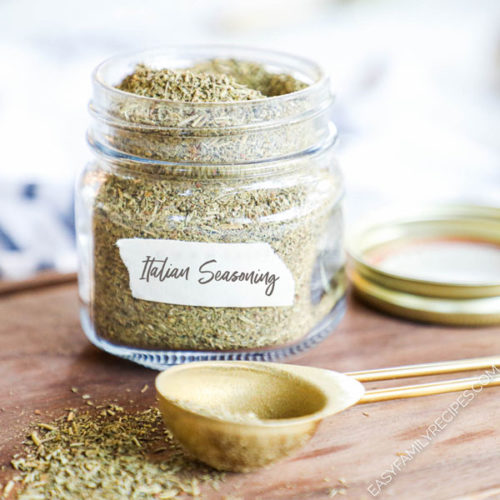 Homemade Italian Seasoning Mix
This Italian Seasoning blend is just like store bought, but quick, easy, wholesome and even more delicious! Use it 1:1 in any recipe that calls for Italian Seasoning, or to sprinkle on top of meats, vegetables, or potatoes.
Ingredients
2

tbsp

dried basil

2

tbsp

dried oregano

2

tbsp

dried rosemary

2

tbsp

dried thyme

2

tbsp

dried marjoram

1

tbsp

ground sage

1

tbsp

red pepper flakes

,

(optional)
Instructions
Combine all spices in a bowl and stir to combine.

Place spice mix in a small food processor and pulse until spices are of even size.

Store in an airtight container for up to 1 year.
Nutrition Information
Serving:
1
tsp
,
Calories:
5
kcal
,
Carbohydrates:
1
g
,
Protein:
1
g
(2%)
,
Fat:
1
g
(2%)
,
Saturated Fat:
1
g
(6%)
,
Sodium:
6
mg
,
Potassium:
23
mg
(1%)
,
Fiber:
1
g
(4%)
,
Sugar:
1
g
(1%)
,
Vitamin A:
139
IU
(3%)
,
Vitamin C:
1
mg
(1%)
,
Calcium:
24
mg
(2%)
,
Iron:
1
mg
(6%)