These Garlic Bread Chicken Caesar Sandwiches are the ULTIMATE weeknight dinner! Loaded with the flavor of creamy chicken caesar salad on buttery garlic toast, this recipe is not only super delicious, but can be made start to finish in as little as 15 minutes. These sandwiches can be cut into meal sized portions, or cut smaller for a fantastic party appetizer for a crowd.
This post is sponsored by Challenge. All recipes, tips, and opinions are cooked up right here at Easy Family Recipes.
Garlic Bread Chicken Caesar Sandwiches – The EASY Way!
It doesn't get much easier or more delicious than this Chicken Caesar Sandwich recipe! It is a delicious creamy caesar salad, loaded with tender chicken breast, and instead of traditional croutons, it is piled high on buttery garlic toast for an even more delicious finishing touch!
The whole meal is made with everyday staple ingredients which makes it simple to make from start to finish in just minutes! I love to make this for dinner on a busy weeknight, but this also makes a hearty lunch, or slice the sandwiches smaller for a great dish to bring to a potluck, or a party appetizer for a crowd.
Why I LOVE this recipe!
Family friendly– These sandwiches go over great with adults and kids! The garlic bread wins them over every time. Even my picky eater likes them!
Simple to make– There are few things quicker than throwing this sandwich together. Plus it uses ingredients I almost always have on hand.
Use leftovers– Perfect to make when you have leftover chicken in the fridge, or pulled rotisserie chicken.
Serve many or a few– Making this with a loaf of french bread gives you the flexibility to cut it in 4 giant sandwiches, 5 big sandwiches, 6 regular sandwiches, or up to 12 small sandwiches perfect for a appetizer, light lunch, or finger food.
Universally loved flavors– Caesar salad and garlic bread are some of the most well loved flavors. Put them together for a winning combo!
What to Serve with Chicken Caesar Sandwiches
Since this dish has the classic flavors of caesar salad, it will pair well with many of your favorite classic side dishes. I love to keep it simple and serve with soup, a different type salad, or just some chips! There are both traditional options and some healthy options to keep it light.
Side Dish Ideas
You can choose one or add a few sides to make a wholesome, well rounded dinner.
Recipe Notes
This Chicken Caesar Sandwich recipe is as simple as promised! Just 8 ingredients and as little as 15 minutes for a family friendly meal.
In this section I am going to go through a few tips and tricks I use when making this recipe to get the absolute best and most delicious results.
Make sure to scroll to the bottom for the FULL recipe card.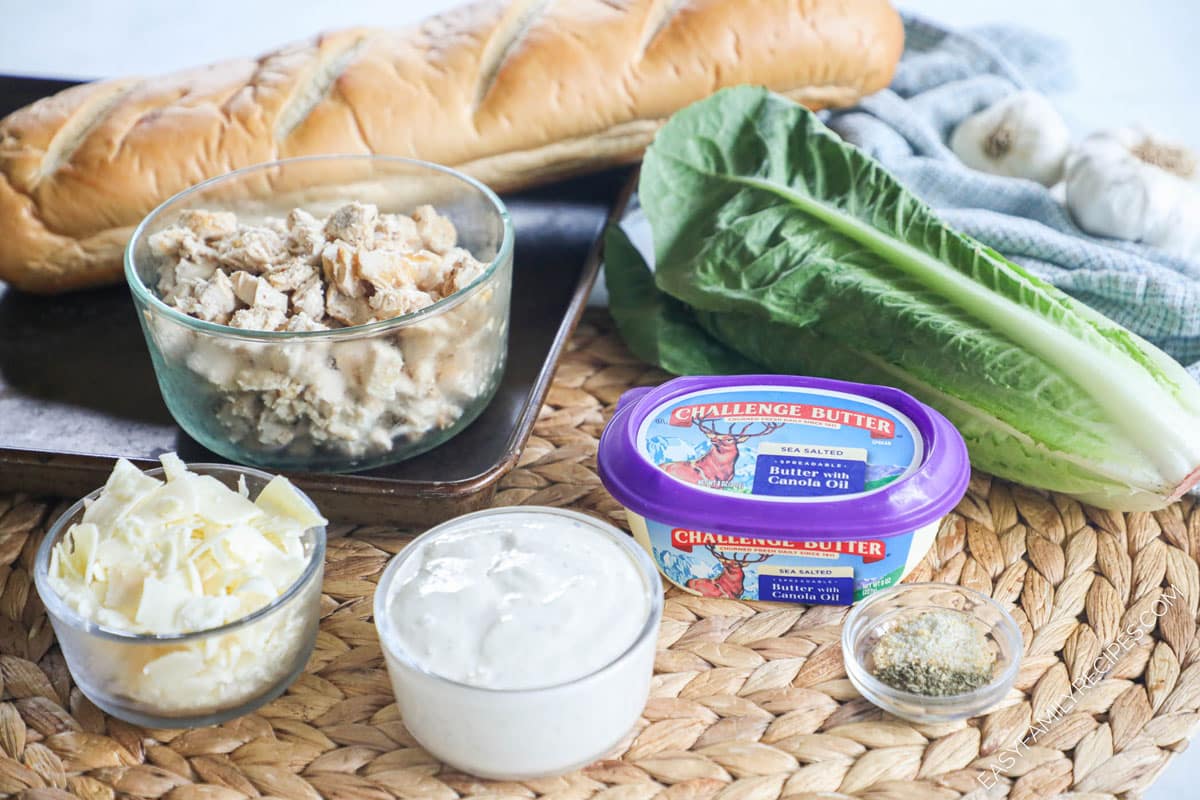 Ingredients + Substitutions
For the Toasted Garlic Bread
French bread– This will serve as the base of the sandwich and give the crouton flavor that is an integral part of the taste of caesar salad. You can substitute Italian bread, a baguette, or grab sub rolls to make individual sandwiches with no slicing.

Challenge Spreadable Butter– I LOVE Challenge Spreadable Butter! It is something I have in my fridge at all times. I use it on everything from bagels in the morning to making garlic bread like this.

Challenge Spreadable Butter is real butter that spreads smooth. I love that it has simple ingredients with all the flavor of butter. Since it is spreadable right out of the fridge, it is quick and easy to use- no softening required. Challenge Spreadable butter is made with just 3 ingredients – cream, salt, and either canola oil, avocado oil, and olive oil varieties.

I used Challenge Spreadable Butter with Canola Oil in this recipe, but you can use any of the three varieties in this recipe with delicious results. Traditional unsalted Challenge Butter can be substituted if needed as well. Just make sure to budget a little extra time to let it soften so it can be evenly spread over the bread.

Seasonings– We use a combination of garlic salt and Italian seasonings to get that great crouton flavor on the garlic bread.
For the Chicken Caesar Salad
Romaine– I use romaine hearts since that is traditional for a caesar salad. You can use pre chopped romaine or chop your own. Other crunchy or hearty lettuce varieties can be substituted for romaine if needed.

Shredded chicken– I most frequently use rotisserie chicken since it is quick and easy, but you can cook up some chicken to shred, or use any neutrally flavored leftover chicken you may have in the fridge.

Creamy caesar dressing– I prefer a creamy style dressing to really carry the flavor through the sandwich. Go with your favorite brand, or make the dressing from scratch.

Shaved parmesan cheese– Any parmesan will work on the sandwich, but my first choice is a shaved style. I like that it gives the sandwich a little more texture and heartiness.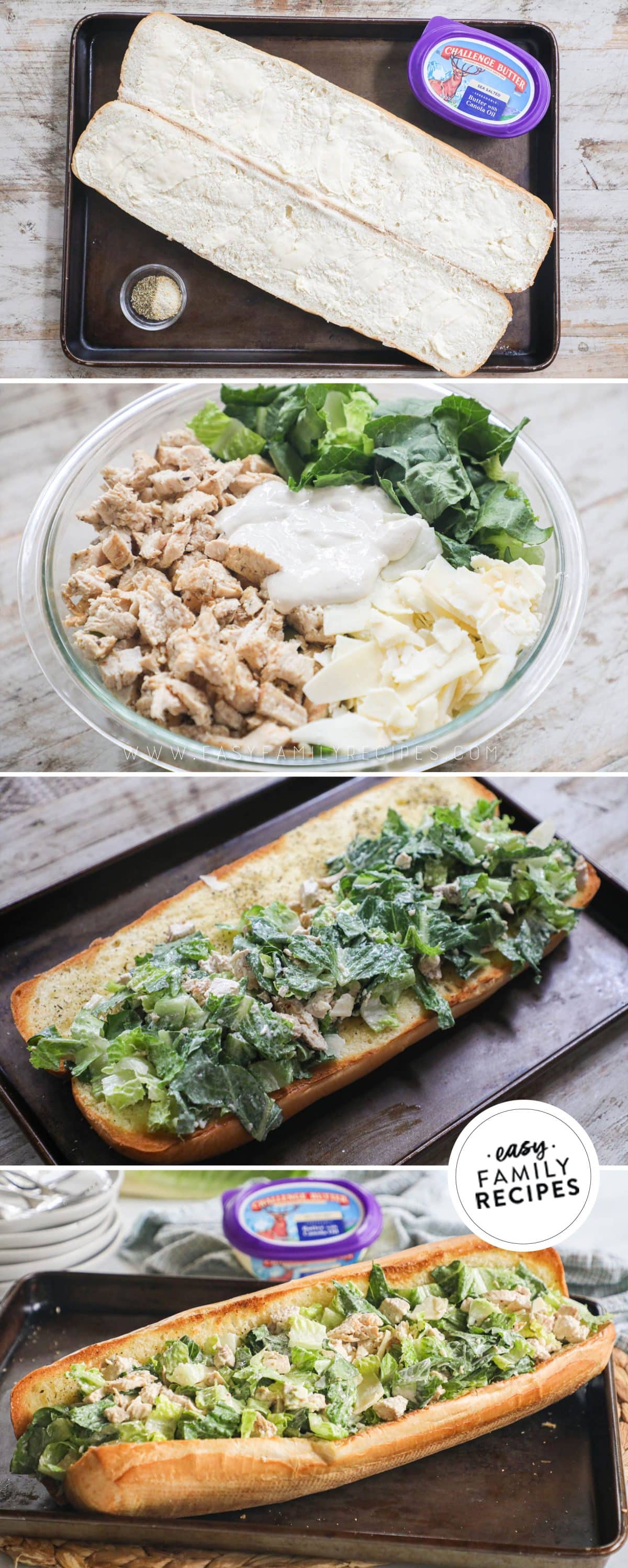 Recipe Tips
Spreadable butter is KEY! Make sure that the butter can be spread easily by using Challenge Spreadable Butter, so that it can be evenly applied across the bread to maximize flavor. The buttery garlic toast gives so much flavor to the sandwich and makes it really extra special.

Toast to your liking– You can use a little personal preference here. Toast the bread longer if you prefer a crispier toast, or even a little less for softer toast. My personal method is to bake for 8 minutes then broil for 1-2 minutes to get just the edges extra crispy.

Don't over-dress– The best way to avoid a soggy salad is to make sure to go light on the salad dressing. Over dressing the salad will weigh it down and make it wilt more quickly. Go light on the dressing to keep the chicken caesar sandwich crisp and full. If you prefer extra dressing, you can spread a little extra on one or both sides of the garlic bread once it is toasted.

Cut it up– To serve the sandwich just slice it into individual serving sizes. You can do bigger sandwiches for dinner or big eaters, smaller sandwiches for lighter eaters, or even extra small slices for an appetizer or finger food! The sandwiches also don't all have to be the same size. I cut my teenage boys much bigger portions than I cut for myself!
Recipe Short Cuts
If you need to make this recipe, but are extra short on time, here are a few ideas that can help make this recipe even faster!
Mix Garlic Butter Ahead– Instead of spreading on the butter and sprinkling the butter on top, you can mix the spreadable butter with the garlic salt and Italian herbs ahead of time and then just spread the mixture on and toast when you are ready to cook.

Use pre-chopped salad– Instead of buying hearts of romaine and chopping, you can buy bagged caesar salad mix and use the pre-chopped lettuce to save a few minutes.

Re-toast Bread– If you are really short on time, you can make the garlic bread ahead of time and then just re-toast it for a few minutes to refresh it when you are ready to cook.
Recipe Variations
If you love this recipe as much as we do and want some quick ways to change it up for variety, these little tips will do the trick!
Kale Caesar Sandwich– Make recipe as directed using half finely chopped kale and half chopped romaine.
Salmon Caesar Sandwich– Make recipe as directed using cooked salmon in place of shredded chicken.
Chicken Caesar Wrap– Instead of using a french bread loaf, use a large tortilla or flatbread wrap. Butter and season one side of the wrap and grill over medium heat in a skillet. Then remove the wrap, fill the buttered side with the salad mixture and roll up.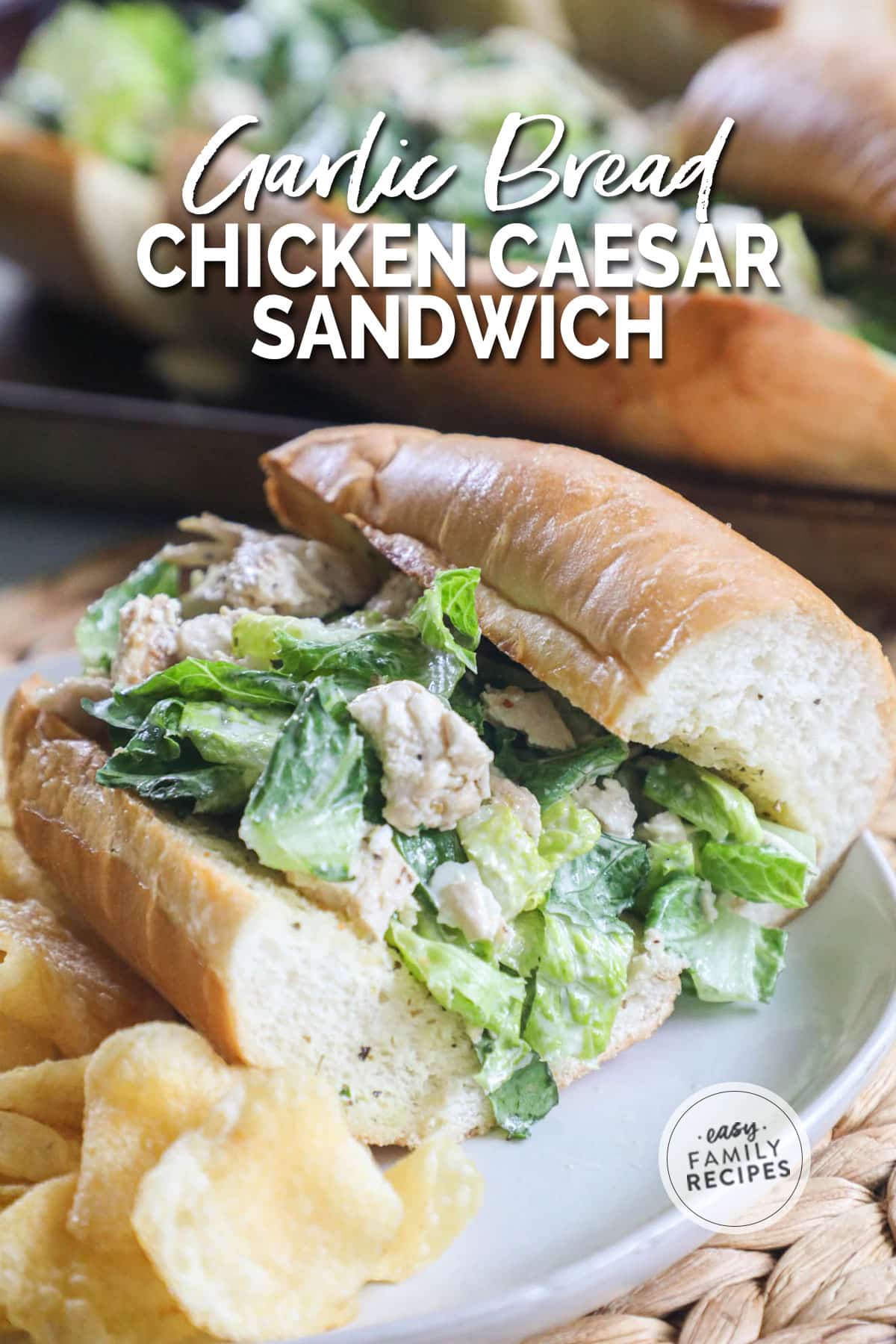 More EASY Dinner Recipes
If you enjoyed this recipe, I really hope you will take a moment to grab a few more easy recipes for another busy night!
You can check out all of my fast dinner recipes here, or see a few of our readers favorite recipes below.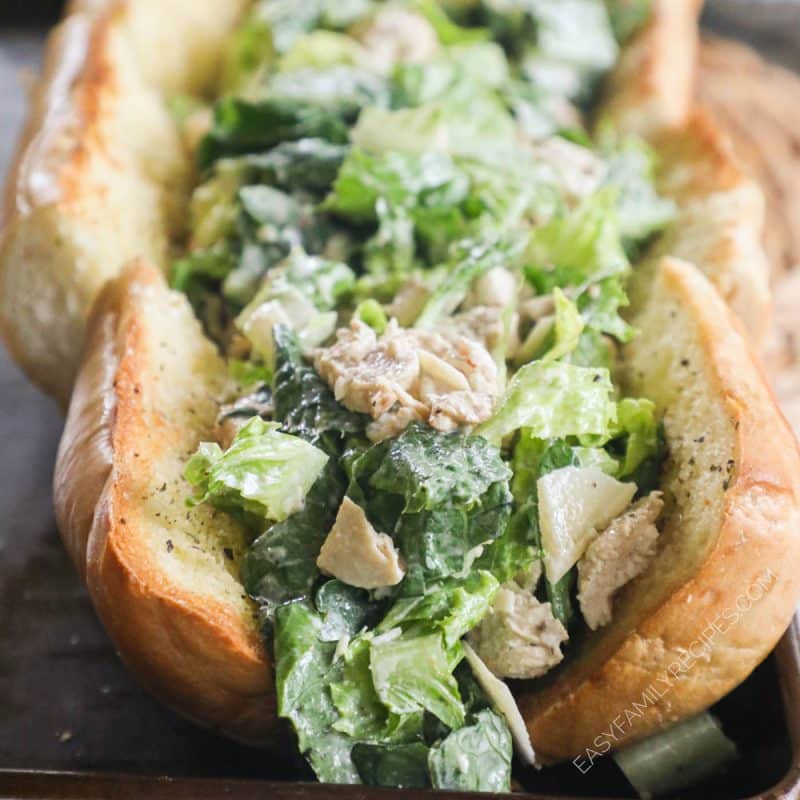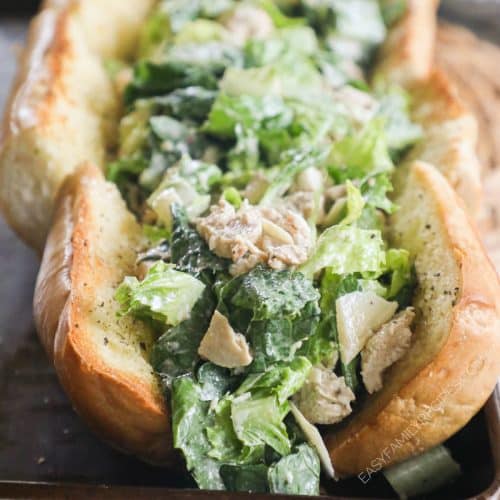 Chicken Caesar Sandwiches on Toasted Garlic Bread
The Garlic Bread Chicken Caesar Sandwiches combine the best flavors of caesar salad with luscious, buttery garlic toast for that crisp crouton crunch. Make these for a quick and easy dinner, or slice the sandwiches small for an appetizer, finger food, or pot luck dish.
Ingredients
For the Toasted Garlic Bread
For the Chicken Caesar Salad
2

hearts of romaine

2

cups

shredded chicken

1/3

cup

creamy caesar dressing

1/4

cup

shaved parmesan cheese
Instructions
Preheat the oven to 350˚F.

Cut the french bread in half horizontally. Spread half of the Challenge spreadable butter on each side of the loaf to coat. Sprinkle the garlic salt and Italian seasonings evenly over the butter.

Bake for 8-10 minutes until the butter is melted . Then broil for 1 minute to get the edges golden brown and crispy.

To make the salad, cut the bottom 1-2 inches off the romaine to remove the core. Then chop the lettuce into small bite sized pieces and place in a large bowl.

Toss the lettuce with the salad dressing until evenly coated. Stir in the chicken and parmesan cheese.

Use tongs to place the salad mixture evenly down the length of the bottom piece of garlic bread. Place the top on and cut into 4-6 sandwiches for lunch or dinner, or 8-12 sandwiches for an appetizer or finger food. Serve immediately.
Nutrition Information
Serving:
1
sandwich
,
Calories:
534
kcal
(27%)
,
Carbohydrates:
44
g
(15%)
,
Protein:
25
g
(50%)
,
Fat:
29
g
(45%)
,
Saturated Fat:
11
g
(69%)
,
Polyunsaturated Fat:
7
g
,
Monounsaturated Fat:
7
g
,
Trans Fat:
0.5
g
,
Cholesterol:
85
mg
(28%)
,
Sodium:
1367
mg
(59%)
,
Potassium:
353
mg
(10%)
,
Fiber:
3
g
(13%)
,
Sugar:
5
g
(6%)
,
Vitamin A:
4390
IU
(88%)
,
Vitamin C:
2
mg
(2%)
,
Calcium:
122
mg
(12%)
,
Iron:
5
mg
(28%)