This homemade Cajun Seasoning is absolutely the BEST for seasoning meats, veggies, pasta and more with that Cajun kick. It is easy to make, taking the basic spices that make the traditional flavors of cajun food so delicious, and combining them in just the right amount to come out with a zesty and intensely flavorful seasoning that will make your taste buds dance. If you love creole flavors, you will love this simple to make homemade cajun seasoning mix.
Cajun Seasoning Recipe
This recipe for Cajun Seasoning is simple and contains the spices that are traditionally associated with the flavors in Cajun food. All of the spices that make up this recipe are common and readily available in most local grocery stores. This super easy recipe for Cajun Seasoning can be made in as little as five minutes once you have the seasonings on hand.
What is Cajun Seasoning?
The word Cajun refers to communities that make up areas of Southern Louisiana comprised of the descendants of French Canadian settlers that spoke a specific dialect of French. This region has a rich history comprised of traditions, culture and food. Cajun Seasoning captures the distinct flavor and kick that you will find in Cajun food.
Cajun seasoning, known for it's kick, contains three types of pepper, black, white and cayenne. Each type of pepper important to the recipe to get the taste that is familiar in Cajun food. This Cajun seasoning has the perfect balance of a little bit of a kick, balanced out by the flavors of garlic, onion, paprika and oregano to give you a combination that you will crave over and over!
By making Cajun Seasoning from scratch you avoid any extras fillers you may find in pre-made seasonings and allows you to have a Cajun seasoning that is gluten free, dairy free and low carb.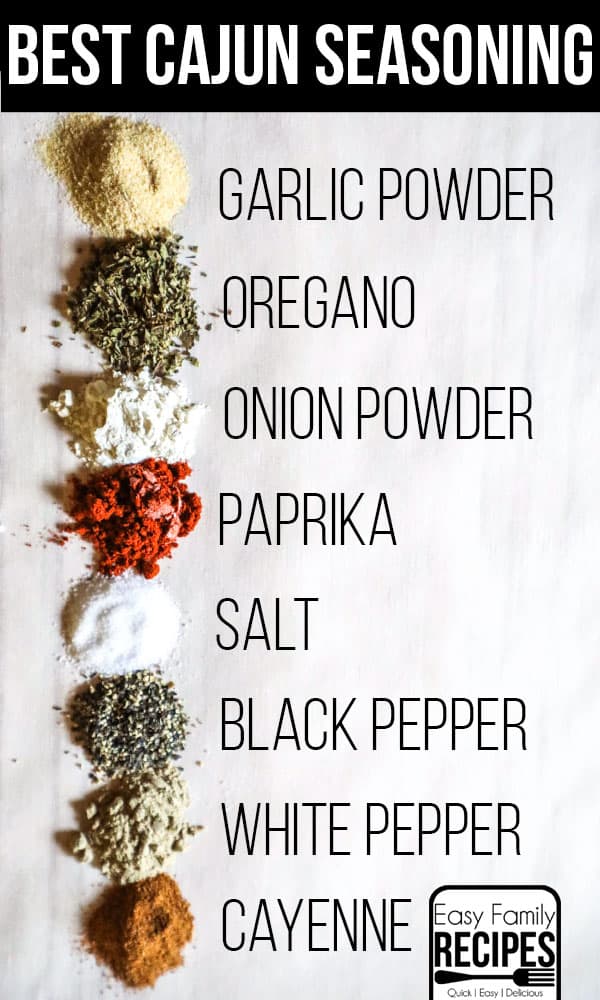 How to Use Cajun Seasoning
Cajun Seasoning is a great seasoning mix to keep on hand. It can be used to add flavor to many kinds of dishes from main dishes to side dishes. You can add a little to give a dish a boost of flavor or make it a main part of the dish like in this insanely delicious Creamy Cajun Chicken. Here are a few of my favorite ways to use this delicious Cajun Seasoning:
As a marinade: Add 1 tbsp of Cajun seasoning and 1 tbsp of oil per pound of meat. I especially like it on chicken.
Season veggies: Add a sprinkle over roasted or steamed veggies to enhance their flavor.
On baked potatoes: Sprinkle Cajun Seasoning over a baked potato after adding desired toppings such as butter, cheese, sour cream, chives etc.
On popcorn: Give your popcorn a unique and delicious flavor by spritzing it with butter or olive oil, then tossing with cajun seasoning.
With pasta: Add a teaspoon or two to your favorite alfredo sauce recipe then toss with pasta and chicken for an easy Cajun Chicken Pasta.
In Chicken Salad: Shred leftover chicken or rotisserie chicken and mix with mayonnaise and a tablespoon of this Cajun seasoning. Add your choice or chopped veggies such as celery, onion, and chopped peppers.
As a dip– Mix 1 tablespoon of Cajun seasoning to 1 cup of sour cream and mix well. Chill for 1 hour, then serve with chopped veggies or potato chips.
This is really just the tip of the iceberg! Cajun Seasoning can be used in so many ways to add additional flavor and a little kick to any basic dish you like to make. If you have ideas on other ways you love to use this Cajun seasoning, please leave me a note in the comments so that I can give it a try too!
How to Make Cajun Seasoning
As I have mentioned a few times, this Cajun seasoning is very simple to make. I will walk through a few tips and tricks on making it here, but make sure to hop down to the bottom of this post to grab the FULL recipe card.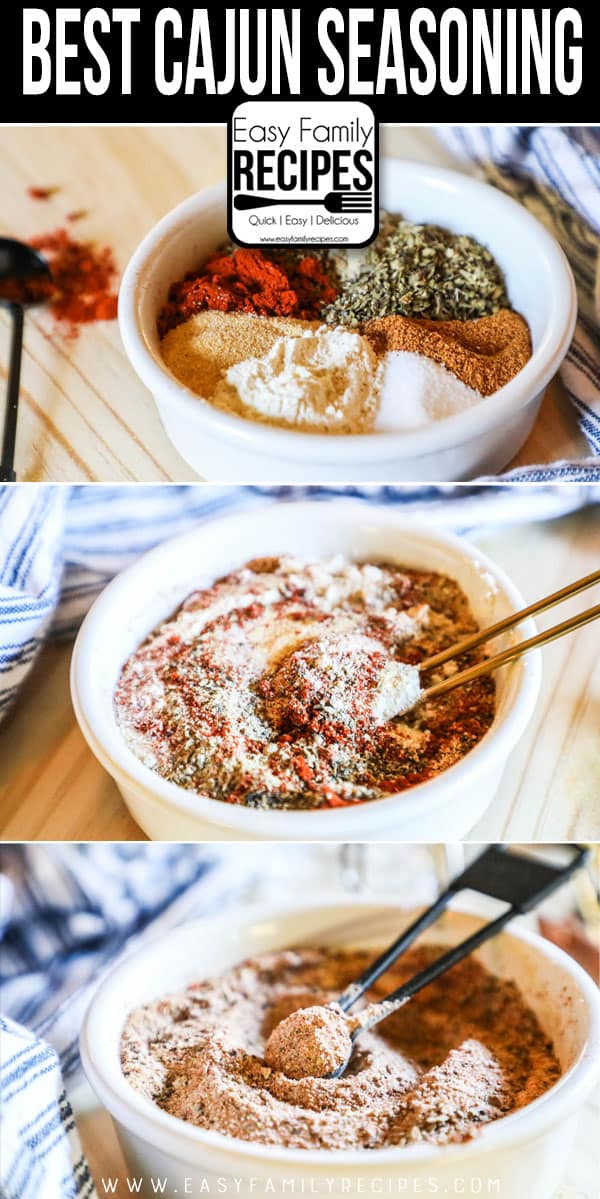 First gather all of the spices you will need. Most of the spices are pretty basic, but you will need 3 types of ground pepper for this recipe, black, white, and cayenne, and they are all important to the flavor, so make sure not to skip or substitute any of them.
All of the spices are dried, and each of them except for the oregano is ground. Make sure you do not buy whole spices or peppercorns, unless you plan on grinding them yourself.
Cayenne pepper is a key ingredient for the Cajun seasoning and the primary ingredient that gives the Cajun seasoning its distinctive kick. If you are sensitive to spice, you can reduce this spice by up to half so that the seasoning is less "hot."
Paprika is another spice that is important to the overall flavor of the seasoning. Although it has a similar distinctive red color to cayenne pepper, paprika is much milder and gives a nice smokey flavor to the Cajun seasoning. You can use either regular or smoked paprika in this recipe with great results.
Once you have the spices, measure them into a mason jar and then mix well.
How to Store Cajun Seasoning
This Cajun Seasoning should be stored in an air tight container in a cool dark place. When stored properly it should last up to a year.
I often get asked if you can freeze Cajun seasoning. While it can be stored in the freezer which may help to preserve freshness even longer, it does not have to be stored in the refrigerator or freezer. You can get up to a year out of the seasoning in a cool, dark place such as a pantry or kitchen cabinet.
Do you have more Homemade Seasoning mixes?
If you love homemade seasonings, make sure to check out my other seasoning mixes including:
You will find all of them to be gluten free, dairy free, low carb, and most importantly, ABSOLUTELY DELICIOUS!
I really hope that you get a chance to try this Cajun Seasoning and enjoy adding it to many types of foods and recipes like I do!
If you do get a chance to try it, I would love it if you let me know! You can leave me a comment below, or if you post a picture on Instagram, make sure to tag me @easyfamilyrecipes so that I can see what you are cooking up! It makes my day to see others enjoying the recipes that I share!
Oh and before you go!… If you need a regular rotation of recipe inspiration like me, make sure to sign up to get our emails! I send out my new favorites, the recipes my family has been devouring, and some of the best tried and true recipes. It is easy and free of course! You can click here to sign up.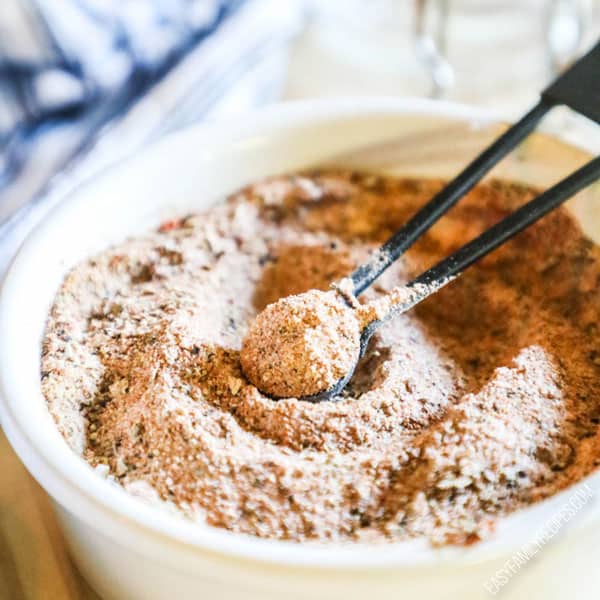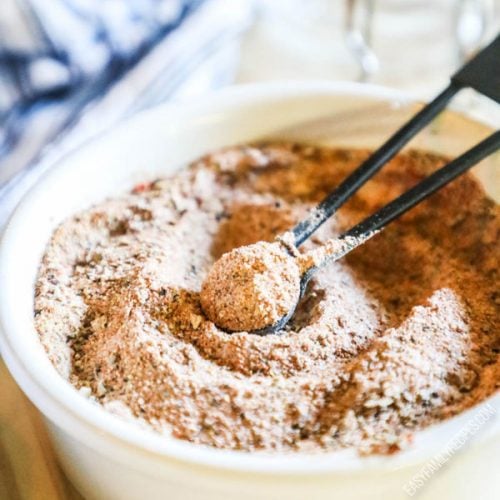 BEST Cajun Seasoning
This Cajun Seasoning is simple to make and intensely flavorful and delicious. You can use it for everything from a marinade for meats, to seasoning side dishes, vegetables, pastas, and more.
Ingredients
2

tbsp

salt

1

tbsp

cayenne pepper

1

tbsp

dried oregano

2

tsp

ground white pepper

2

tsp

ground black pepper

2

tsp

paprika

2

tsp

onion powder

2

tsp

garlic powder
Instructions
Mix all spices together until evenly combined

Store in an air tight container in a cool dry place for up to a year.
Recipe Notes
Nutrition facts provided based on my best estimation for the recipe and may not be accurate depending on what brands you use or modifications you make to the recipe.  I recommend using a nutrition calculator with the exact brands and measurements you use for the most accurate calculation.
©2018 Easy Family Recipes- Recipe found at: https://www.easyfamilyrecipes.com/cajun-seasoning/
For more great easy dinner inspiration,

sign up for our emails here!
Nutrition Information
Serving:
1
tsp
,
Calories:
4
kcal
,
Carbohydrates:
0
g
,
Protein:
0
g
,
Fat:
0
g
,
Saturated Fat:
0
g
,
Cholesterol:
0
mg
,
Sodium:
581
mg
(25%)
,
Potassium:
18
mg
(1%)
,
Fiber:
0
g
,
Sugar:
0
g
,
Vitamin A:
190
IU
(4%)
,
Vitamin C:
0.2
mg
,
Calcium:
6
mg
(1%)
,
Iron:
0.2
mg
(1%)