Million Dollar Chicken Salad is the perfect, crazy easy, insanely delicious- and bonus- low-carb meal. It can be made with any chicken you have on hand and comes together in minutes. Enjoy on its own or served as a side dish. This homemade chicken salad is sure to be a winner!
Million Dollar Chicken Salad – The EASY Way!
Chicken salad is one of those meals that I crave every summer. It is refreshing, doesn't require me to heat an oven up, and comes together very quickly, leaving more time to play with the kids.
This chicken salad idea was inspired by my Million Dollar Dip. It has all the same great flavors from the cheddar cheese, bacon, and chives. And, if you know anything about the Million Dollar Dip, then you know it is the best! And let me tell you… it makes an amazing chicken salad recipe too!
It has the same wonderful creamy texture and fun crunch from slivered almonds, but with the added protein of shredded chicken. And while a dip might not be substantial enough for a meal, this chicken salad version is the perfect grab-and-go meal for brunch, lunch, or dinner!
Why I LOVE this recipe!
Wholesome – Chicken salad made with fresh or leftover chicken is a wholesome family meal and easily fits into a low-carb diet. I like to pack mine with extra veggies too!
Hearty – With plenty of protein in this cold salad, it will fill you up and leave you satisfied.
No Cooking – While fresh chicken is best, rotisserie chicken or leftover chicken works great and don't require any cooking!
Quick and Easy – No fancy ingredients, no complicated prep, and just 15 minutes to get it chilling in the fridge.
Great for Meal Prep – With 8 hearty servings and a good refrigerator shelf life, this is the best chicken salad to prep and get ahead on lunches for the week. It actually gets better with time!
What to Serve with Chicken Salad
This easy chicken salad recipe has tons of classic flavors (hello bacon and cheese!) that go well with many different serving options. It can be served as a side or as a main meal. Here are both classic ideas and some healthy ones to keep it light.
Serve chicken salad with:
Crackers– this salad goes great with everything from Ritz crackers, to fancy crackers, gluten free crackers, to Tricuits. I haven't met a cracker that Million Dollar Chicken Salad didn't taste great on!
Chips– Try it with tortilla chips, pita chips, or classic potato chips
Extras– Try it spread on toast or a croissant for a delicious chicken salad sandwich.
Wraps– Try making a wrap for an easy on the go option!
Low Carb Serving Ideas
Veggies– My favorites for pairing with this low carb chicken salad are cucumbers, carrots, zucchini slices, and celery. I prefer things that can hold the weight of the dip to make an easy dipper! These also make a great low carb/keto option for serving with the dip.
Avocado or Tomato – Another great low-carb option, is to fill an avocado or tomato with this chicken salad. This acts as a delicious little chicken bowl that travels well.
Lettuce Wrap – This combo is so refreshing! The crunch of the lettuce with the creamy chicken salad is a low-carb match made in heaven.
Side dishes to serve with Chicken Salad
This is great on a sandwich, salad or wrap, but if you need some ideas of what to pair it with, I love doing a trio of salads (kind of like what you would get at Chicken Salad Chick or a restaurant like that!) These are a few of my favorites to pair the chicken salad recipe with:
I also love to pair chicken salad with quiche for an extra protein packed meal!
You can choose one or add a few sides to make a wholesome, well-rounded dinner.
Recipe Notes
This homemade chicken salad recipe is as simple as promised! Just 20 minutes and no prep time for a family-friendly meal.
In this section I am going to go through a few tips and tricks I use when making this recipe to get the absolute best and most delicious results.
Make sure to scroll to the bottom for the FULL recipe card.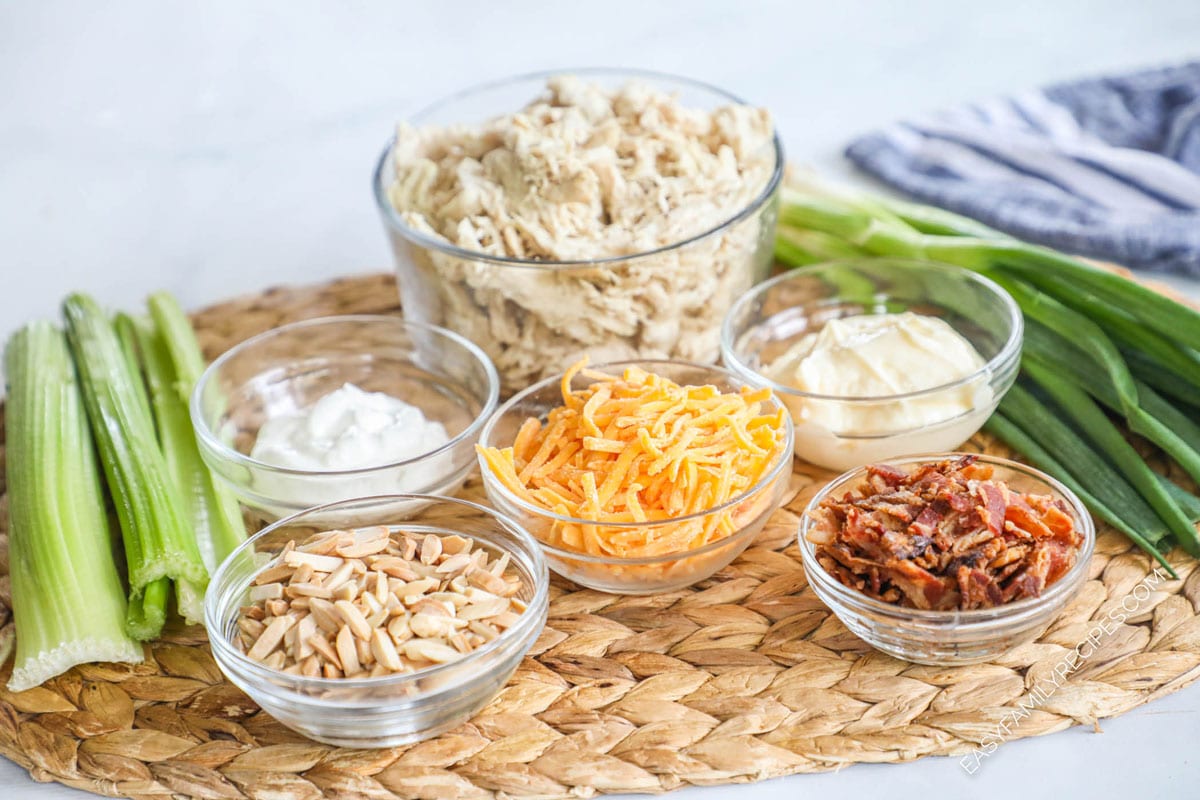 Ingredients + Substitutions
Chicken – This is the base of our chicken salad ingredients. Any neutral chicken you have on hand will work great. You could make it with fresh chicken that's baked, shredded, or boiled, or use rotisserie, canned, or leftover chicken.

Mayonnaise– This helps to carry the flavor throughout the salad and makes it the perfect consistency. I would not recommend using a mayo substitute like Miracle Whip. If you can't have mayonnaise, I think the best sub for flavor would probably be extra sour cream or greek yogurt.

Sharp cheddar cheese– I prefer to use sharp cheddar because you get more flavor with less cheese. You don't have to overtake the salad with the shredded cheese to really incorporate the flavor.

Crispy crumbled bacon– My favorite way to do this to bake the bacon until crispy, allow it to cool, and then crumble it up and add it to the dish. You can do this up to a week ahead of time and keep it in the fridge, or 6 months ahead of time when kept in the freezer. Reheat before adding to the salad in the microwave, skillet or oven if it needs to crisp up again. I do personally think that real bacon makes a big impact on the flavor of the dish so I use fresh bacon 99% of the time. If you are in a time crunch, you can substitute bacon bits for real bacon, but try to use a good quality bacon bit for the best flavor.

Slivered almonds– These add all the crunch and texture to the dish, They have a fairly mild flavor, but help to make the salad more hearty with a satisfying crunch. If there are concerns with allergies or sensitivities the almonds can be left out of it and it will still have great flavor.

Green onions– These fresh onions give a mild onion flavor that brings all of the flavors together. I always like to save some to sprinkle over the top also because it looks really pretty!

Sour Cream – This adds tanginess to the chicken salad. If you don't have sour cream, greek yogurt can be used instead.

Celery– I love to bulk up my chicken salads with a lot of veggies. Using celery gives you more volume at a low cost (both in dollars and calories!)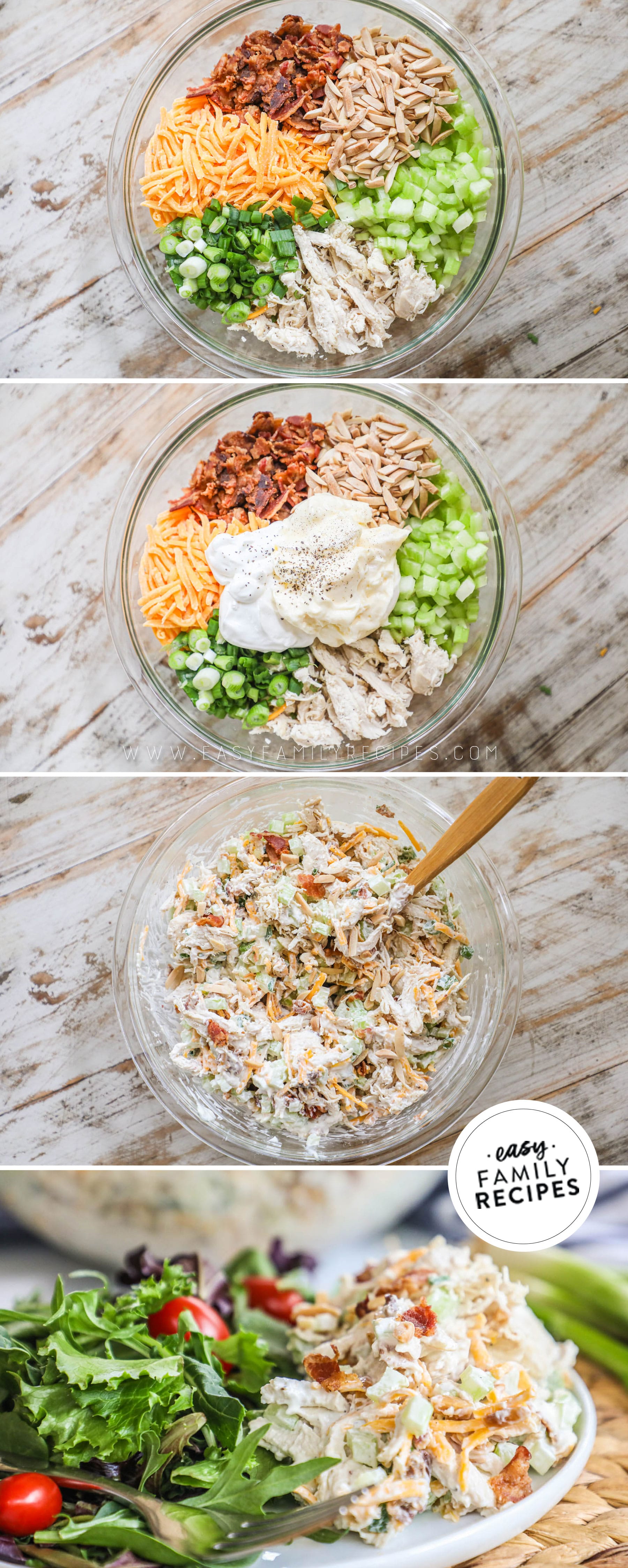 Recipe Tips
Use fresh when you can! This chicken salad recipe is always good, but to make it truly exceptional, try using ingredients like freshly cooked bacon instead of bacon bits, and freshly grated cheese. These fresh ingredients will take the entire flavor profile up 10 notches!
Skip Fat-Free– If you want to lighten this up, feel free to use light mayo, light sour cream, or light cheese. I do not recommend using fat-free, as it alters the taste and texture of the dish much more.
Let it set– While you can eat the chicken salad immediately after making it, it is the absolute best after sitting for about 30 minutes to an hour. This gives the flavors a little time to meld and distribute.
Recipe Short Cuts
If you need to make this recipe but are extra short on time, here are a few ideas that can help make this recipe even faster!
Prep ahead– most of the time to make this recipe comes from chopping and prepping. Items that can be done up to 24 hours in advance are:

shredding the chicken
pre-cooking and crumbling the bacon
dice the yellow and green onions
grate the cheese

Make ahead of time– This salad will stay fresh and delicious for up to 3-4 days in the refrigerator. You can make it in advance and just pop it out and serve as needed.
Use Frozen Chicken– One of my biggest time-savers in the kitchen is prepping and freezing my proteins. I like to buy rotisserie chicken or cook big batches of chicken and then shred or dice and freeze in 1-2 cup portions in the freezer. This gives me a head start on making any meal when the protein is prepped and ready! Just pop it out to thaw in the fridge overnight the day before you need it.
Recipe Variations
If you love this recipe as much as we do and want some quick ways to change it up for variety, these little tips will do the trick!
Spicy Million Dollar Chicken Salad– Make sala as directed adding 1/4 cup fresh diced jalapeno to the mixture. If you want it more mild remove the seeds and stems, or if you love a kick keep some or all of the seeds and stems.
Greek Yogurt Chicken Salad– Substitute greek yogurt for sour cream in the recipe and make as directed to lighted it up a bit.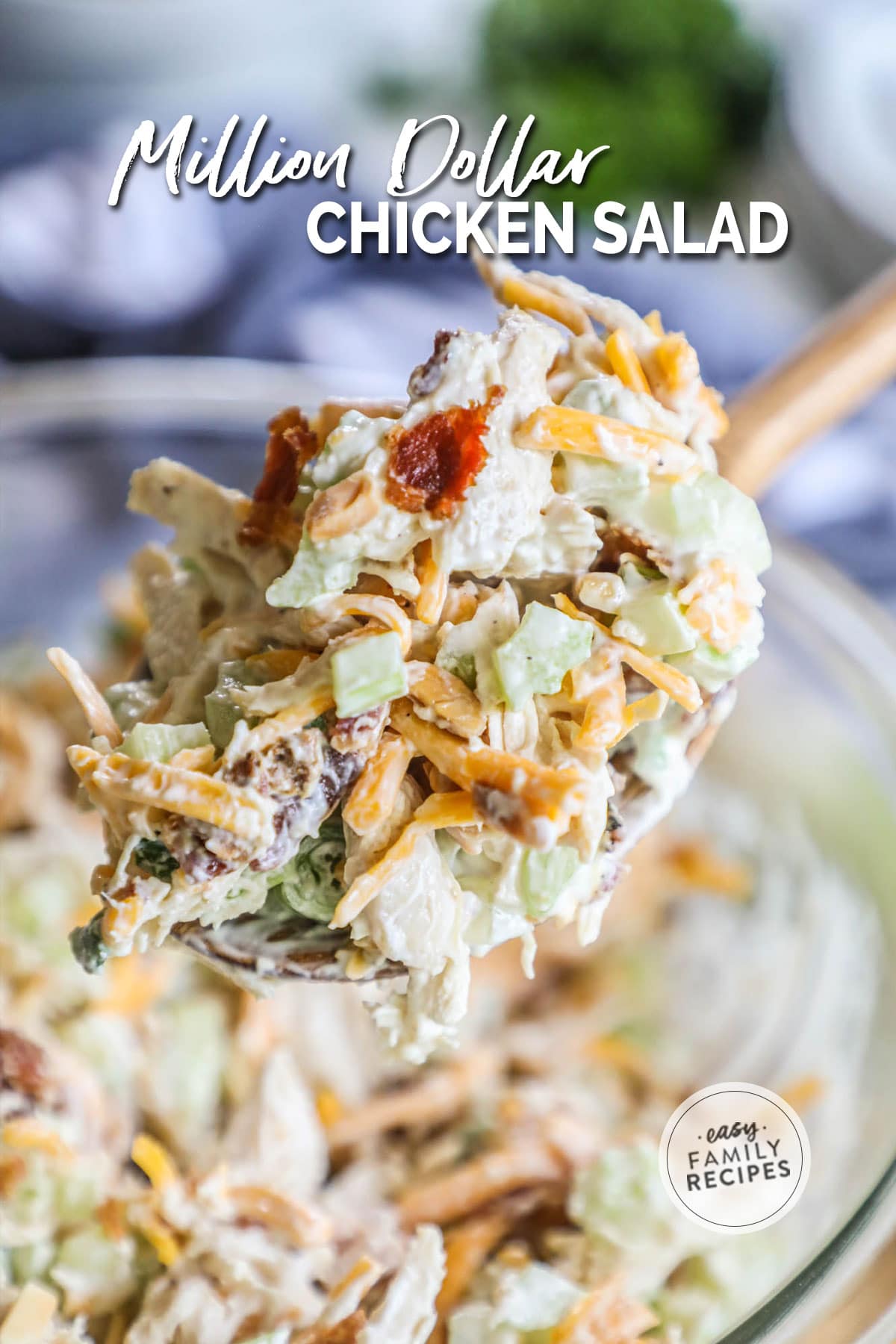 Chicken Salad Leftovers
If you have leftovers after making this salad, then it is your lucky day! It saves well and is great for snacking on throughout the week.
To save this chicken salad for later, separate them into meal-sized portions and then place in an airtight container and store:
in the refrigerator for 3-4 days
Can You Freeze Chicken Salad?
No, unfortunately, mayonnaise and sour cream do not hold up in the freezer. If you want to freeze this, you can freeze ingredients separately and then combine them when ready to enjoy.
More Chicken Salad Recipes
If you enjoyed this recipe, I really hope you will take a moment to grab a few more easy recipes for another busy night!
You can check out all of my chicken salad recipes here, or see a few of our readers favorite recipes below.
Hungry for more family-friendly recipes? Sign up for my free recipe club to get new family-friendly recipes in your inbox each week! Find me sharing daily meal-time inspiration on Pinterest, Instagram, and TikTok.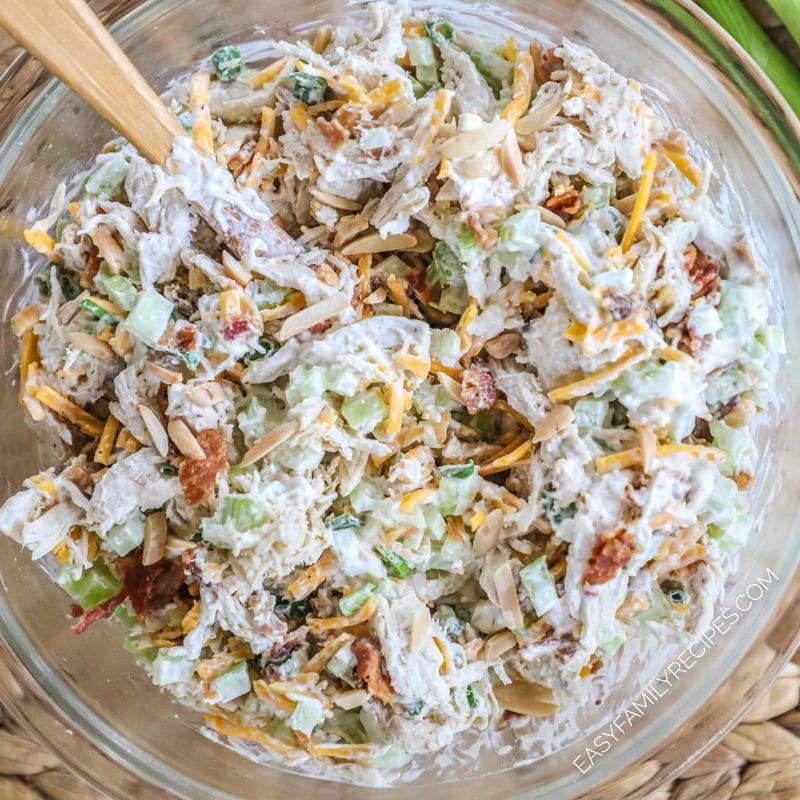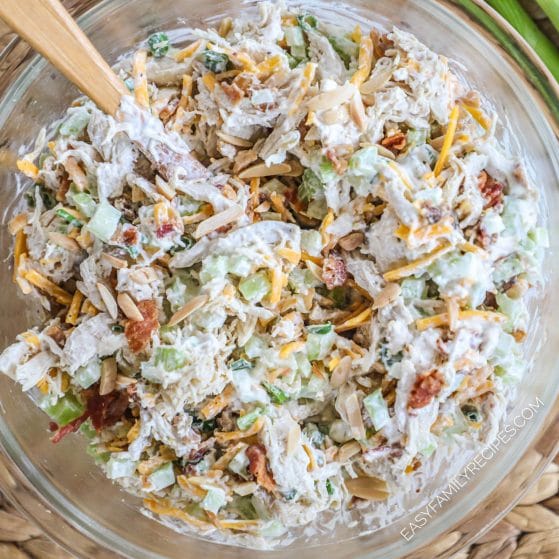 Million Dollar Chicken Salad
This super simple, no-cook million dollar chicken salad is perfect for a quick lunch, easy dinner or on the go snack! It is packed with flavor and goes great with just about anything!
Prep Time: 20 minutes
Cook Time: 0 minutes
Total Time: 20 minutes
Serves:8 servings
Hover over "serves" value to reveal recipe scaler
Ingredients
3 Cups chicken shredded or cubed (I like rotisserie)
1 Cup celery finely chopped
1 Cup sharp cheddar cheese shredded
½ Cup crispy bacon crumbled
½ Cup toasted slivered almonds
½ Cup mayonnaise
¼ Cup sour cream
3 Green onions sliced
Salt & Pepper to taste (about 1/4-1/2 tsp each)
Instructions
Place the chicken, celery, onions, bacon, almonds, and cheese in a large bowl and top with the mayonnaise and sour cream.

Mix well until everything is evenly coated and distributed throughout.

Season with salt and pepper to taste. I usually use between ½-1 tsp of each.

Serve on toast, in an avocado, tomato, in a lettuce wrap, with crackers or your favorite way to eat chicken salad.

ENJOY!
Nutrition Information:
Serving: 0.5cupCalories: 330kcal (17%)Carbohydrates: 3g (1%)Protein: 21g (42%)Fat: 26g (40%)Saturated Fat: 7g (44%)Polyunsaturated Fat: 9gMonounsaturated Fat: 8gTrans Fat: 1gCholesterol: 71mg (24%)Sodium: 352mg (15%)Potassium: 273mg (8%)Fiber: 1g (4%)Sugar: 1g (1%)Vitamin A: 321IU (6%)Vitamin C: 1mg (1%)Calcium: 142mg (14%)Iron: 1mg (6%)
(Nutrition information provided is an estimate and will vary based on cooking methods and brands of ingredients used.)