This homemade Fajita Seasoning is the REAL DEAL. It is quick and easy to make and the flavor tastes just like genuine Tex Mex style fajitas! This seasoning is perfect for chicken, steak, or veggie fajitas and can be used on the grill, in a skillet, on baked chicken or even in the slow cooker! The VERY BEST Fajita Seasoning around!
Fajita Seasoning – The EASY Way!
While picking up Fajita Seasoning at the store is pretty convenient, after seeing how incredibly easy it is to make it homemade, you might never look back!
Homemade Fajita Seasoning can be made in minutes and it will store in your pantry for up to a year, so you can make it and have the seasoning on hand for whenever you need it over the year.
Most importantly, this homemade fajita mix is CRAZY DELICIOUS! I was born and raised in Texas and have a very high bar when it comes to Mexican Food.
This seasoning is so good, I not only use it to make Fajitas, but use it to season all sorts of other things like vegetables, potatoes, eggs, and salad dressing. Really the possibilities are ENDLESS!
Healthy Fajita Seasoning
Making Fajita Seasoning from scratch is easy and delicious, but one of the parts I love the most is that there are no additives or fillers. It gives you more wholesome flavor without the junk that you can sometimes find in packaged stuff.
This can be especially important when you have special dietary needs and this Fajita Seasoning checks all the boxes, gluten free, dairy free, low carb, paleo, Whole30, etc. It is one of the most wholesome and healthy recipes on the blog! More on that below!
What to Make with Fajita Seasoning
Since this dish has the classic Mexican flavors, it works well with most any of your favorite Mexican food dishes. Beyond that there are also some ways to use the fajita seasoning that may surprise you.
Traditional Uses
Extra Fun Uses
Eggs- sprinkle a little in as you scramble them
Sandwich spread- Mix with cream cheese and mayo for a zesty sandwich spread
Potatoes- Sprinkle this over french fries, or on top of a baked potato
Roasted veggies- Toss vegetables with oil and a little fajita seasoning, then roast them up in the oven. Try cauliflower, broccoli, squash, zucchini, onions and peppers.
You can choose one or add a few sides to make a wholesome, well rounded dinner.
Recipe Notes
This Homemade Fajita Seasoning recipe is as simple as promised! Just a few spices and a good stir. No cooking required for this flavor packed seasoning.
In this section I am going to go through a few tips and tricks I use when making this recipe to get the absolute best and most delicious results.
Make sure to scroll to the bottom for the FULL recipe card.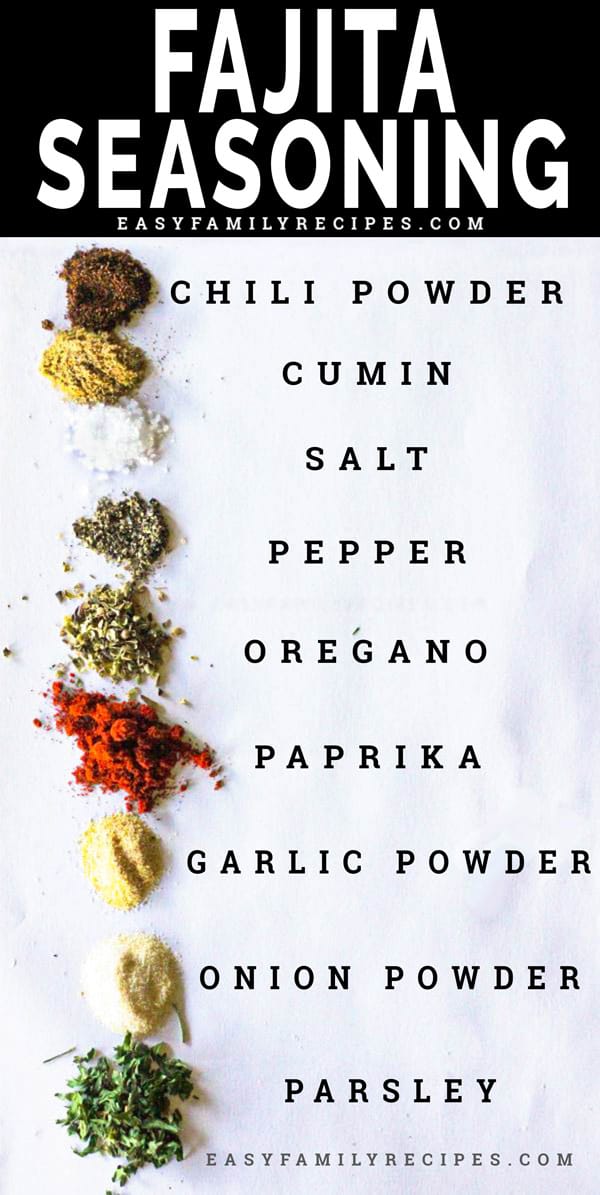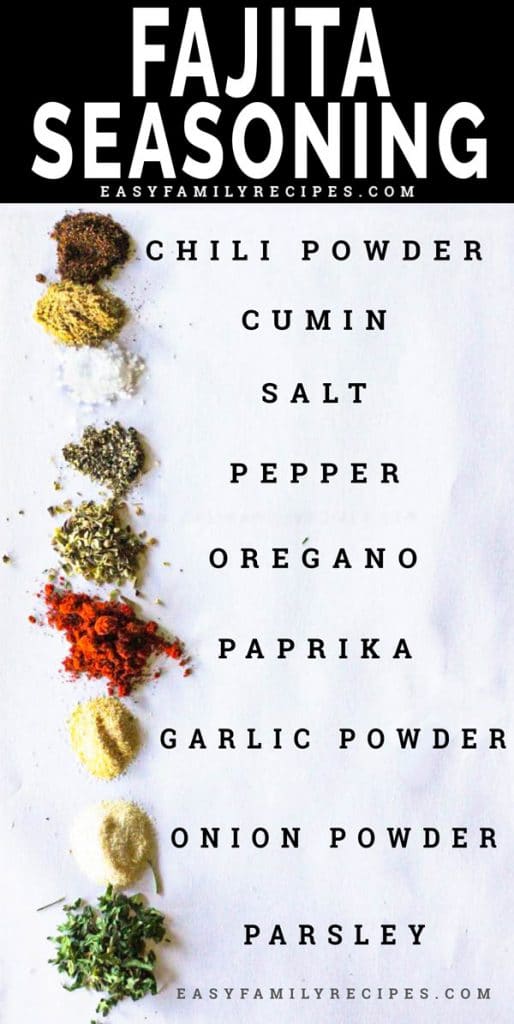 Ingredients
The ingredients in this seasoning mix are all very common and easy to find in the baking section of the super market. I like to buy them in larger containers so that I can make a big batch to keep on hand since it lasts so long when properly stored.
Chili powder
Cumin
Salt
Pepper
Oregano
Paprika- smoked gives it the best flavor!
Garlic Powder- you can also use granulated garlic
Onion Powder
Parsley
Recipe Tips
When making this recipe, you can use some liberty to adjust the amount of each ingredient up or down based on your family's personal preference on flavors. The recipe as written is the way that I prefer it!
Use fresh spices to get the longest shelf life out of the seasoning. When using fresh spices it will last for up to a year
This recipe also makes a WONDERFUL gift! Once you mix up the Fajita Seasoning, place it in a mason jar and tie a ribbon around it. I gifted this to all of my friends this past Christmas with a wonderful response!
Is this Fajita Seasoning Spicy
The short answer is NO.
This seasoning does have some ingredients that contain mild heat, but once the seasoning is mixed with the appropriate amount of meat it mellows it substantially.
If you are very sensitive to heat, you may find this a little spicy, although most people won't notice it as spicy.
Scaling the recipe
I have mentioned a few times that I like to make this recipe in a large batch so that I have enough that I don't have to make it often. It isn't hard to make, but when we are in the dinner rush it is always easier when it is ready to go!
Double the recipe– to double the recipe, just double the amount of each seasoning. You can also use a multiple of 3x, 4x or more depending on the amount you want.
Half the recipe– If you just want a small amount of seasoning, you can divide the quantities by 2. To make just as much as would be in a packet, try dividing the quantity by 4 and you will get approximately the amount of Fajita Seasoning contained in a store bought package.
Recipe Variations
If you love this recipe as much as we do and want some quick ways to change it up for variety, these little tips will do the trick!
Spicy Fajita Seasoning– To give this seasoning more of a kick you can add 1/2-2 tsp of cayenne pepper. Use less for a small kick, or more for a spicier version.
Dietary Considerations
If you have special dietary needs, this recipe complies with MANY special needs. It is one of the most healthy and diet conscious recipes we make!
As always, check all store bought ingredients for compliance on specific dietary needs. The notes below are a general guide.
Gluten free: This recipe is naturally gluten free.
Dairy free: This recipe is naturally dairy free.
Nut free: This recipe is naturally nut free
Egg free: This recipe is naturally egg free
Low carb/Keto: This recipe is low carb at only 0g net carbs.
Macros: The approximate macro calculation for this recipe is- P: 1g C: 1g F: 1g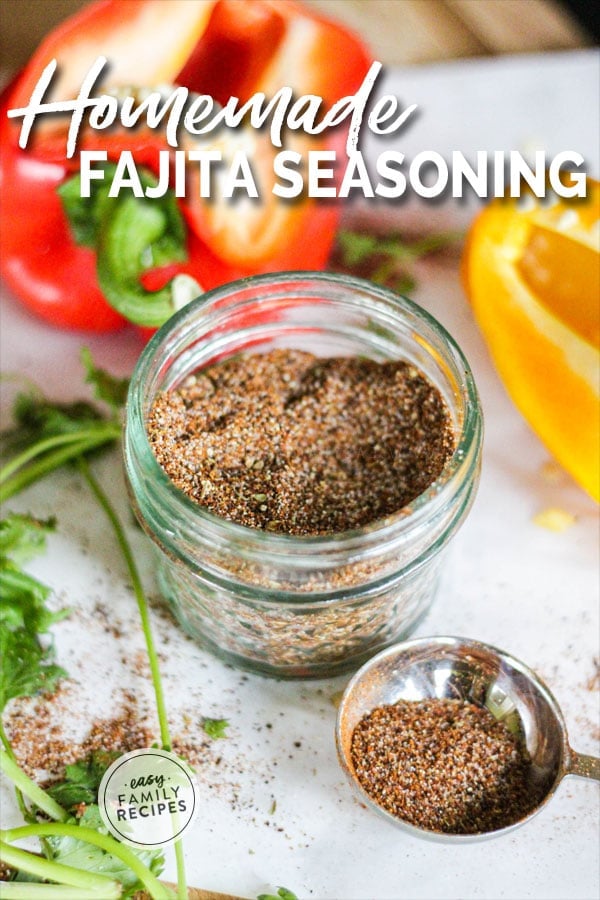 More Homemade Seasoning Recipes
If you enjoyed this recipe, I really hope you will take a moment to grab a few more easy and healthy seasoning recipes!
You can check out all of my easy recipes here, or see a few of our readers favorite seasoning recipes below.
Hungry for more family-friendly recipes? Sign up for my free recipe club to get new family-friendly recipes in your inbox each week! Find me sharing daily meal-time inspiration on Pinterest, Instagram, and TikTok.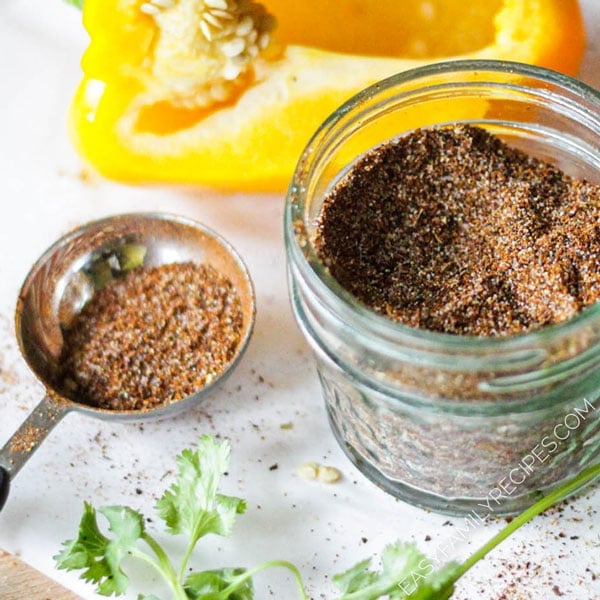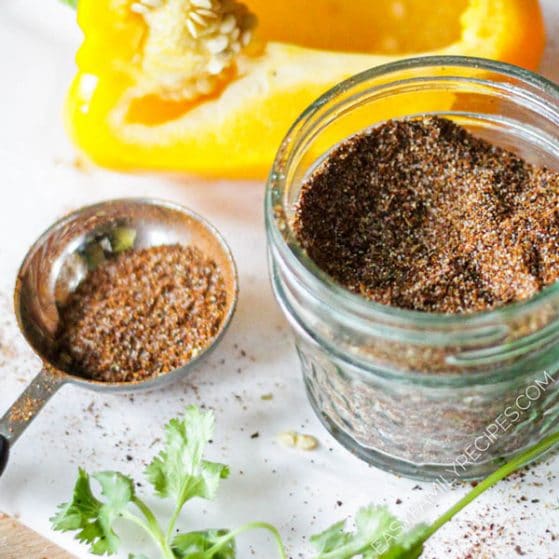 Fajita Seasoning
This Homemade Fajita Seasoning Mix makes AMAZING fajitas! It is quick and easy to make and extra wholesome. Use it to make beef, chicken or veggie fajitas, or sprinkle it on vegetables, potatoes, or eggs for a burst of flavor.
Prep Time: 5 minutes
Total Time: 5 minutes
Serves:36 servings
Hover over "serves" value to reveal recipe scaler
Ingredients
1/4 cup chili powder
2 tbsp ground cumin
1 tbsp salt
1 tbsp black pepper
3 tsp dried oregano
2 tsp paprika
1 tsp garlic powder
1 tsp onion powder
1 tsp dried parsley
Instructions
Pour all of the ingredients in a bowl and mix to combine.

Store in an airtight container in a cool, dry place.
Recipe Notes:
This recipe makes about 3/4 cup of seasoning. 2 tbsp of seasoning = 1 store bought packet. Seasoning will last up to a year when stored properly.
Fajita recipes:
Generally speaking you will want to use 1 tbsp per pound of meat to season.
To use this seasoning to make fajitas, follow the recipes below:
Nutrition Information:
Serving: 1tspCalories: 8kcalCarbohydrates: 1gProtein: 1g (2%)Fat: 1g (2%)Saturated Fat: 1g (6%)Sodium: 222mg (10%)Potassium: 46mg (1%)Fiber: 1g (4%)Sugar: 1g (1%)Vitamin A: 549IU (11%)Vitamin C: 1mg (1%)Calcium: 12mg (1%)Iron: 1mg (6%)
(Nutrition information provided is an estimate and will vary based on cooking methods and brands of ingredients used.)