This Homemade Ranch Seasoning makes a big batch so that you can keep it on hand to not only make ranch dressing but also season meats, potatoes, vegetables, and dips. It makes two whole cups of seasoning so it is perfect for families that love ranch! This is my personal favorite homemade ranch dressing mix because it is packed with flavor and has the perfect balance of all the herbs and seasonings that make that classic ranch taste. As a bonus this homemade ranch seasoning is gluten free, dairy free, and low carb.
Homemade Ranch Seasoning Recipe
My obsession with homemade ranch is deeply rooted. You see after moving away from Texas, I realized that ranch is somewhat of a religion in Texas.
The bottled stuff just isn't good enough. Well maybe it was until you found out what fresh ranch tastes like, and then subsequently got spoiled by it over the years, only to move away and realize the good stuff isn't as readily available in other places as it is in your home state.
So I started making my own ranch. I used the Hidden Valley packets for a long time. Then I decided it was time to figure out how to make my own. After a week of turning my kitchen into what looked like an apothecary covered with every random herb they sell at the store, I got what I felt like was the perfect homemade ranch seasoning mix!
The thing that happened is that once I had this amazing homemade ranch seasoning made up in my spice cabinet, I started using it on everything. And really I mean almost everything was in danger of getting sprinkled with my magic ranch seasoning!
So read on fellow ranch lover! I am going to share some of my favorites to use this seasoning on and exactly how to make it!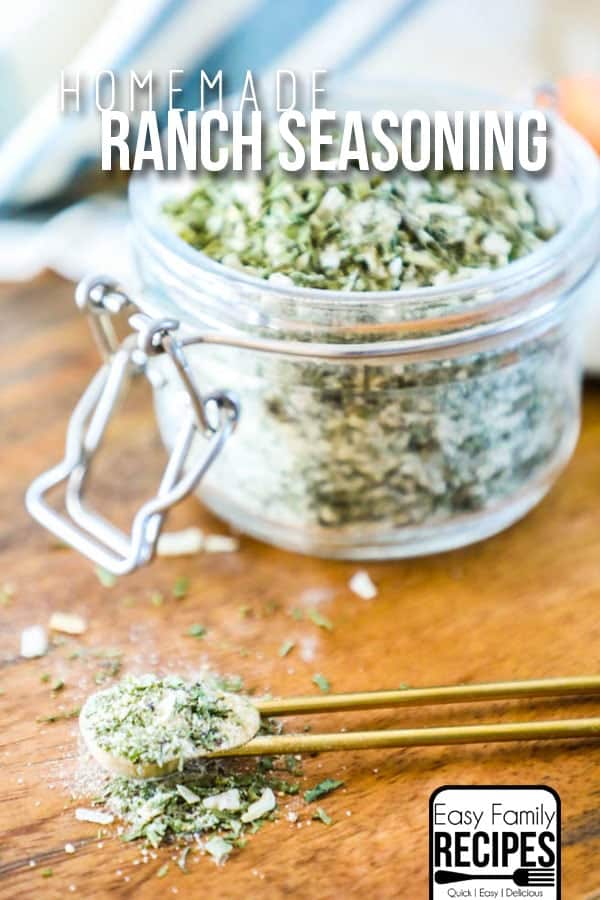 What to use Homemade Ranch Seasoning on
When I said I use this Homemade Ranch Seasoning a ton, I didn't exaggerate! Here are some of my favorite things from breakfast to dinner, and even a few side dishes in the mix!
Meat Marinades- Put your cut of meat in a bag with 1 tbsp of olive oil and 1-2 tbsp dry ranch seasoning. This is great on chicken or pork!
Ranch Smashed Potatoes– One of my family's absolute favorite sides!
Roasted veggies- Toss assorted veggies with 1 tbsp olive oil and 1-2 tbsp homemade ranch seasoning. Roast at 400˚F for 10-20 minutes
Egg muffins- These can be made ahead or frozen for breakfast on the run!
Garlic Bread- Try adding this on your garlic bread for an extra zing!
Dressing- You can make homemade ranch dressing with this homemade ranch dressing mix or dairy free ranch dressing too!
Dips- Mix 1 tbsp homemade ranch seasoning with 1 cup of sour cream for the BEST ranch dip! Try dipping everything from vegetables, to french fries, to pizza in this amazing homemade ranch.
Sandwich spread- Mix 1 tbsp homemade ranch mix with 8 oz cream cheese and spread it on the bread of your favorite sandwich.
Popcorn – sprinkle ranch seasoning over popcorn for a boost of flavor.
These are a few, but I could probably go on for days if it wouldn't completely overwhelm everyone! Do you have a favorite way to use the Homemade Ranch Seasoning? If so, leave me a note in the comments so I can give it a try!
How to Make Big Batch Homemade Ranch Seasoning Mix
This is a super simple recipe, but I will walk through a few tips and pointers so it will hopefully answer any questions on this recipe that may pop up as you begin to cook. There is a full printable recipe card for this recipe at the bottom of the post.
Homemade Ranch Seasoning Ingredients
Dried parsley- I recommend buying the parsley in as large of quantity as you can find it. I get mine at Costco.
Dried dill- (aka dill weed) This can be a little tricky on value. I have found it in a larger bottle for around $5 and also in a small bottle for as much as $7. I would keep your eyes out for a good price on it and grab it when you can!
Dried chives- You do need to use dried, not fresh, so make sure to find these in the spice section
Garlic powder
Onion powder
Dried onion flakes
Salt
Black pepper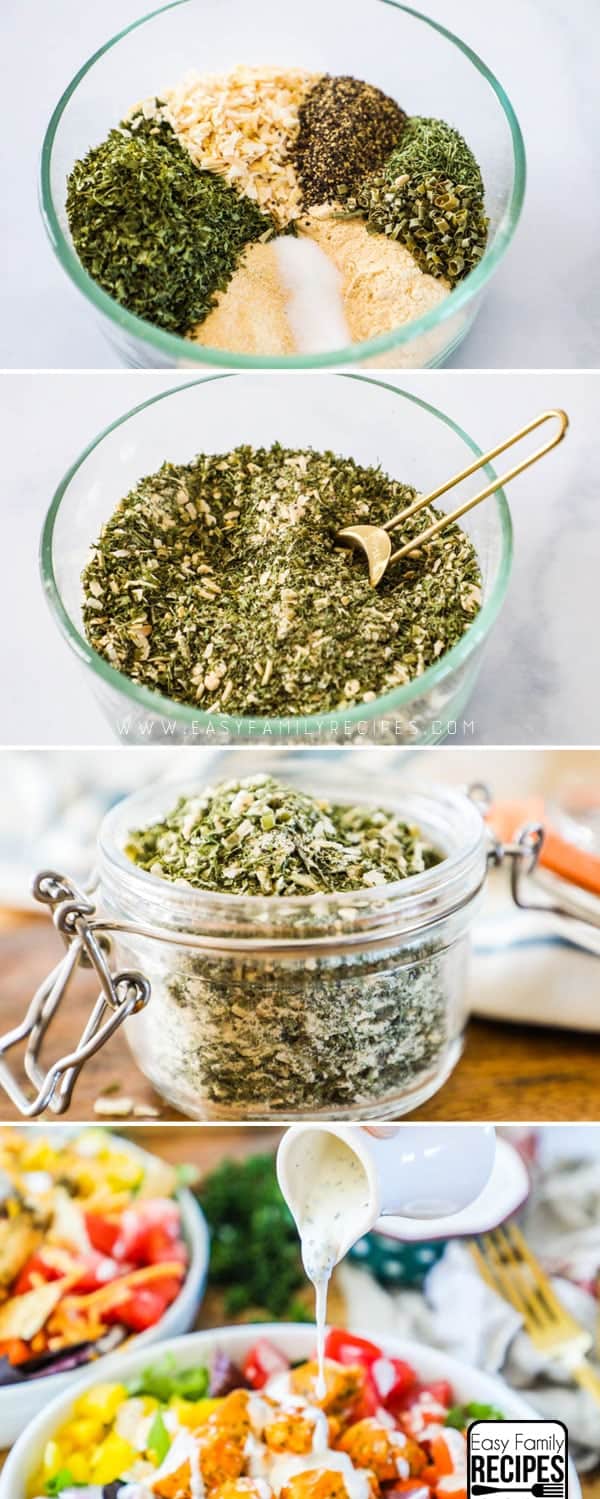 Homemade Ranch Seasoning FAQ's
Q: How much ranch seasoning does this make?
A: This will make about 2 cups of dry seasoning. I recommend storing it in an airtight jar in a cool dry place, like the spice cabinet or pantry.
Q: How much of this homemade seasoning is equal to a store bought ranch seasoning packet?
A: About 2 tbsp homemade ranch seasoning will equal one seasoning packet. This tends to be a little stronger per ounce since it doesn't include the powdered milk.
Q: How do I make this into ranch dressing?
A: You can find my dairy free ranch dressing here. To make it into traditional ranch dressing you can mix 2 tbsp homemade ranch seasoning with 1 cup mayo, 1/2 cup sour cream, and 1 cup buttermilk.
Q: Why doesn't this have buttermilk powder?
A: Many ranch seasoning mixes have buttermilk powder, including the Hidden Valley Ranch Mix. The reason I chose to make my homemade mix without it is that in my experience, powdered buttermilk can be both hard to find, and expensive. It is much easier and less expensive to buy regular buttermilk at the store so I prefer to make the seasoning mix and then mix it with real buttermilk when making the dressing for ease and convenience.
I hope that you can stock up your cupboard with this homemade ranch and get as much use out of it as we do!
More EASY Homemade Seasoning Blends
If you enjoy this recipe as much as we do, try some of our other tried and true seasoning blends to stock your spice cabinet!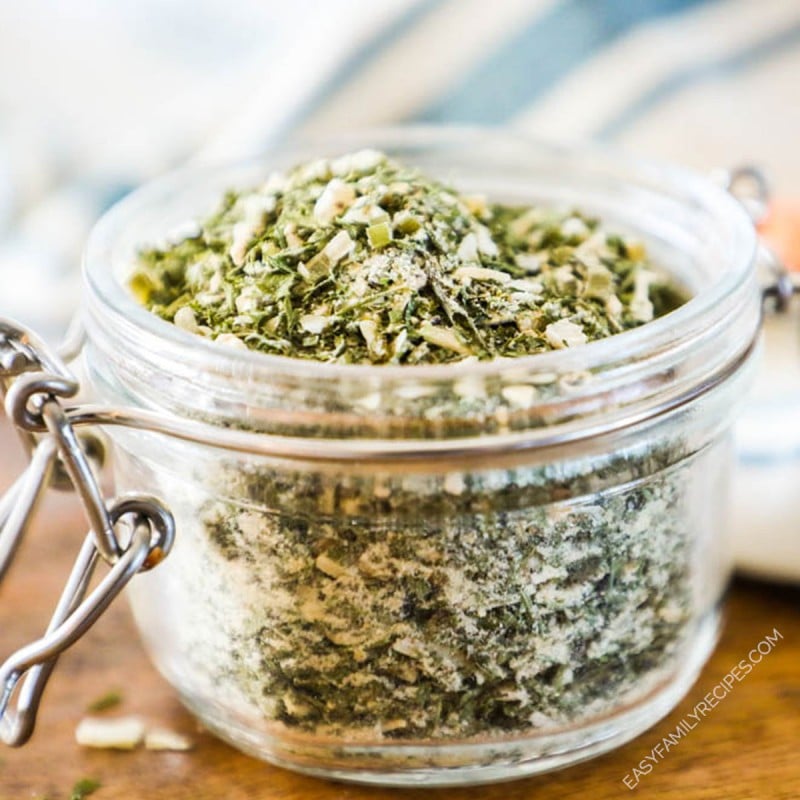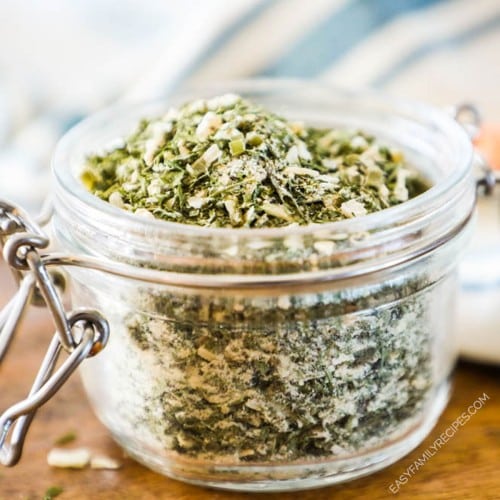 Big Batch Homemade Ranch Seasoning Mix
This Homemade Ranch Seasoning makes a big batch to keep on hand for making ranch dressing, dip, or using it as a seasoning for meats, potatoes, veggies, and more. It is also gluten free, dairy free and low carb.
Ingredients
3/4

cup

dried parsley

3

tbsp

dried dill

2

tbsp

dried chives

1/4

cup

garlic powder

1/4

cup

onion powder

1/4

cup

dried onion flakes

2

tbsp

salt

2

tbsp

ground black pepper
Instructions
Mix all ingredients together.

Store in an airtight container.  Mix well before each use to redistribute spices evenly.
Recipe Notes
Substitutions:
How to Store: Store in an airtight container.  Mix well before each use to redistribute spices evenly.
Dietary Considerations:
This recipe is naturally gluten free, low carb, and friendly for low carb and keto diets.
Nutrition facts provided based on my best estimation for the recipe and may not be accurate depending on what brands you use or modifications you make to the recipe.  I recommend using a nutrition calculator with the exact brands and measurements you use for the most accurate calculation.
©2018 Easy Family Recipes- Recipe found at: https://www.easyfamilyrecipes.com/homemade-ranch-seasoning/
For more great easy dinner inspiration, sign up for our emails here!
Nutrition Information
Serving:
1
/2 tbsp
,
Calories:
6
kcal
,
Carbohydrates:
0
g
,
Protein:
0
g
,
Fat:
0
g
,
Saturated Fat:
0
g
,
Polyunsaturated Fat:
0
g
,
Monounsaturated Fat:
0
g
,
Trans Fat:
0
g
,
Cholesterol:
0
mg
,
Sodium:
4
mg
,
Potassium:
0
mg
,
Fiber:
0
g
,
Sugar:
0
g
,
Vitamin A:
0
IU
,
Vitamin C:
0
mg
,
Calcium:
0
mg
,
Iron:
0
mg