This Bacon Ranch White Chicken Chili is a game changer! Your chili has been leveled up with tangy ranch seasoning, lots of crispy crumbled bacon, and made hearty with chicken thighs and great northern beans. The slow cooker does the hard work simmering away to make all of the flavors come together for one of the best bowls of white chicken chili out there!
This post is sponsored by Hurst Beans. All tips, ideas and recipes are created right here at Easy Family Recipes.
White Chicken Chili – The EASY Way!
There are a lot of recipes for white chicken chili out there, but this one is really special! The combination of flavors works in the most magical way, to give you a meal with incredible flavor, and it only takes minutes to prep in the crock pot!
What's the secret? Don't worry! I'll share…
There are a few things that allow this chili to be SO GOOD, but still SO EASY to make!
Slow cooking- this allows the holy grail of quick prep, and hands off cooking.
Dried Beans- It may sound simple, but this is a game changer! Using Hurst Hambeens Great Northern Beans, we are able to not only make the soup hearty and filling, but also extra flavorful since the flavor infuses into the beans as they soak up the liquid and seasonings, something you can only do since they are dried!
What to Serve with White Chicken Chili
Since this dish has the classic flavors we love in chili, complimented by a few favorites, it will pair well with many of your favorite classic chili side dishes.
Side Dish Ideas for Chili
Cornbread- Try a traditional buttermilk cornbread made in a cast iron skillet, or our Mexican cornbread that is super easy and delicious.
Salad- Try a simple salad topped with this irresistible jalapeno ranch.
Tortilla chips
White or brown rice- serve it right over rice to stretch the meal even further
Toppings
Chopped cilantro
Cheddar cheese
Sour cream
Green onions
Diced avocado
You can choose one or add a few sides to make a wholesome, well rounded dinner.
Recipe Notes
This white chicken chili recipe is as simple as promised! Just a few minutes of prep for a family friendly meal.
In this section I am going to go through a few tips and tricks I use when making this recipe to get the absolute best and most delicious results.
Make sure to scroll to the bottom for the FULL recipe card.
Ingredients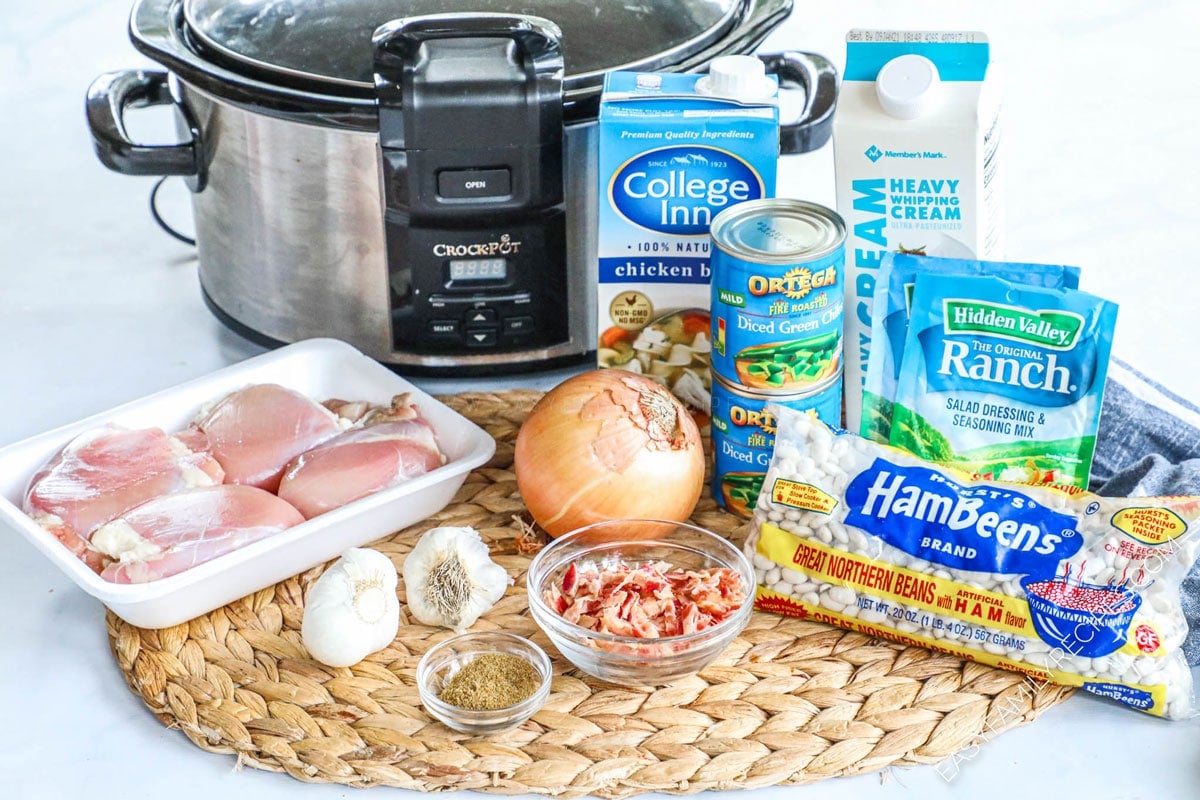 Boneless skinless chicken thighs– This recipe works well with chicken thighs, over chicken breast or other white meats because of the longer cooking time.
Hurst Hambeens Great Northern Beans– The dried beans are both key to making this soup incredibly filling, and also making it so flavorful since the dried beans actually absorb and hold the flavor as it cooks. They are packed with protein and fiber which make this recipe extra wholesome.

Hurst was the first to package dried beans with a flavor packet many years ago, and became famous for their 15 Bean Soup variety of dried beans. This is still the leading brand of dried beans today. You can find it at a store near you here.

You can use the seasoning packet in the chili to give it the extra rich and meaty flavor, or you can save it for use in another dish.
Onion– I generally use yellow or sweet, however you can use any variety in this recipe.
Chopped green chiles – these are one of the key components of flavor in the recipe. If you aren't familiar with them, they are a mild green pepper (suitable for most kids) with tons of delicious flavor. You can find them canned in the Mexican foods section of most supermarkets. Make sure to get diced and not whole peppers for ease of prep.
Chicken broth– You can use low or no sodium chicken broth to help the recipe cook a bit more quickly, and stir in salt in the end, or use traditional broth (salted) and likely not need to add additional salt.
Ranch seasoning mix- This is what makes the flavor of this chili uniquely delicious. You can use store bought, or homemade ranch seasoning.
Garlic
Heavy cream– Find near the milk, labeled as heavy cream or whipping cream.
Crispy crumbled bacon– Best prepared fresh, however you can use store bought in a pinch.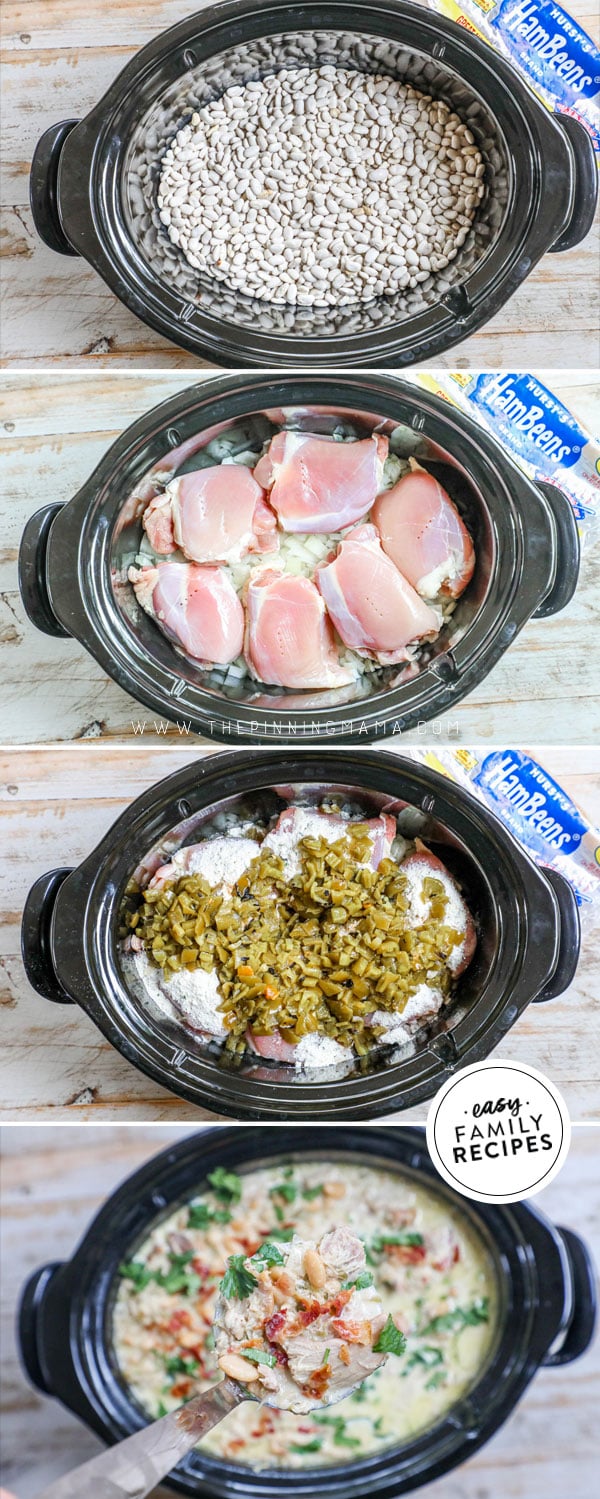 Recipe Tips
Cook time– To cook the beans from dried to tender, scrumptious, and delicious, you will need to cook the chili for at least 6 hours. You can continue to cook longer and the flavor will continue to develop.

Use Chicken Thighs– Since this dish cooks over a long period of time, you want a fattier cut of meat like thighs, over a leaner cut like chicken breast. This will allow the meat to stay tender without drying out.

Use more or less broth– As written this makes a nice thick chili consistency. You can play with the amount of liquid added to make it more thin, like a soup consistency, or even thicker based on your personal preference.

Cream at the end– This is the one detail to make note of! The cream is not added at the beginning with all of the other ingredients. Instead, it is mixed in after cooking. The reason for this is that cooking dairy over the long period can curdle the dairy, instead of having a velvety smooth creamy broth.
Recipe Short Cuts
If you need to make this recipe, but are extra short on time, here are a few ideas that can help make this recipe even faster!
Pre-assemble ingredients– Combine the chicken thighs, onion, green chiles, ranch seasoning, and garlic up to 3 days in advance and refrigerate until ready to cook. When ready to cook, add the beans, and chicken breast and cook as directed.
Pre-cook method– Cook the chili as directed, withholding the cream and bacon. When ready to eat, reheat in the crockpot, stovetop, or microwave, and then once hot add the cream and bacon to the chili.
Freezer meal– Prepare the recipe as a freezer meal up to 6 months in advance. Details and instructions below.
Recipe Variations
If you love this recipe as much as we do and want some quick ways to change it up for variety, these little tips will do the trick!
Instant Pot White Chicken Chili– To make this recipe in the pressure cooker, add the ingredients in step 2. Cook on high pressure for 50-60 minutes, then natural release for 20 minutes. Continue with recipe at step 4.
Vegetarian Ranch Chicken Chili– This chili recipe works wonderfully vegetarian as well, with just a few modifications. Prepare the recipe as directed omitting the chicken thighs and replacing the chicken broth with vegetable broth. Cook as directed. If desired the heavy cream can be omitted as well.
Dietary Considerations
If you have special dietary needs, this recipe meets some and can be easily modified to comply with others.
As always, check all store bought ingredients for compliance on specific dietary needs. The notes below are a general guide.
Gluten free: This recipe is can be made gluten free. Make sure to ensure each ingredient used has a gluten free label
Dairy free: This Chicken Chili can be made dairy free if the homemade ranch seasoning is used and the cream is omitted.
Nut free: This recipe is naturally nut free
Egg free: This recipe is naturally egg free
Macros: The approximate macro calculation for this recipe is- P: 39g C: 48g F: 14g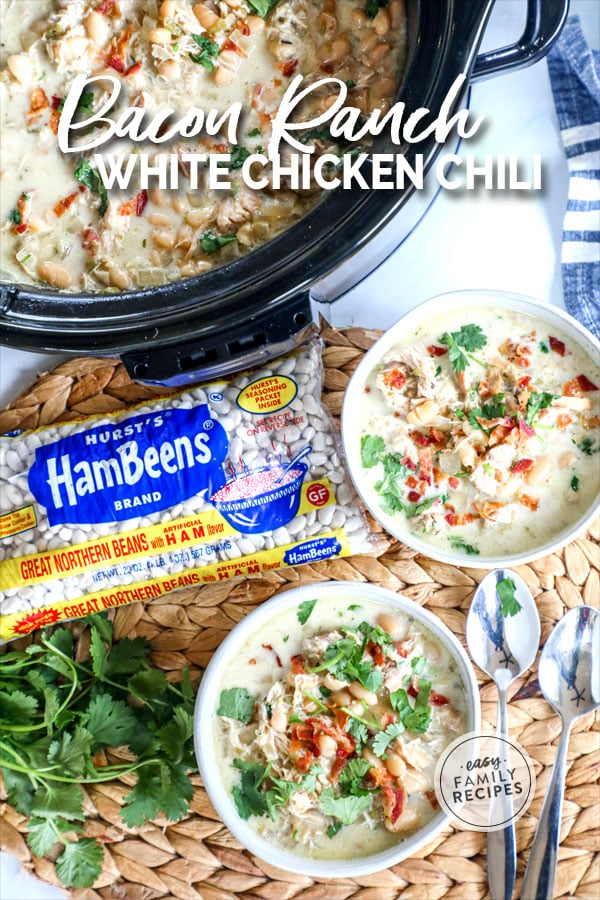 Freezer Meal Instructions
Bacon Ranch White Chicken Chili can be prepared as a freezer meal to make on another busy night, or give to a friend in need.
Combine the chicken thighs, onion, green chiles, ranch seasoning, and garlic and place in a freezer bag, or freezer friendly container. Dried beans and chicken broth can be kept separately in the pantry. Bacon and cream can be frozen separately if desired.
Freeze.
When ready to cook, thaw for 24-48 hours, then place in the crock pot and add the Hurst's Hambeens Great Northern Beans and chicken broth.
Cook as directed.
For the best flavor, this meal can be frozen for up to 6 months.
Bacon Ranch Chicken Chili Leftovers
If you have leftovers after making this recipe, then it is your lucky day! The flavor will continue to develop and many think this chili is even better the second day! The leftovers save and reheat well, and can make the start of another delicious dish.
To save leftovers, separate into meal sized portions and then place in an airtight container and store:
in the refrigerator for 3-4 days
in the freezer up to a month
More Easy Slow Cooker Recipes
If you enjoyed this recipe, I really hope you will take a moment to grab a few more easy recipes for another busy night!
You can check out all of my Easy Dinner recipes here, or see a few of our readers favorite recipes below.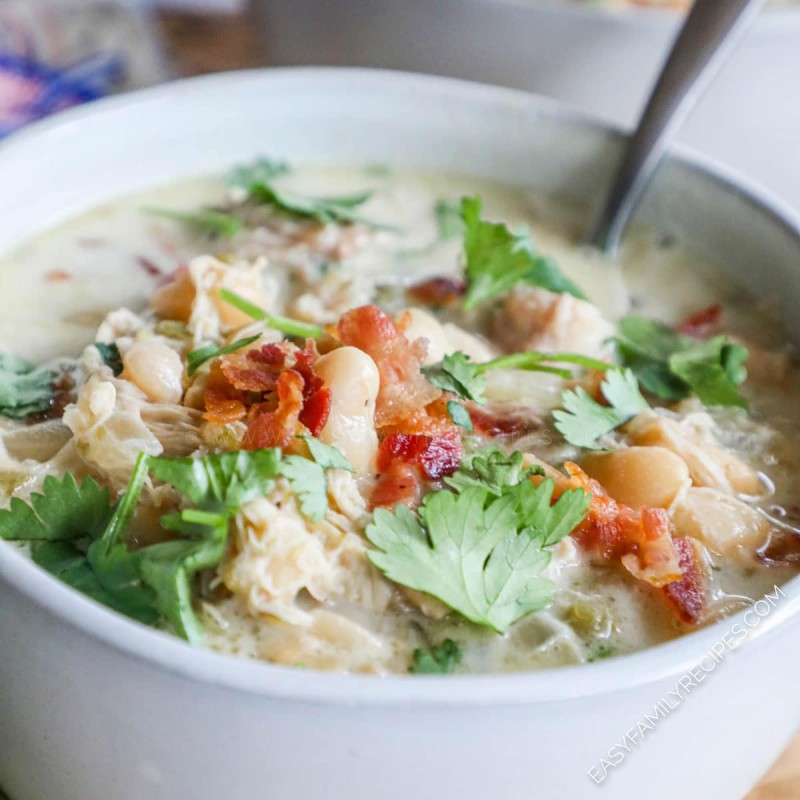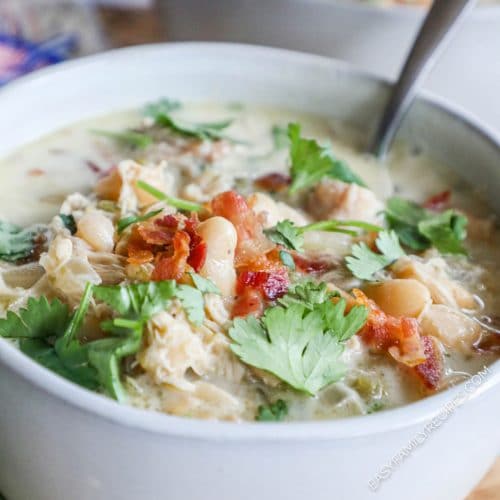 Bacon Ranch White Chicken Chili
This thick and hearty Bacon Ranch White Chicken Chili is filled with great northern beans, chicken, green chiles, ranch seasoning, and bacon for a meal that is super delicious, but incredibly easy to make!
Ingredients
2

pounds

boneless skinless chicken thighs

16

ounces

Hurst Hambeens Great Northern Beans

,

(1 package)

1

onion

,

diced

14

ounces

chopped green chiles

,

(2 large cans)

6

cups

chicken broth

6

tablespoons

ranch seasoning mix

,

(2 envelopes)

6

cloves

garlic

,

pressed or minced

1

cup

heavy cream

1/2

cup

crispy crumbled bacon
Topping Ideas (optional)
chopped cilantro

chopped green onions

sharp cheddar cheese

,

grated

sour cream
Instructions
Rinse the Hurst's Hambeens and sort any debris out.

Layer the beans, onion, garlic, chicken thighs, green chiles, and ranch seasoning in the slow cooker. Pour the chicken broth over the top.

Cook on high for 6 hours.

Once done, the chicken will be tender and the beans will be easily mashed with a fork. Shred the chicken and then stir in the heavy cream slowly until completely combined.

Sprinkle the crispy crumbled bacon over the top.

Serve in bowls hot, and top with your choice of sour cream, cheddar cheese, cilantro, and green onion. Enjoy!
Recipe Notes
*The Hurst Hambeens come with a flavor packet. You can add this in with the ranch seasoning to give the soup an extra meaty burst of flavor, or set it aside for use another time.
Nutrition Information
Serving:
2
cups
,
Calories:
522
kcal
(26%)
,
Carbohydrates:
48
g
(16%)
,
Protein:
39
g
(78%)
,
Fat:
19
g
(29%)
,
Saturated Fat:
9
g
(56%)
,
Cholesterol:
155
mg
(52%)
,
Sodium:
1928
mg
(84%)
,
Potassium:
1348
mg
(39%)
,
Fiber:
13
g
(54%)
,
Sugar:
2
g
(2%)
,
Vitamin A:
527
IU
(11%)
,
Vitamin C:
34
mg
(41%)
,
Calcium:
164
mg
(16%)
,
Iron:
5
mg
(28%)