I am spilling all of my secrets for making the BEST Baked Chicken Breast with a few simple steps. It's called the "perfect" baked chicken recipe because it comes out perfectly tender, juicy, and flavorful every time! This baked chicken makes a delicious easy dinner, or can be shredded or chopped to use for meal prep. It is the number one chicken recipe I use in my own kitchen!
Baked Chicken Breast – The EASY Way!
If you are frustrated by chicken breast being dry, tough, or chewy, then THIS is for YOU! I might have made more chicken over the years than any home cook in America since between the blog, and our personal family preferences I have cooked thousands of pounds of chicken using hundreds of different recipes and methods. Today I am bringing it all together for the ULTIMATE guide on getting absolutely PERFECT baked chicken every time!
This recipe is specifically for baked chicken breast (or thighs,) if you are looking for something else, find our Whole Baked Chicken here, Baked Chicken and Rice here, Baked Chicken Parmesan here, and our most popular chicken bake recipe here.
Why I LOVE this recipe!
Delicious– This is the simplest way to make chicken that is always tender, juicy and so delicious!

Versatile– Use it for a main dish at dinner, chop it up, shred it, or use it for meal prep. This is the go-to for any chicken dish!

FAST! The combination of the size and technique makes this method for cooking chicken one of the fastest

Freezer friendly– You can even make a big batch and freeze to have on hand for extra busy nights.
What to Serve with Baked Chicken
This Baked Chicken Breast is a classic as far as flavor goes, so when serving it as a main dish, it will pair well with many of your favorite side dishes from all sorts of cuisines. I'm including some of our go-to's with both classic options and some healthy options to keep it light.
Side Dish Ideas
You can choose one or add a few sides to make a wholesome, well rounded dinner.
Ways to use Baked Chicken
Since this baked chicken is neutrally flavored, it is a great recipe to use for making shredded or chopped chicken to use in other recipes that call for shredded or cubed cooked chicken. You can prep it ahead of time and even freeze it (see the freezer section below!) to make casseroles, salads, wraps, etc that use the precooked chicken extra fast and easy!
Here are a few favorite recipes that we love to use this baked chicken breast in:
Baked Chicken Casseroles
Other Baked Chicken Recipes
Recipe Notes
This Easy Baked Chicken Breast recipe is as simple as promised! Just 5 minutes of prep for a family friendly meal.
In this section I am going to go through a few tips and tricks I use when making this recipe to get the absolute best and most delicious results.
Make sure to scroll to the bottom for the FULL recipe card.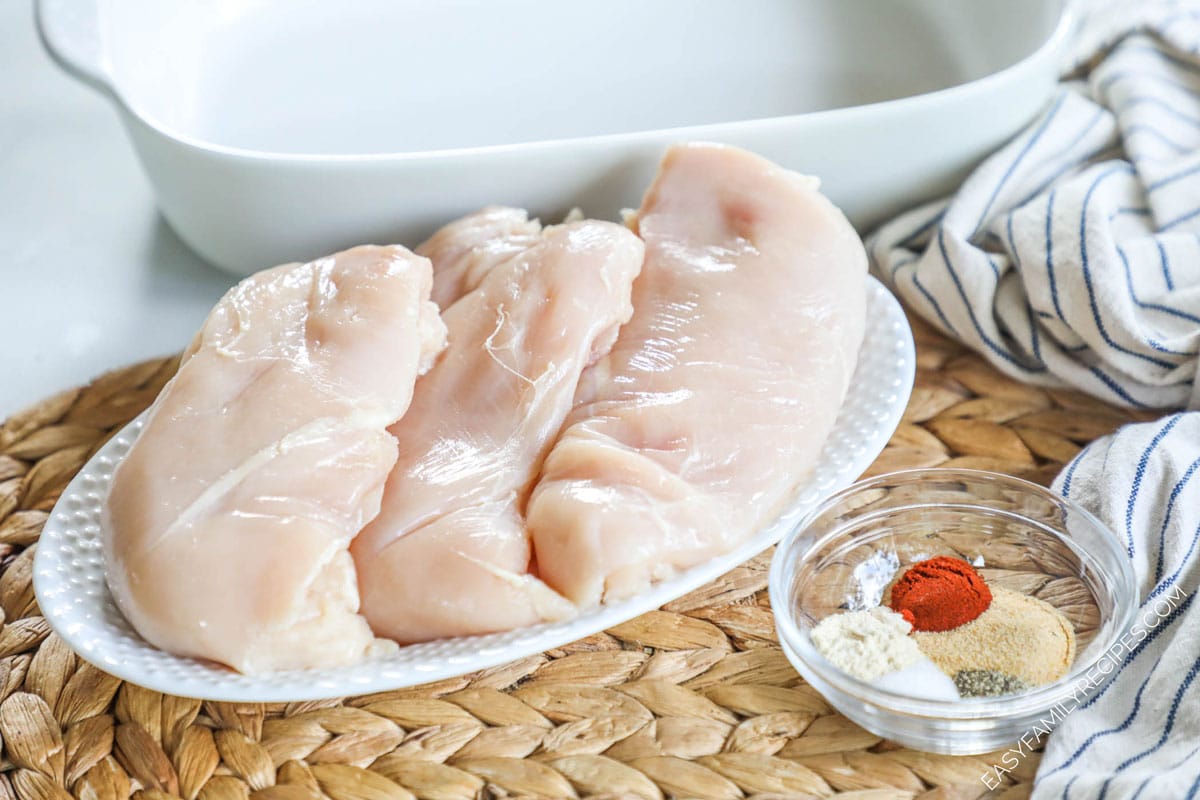 Ingredients + Substitutions
Boneless skinless chicken breast– You can get regular chicken breasts at the store, or buy chicken cutlets. The same method for the baked chicken can be used on chicken thighs, or chicken tenderloins as well, however the cooking time may vary.
Olive oil– I use olive oil for flavor but any cooking oil will work
All Purpose Chicken Seasoning– Including our special spice blend of salt, garlic powder, black pepper, onion powder, and paprika.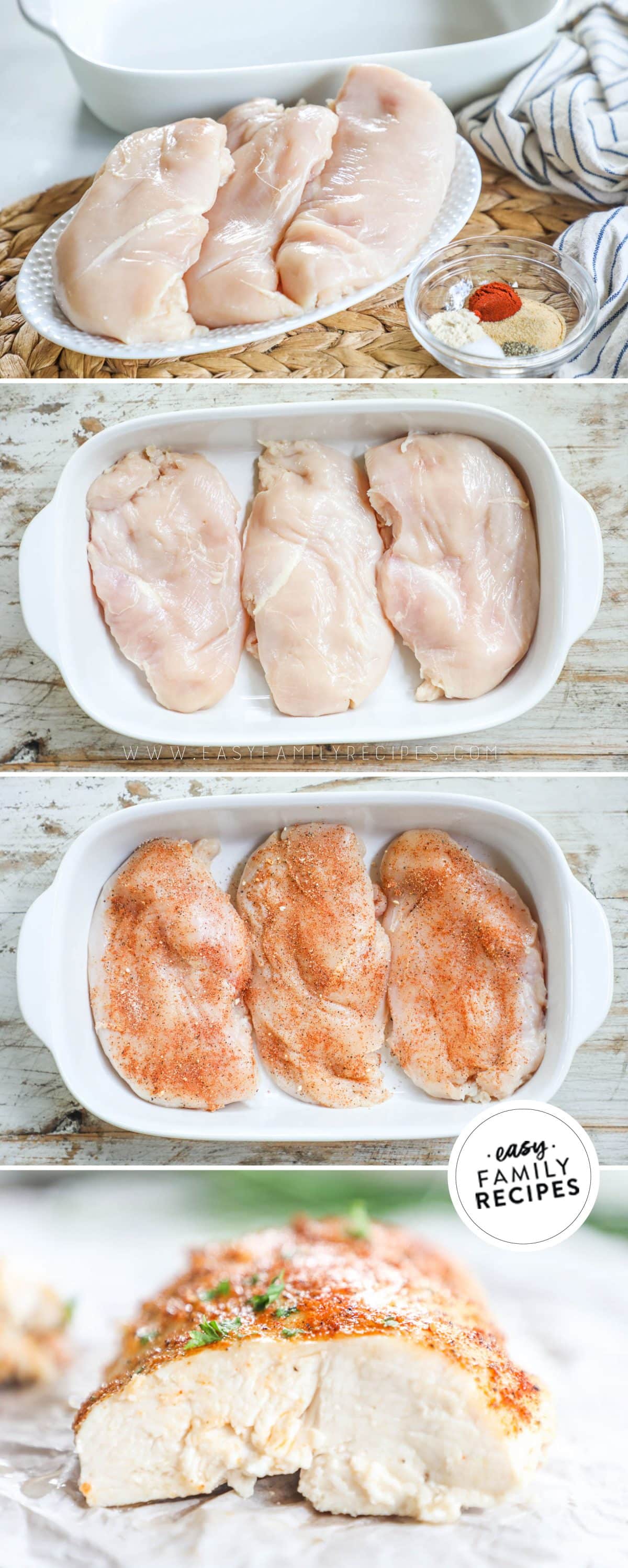 Secrets to Perfect Baked Chicken
1 inch chicken– One thing that makes this recipe unique is specifying the thickness for the chicken. It may seem like something easy to disregard, but this is KEY in getting the best baked chicken! Here's why:

If the chicken breasts are too large and thick, they require a much longer cooking time. This results in the outside of the chicken cooking before the inside is fully done, making the chicken tough, hard to chew and dry.
By keeping the size uniform the chicken will cook evenly so the whole chicken breast will be perfectly cooked at the same time.


How to Get chicken to 1 inch– You know how important it is to get the chicken thin enough, so how do we do it? There are two main methods I use, and I think both work well.

Cut the chicken. Use a knife to slice the chicken horizontally into two thinner pieces.
Pound the chicken- Pounding isn't as quick and a little messier, but it can make the chicken even more tender so it is a great option.
Buy thin filets- Many stores have chicken breast already cut down into thin filets. This is usually sold at a premium price, so I stick with the first two, but if you want to save time, this is a great way.


Don't over crowd the pan– Give the chicken enough space to cook! When you pack it in too tightly, its like cooking one giant piece of chicken, and as above, the outside gets done before the inside. When the chicken is baked with space around it, it can cook evenly from all sides resulting in quicker and more even cooking and more tender and juicy baked chicken breast.

Don't over cook it! This is probably the #1 mistake with chicken, and the easiest thing to fix. I know! You are nervous it won't be cooked enough so you give it more time "just in case!" I am telling you, get and use a meat thermometer. It is life changing and your family will thank you when the meat that you serve is perfectly cooked, rather than tough, dry and over done! Something like this meat thermometer is inexpensive and easy to use.

How long to bake chicken breast– When I am making baked chicken, I love to use this slightly higher temperature to lock in the juices and cook the chicken quickly. When you bake chicken breast at 400 degrees, it should cook quickly. In just about 20 minutes it is going to be perfectly cooked, tender, and super juicy and flavorful! I always use a meat thermometer to make sure the chicken is cooked through fully, and cook just until the chicken reaches an internal temperature of 165˚F.

Do note, that this works especially well with 1 inch thick chicken. If you use super large chicken pieces, it will take longer and not have as wonderful of a result.
Recipe Short Cuts
If you need to make this recipe, but are extra short on time, here are a few ideas that can help make this recipe even faster!
Mix the chicken seasoning up ahead of time– You can even make big batches of the seasoning that you can save for up to a year.
Prepare as a freezer meal– You can do this up to 6 months in advance. See directions below!
Recipe Variations
If you love this recipe as much as we do and want some quick ways to change it up for variety, these little tips will do the trick!
Baked breaded chicken– This baked chicken parmesan recipe is a great way to make breaded chicken in the oven.
Baked chicken cutlets– This is a traditional Italian Cutlet style chicken made in the oven.
Baked whole chicken– This recipe for a whole baked chicken is super easy and uses the same flavors as our baked chicken breast.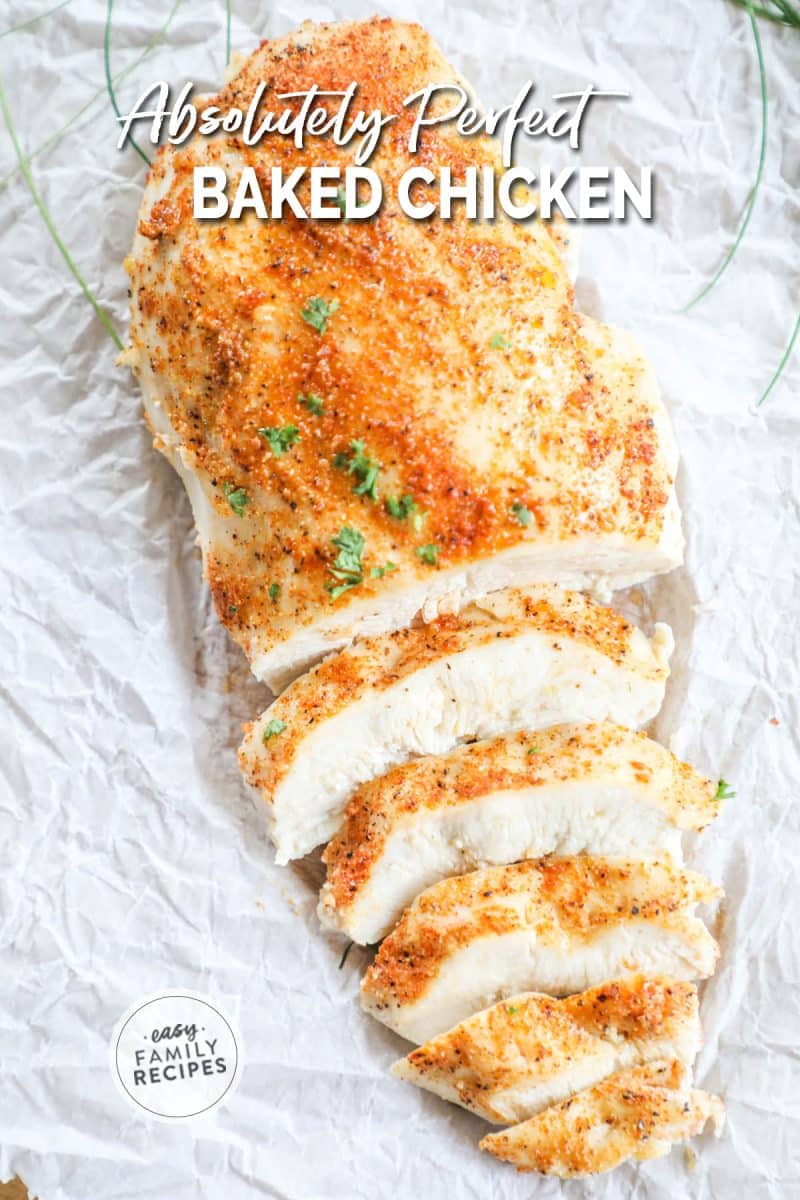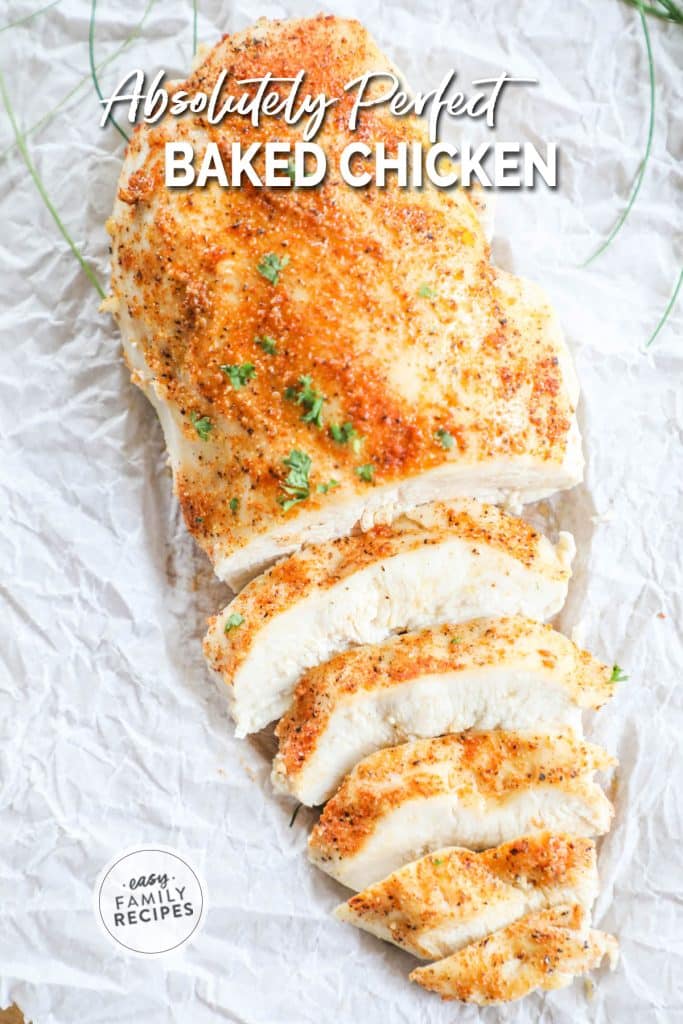 Freezer Meal Instructions
Making this baked chicken recipe into a freezer meal is simple! Follow the steps below and you can store this recipe in the freezer for up to 6 months.
Combine seasoning
If the chicken is thicker than 1 inch, pound or butterfly the chicken breast to a uniform 1 inch thickness.
Brush the chicken lightly with olive oil. Rub the all purpose chicken seasoning on all sides of the chicken.
Place the chicken breasts in a freezer bag, or freezer friendly container. For ease, I like to make sure they are flat and either not touching or barely touching. This makes it easier to grab one, or more, depending on how many you want to cook.
Freeze.
When ready to cook, thaw 24-48 hours in the refrigerator.
Cook as directed.
How to Freeze Baked Chicken
Make oven baked chicken as directed.
Allow to cool to room temperature.
If shredding or dicing chicken, do this now.
Package chicken in meal sized quantities in a freezer bag or freezer friendly container.
Freeze.
When ready to use, thaw chicken 24-48 hours in the refrgerator.
Baked Chicken Leftovers
If you have leftovers after making Baked Chicken, then it is your lucky day! They save and reheat well, and can make the start of another delicious dish.
To save leftovers, separate into meal sized portions and then place in an airtight container and store:
in the refrigerator for 3-4 days
in the freezer up to a month
Leftover Recipes
Here are a few ways to repurpose those leftovers and give them a delicious makeover!
More Easy Chicken Recipes Recipes
If you enjoyed this recipe, I really hope you will take a moment to grab a few more easy recipes for another busy night!
You can check out all of my ||||| recipes here, or see a few of our readers favorite recipes below.
Hungry for more family-friendly recipes? Sign up for my free recipe club to get new family-friendly recipes in your inbox each week! Find me sharing daily meal-time inspiration on Pinterest, Instagram, and TikTok.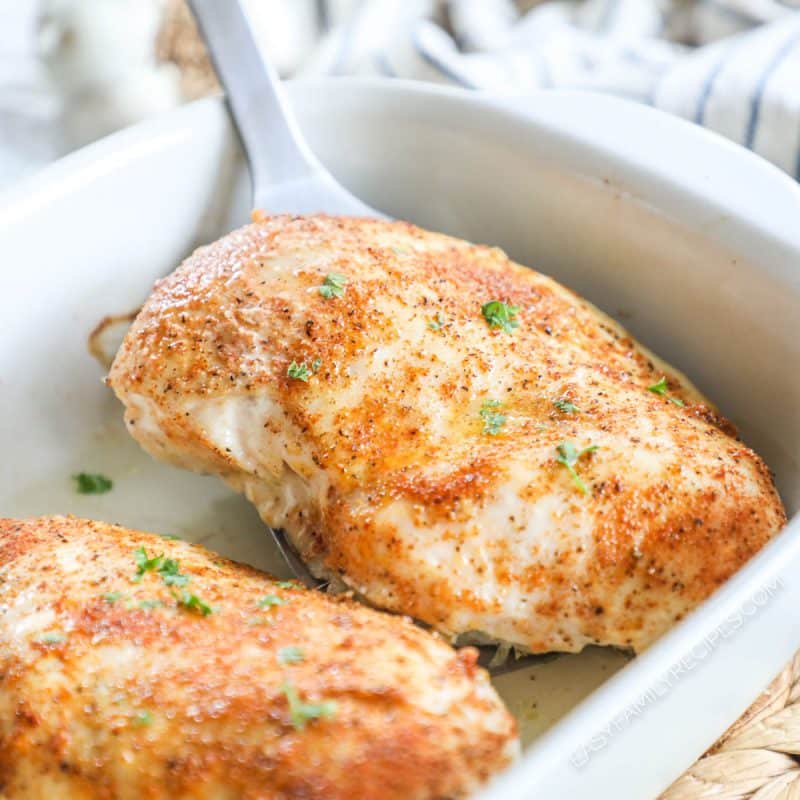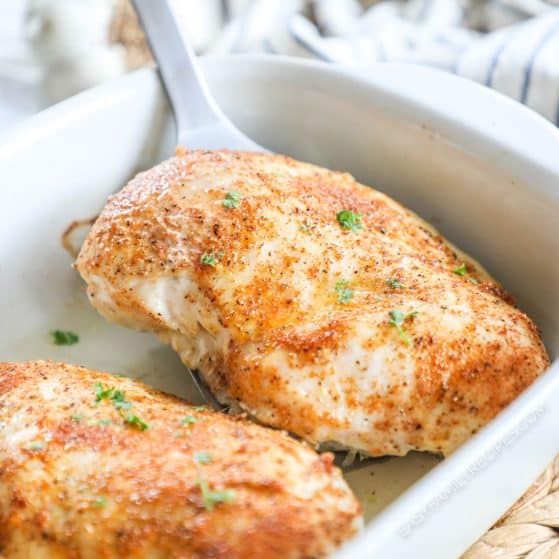 Baked Chicken
This baked chicken is perfect every time! Super tender and amazingly juicy for chicken breast the way it always should be. Lightly seasoned, this chicken can be eaten as a meal, or shredded or cubed to use in another recipe.
Prep Time: 5 minutes
Cook Time: 25 minutes
Total Time: 30 minutes
Serves:4 Servings
Hover over "serves" value to reveal recipe scaler
Ingredients
2 pounds boneless skinless chicken breast
1 teaspoon olive oil
All Purpose Chicken Seasoning
1 teaspoon salt
1 teaspoon garlic powder
½ teaspoon black pepper
½ teaspoon onion powder
½ teaspoon paprika
Instructions
Preheat oven to 400˚F.

In a small bowl, add all ingredients for the all purpose chicken seasoning and mix to combine.

If the chicken is thicker than 1 inch, pound or butterfly the chicken breast to a uniform 1 inch thickness.

Brush the chicken lightly with olive oil. Rub the all purpose chicken seasoning on all sides of the chicken.

Place the chicken breasts in a baking dish big enough so that they don't touch or just barely touch.

Bake until cooked through to 165˚F internal temperature, about 20-25 minutes.

Let sit 5 minutes, then serve, slice, dice, or shred.
Recipe Notes:
Cooking time will vary based on size of the chicken, size and material of the baking dish, climate and oven heat source. The best way to ensure the chicken is juicy, is to use a meat thermometer to cook only to done- 165˚F internal temp.
Nutrition Information:
Serving: 6ouncesCalories: 272kcal (14%)Carbohydrates: 1gProtein: 48g (96%)Fat: 7g (11%)Saturated Fat: 1g (6%)Polyunsaturated Fat: 1gMonounsaturated Fat: 2gTrans Fat: 0.03gCholesterol: 145mg (48%)Sodium: 845mg (37%)Potassium: 860mg (25%)Fiber: 0.3g (1%)Sugar: 0.1gVitamin A: 193IU (4%)Vitamin C: 3mg (4%)Calcium: 15mg (2%)Iron: 1mg (6%)
(Nutrition information provided is an estimate and will vary based on cooking methods and brands of ingredients used.)