This 5 ingredient, super easy, Creamy Smothered Pork Chops recipe is a family-friendly Crock Pot meal that takes less than 5 minutes to get cooking. Rich, comforting flavors from cream of chicken soup, onions, and mushrooms create a luscious, southern style gravy that cooks with pork chops until they're tender and flavorful. In just a few hours, with no effort from you, a hearty meal for six can be ready to serve with any sides your family loves the best.
Creamy Smothered Pork Chops – The EASY Way!
If you've ever traveled in the southern US, you know that they'll smother almost anything. From creamy smothered pork chops, chicken, shellfish, or greens, you name it, and you can find it. The rich, flavorful gravies always have you asking for a biscuit to help soak up every last bit on the plate.
This recipe is my home cooked, slow cooker version of that comforting, indulgent way of cooking. A simple sauce can be made from pantry ingredients but delivers the soulful, rich flavor of slow-cooked gravy. The pork soaks up all the flavor and becomes super tender and delicious. It's always a dish the whole family loves.
The flavors are so versatile too! I can serve it with healthy sides or easy starches to soak up the gravy so I know everyone will be happy and well-fed when dinner is over. Plus it only takes me 5 minutes and my Crock Pot to make!
Why I LOVE this recipe!
5 Easy Ingredients – There's nothing complicated about making this. All five ingredients can be found at any grocery store and are usually inexpensive.
Hands-Off Recipe – I love quick and EASY prep! It only takes five minutes to get this cooking, then you're off duty!
Quick Slow Cooker Meal – This Crock Pot meal can be started when the kids get home from school and it'll be ready by dinner time!
Creamy, Rich, and Comforting – The BEST part about this recipe is how good it is. I highly recommend serving something to soak up all that delicious gravy!
What to Serve with Smothered Pork Chops
Since this southern style smothered pork chops recipe has the classic flavors of onions and mushrooms, it will pair well with many of your favorite traditional and comfort food side dishes. There are both classic options and some healthy options to keep it light.
Side Dish Ideas
You can choose one or add a few sides to make a wholesome, well rounded dinner.
Recipe Notes
This slow cooker creamy smothered pork chops recipe is as simple as promised! Just your 5 ingredients and 5 minutes of prep for a family friendly meal.
In this section I am going to go through a few tips and tricks I use when making this recipe to get the absolute best and most delicious results.
Make sure to scroll to the bottom for the FULL recipe card.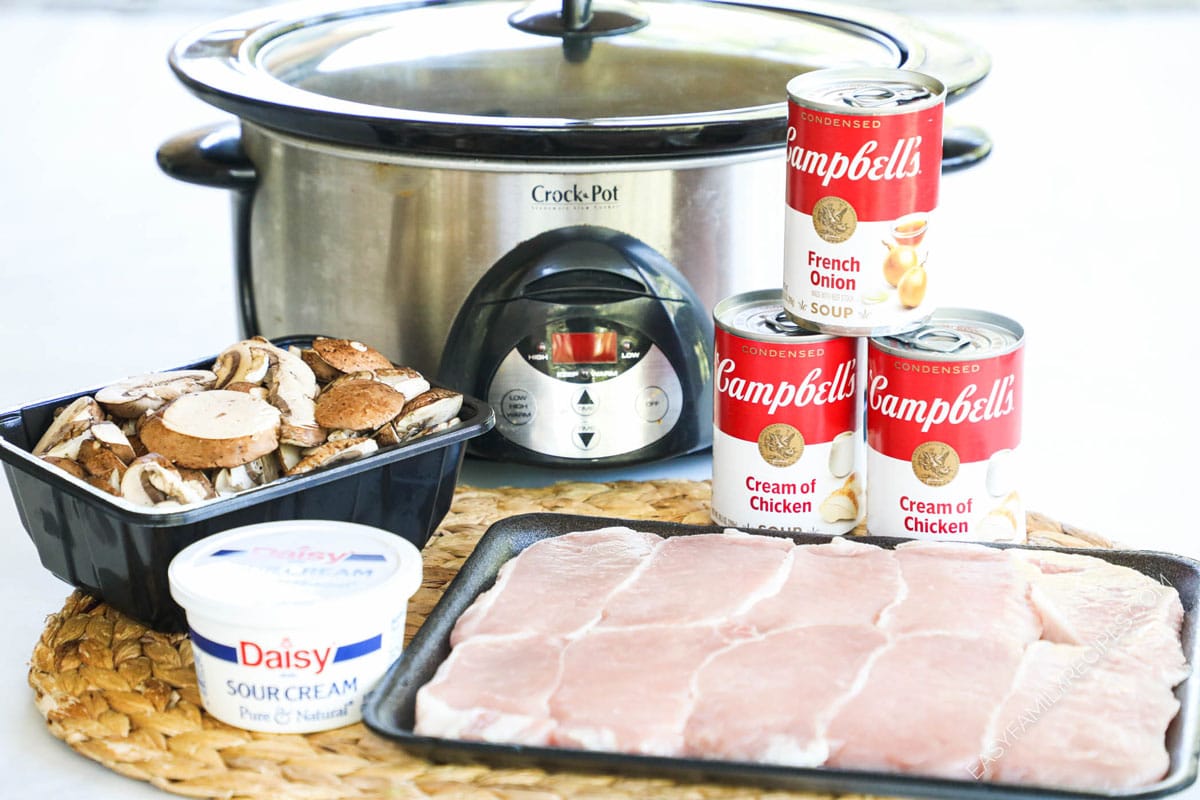 Ingredients + Substitutions
Boneless Pork Chops – I prefer a boneless, thick pork chop for best flavor. You can use bone in, just remember to remove the bone before serving.

Cream of Chicken Soup – This brings rich, creamy flavor that compliments the pork and other ingredients. But you can swap half or all of it for cream of mushroom soup if you prefer a bigger mushroom flavor.

French Onion Soup – You want the condensed canned version of this, not a broth soup or a dry mix.

Mushrooms – You can choose any mushrooms your family likes. Button, white, and baby bella all work great.

Sour Cream – Full fat, plain Greek yogurt can be used instead.

Parsley (Optional) – Chop as a garnish if desired. Curly or flat leaf work equally well.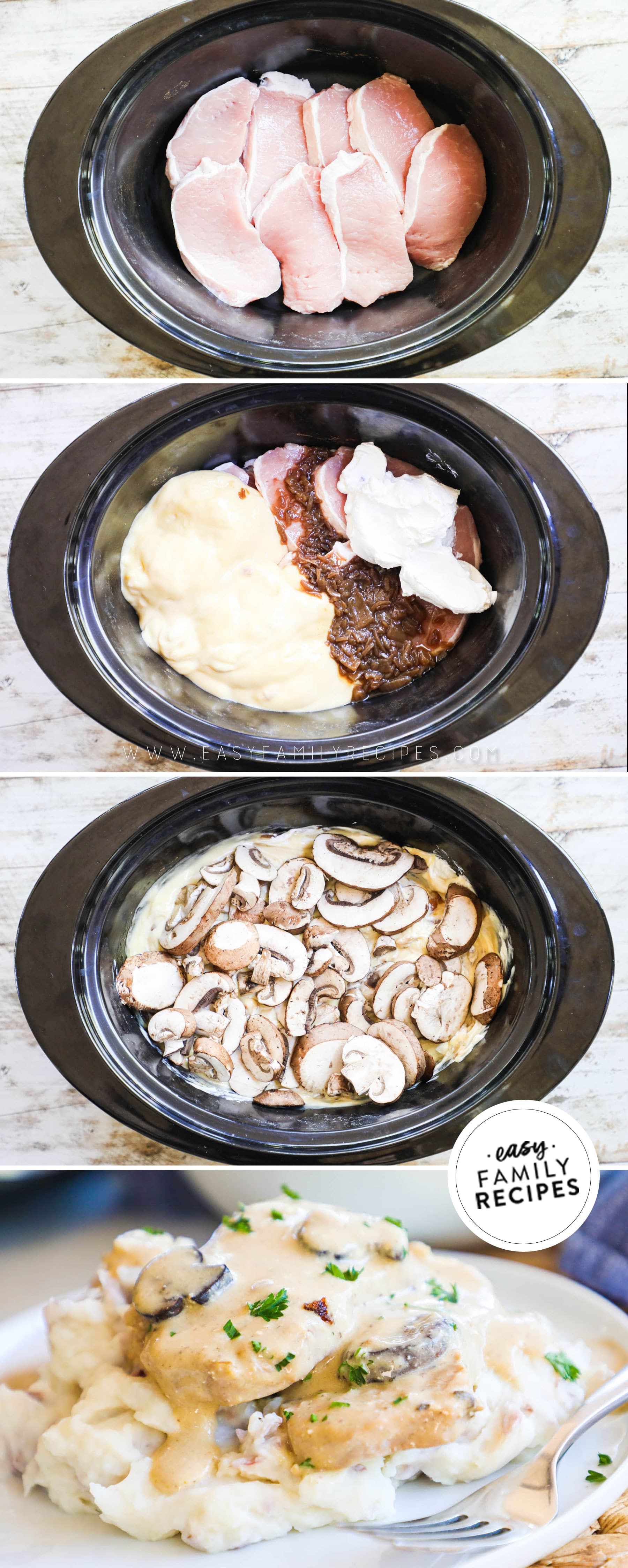 Recipe Tips
Drain the onion soup – The reason you want the condensed soup is to have all of that intense onion and herb flavor cooked into our thick, creamy sauce. Drain off all the liquid before mixing it in to avoid watering it down.

Use Thick Pork Chops – This creamy smothered pork chops recipe will work with any type of chop. But I preferred and recommend thick boneless chops if you can. They can cook a little longer and end up the juiciest and most tender.

Don't Over Cook it – If you do use thin pork chops this tip is SUPER important. Unlike a lot of slow cooker recipes where you can leave it for a long time, this one should only be cooked until the pork chops reach an internal temperature of 165°F.

Thicker pork chops can go the full 3 hours, but thinner ones may reach that point sooner. Overcooking will lead to a chewier result. So, I recommend you pick up an inexpensive meat thermometer if you don't have one. They're usually near the kitchen gadgets at the grocery store, and can make cooking your pork much easier.

Whisk the gravy ingredients – I recommend whisking the cream of chicken soup and sour cream together first. It prevents lumps and creates a luscious final sauce. Once they're smoothly mixed, stir in the drained onion soup too, then add it to the Crock Pot.

Give it a final stir – When you're done cooking, take all the pork chops out of the slow cooker and whisk the sauce together again. All the pork juices that developed during cooking will be mixed in to make that gravy taste its absolute best. Then spoon it generously over the chops to serve.
Recipe Short Cuts
If you need to make this recipe, but are extra short on time, here are a few ideas that can help make this recipe even faster!
Use thinner pork chops– I really like a thicker pork chop, but thin style ones can cook in less time, getting dinner on the table faster!

Combine the soups ahead– Whisk all of the gravy ingredients together up to 3-4 days ahead so you can just dump and go when it's time to cook.

Buy pre-sliced mushrooms– This makes it so easy! Most grocery stores sell sliced mushrooms right alongside the whole ones. Save yourself the time it takes to cut them.
Recipe Variations
If you love this recipe as much as we do and want some quick ways to change it up for variety, these little tips will do the trick!
Smothered Pork Chops with Mushroom Soup– Make the recipe exactly as directed, but swap cream of mushroom soup for the cream of chicken soup. You can replace one or both cans, depending on how intense you like the mushroom flavor.

Cajun Smothered Pork Chops– Season the pork chops with my homemade Cajun seasoning before adding them into the Crock Pot. Then proceed with the recipe as directed.

Onion Smothered Pork Chops– Make the recipe according to the instructions but switch in homemade caramelized onions for the sliced mushrooms to create a delicious, oniony flavor.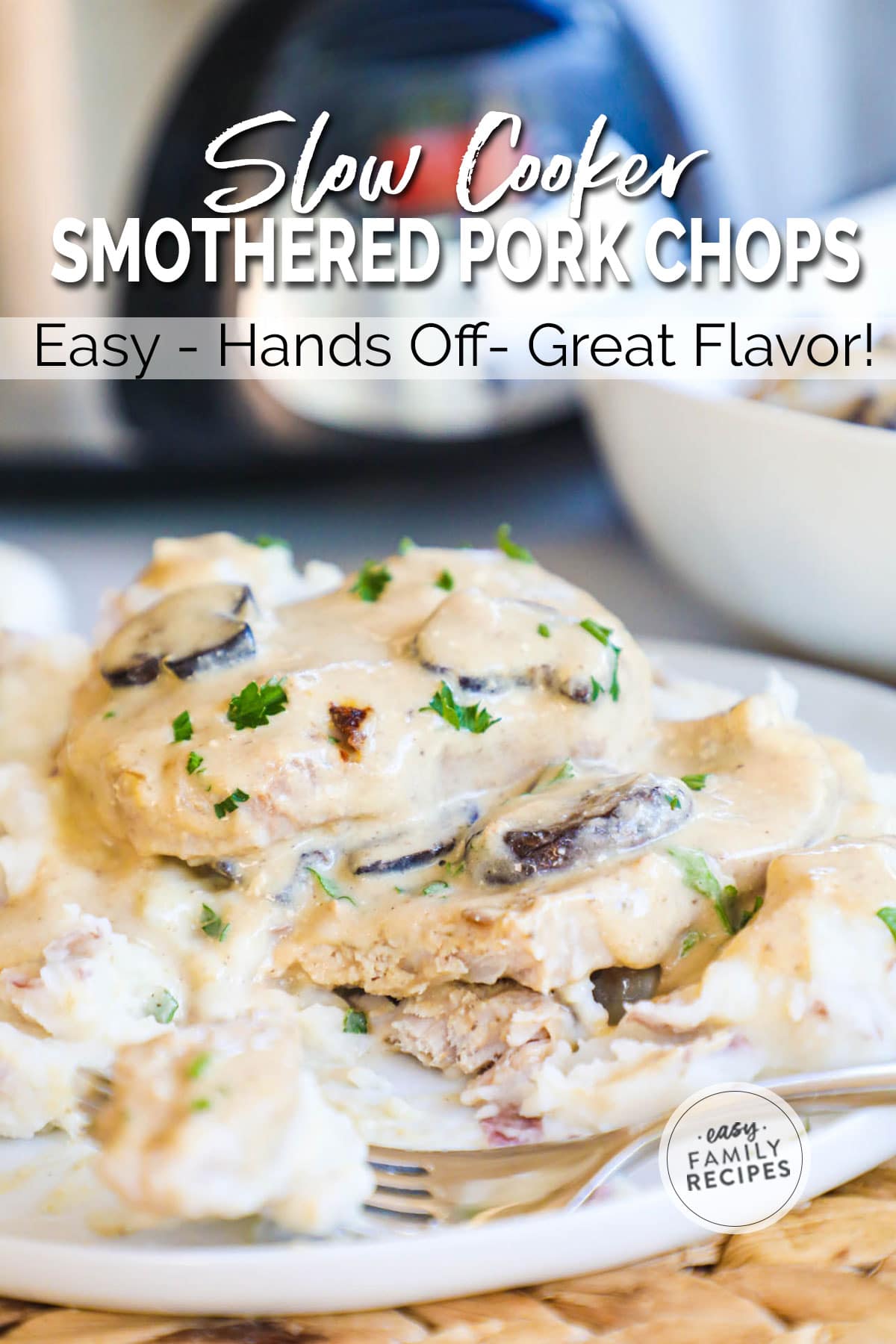 Freezer Meal Instructions
Making this slow cooker smothered pork chop recipe into a freezer meal is simple! Follow the steps below and you can store this recipe in the freezer for up to 6 months.
Place the pork chops in a large freezer safe bag or container.
Whisk together the cream of chicken soup, sour cream, and drained onion soup.
Mix the mushrooms into the gravy.
Pour the gravy over the pork chops and seal tightly.
Freeze.
When ready to cook, thaw in the refrigerator for 24-48 hours.
Add it to the slow cooker and cook as directed.
Crock Pot Smothered Pork Chops Leftovers
If you have leftovers after making creamy smothered pork chops, then it is your lucky day! They save and reheat well, and can make the start of another delicious dish.
To save leftovers, separate into meal sized portions and then place in an airtight container and store:
in the refrigerator for 3-4 days
in the freezer up to a month
Leftover Recipes
Here are a few ways to repurpose those leftovers and give them a delicious makeover!
Smothered Pork Chop Sandwich– Reheat pork chops and gravy and layer them onto hamburger buns. Top with a broccoli slaw or crisp lettuce and serve.

Smothered Pork Chop Grain Bowl– Chop up leftover pork chops and gently rewarm in the gravy. Add cooked grains like rice or quinoa into a bowl. Top with cooked vegetables, such as broccoli, carrots, greens, or mushrooms. Ladle over the pork and gravy then serve.

Smothered Pork Chop Flatbread– Melt cheddar or mozzarella cheese on a flat bread with chopped leftover pork and vegetables like spinach or mushrooms. Reheat the gravy and serve it over top, or as a dipping sauce on the side.

Smothered Pork Chop Casserole– Combine chopped pork chops, leftover gravy, 2 cups of cooked rice, and 1-2 cups of broccoli and spread in a casserole dish. Top with 1 cup of shredded cheddar or Monterey jack cheese and bake covered at 350°F for 30-40 minutes or until hot and bubbly throughout.
More Slow Cooker Recipes
If you enjoyed this recipe, I really hope you will take a moment to grab a few more easy recipes for another busy night!
You can check out all of my easy dinner recipes here, or see a few of our readers favorite recipes below.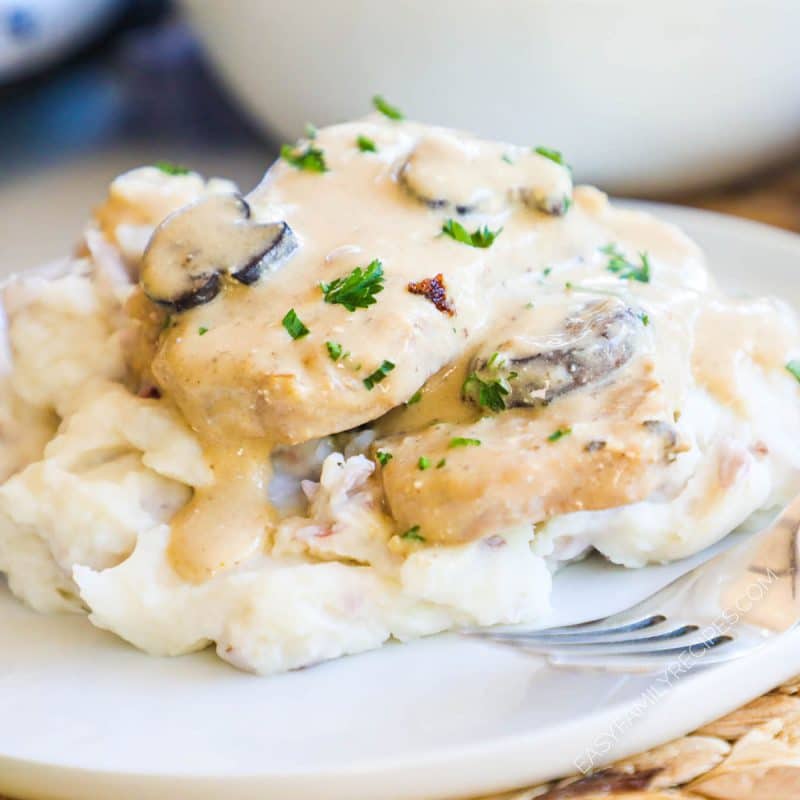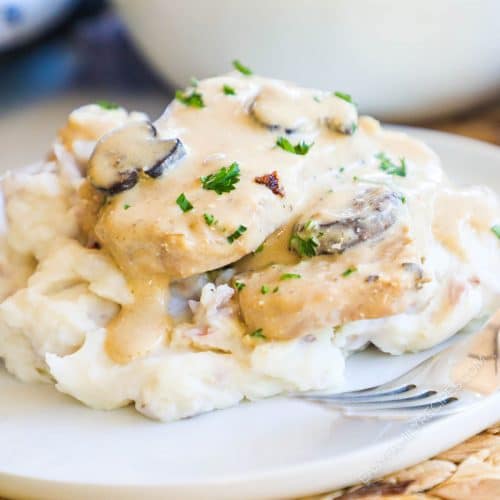 Crock Pot Smothered Pork Chops
Tender boneless pork chops cooked in a luscious gravy made from easy ingredients like cream of chicken soup, sour cream, and mushrooms is a comforting, rich, and very easy dinner that the whole family will love.
Ingredients
3

pounds

boneless pork chops

,

(about 6)

21

ounces

cream of chicken soup

,

(2 cans)

10.5

condensed French onion soup

,

drained (1 can)

1/2

cup

sour cream

2

cups

sliced mushrooms
Instructions
Drain the liquid from the French onion soup. Combine this with the cream of chicken soup and sour cream and mix well.

Place the pork chops on the bottom of the slow cooker. Cover with the soup mixture and mushrooms.

Cook on low for 2.5-3 hours, or until the pork chops are cooked through (165˚F internal temp.) Once done, remove the pork chops and stir the sauce really well, since the liquid can settle, then spoon over the pork chops to serve.

Garnish with parsley if desired.
Recipe Notes
The cooking time can vary based on how thick your pork chops are. Since pork chops are a lean meat, you will have more tender pork chops by cooking just until done, instead of allowing to cook all day.
Nutrition Information
Calories:
486
kcal
(24%)
,
Carbohydrates:
9
g
(3%)
,
Protein:
53
g
(106%)
,
Fat:
25
g
(38%)
,
Saturated Fat:
9
g
(56%)
,
Polyunsaturated Fat:
3
g
,
Monounsaturated Fat:
10
g
,
Trans Fat:
1
g
,
Cholesterol:
171
mg
(57%)
,
Sodium:
822
mg
(36%)
,
Potassium:
1028
mg
(29%)
,
Fiber:
1
g
(4%)
,
Sugar:
2
g
(2%)
,
Vitamin A:
309
IU
(6%)
,
Vitamin C:
1
mg
(1%)
,
Calcium:
50
mg
(5%)
,
Iron:
2
mg
(11%)