You have never had Slow Cooker BBQ Chicken like this!  This recipe combines the tangy flavor of barbecue with a secret ingredient to make it creamy, and oh so lip smackingly delicious!  It takes as little as 5 minutes to get cooking, and is all made in your crock pot, so you can get on with life while the slow cooker does the work!  This BBQ Chicken recipe is perfect for making BBQ chicken sandwiches, salads, pizza, or eating all on it's own. As a bonus, this slow cooker BBQ chicken is perfect for meal prep and can be frozen to make other meals throughout the month! See the section at the bottom of the post for 9 great dinner ideas to use with this BBQ chicken.
Creamy Slow Cooker BBQ Chicken Recipe
Some recipes are just so simple, but just so good!  This my friends is one of those recipes.  It only has 3 ingredients and the crockpot really does all the work, so if you need an easy dinner recipe, this creamy Slow Cooker BBQ Chicken is going to rock your world.
There are a couple of things that make this BBQ chicken recipe really special.  First, and the most obvious, is the fact that it is creamy.  Barbecue chicken isn't traditionally creamy, but this recipe takes those traditional flavors and gives it a delicious twist.  Once you try it, you might never eat it any other way again!
The second thing that I really love about this recipe is that you can eat it straight up as barbecue chicken, or you can use it to make so many different recipes.  So the first time you make it, you can eat it as is, then you can use it later in the week, or freeze it to use it throughout the month to make other meals when you need a head start so you can get dinner on the table fast.  I talk all about some of my favorite recipes to use this bbq chicken for like pizza, stuffed avocados, salads, rice bowls, and more in the section below the recipe.
If you want more awesome easy recipes that pull double duty, make sure to check out my green chile crockpot chicken and my crockpot taco chicken!
How to serve Slow Cooker BBQ Chicken
You can serve this barbecue chicken in any of your favorite ways!  We usually use it to make BBQ chicken sandwiches the first time we eat it. You can also pile it on top of rice or mashed potatoes, or just serve it plain with a few of the sides listed below.  If you are low carb, you can stuff it into an avocado, eat it as a lettuce wrap or on top of a salad or bed of cauliflower rice. Also, make sure to check out the section at the bottom of the post on other meals you can use the leftovers to make!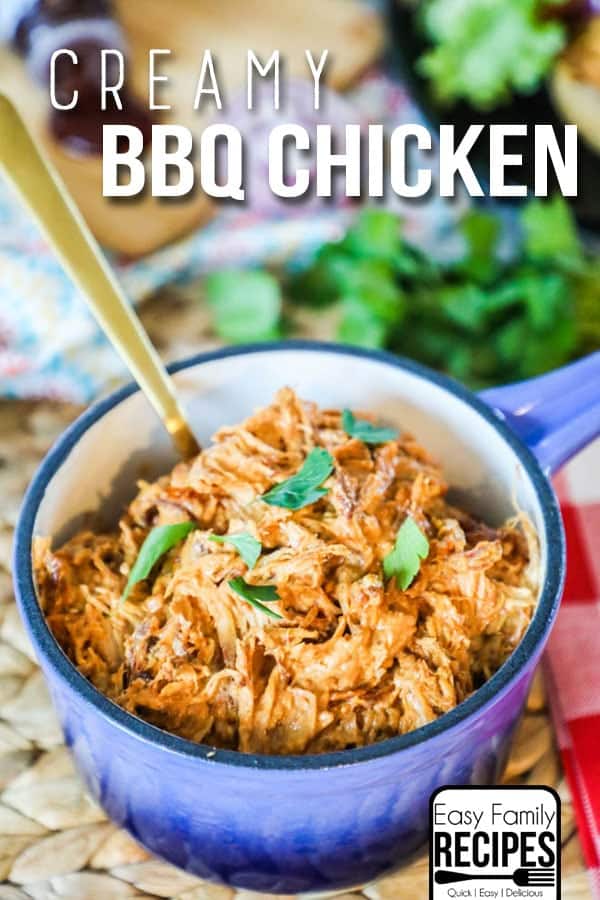 What Sides to Serve with Slow Cooker BBQ Chicken
Barbecue is such an iconic flavor that there are certain sides you just know go well with it, but there are a few other side dishes that are super delicious that you might not have thought of.  I am going to share some of our favorite traditional and not so traditional side options to pair with this easy slow cooker BBQ chicken.
Traditional Sides
These are the side options that you will see offered in barbecue restaurants or you may remember from picnics and pot lucks growing up.  These are mostly easy and will never go out of style for serving with your favorite BBQ meal!
Corn on the Cob
Baked Potatoes
French fries (or try these easy oven baked smashed potatoes for a similar, and maybe even more delicious side option!)
Green Salad
Creative Side Options
These may not be traditional barbecue sides, but they are all super delicious and made with flavors that pair well with barbecue so they are sure to be a hit on your dinner table.
Low Carb Side Options
If you want to keep things a little lighter, you can easily serve the BBQ chicken as a lettuce wrap or in an avocado then pair it with some of these low carb side options:
Cauliflower Rice
Side salad with ranch dressing
This should definitely get you started on some ideas for what to serve your slow cooker BBQ chicken with.  If you have any favorite sides or serving options that I missed, make sure to leave me a note in the comments so I can try it out!
How to Make BBQ Chicken in a Slow Cooker
I am going to walk through this recipe with you and try to answer any of the questions that might come up in this section.  You can find the full printable recipe card at the bottom of this post.
Slow Cooker BBQ Chicken Ingredients
There are only three simple ingredients in this recipe.
2 lbs boneless, skinless chicken breast- Make sure to trim the fat from the chicken breast then you can use it as is.
1 cup barbecue sauce- I use Sweet Baby Ray's most often, but you can use any brand you prefer or homemade BBQ sauce.
8 oz cream cheese- I use original Philadelphia cream cheese, but you can also use Neufchatel or low fat cream cheese as well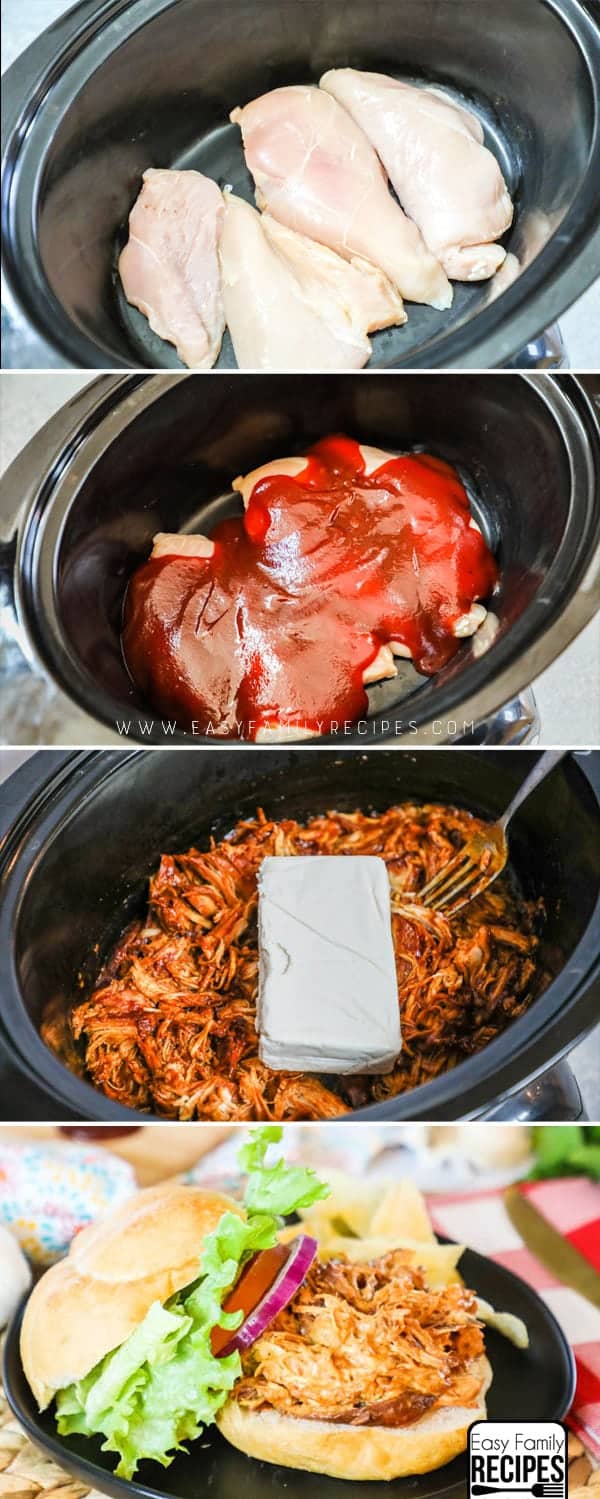 Slow Cooker BBQ Chicken FAQ's
Can I use frozen chicken breast?
The time listed on the recipe is for thawed chicken breast, but you could also add 30 min-1 hours and use frozen chicken breast.
How long do you cook chicken in the crock pot?
Since chicken breast is a lean meat without much fat, I suggest cooking the chicken on low for 3 hours.  You can technically cook the chicken for 6-8 hours on low, or time far longer than suggested in the recipe because the slow cooker keeps the moisture in so that the food doesn't burn, but most people would much prefer the taste and  texture of the meat when it is cooked for a few hours on high rather than all day on low.  With that said, the meat most likely won't burn when cooked longer it will just effect the texture of the meat.
How do I shred slow cooker chicken?
The great news about cooking the BBQ chicken in the slow cooker is that it is super tender and will easily shred.  You should be able to use two forks and pull the meat apart with little effort.  If you prefer you can use a hand or stand mixer with a paddle attachment to shred the chicken or use meat shredding claws.
Can I make this recipe low carb?
Barbecue sauce is sweet by nature so it can have quite a bit of sugar in it.  You can substitute a sugar-free barbecue sauce for a traditional one and then this will be a very low carb recipe.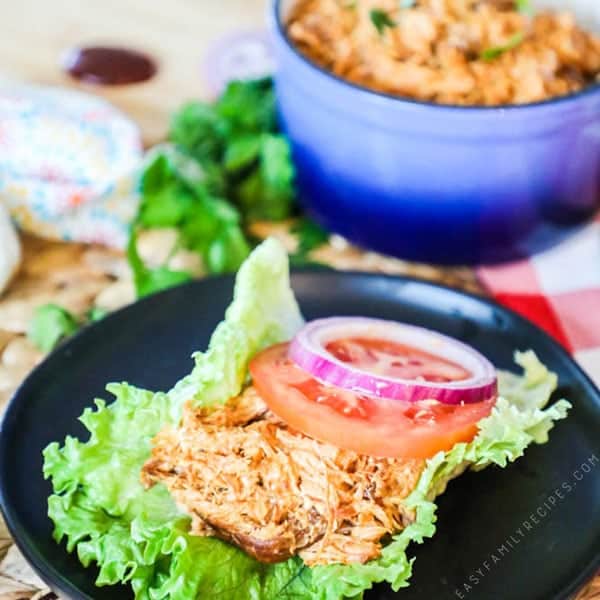 What to do with Leftover Slow Cooker BBQ Chicken
How to Store Leftover BBQ Chicken
This recipe saves beautifully and can be reheated either in the microwave or on the stove top.  To store the leftover chicken I prefer to divide it into meal sized portions, but you can also store it all together.  Place the leftovers in an airtight container then you can store them:
In the refrigerator for up to a week
In the freezer for up to a month
Other Meals to Make with this Barbecue Chicken
As I mentioned right in the beginning of this post, I love that I can make a big batch of this slow cooker BBQ chicken and then use the leftovers to make other super delicious and family friendly recipes throughout the week or month. Here are some of our favorite ideas for quick and easy meals made with this BBQ chicken:
BBQ Chicken Salad
BBQ Chicken Stuffed Avocados
BBQ Chicken Tostadas
BBQ Chicken Grain Bowls – Layer rice (or quinoa or other grains,) BBQ chicken and then any toppings you like such as: lettuce, pico de gallo, corn, black beans, chopped onions, pepper, cheese and more!
BBQ Chicken Lettuce wraps
BBQ Chicken Stuffed Peppers- Mix 2 cups meat with 1 cup rice (or cauli rice). Spread BBQ sauce in the bottom of a baking dish.  De-seed and stem 4 bell peppers (any color) stuff with bbq chicken mixture and place in the dish upright.  Bake covered with foil for 30-40 minutes or until tender then cover with cheese and cook for 3-5 additional minutes until the cheese is melted. Garnish with cilantro.
BBQ Chicken Quesadillas
BBQ Chicken Sandwiches
BBQ Chicken Mac & Cheese
I hope that you love this recipe as much as our family does!  If you think of any new ways to serve it or ways to use the leftovers I would love to hear about them in the comments.  And if you do get a chance to make it, I would love to see it on social media!  Make sure to tag me on Instagram @easyfamilyrecipes or on Facebook! Happy eating!
Hungry for more family-friendly recipes? Sign up for my free recipe club to get new family-friendly recipes in your inbox each week! Find me sharing daily meal-time inspiration on Pinterest, Instagram, and TikTok.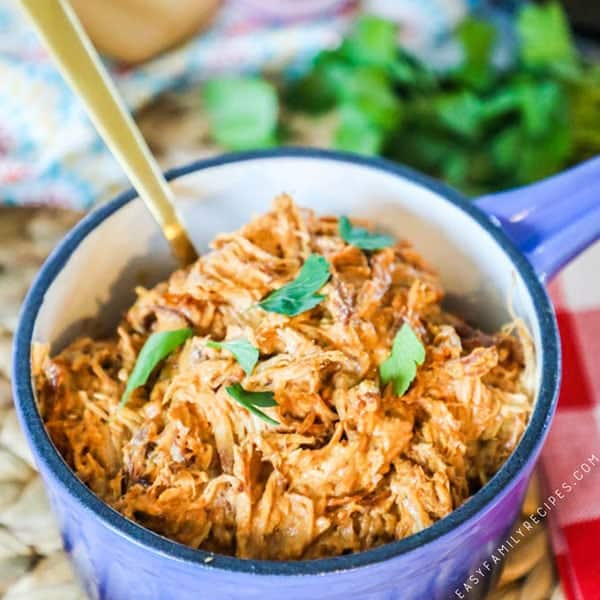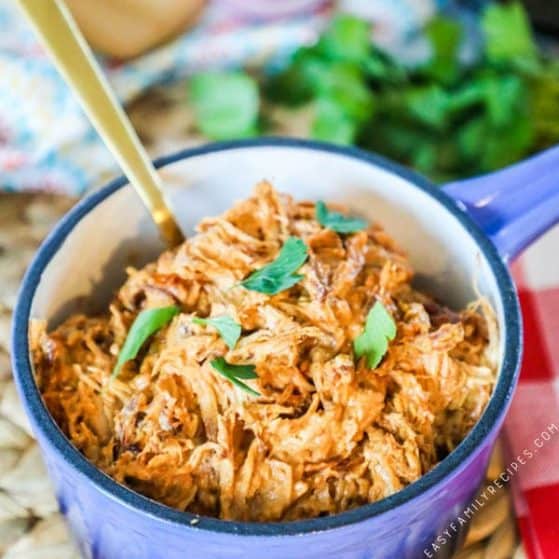 Creamy Slow Cooker BBQ Chicken
This slow cooker BBQ chicken is so simple, but yet will be one of the best you have ever had. It takes all the delicious flavors of barbecue chicken and adds a rich creaminess to it to bring it to the next level of deliciousness. This chicken is perfect for all of your favorite BBQ chicken recipes like BBQ chicken sandwiches, salads, pizzas, baked potatoes and more!
Prep Time: 5 minutes
Cook Time: 3 hours
Total Time: 3 hours 10 minutes
Serves:8 servings
Hover over "serves" value to reveal recipe scaler
Ingredients
2 lbs chicken breast boneless skinless
1 cup bbq sauce I like Sweet Baby Ray's
8 oz cream cheese
Instructions
Place the chicken breasts in the slow cooker.  Cover with barbecue sauce.

Cook on high for 3-4 hours. Once cooked (165˚F internal temp) use forks to shred the chicken and mix with the barbecue sauce.

Place cream cheese on top of the cooked chicken. Replace lid on the crockpot and let it soften for 5 minutes.  Remove lid and stir in the cream cheese until combined.
Recipe Notes:
To store leftovers, place in an airtight container:
In the refrigerator for up to 3 days.
In the freezer for up to a month.
Special Dietary Considerations:
Gluten Free: This recipe is naturally gluten free, however make sure to check the BBQ sauce you choose to use to ensure it is gluten free as some are not.
Low Carb: This recipe can be made low carb by using sugar-free barbecue sauce
For more great easy dinner inspiration, sign up for our emails here!
©2018 Easy Family Recipes- https://www.easyfamilyrecipes.com/slow-cooker-bbq-chicken/
Nutrition Information:
Serving: 5ozCalories: 280kcal (14%)Carbohydrates: 18g (6%)Protein: 24g (48%)Fat: 12g (18%)Saturated Fat: 7g (44%)Polyunsaturated Fat: 1gMonounsaturated Fat: 0gTrans Fat: 0gCholesterol: 90mg (30%)Sodium: 625mg (27%)Potassium: 0mgFiber: 0gSugar: 17g (19%)Vitamin A: 0IUVitamin C: 0mgCalcium: 0mgIron: 0mg
(Nutrition information provided is an estimate and will vary based on cooking methods and brands of ingredients used.)