This is such a delicious twist on your classic enchilada recipe!  BBQ Chicken Enchiladas are tangy, cheesy, and perfect for a quick and easy dinner.  You can use barbecue chicken made in the crock pot to make this meal even simpler.  The tangy BBQ chicken is wrapped in tortillas and smothered in a salsa verde sour cream sauce that pairs perfectly with the barbecue flavor.  The whole casserole is topped with cheese and baked until it is piping hot.  Once it is done it will feed a crowd, but be ready, because you might end up with an empty dish quicker than you think!  These don't stick around long!
BBQ Chicken Enchilada Recipe
Today's recipe may not be a traditional one, but it is a delicious one!  When you think of enchiladas, you don't often think of barbecue chicken, but since our family love BBQ chicken in so many other of our mexican favorites (hellllllooooo BBQ Chicken Nachos…. I am looking at you!) I just knew these would be a HUGE hit around here.
The next time we made our favorite Slow Cooker Barbecue Chicken, I knew the fate of the leftovers was a big dish of enchiladas.  And boy was it the right decision!  They were fantastic.  One of those, "Why have we never done this before?" kinda moments!
So add the BBQ Chicken to your meal plan next week, then make sure you have enough leftover to make these BBQ Chicken Enchiladas later in the week!  Sound like a plan?!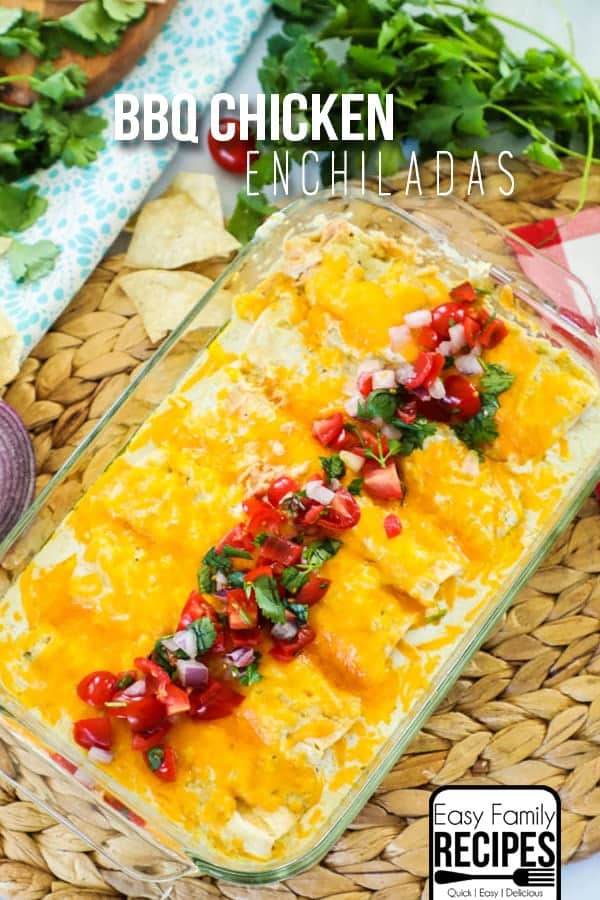 What to serve with BBQ Chicken Enchiladas
You have 2 great flavors going for you in this meal!  You can go in the direction of the barbecue, or go the Mexican route.  When I pair sides with this dish, I usually do some of each!  Here are a few of our favorite side dishes to serve with this dinner:
Black Beans
Pico De Gallo with chips
Mexican rice
Side Salad with ranch
These are my go to side recipes for the enchiladas.  If you have another side that you love, please leave me a note in the comments so I can try it out next time we make these!
How to Make BBQ Chicken Enchiladas
This is a super simple recipe that can be made even on the busiest weeknight.  I am going to walk through some tips here to hopefully answer any questions that might arise while making the BBQ Chicken Enchiladas.  You can find a full, printable recipe card at the bottom of the post.
BBQ Chicken Enchiladas Ingredients
2 cups shredded or pulled BBQ Chicken- We use this Crock Pot BBQ Chicken most often, however you can use any leftover BBQ Chicken or even mix shredded or pulled rotisserie chicken with barbecue sauce to get the same effect.
1/2 cup corn- you can use thawed frozen corn or drained canned corn
1/2 cup black beans- You can use rinsed canned black beans
8 corn tortillas- I try to use the freshest, softest ones I can find.  If the tortillas you find aren't super soft (they are crumbly or break when you try to fill them) you can make them perfect for enchiladas by heating about 1/2″ of oil in a frying pan to medium high, and quickly frying each tortilla for about 30 seconds on each side.  If your tortillas are super fresh this usually isn't necessary, but if they aren't this makes them really delicious and perfect for making enchiladas.
1 cup sour cream- I use original but you could also use light here.
1 (10 oz) can green enchilada sauce- You can find this in the Mexican section at the grocery store.
1/2 cup sharp cheddar cheese- I prefer to use sharp because you get the most flavor so you don't have to load these down with cheese to get lots of great flavor in every bite.
For garnish
1/2 cup pico de gallo- I love to add fresh pico de gallo to the top of the BBQ Chicken Enchiladas.  This is my favorite recipe for fresh homemade pico de gallo.  If you don't have time for homemade you can also often find pico de gallo premade in the produce section of your local grocery store.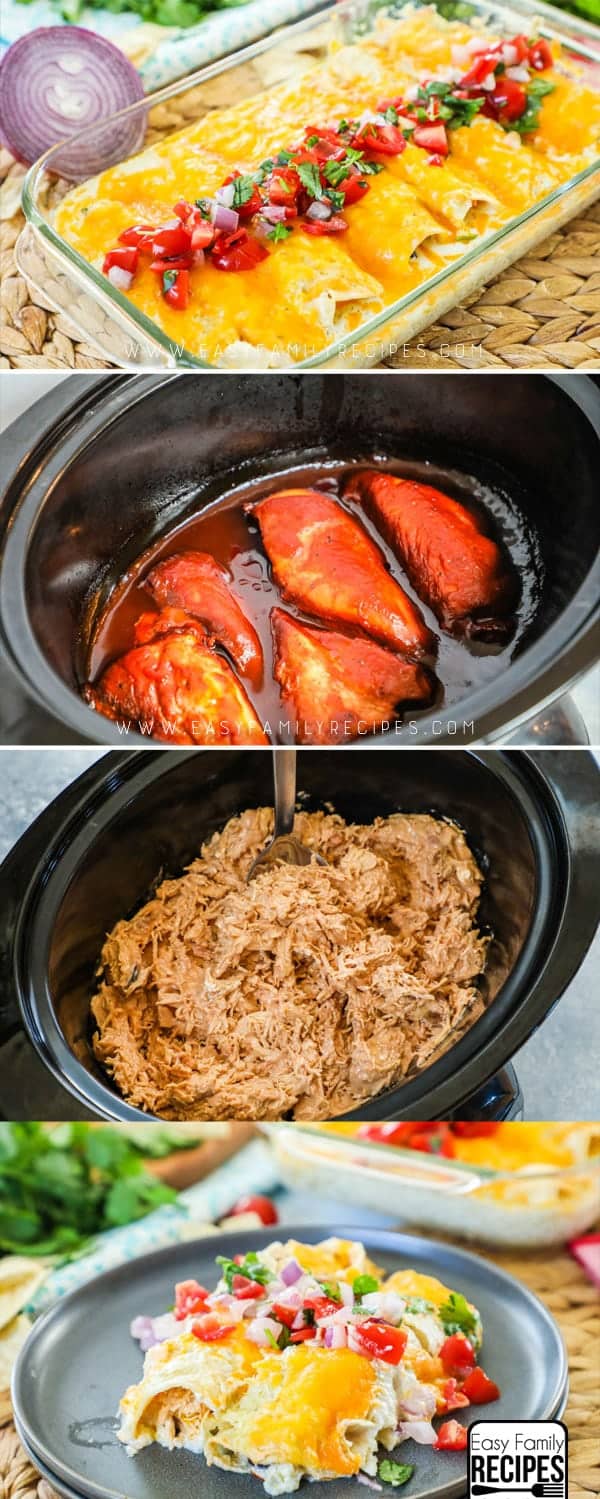 BBQ Chicken Enchiladas FAQ's
Q: Can I use flour tortillas instead of corn?
A: Yes, you can substitute flour tortillas for corn in this recipe.  Keep a few things in mind though.  First, many flour tortillas are much larger than corn tortillas.  If you move to a larger tortilla you will need more meat. Also, If you bake the flour tortillas too long they could get soggy, which isn't really what you are probably going for, so be careful!
Q: Why did my corn tortillas split in the oven?
A: Many times when the tortillas aren't super fresh they can do this.  If you really want to guard agienst this, I recommend doing the trick I mentioned above where you quickly fry each tortilla.  This really brings tortillas back to life and makes them flexible and able to hold their shape while cooking.  It also helps them to not get too soggy.
Q: Is there a gluten free option?
A: You could use gluten free corn tortillas, and make sure that the BBQ pulled chicken you use is also gluten free.  That would make these into a gluten free meal.
Q: Is there a low carb BBQ Chicken enchilada recipe?
A: You can lower the carbs in this meal drastically by using sugar free barbecue sauce, and by replacing the tortillas with thinly sliced zucchini or other low carb wrap substitute.
Q: Can I double this recipe?
A:  Yes!  Double, triple, or even quadruple it easily!
Q: How do I store the leftovers?
A: You can keep the leftovers in an airtight container in the refrigerator for 3-4 days.
I really hope that your family devours this meal as quickly as mine did and it is a hit for all!
If you do get a chance to try it, I would love it if you let me know!  You can leave me a comment below, or if you post a picture on Instagram, make sure to tag me @easyfamilyrecipes so that I can see what you are cooking up! It makes my day to see others enjoying the recipes that I share!
Oh and before you go!… If you need a regular rotation of recipe inspiration like me, make sure to sign up to get our emails!  I send out my new favorites, the recipes my family has been devouring, and some of the best tried and true recipes.  It is easy and free of course!  You can click here to sign up or on the button below.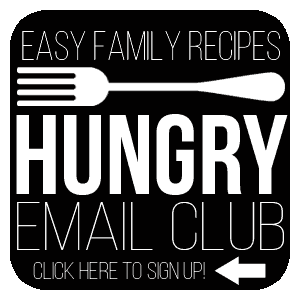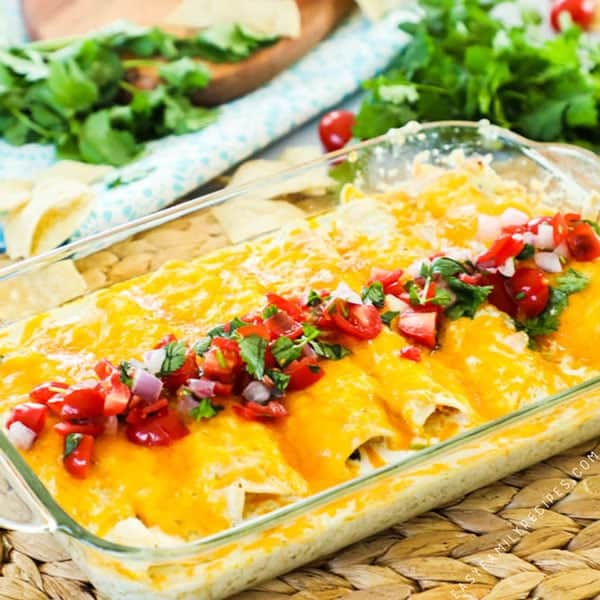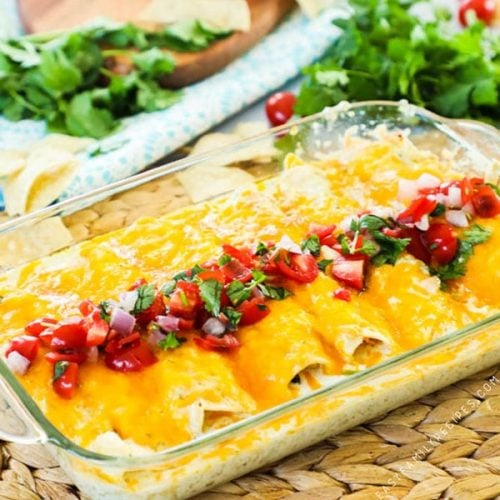 BBQ Chicken Enchiladas
These BBQ Chicken Enchiladas are the most wonderful twist on your classic Chicken Enchilada. They are tangy, creamy, and full of flavor! Make this quick and easy dinner on any busy weeknight to get a delicious meal on the table fast!
Ingredients
2

cups

shredded BBQ Chicken- We use this Crock Pot BBQ Chicken most often

1/2

cup

corn

1/2

cup

black beans

8

corn tortillas

1

cup

sour cream

1

10 oz can green enchilada sauce

1/2

cup

sharp cheddar cheese

For garnish

1/2

cup

pico de gallo
Instructions
Preheat the oven to 375˚F.

Whisk together the sour cream and salsa verde until it is evenly combined.

Mix the BBQ chicken, corn and black beans. Roll a heaping 1/4 cup BBQ Chicken mixture into each tortilla and lay it seam side down in a baking dish.  Pour the sauce over the enchiladas and top with the cheddar cheese.

Bake for 20-25 minutes or until heated through and the edges are bubbly.

Garnish with pico de gallo and serve hot.  Enjoy!
Recipe Notes
Nutrition facts provided based on my best estimation for the recipe and may not be accurate depending on what brands you use or modifications you make to the recipe.  I recommend using a nutrition calculator with the exact brands and measurements you use for the most accurate calculation.
©2018 Easy Family Recipes- Recipe found at: https://www.easyfamilyrecipes.com/bbq-chicken-enchiladas/
For more great easy dinner inspiration, sign up for our emails here!
Nutrition Information
Serving:
2
enchiladas
,
Calories:
383
kcal
(19%)
,
Carbohydrates:
30
g
(10%)
,
Protein:
17
g
(34%)
,
Fat:
22
g
(34%)
,
Saturated Fat:
12
g
(75%)
,
Polyunsaturated Fat:
6
g
,
Monounsaturated Fat:
0
g
,
Trans Fat:
0
g
,
Cholesterol:
72
mg
(24%)
,
Sodium:
558
mg
(24%)
,
Potassium:
0
mg
,
Fiber:
5
g
(21%)
,
Sugar:
5
g
(6%)
,
Vitamin A:
0
IU
,
Vitamin C:
0
mg
,
Calcium:
0
mg
,
Iron:
0
mg