When you want to deliver a homemade, hearty dinner to the table but are short on time, this Easy Crock Pot Chili is exactly what you need. It uses a custom chili seasoning blend, fresh vegetables, meat, and two different beans to create the BEST thick and chunky beef chili, all in your slow cooker! With just a few minutes of prep and my helpful tips, you'll be able to create a huge batch of tasty chili that can feed your family, friends, and guests.
Crock Pot Chili – The EASY Way!
There are so many good things about this easy Crock Pot chili, I hardly know where to start! It's the perfect blend of a quick, 'dump and go' recipe and a made from scratch meal. I absolutely love that even the busiest family can serve up something homemade, hearty, and flavorful without any stress.
Plus it's just plain tasty! It checks all the important beef and bean chili boxes – thick, chunky, and full of incredible spices that make dinner a delicious experience. Just add your favorite toppings and sides and you've created a family meal even the littlest ones will enjoy. With flexible cooking times, tons of thickening options, and huge yield that will leave you leftovers to spare, this recipe really is ideal for families with kids on the go.
Why I LOVE this recipe!
Easy & Homemade – There's nothing complicated about making this, but it's still got all the flavor of a homemade, authentic chili.
Hearty, Thick, & Chunky – Beans and ground beef create texture in a thick, rich base. It's a tasty, stick-to-your-ribs kind of meal!
Family Friendly Flavors – Classic chili spices and tender beans are a familiar combination that kids and adults both love, especially with their favorite toppings.
Common, Everyday Ingredients – Every ingredient you need is easy to find and often inexpensive. You may have some in your pantry already!
Hands off Cooking – Once your done with the 15 minute prep, it's completely hands off until you're ready to serve.
HUGE batch – This can easily serve 8 people, so it's great for a dinner with leftovers, or for feeding guests inexpensively.
Easy Clean up! – Just the slow cooker, a cutting board, and knife. That's a dreamy, quick dinner clean up in my book.
What to Serve with Slow Cooker Beef Chili
Since this Crock Pot recipe dish has the classic flavors of beef and bean chili, it will pair well with many of your favorite traditional side dishes. There are both classic options and some healthy options to keep it light.
Side Dish Ideas
Homemade Buttermilk Corn Bread – It doesn't get more classic than buttermilk cornbread on the side!
Jiffy Corn Casserole – Creamy, delicious corn casserole is a great comforting side to go with your chili.
Instant Pot Baked Potatoes – Fluffy, perfectly cooked potatoes have never been easier.
Brown Butter Broccoli – Nutty browned butter and tender broccoli is the ideal green vegetable side dish.
Garlic Roasted Vegetables – A blend of veggies become delicious in this family favorite recipe!
Broccoli Slaw – A cool and refreshing, make-ahead slaw is great served alongside a thick ground beef chili.
Garlic Smashed Potatoes – This recipe is always a big hit!
Chips – Tortilla or corn chips are great to scoop up bites of chunky beef chili, or can be crumbled as a topping!
Garlic Bread – Nothing beats a slice of buttery garlic bread with a bowl of hearty, chunky chili.
Rice– Make a pot of white, brown, or even use this cilantro lime rice for more flavor!
You can choose one or add a few sides to make a wholesome, well rounded dinner.
Chili Toppings
Cheese – Shredded cheddar, jack, a Mexican blend, or crumbled queso fresco are great.
Onions – Scallions, chives, or red onion are all delicious.
Avocado – Go with fresh slices, or a spoonful of homemade guacamole.
Tomatoes – Fresh tomatoes or Pico de Gallo taste fantastic.
Jalapenos – Use fresh or pickled jalapenos to kick up the heat.
Sour Cream
Crumbled Bacon
Cilantro
Lime Juice
Recipe Notes
This easy Crock Pot chili recipe is as simple as promised! Just 15 minutes of prep and a slow cooker for a family friendly meal.
In this section I am going to go through a few tips and tricks I use when making this recipe to get the absolute best and most delicious results.
Make sure to scroll to the bottom for the FULL recipe card.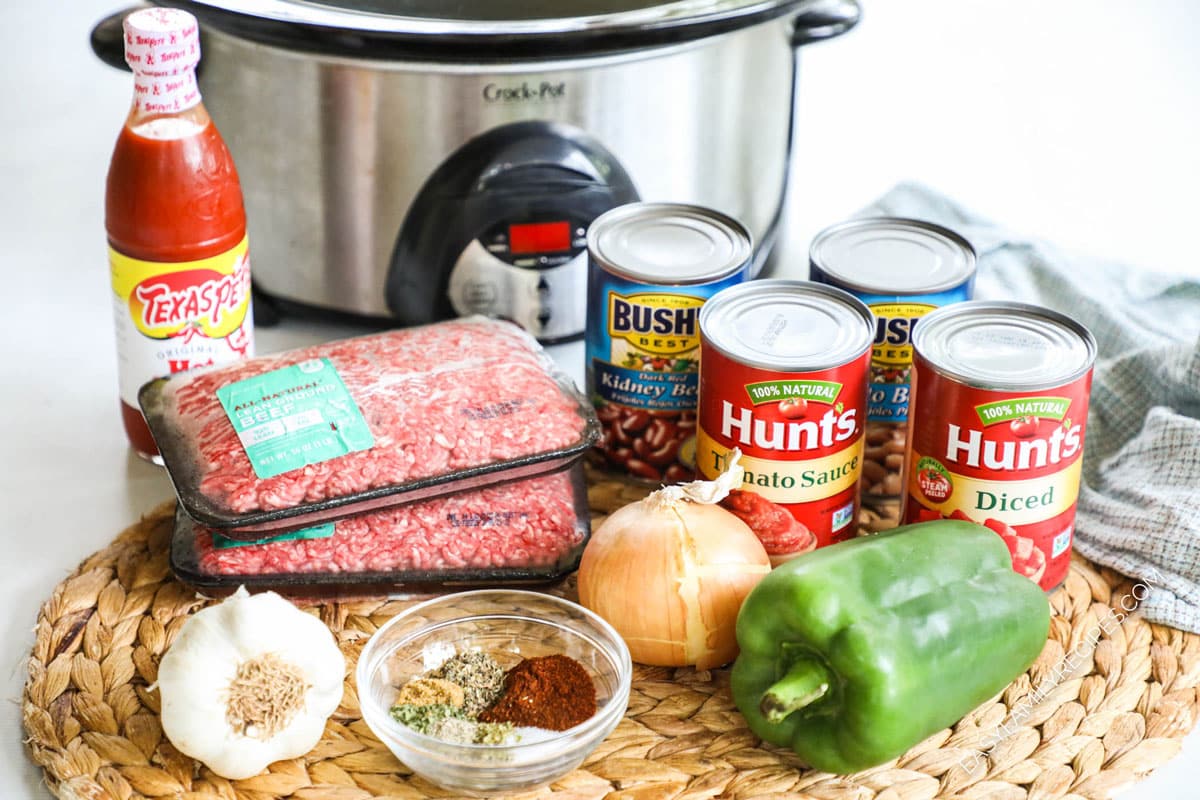 Ingredients + Substitutions
Ground Beef – I like a lean ground beef to keep my chili a little healthier. You can use your preferred type.
Onion – We use yellow onion, but you can use white, sweet, red, or even several shallots instead.
Bell Pepper – Green bell pepper is a go-to for my Crock Pot chili. It adds a fresh, light flavor, but you can definitely use other colors too. They get sweeter from yellow to red, which can add a nice layer of flavor.
Garlic – Fresh garlic is my recommendation if possible. To save time you could also use the tubes of garlic paste or prepared garlic in a jar. Check the packaging to see how much you'll need to make the equivalent of 4 cloves.
Tomato Sauce – A tomato puree adds rich flavor and creates a thicker texture super easily. Use an unflavored one so it doesn't add extra salt or Italian flavors to your chili.
Diced Tomatoes – Canned diced tomatoes are a great way to create that chunky texture we love about chili. Go for unflavored here too.
Canned Beans – We like kidney and pinto beans in our beef and bean chili. They hold up well even when cooked for a long time. If you want to switch them for your favorite beans, then you can absolutely do that!

Dried beans that have been soaked and cooked can of course be used instead. But, you'll be missing the liquid from the canned beans that helps thicken the chili. See my tips below for other thickening options if you go in this direction.
Hot Sauce – Use your favorite hot sauce to add a subtle heat to the recipe. It won't make it spicy, but enhances the seasoning blend and tomatoes.
Chili Seasoning Blend – A homemade blend is super easy! You probably have most of this on hand, or can find them at any grocery store. You'll want chili powder, salt, black pepper, ground cumin, and dried oregano, basil, and parsley.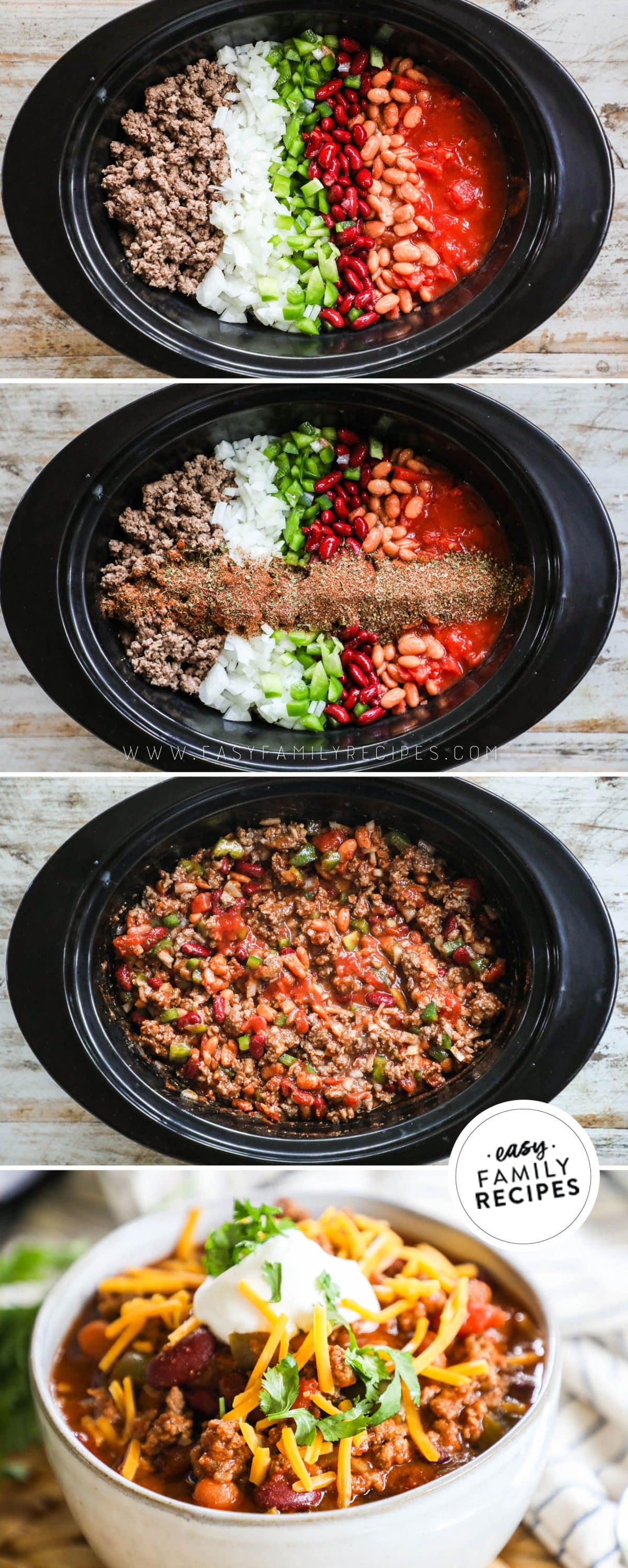 Recipe Tips
Use Low Heat – The secret to tender, ground beef chili in a slow cooker is to use low heat. That low and slow process helps the beef stay moist, the beans stay intact, and allows the spices and ingredients to really meld together.

How long to cook chili in the crock pot– This recipe shines for its versatility. The chili can be eaten after just 3 hours and will be absolutely wonderful. BUT, if you happen to have longer, or need to get it started earlier in the day, that's great too. It can cook up to 12 hours and the flavor will just get more intense and irresistible.

I do recommend that you cook it at LEAST 3 hours though. While all the ingredients are technically fine to eat when they go into the Crock Pot, it needs time to become a great chili. Give it those few hours to tenderize the vegetables and develop richness.

How to thicken up chili in slow cooker– There are SO many easy ways to thicken chili in the slow cooker. The one we're using is the easiest of all in my opinion. Since we're adding canned beans, we simply take advantage of what already comes in the can. The liquid in a can of beans is called aquafaba, and it has the unique ability to thicken sauces.

That's all we need to create my family's version of the best thick and chunky beef chili. You can always make it thicker if you like it that way. Try blending a small portion of the beans then stirring it back in. You could also make a slurry with 2 tablespoons of cornstarch and 1 tablespoon of water, then stir that in. Or, mix a tablespoon of flour into 1 tablespoon of softened butter to create a paste. It will melt in and quickly begin thickening.

Last but not least, simply leave the lid off the Crock Pot in the last hour of cooking to let the liquid reduce.
Recipe Short Cuts
If you need to make this recipe, but are extra short on time, here are a few ideas that can help make this recipe even faster!
Pre-mixed spice blend– The spices I use are super common, and you might already have them in your cupboard. But if you're in a rush, there are lots of tasty pre-made chili spice blends available at the grocery store. Pick one that sounds good to you and go for it! You'll want about 3 tablespoons of seasoning for a batch this large. Be sure to check if it contains salt, if not, don't forget to add a teaspoon.

Chili in slow cooker without browning meat– I really prefer to brown the meat before adding it in. That quick caramelization creates great flavor, lets me drain off the excess fat, and I think it distributes better through the chili that way. But in a pinch, you can absolutely skip browning the meat beforehand!

Just add the ground beef in with the other ingredients and let it cook. Then use a sturdy spoon and break it into chunks. You won't be able to drain off the fat, but it doesn't make a major difference to the texture and flavor of the chili.

Take advantage of flexible cook times– It might sound counterintuitive to cook it longer to save time, but if you know that your day is going to be super busy then take full advantage of the fact that this chili can cook for a LONG time. Prep the veggies the night before and toss everything in the slow cooker the next morning. Then it can literally cook for 12 hours. That way you won't have to lift a finger at the end of your busy day.
Recipe Variations
If you love this recipe as much as we do and want some quick ways to change it up for variety, these little tips will do the trick!
Spicy Crock Pot Chili– Dice one spicy chile in with the bell pepper. Jalapenos are mild, while serrano is more intense. Leave the ribs and seeds in if you like more spice, or remove them for a milder heat. Also increase the hot sauce to two tablespoons and then cook as directed.
Crock Pot Turkey Chili– Simply replace the ground beef for lean ground turkey and continue with the recipe as written.
Crock Pot Chili con Queso– Cook your slow cooker beef chili as the recipe is written, then add 1 1/2 cups of shredded melting cheese like cheddar, jack, or a Mexican cheese blend to the pot. Stir until it has melted into the chili and created a cheesy, creamy sauce, then serve.
Freezer Meal Instructions
Making this slow cooker chili recipe into a freezer meal is simple! Follow the steps below and you can store this recipe in the freezer for up to 6 months.
Brown the ground beef and drain off the fat.
Allow to cool completely.
Chop all the vegetables.
Combine all the ingredients in a freezer safe bag or container.
Freeze.
When ready to cook thaw for 24-48 hours.
Add it to the crock pot and cook as directed.
Easy Crock Pot Chili Leftovers
If you have leftovers after making chili in the slow cooker, then it is your lucky day! They save and reheat well, and can make the start of another delicious dish.
To save leftovers, separate into meal sized portions and then place in an airtight container and store:
in the refrigerator for 3-4 days
in the freezer up to a month
Leftover Recipes
Here are a few ways to repurpose those leftovers and give them a delicious makeover!
Chili Pie– Bake your favorite boxed or homemade cornbread in a deep casserole dish. When cooked, remove and poke holes throughout the top. Spread 3 cups of chili over the top, then sprinkle with 1 cup of shredded cheese. Bake again at 350°F for 20-30 minutes, or until the cheese is melted and it's hot throughout.
Chili Stuffed Baked Potatoes– Bake or use your Instant Pot to make baked potatoes. Split the potato and load it with hot chili, then top it with shredded cheese. Add other toppings like scallions and sour cream as desired and serve.
Chili Hot Dogs– Cook your favorite hot dogs on the stove or grill and load them into a sturdy bun. Top with warmed chili and a generous sprinkle of cheddar cheese, then serve.
More Crock Pot Recipes
If you enjoyed this recipe, I really hope you will take a moment to grab a few more easy recipes for another busy night!
You can check out all of my easy dinner recipes here, or see a few of our readers favorite recipes below.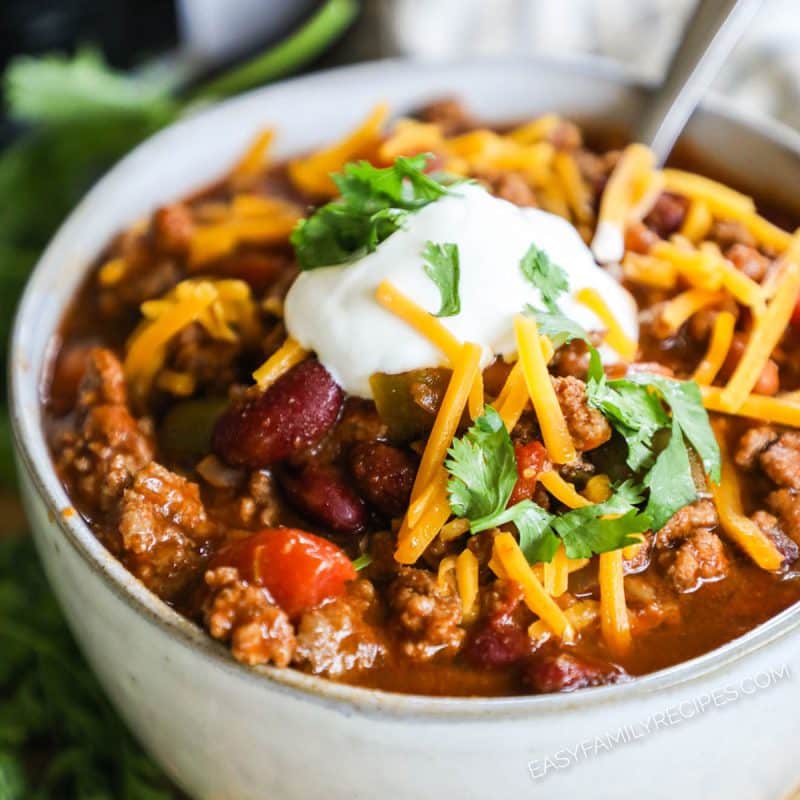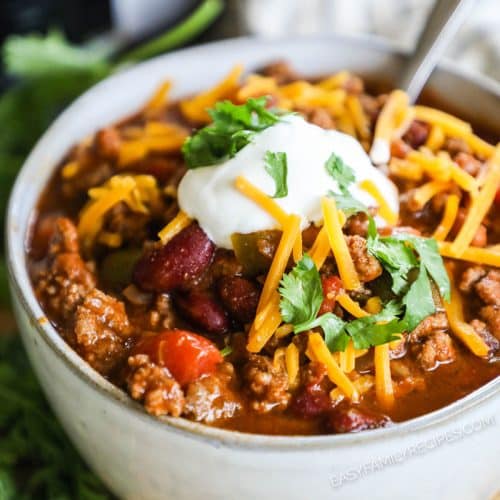 Crock Pot Chili
Everyday ingredients like fresh vegetables, canned beans and tomatoes, and ground beef cook with a combination of savory spices to create a delicious Crock Pot beef chili that only takes 15 minutes to prep. Let it cook all day and enjoy a hot bowl of thick and chunky beef and bean chili at dinner time.
Ingredients
2

pounds

ground beef

1

yellow onion

,

diced

1

green bell pepper

,

diced

4

cloves

garlic

,

pressed

1

can

tomato sauce

1

can

diced tomatoes

1

can

kidney beans

1

can

pinto beans

1

tablespoon

hot sauce
For the Chili Seasoning
2

tablespoons

chili powder

1

teaspoon

salt

1

teaspoon

dried basil

1

teaspoon

dried oregano

1

teaspoon

dried parsley

1/2

teaspoon

black pepper

1/2

teaspoon

cumin
Instructions
Mix all spices for chili seasoning together.

Brown the ground beef using a spatula to break up the meat as you cook. Drain all fat and excess liquid from the meat.

To the crock pot, add browned beef, all other ingredients, and chili seasoning and mix to combine. (Add beans with liquid, no need to drain)

Cook on low for 3-8 hours. Serve hot with your choice of toppings!
Nutrition Information
Serving:
1.25
cups
,
Calories:
336
kcal
(17%)
,
Carbohydrates:
10
g
(3%)
,
Protein:
22
g
(44%)
,
Fat:
23
g
(35%)
,
Saturated Fat:
9
g
(56%)
,
Polyunsaturated Fat:
1
g
,
Monounsaturated Fat:
10
g
,
Trans Fat:
1
g
,
Cholesterol:
81
mg
(27%)
,
Sodium:
852
mg
(37%)
,
Potassium:
760
mg
(22%)
,
Fiber:
3
g
(13%)
,
Sugar:
5
g
(6%)
,
Vitamin A:
1087
IU
(22%)
,
Vitamin C:
25
mg
(30%)
,
Calcium:
71
mg
(7%)
,
Iron:
4
mg
(22%)