Homemade Onion Soup Mix is unbelievably EASY to make and packed with wholesome flavor. In just about 5 minutes you can have onion soup mix made and ready to make soup or use as an ingredient in your favorite recipes!
Homemade Onion Soup Mix – The EASY Way!
I have to admit that for years of my life it would have NEVER dawned on me to make onion soup mix from scratch. Why not just use a perfectly good envelope of Lipton Onion Soup Mix?
Well, I am not against it, and I still do sometimes, BUT there are a few really great reasons to make onion soup mix from scratch instead!
You know exactly what goes in it! There are no mystery ingredients or unwanted preservatives when you are making it from scratch.
It is ridiculously FAST & EASY! If someone would have told me how simple it was, I would have tried it way sooner! This literally takes 5 minutes.
You can keep it on hand for when you need it! Make a big batch and keep it stored in the cupboard for up to a year, so you always have it when you need it.
Control the flavor – Like it a little less peppery, or wish it had a touch more salt? Making the seasoning from scratch allows you to adjust the flavor just to your liking.
Less money- If you are value conscious, it will be far cheaper to make onion soup mix from scratch than buy it pre-made!
Uses for Homemade Onion Soup Mix
Onion Soup Mix can be used to make soup, of course! But it can also be used as a key flavoring ingredient in many recipes to make them more quick and easy.
I am going to share a few of my favorites, but there are so many more!
Making Onion Soup
Add 4 cups of beef broth and 4 tablespoons of Homemade Onion Soup Mix to a saucepan and whisk together.
Bring to a boil, stirring occasionally, then reduce heat to simmer for 10 minutes.
If desired, top with swiss or gruyere cheese and crusty bread to serve.
Other uses for Onion Soup Mix
Classic Onion Dip – Add 2 tbsp homemade Onion Soup Mix to 8 oz of sour cream and stir until completely combined. Chill until ready to serve.
Chicken Marinade– For a flavorful marinade, add 1 tbsp of Onion Soup Mix and 1 tbsp oil, per pound of chicken for maximum flavor
Roasted Veggies– Vegetables like bell pepper, squash, cauliflower, and broccoli can be tossed with Onion Soup Mix and oil and then baked on a sheet pan at 425˚F for 15-20 minutes for super flavorful and healthy side dish.
Potatoes– Add 2 tbsp onion soup mix and 3 tbsp oil to 2 pounds of red or yukon gold potatoes that have been quartered. Baked at 425˚F for about 30-40 minutes.
Juicy Burgers– Add 1 tbsp per pound of meat to your hamburgers for extra flavor and juiciness.
Recipe Notes
This Onion Soup Mix recipe is as simple as promised! Just a few everyday ingredients will give you such flavor filled results.
In this section I am going to go through a few tips and tricks I use when making this recipe to get the absolute best and most delicious results.
Make sure to scroll to the bottom for the FULL recipe card.
Ingredients
Onion flakes and powder– The soup mix has two kind onion flavoring in it. Both onion powder and dried onion flakes are used to give the best combination of flavor and texture. You do need both to have great results!
Beef bouillon powder or granules– I prefer the powder because it just mixes more evenly, especially when using this onion soup mix as an ingredient in another recipe than just making soup. If you are in a pinch granules will work as well. But try to grab powder if possible.
Dried parsley
Celery seed
Paprika– Both smoked or sweet will work. You can try each and see if you have a preference for the smokey or sweet flavor!
Ground black pepper– This can be adjusted up or down to give it a tad more or less punch in the recipe.
Each of these plays a role in the magical flavor of this seasoning mix. Combined they make magic happen!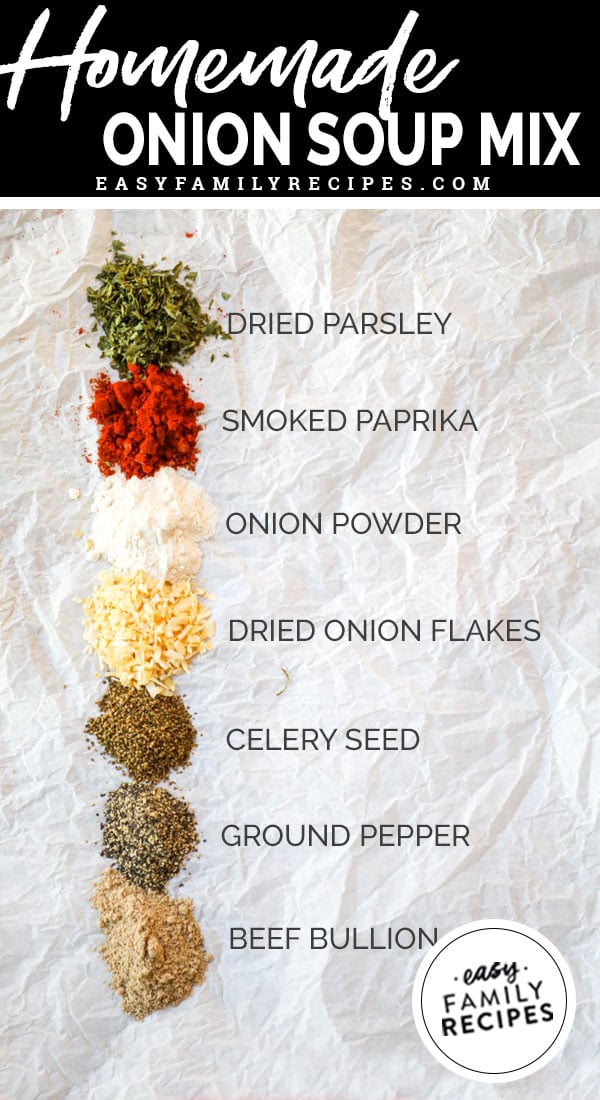 Recipe Tips
Mix to combine– There is no special magic here. To make this, you literally just dump it all together and mix it up. To make it even easier, you can use a mason jar or other container and dump, then shake. Then all you get messy is a couple of measuring spoons!

Control the taste– This recipe will give you a great place to start for a recipe with flavor similar to an onion soup mix you would buy at the store. The cool thing about making it from scratch is that if you like a little more of this, or a little less of that, you can do it! Make sure and take the liberty to make this have just the flavor you enjoy!

Store in an airtight container in a cool dry place. When stored like this the Onion Soup Mix Seasoning should stay fresh for up to a year. Some also recommend putting it in the freezer to further extend the life but I have never found that necessary. I run out long before it would ever go bad.

Double, triple, or more! This recipe can easily be scaled up to make a big batch of Onion Soup Mix. This will allow you to keep it on hand for longer periods of time, especially when you start throwing it in everything as your "secret ingredient" like I do!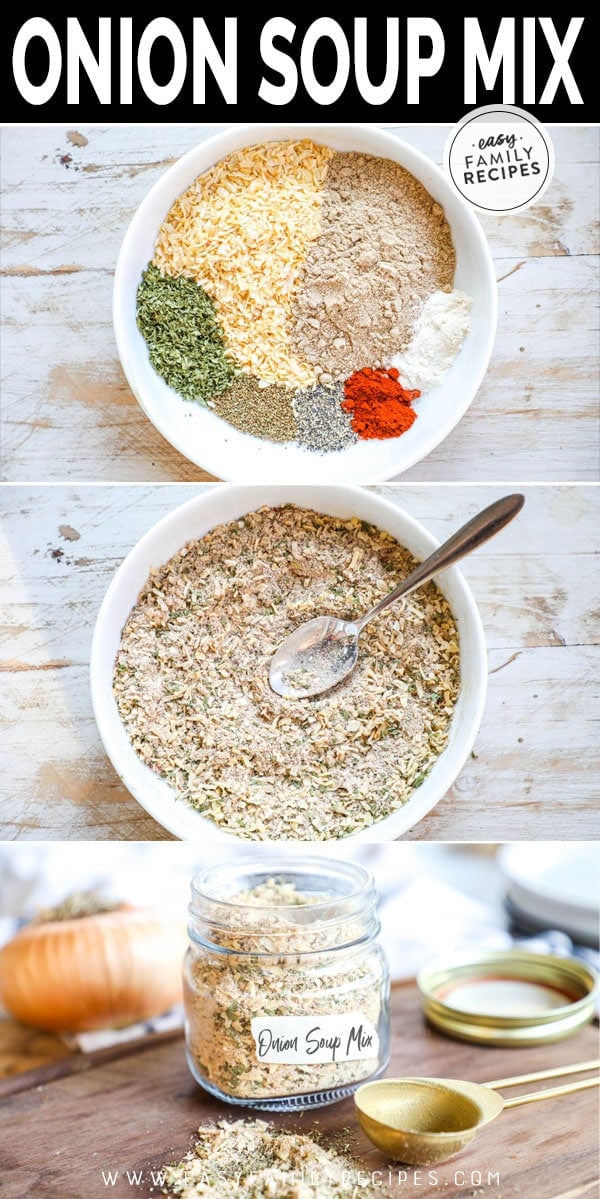 How to Store Homemade Onion Soup Mix
Homemade Onion Soup Mix should be stored in an air tight container in a cool dry place such as a pantry or spice cabinet. It will generally stay good for up to a year when properly stored. I have also had it last even longer!
You can also freeze the mix to keep it fresh for even longer.
More Homemade Spice Mix Recipes
If you enjoyed this recipe, I really hope you will take a moment to grab a few more easy recipes for another busy night!
You can check out all of my EASY Seasoning recipes here, or see a few of our readers favorite Salad Dressings made from scratch below.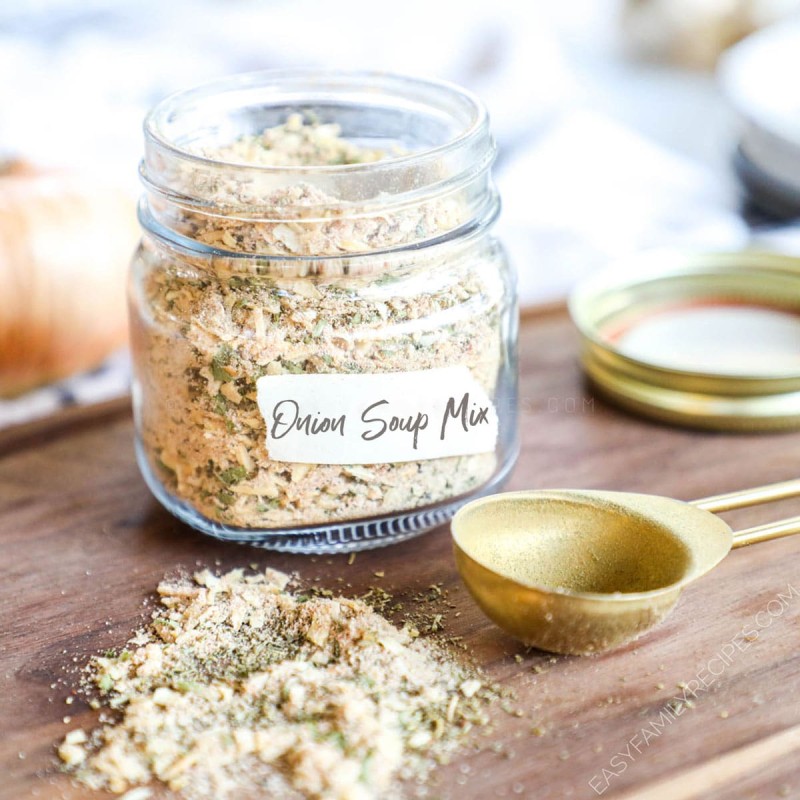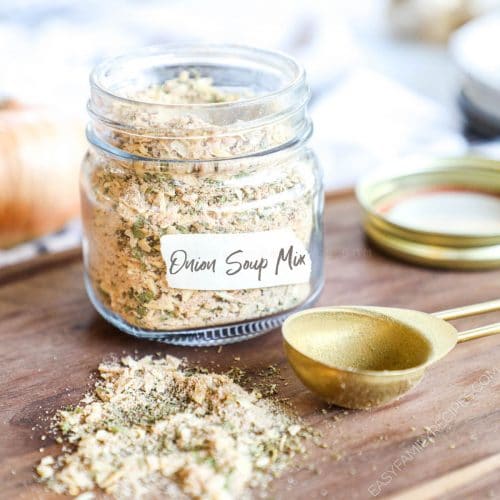 Homemade Onion Soup Mix
This Homemade Onion Soup Mix is quick and easy to make with only a few everyday ingredients. Use it to make soup, dip, season potatoes or vegetables, cook a pot roast, or make a marinade for meat!
Ingredients
½

cup

dried onion flakes

¼

cup

beef bouillon

,

powder or granules

1

tsp

onion powder

1

tsp

dried parsley

½

tsp

celery seed

½

tsp

smoked paprika

½

tsp

ground black pepper
Instructions
Place all ingredients in a bowl and mix to combine.

Store in an airtight container for up to a year.
Recipe Notes
4 tbsp mixture = 1 envelope onion soup mix
Nutrition Information
Calories:
18
kcal
(1%)
,
Carbohydrates:
3
g
(1%)
,
Protein:
1
g
(2%)
,
Fat:
1
g
(2%)
,
Saturated Fat:
1
g
(6%)
,
Cholesterol:
1
mg
,
Sodium:
1184
mg
(51%)
,
Potassium:
61
mg
(2%)
,
Fiber:
1
g
(4%)
,
Sugar:
2
g
(2%)
,
Vitamin A:
39
IU
(1%)
,
Vitamin C:
2
mg
(2%)
,
Calcium:
11
mg
(1%)
,
Iron:
1
mg
(6%)