This Loaded Steak Baked Potato recipe is STUFFED full of steak, garlic butter, cheddar cheese, and topped with green onions, sour cream, and bacon… and the PERFECT recipe to use up leftover steak! The fluffy potato smothered in all this deliciousness makes for a hearty dinner or lunch. Pair with a salad to balance the richness of this loaded baked potato with steak recipe.
Steak Loaded Baked Potato Recipe – The EASY Way!
Have steak one night and with some leftovers? This recipe is a great way to use leftover steak to create another wholesome meal. We load it up with all the fixings for layers of flavor packed into a crisp-skinned and tender, fluffy potatoey goodness.
This recipe is also a go-to for those busy weeknights and makes dinner a breeze.
Why I LOVE this recipe!
Uses leftovers – If you're wondering what to do with leftover steak, then here's the answer! Chopping up the steak and loading it with some really yummy toppings is an easy way to utilize leftovers to make dinner super simple.

Use whichever steak you prefer. Here are a few steak recipes:
Quick and Easy – Since we're using leftovers this recipe comes together quickly and is easy enough to build and heat.

Scalable – No need to feed a crowd as you can scale this recipe down to 1 for a quick lunch or dinner. Don't hold back, though. It can also be scaled up! Depending on how much steak you have leftover and how many will be eating this delicious baked potato loaded with steak and toppings, you can scale this upwards to fit your needs.

Versatile and FUN – There's no wrong way to eat this recipe. Have a variety of toppings and make your own Potato Bar. Start with heating the steak, garlic butter, and cheese then your guest can build their own potato with whichever toppings they'd like. It's certainly a fun way to enjoy dinner!
What to Serve with Steak Loaded Baked Potatoes
Since this dish has the classic flavors of a Steakhouse dinner, it will pair well with many of your favorite country-style side dishes. Soup and salad go exceptionally well with a baked potato. Some of our favorites are listed below:
Salad Ideas
Soup Side dishes
You can choose one or add a few sides to make a wholesome, well-rounded dinner.
What Goes On a Loaded Baked Potato
Stuff this baked potato with all the fixings and create a hearty email that comes together quickly and is absolutely delicious. Here are a few ideas on what to add to your loaded potato.
Cheese
Sour cream
Green onions or chives
Bacon
Jalapenos
Steak, shredded pork, chicken
Crispy onions
Steak sauce
Chili
And so many more ideas.
Recipe Notes
This steak stuffed baked potatoes recipe is as simple as promised! Just for a family-friendly meal.
In this section I am going to go through a few tips and tricks I use when making this recipe to get the absolute most delicious results.
Make sure to scroll to the bottom for the FULL recipe card.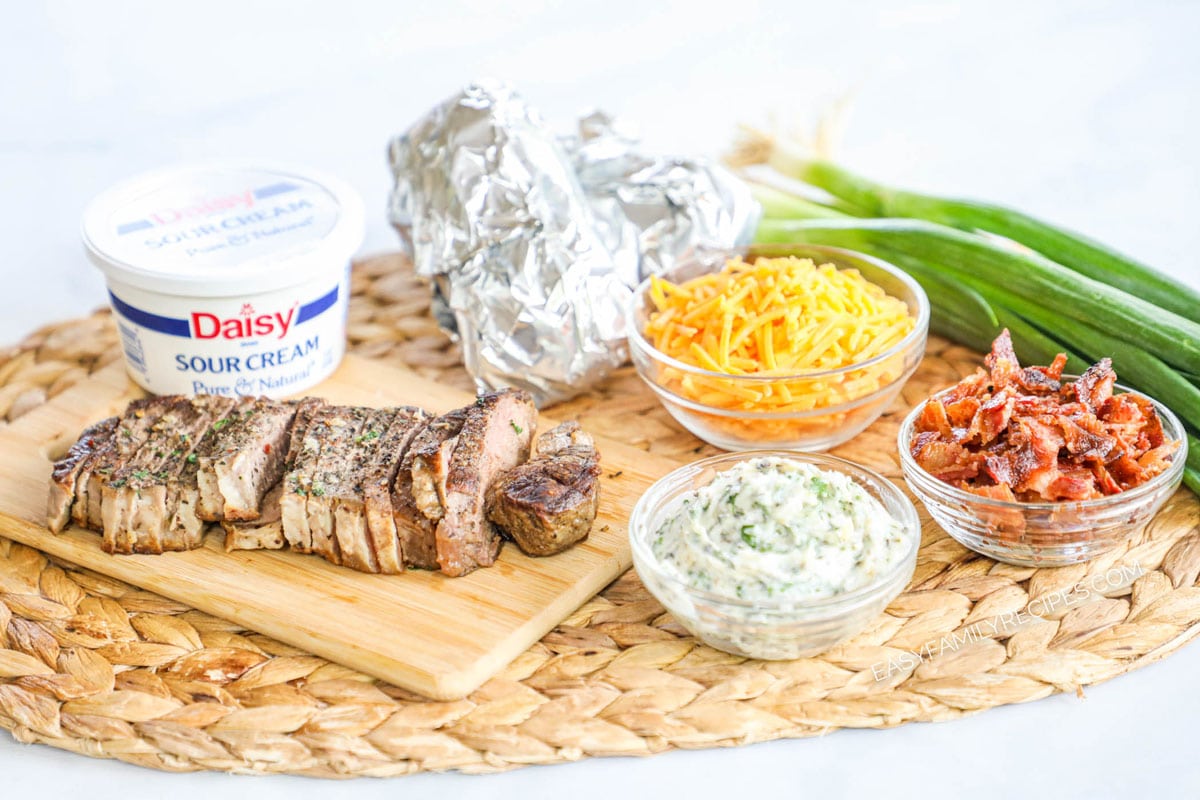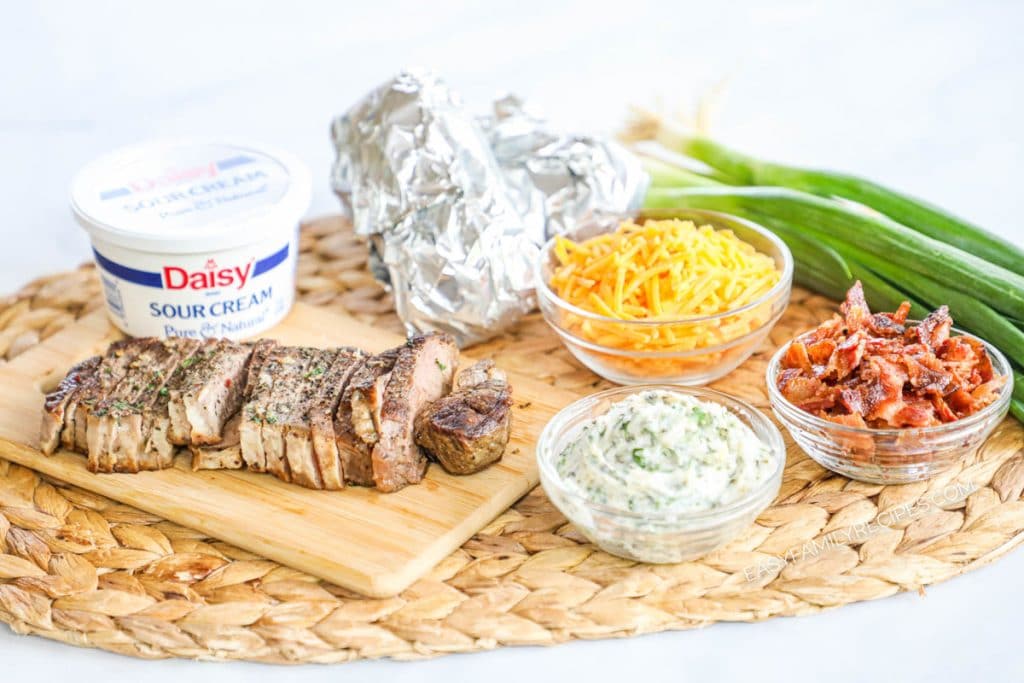 Ingredients + Substitutions
Baked potatoes – Use leftover potatoes or bake.

Leftover steak – What makes this recipe so quick and easy is using leftover steak.

Garlic butter – The best flavor will come with the addition of garlic butter. It adds so much richness to the fluffy potato. You can use my crazy good garlic butter recipe, pick some up at the store, or just use butter with a little garlic powder and salt

Cheese – Shredded sharp cheddar gives the best flavor when combined with steak and potatoes. Feel free to switch up the cheese. Try shredded mozzarella, Colby jack, or even feta would be super tasty.
Toppings
Have fun and get creative when deciding what to put on a baked potato bar. Here are a few ideas to get you started!
Sour cream
Onions – chives, green onions, red onions, white onions, crispy onions
Crumbled bacon
Broccoli
How to make baked potatoes
You can use baked potatoes cooked in any way you want for this recipe. Baked potatoes can be made in a variety of ways: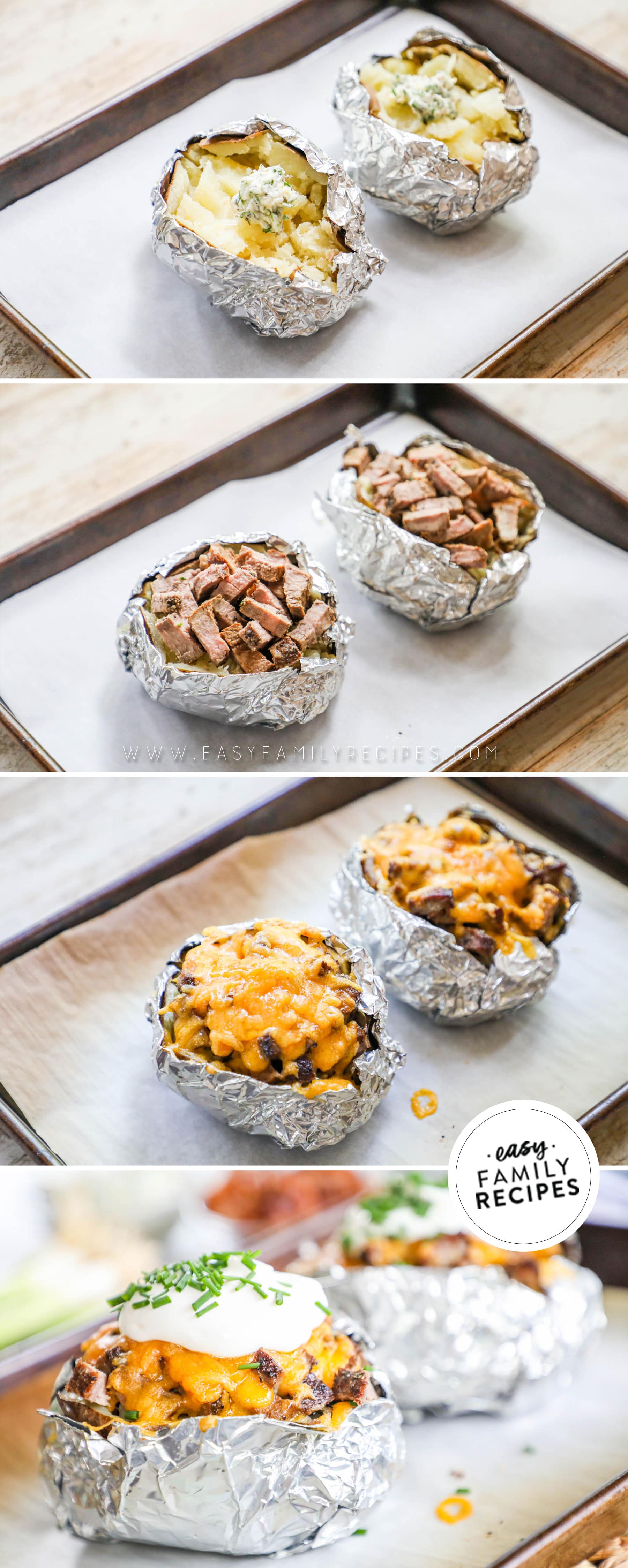 Recipe Tips
Reheating – Heat potatoes in the oven, instant potato, microwave, or oven. The oven will not crisp the skin, so use one of the other three methods for this.

Garlic butter – for the best flavor, use garlic butter. It adds that signature Steakhouse flavor. Regular butter could be used, of course.

Chop steak – To ensure you get a steak in every bite, chop the steak into bite-sized pieces. This will evenly distribute the steak so you can enjoy every single bite.

Use any method for baking potatoes – If you don't have leftover baked potatoes and need to prepare them for this meal, use whichever method to cook them. You can air-fry the potatoes, bake them, or even microwave when in a pinch.
Recipe Short Cuts
If you need to make this recipe but are extra short on time, here are a few ideas that can help make this recipe even faster!
Chop leftover steak before storing. After enjoying your steak dinner, take an additional step before storing it in the refrigerator. Go ahead and chop the steak so you can simply load the potato when ready to make this loaded steak potato meal.

Use leftover baked potatoes – Just like the steak, leftovers come together to create a whole new meal.
Meal prep – Build your potatoes for meal prep. Load them with the chopped steak, cheese, and cold garlic butter. Then, store in an air-tight container and simply place in the oven or air-fryer when ready to bake up. You can make a few for a quick lunch during the week.
Recipe Variations
If you love this recipe as much as we do and want some quick ways to change it up for variety, these little tips will do the trick!
Surf and Turf Baked Potatoes– This fully loaded baked potato with shrimp and steak recipe has all the best ingredients, from land to sea! Top with shrimp, steak, cheese, and asparagus tips.

Broccoli Steak & Cheese Baked Potatoes – A loaded baked potato with steak, broccoli, and cheese is super easy and so very yummy.

Steak Fajita Loaded Baked Potato – Sautee up mushrooms, onions, and peppers to stuff inside a baked potato with chunks of steak and smother in melted cheese.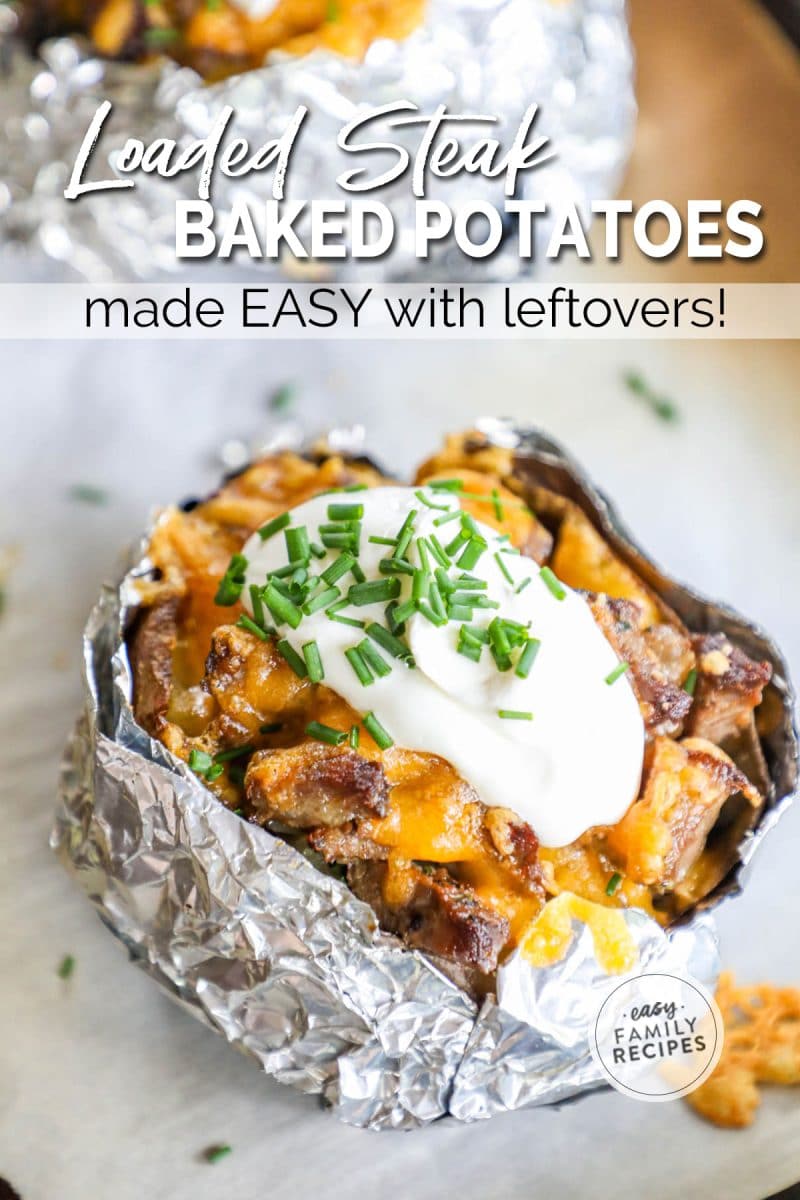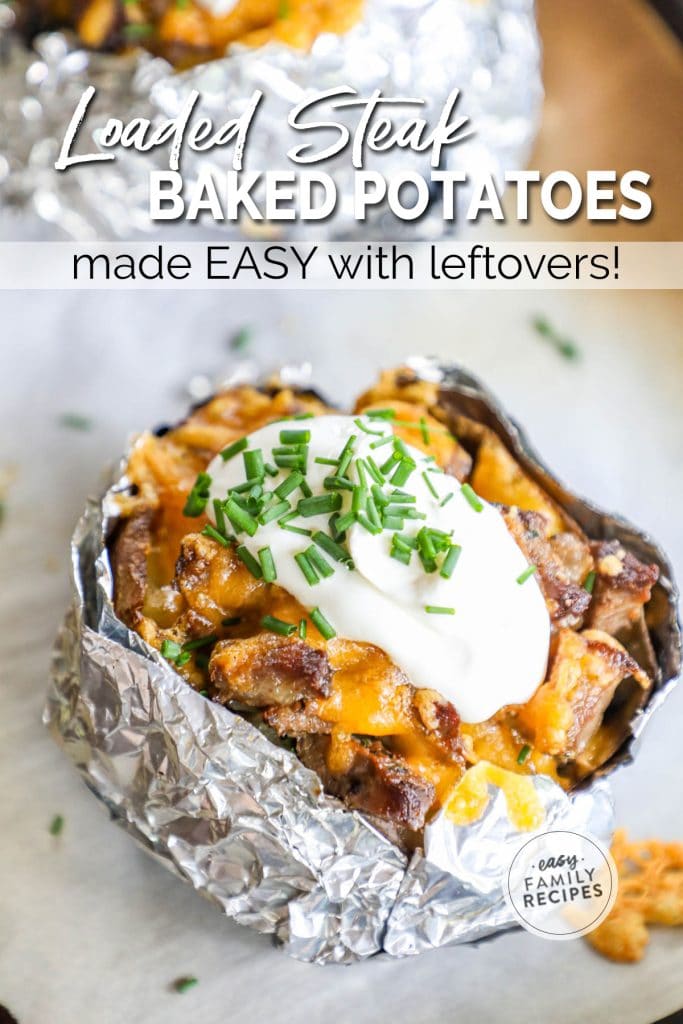 Loaded Steak Baked Potato Leftovers
If you have leftovers after making loaded steak baked potatoes, then it is your lucky day! They save and reheat well, and can make the start another delicious dish. If you're already using leftovers to make this meal, it's best to build them for meal prep instead of reheating them more than once.
To save leftovers for stuffed potatoes baked with steak, separate them into meal-sized portions and then place them in an airtight container and store:
in the refrigerator for 3-4 days
in the freezer for up to a month
More Baked Potato Recipes
If you enjoyed this steak and loaded potato recipe, I really hope you will take a moment to grab a few more easy recipes for another busy night!
You can check out all of my leftover recipes here, or see a few of our readers favorite recipes below.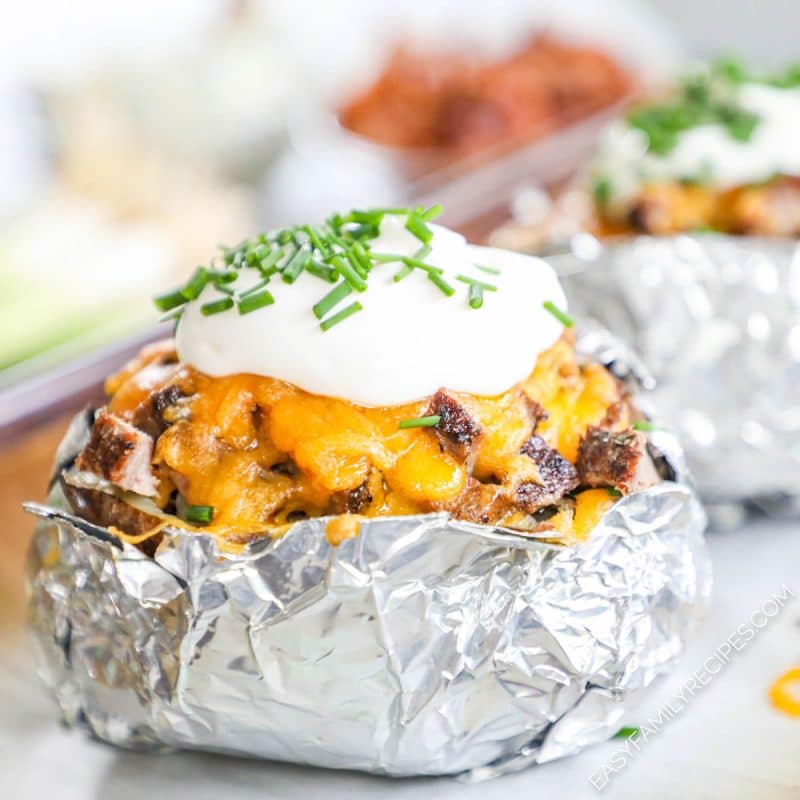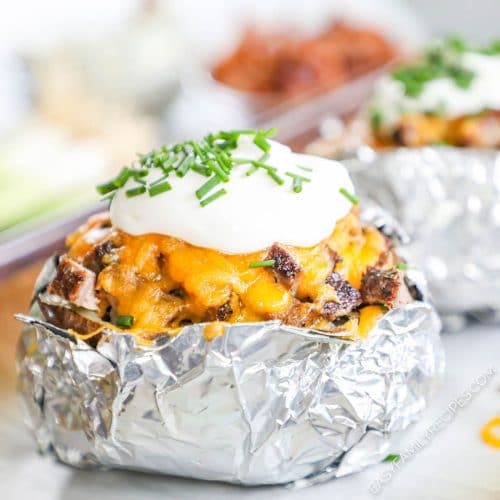 Loaded Steak Stuffed Baked Potatoes
These loaded steak baked potatoes are the perfect way to use up leftover steak! This easy meal comes together in minutes and is loaded with steakhouse flavors.
Ingredients
1

cup

leftover steak

,

diced

2

tablespoons

garlic butter

1/2

cup

sharp cheddar cheese

2

tablespoons

sour cream

2

tablespoons

green onions

1/4

cup

crispy crumbled bacon
Instructions
Split baked potatoes add garlic butter and fluff with a fork.

Top with chopped steak, crumbled bacon, and cheddar cheese.

Bake for 10-15 minutes or until cheese is melted and steak is heated through.

Top with sour cream and green onions and serve immediately. Enjoy!
Nutrition Information
Calories:
702
kcal
(35%)
,
Carbohydrates:
39
g
(13%)
,
Protein:
41
g
(82%)
,
Fat:
43
g
(66%)
,
Saturated Fat:
23
g
(144%)
,
Polyunsaturated Fat:
2
g
,
Monounsaturated Fat:
14
g
,
Trans Fat:
1
g
,
Cholesterol:
158
mg
(53%)
,
Sodium:
778
mg
(34%)
,
Potassium:
1270
mg
(36%)
,
Fiber:
5
g
(21%)
,
Sugar:
2
g
(2%)
,
Vitamin A:
790
IU
(16%)
,
Vitamin C:
43
mg
(52%)
,
Calcium:
253
mg
(25%)
,
Iron:
4
mg
(22%)