This Feta Chicken Bake is so insanely easy and so simple. It only requires a few ingredients and is packed with flavor! It's a fast prep, wholesome meal that cooks juicy, creamy chicken and sweet tomatoes all in one pan for a delicious hands off dinner. With so many ways to serve it and the family friendly flavor combo of feta cheese and fresh cherry tomatoes, it will be an instant hit as a weeknight dinner or as a low-stress meal for serving guests.
Feta Chicken Bake – The EASY Way!
This Feta Chicken Bake is so simple and results in such a flavorful meal that will impress anyone. All it takes is 5 ingredients and you will have dinner on the table in no time! This makes this recipe awesome for guest or for an easy weeknight meal! It is also universal in flavor. Pair it with pasta, salad, or bread and it will go great with all three!
Not only does this use minimal ingredients, but it all you have to do is dump everything in a baking dish and bake! It requires no extra bowls and no pans.
Why I LOVE this recipe!
All in One – We're saving TONS of time with this recipe because the fresh, delicious tomato topping cooks in the same pan as the chicken…at the SAME TIME!
Easy Clean Up – Since everything cooks in one pan, clean up is a breeze. There's hardly any prep involved either!
Family Friendly – Cheese and chicken… what's not to love? Chicken with feta and bright and juicy tomatoes make for a super delicious family meal!
So easy! – 10 minutes of prep, that's all you need to get this in the oven, I promise! Then, set and forget and 35 minutes later you have an amazing dinner!
Super Versatile – Pasta, sandwiches, wraps, or just served with a salad are all delicious ways to enjoy this chicken and pesto bake. It also makes great leftovers and easy lunches.
Really healthy! – No extra oils, fresh tomatoes, and lean chicken create flavor while keeping this nutritious.
What to Serve with Feta Chicken Bake with Tomatoes
Since this dish has the classic flavors of feta and tomatoes, it will pair well with many of your favorite Greek side dishes. There are both classic options and some healthy options to keep it light.
Side Dish Ideas
You can choose one or add a few sides to make a wholesome, well rounded dinner.
Recipe Notes
This chicken feta tomato recipe is as simple as promised! Just 10 minutes of prep and one pan for a family friendly meal.
In this section I am going to go through a few tips and tricks I use when making this recipe to get the absolute best and most delicious results.
Make sure to scroll to the bottom for the FULL recipe card.
Ingredients + Substitutions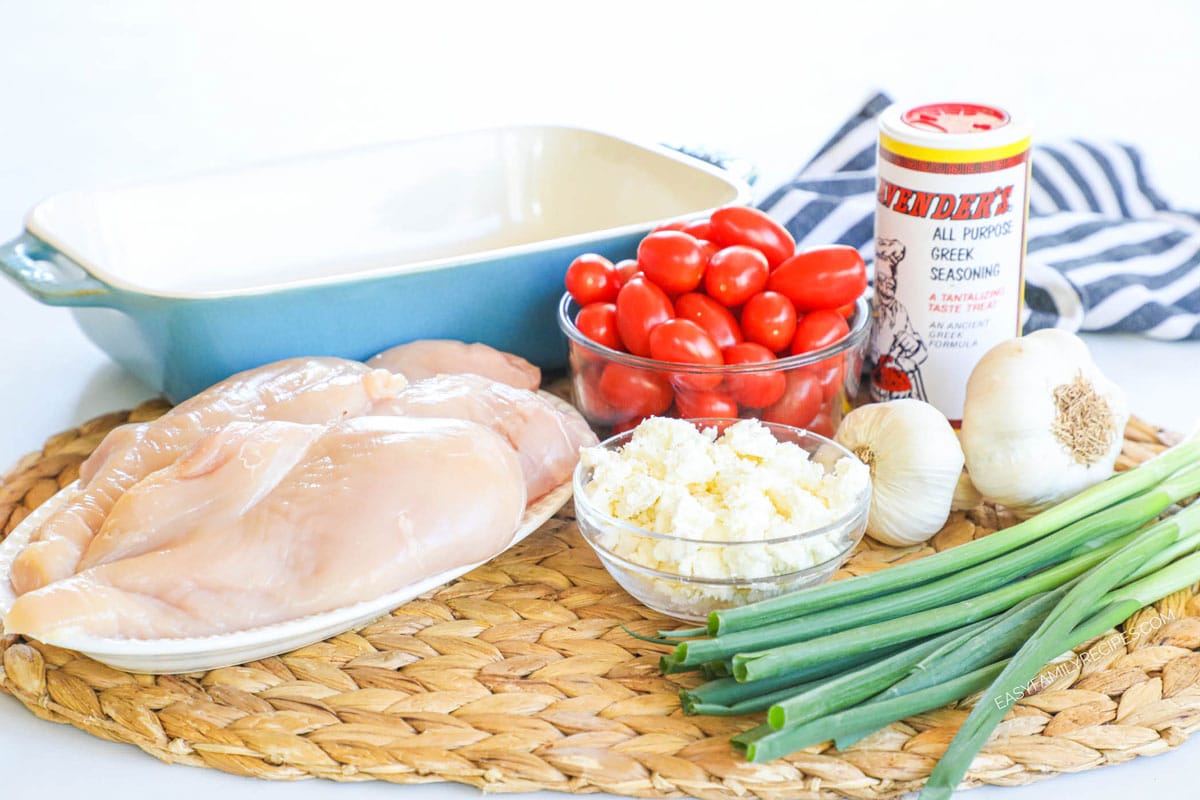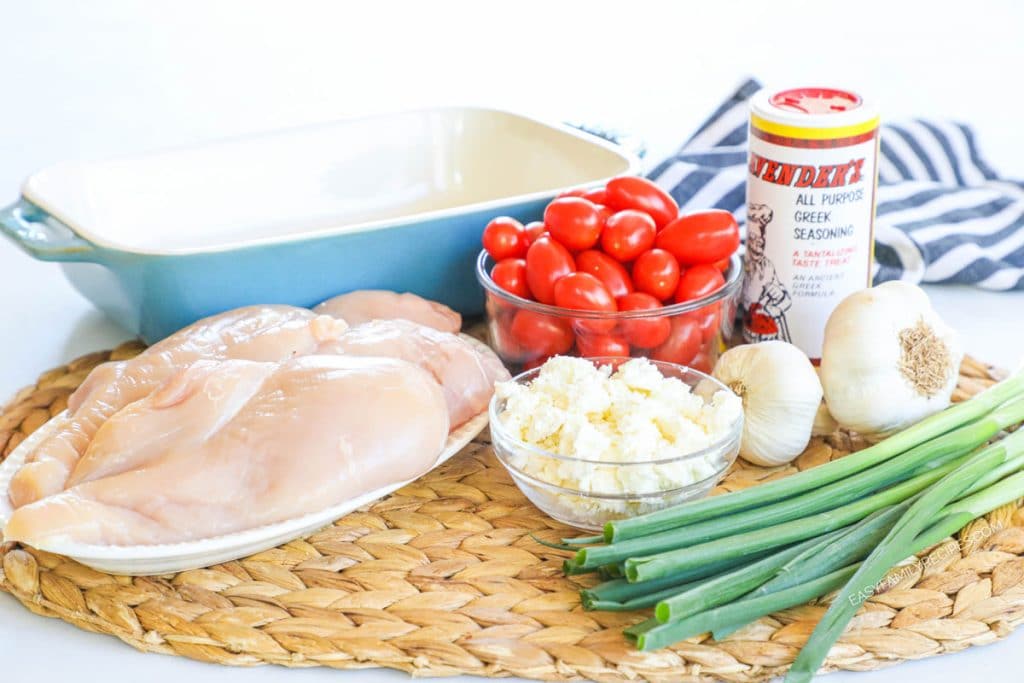 Cherry tomatoes – You can use grape or any other small, snacking tomato, or even roma tomatoes that have been diced. I recommend getting some extra to chop up over the top for a pretty, tasty garnish too.

Chicken Breasts – We use thin boneless skinless chicken breasts for this. But, for this baked chicken with feta and tomatoes, chicken thighs, tenderloins or strips could also be used. Make sure to check the chicken early to avoid overcooking smaller cuts though.

Garlic – Fresh garlic makes a big difference in the tomato sauce. It gives that fresh, made from scratch taste with so little extra effort! I like to use 4 full cloves which may sound like a lot, but will mellow out as it is baked.

Feta – I use store bought crumbled, traditional feta, but feel free to use a block of feta that you crumble. I prefer using full fat feta, verses low fat, because the full fat feta melts better for a smoother texture for this feta cheese chicken.

Green Onion – Fresh green onions, diced add the best, bright flavor! Chives or white onion could be used in a pinch.

Greek Seasoning – When I make this I generally use my homemade Greek seasoning. It is delicious, and also has the benefit of being gluten free, dairy free, and low carb friendly. If you prefer the ease of buying it pre-made, I recommend Cavenders Greek Seasoning. It is really tasty and will give you a great result too.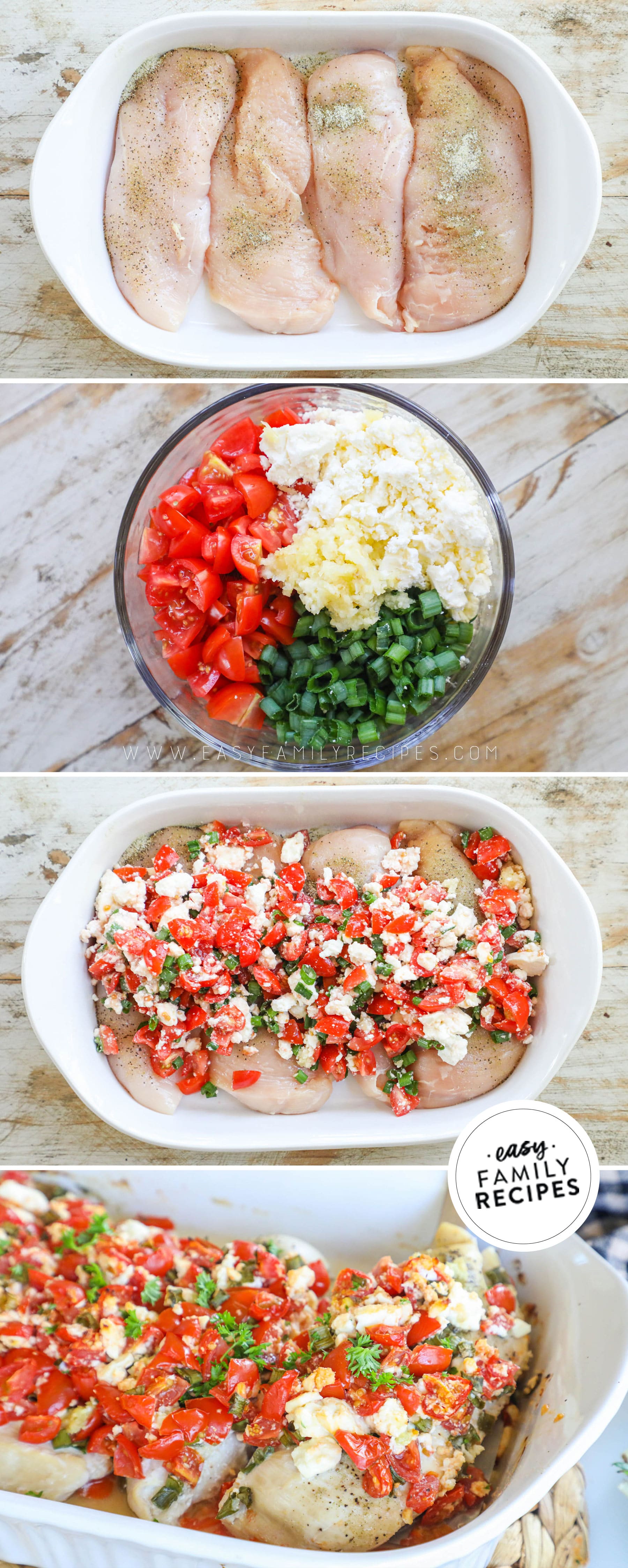 Recipe Tips
Use Even Chicken – It's really important that you use thin, even chicken breasts so they bake at the same rate. I like to either buy thin chicken breasts, slice large ones in half, or pound them thin with a mallet. If you choose to use a meat mallet, cover the chicken with plastic wrap to stop any splattering chicken juice from making a mess in the kitchen.

Don't Crowd the Pan – Another key to perfectly cooked feta tomato chicken is to use a pan that is large enough for all the chicken to lay flat side-by-side without overlapping. This allows the chicken to cook more quickly and evenly resulting in more tender chicken.

Let it Rest – Let the chicken rest for 5-10 minutes after cooking. This allows the juices to continue to marinade while keeping the chicken juicy. It also helps the creamy tomato sauce to thicken.

Keep it Covered – I usually recommend covering chicken bakes anyway, but it's really key for this recipe! Keep the pan covered to retain any moisture as it bakes and create that luscious creamy feta tomato sauce.

Cook to 165°F – The number one enemy of tender, juicy chicken is overcooking it! I recommend getting a meat thermometer if you don't have one. They're available at most supermarkets near the cooking gadgets, and are usually affordable. Then you can temp your chicken and know exactly when to take it out of the oven. 165°F is what you're aiming for.

Drain Extra Liquid – As the baked feta and chicken cooks, liquid is released. Once the baking is done and the resting time is up, you can lift the chicken out of the pan and drain off any watery liquid. Be careful not to drain the delicious tomato juices that will mix with the feta!
Recipe Short Cuts
If you need to make this recipe, but are extra short on time, here are a few ideas that can help make this recipe even faster!
Pre-chop the veggies– By chopping the tomatoes and onions in advance you save most of the time spent prepping. You can also buy pre chopped tomatoes in the produce section of some grocery stores.

Use Cubed Chicken or Chicken Tenders – Chicken chunks or chicken tenders will give you a much quicker bake time. Plus there's no need to cut up chicken breasts, instead just scoop and serve straight from the pan for a quick and easy dinner.

Assemble Ahead– You can prep a chicken feta tomato bake up to 24 hours ahead of time. Make it the night or morning before so you can pop in quickly the oven that night.
Recipe Variations
If you love this recipe as much as we do and want some quick ways to change it up for variety, these little tips will do the trick!
Feta Spinach Chicken Bake – To make this spinach feta chicken bake, add 1.5 cups of fresh chopped spinach to the recipe for added veggies. Then make and cook as directed.

Lemon Feta Chicken – To make a deliciously bright and lemony version of this dish, leave out the tomatoes. Add the juice from one lemon to the feta mixture and then make and bake as directed for yummy lemon Greek feta chicken.

Stuffed Feta Chicken – For stuffed chicken (one of my favorites!), thinly slice each chicken breast horizontally. You will need to carefully slice it almost completely through the chicken, but leave a small amount, about a half of an inch, connected. Open up the opening you created in the chicken breast and stuff each with the feta and tomato mixture. Then bake the chicken with feta cheese and tomatoes as directed. You could also double the feta mixture and use half to stuff the chicken and half to top the chicken with. Double the cheesy goodness!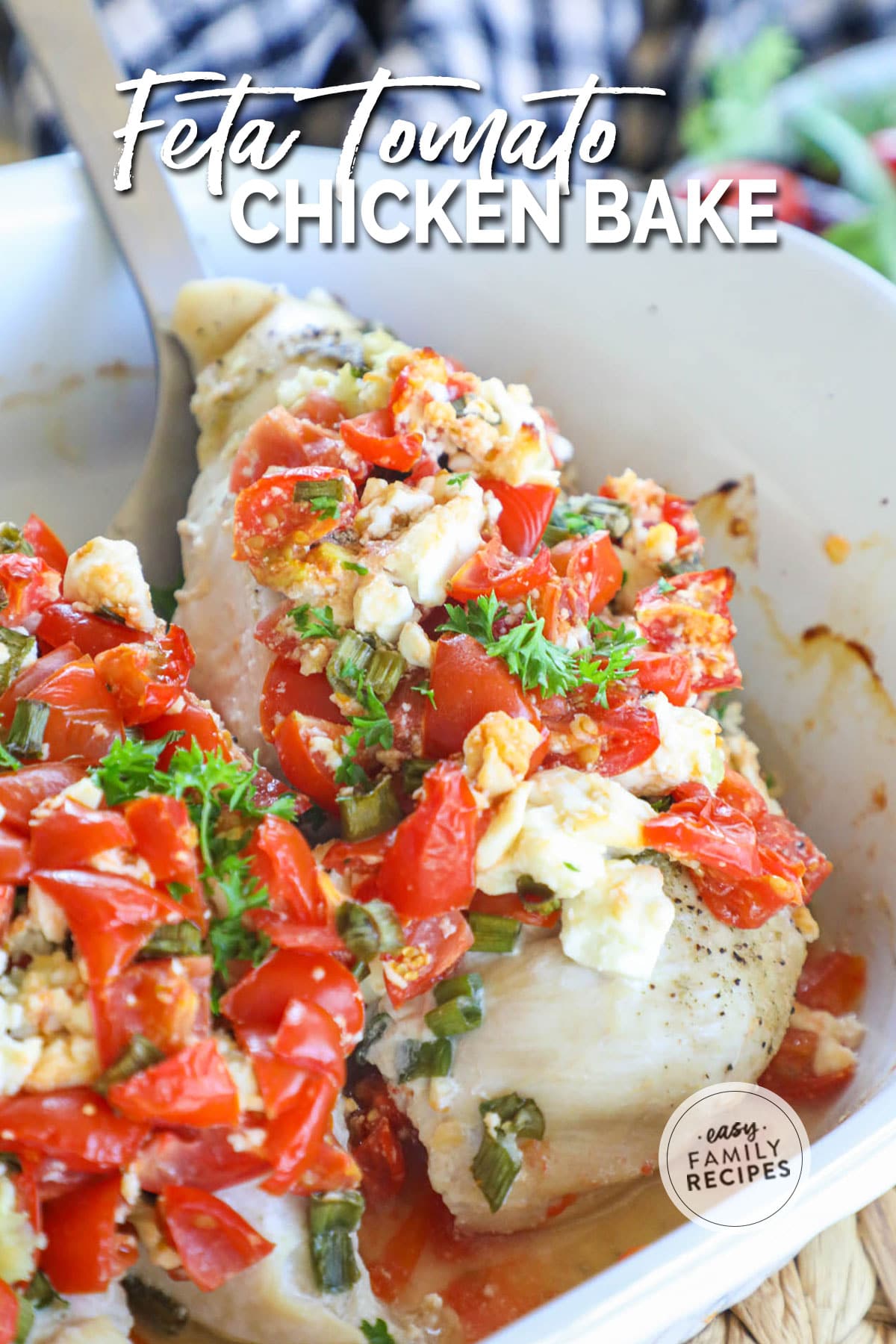 Freezer Meal Instructions
Making this Feta Chicken Bake recipe into a freezer meal is simple! Follow the steps below and you can store this recipe in the freezer for up to 6 months.
Combine the tomatoes, green onion, garlic, and part of the Greek seasoning in a freezer safe bag or container.
Season the chicken with the remaining Greek seasoning and add it to the bag.
Freeze.
When ready to bake thaw in the refrigerator for 24-48 hours.
Place the chicken in the pan. spoon the tomato mixture on top and the sprinkle with the feta. You can freeze feta, but it only keeps for 1 month in the freezer and should be stored separate from any liquids.
Bake as directed.
Baked Tomato Feta Chicken Leftovers
If you have leftovers after making this chicken bake, then it is your lucky day! They save and reheat well, and can make the start of another delicious dish.
To save leftovers, separate into meal sized portions and then place in an airtight container and store:
in the refrigerator for 3-4 days
in the freezer up to a month
Leftover Recipes
Here are a few ways to repurpose those leftovers and give them a delicious makeover!
Feta Chicken Flatbread – To make this flatbread, chop or shred the left over chicken and arrange on desired flat bread. Add desired toppings, like additional feta, hummus, pesto or tzatziki!
Feta Chicken Panini – Chop your chicken into small, bite size piece. Place between bread with additional tomatoes, pesto, and feta. Grill on either side using a panini press and enjoy!
Feta Chicken Quinoa Bowl – For a delicious quinoa bowl, dice or shred left over chicken. Cook quinoa as directed on package. Combine and add red onion, cucumber, hummus, diced chicken and feta (yes, more!). Top with tzatziki sauce for a delicious meal!
Feta Chicken Salad – Prepare a fresh green salad with all your favorite add ins. Olives, cucumber red onion, chick peas, and tomato would be great with this! Then top with lemon vinaigrette and diced leftover chicken tomato feta bake.
More Chicken Bake Recipes
If you enjoyed this feta chicken recipe, I really hope you will take a moment to grab a few more easy recipes for another busy night!
You can check out all of my chicken recipes here, or see a few of our readers favorite recipes below.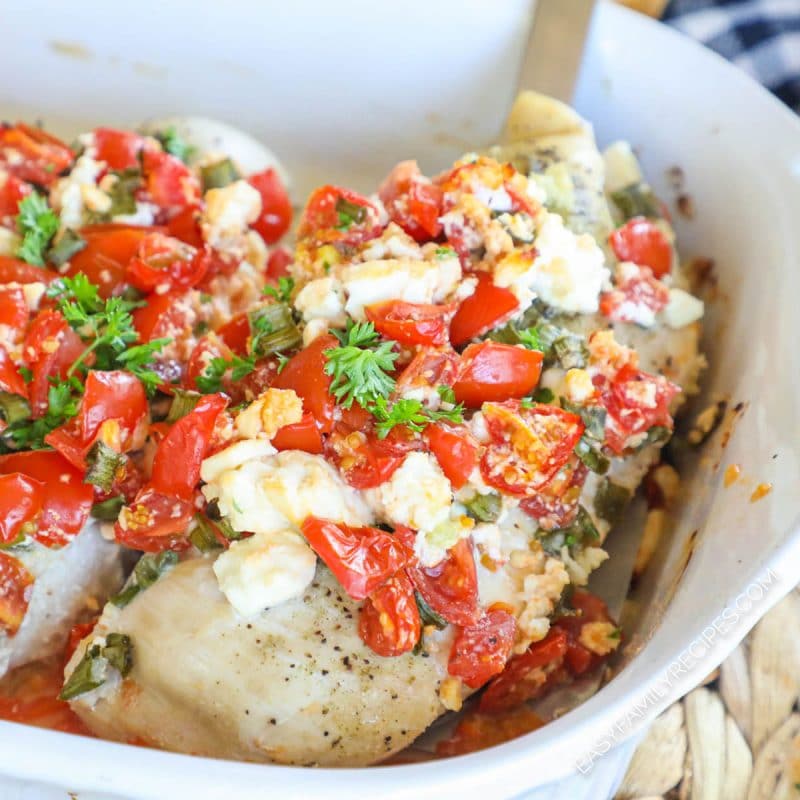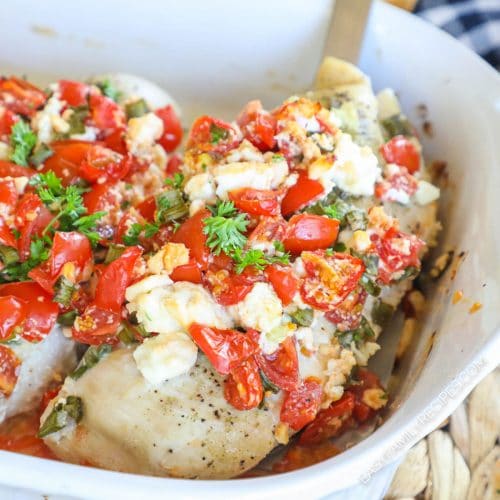 Feta Chicken Bake
This feta chicken bake is so creamy and delicious. Only 5 ingredients and 1 pan make for the easiest meal. And, fresh cherry tomatoes and salty feta make this dish crazy flavorful!
Ingredients
2

pounds

boneless, skinless chicken breast

1.5

cups

cherry tomatoes

,

cut into eighths

1

cup

crumbled feta cheese

1/2

cup

chopped green onion

4

cloves

garlic

,

pressed

2

teaspoons

greek seasoning,

divided
Instructions
Preheat the oven to 400˚F

Combine the chopped tomatoes, feta cheese, green onion, garlic, and 1 teaspoon of greek seasoning and mix.

Use the remaining Greek seasoning to season both sides of the chicken breast, then lay them flat in a 2 quart baking dish.

Spoon the tomato mixture evenly over the top of the chicken, then cover with foil.

Bake for 30 minutes, then remove the foil and continue to bake for 5-10 more minutes or until the chicken is cooked through (165˚F internal temp.)
Nutrition Information
Calories:
384
kcal
(19%)
,
Carbohydrates:
7
g
(2%)
,
Protein:
54
g
(108%)
,
Fat:
14
g
(22%)
,
Saturated Fat:
7
g
(44%)
,
Polyunsaturated Fat:
1
g
,
Monounsaturated Fat:
3
g
,
Trans Fat:
1
g
,
Cholesterol:
179
mg
(60%)
,
Sodium:
915
mg
(40%)
,
Potassium:
1031
mg
(29%)
,
Fiber:
1
g
(4%)
,
Sugar:
3
g
(3%)
,
Vitamin A:
624
IU
(12%)
,
Vitamin C:
19
mg
(23%)
,
Calcium:
217
mg
(22%)
,
Iron:
2
mg
(11%)