Enjoy big Italian flavors quickly with this Pesto Chicken Bake with Tomatoes. It's a fast prep, wholesome meal that cooks juicy, cheesy pesto chicken and a fresh tomato sauce all in one pan for a delicious hands off dinner. With so many ways to serve it and the family friendly flavor combo of basil, mozzarella, and sweet cherry tomatoes, it will be an instant hit as a weeknight dinner or as a low-stress meal for serving guests.
Pesto Chicken Bake – The EASY Way!
It might be hard to believe, but you can 100% make a dynamite, flavorful dinner that feels gourmet with only 10 minutes of prep, ONE casserole dish, and 5 key ingredients. Really!
This Pesto Chicken Bake with tomatoes is exactly that dinner. I LOVE making this for my family because I get to serve the juiciest, cheesy mozzarella chicken with scrumptious basil pesto, and a fresh tomato sauce, but it takes me almost no effort to make. Mom is a dinner superstar, but never had to dirty a saucepan!
Plus there are SO many ways to serve it! Whether it's over a big bowl of pasta, or sliced onto ciabatta rolls for a killer sandwich, everyone is always so happy to dig into this dinner.
Why I LOVE this recipe!
Sauce and Chicken in One – We're saving TONS of time with this recipe because the fresh, delicious tomato sauce cooks in the same pan as the chicken…at the SAME TIME!
Easy Clean Up – Since everything cooks in one pan, clean up is a breeze. There's hardly any prep involved either!
Family Friendly – Everyone loves Italian flavors like the ones in this dish. The layers of basil, tomatoes, and mozzarella are something kids will enjoy too.
So easy! – 10 minutes, that's all you need to get this in the oven, I promise!
Super Versatile – Pasta, sandwiches, wraps, or just served with a salad are all delicious ways to enjoy this chicken and pesto bake. It also makes great leftovers and easy lunches.
Really healthy! – No extra oils, fresh tomatoes, lean chicken, and a herb pesto create flavor while keeping this nutritious.
What to Serve with Baked Pesto Chicken with Tomatoes
Since this baked chicken and pesto dish has the classic flavors of basil, mozzarella, and tomatoes, it will pair well with many of your favorite Italian side dishes. There are both classic options and some healthy options to keep it light.
Side Dish Ideas
You can choose one or add a few sides to make a wholesome, well rounded dinner.
Recipe Notes
This Pesto Chicken Bake recipe is as simple as promised! Just 10 minutes of prep and one pan for a family friendly meal.
In this section I am going to go through a few tips and tricks I use when making this recipe to get the absolute best and most delicious results.
Make sure to scroll to the bottom for the FULL recipe card.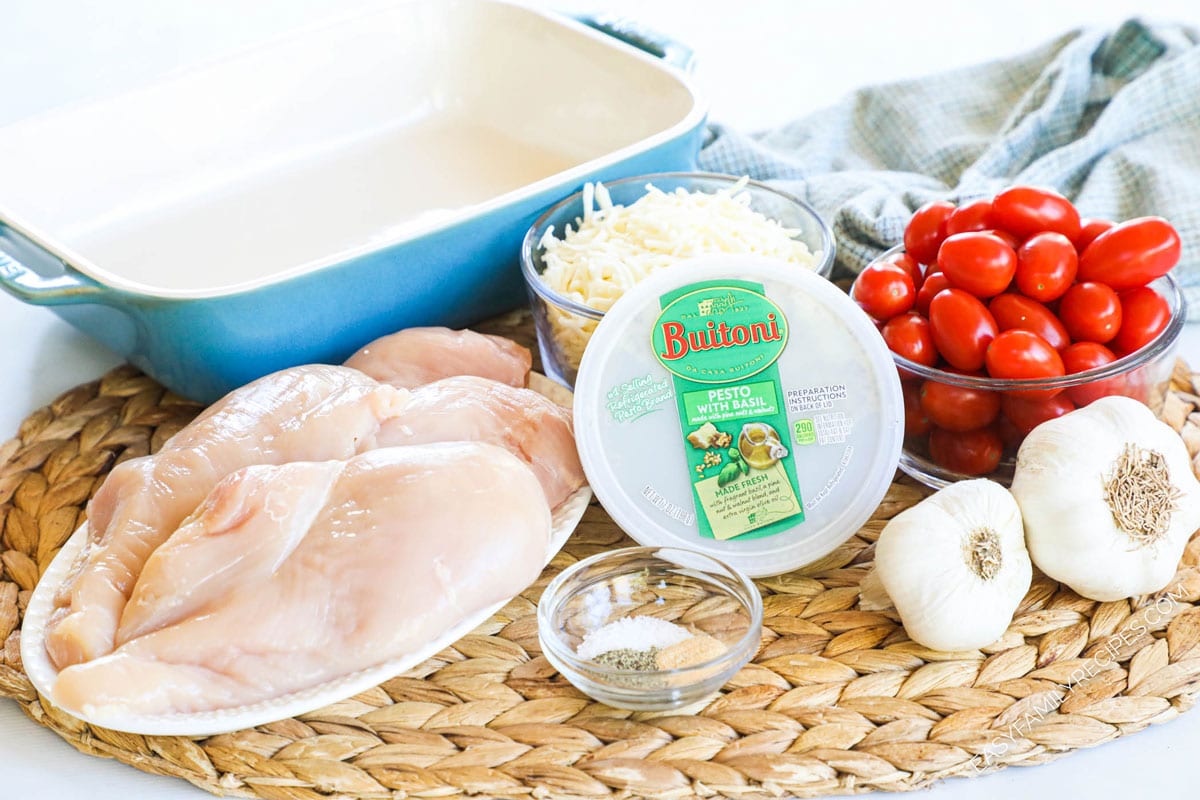 Ingredients + Substitutions
Cherry tomatoes – You can use grape or any other small, snacking tomato. I recommend getting some extra to chop up over the top for a pretty, tasty garnish too.

Garlic – Fresh garlic makes a big difference in the tomato sauce. It gives that fresh, made from scratch taste with so little extra effort! I like to use 4 full cloves.

Chicken Breasts – We use thin boneless skinless chicken breasts for this. But, chicken thighs, tenderloins or strips could also be used. Make sure to check the chicken early to avoid overcooking smaller cuts though.

Salt, pepper, and garlic powder

Pesto – Feel free to make your own, but to make this a really easy pesto chicken bake I buy prepared sauce. I do always recommend purchasing the basil pesto from the refrigerator section. I think it has the most fresh flavor!

Mozzarella – I use a bag of shredded cheese to make prep a breeze, but you can use ANY mozzarella that you like. Slices, fresh, or even mozzarella balls will all work. Just make sure you drain off any liquid if you use the fresh styles of cheese.

Fresh Basil – This is totally optional, but a sprinkle of fresh basil ribbons with those extra chopped tomatoes is not only delicious, but pretty on the finished chicken pesto bake.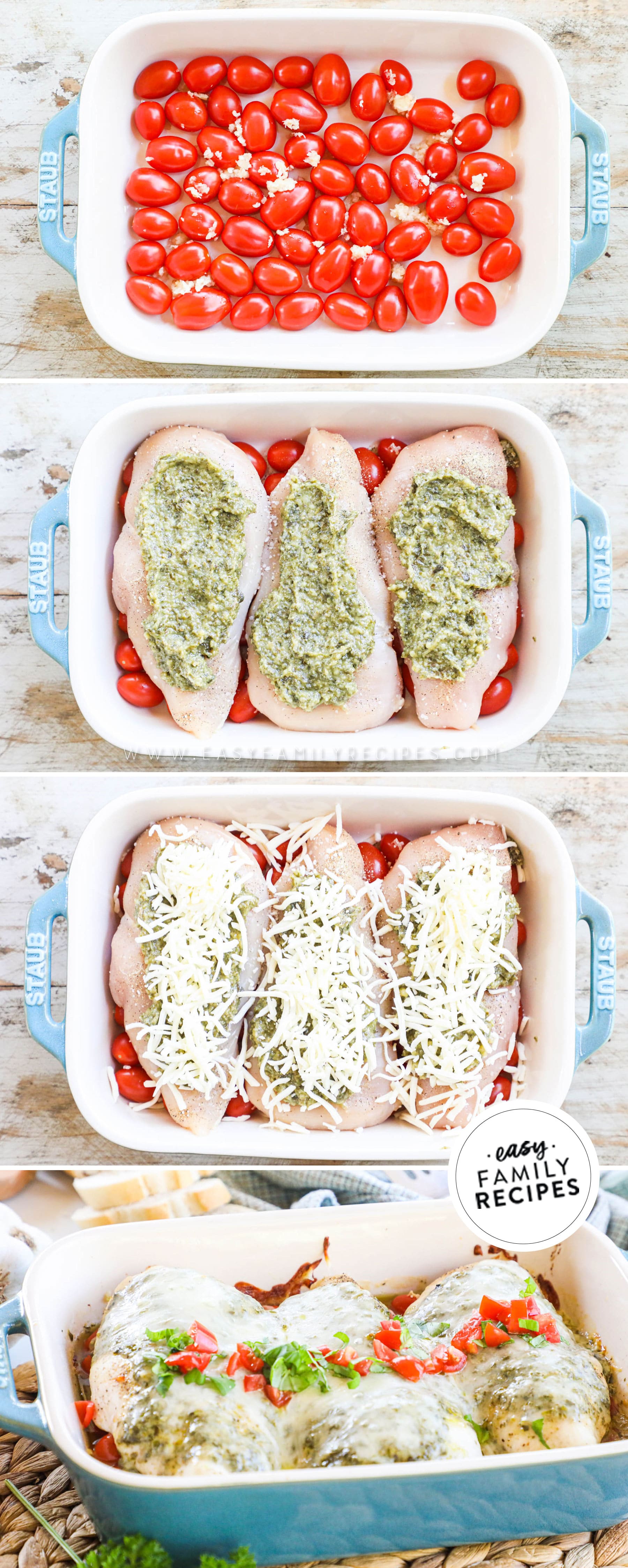 Recipe Tips
Use Thin Chicken Breasts – It's really important that you use thin, even chicken breasts so they bake at the same rate. I like to either buy thin chicken breasts, slice large ones in half, or pound them thin with a mallet. If you choose to use a meat mallet, cover the chicken with plastic wrap to stop any splattering chicken juice from making a mess in the kitchen.

Use a Large Pan – Another key to perfectly cooked pesto chicken is to use a pan that is large enough for all the chicken to lay flat side-by-side without overlapping.

Season Both Sides – The combo of salt, pepper, and garlic is simple, but so important to how this meal tastes at the end. Make sure you season both sides of the chicken breasts for maximum flavor.

Bake Covered – I always cover my pesto chicken bakes during cooking. It keeps all the heat inside and creates irresistibly gooey mozzarella on top. It's also important for keeping the moisture in to create a better tomato sauce.

Temp the Chicken – The number one enemy of tender, juicy chicken is overcooking it! I definitely recommend getting yourself a meat thermometer if you don't have one. They're even available at most supermarkets near the cooking gadgets, and are usually inexpensive. Then you can temp your chicken and know exactly when to take it out of the oven. 165°F is the perfect temperature for cooked, juicy chicken.

Let it Rest – Rest your cheesy pesto chicken bake for 5-10 minutes once you pull it out of the oven. It's just enough time to let the sauce thicken up a little and the juices to distribute through the chicken. It's such a a simple step that can mean a yummier dinner for you and the fam!

Smash the tomatoes – To make a super easy, irresistible sauce after baking smash the cooked tomatoes into the juices that have accumulated at the bottom of the pan. The hot cherry tomatoes, basil, and chicken liquid will turn into something really spectacular. I just use my serving spatula to mash it up and then serve the warm, rustic sauce with each piece of chicken.
Recipe Short Cuts
If you need to make this recipe, but are extra short on time, here are a few ideas that can help make this recipe even faster!
Use pre-seasoned diced tomatoes– I really love the flavors of fresh cherry tomato pesto chicken, but in a pinch you can use a can of diced tomatoes that has garlic and herbs already included. That way you can just dump and go!

Use chicken chunks– To cut down on cooking and serving time, you can use chicken chunks instead of whole breasts. They'll bake much faster, and you can just scoop and serve without having to slice chicken breasts into portions.

Assemble ahead– You can definitely assemble the pesto chicken bake up to 24 hours before cooking. Leave the cheese off, then when you're ready to bake, sprinkle it on, cover, and pop it into your preheated oven.
Recipe Variations
If you love this recipe as much as we do and want some quick ways to change it up for variety, these little tips will do the trick!
Creamy Pesto Chicken Bake– Combine 4 ounces of softened cream cheese with the pesto before spreading it on top of the chicken, just like I do in my Baked Pesto Chicken. Follow the rest of the recipe as directed.

Pesto Chicken Thighs– Follow the recipe exactly, but swap in boneless, skinless thighs instead.

Pesto Chicken Pasta Bake– Cook a package of your favorite pasta shape according to package instructions. Add the pasta and the tomatoes with the garlic to the bottom of the pan then continue with the recipe. When the chicken is done, lightly smash the tomatoes with a fork and toss them together with the pasta before serving with the pesto chicken.

Lemon Pesto Chicken Bake– Layer lemon slices across the bottom of the pan instead of tomatoes. Proceed with the recipe as directed. After baking, gently use a fork to release any juices for a light lemony sauce you can serve with the chicken.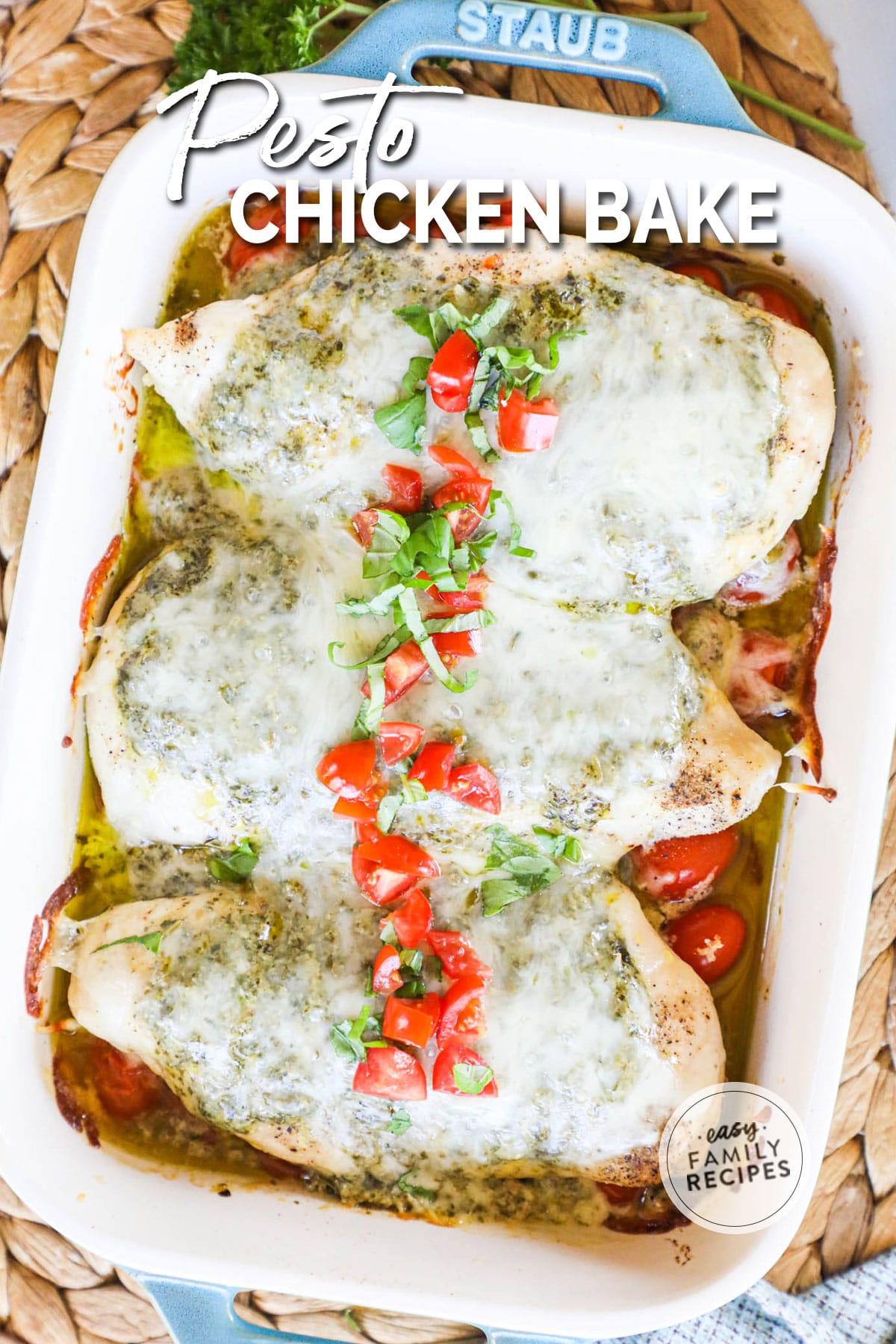 Freezer Meal Instructions
Making this Pesto Chicken Bake with Tomatoes recipe into a freezer meal is simple! Follow the steps below and you can store this recipe in the freezer for up to 6 months.
Spread the tomatoes and garlic on a freezer safe tray.
Freeze until solid then transfer to a freezer safe container or bag.
Season the chicken and spread with pesto on top.
Place the chicken in a separate bag or container.
Freeze both.
When ready to cook thaw 24-48 hours in the refrigerator.
Transfer to a baking dish and top with mozzarella.
Bake as directed.
Baked Tomato Pesto Chicken Leftovers
If you have leftovers after making a Pesto Chicken Bake, then it is your lucky day! They save and reheat well, and can make the start of another delicious dish.
To save leftovers, separate into meal sized portions and then place in an airtight container and store:
in the refrigerator for 3-4 days
in the freezer up to a month
Leftover Recipes
Here are a few ways to repurpose those leftovers and give them a delicious makeover!
Chicken Pesto Sandwich– Layer a soft bun or two pieces of bread with sliced pesto chicken, mayonnaise, and extra mozzarella cheese. Add a slice of crisp lettuce and serve cold. Or, butter the outside of the bread and cook in either a panini press or hot cast iron pan to make a crispy, cheesy panini. Serve it with a warm bowl of leftover tomato sauce for dipping.

Chicken Pesto Pizza– Spread pesto or tomato sauce on pizza dough and sprinkle over chopped pesto chicken and shredded mozzarella. Bake according to the package instructions and serve hot.

Chicken Pesto Tortellini– Cook a package of tortellini according to the instructions and toss with the chopped leftover pesto chicken and tomatoes plus a splash of olive oil. Sprinkle parmesan over top and serve.

Pesto Chicken Salad– Chop the leftover chicken to make a flavorful version of my Pesto chicken salad. Combine it with chopped celery, onion, and parmesan in a large bowl. Mix mayo and pesto and toss it together with the chicken and veggies. Serve it over a green salad, on bread, or with crackers.
More Chicken Bake Recipes
If you enjoyed this recipe, I really hope you will take a moment to grab a few more easy recipes for another busy night!
You can check out all of my easy chicken recipes here, or see a few of our readers favorite recipes below.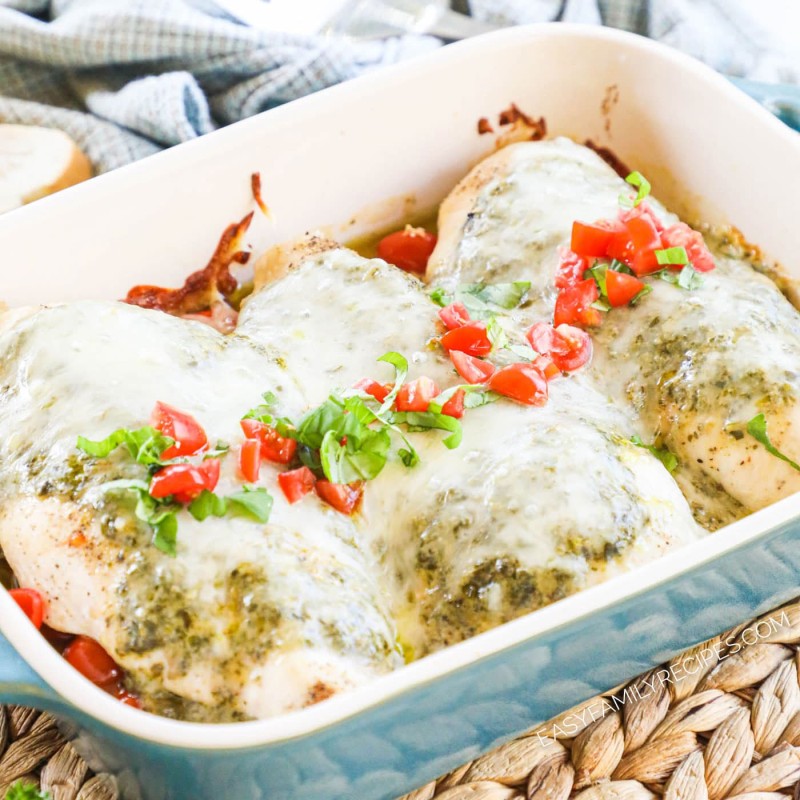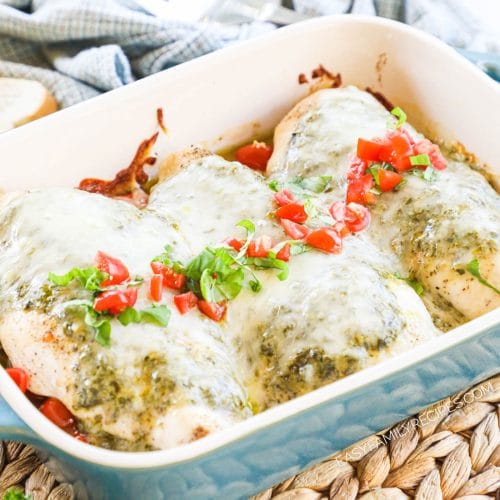 Pesto Chicken Bake
Fresh tomatoes cooked under chicken breasts that are slathered in basil pesto and topped with mozzarella cheese create a gooey, tender chicken bake dinner the family will love.
Ingredients
1½

cups

cherry tomatoes

4

cloves

garlic

,

pressed

2

pounds

boneless, skinless chicken breast

½

teaspoon

salt

½

tesspoon

pepper

½

teaspoon

garlic powder

1/4

cup

pesto

,

prepared

½

cup

shredded mozzarella cheese
Garnish (optional)
freshly chopped basil

quartered cherry tomatoes.
Instructions
Spread the cherry tomatoes to cover the bottom of a 2 quart baking dish and stir in the garlic.

Mix together the salt, pepper, and garlic powder. Season both sides of the chicken then lay them on top of the tomatoes.

Spread pesto evenly over the top of each chicken breast, then sprinkle mozzarella cheese over the top.

Cover with foil and bake 40 minutes or until the chicken is cooked through (165˚F internal temp) and the tomatoes are plump and bursting.

Use the spatula to smash the tomatoes at the bottom of the dish to make a fresh tomato sauce. Garnish the chicken breast with your choice of fresh basil and chopped tomatoes and serve warm with the tomato sauce.
Nutrition Information
Calories:
377
kcal
(19%)
,
Carbohydrates:
5
g
(2%)
,
Protein:
53
g
(106%)
,
Fat:
15
g
(23%)
,
Saturated Fat:
4
g
(25%)
,
Polyunsaturated Fat:
1
g
,
Monounsaturated Fat:
3
g
,
Trans Fat:
1
g
,
Cholesterol:
157
mg
(52%)
,
Sodium:
793
mg
(34%)
,
Potassium:
990
mg
(28%)
,
Fiber:
1
g
(4%)
,
Sugar:
2
g
(2%)
,
Vitamin A:
749
IU
(15%)
,
Vitamin C:
16
mg
(19%)
,
Calcium:
120
mg
(12%)
,
Iron:
1
mg
(6%)