Queso Chicken is a quick and easy chicken bake recipe that's impossible to resist! Tender chicken breasts are cooked in gooey cheese studded with tomatoes, corn, and beans, creating a saucy flavorful meal that is guaranteed to be devoured. With so many ways to serve it, a simple ingredient list, and 5 minute prep time, this is a one-pan dinner recipe you'll love to make again and again!
Queso Chicken – The EASY Way!
I can't think of a single person who wouldn't absolutely love a helping of Queso Chicken for dinner. Tender juicy chicken and a gooey, cheesy sauce are so indulgent and tasty that it's downright crave-able. From the youngest kids to adults, a recipe like this is an instant dinner win.
Plus it's so easy to serve! You can make anything with a pan of chicken con queso, from tacos to nachos, or even just scooping it straight onto plates to gobble up. We never get bored with it and I absolutely love the quick prep and quick clean up. It doesn't hurt that the leftovers are equally delicious, so a single bite never goes to waste!
Why I LOVE this recipe!
Fast & Easy – It only takes 5 minutes of the EASIEST prep to get this in the oven!
Extra Cheesy & Flavorful – The gooiest, cheesiest sauce bubbling around tender, seasoned chicken makes this a super family friendly meal that will get everyone to the dinner table with no arguments.
So Versatile – There's no wrong way to serve this! It can even be customized to your family's tastes with different add ins too!
Simple, Cheap Ingredients – You can find all of these ingredients at any grocery store. Keep them stocked for a perfect pantry recipe any time.
One Pan – Everything bakes in one dish, which means less to clean after dinner!
What to Serve with Queso Chicken
Since this dish has the classic flavors of chicken con queso, it will pair well with many of your favorite Tex Mex and Mexican side dishes. There are both classic options and some healthy options to keep it light.
Side Dish Ideas
You can choose one or add a few sides to make a wholesome, well rounded dinner.
Recipe Notes
This queso chicken recipe is as simple as promised! Just one pan and 5 minutes for a family friendly meal.
In this section I am going to go through a few tips and tricks I use when making this recipe to get the absolute best and most delicious results.
Make sure to scroll to the bottom for the FULL recipe card.
Ingredients + Substitutions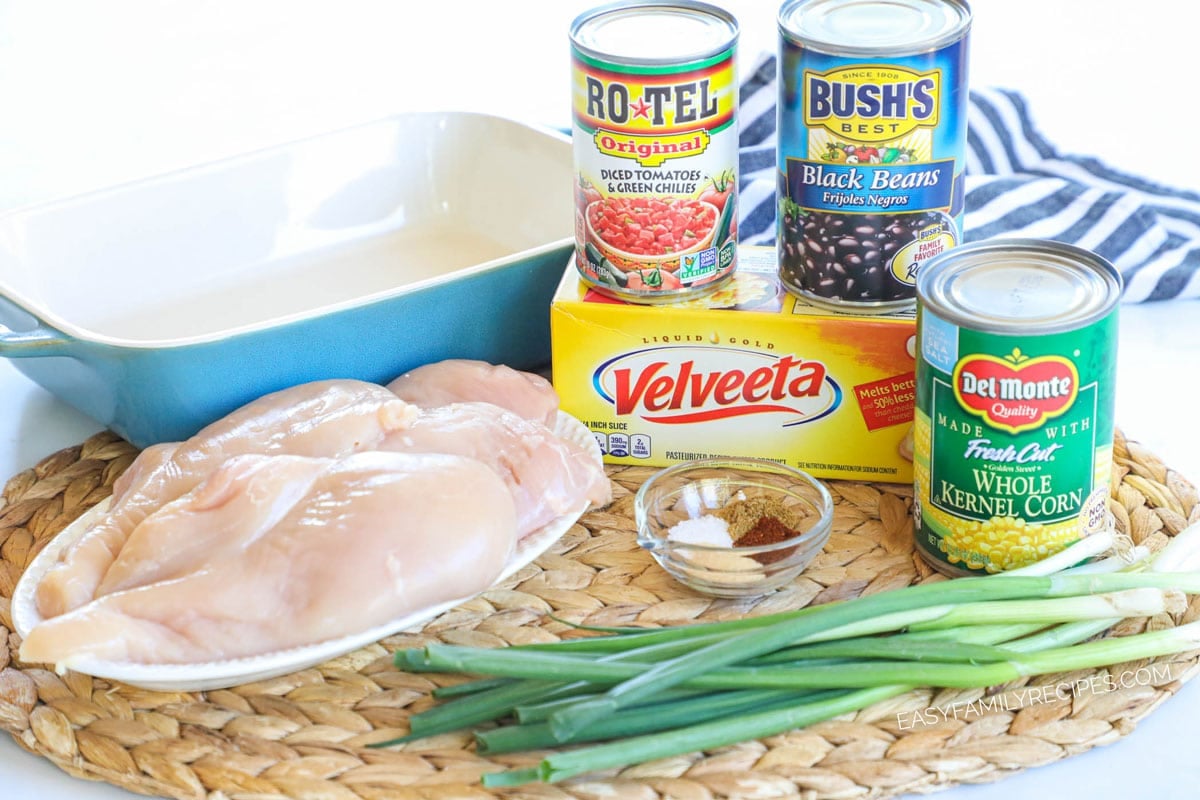 Velveeta – It's really important to use Velveeta or another processed American style cheese. They melt in a very different way than regular block cheeses like cheddar, and are key to having that smooth, cheesy, saucy finished dish.

Rotel – I used original Rotel, but you can use any diced tomatoes with green chilis that you like. Feel free to use spicy versions, cilantro, or any other variety!

Black Beans – A can of prepared beans keeps prep time really quick. Drain and rinse them to prep for this recipe.

Corn – Canned corn makes this really easy. Frozen or fresh corn cut off the cob can also be used.

Chicken Breasts – Go for thin, even boneless and skinless chicken breasts. Tenderloins or strips can also be used, but be sure to check on them early to avoid overcooking smaller cuts.

Spices– We use a combination of Salt, garlic powder, cumin, and chili powder to season this dish.

Garnishes – I love to add finely chopped green onions or cilantro on top, for a fresh finishing touch! This is optional so don't worry if you don't have them on hand, but if you do it is a nice little flavor punch.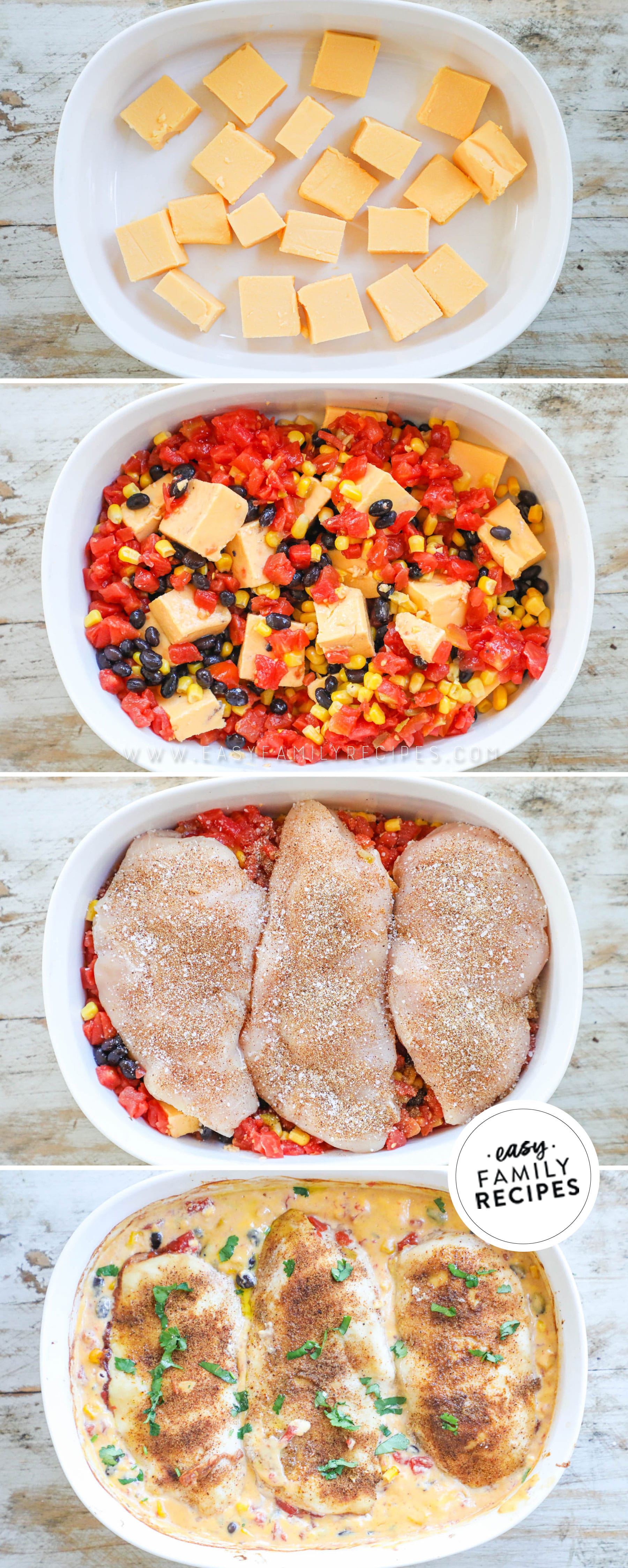 Recipe Tips
Use Even Chicken – It's really important that you use thin, even chicken breasts so they bake at the same rate. I like to either buy thin chicken breasts, slice large ones in half, or pound them thin with a mallet. If you choose to use a meat mallet, cover the chicken with plastic wrap to stop any splattering chicken juice from making a mess in the kitchen.

Don't Crowd the Pan – Another key to perfectly cooked queso chicken is to use a pan that is large enough for all the chicken to lay flat side-by-side without overlapping. This allows the chicken to cook more quickly and evenly resulting in more tender chicken.

Drain the Rotel – That rich, cheesy sauce is created by Velveeta melting and mixing with the natural juices of the chicken. Draining the tomatoes ensures it stays gooey and thick, instead of watery. If you forget, don't worry, it will still be delicious, but you'll have a bit thinner sauce at the end.

Keep it Covered – I usually recommend covering chicken bakes anyway, but it's really key for this recipe! Keep the pan covered to retain any moisture as it bakes and create that luscious queso sauce.

Cook to 165°F – The number one enemy of tender, juicy chicken is overcooking it! I recommend getting a meat thermometer if you don't have one. They're available at most supermarkets near the cooking gadgets, and are usually affordable. Then you can temp your chicken and know exactly when to take it out of the oven. 165°F is what you're aiming for.

Experiment! – My family loves corn and beans mixed into their queso chicken bake, but your family may feel differently. That's totally okay! You can mix in your favorites to make the queso sauce exactly what you want it to be. Try chopped bell peppers, onion, or add in some extra protein with cooked ground beef or turkey.

I do recommend sautéing any fresh veggies for a few minutes to get them nice and tender first. Then just add them to the Velveeta and tomatoes instead of the corn and beans, and you'll have the perfect chicken con queso for YOUR family when it's done baking!
Recipe Short Cuts
If you need to make this recipe, but are extra short on time, here are a few ideas that can help make this recipe even faster!
Use Cubed Chicken– Chicken chunks will give you a much quicker bake time. Plus there's no need to cut up chicken breasts, instead just scoop and serve straight from the pan for a quick and easy dinner.

Assemble Ahead– You can prep a chicken queso bake up to 24 hours ahead of time. Make it the night or morning before so you can pop in quickly the oven that night.

Use a Seasoning Blend– Instead of measuring individual spices, season the chicken with pre-mixed options like a fajita blend or taco seasoning mix. You'll want 1 1/2 teaspoons, and don't forget to check if it includes salt! Be sure to add it yourself if it doesn't.
Recipe Variations
If you love this recipe as much as we do and want some quick ways to change it up for variety, these little tips will do the trick!
Spicy Queso Chicken– Add 1/8 teaspoon of cayenne to the spices to add heat to the chicken. You can also swap the original Rotel for a spicier variety, or add pickled jalapenos to the cheese sauce.

Chile Con Queso Chicken– Replace the corn and black beans with a can of your favorite chili, then proceed with the recipe.

Queso Chicken Thighs– Use boneless, skinless chicken thighs instead of breasts. The rest of recipe can be cooked in the same way, but you may need to increase baking times to ensure they're cooked to the proper 165°F.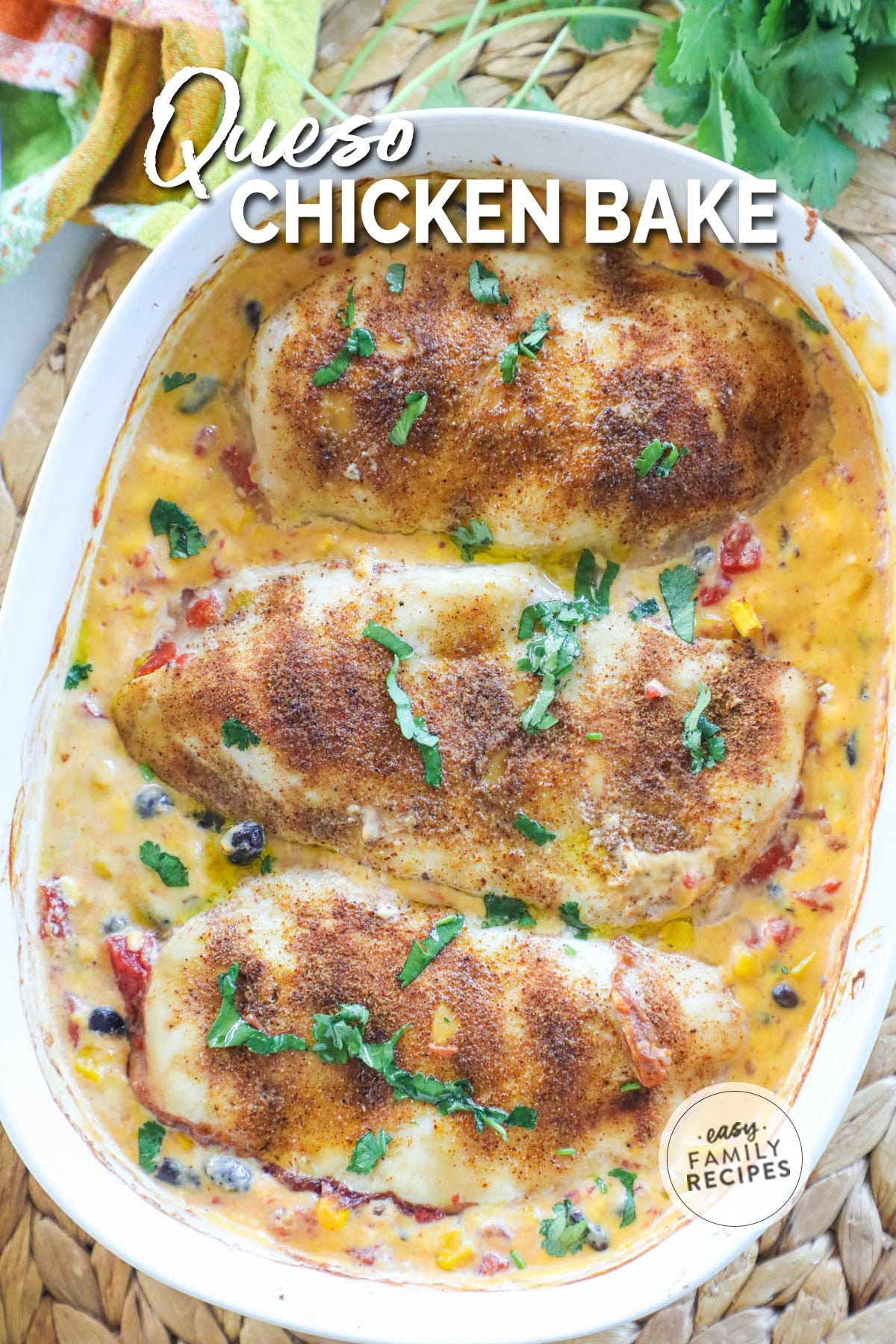 Freezer Meal Instructions
Making this Queso Chicken recipe into a freezer meal is simple! Follow the steps below and you can store this recipe in the freezer for up to 6 months.
Combine the Rotel, corn, and black beans in a freezer safe bag or container.
Season the chicken and add it to the bag.
Freeze.
When ready to bake thaw in the refrigerator for 24-48 hours.
Place Velveeta in the bottom of the baking dish and add the remaining ingredients on top.
Bake as directed.
Queso Chicken Leftovers
If you have leftovers after making a Queso Chicken Bake, then it is your lucky day! They save and reheat well, and can make the start of another delicious dish.
To save leftovers, separate into meal sized portions and then place in an airtight container and store:
in the refrigerator for 3-4 days
in the freezer up to a month
Leftover Recipes
Here are a few ways to repurpose those leftovers and give them a delicious makeover!
Chicken Nachos with Queso– Chop the leftover chicken and arrange over crisp tortilla chips. Warm the queso sauce and drizzle over top. If desired add pico de gallo, homemade salsa, or quick and easy guacamole.

Chicken Queso Tacos– Slice the chicken and serve with leftover queso sauce in a corn or flour tortilla topped with shredded lettuce and fresh tomatoes.

Chicken Queso Casserole– Chop leftover chicken and combine in a large bowl with 1 cup each of corn, beans, and cooked rice. Mix that with the leftover queso sauce and 1/2 cup of chicken stock or water. Place in a casserole dish and top with a layer of shredded cheese. Bake covered at 350°F for 20-25 minutes or until hot throughout and bubbly.

Chicken Queso Bowl– Place chopped chicken over cooked rice with fresh toppings like avocado, tomatoes, jalapenos, and corn. Drizzle over warm queso sauce and top with tortilla strips.
More Chicken Bake Recipes
If you enjoyed this recipe, I really hope you will take a moment to grab a few more easy recipes for another busy night!
You can check out all of my chicken dinner recipes here, or see a few of our readers favorite recipes below.
Hungry for more family-friendly recipes? Sign up for my free recipe club to get new family-friendly recipes in your inbox each week! Find me sharing daily meal-time inspiration on Pinterest, Instagram, and TikTok.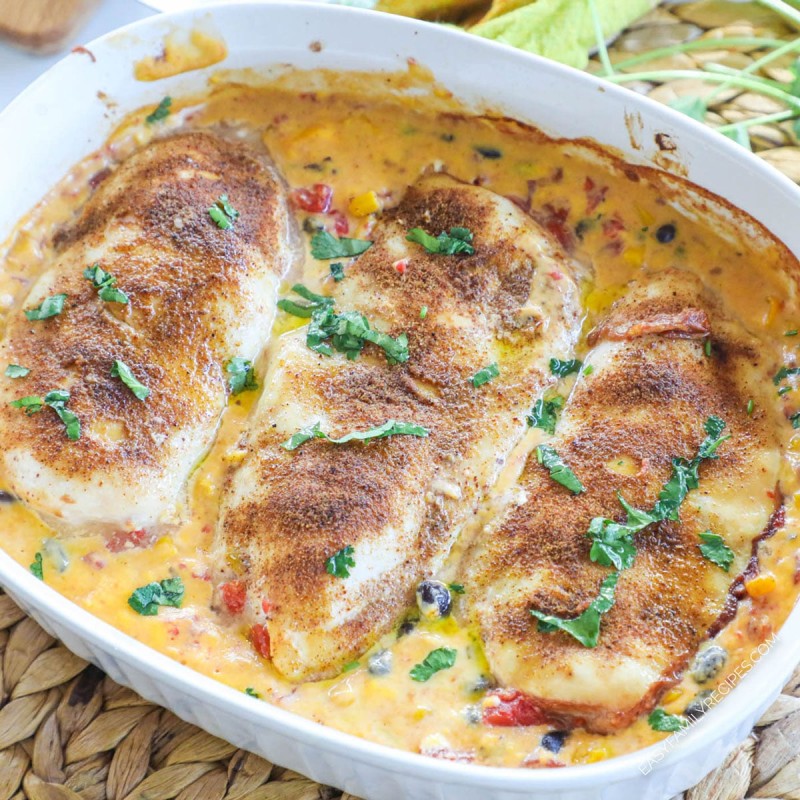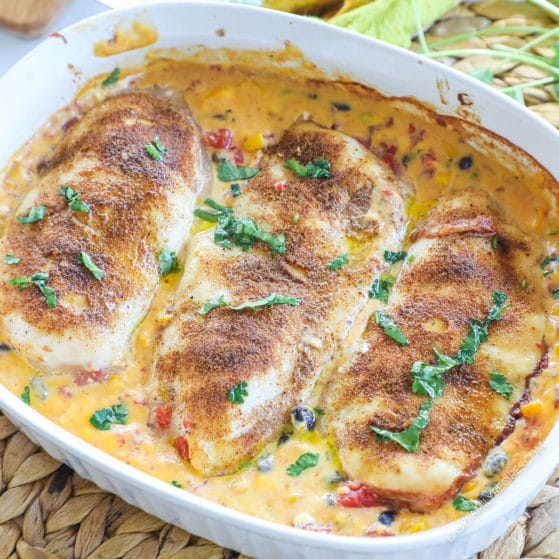 Queso Chicken Bake
Juicy chicken and creamy thick queso sauce bake all in one dish with tomatoes, beans, and corn for a comforting, indulgent family friendly dinner.
Prep Time: 5 minutes
Cook Time: 50 minutes
Total Time: 55 minutes
Serves:6 people
Hover over "serves" value to reveal recipe scaler
Ingredients
16 ounces Velveeta cheese
10 ounces ROTEL tomatoes with green chiles (1 can) drained
8 ounces canned black beans (1/2 can) drained and rinsed
8 ounces canned corn (1/2 can) drained
2.5 pounds boneless, skinless chicken breast
½ teaspoon salt
½ teaspoon garlic powder
½ teaspoon cumin
½ teaspoon chili powder
Garnish (optional)
freshly chopped cilantro
freshly chopped green onions
Instructions
Preheat the oven to 400˚F.

Cut Velveeta into cubes and place in the bottom of a 9×13 baking dish. Add ROTEL tomatoes, corn, and black beans and stir.

Mix together salt, garlic powder, cumin, and chili powder. Season both sides of the chicken breast and lay flat on top of the cheese mixture.

Cover with foil and bake for 45 minutes. Remove the foil and bake for an additional 5-10 minutes or until the chicken is cooked through (165˚F internal temp.)

Remove chicken from the dish and stir queso until evenly combined. Lay chicken back on top of the queso.

Serve chicken with queso spooned over the top, then garnish with your choice or freshly chopped cilantro or green onions.
Nutrition Information:
Calories: 456kcal (23%)Carbohydrates: 22g (7%)Protein: 59g (118%)Fat: 14g (22%)Saturated Fat: 7g (44%)Polyunsaturated Fat: 1gMonounsaturated Fat: 2gTrans Fat: 1gCholesterol: 153mg (51%)Sodium: 1827mg (79%)Potassium: 1218mg (35%)Fiber: 3g (13%)Sugar: 8g (9%)Vitamin A: 907IU (18%)Vitamin C: 8mg (10%)Calcium: 474mg (47%)Iron: 2mg (11%)
(Nutrition information provided is an estimate and will vary based on cooking methods and brands of ingredients used.)