Keep dinnertime stress-free on even the busiest night with this Easy Philly Cheesesteak with Ground Beef recipe. They're a quick, family friendly meal made with lean ground beef, plenty of cheese, and tender peppers and onions. You'll only need one pan to whip up these delicious kid-friendly sandwiches, and you can enjoy leftovers for lunches all week!
It's easy to overlook the simple sandwich as a good dinner option, but I think on those busy nights when you just don't have time or energy for a multi-pan affair, they're the BEST option. There are so many types you can make, but I definitely recommend this twist on the classic Philly cheesesteak for any busy family.
The simple combination of ground beef, bell peppers, onions, and cheese are classics for a reason, and this variation on the traditional sandwich uses ground beef to keep things easy and affordable.
They're gooey, flavorful, and served on a bun, which automatically means they're perfect for kids! Plus they're super hearty, which means you can serve sandwiches for dinner and know that even the hungriest members of your family will be totally satisfied.
Why I LOVE this recipe!
Kid-Friendly Flavors – Cheese, bread, and ground beef are good choices for kids, even picky eaters!
One Pan Cooking – From the browning to serving, everything happens in one pan.
Perfect on the Go – Whether you're meal prepping for lunches or running out the door for soccer games, this recipe is super easy to make in advance and store.
Budget Friendly – The ground beef is an affordable, family friendly alternative to traditional ribeye or steak.
Makes Plenty – With 6 generous servings, and the ability to scale it up, it's perfect for feeding a crowd or meal prep.
Recipe Notes
This ground beef Philly cheesesteak recipe is as simple as promised! Just a one pan and simple ingredients for a family friendly meal.
In this section I am going to go through a few tips and tricks I use for how to make Philly cheesesteak sandwiches with ground beef to get the absolute best and most delicious results.
Make sure to scroll to the bottom for the FULL recipe card.
Ingredients + Substitutions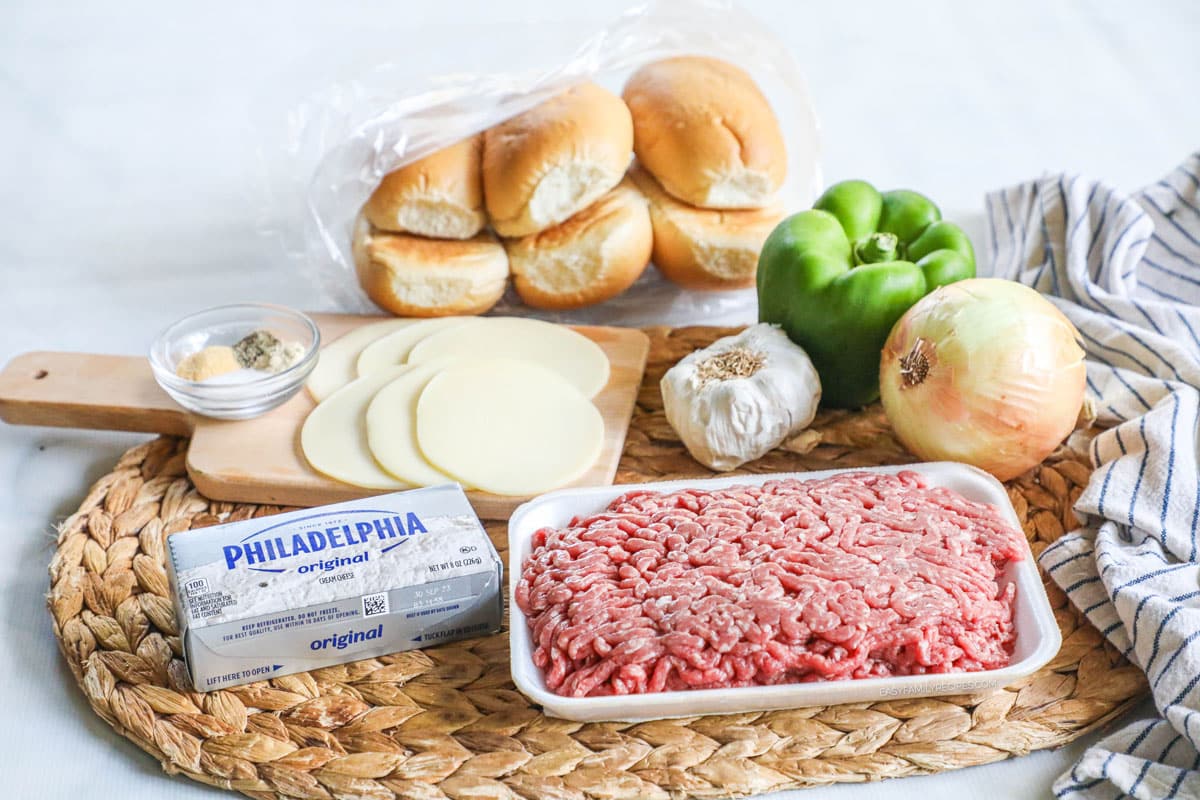 Ground Beef – Any type of ground beef will work for this Philly cheesesteak recipe, but I recommend using a leaner option. It doesn't shrink as much, leaving you with more meat, and there's less fat to drain off during cooking.

Green Bell Pepper

Sweet Onion – Sweet onions are varieties like Walla Walla, Maui, or Vidalia, and are a pale yellow. They're located with the other onions in the produce section, but they're always labeled 'sweet'. If you can't find them, try a white onion, which is more mild than traditional yellow or red.

Cream Cheese – You can use low fat or regular cream cheese, but not non-fat. It won't melt correctly into the meat.

Provolone Cheese

Milk

Seasonings – A combination of salt, pepper, onion and garlic powder are the seasonings used to build flavor.

Bread Rolls – The best bread for Philly cheesesteak sandwiches are a hoagie roll. Look for a sub-style bread roll that's crisp on the outside but fluffy on the inside.
Make sure to see the recipe card at the bottom of this post for the full quantities and ingredient list.
Recipe Variations
If you love this recipe as much as we do and want some quick ways to change it up for variety, these little tips will do the trick!
Philly Cheesesteak Sliders with Ground Beef– This is a super simple swap made with the same ingredients, but served on slider rolls instead. They're oven-baked and absolutely delicious. The slider size is perfect for parties, potlucks, or even just if your kids like mini sandwiches! Check out the recipe for full details on how to make it.

Philly Cheesesteak Sandwiches with Ground Chicken– Make the recipe exactly as written, but replace ground beef with 2 lbs of ground chicken.

Spicy Philly Cheesesteak Sliders with Ground Beef– Make the recipe as directed, but add in one chopped jalapeno or a 1/4 cup of chopped, pickled spicy peppers in with the ground beef as it browns.

Philly Cheesesteak Lettuce Wraps– Make this Philly Cheesesteak Casserole and spoon it into large lettuce leaves for serving.
Recipe Step by Step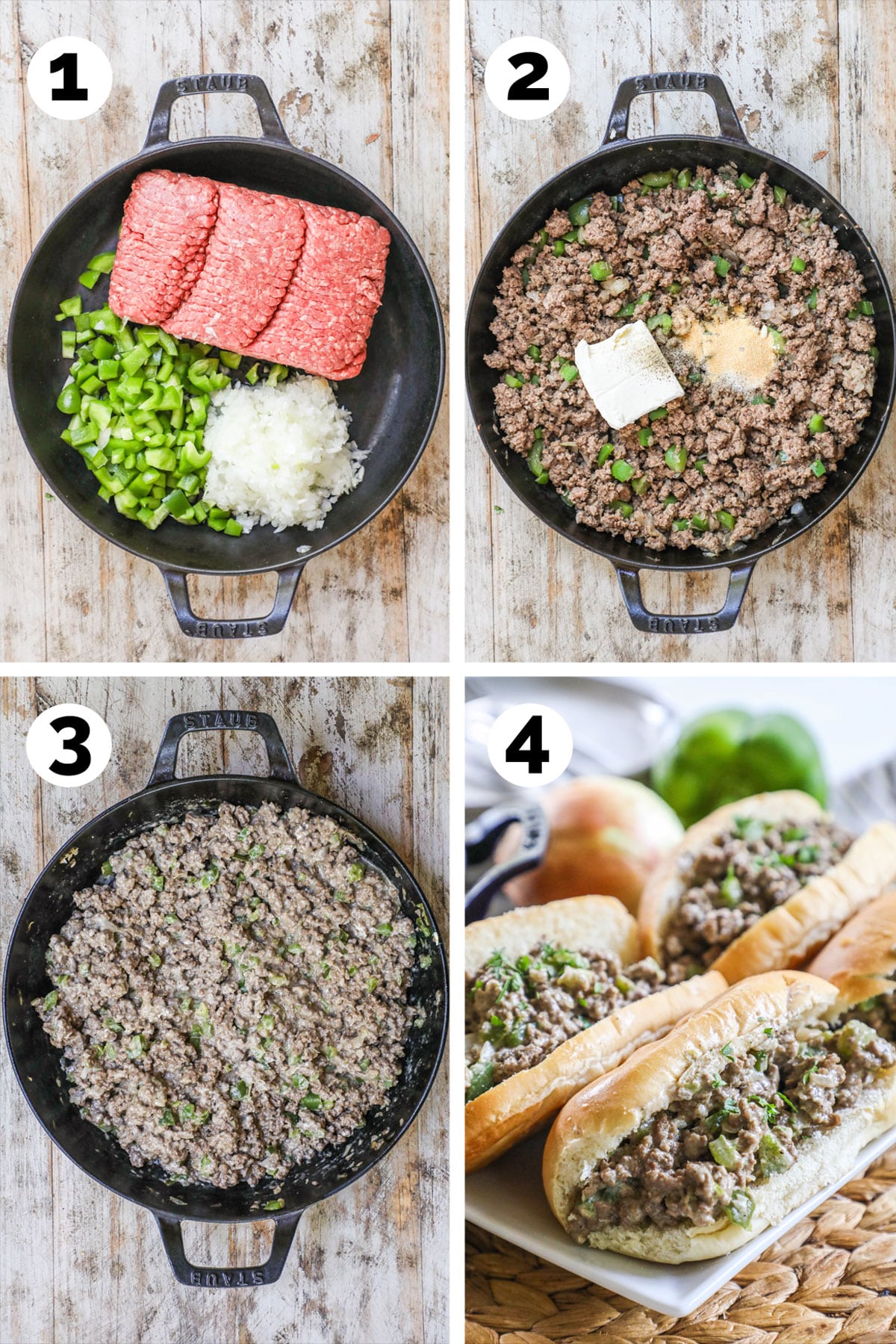 I am going to highlight a few key steps in the recipe here, but make sure to jump down to the recipe card for comprehensive instructions on how to make easy Philly cheesesteak sliders with ground beef.
Brown the beef– Use a large skillet to cook the bell peppers, onions, and ground beef until the veggies are tender and the meat is browned and cooked through.

Add the cheese– Combine all the cheeses, milk, and seasonings in with the cooked beef and stir until everything is melted and gooey.

Assemble sandwiches– Spoon hearty portions of the cheesy beef onto split hoagie rolls and serve.
Recipe Tips
Use a large skillet – In order to cook two pounds of ground beef, peppers, and onions all in one pan you'll need the widest, high-sided skillet you have. That will help make sure the beef browns properly and keeps all the yumminess in the pan instead of all over your stovetop!

Drain off the fat – Before you add the milk, cheese, and seasonings, drain off or spoon out the excess fat from the ground beef. That will help make sure the mixture won't be greasy on the sandwiches.

Toast or steam the buns – Split and toast the buns on the stovetop or in the oven. Or, wrap them in a damp paper towel and microwave them for just 15-20 seconds to steam, which makes them soft, fluffy, and warm.

Add more cheese! – Add an extra layer of gooiness by layering on more slices of provolone onto the filling once it's portioned into the buns. Then place the sandwiches under a preheated broiler for 2-3 minutes until it's melted.

Prep them for on-the-go or lunches – This really is a super family friendly meal prep recipe. All you have to do is make the filling in advance, then portion it into single serving containers. Then you can microwave or reheat the meat, throw it on a bun and be out the door!
Recipe Short Cuts
If you need to make this recipe, but are extra short on time, here are a few ideas that can help make this recipe even faster!
Prep veggies ahead – Chop the bell pepper and onion and store them in the fridge until you're ready to cook.

Pre-measure ingredients – You can actually get everything ready in advance. Store seasonings combined in a bowl on the counter and have your milk and cream cheese measured in the fridge next to your prepped vegetables. Then all you have to do is dump them in at the right step when it's time to cook.

Cook everything in advance – This ground beef Philly cheesesteak recipe is GREAT for meal prep. Just cook the filling and let it cool, then store in covered in the fridge. When you're ready to eat, warm it gently in a skillet and serve.

Skip toasting – While toasting or steaming your rolls is a nice touch, it's not mandatory. Just slice, fill, and serve and your easy Philly cheesesteaks will be just as good.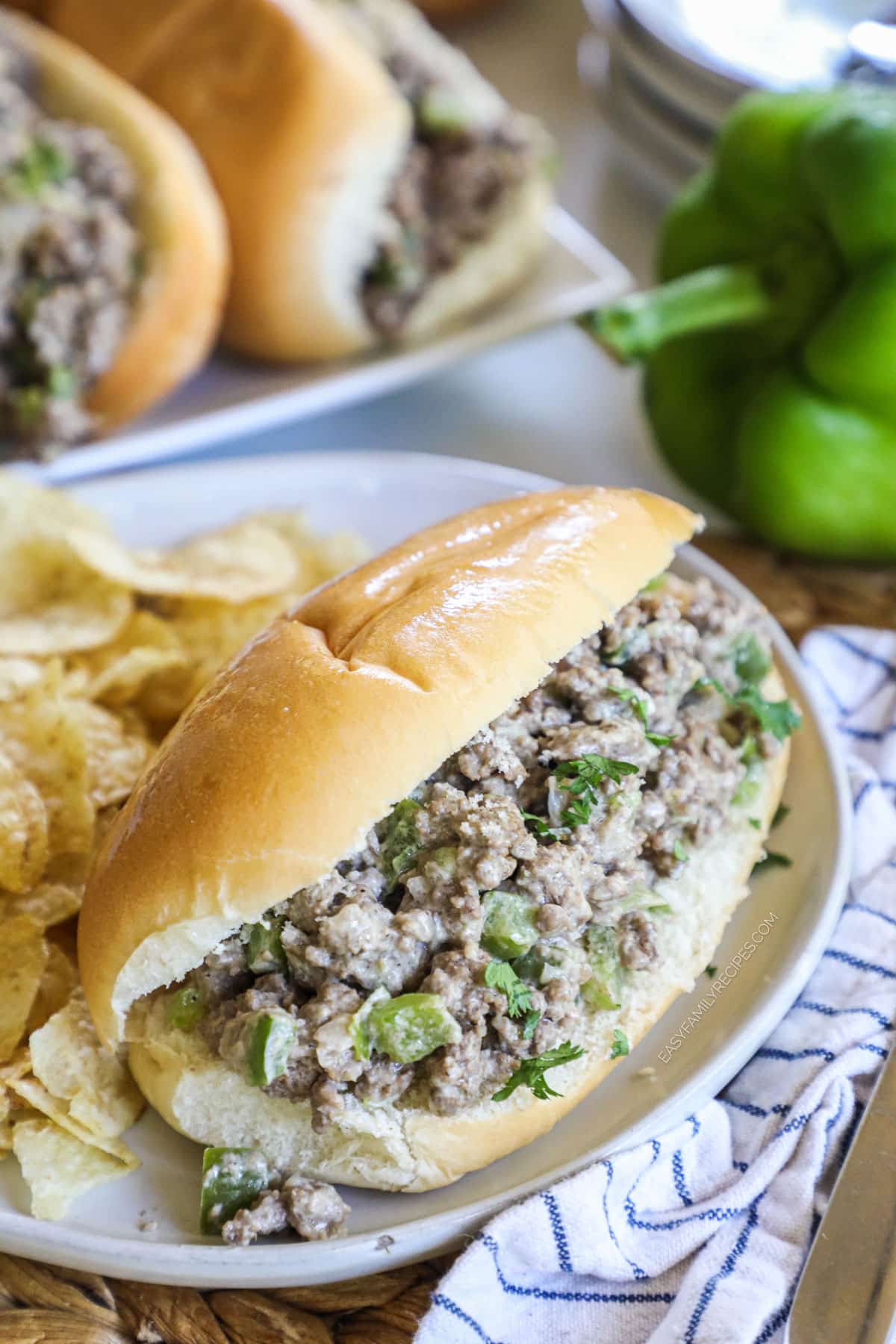 Freezer Meal Instructions
Making this easy Philly cheesesteak with ground beef recipe into a freezer meal is simple! Follow the steps below and you can store this recipe in the freezer for up to 6 months.
How to Freeze Ground Beef Philly Cheesesteaks
Mix the seasonings, chopped bell pepper, and onion with the ground beef, then store it in a freezer friendly container or bag.
Freeze.
When ready to cook, thaw in the fridge for 24-48 hours.
Cook as directed, but don't add more seasonings. Use fresh cheese, milk, and thawed or fresh buns.
What to Serve with Philly Cheesesteaks with Ground Beef
Since this protein based dinner has the delicious flavors of classic Philly cheesesteaks, it will pair well with many of your favorite traditional side dishes.
Choose one or several of these side dishes to create a wholesome, well-rounded dinner. There are both classic options and some healthy options to keep it light.
Side Dish Ideas
Ground Beef Philly Cheesesteak Leftovers
If you have leftovers after making this recipe, then it is your lucky day! They save and reheat well, and can make the start of another delicious dish.
To save leftovers, separate into meal sized portions and then place in an airtight container and store:
in the refrigerator for 3-4 days
in the freezer up to a month
Leftover Recipes
Here are a few ways to repurpose those leftovers and give them a delicious makeover!
Philly Cheesesteak Eggrolls– Spoon cold or room temperature leftover filling into prepared egg roll wrappers. Roll and seal them, then cook them in a skillet with 1 inch of hot oil until crispy on all sides. Or, place them on a baking sheet and spray with cooking oil, then bake for 15 minutes at 425°F.
Philly Cheesesteak Pizza– Brush rolled out pizza dough or a pre-baked crust with a generous amount of olive oil and finely minced garlic. Spread the leftover ground beef cheesesteak filling over the top. Sprinkle on 2 cups of shredded mozzarella cheese and bake according to the crust's instructions.
Philly Cheesesteak Stuffed Peppers– Slice peppers in half and carefully remove the stem, ribs, and seeds. Fill with the leftover ground beef. Place them in a casserole dish and pour in 1/2 cup of water. Cover with foil and bake at 350°F for 20-30 minutes or until peppers are tender. Remove the foil, lay a slice of provolone cheese over each pepper, and then bake for another 5 minutes, or until the cheese is melted.
Philly Cheesesteak Quesadilla– Spread leftover Philly cheesesteak ground beef over tortillas with extra provolone cheese. Brown them on both sides in a preheated pan, or bake in a 350°F oven for 10-15 minutes. When the tortilla is crisp and the cheese melted, slice and serve.
Philly Cheesesteak Nachos– Arrange tortilla chips in a single layer on a baking sheet. Sprinkle the leftover filling over the top. Add tomatoes, chopped pickled peppers, or any other toppings you like. Sprinkle provolone cheese on the top, or layer on slices. Bake at 350°F for 10-15 minutes, or until everything is hot and melted.
Recipe FAQ's
What kind of meat is in original Philly Cheesesteak?
Classic cheesesteaks are made with very thinly sliced rib-eye, which is NOT the cheapest cut of meat. My ground beef Philly cheesesteaks are a family and budget friendly alternative that still packs that super classic, delicious flavor.
What is the best bread for a Philly cheesesteak?
The traditional bread used for Philly cheesesteaks is a hoagie roll, specifically the Amoroso brand rolls. But any sub-style bread that has a good crisp exterior and a soft, but dense interior is perfect for holding all the gooey, cheesy beef filling.
What kind of cheese can I use on a Philly Cheesesteak?
Any kind you like! We love provolone cheese on our ground beef Philly cheesesteaks, but you can go traditional with cheese whiz, use American cheese, cheddar, Swiss, or any other you like.
More EASY Ground Beef Recipes
If you enjoyed this recipe, I really hope you will take a moment to grab a few more easy recipes for another busy night!
You can check out all of my easy dinner recipes here, or see a few of our readers favorite recipes below.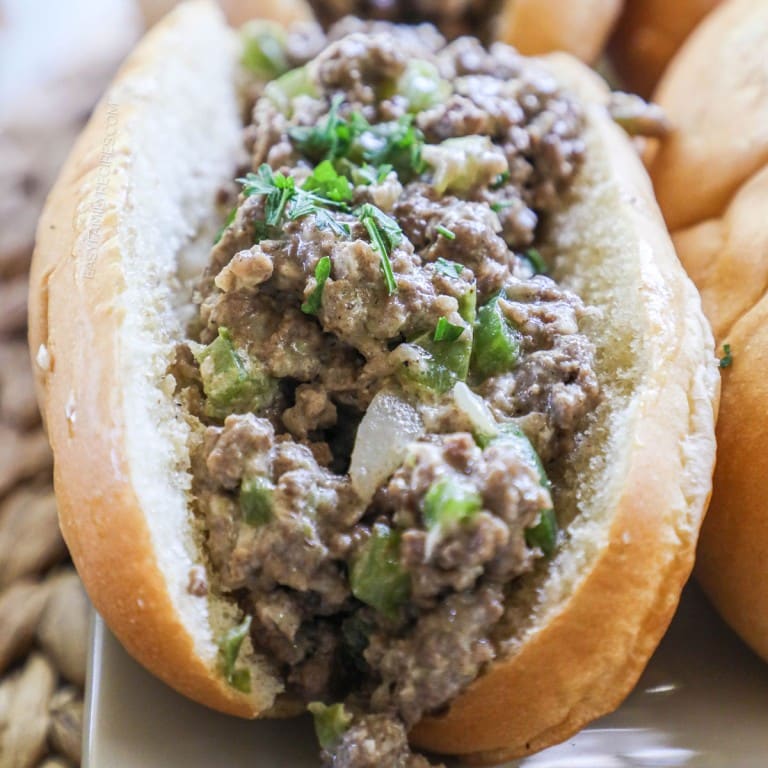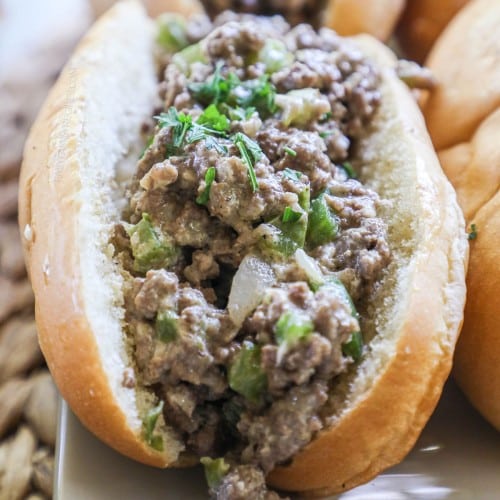 Easy Philly Cheesesteak with Ground Beef
These Ground Beef Philly Cheesesteak Sandwiches bring all of the flavor of the classic sandwich into an affordable, fast, and easy weeknight dinner!
Ingredients
2

lbs

ground beef

1

green bell pepper

,

chopped

1

sweet yellow onion

,

chopped

6

oz

provolone cheese

,

or more

4

oz

cream cheese

,

softened

2

tbsp

milk

1.5

tsp

garlic powder

1.5

tsp

salt

1/2

tsp

ground pepper

1/2

tsp

onion powder

6

sub rolls

,

6 inches each
Instructions
In a large skillet over high heat, brown the ground beef, onions, and bell pepper until the beef is cooked through and the onions and peppers are soft. Drain the fat and juices from the meat.

Dice the provolone cheese. Mix the diced provolone, softened cream cheese, milk, garlic powder, onion, powder, salt and pepper into the ground beef mixture. Simmer for about 3-4 minutes then remove from heat.

Cut the slider rolls in half and pile in a large spoonful of the ground beef philly cheesesteak filling into each roll.

Optional: Top with additional provolone cheese and place in the oven to broil for 2-3 minutes or until the cheese melts.

Garnish with freshly chopped parsley if desired. Serve immediately. Enjoy!
Recipe Notes
Substitutions:
Ground Beef — You can use either 80% lean or 93% lean, however since there is so much fat in the cheese, I usually buy 93%.
Cream Cheese — You can substitute low fat cream cheese if preferred, but stay away from fat free for this recipe since it doesn't melt and combine in the same way.
How to Store: To save the leftovers, divide the ground beef mixture into meal sized portions and store in an airtight container in the 
refrigerator for 3-4 days
in the freezer for up to a month
Once ready to eat, add to fresh, or thawed sub rolls.
How to Freeze:
These ground beef philly cheesesteaks work well for freezing both before or after cooking to make an easy weeknight meal that you can have prepped and stored for up to 6 months. For full instructions, read the freezer section in the post above. 
How to Reheat: This can be reheated in the microwave in 30 second increments, or cover with tin foil and place into the oven to reheat.
Nutrition Information
Serving:
1
cup
,
Calories:
751
kcal
(38%)
,
Carbohydrates:
40
g
(13%)
,
Protein:
41
g
(82%)
,
Fat:
47
g
(72%)
,
Saturated Fat:
20
g
(125%)
,
Polyunsaturated Fat:
1
g
,
Monounsaturated Fat:
17
g
,
Trans Fat:
2
g
,
Cholesterol:
146
mg
(49%)
,
Sodium:
1249
mg
(54%)
,
Potassium:
593
mg
(17%)
,
Fiber:
2
g
(8%)
,
Sugar:
9
g
(10%)
,
Vitamin A:
583
IU
(12%)
,
Vitamin C:
19
mg
(23%)
,
Calcium:
288
mg
(29%)
,
Iron:
14
mg
(78%)