Bring a classic holiday tradition to the dinner table with this Honey Glazed Ham. Brown sugar, pineapple juice, and honey create an easy homemade glaze that coats salty baked ham, making every slice the perfect bite of savory and sweet flavor. It's a family friendly main course that's perfect for Thanksgiving, Christmas, Easter, or any occasion that calls for celebration.
Honey Glazed Ham – The EASY Way!
This recipe comes straight from my family's holiday table, and I hope it will make it to yours, because it's just so delicious. For many years this honey glazed ham has made an appearance at Thanksgiving, Christmas, Easter, plus any other occasions where we wanted something a little special. It's SO flavorful, and has the perfect balance of savory, salty ham and sweet pineapple honey glaze. Plus the leftovers are great for so many other meals too.
But one of the best parts is that creating those classic honey baked ham flavors is also SO easy. There's none of that labor intensive preparation that comes with most holiday meals. Just pop your favorite kind of ham in the oven and boil a quick glaze to brush on top. It will arrive at the table as a beautiful, flavorful centerpiece to your meal and you won't be too exhausted to enjoy it.
Why I LOVE this recipe!
Homemade Holiday Classic – Glazed honey baked ham is a true classic for holiday meals. This homemade version is super easy and SO much better than a pre-done one.
Sweet and Savory – A super sweet honey glaze and salty ham go together so perfectly to create truly irresistible flavor.
Super Easy! – If you've ever spent the entire holiday in the kitchen, you'll really appreciate how simple this easy glazed ham recipe is instead. Just 10 minutes to prep, a bit of basting, and you're done!
So versatile – Not only can you pair this with a HUGE number of side dishes, but the leftovers can also be used in a ton of different ways.
What to Serve with Glazed Honey Baked Ham
Since this honey baked ham recipe has the classic flavors of brown sugar and pineapple juice, it will pair well with many of your favorite traditional and holiday side dishes. There are both classic options and some healthy options to keep it light.
Everyday Side Dish Ideas
You can choose one or add a few sides to make a wholesome, well rounded dinner.
Holiday Side Dish Ideas
This glazed ham recipe has been a part of many Thanksgiving, Christmas and Easter dinners for our family. When you pair it with some holiday sides it makes a filling and festive meal!
Recipe Notes
This recipe is as simple as promised! Just 10 minutes of prep for a family friendly meal.
In this section I am going to go through a few tips and tricks I use when making this recipe to get the absolute best and most delicious results.
Make sure to scroll to the bottom for the FULL recipe card.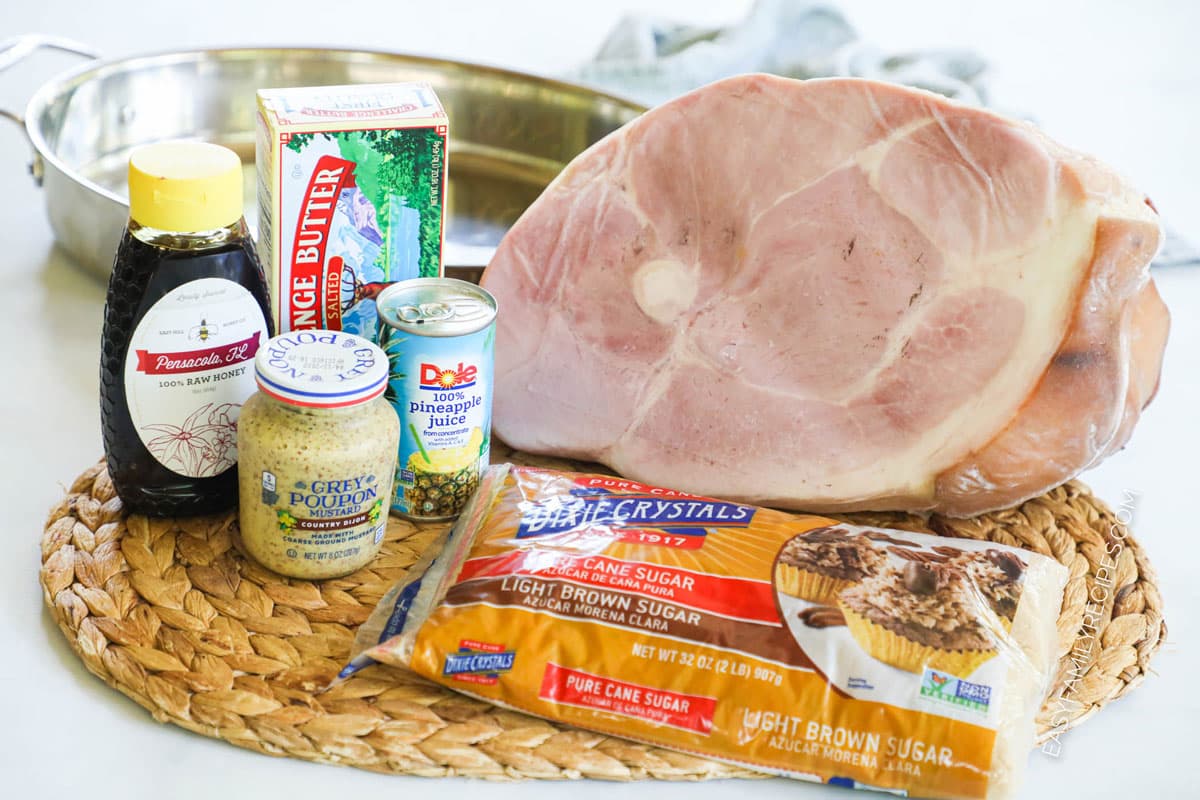 Ingredients + Substitutions
Ham – Look for a ham that's between 10-15 pounds for this recipe. You can use whatever kind you like, or what your grocery store carries, whether that's whole or spiral sliced.
Honey – Since this is a honey glazed ham, I don't recommend you skip it or swap it.
Brown sugar – Brown sugar has notes of molasses that make this honey glaze for ham super irresistible. In a pinch white or turbinado sugar will also work.
Salted butter – I like to use salted butter because it adds just enough salt to the glaze. But unsalted can work, just be cautious about adding to much salt in, since the ham is already quite salty.
Pineapple juice – There's really no substitution for pineapple juice, but if you can't find just canned juice, drain it from a can of chunks or slices and reserve the pieces for another recipe.
Dijon mustard – Dijon has a spicier, tangy flavor than other mustards, but if you need to yellow mustard can be used instead.
Apple cider vinegar – This is needed to temper the sweetness of all the sugary glaze ingredients. If you don't have apple cider vinegar, red or white wine vinegar are good substitutes.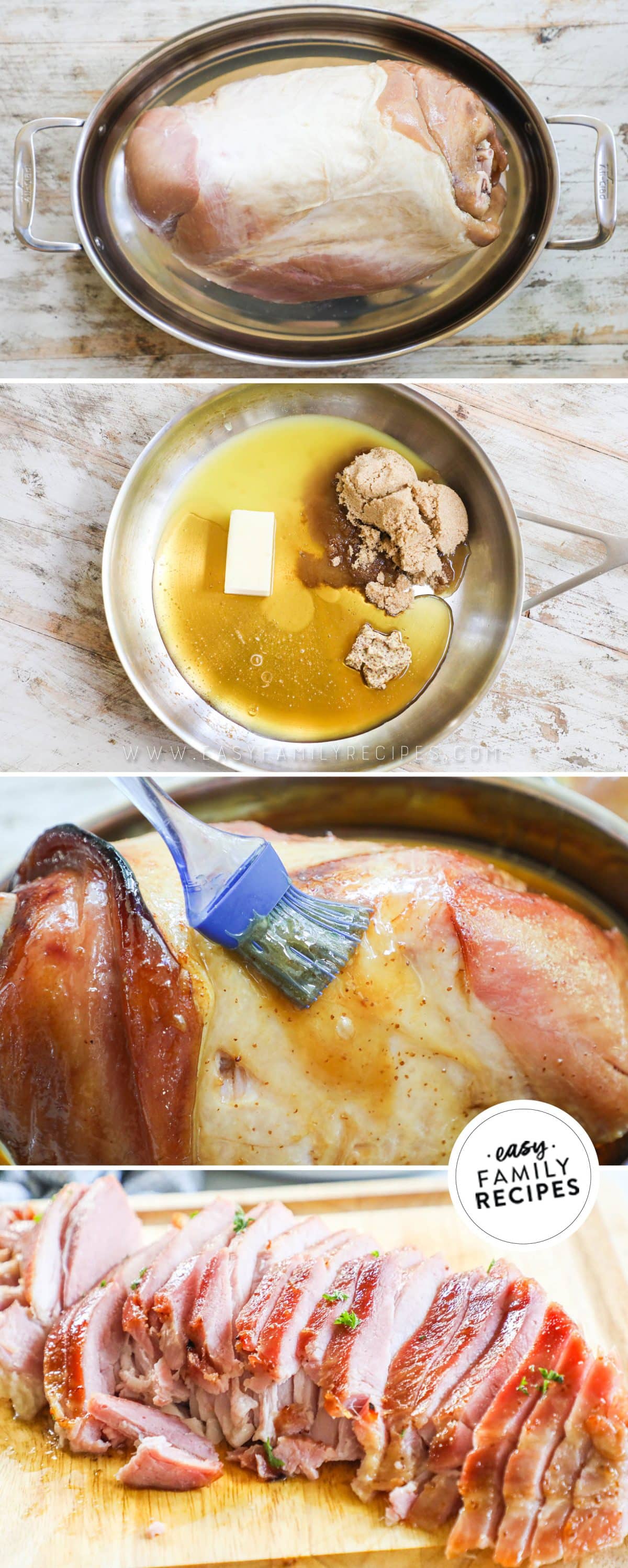 Recipe Tips
Make the glaze toward the end – The glaze comes together in just 10 minutes, so I recommend waiting until the very end of the ham baking to make it. That will make sure it's nice and hot while you brush it on, instead of getting cold and really thick. While you're waiting it's the perfect time to work on sides!
Trust that the glaze should be sweet – If you taste the glaze before you brush it on the ham, don't be surprised if it's really sweet. It's supposed to be! On it's own it would be way too much, but when it's brushed over salty baked ham, it's absolutely perfect. They balance in the best way.
Baste, baste, and baste again! – You're definitely going to want to layer on the honey glaze for this ham. I recommend at least 3-4 coats. Pop the ham back in the oven between each layer to let it caramelize, then add another one.

If you have a spiral sliced ham, I also suggest taking the time to glaze between the slices too. You'll end up with more flavor on more surface area which makes it totally irresistible.
Make an amazing pan sauce – When your honey glazed ham is done baking and ready to serve, there is the optional step of creating a pan sauce. The drippings and glaze from the bottom of the roasting pan can be reduced on the stovetop over medium heat and you'll end up with an amazing, yummy sauce to serve over the top of the sliced ham.
Recipe Short Cuts
If you need to make this recipe, but are extra short on time, here are a few ideas that can help make this recipe even faster!
Go for a smaller ham– Since you'll need to bake the ham for about 10 minutes per pound, opting for a 10 pound ham over a larger one will help reduce the overall time you need to have it in the oven.
Make the glaze ahead– I recommend making the glaze when you need it, especially since it's so fast! But if you're burners will be occupied by the rest of a holiday meal, you can make it ahead. I recommend warming it gently before brushing it on the ham so it will coat nicely. Be careful not to heat it too fast or too long so it doesn't end up over-reduced and too thick.
Recipe Variations
If you love this recipe as much as we do and want some quick ways to change it up for variety, these little tips will do the trick!
Honey Glazed Ham with Cloves– You can add a traditional spiced flavor to your honey glazed baked ham by piercing the ham with whole cloves before it bakes. Simple poke the sharp end of the cloves into the surface of the ham every couple of inches then continue with the recipe as written.
Orange Honey Glazed Ham– Make the recipe as directed but swap out the pineapple juice for fresh-squeezed orange juice instead.
Cherry Pineapple Honey Glazed Ham– Add more fruity sweetness to the salty ham by prepping it with canned pineapple rings and maraschino cherries before baking. Lay a pineapple ring on the surface of the ham and skewer a cherry in the middle with a toothpick. Repeat until the sides and top is covered. Then bake the ham according to the recipe and make the glaze as written.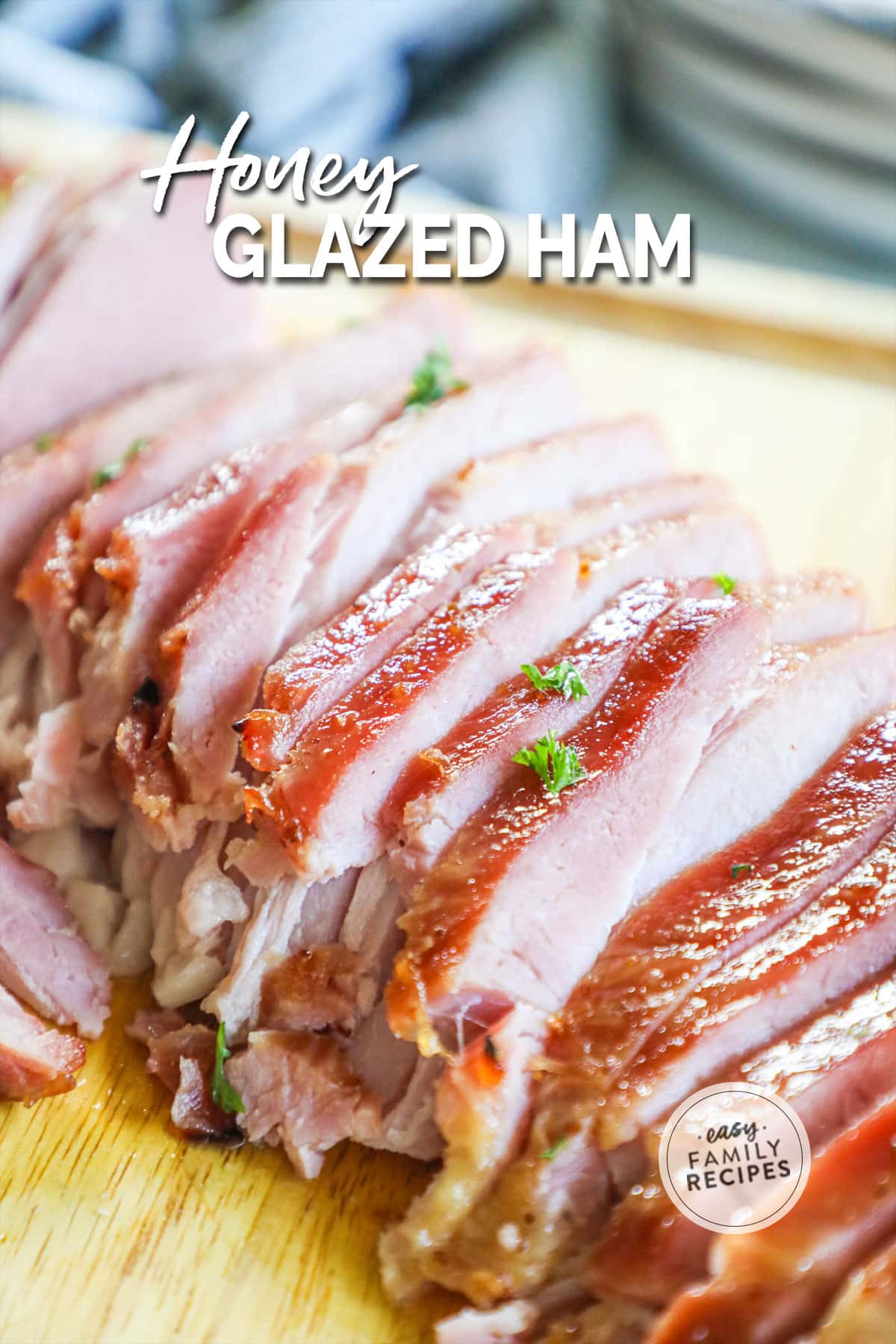 Honey Glazed Ham Leftovers
If you have leftovers after making brown sugar honey glazed ham, then it is your lucky day! They save and reheat well, and can make the start of another delicious dish.
To save leftovers, separate into meal sized portions and then place in an airtight container and store:
in the refrigerator for 3-4 days
in the freezer up to a month
Leftover Recipes
Here are a few ways to repurpose those leftovers and give them a delicious makeover!
15 Bean Ham Soup– Chop leftover ham and combine it in the Crock Pot with a bag of 15 bean soup that has been rinsed and sorted. Add in 8 cups of water, a diced onion, and a minced garlic clove. Cook on low for 5-7 hours then add in a can of diced tomatoes, chili powder, and lemon juice. Cook for 30 more minutes and serve.
Ham Fettucine Alfredo– Cook pasta according to the package instructions. Dice up the leftover ham and sauté it in a hot pan with a tablespoon of oil and 1 cup of frozen peas. Pour in your favorite bottled alfredo sauce or a batch of easy alfredo sauce and let it come to a gentle simmer. Add in cooked, drained pasta and toss together, then serve.
Ham and Cheese Breakfast Casserole– Combine diced leftover ham with half a bag of frozen hash browns, 1/2 a cup of cheddar cheese, salt, and pepper. Mix in 8 ounces of cubed cream cheese and add it to a greased 9×13 casserole dish. Beat a dozen eggs with 1 cup of heavy cream and pour it over top. Top with another 1/2 cup of cheddar cheese and bake for 40-50 minutest at 350°F.
More EASY Classic Dinner Recipes
If you enjoyed this recipe, I really hope you will take a moment to grab a few more easy recipes for another busy night!
You can check out all of my easy dinner recipes here, or see a few of our readers favorite recipes below.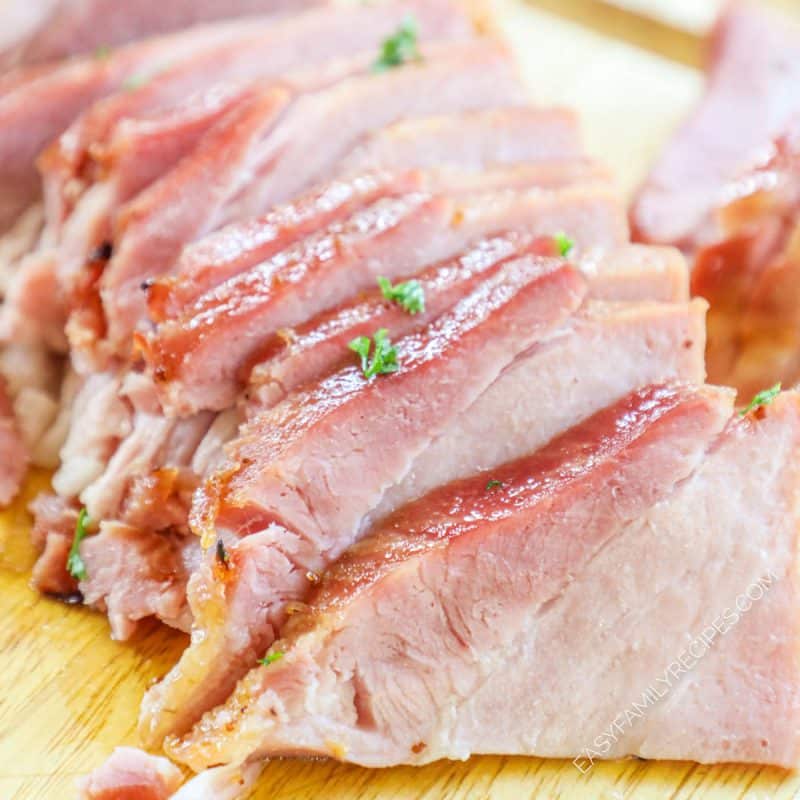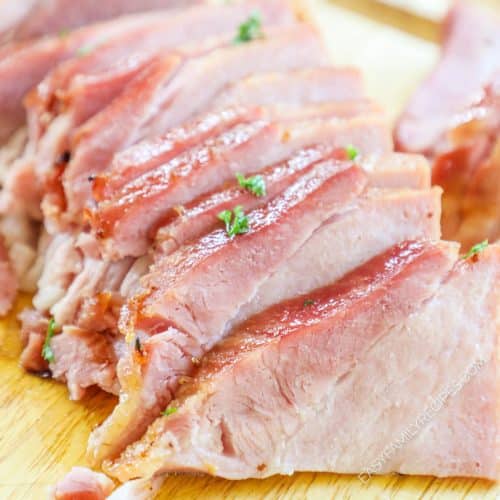 Honey Glazed Ham
This classic glazed ham recipe captures the sweet and savory flavors of a holiday honey baked ham by basting it with an easy, homemade syrup made from brown sugar, pineapple, mustard, and honey.
Ingredients
10

lb

bone in ham

,

up to 15 pounds will work. Fully cooked. Can be whole or spiral sliced.

1/2

cup

honey

1/2

cup

brown sugar

1/4

cup

salted butter

1/4

cup

pineapple juice

1

tablespoon

dijon mustard

2

teaspoons

apple cider vinegar

,

or more to taste
Instructions
Preheat the oven to 325˚ F. Place ham in a large roasting pan cut side down.

Bake ham, uncovered, in the preheated oven for 10 minutes per pound, or about 2 hours.

While the ham is baking, combine honey, brown sugar, pineapple juice, and dijon mustard in a skillet. Whisk mixture over medium-high heat as it comes to a boil. Reduce heat and simmer until glaze thickens slightly, about 5 to 10 minutes. Then stir in apple cider vinegar to taste.

Remove ham from the oven. Brush with glaze. Bake for an additional 30 to 40 minutes, brushing ham with glaze every 10 minutes.
Recipe Notes
This will be enough glaze for a 10-15 pound bone in ham.
You can use a whole ham, or spiral ham. If using whole, just baste the outside. If using spiral you can baste between slices as well to add more flavor.
The dippings and glaze leftover in the pan can be reduced further to make a sauce to serve with the ham.
The glaze will be really sweet before putting it on the ham. Once it is on the ham, it the sweetness will mellow when combined with the fat and salt of the meat.
Nutrition Information
Calories:
543
kcal
(27%)
,
Carbohydrates:
17
g
(6%)
,
Protein:
57
g
(114%)
,
Fat:
26
g
(40%)
,
Saturated Fat:
7
g
(44%)
,
Polyunsaturated Fat:
2
g
,
Monounsaturated Fat:
9
g
,
Trans Fat:
0.1
g
,
Cholesterol:
229
mg
(76%)
,
Sodium:
3531
mg
(154%)
,
Potassium:
873
mg
(25%)
,
Fiber:
0.1
g
,
Sugar:
17
g
(19%)
,
Vitamin A:
95
IU
(2%)
,
Vitamin C:
71
mg
(86%)
,
Calcium:
27
mg
(3%)
,
Iron:
3
mg
(17%)